---
100 Years of Altrincham FC:
a talk by Terry Surridge & Graham Heathcote
to Hale Civic Society,
17 March 2004
---
100 Years of Altrincham FC
Any errors in the following report are the responsibility of the website and not of the speakers or of the Hale Civic Society. These will be willingly corrected if notified to the e-mail address at the foot of this page.
Hale Civic Society very kindly invited Terry Surridge and Graham Heathcote (left) to give a talk, last night (17th), on "100 Years of Football at Altrincham FC". Altrincham's ground is on the former Hale Moss so its relevance to the Society's interests is clear.
Terry is currently researching a history of the Club with Terry Rowley and he has carried out extensive research over many years on the origins and development of the Club. Both speakers produced a good mix of serious detail and humorous anecdotes to ensure that the two-hour session kept everyone's attention. Terry's computer had crashed during the day, taking with it all his notes for the talk, but such is his mastery of his subject that no one would have known this had he not mentioned it.
In a fascinating introduction, Terry outlined the most common roots by which football clubs were founded in the 19th century (e.g. from school old boys' organisations, from churches, cricket clubs, factories etc). He also touched on the hybrid nature of football in its early days when rugby and football rules overlapped and varied from region to region. We were also told the fascinating story of Samuel Hill-Wood, the 19th century Roman Abramovich, who successfully bankrolled the Glossop North End club.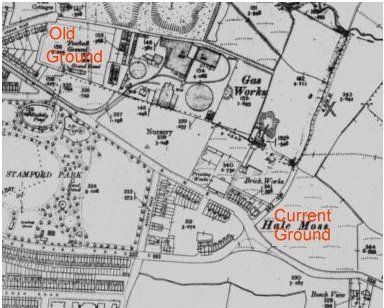 Terry then outlined the origins of Broadheath FC, which was the original name of Altrincham FC. Its roots lay in the Sunday school classes of the Rigby Memorial School at Broadheath (a northern district of Altrincham). In 1903 the club moved to Pollitt's Field (right) in Altrincham before settling into Moss Lane in 1910.
Terry identified several "purple patches" in Altrincham's history, of which the first was 1903-07 when the first trophies were won. He chronicled the Club's moves through the Manchester League and Lancashire Combination before its controversial move to the new Cheshire County League after World War One, at which point they were fined six guineas for resigning late from the Lancashire Combination!
The Club's FA Cup exploits were covered and Terry underlined that, now that Yeovil were a League club, we had regained our title as the non-League club with the most League "scalps" - sixteen.
But it was not success all the way for, as Terry explained, there had been a very low point in 1930. However the great success of the 1931 Building Fund Social Club had produced a new main stand at Moss Lane (for £460!) and the club's fortunes had revived. Terry also recounted the story of the 1934/35 season when Alty's game at Stalybridge ended in controversy following an incident involving the Alty keeper, Alf Steward. Besieged in the dressing room, the Altrincham team eventually needed a police escort and left the ground at 10pm lying on the floor of their coach as the windows were smashed!
The early 1940s saw Altrincham FC virtually in abeyance as other teams, Altrincham Amateurs and Redclyffe, used Moss Lane as their home ground and, indeed, Altrincham missed the first post-war season of the Cheshire County League. Fortunes soon revived, albeit briefly, after WW2 but the 1950s were an unhappy period and by 1960 the Club was in deep financial trouble. Thankfully, Noel White and Peter Swales, who were building up a successful local business, appeared on the scene to take the Club forward. White, of course, is a now a senior figure in football administration, following a successful period with Liverpool FC, and Swales went on to be Chairman of Manchester City.
Terry now handed over to Graham Heathcote, the current Alty manager, to give his inside account of life at the Club, which he joined as a 16 year-old in 1971. Freddie Pye had signed Graham on an £8 a week wage and then promptly resigned to join Wigan Athletic!
Before continuing, Graham thanked the audience, jokingly adding that he was not used to being in a room with a group of people who were actually listening to him! In Graham's early days at the club, one of the Directors, Len Pollitt, even used to graze his sheep on Moss Lane. Graham then briefly described each manager under whom he had played, praising Roy Rees (manager 1972-75) as a "great tactician" before reliving the 1975 matches against Everton in the FA Cup. Before the Everton replay a club benefactor offered each player £1,000 as a winning bonus - but Alty lost, with Graham himself supplying Everton's Bob Latchford with a back-pass from which the striker scored!
Graham moved to Northwich after Alty's new boss Les Rigby (1975/76) broke up the team he had inherited from Rees. After Rigby was sacked, Tony Sanders returned as manager (1976-84), having been Rees's deputy previously. Sanders reacquired Graham and John Davison, though he obliged Graham to go through a trial period before re-signing him! Sanders then brought in John King who became the catalyst, as team captain, for Alty's period of greatness.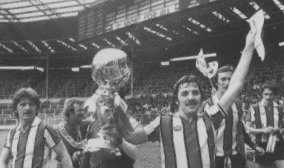 Graham recalled how, before the 1978 Trophy Final (left), Alty keeper Peter Eales was sent to Arsenal physio Fred Street to have his damaged hand x-rayed and assessed. Eales returned triumphantly, having been passed fit to play in the Final. However, before the game, Graham saw him bandaging his fingers together and, when he enquired what was happening, Eales confessed that he had shown Street his uninjured hand rather than the damaged one and it had been the x-ray of that hand which had assured his place in the Final side!
Graham also relived the FA Cup games against Tottenham when John King clattered Osvaldo Ardiles, off the ball, in the early stages. However, Ardiles proved inspirational in Spurs' winning the replay at Maine Road.
Alty missed out on election to the Football League in 1980 by one vote, with Sunderland legend Bob Stokoe being instrumental in whipping up support for his threatened Rochdale side whilst two other clubs' directors, who had promised votes for Altrincham, failed to register their votes because in one case he was in the wrong room and in the other, he had got the voting-time wrong!
Graham also recounted the "good hiding" received at Liverpool (4-1) in the FA Cup but modestly did not mention that he had scored Alty's goal from a penalty in front of the Kop. Bizarrely, Liverpool's former boss Bill Shankly was a mentor to Tony Sanders who had Shankly travel on the Alty coach to the match. However, Shankly offered no help to Alty so his presence baffled Graham and his team-mates. Equally baffling was Sanders's advice to the team before the Liverpool game. He told them to ignore Kenny Dalglish at corners as he "never did anything at corners"; Dalglish promptly scored, following a corner, to put Liverpool ahead!
The next big Cup match was a heavy defeat at Burnley where Alty had to play on the Monday just after winning their delayed 2nd Round Replay on the Saturday. Graham also recalled the magnificent away win at First (= Premier) Division Birmingham City, in 1986, when David Seaman kept goal for the Blues.
The disappointment of the 1982 Trophy Final was also re-lived, when the last minute winning goal was a deflected shot which hit Graham. When Sanders left, followed by Stan Allan (1984), John King took over as manager (1984-86). He promptly told Graham, then 30, "You can stay at Alty but I won't pick you!". So, as Graham recalled, he left for Witton Albion where "I picked up 46 disciplinary points"!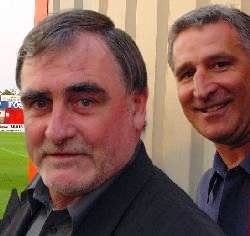 Graham went on to recall the managership of John Williams (1986-87), after John King (right, with Graham Barrow) had gone, and the very brief reign of Tommy Docherty at Moss Lane when managing the club was split with opening bingo halls. The Doc asked Graham to be his assistant and asked him to name his wage. Graham said he would take a half of what the Doc was paid; he never heard any more about the job until The Doc gave an interview saying that Graham's wage demands suggested he thought he was dealing with Barcelona! Following a brief period with Jeff Johnson in charge (1988), John King was recalled as manager (1988-91) by chairman, Geoff Lloyd. Together with Graham as his assistant, King's Alty side of 1990-91 was on the verge of the Conference title when an horrendous fixture backlog saw them fall just short.
Wrangles amongst the Board led to a Court case which cost £100,000 - money which could have been ploughed into the Club. When John Maunders took over as chairman he offered John King £100,000 for players but King would not spend it until he saw the fruition of Maunders's grandiose plans to transform the Moss Lane stadium. As these never came to fruition, neither did the spending on players.
Gerry Quinn then arrived and "did a good job on a tight budget" in 1992/93 and after Paul Rowlands's brief spell as manager (1993), Maunders brought John King back as manager (1994-98). King and Maunders got on well but when, one day, Maunders told King "Don't forget, John, I can buy and sell you", the burly King replied to the much smaller chairman, "And don't you forget, John, I can batter you", whereupon he picked up the chairman and stood him in a large plant pot in his office!
When Maunders pulled out in 1995, he left the club without any debts. He had put in a total of £450,000 though, perhaps not unreasonably, he took the proceeds of the 94/95 FA Cup run (£117,000) with him. For want of any other saviour, King took Maunders's shares for a nominal sum and a new Board was formed including Gerry Berman and Len Rosenfield. Graham, who at the time worked as a taxi-driver, then became full-time club secretary, having turned down a directorship.
The Football Foundation provided £250,000 to build the Family Stand, offices and for other ground work at Moss Lane but there was no money for the team. The Club was relegated from the Conference in 1997 on a wage bill of £1,700 a week - not much different from today's cost. King resigned in Spring 1998 and Graham turned down Berman's offer of the managership, believing that he should go with King.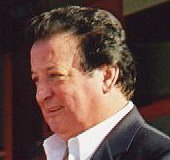 Bernard Taylor (left) was appointed (1998-2000) and went on to win four or five trophies in a very short time. Brian Kilcline and Nigel Gleghorn were appointed as coaches but this did not work and Graham returned as Bernard's assistant. That season (98/99) the club won the championship after failing to win any of their first eight games. But the wage bill of £5,000 was unsustainable and under Mark Ward (2000-01), the finances continued to cause problems before Bernard Taylor returned to the hot seat (2001-02).
After Gerry Berman resigned as Chairman, Mark Harris took over in difficult circumstances, with bailiffs at the door and the Inland Revenue and VAT officers leading the pursuit. The shareholders were asked to provide £70,000 to bale the club out but refused due to a lack of a planned balanced budget for the future. The Board therefore resigned in May 2002 and the current Board of Messrs Goodwin, Rowley and Shaw was formed in June 2002. They inherited a debt of £650,000 which had accrued since 1995. Half of this is owed to one person but is only payable if Alty leave Moss Lane, which Graham now believes will never happen. Graham said the current Board have done a "fantastic job" and the club hopes to post a profit this year for the first time in thirty years. Graham concluded that his 30+ years at the club "have been a rollercoaster, but I've enjoyed them".
Clearly both Terry and Graham have so much knowledge about the Club's history that it would be a good idea to unite them again, along with other knowledgeable supporters to hold another informative and entertaining "history session". In the meantime we all eagerly await the production of Terry Surridge and Terry Rowley's definitive printed history of Altrincham FC.
Further related reading on this website: