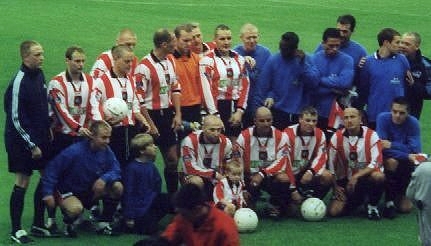 The squad lines up for a pre-season friendly. Back L to R: O'Connor, Quinn, Hawes, Ellison, Talbot, Coburn, Turkington, Furlong, Maddox, Chambers, Gallagher, Landon, ?Walsham. Front L to R: Porter, Adams, Power, Crowe, Goodwin, Scheuber. For details of all those who have since left, visit the Departed Players page.
Goalkeepers
Stuart COBURN (d.o.b. 5 May 1975, height 6ft 1in, weight 14 st.)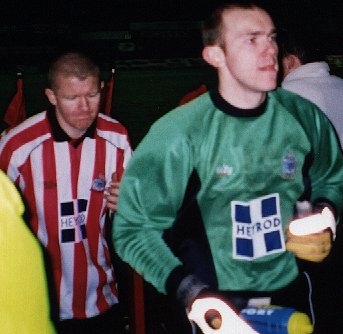 Stuart joined Altrincham from Unibond First Division side Trafford in March, 1997, having previously played for lower-league Manchester sides, Maine Road and Irlam Town. Although kept out of the side at the start of the 1998/99 season by the veteran ex-Manchester City keeper, Andy Dibble, Stuart soon forced himself into the team. He was elected the fans' Player of the Year for 1998/99 and also jointly won the non-league goalkeepers' award for conceding the least goals of any non-League team. In December 1998, he even scored a League goal in the away fixture at Runcorn.
Sadly, Stuart only managed nine Conference appearances in 1999/2000 after being a major factor in the Club's promotion to that league. He was injured in the match versus Dover on 4 September 1999. Although he returned for seven league and cup games between late September and 23 October he then had to undergo a major operation on his knee which sidelined him for the rest of the season.
Stuart made a successful return to the side in season 2000-01 and in late August, 2000 spent a few days at Selhurst Park; a rumoured signing for Crystal Palace for £100,000 failed to materialise, however. He is seen, left, in the home match versus Lancaster and, right, with Mark Maddox after defeating Frickley on New Year's Day, 2001. Stuart played for Leicester City Reserves in late November and was invited back for further trials at Filbert Street in January but this led to no offer from The Foxes.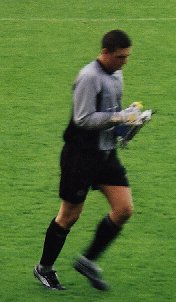 Ryan McMAHON

A goalkeeper who impressed in the Reserves match against Leigh RMI Reserves this season, even though Altrincham lost. He then made his first-team debut in the 0-3 FA Cup 2nd Qualifying Round defeat to Mossley on 30 September 2000. Left for Warrington Town then moved to Prescot Cables (March 2001).
Mark O'CONNOR
For details of this player, see the Departed Players section here.
---
Defenders
Danny ADAMS
For details of this player, see the Departed Players section here.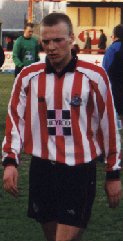 Terry BOWKER A central defender who left Altrincham for Bamber Bridge, for whom he played once in 2000/01 season before sustaining a leg injury. Re-signed for Alty in December 2000 and made his debut versus Ashton in the Unibond Cup (9/1/01) but left for Castleton Gabriels the following week only, bizarrely, to return as sub for Altrincham on 27 January!
Terry is now established as a first choice.
Barry CROWE
For details of this player, see the Departed Players section here.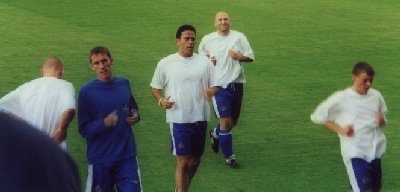 Adam FARLEY (d.o.b. 12 January 1980, height 6ft 1in)
Another of Mark Ward's Liverpudlian-born trialists, Adam is a tall, young defender who was acquired from Everton.
After figuring in Everton's F.A. Youth Cup-winning side in 1998, he played in the Everton first-team in 1998/99. However, he suffered a facial injury soon afterwards and failed to regain his place at the top level.
Adam is seen on the left of the adjacent picture, facing the camera, with Ellison (back to camera), Gallagher, Adams and Crowe. In his short career at Altrincham to date he has already played at left-back, right-back and centre-back, but lost his regular place following the arrival of Gary Scott and Steve Morgan but has played intermittently since for the first XI.

Above: Warming Up, 11 November: L to R- Daniel, Thomas, Landon, Talbot, Porter, Farley, Murphy, Scheuber, Scott, Hay, Craney, Glendenning, Hawes.
---
James GLENDENNING
For details of this player, see the Departed Players section here.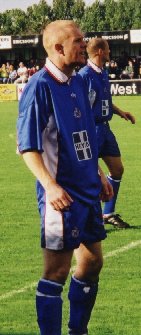 Mark MADDOX (d.o.b. 11 March 1973, height 6ft 1in, weight 12st 7lbs)

Mark is a Liverpudlian-born centre-back who rejoined Altrincham, the club he had originally joined in 1996, in December 1998 after a brief spell at Barrow. On his return, he had to settle for a role as substitute but then re-established himself as first-choice centre-back alongside Gary Talbot.

He also played occasionally in 1999/2000 at right-back and in midfield. Nick-named 'Mad Dog' he is generally an excellent tackler, though prone to get booked! He returned to the side last season after being out through suspension and injury since 19th February, 2000, but was sent off against Doncaster Rovers (24/4/00) and thus missed the opening of season 2000-01 as he was suspended.

However, he was restored to the side but was injured in November, 2000 but is fit once again and a regular first teamer. Mark currently the player with most starts to his name for Altrincham, having by the end of 1999/2000 season made 109 appearances, six of which were as a substitute; he had scored three goals by the start of 2000-01 season.

Steve MORGAN
For details of this player, see the Departed Players section here.

Steve PORTER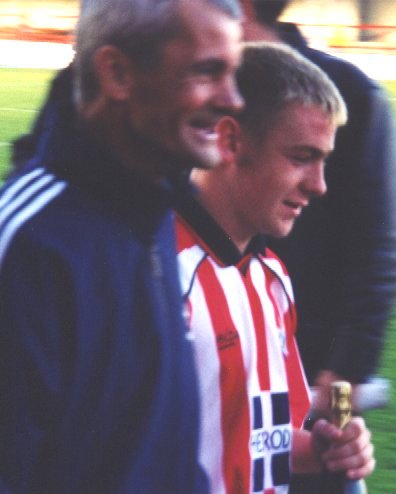 Steve is a young left-back, signed on a one-year contract from Liverpool during the 2000 close-season. He had limited first-team opportunities initially, but impressed in his early games at Marine and Worksop and seemed to be established at left-back until surprisingly dropped in mid-November, 2000. He is seen left after the Blyth home game and right, with Gary Talbot, at Worksop. In January 2001, he recovered from injury and is now restored to the first team.
Gary SCOTT (d.o.b. 3 February, 1978, height 5ft 8ins, weight 11st 2lbs)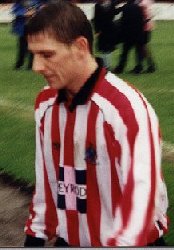 Gary made his debut for Altrincham on 3 October as a midfielder (v. Stalybridge), having played the previous Saturday for Leigh RMI at right-back. Born in Liverpool, he began his career at Tranmere and transferred to Rotherham United on 7 August 1997. Gary then moved to Marine from where he went to Leigh, who released him in September, 2000 after he had made nine appearances in the Conference. After two games in midfield, his first appearance for Altrincham at right-back was at home to Leek Town (10 October, 2000). Gary opened his scoring account with two goals at Hyde (16 October 2000) and played for the Unibond Representative Side against the F.A. XI on 22 November. Defensive experiments have meant that he has been an irregular rather than ever-present member of the team.
Gary TALBOT
For details of this player, see the Departed Players section here.
Eddie TURKINGTON
For details of this player, see the Departed Players section here.
---
Midfielders
Ian CRANEY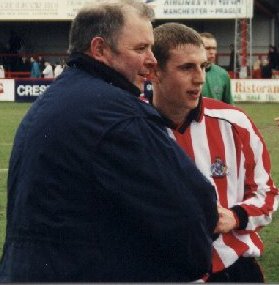 Ian is a skilful, young midfielder, formerly at Runcorn, who made his first-team debut against Emley on 9 September. He has a powerful long-range shot in his armoury but his first goal for the first-team, against Spennymoor, was a skilful chip from outside the penalty area. Ian has already attracted a number of scouts from clubs which include Manchester City. He is seen right with director, Kevan Guiney.
Paul EDWARDS (d.o.b. 1981)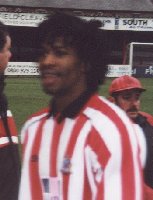 A skilful and very speedy left-flank player, who joined Altrincham from Knutsford in time to play against Droylsden on 17 March 2001.
He had impressed in the previous Wednesday's Reserves' game against Ashton, for whom he played as a teenager. A Manchester lad, Paul's registration was, however, with Doncaster Rovers at the time he came to Moss Lane. He played for the Rovers' first team when only 16 years old and made 5 appearances in their last season in Division Three (1997/8).
Kevin ELLISON (d.o.b. 23 February 1979)
For details of this player, see the Departed Players section here.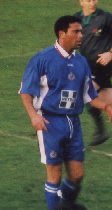 Jason GALLAGHER (d.o.b. 25 March 1972)
Jason (seen, left) has spent his Altrincham career to date (79 starts up to the start of 2000-01 season) as a pacy and hard-working midfielder who generally operates on the right. However, he was originally signed by Altrincham from Hyde United as an understudy for George Shepherd at right-back and Mark Ward has played Jason as a full-back role in several of the matches of 2000-01 but he has also figured in midfield.

His former clubs also include Marine, Witton Albion, Northwich Victoria, Runcorn and Caernarfon Town, as well as Ternia in Belgium. Despite his lack of inches he is a good header of the ball. Jason was one of the few Liverpudlians to have been at the Club before Mark Ward's wave of signings from Merseyside.

He pulled a hamstring at Worksop (September 2000) but after returning to the side picked up a nasty double injury at Bamber Bridge (25/11/00) in his 100th appearance for Alty before returning to the side again. Jason was injured yet again in January 2001 but returned to the first team, only to be sidelined again (March 2001).

Michael GARRITY
For details of this player, see the Departed Players section here.
Paul HART
For details of this player, see the Departed Players section here.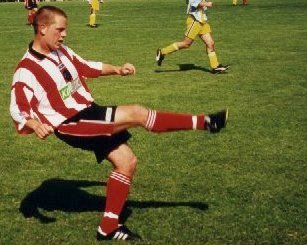 Steve HAWES (d.o.b. 17 July 1978, height 5ft 8ins, weight 11st 4lbs)
Steve is that rarity at Altrincham, a southern-born player; he hails from High Wycombe. He signed for Altrincham late in 1999 from Hull City, for whom he started 18 games. Steve played 31 games and made a further 4 substitute appearances for Altrincham in 1999-2000.
He is a young and tenacious midfielder who displays a lot of effort and stamina. He also can play very well at right-back, takes corners and free-kicks and has a good long throw. Steve was the youngest player ever to play in the Sheffield United first team, for which he made one full and three substitute appearances, before moving on to Belle Vue where he played 18 full games for Doncaster Rovers.
He then drifted into Sunday league football before being snapped up by Bernard Taylor in 1999. He has become a great asset to Altrincham, with his wholehearted approach to his game. Steve was the sole non-Conference player in the FA XI versus the Unibond XI in November 2000 and turned down a £20,000 move to Southport in December, 2000.
Was appointed captain on 27 January 2001 on the departure of Gary Talbot. Went on trial to Doncaster (mid-February 2001) and was due to go to Barnet for trials in mid-March.
Keith MAIRS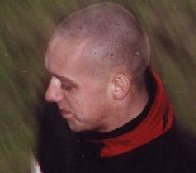 Young Reserves' midfielder who made the bench for one Conference game last season and this season was unused sub against Burscough (6 January 2001). Made an impressive debut in the Unibond Cup match at home to Ashton (9 January 2001) and again as sub at Ossett Town the following week. Made his league starting debut at Gateshead (January 2001).
Danny MURPHY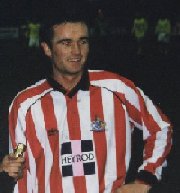 A speedy, wide midfielder who can operate on either wing but is also a fine header of the ball.
He was signed on the strength of a fine performance for Mossley against Altrincham in the F.A. Cup. He made his debut on 10 October 2000 and scored against Leek Town. Danny is pictured, right, in an image reproduced by courtesy of John Cawthorne, editor of the Mossley match-day programme.
He picked up an injury in mid-October and missed some games but reappeared as sub at Ilkeston (4/11/00) before succumbing once more. On his return he scored inside a minute versus Bishop Auckland (2/12/00).
Phil POWER
For details of this player, see the Departed Players section here.
Stuart QUINN
For details of this player, see the Departed Players section here.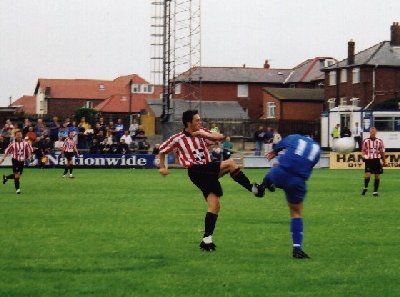 Stuart SCHEUBER (d.o.b. 3 April 1981)

A skilful and nimble 19-year-old midfielder, born at Rhuddlan in Wales, who was signed from Stoke City on a one-year contract during the 2000 pre-season. Stuart, pictured right at Whitby, spent three seasons with the Midlands side, before which he had been at Crewe Alexandra.

He was the only player who appeared in all of Alty's first 45 League and Cup games this season but was dropped after Mark Ward was sacked. His first goal came at home to Spennymoor and was a well-taken volley from outside the penalty area.

Mark WARD (d.o.b. 10 October, 1962, height 5ft 5in, weight 10st.)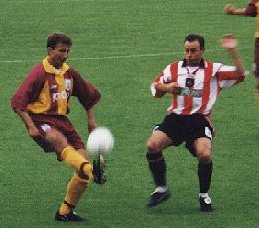 Mark Ward was appointed player-manager in May 2000, following the resignation of Bernard Taylor, having previously been a player at Moss Lane, clocking up 15 Unibond Premier appearances and a further 9 cup games, before leaving. He moved to Leigh RMI, for whom his midfield appearances in 1999/2000 were a key factor in their first-ever promotion to the Nationwide Conference.
Born in Prescot, Merseyside, his professional career started at Oldham Athletic, for whom he made 84 appearances, scoring 12 goals before moving to West Ham United for whom he also scored 12 goals in 165 appearances. His next club was Manchester City where he netted 14 times in 55 appearances, before he was sold to Everton, for whom he made 83 appearances, scoring 6 times. He then was transferred to Birmingham City, initially on loan.
Mark was sidelined by a cartilage injury in September 2000 but returned, as a sub, against Spennymoor (14 October) and was chosen for the Unibond Representative XI to play in November, an honour he declined. Mark was unexpectedly sacked as manager on 18 March but is still registered as a player though h now needs another cartilage operation.
Scott WILSON
For details of this player, see the Departed Players section here.
---
Strikers
Leroy CHAMBERS
For details of this player, see the Departed Players section here.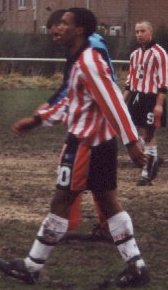 Mario DANIEL (d.o.b. c.1984)
Mario broke into the first team as a 16 year-old sub in the home defeat by Gainsborough (11 November 2000) and also played the second half at Bishop Auckland, the following week.
In each of these games he has shown a clear eye for goal but has been unfortunate in figuring in below par performances by the team as a whole. Mario has had trials at the Everton Academy (December 2000) and Leicester City also reportedly have had their eye on him.
Steve FINNEY (d.o.b. 31 October, 1973, height 5ft 10ins, weight 12st 8lbs)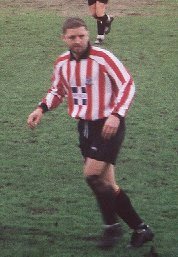 Born in Hexham, Steve's career began at Preston North End in May 1992, where he played one league game (+5 sub apps), scoring once.
After a brief spell at Maine Road (no apps) he went on to play 47 times (plus 16 as sub) for Swindon, where he netted 18 times. After a loan spell at Cambridge (4+3 apps and 2 goals), he joined Carlisle in July 1998 and played 22 (+11) games for them, scoring 6 goals.
He next joined Leyton Orient (May 1999 2+3 games, no goals) before having an unsuccessful trial at Exeter City, and then joining Barrow. He moved on to Chester, where he played 4+9 games in 1999-2000.
After an initial month's loan, during which he scored a hat-trick against Whitby, he has now signed till the season's end.
Carl FURLONG
For details of this player, see the Departed Players section here.
Alex HAY
For details of this player, see the Departed Players section here.
Richard LANDON (d.o.b. 22 March 1970, height 6ft 3ins, weight 13st 5lbs)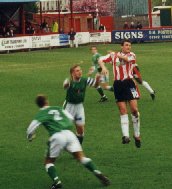 A tall centre-forward whose strength is in his powerful shot rather than his aerial skills. He has tended to start as substitute and scored many goals in that capacity. Born in Worthing, Sussex, Dickie's non-League career included spells at Atherstone United, Stratford Town and Bedworth United before, in 1994, he moved to Plymouth Argyle for £30,000, for whom he scored 12 times in 21 full games and 9 appearances as substitute.
Stockport County signed him for the start of the 1995/96 season but he played only 7 full games and 6 substitute appearances for them, due to injury, scoring 4 times. He then moved on to Macclesfield Town where he netted 9 times in 16 starts and 15 substitute appearances.
He made 49 appearances for Altrincham in 1999/2000, 29 of them as substitute and created a season's record by scoring in five consecutive Conference matches in Jan/Feb. 2000, all of his goals coming in the last ten minutes of matches. Richard finished the season as second top-scorer with 12 Conference goals and 4 more in other competitions and also established himself as a reliable penalty taker.
Despite his goal record, he was transfer-listed (10/00) by Mark Ward and went on a month's loan to Droylsden, scoring immediately (16/12/00). Dickie returned to Alty as a sub against Hucknall (20 February 2001), only to go to Vauxhall Motors on a free transfer in early March.
After Mark Ward's departure, he returned yet again to play as a sub on 25 March against Accrington.
Gerard LEONARD
For details of this player, see the Departed Players section here.
Adam LILLIS
For details of this player, see the Departed Players section here.
Mark QUAYLE
For details of this player, see the Departed Players section here.
Eric SEEKIE
Young reserve player who made his first-team debut as a substitute against Marine on 9 December, 2000.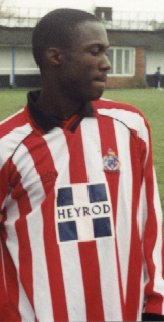 Otis THOMAS (aged 17)
Otis [right] made his first-team debut against Northwich in the Cheshire Senior Cup on 19.9.2000. He is a nimble striker who has come through the Reserves. In October 2000, he played in the British Colleges' team trial. In late October, Otis went to Bristol City for a fortnight's trial, whilst Bristol Rovers also invited him to trials in December 2000. He scored his first senior goal in the Trophy against Ilkeston (4/11/00).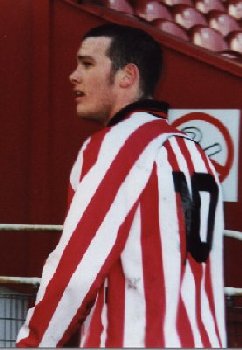 Rod THORNLEY
Signed from NW Counties' side, Congleton Town, in time to play against Droylsden on 17 March, Rod will be at Moss Lane till the end of the season at least.
He was top scorer for the Cheshire side and played two games for Altrincham before signing, a friendly against Doncaster and a reserve game against Ashton, in which he scored the opening goal.
Rod is a speedy front man who is still coming back to full fitness after injury. Rod's brother, Ben, played for Manchester United and is now at Huddersfield Town. Rod works for United as a masseur and his other former clubs include Warrington Town, Doncaster Rovers and Salford City.
---