Match Report
---
First-Team Playing Squad
2002-03
---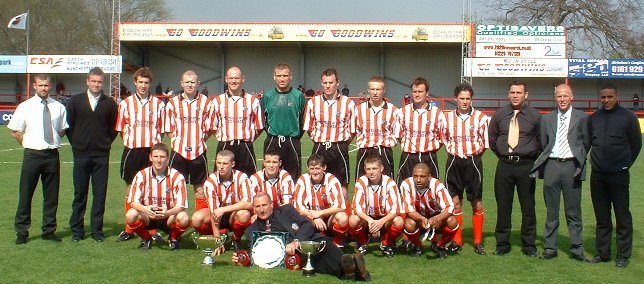 CLICK IMAGE TO ENLARGE IT. Back: Tony Cullen, Danny Murphy, Steve Lunt, Mark Maddox, Gary Talbot, Richard Acton, Peter Band, Stephen Rose, Neil Ryan, Dave Gardner, Jason Gallagher, Chris Adams, Tony Sullivan. Front: Behind chairman Geoff Goodwin are Gary Scott, Ian Craney, Rod Thornley, Barry Shuttleworth, Andy Tunnicliffe and Paul Robertson.
---
This Page

2 April, 2003
---
2002-03 Squad
Goalkeepers

Richard ACTON (d.o.b. 16 October 1979, height 6ft 2ibs, weight 14st.)

Richard was signed in early September 2002. He was formerly at Manchester City (released 1998), Hyde United and Runcorn. An excellent shot-stopper, Richard made his league debut against Marine (Sept. 2002) and remained the first-choice keeper for the rest of the season.


Kurt EDGINTON

Signed in late August, 2001, Kurt came to Moss Lane from Hyde United after starting his career at Flixton. He made his Alty debut impressively at Woodley Sports (Nov.2001) but played only once more for Altrincham that season, during which he also turned out for Flixton in the N.W. Counties League. Kurt is also a bowler for Urmston Cricket Club. He made a surprising return to Altrincham as an unused sub in the FA Trophy at Bradford PA on 30 November 2002 and kept goal in the league match at Marine on 2 December 2002.


Spencer LIDDIARD

Now left Altrincham; details may be found here.



Andy MOORE

Now left Altrincham; details may be found here.


Ian SENIOR (d.o.b. 22 July 1960)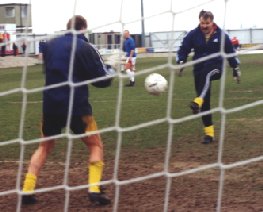 Ian was signed from Stalybridge Celtic as a cover keeper in late January 2003, for his third spell at Moss Lane. In 1999 he joined as cover for Dean Greygoose having played for Altrincham in the 1980s and became, at 39, the Conference's oldest current keeper when he substituted for Dean Greygoose against Welling on 8 January 2000. This was his first appearance for the team since 1983 and he can therefore boast that he did not concede a goal for Altrincham over a period of 18 years! His record was lost at Witton on 4 April, 2000 when he played the full match in the Cheshire Senior Cup Final, which was won by Macclesfield Town, 2-1. Ian has been on the books of more than 30 different clubs during his career and is now a respected goalkeeping coach. He is seen right, shooting at Greygoose at Hednesford in 1999-2000 season.


Nick STEPHENS (d.o.b. 30 May, 1983, Plymouth)

Now left Altrincham; details may be found here.


---
Defenders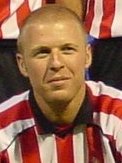 Chris ADAMS (d.o.b. 10 October 1975)

Chris, an Altrincham postman, signed from Ashton United in late May 2001, after being at Alty previously in 1997, though he made only one substitute appearance then. Before coming to Moss Lane in 1997 he had played at Congleton with his namesake Danny Adams. Chris moved from Moss Lane via Nantwich Town to Trafford. He has also played at Droylsden, Northwich Victoria and Oldham Athletic and proved a very good re-acquisition for 2001-02 season. He was ever-present in the first team till sidelined by a hernia injury in December 2001 but he returned to action on 3 August 2002. Howevr, he was released by Bernard Taylor after just two league games in the 2002-03 season. Nevertheless, he returned to Alty immediately after the appointment of Graham Heathcote as manager and made his third debut for the club on 15 October 2002 at Burscough. Throughout the rest of 2002-03 he was the regular left-back. Picture by Terry Rowley. Career appearances for Alty at June 2002 - 27(+1), no goals.




Steven CLEGG

Now left Altrincham; details here.


Matthew DUFFY

This player has now left Altrincham; details here.


Danny FROST

Now left Altrincham; details here.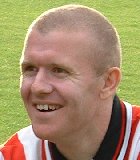 Mark MADDOX (d.o.b. 1 March 1973, height 6ft 1in, weight 12st 7lbs)

Born in Liverpool, Mark is a centre-back who originally joined Altrincham in 1996 and returned to Moss Lane in December 1998 after a brief spell at Barrow. On his return, he had to settle for a role as substitute but then re-established himself as first-choice centre-back alongside Gary Talbot. He also played occasionally in 1999/2000 at right-back and in midfield. A very popular player, nick-named 'Mad Dog', he is an excellent tackler. He had a fine season in 2001-02 and firmly re-established himself as first-choice partner of Mark Sertori at centre-back. Mark is the current player with most starts to his name for Altrincham having, by the end of 2002/03 season, made 230(+12) appearances and scored six goals. In the absence of Rod Thornley, Mark captained the side frequently in 2002/03.




Neil MURPHY


This player has now left Altrincham; details here.


Paul ROBERTSON (d.o.b. 5 February 1972)

Paul rejoined Alty on 8 March 2003, his last club having been Kidgsrove Athletic. He was an important part of the Alty side during its first spell in the UniBond which culminated in promotion to the Conference in 1999. A close season disagreement led to his departure soon afterwards. His early career was at Stockport County, Bury and Doncaster Rovers but Paul has also played for numerous non-league clubs including Runcorn, Hyde, Droylsden, Accrington and Witton. Nicknamed "Coco", Paul is a left-back/midfielder who can take an impressive in-swinging corner.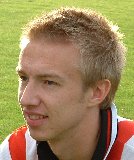 Stephen ROSE (d.o.b. 1981?) Stephen was a junior with Manchester United before having a loan spell at Bournemouth. He then progressed via Bristol Rovers to Chester City, for whom he played in the Conference in 2001-02, before being released in May, 2002. He has played at centre-back, full-back and latterly central midfield for Altrincham. Stephen made his UniBond debut on 17 August 2002 and established himself as a virtual ever-present starter.



Vernum ROWLAND (d.o.b. 30 March 1985)

Vernum was a very promising two-footed defender who was a member of the 2000-01 and 2001-02 Alty Youth teams. He made his first-team debut in right midfield at Bishop Auckland on 13 March 2002, but later appeared at right-back, where he is more used to playing. He had trials at Blackburn Rovers in July 2002 but, although he made brief appearances in pre-seaspn Altrincham games, he had gone to Flixton in the NW Counties League by 7 September 2002 and then Nantwich Town in October. However, Altrincham retained his UniBond registration and, following the appointment of manager Graham Heathcote, Vernum returned to Moss Lane in mid-October 2002. Injury sidelined him in November 2002and he went to Nantwich for match practice from January 2003. 11(+5) appearances, 0 goals, by June 2002.


Gary SCOTT (d.o.b. 3 February, 1978, height 5ft 8ins, weight 11st 2lbs)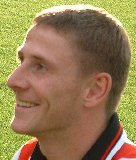 Gary made his debut for Altrincham on 3 October as a midfielder (v. Stalybridge), having played the previous Saturday for Leigh RMI at right-back. Born in Liverpool, he began his career at Tranmere Rovers and transferred to Rotherham United on 7 August 1997. Gary then moved to Marine from where he went to Leigh, who released him in September, 2000 after he had made nine appearances in the Conference. After two games in midfield, his first appearance for Altrincham at right-back was at home to Leek Town (10 October, 2000). Gary opened his scoring account with two goals at Hyde (16 October 2000) and played for the Unibond Representative Side against the F.A. XI on 22 November 2000. Defensive experiments meant that he was an irregular rather than ever-present member of the team at the end of 2000-01 but he had become a regular starter in 2001-02 at right-back or in midfield until sidelined by injury in March 2002. He made a brief return at the very end of the 2001-02 season but re-established himself as the regular right-back for 2002-03. Appearances by June 2002 - 73(+12), goals 3.




Barry SHUTTLEWORTH (d.o.b 7 July, 1977, height 5ft 8ins, weight 11st.)
A defender, originally signed on loan from Macclesfield in 2001-02 season, Barry (seen right) made his debut in left midfield for Alty on 2 March 2002 against Bishop Auckland. Born in Accrington, he started at Bury as a trainee (95-97) before moving on a "free" to Rotherham (97-98) then Blackpool (98-00) and Scarborough (00-01). He made 16 league starts for Blackpool and 2 for Scarborough. He had made three Division 3 sub appearances for the Silken before joining Alty. He moved on to Accrington Stanley for 2002-03 but rejoined Alty after being released from the Crown Ground and made his second Alty debut at Marine on 2 December 2002. Barry settled into a midfield role, usually on the left.




Gary TALBOT (d.o.b. 6 October 1970)

Gary Talbot, pictured right, originally signed for Altrincham towards the end of the 1998/99 season from Winsford. He is a commanding centre-back and an excellent header of the ball who is also a threat to opponents' goals at corners and free-kicks, having scored 12 times in 92 games for Altrincham prior to the 2002-03 season. As the chant goes, "He's bigger than Jaap Stam and he plays for the Altrncham"! Gary assumed the captaincy from Chris Timons in 1999, but then relinquished it once Timons regained his place in the side. When Timons left the Club, Talbot resumed as captain for 2000-01 season. Gary's former clubs include Rhyl, Barnton, Wilmslow Albion and Witton Albion. He was sold to Northwich for a fee of £2,500 on 25 January, 2001 in the wake of Alty's financial rescue package announcement earlier that week. He became the Vics' captain by the end of that season but was released and re-joined Altrincham for the 2002 pre-season friendlies. Gary was a regular first-teamer and occasional stand-in captain in 2002-03. Appearances by June 2002 - 91(+1), goals 12.


---
Midfielders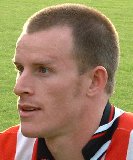 Peter BAND (d.o.b. 18 December 1973)

Peter (left) signed from Hyde United for a small fee in July 2002. He joined Hyde United, where he became captain, from Bollington Athletic in July 1998 as a striker but played most of Alty's pre-season at centre-back. A 3-match suspension incurred at Hyde delayed his league debut till the fourth game of the 2002-03 season when he appeared in central midfield and scored a goal. Peter soon established himself in the first team and played well in various positions - central defence, midfield and striker. He is a whole-hearted player wherever he plays.


Chris BARTON

This player has now left Altrincham; details here.


Ian CRANEY (d.o.b. 21 July 1982)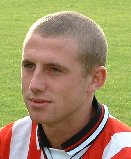 Ian is a skilful, young and very promising midfielder, who was formerly at Runcorn. He made his first-team Alty debut against Emley on 9 September, 2000. Ian is quick-footed, strong on the ball and has a powerful long-range shot in his armoury but his first goal for the first-team, against Spennymoor, was a skilful chip from outside the penalty area. In 2000-01 season Ian attracted a number of scouts from League clubs, which included Manchester City. He continued to perform very well in 2001-02 as an ever-present member of the first team and made a good start to the 2002-03 pre-season before being required to play out of position as a striker. Ian reverted to midfield on the appointment of Graham Heathcote as manager in October 2002 and went on to make a successful debut for the England semi-pro side against Belgium in February 2003. Appearances by June 2002 - 98(+13), goals 17.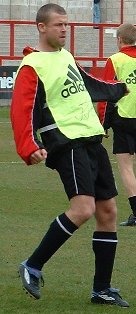 Tony CULLEN (d.o.b. 25 September 1973)

Tony signed from Salford City shortly before the postponed Accrington home game on 7 March 2003. He had previously been at Aston Villa, Blackburn Rovers and, after several years out of the game, at Trafford. He is a right-back/midfielder and after recovering from a thigh injury finally made his debut as a midfield sub for the three minutes of added time at Accrington on 12 April.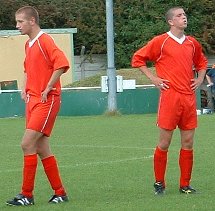 Francis EVANS

Francis is a tall midfielder from Merseyside who played for Alty Reserves and Youth teams last season. He made his first-team debut as a sub in the UniBond Cup in November 2002. He is pictured on the left of the adjacent picture with Jon McEvoy (see below), playing for the Altrincham & District F.A. side.



Stuart FENNA

This player has now left Altrincham; details here.


Jason GALLAGHER (d.o.b. 25 March 1972)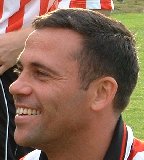 Jason (seen, left) has spent most of his Altrincham career as a pacy and hard-working midfielder who generally operates on the right. However, he was originally signed by Altrincham from Hyde United as an understudy for George Shepherd at right-back and, indeed, Mark Ward played Jason as a full-back in 2000-01 as well as in midfield. His former clubs include Marine, Witton Albion, Northwich Victoria, Runcorn and Caernarfon Town, as well as Ternia in Belgium. Despite his lack of inches he is an extremely good header of the ball. He pulled a hamstring at Worksop (Sept. 2000) but after returning to the side picked up a nasty double injury at Bamber Bridge (25/11/00) in his 100th appearance for Alty. Jason was injured yet again in January 2001 but returned to the first team, only to be sidelined by injury once more (March 2001). He underwent a hernia operation in December 2001 and after trying a comeback, he was ruled out for the rest of the season. With his friendly attitude to supporters, Jason remains one of the most popular players at the Club. In 2002-03 he returned to first-team action but injury again restricted his appearances. Appearances by June 2002 - 124(+17), goals 8.


Dave GARDNER (d.o.b. 17 September, 1976, Salford)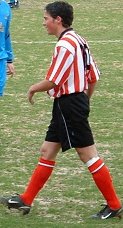 Altrincham re-signed Dave Gardner from NW Counties side Salford City just before Christmas 2002. He had previously had a brief spell with The Robins but played just one Conference game for them in October 1999 at Welling. After this, he joined Salford City at the start of the 2000-01 season but in January 2001 he moved to Leigh RMI. There, he started one game in the Conference and made three sub appearances before being released in July 2001. He returned to Salford, for whom he scored three league goals in 2002-03 season before joining Alty. His career started as a Manchester United junior before he joined Manchester City on 1 July 1995. He was released from Maine Road in the 1996 close season and went, on Pontins' (Reserve) League forms, to Blackpool, Birmingham City, Bury and Barnsley before joining Wrexham on 27 January, 1997, where he played one game as a sub in a cup competition. Dave then moved on to Morecambe for a couple of seasons, making a number of Conference appearances. After that he played for various non-league clubs including Haslingden, Leigh RMI (two spells), Clitheroe, Curzon Ashton and Salford City, from whom he joined Altrincham in time for his Moss Lane debut on Boxing Day 2002 against Droylsden.
Dave is a partner in the Elite Sports Group with Jason Ferguson, son of Sir Alex. The company brokers football transfers which have included Jaap Stam's move to Lazio and Roy Carroll's transfer from Wigan to Manchester United.


Ryan HEVICON


Now left Altrincham; details here.


Kevin HULME

Now left Altrincham; details here.


Andy McDONALD

Now left Altrincham; details here.



Jonathan McEVOY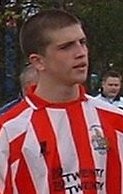 Jon was a regular youth team player in 2002-03 and was an unused first-team substitute for the UniBond league game against Bradford P.A. on 12 November 2002 but made a very good impression as a right-midfield sub against Hyde on 18 November 2002. He is a Cheshire Colleges and County squad player who joined the Altrincham Youth team for the 2002-03 season.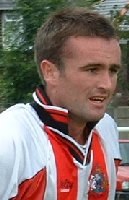 Danny MURPHY (d.o.b. 10 May 1977)

A speedy, wide midfielder who can operate on either wing but is also a fine header of the ball. He was signed on the strength of a fine performance for Mossley against Altrincham in the F.A. Cup and made his debut on 10 October 2000, scoring against Leek Town. His former clubs include Wilmslow Albion, Mossley and Cheadle Town. He picked up an injury in mid-October and missed some games but reappeared as sub at Ilkeston before succumbing once more to injury. On his return he scored inside a minute against Bishop Auckland (2/12/00). Danny had more injuries in 2001-02 which limited his effectiveness and he underwent a hernia operation in Spring 2002 which ruled him out of the side for many weeks. He returned to play at the end of 2001-02 season but injured his ankle in the first game of 2002-03 season. He resumed first team action a few weeks later before falling victim again to injury in November 2002. After an operation, he returned only to fall awkwardly in January 2003 and be sidelined yet again. Appearances by June 2002 - 72(+13), goals 16.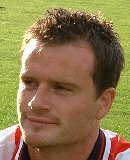 Neil RYAN (d.o.b. 27 January, 1975, height 5ft 11ins, weight 12st 7lbs)

A midfielder/right-back signed from USA side Portland Timbers, Neil is the son of Jim Ryan the Manchester United coach. He made his debut on 12 December 2001 against Vauxhall Motors in the UniBond Cup. In the USA he also played for Boston Bulldogs and in the A-League in Richmond and Worcester, (MA). Neil often takes corners for the side but he was sidelined by injury in November 2002 and made only occasional appearances thereafter. 33 appearances and 1 goal by June 2002.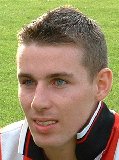 Sean SMITH (d.o.b. 1980)

Sean was Player of the Year for 2001-02 in the Eccles Sunday League. Signed in the close season, he came on as a sub at full-back in 2002/03 pre-season. He made his league debut in Graham Heathcote's first match as manager at Burscough on 15 October 2002 and played very well in left midfield and became a regular in that position till breaking his leg badly in a car accident on 16 February 2003, whilst working as a taxi-driver.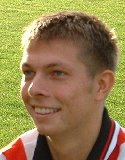 Andy TUNNICLIFFE

Andy is a young former Manchester City wide midfielder who broke his leg whilst on loan to Altrincham on 26 March 2002. He recovered fitness at Moss Lane and returned to competitive action mostly as a substitute in 2002-03. He finally made his starting debut in November 2002. After a spell at Trafford, Andy returned for the Alty game at Bradford on 29 March 2003.



Andrew WATSON

Now left Altrincham; details here.


Simon WOODFORD


Now left Altrincham; details here.



---
Strikers
Adewale AJETUNMOBI

This player has now left Altrincham; details here.


Anthony HARGREAVES


This player has now left Altrincham; details here.



Mattie HUGHES (d.o.b. 1977/78)

Signed on 27 March 2003 from Salford City, Mattie is a pacey left-footed striker who had already scored 25 goals for the NW Counties League side when he left them. Mattie made a promising debut at Droylsden on 31 March and scored on his Moss Lane debut on 5 April but a suspension, incurred before he came to Moss Lane, started on 7 April and lasts till the second game of the 2003-04 season.


Luke KILLEEN (d.o.b. 1985)

Luke made his first team debut, as a sub at Colwyn Bay, on 10 December 2002 having previously established himself as a first-choice striker in the Youth team. As a schoolboy he had been a prolific scorer and represented Bolton & District Schools. Luke was released by Bury during their cost-cutting exercises before he joined Altrincham.


Stephen LUNT (d.o.b. 1985)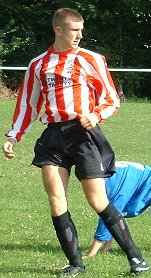 Steve, formerly at Altrincham Grammar School but now a student at South Trafford College in Altrincham, made his first-team debut as a late substitute against Bradford P.A. on 12 November 2002. He had previously established himself as a striker for the Altrincham Youth team, as well as playing for Altrincham F.C. Reserves, during 2001-02. Steve has won representative honours for Trafford Schools and for the Altrincham & District F.A. He made his first start against Hyde in November 2002 and scored. He got his first league goal, against Blyth on 8 February 2003.


Jamie PHOENIX


This player has now left Altrincham; details here.


James ROBINSON (d.o.b. 18 September 1982)


This player has now left Altrincham; details here.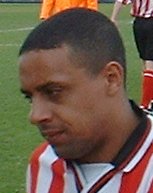 Tony SULLIVAN (d.o.b. 17.11.1974, Liverpool)
Tony (right) signed from Southport in mid-January 2003. A speedy forward/winger, he had joined Southport in July 2001 from Stalybridge Celtic. In doing so, he followed Celtic manager Phil Wilson, who had moved from the Bower Fold to manage at Haig Avenue. Tony joined Stalybridge in September 1997 after playing for Prescot Cables and in Merseyside local football. Tony scored his first goal for Alty on 8 February 2003 against Blyth but his starts were restricted by a lack of match fitness.


Rod THORNLEY (d.o.b. 2 April 1977)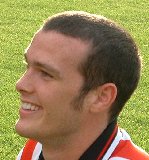 Signed from NW Counties' side, Congleton Town, in time to make his official debut against Droylsden on 17 March, 2001, Rod had been top scorer for the Cheshire side. He had played two games for Altrincham before signing, a friendly against Doncaster and a reserve game against Ashton, in which he scored the opening goal. Rod's brother, Ben, played for Manchester United, Aberdeen and, now Blackpol, whilst Rod himself works for United and for the England national side as a masseur. These duties sometimes oblige him to miss Altrincham games. His other former clubs include Warrington Town, Doncaster Rovers and Salford City. Rod re-signed for Alty for 2001-2 and went on to hit 20 goals in his first 20 games for Alty in 2001-02 before ending the season with 31 goals. He is a speedy and hard-working front-man with good ball-control and is also the side's penalty-taker. Rod is the team captain for the 2002-03 season but he missed quite a few games and had to have an operation in December 2002. Nevertheless, he still finished the season as top-scorer once again. Appearances by June 2002 - 65(+1), goals 40.




Mike TURNER

This player has now left Altrincham; details here.


Chris YOUNG

This player has now left Altrincham; details here.
---