Altrincham Football Club
News: August 1-19, 2000
19 August 2000
LAST-MINUTE SIGNING
Mark Ward has signed Mark Quayle, a 22 year-old ex-Everton and Notts County player, on a one-month contract. Quayle, a striker was unable to win a professional contract with Oldham where he had been on trial recently. Mark Ward had originally put him in touch with Leigh last year. Ward has indicated that he will play Quayle, alongside Carl Furlong in tomorrow's match against Gateshead.
---
CHRIS TIMONS LOCATED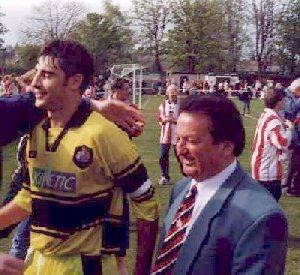 The speculation over the whereabouts of Altrincham's former captain, Chris Timons, has been ended by the news that he has signed for Ilkeston Town of the Dr Martens Premier Division. Chris (pictured, right, with Bernard Taylor), captained Altrincham to the Unibond Premiership in 1998-99 and remained captain for much of the 1999-2000 season in the Conference. By a pleasant coincidence, Altrincham have been draw away to Ilkeston Town in the F.A. Trophy on 4 November, so Altrincham fans should be able to renew their acquaintance with him on that occasion.
---
THEN AND NOW

Just six players remain at Altrincham from the team, seen above, which played the Club's last Unibond Premiership game, at Guiseley on 1 May, 2000. They are Stuart Coburn, Danny Adams, Jason Gallagher, Phil Power, Gary Talbot (who played no.9 that day) and Leroy Chambers. The rest of the squad for that game comprised Hodson, Timons, Ellender, Robertson, Harris, Lovelock, Kielty and Carmody.
---
17 August 2000
MARK WARD'S CONFIDENCE
In an interview in today's
Sale and Altrincham Messenger
, Mark Ward professes himself happy with his side's pre-season performances "despite a few narrow defeats". Having played flat-out against high-quality opposition from clubs in the Premiership and the Nationwide League will, Mark believes, give Altrincham the edge in their forthcoming Unibond clashes. He has recently been to watch Gateshead, Altrincham's first League opponents and, whilst he believes that they will be contenders for the title, he does not fear them.
---
16 August 2000
NLOTN FORECASTS
The Non-League on the Net (NLOTN) web-site has mounted an assessment on the Web of the coming season's prospects for each team in the Unibond Premier League. Altrincham come out of this survey as championship favourites, with our first opponents, Gateshead, rated as the most likely runners-up, and Hyde United tipped for third place. At the other end, Spennyomoor United are tipped for bottom place, just behind Frickley Athletic and North-East neighbours, Blyth Spartans. For full details see the
Non-League on the Net
web-site.
---
15 August 2000
MARK WARD IN THE DAILY TELEGRAPH
There is a substantial interview with Mark Ward about Altrincham in today's
Daily Telegraph
. In the article, Ward repeated his determination to gain promotion back to the Conference at the first attempt, even though many of the team's opponents this season can be expected to raise their game when playing Altrincham. "It's like a Manchester United or Liverpool dropping down into the Third Division as far as I am concerned", said Ward. Mark went on to explain that he had not been very active in the transfer market because he felt that he already had a good squad. He is determined that the team will play a passing game as they attempt to regain their Conference status. Mark then recalled his own career and how he was released by Everton as an 18 year-old before being rescued from Northwich Victoria by Joe Royle, who took him to Oldham for £9,500, prior to a £250,000 move to West Ham United. He concluded his interview by reviewing the Unibond triumph of Leigh RMI last season and indicated that he felt the same confidence this time around with Altrincham. The article is accompanied by a picture of a youthful Mark Ward in his League playing days.
---
15 August 2000
ALTRINCHAM SPONSOR'S BOND
Altrincham have launched a new 'Sponsor's Bond' whereby £1000 (+VAT) gets you 150 match tickets to be used as you wish plus a free package also valued at £1000. The packages include free advertising for your company or free entry to various Club-related sporting events, such as a new Altrincham FC Golf Classic. For full details see the
Official Altrincham FC
web-site.
---
NEXT MATCHES
19 AUGUST 2000 (HOME) GATESHEAD (Unibond Premier League) k.o. 3pm
22 AUGUST 2000 (AWAY) ACCRINGTON STANLEY (Unibond Premier League) k.o. 7.45pm
26 AUGUST 2000 (AWAY) WHITBY TOWN (Unibond Premier League) k.o. 3pm
28 AUGUST 2000 (HOME) LANCASTER CITY (Unibond Premier League) k.o. 3pm
---
13 August 2000
ELLENDER ON THE MOVE AGAIN?
The Non-League Paper today reports that Scarborough are likely to sell ex-Moss Lane favourite, Paul Ellender, having received a £25,000 offer from Doncaster Rovers. Scarborough are reputedly £2 million in debt and, following their manager Colin Addison's departure two weeks ago, their millionaire backer and also their chairman have now both resigned. The Club are therefore looking to offload players and Ellender and striker Chris Tate are expected to be amongst those sold. Altrincham will presumably net a small amount from the sell-on clause in Ellender's contract.
---
LEIGH WIN UNIBOND SHIELD
Leigh RMI held out for a 2-1 win over Lancaster City in yesterday's Unibond Peter Swales Challenge Shield match. Ex-Manchester United player, Clayton Blackmore, made his debut for Leigh.
---
OFFICIAL'S DISGUISE
The national press reported on Saturday that an eagle-eyed Unibond League official had identified that the man purporting to be a linesman undergoing his pre-season fitness test for League duty was some 17 years younger than he should have been. It turned out that the real linesman, an unidentified policeman, had sent a youthful substitute to get him through the gruelling physical test.
---
12 August 2000
SOUTHPORT (0) 2 ALTRINCHAM 0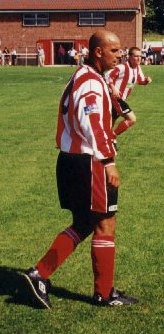 After a fine first-half performance from the visitors, a combination of a controversial opening goal and a less impressive Altrincham display occasioned by numerous substitutions led to Southport running out comfortable winners in the second half. A full match report may be found here. No mention of the controversy over the first goal is made in The Non-League Paper's report of the match and their accompanying picture is captioned "On the attack: Southport's Phil Bolland closes in on goal". In fact the picture shows 'Port defender Shaun Teale engaged in a last-ditch clearamce off his own goal line from an advancing Phil Power, (seen, left, at Abbey Hey), with keeper Dickinson on his knees in the background! It is also reported that Southport's former keeper, Billy Stewart, has signed for Alty's Unibond rivals Bamber Bridge. Stewart's side let in five in his debut game against Bolton.
---
12 August 2000
NEW SIGNINGS AND THE "PINK"
Tonight's Pink, the last-ever Saturday edition of Manchester's sporting institution, reports that Mark Ward has definitely signed Stuart Scheuber, Carl Furlong, Steve Porter and Stuart Quinn- all on one-year contracts. However, Scott Wilson is only being signed on a monthly-renewable arrangement. Mark is still keeping an eye on Adam Farley (from Everton) and Andy Walker, a former Newcastle United midfielder. Ward also confirmed recent interest in Kevin Ellison from Bristol Rovers, which has been rebuffed. As for the Pink, it is to become a Sunday paper, with no mid-week edition either. The new Sunday edition of the Pink will cost fifty pence and will include "regular columns" by semi-pro bosses. The Evening News web-site will have a results service; whether this will make it easy or more difficult to find those elusive Unibond Premier results promptly remains to be seen.
---
11 August 2000
SIMEON HODSON
Altrincham's right-back for the last two seasons, Simeon Hodson, has joined Sutton Coldfield Town in the Dr Martens Western League. He will thus come up against former Alty player, Andy Lovelock, who signed for Solihull Borough earlier in the close season. Sutton Coldfield finished in mid-table last year and are located near to Simeon's Midlands home.
---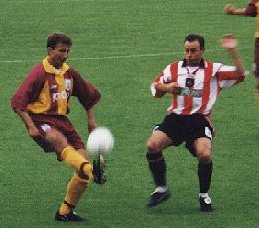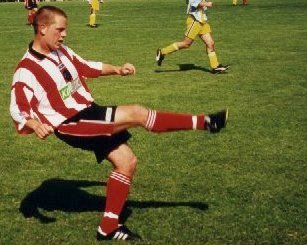 Left to right: THE ALTRINCHAM CENTRAL MIDFIELD- Mark Ward vies with Dan Petrescu at Moss Lane, 4 August, 2000; Steve Hawse at Abbey Hey, 22 July 2000. Click on images for larger versions.
---
10 August 2000
COMMERCIAL DEVELOPMENTS
Altrincham FC are issuing an Altrincham Sponsor's Bond (ASB) which will offer companies and individuals packages which will include match tickets, advertising and other benefits. Further details are available from the Club (0161-928-1045).
---
9 August 2000
ALTRINCHAM 0 MANCHESTER CITY 1
Altrincham were unlucky to lose 0-1 to a Manchester City XI at Moss Lane tonight. A match report can be found here.
---
8 August 2000
YOUTH INITIATIVE
Mark Ward, at his initial meeting with Altrincham fans, held immediately after his appointment, stressed the need to bring through players from the youth and reserve ranks of Altrincham F.C. into the first team squad. To that end, much effort is going into this season's Altrincham youth team and all fans are being encouraged to go along and support the up and coming players, whose home games are played on the pitch of Wythenshawe Town, which lies immediately next door to Tesco's Baguley superstore. The youth team will be competing in the North West Youth Alliance and will take on Leigh RMI Youth at Baguley on Wednesday, 30 August at 7.30pm. They also have away matches lined up at Ashton United (22 August) and Prestwich Heys (31 August).
---
7 August 2000
MALCOLM ALLISON
According to the Manchester Evening News Malcolm Allison's presence at the recent match with Bradford, which was noted in the match report, was to check the form of Stuart Coburn on behalf of Arsenal. The MEN also reports that other scouts have been watching Danny Adams, Steve Hawse and Kevin Ellison in the pre-season friendlies.
---
6 August 2000
MARK WARD, KEVIN ELLISON AND OTHER NEWS
Today's Non-League Paper has two articles on Altrincham, as well as a match report from joint Altrincham programme-editor, Grahame Rowley, on the friendly against Stockport. Mark Ward is quoted as having put a £100,000 price-tag on Kevin Ellison, for whom close-season approaches from Bristol Rovers, Carlisle United, Swindon Town and others have been received. In a separate "Mark Ward Column", the Altrincham manager explains why he will not be appointing an Assistant Manager- because "too many chefs spoil the broth". However, coach Tony Murphy will be entrusted with touch-line decisions as Ward, now 38, continues to perform as a player as well as manager. Mark also reiterated that he has not rushed into many new signings as he believes the squad which he inherited is more than good enough for the task in hand this season. He remains confident of promotion back to the Conference, after which his goal will be to convert Altrincham to a team with a full-time playing staff.
---
OTHER INTERNATIONAL STARS AT MOSS LANE?
Following Dan Petrescu's appearance for Bradford City at Moss Lane, last Friday, it is possible that George Weah and, (if he signs for the Blues), Paulo Wanchope, might figure in the Manchester City line-up expected at Moss Lane this Wednesday evening for the friendly game with Altrincham. Weah, however, could not prevent a City XI going down 1-4 to Stockport County yesterday, although the former World Player of the Year did score City's only goal.
---
5 August 2000
ALTRINCHAM 0 WREXHAM 3
Altrincham fell to their second defeat inside 24 hours when they were comprehensively beaten by a strong Wrexham side. The good news was that Altrincham only fielded a makeshift side, with many first-teamers absent after their exertions last night against Bradford. A match report is available here.
---
SEVEN SIGNINGS
In the programme for the Wrexham game, Mark Ward revealed that he will be offering contracts to seven of the pre-season trialists. These are Mark O'Connor (goalkeeper), Barry Crowe (right-back/midfielder), Stuart Scheuber (midfielder), Carl Furlong (striker), Stuart Quinn (right sided midfielder), Adam Farley (centre-back) and Scott Wilson (midfielder). He also confirmed that Mark Maddox's contract would be renewed. See the Altrincham Squad 2000-01 page for further details.
---
S.A.F.E. A.G.M.
The S.A.F.E. (Supporters' Association) A.G.M. was held before the Wrexham game. Amongst the points noted were:

The importance of the sponsored walk, which raised £2000 during last season.
The fact that S.A.F.E. had donated more than £5,000 to the Club during the last season.
S.A.F.E. meetings would now be quarterly; the next dates of meetings being 11 November, 2000, 3 February, 2001 and 28 April, 2001. A race night is expected to be held on 21 October, 2000, subject to confirmation.
Renewing members would be invited to top-up their membership fee (only £5 per adult) with a voluntary additional contribution.
It was hoped that coaches would be organised for all matches next season although Carsville Coaches, the normal operator, would be unable to provide a vehicle for the away matches at Whitby and Spennymoor. Instead, Goodwins of Eccles would operate these journeys.
A Share-Save scheme may be launched whereby fans could pay a regular sum of £10 or more per month and receive shares in return. A meeting will be held to explain the details of this proposal.
Various proposals from the "London Alty" were discussed and S.A.F.E. chairman, Peter Read will take these forward with the "exiled" fans.
---
4 August 2000
ALTRINCHAM 0 BRADFORD CITY 1
In their seventh match of the pre-season, Altrincham narrowly lost for the first time under Mark Ward's management. A report on the game can be found here.
---
3 August 2000
DIBBLE AND HEMMINGS
Andy Dibble, the former Altrincham keeper who made a surprise return to Moss Lane last night in goal for Stockport County, has been signed by the First Division side on a two-month contract as cover following an injury to Carlo Nash. Meanwhile, Tony Hemmings, who played briefly for Altrincham at the start of last season, has been released by Chester City for alleged non-attendance at training.
---
PEN TO PAPER
According to the Messenger, Mark Ward has or is expecting to sign at least of the three trialists currently at Moss Lane. These are Stuart Scheuber from Stoke City, Steven Porter from Liverpool and Scott Wilson from Rochdale.
---
TEN-YARD RULE
The Unibond League has been refused permission by the F.A. to introduce the experimental ten-yard rule next season. This rule, whereby free-kicks can be moved ten-yards forward if the defending side transgresses, will be used in the Premier and Nationwide Leagues.
---
2 August 2000
ALTRINCHAM 0 STOCKPORT COUNTY 0
For a match report, please click here.
---
CHESHIRE SENIOR CUP
Altrincham will (again) play away at Northwich in the Cheshire Senior Cup, this time in the first round. The game willbe in the week commencing 18 September. The full draw is:

Northwich Victoria v Altrincham
Runcorn v Stockport County
Witton Albion v Congleton Town
Warrington Town v Woodley Sports
Tranmere Rovers v Macclesfield Town
Winsford United v Vauxhall Motors or Stalybridge Celtic
Crewe Alexandra or Nantwich Town v Chester City
Hyde United v Cheadle Town

---
ANOTHER FRIENDLY DATE
Altrincham will field a side comprising reserves and youth players against the newly-formed Todmorden Borough, at their ground, on Tuesday, 8th August.
---
1 August 2000
CHRIS TIMONS
According to the Gainsborough Trinity web-site Chris Timons has returned to Altrincham. However, this seems unlikely as no sightings of him have been reported at Moss Lane.
---
PETRESCU DEBUT
Bradford City are reported to have confirmed that Dan Petrescu will indeed make his debut for the Premiership side in this Friday's friendly at Altrincham. A number of other first-team players are also expected to play.
---
31 July 2000
CHESHIRE SENIOR CUP
If Altrincham wish to regain the Cheshire Senior Cup, which they lost to Macclesfield this year, they may have to face Stockport County, who have announced that they will re-enter the competition this year after being absent since 1985.
---
BRADFORD SIGNING
Bradford City, who play at Altrincham this Friday evening, have signed Chelsea's Dan Petrescu. Whether the Romanian will play at Moss Lane remains to be seen. The Bradford first team play the second leg of their Intertoto Cup match at home to St Petersburg on Wednesday night.
---
ST FRANCIS MATCH
A brief report of the St Francis (Dublin) versus Altrincham friendly can be found on the Official Altrincham FC site. Details of the two teams can be found here
---
30 July 2000
DEAN GREYGOOSE
Altrincham's goalkeeper for much of last season, Dean Greygoose, played in goal for Chester City in last week's friendly at Runcorn, which the Conference side won 2-1. This was a less traumatic game for Dean than his recent trial at Bamber Bridge where his side went down 1-6 to a Preston North End XI.
---
UNIBOND PREMIER NEWS
Ernie Moss, Gainsborough Trinity's long-serving manager has left to become the number two to Peter Morris at Kettering Town. Also in the Unibond Premier Division, Accrington Stanley have acquired Servet Tasdemir a Turkish Second Division midfielder and Chris Waddle has made his pre-season debut for Worksop Town. Lancaster City are hoping to sign Rochdale's former Preston striker, Michael Holt and have also refused to allow their leading scorer, Chris Ward, go on trial to Carlisle United. Meanwhile, in the Conference, Paul Ellender has a new manager as Scarborough have appointed former York City boss and Scarborough player, Neil Thompson, to succeed Colin Addison who surprisingly resigned in midweek.
---
29 July 2000
MARK WARD HAPPY WITH SQUAD
In an interview in tonight's Summer Pink newspaper, Mark Ward professes himself happy with his first team squad and declares that he is unlikely to make any big signings in the near future. He has offered Kevin Ellison a further year on his existing one-year contract and is hoping to sign Scott Wilson, who has been on trial after being released by Rochdale. The red-headed 21-year-old midfielder played several times for Altrincham last season before returning to Spotland. Ward is also impressed by 22-year-old Stuart Quinn, who also had a spell at Altrincham last year before moving on. Quinn played alongside Michael Owen in Liverpool's side which won the F.A. Youth Cup. Despite his contentment with the squad, Ward is being linked with Accrington Stanley's transfer-listed right-winger, Mark Shirley. The Pink also confirms that Gary Thompson has been named as Paul Lake's successor as first-team physiotherapist.
---
OLD BOYS
Former Altrincham striker, Niell Hardy. has unexpectedly joined Radcliffe Borough on a free transfer from Conference side, Morecambe. Despite scoring more than a dozen goals for the Conference side last season, Hardy was released by manager, Jim Harvey, in the close season.

Former Altrincham captain, Mick Carmody, has joined Ashton United, for whom he had two spells on loan last season.
---
ST FRANCIS (Dublin) 3 ALTRINCHAM 3
Altrincham's unbeaten pre-season continued with a 3-3 draw in Dublin, last night.
---
27 July 2000
ALTRINCHAM 2 BURY 1
Altrincham secured a deserved win on Thursday night against a Bury XI, with goals from Chambers and Ellison. For a full report, click here.
---
24 July 2000
ONE TO SAVOUR
In Sunday's youth team match between Altrincham and Northwich Victoria, Altrincham won 6-0.
---
22 July 2000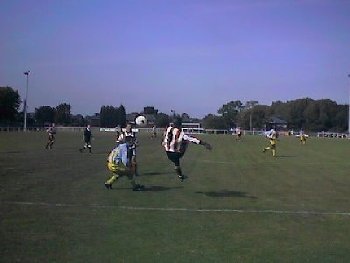 Leroy Chambers in action at Abbey Hey (20/7/00)
ABBEY HEY 1 ALTRINCHAM 5
Altrincham came from 0-1 down to win comfortably in today's friendly at Abbey Hey's ground in Denton. For a match report, please click here. Altrincham's other friendly today was on the Wirral, where the result was Poulton Victoria 1 Altrincham 6. Thanks to Alan Johnson, the webmaster of the Official Altrincham FC web-pages, a full report of the Poulton game can be seen here.


---
22 July 2000
Among the spectators at the friendly with Tranmere on 15 July were John Barnes and Malcolm Allison, both of whom were on scouting missions. The Pink speculates that the targets were Danny Adams and Kevin Ellison. Mark Ward is also confirmed as having added former Runcorn and Northwich player, Tony Murphy, to his backroom team at Moss Lane.
---
---
Go to ALTRINCHAM FC ARCHIVE
---