Altrincham Football Club
News Archive- 18 AUGUST - 3 SEPTEMBER, 2000
3 September 2000
STUART COBURN
For the full story of Stuart Coburn's three days of training with the Crystal Palace first team last week, ring Brian Flynn's
Robins' Round-Up
on 09066-555902.
---
ALTRINCHAM CONFUSION
The BBC (Grandstand), the national press and even the
Non-League Paper
and the
Pink
are in confusion over Altrincham's League results and position. All claim that Alty played yesterday and drew 0-0 at Whitby; in fact Whitby drew 0-0 with Accrington yesterday. The NLP even goes so far as to list the Accrington Stanley team under Altrincham's name. All these sources, as well as Ceefax and Teletext compounded the error by incorporating the erroneous result into their Unibond league tables. The correct table is
here
; Altrincham are ninth. The Press Association is presumably at the root of the error; a similar mess occurred last time Alty were in the Unibond when Accrington and Altrincham were again confused and a 4-1 win by Altrincham was credited to Stanley. The NLP also has a paragraph on Mark Ward in a feature on new managers.
Hyde still lead the table after Simon Yeo hit four goals in the 5-1 win over Hucknall (for results, see below) whilst Gateshead gained their first point. Alty's next opponents, Marine, are still without a win; a contrast to their long unbeaten run at the start of last season.
---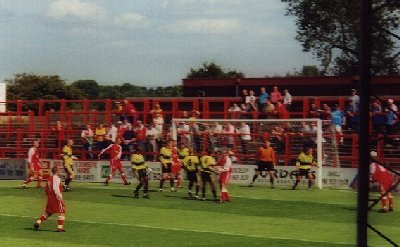 Altrincham defend their goal in the pre-season match against Wrexham.
---
ALTRINCHAM CLARIFICATION
After yesterday's FA Cup Preliminary Round, it is now clear that Altrincham will play either Mossley or Hebburn on 30 September at Moss Lane in the FA Cup 2nd Qualifying Round. Mossley play Hebburn on 16 September. Yesterday, Chadderton lost at home to north-eastern side Hebburn, 2-3 and Mossley beat Hatfield Main (from Yorkshire) 4-1. Other local FA Cup results included wins for Ashton United at Woodley, Radcliffe Borough against Rossington Main and Witton versus Oldham Town. Winsford only drew 1-1 versus Selby and the Cheshire team are also set to be docked points for fielding three ineligible players in their opening League match. As they made the same mistake last season, the Chairman has obliged the Club Secretary to resign. Our other group members in the Unibond Cup competition had mixed FA Cup fortunes; Stocksbridge beat Abbey Hey, whilst Ossett Town lost at home to Chorley.
---
NEW COMMERCIAL MANAGER SOUGHT
The
Pink
, today, invites applicants to contact Graham Heathcote for the vacant position of Commercial Manager at Altrincham. Another ex-member of the Alty management team, George Rooney, has become manager of Bromsgrove Rovers.
---
DANNY ADAMS
Today's
Pink
carries an interview with Danny Adams where the full-back reveals that Sammy McIlroy wanted to sign him for Macclesfield before he signed for Altrincham. Difficulties at Congleton Town, Danny's source club, precluded the transfer at that time. Danny is also reported as looking forward to building his fitness for full-time soccer.
---
NEW NON-LEAGUE WEBSITE
The
Non-League Paper
has launched a
new website
. As yet, this is still in a very embryonic state and does not, for example, have yesterday's results up (at mid-Sunday morning).
---
2 September 2000
NO COMMENT
A score from the Conference, today:
Half-time - Hednesford 0 Northwich Vics 1
Full-time - Hednesford 7 (SEVEN) Northwich Vics 1
---
UNIBOND PREMIER FIXTURES, 2 SEPTEMBER 2000
Altrincham had no match today so dropped to ninth in the table. Beware! - Ceefax is up the creek tonight and is showing Altrincham as having played Whitby (again) today and drawn 0-0. In fact, Whitby played Accrington today. The Ceefax error is carried over into their league tables where Alty are credited with an extra 0-0 draw. For the correct table, click here . Altrincham results are here and for the results grid, click here. Alty's next game is on Tuesday, away at Marine. Ring the ground to book your ticket on the supporters' coach ([0161]-928-1045). Amazingly, according to the Evening News, Stalybridge Celtic have been given the Unibond Team of the Month award even though it is Hyde United who are top and the leading scorers.

Bishop Auckland 1 Marine 1
Burscough 3 Blyth Spartans 1
Emley 1 Bamber Bridge 0
Gainsborough Trinity 0 Droylsden 1
Gateshead 2 Stalybridge 2
Hyde United 5 Hucknall Town 1
Lancaster City 2 Worksop Town 0
Leek Town 2 Barrow 1
Runcorn 2 Frickley 1
Spennymoor United 1 Colwyn Bay 1
Whitby Town 0 Accrington Stanley 0
---
TONY RIGBY
Tony Rigby, who played briefly for Altrincham during their 1998-99 season in the Unibond Premiership, has left Burscough and joined Runcorn. The Runcorn captain, Carl Ruffer, has now joined Chester City.
---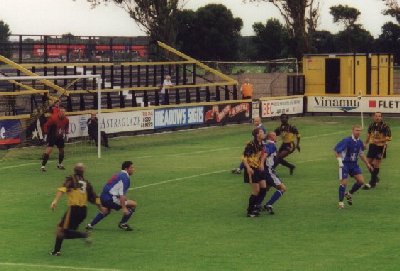 Left to right are Coburn, Gallagher, Adams, Talbot and Turkington at Southport. Click on picture to enlarge.
---
1 September 2000
TRAFFORD 1 FLIXTON 0
In tonight's FA Cup Preliminary Round, Trafford gained a narrow 1-0 win over Flixton, with a goal by Patterson after 52 minutes. However, Flixton were unlucky not to gain a replay in an entertaining game. Ossett Town or Chorley await Trafford in the next round.
---
NOW STUART STAYS?
Despite the report (below) in yesterday's The Independent, it now appears that Stuart Coburn's move to Crystal Palace may be off.
---
NEILL HARDY
Neill Hardy, who left Altrincham in 1999 on a free transfer to Morecambe, is now set to join Southport for a "four-figure fee". Hardy, released by Morecambe despite a reasonable strike rate, moved down two divisions to Radcliffe Borough at the start of this season. If the deal goes through, Radcliffe will add the cash to the £15,000 earned from Accrington for the recent sale of Paul Mullin, who made his Stanley debut as substitute versus Altrincham.
---
31 August 2000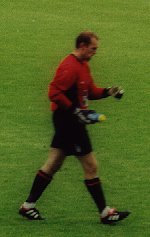 AND NOW STUART COBURN GOES TOO?
Hot on the heels of Danny Adams's transfer to Macclesfield, The Independent reports today that First Division Crystal Palace are set to sign Alty keeper, Stuart Coburn, for £100,000. Stuart is currently down in London training with Palace "and is expected to complete a £100,000 deal this week". Stuart only returned to the Altrincham side at the start of this season having missed much of our year in the Conference with a leg injury. If Stuart signs for Palace, Gary Talbot alone will remain of the first-choice defence which won the Unibond Premiership in 1999.



---
30 August 2000
ALTRINCHAM RESERVES 0 LEIGH RMI RESERVES 3
A young Altrincham side met their match in the shape of a more experienced Leigh side, which included Dave Felgate in goal. Alty included Shaun Goodwin for his customary 45 minutes in the first half. Altrincham's Jackson and Thomas rarely troubled the Leigh keeper and the home side went two goals behind in the first twelve minutes. Nevertheless, the home side had their moments, particularly in the middle part of the second half when Ian Craney hit the bar with a fine long shot. However, Leigh hit a third goal ten minutes from the end. Altrincham's keeper Ryan McMahon made a number of fine saves and others who performed well included Anthony Snagg and Ian Craney. The full side comprised:- 1-McMahon, 2-Harris, 3-Archibald, 4-Snagg, 5-Glendinning, 6-Millett (capt), 7-Craney, 8-Goodwin, 9-Thomas, 10-Jackson, 11-Porter. The subs were Duff, Nixon, Johnson, Bowker and Mairs. With no Altrincham match this weekend, the nearest action will be at Shawe View on Friday (1 Sept), where Trafford are at home to Flixton in the FA Cup Preliminary Round, kicking off at 7-30pm.
---
DANNY ADAMS GOES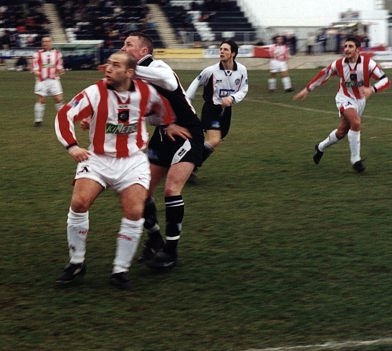 The on-off transfer of Altrincham's longest-serving current player, Danny Adams, will be completed on Monday 4 September, according to tonight's Manchester Evening News. Adams, 24, made 161 appearances for Altrincham following his debut in August 1997 and was Player of the Year last season. (Although Mark Maddox first joined Alty in 1996, he has a gap in his service during which he played at Barrow). Danny has been recognised as Altrincham's most accomplished player for the last two seasons and he will be sorely missed by the Club. The fee to be paid for him is believed to be up to £25,000, the actual amount being based on appearances for his new club. The deal originally broke down last week when Macclesfield's personal terms were judged inadequate by the left-back. However, there has presumably been an improvement in the offer as Adams is now reported to be quitting his job as a postman to go full-time at the Moss Rose. His last game was on Monday in the 3-1 victory over Lancaster City. It remains to be seen whether Mark Ward employs the right-footed Adam Farley or Steve Porter (or, indeed, someone else) as his replacement against Marine next Tuesday evening. It is to be hoped that, unlike Scarborough for Paul Ellender, Macclesfield pay up in full for Danny Adams. Macclesfield have yet to win this season and lie 17th in Division Three.
---
PICTURES ADDED
Pictures have now been added to the Southport-Altrincham pre-season friendly match report.
---
28 August 2000
ALTRINCHAM 3 LANCASTER CITY 1
This was a deserved win for Altrincham, in which the performance improved as play progressed. The goals came from Landon (15 mins)and Quayle (22 mins) before Lancaster's Ward made it 2-1 (25 mins). The clinching goal came from substitute, Phil Power (68 mins). The victory was marred when Quayle was stretchered off with an apparent hamstring pull, just after the interval. A match report can be found here. Altrincham now lie sixth, after Barrow climbed above them by beating Accrington 3-0 this evening. See here for the current league table and the fixture grid. Steve Hawse was the official Man of the Match. For pen-pictures and a history of Lancaster FC, kindly supplied by Grahame and Terry Rowley, please click here. other results...

Barrow 3 Accrington Stanley 0
Blyth Spartans 2 Gateshead 1 (Gateshead stay pointless and bottom of the table).
Burscough 3 Bamber Bridge 0
Colwyn Bay 2 Runcorn 2
Droylsden 2 Hyde Utd 4
Emley 3 Spennymoor Utd 3
Frickley 0 Bishop Auckland 1
Leek Town 0 Hucknall Town 0
Stalybridge Celtic 1 Whitby Town 1
Worksop Town 1 Gainsborough Trinity 1
---
ALTY ROBBED OF £11,000
The deal, last Friday, which saved Scarborough cost Altrincham £11,000 as they were forced to write-off the Seadogs' remaining debt for the transfer of Paul Ellender. Halifax Town, owed £45,000, got the FA to threaten to expel Scarborough but the Conference threatened to shut down completely if this were enforced. Halifax and Altrincham therefore had to give way or become the pariahs of non-League football. Scarborough now intend to keep Ellender but even if he were subsequntly sold, Alty could not be confident that they would see any money from their sell-on clause if clubs can get away with not honouring their debts as happened last week. Scarborough's current owner, Brooks Mileson, is also the President of yesterday's Altrincham opponents, Whitby Town.
---
SUPPORT FOR ADAMS
The Pink today prints three letters supporting Danny Adams and criticising Mark Ward for dropping and criticising him publicly. With Danny's return to the side yesterday, let us hope that this unfortunate episode is now behind us.
---
CUP OPPONENTS
Altrincham's opponents in the FA Cup 2nd Qualifying Round became no clearer yesterday when Chadderton drew 1-1 at Guisborough Town in the Extra Preliminary Round.
---
YESTERDAY'S UNIBOND PREMIER RESULTS
Chris Waddle set up four goals as Worksop went 5-0 up against Droylsden before half-time; the final result remained 5-0. Simon Yeo scored twice for Hyde but also got send off as they beat Blyth 6-2. Accrington's new signing from Radcliffe Borough, Chris Mullin, scored twice to put Stanley top of the table in a 3-1 win over Emley. Gateshead, who have only played two games, are now bottom, after losing at Lancaster, whom Alty play tomorrow. In the Unibond First, ex-Alty man Niell Hardy hit a hat-trick as Radcliffe won 6-4 away at Belper.
---
26 August 2000
WHITBY TOWN 2 ALTRINCHAM 2
Mark Ward will be relieved that Dickie Landon has not lost the knack of coming off the bench to score equalising goals but disappointed that three goal-bound shots from Mark Quayle all rebounded back off the uprights and robbed his side of all three points. Alty led when Hawse hammered a shot home after 13 mins, before Dixon, following a corner (25 mins) and Radigan (32 mins), with a 25 yard cross-cum-shot, put the Yorkshiremen ahead. Landon then netted from close range on 72 minutes, five minutes after coming on. A full report is here. Altrincham have dropped to eleventh in the table.
---
SATURDAY 26 AUGUST, UNIBOND PREMIER MATCHES
Accrington Stanley 3 Emley 1
Bamber Bridge 3 Colwyn Bay 4
Gainsborough Trinity 2 Burscough 1
Hucknall Town 3 Frickley 1
Hyde United 6 Blyth Spartans 2
Lancaster City 2 Gateshead 0
Marine 0 Stalybridge Celtic 3
Runcorn 0 Leek Town 1
Spennymoor United 2 Barrow 3
Whitby Town 2 Altrincham 2
Worksop Town 5 Droylsden 0
---
25 August 2000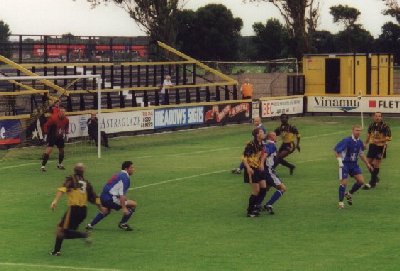 ADAMS STAYS- MARK WARD ON GMR
Mark Ward is unhappy with his defence; here left to right are Coburn, Gallagher, Adams, Talbot and Turkington at Southport. Click on picture to enlarge.

On tonight's sports programme on Greater Manchester Radio (GMR) Mark Ward revealed that although Altrincham and Macclesfield had today agreed terms for the transfer of Danny Adams to the Third Division side, the player had failed to agree terms with the Macclesfield management and remains at Moss Lane. Danny has indicated that, if selected tomorrow, he would give 100% for Altrincham. Meanwhile Mark Quayle is still uncertain for tomorrow's match owing to his head injury, Carl Furlong still has a knee injury, Lee Chambers is also still out and, now, Phil Power has picked up an injury playing for the reserves. Ward played down tomorrow's opponents, Whitby, indicating that their two wins so far have been against a weakened Droylsden and lowly Spennymoor. He professed himself "not too despondent" at the Alty defeat on Tuesday but admitted that he may have been "over-confident about [Alty's] defence" and that the side had been dominating periods of matches but then allowing the opposition back into the game. Mark still believes that his team is the one to beat in the Premier League.
---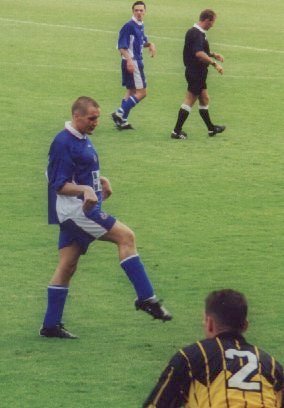 NEW PICTURES
A number of new pictures have been added to the Altrincham Squad page, including this one of Carl Furlong; enlarge by clicking on image. See below for a picture of the winning penalty against Gateshead. More pictures will be added to existing match reports inthe near future.




---
TEAM NEWS
Mark Ward is likely to miss tomorrow's clash with Whitby due to a knee injury. In the defence, Eddie Turkington is likely to pay the price for Altrincham's defeat at Accrington, as Mark Maddox is expected to return to the side after serving his suspension for the red card he received in the match against Doncaster Rovers last season.
---
SCARBOROUGH'S SURVIVAL
At today's creditors' meeting the survival of Scarborough was assured by 78% of the creditors who accepted a recovery package. It remains to be seen how this affects the outstanding debt to Altrincham for the unpaid portion of Paul Ellender's transfer. The offer from Doncaster for ex-Alty player, Paul Ellender, has been confirmed at a £40,000 down-payment plus a further £10,000 after 20 appearances and a further £10,000 if Doncaster are promoted this season. Apart from the sum owed to Altrincham, Halifax Town are owed £45,000 for the transfer of Chris Tate.
---
24 August 2000
FIRST TEAM INJURIES
Altrincham's impressive new signing, Mark Quayle, has had to have five stitches in his head after being injured in a clash with Accrington keeper, Jamie Speare in Tuesday's match. The striker is now doubtful for the trip to Whitby on Saturday. Mark Ward's absence from Tuesday's team was caused by injury and was not a tactical decision.
---
23 August 2000
ACCRINGTON STANLEY 2 ALTRINCHAM 1
In what the Radio Lancashire summariser described as a "cracker of a match", Altrincham lost all three points thanks to a poor opening ten minutes during which they went behind to goals by Ceraolo (4 mins) and Shirley (8 mins). For the rest of the game, the visitors were generally the better side though Accrington remained dangerous on the break. Altrincham's goal came from the right-foot of Kevin Ellison after 14 minutes. Perhaps the decisive moment of the game was the loss of Mark Quayle who sustained a head injury shortly before half-time after colliding with the Stanley goalkeeper. Alty dropped three places to seventh, whilst Accrington and our next opponents lead the table. A complete match report is available here.
---
LAST NIGHT'S RESULT
In the only Unibond Premier match played last night, Hyde United beat Leek Town 2-1. See the League Table and Fixture Grid for results of all matches played this season, so far.
---
21 August 2000
DANNY ADAMS
According to tonight's Manchester Evening News Mark Ward will not play Danny Adams again in the first team until his attitude improves. He accused the transfer-listed full-back of not trying during training and has banished him to the Reserves, for whom he will play on Wednesday evening at Moss Lane against Leek Town Reserves, kick-off 7-30pm. He will thus miss the first-team match away at Accrington tomorrow night.
---
20 August 2000
ALTRINCHAM 3 GATESHEAD 2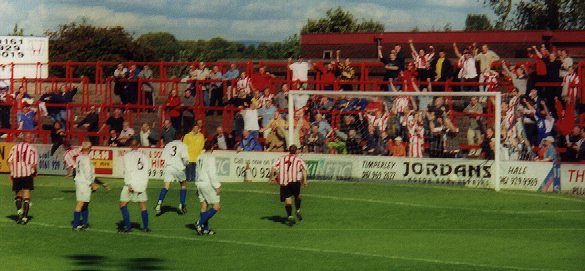 Where is the keeper? Mark Ward turns after scoring the last-minute penalty versus Gateshead.
Match report here. Yesterday's other results in the Unibond Premier were:

Barrow 1 Emley 3
Blyth Spartans 1 Gainsborough Trinity 0
Burscough 1 Hyde United 0
Colwyn Bay 3 Bishop Auckland 3
Droylsden 1 Whitby Town 3
Frickley 1 Bamber Bridge 2
Leek Town 0 Accrington Stanley 2
Marine 1 Hucknall Town 1
Stalybridge Celtic 3 Spennymoor United 2
Worksop 1 Runcorn 1
For further details see the League table, the Altrincham results list and results grid. Altrincham lie fourth, as one of eight teams to gain three points yesterday. For Alan Johnson's pictures from this match, click here
---
POWER AND ADAMS ON THEIR WAY?
As well as the offer from Macclesfield for the services of Danny Adams, Leigh RMI have been considering the acquisition of Phil Power. For the moment both moves are on hold; Altrincham want £25,000 from Macclesfield who have only offered a staged payment of £20,000, whilst Leigh are waiting to see how they settle into the Conference before committing themselves to a move for Power. Both Power and Adams were omitted from the Altrincham side yesterday. Altrincham's financial plight was not eased yesterday by a disappointing attendance of only 620 for the visit of Gateshead. However, Leigh RMI, making their Conference debut, attracted only 451 paying customers.
---
ALTRINCHAM HAVE KEY ROLE IN SCARBOROUGH FUTURE
The non-payment of a substantial portion of Paul Ellender's transfer fee by Scarborough means that "directors of Unibond League side Altrincham will decide tomorrow whether to have Scarborough wound up in the High Court", according to today's Non-League Paper. Paul Ellender himself is the centre of the controversy with Doncaster having bid for him (the sum quoted is now £60,000), Scarborough vowing to keep him, and Bristol Rovers also showing interest, according to the NLP. Scarborough's best hope would appear to be survival in straitened circumstances and a possible return to a part-time playing staff.
---
OLD BOYS' BAD DAY
Several players who left Alty last season had bad days yesterday.


Chris Timons gave away a penalty for handball as Ilkeston Town drew 4-4 at Merthyr in the Dr Martens Premier. Ilkeston scored twice in the last seven minutes to gain a point.
Ged Kielty and Ricky Harris played in Leigh's 1-2 defeat to Dagenham & Redbridge. Mick Morrell missed the game through injury.
Dean Greygoose kept goal for Chester City who also lost their Conference debut match, 0-2 at Rushden.
Lance Key let in a last-minute penalty as Northwich lost 0-1 to Kingstonian.
Niell Hardy's Radcliffe Borough drew 1-1 at home to Stocksbridge Park Steels.
Keith Russell was a non-playing sub as Hednesford crashed 0-4 at Dover.
Simeon Hodson's Sutton Coldfield lost 1-2 at Evesham.
Andy Lovelock's new team, Solihull Borough drew 2-2 at Tiverton Town.
Tony Hemmings was on the losing side for Carlisle, at Leyton Orient.
---
ONE FOR MARK WARD TO WATCH!
Darren Campbell, the Olympic sprinter who was brought up in Sale, has revealed that he would like to resume his non-League career once his sprinting days are over. Campbell, who played 81 times for Weymouth, as well as having a successful trial at Plymouth Argyle, indicated that he would be interested in joining a Ryman League or Conference side in the future. Given his Manchester roots, Mark Ward might like to keep an eye on the athlete who has recorded 10.04 seconds for the 100 metres.
---
ALTY'S NEXT OPPONENTS LOSE NEW SIGNING
Brian Butler, the Leigh centre-back who signed recently for Lancaster City, is out of action for four games after an accident at home. Alty play away at Lancaster this Tuesday.
---
BISHOP AUCKLAND- BITERS BIT?
Altrincham fans will recall the disgraceful scenes when Bishop Auckland fans rioted at Moss Lane in protest at the presence of George Shepherd in the Robins' side. Shepherd, whilst at Macclesfield, had sued the North-East club for damages after his leg was broken against the Bishops. Now the Bishops themselves are considering suing Guisborough Town (who may meet Altrincham in the FA Cup 2nd Qualifying Round) after midfielder Glen Downey was victim of a tackle by Guisborough's Paul Harrison.
---
THE NEW-LOOK PINK
The main reason for the price-rise from 30p to 50p for the new Sunday Pink became clear today when the revamped sports paper from the Manchester Evening News appeared with a sixteen page supplement called Pink Plus. This supplement, apart from an article on Malcolm Allison's move into the Priory Clinic, a rehabilitation centre in Altrincham and a picture of a fanatical City fan contained not a word on football or any other sport. However the 48-page main section did contain a substantial and illustrated match report on the Altrincham-Gateshead match and a column by Mark Ward. Disappointingly, its reports on other Unibond matches were no more expansive than those which used to appear on a Saturday evening and North West Counties coverage was incomplete. A useful centre-spread of results and tables included the Unibond Premier and First Divisions but showed Altrincham's equaliser yesterday as a 14th minute effort, when it actually came in the 78th minute. In his column Mark Ward again vowed to get Altrincham back into the Conference and picked out Hyde, Barrow, Gateshead and Worksop as the main threats to his side.
---
19 August 2000
ALTRINCHAM 3 GATESHEAD 2
Altrincham left it late to clinch a 3-2 win over Gateshead; a Mark Ward penalty in the 90th minute marred the visitors' afternoon. Gateshead also had two men sent off in the last minute. Altrincham took the lead through Ellison (12 mins) before letting Gateshead into the game. The visitors went 2-1 up after 58 mins, before Mark Quayle equalised (78 mins). Altrincham lacked Adams and Power from their line-up as well as the injured Chambers and the suspended Hawse and Maddox. A full report can be found here.
---
18 August 2000
GATESHEAD TEAM NEWS
Prolific goalscorer, Steve Preen will lead the Gateshead attack tomorrow. Preen, who scored 21 goals last season is keen to open his account tomorrow at Moss Lane, according to At the Gates the website of Gateshead, where more information can be found. Striker Paul Thompson has a damaged toe so may not play.
---
LAST-MINUTE SIGNING
Mark Ward has signed Mark Quayle, a 22 year-old ex-Everton and Notts County player, on a one-month contract. Quayle, a striker was unable to win a professional contract with Oldham where he had been on trial recently, despite scoring six times in two matches. Mark Ward had originally put him in touch with Leigh RMI last year and moved to sign him when the Latics did not do so. Ward has indicated that he will play Quayle, alongside Carl Furlong in tomorrow's match against Gateshead.
---
CHRIS TIMONS LOCATED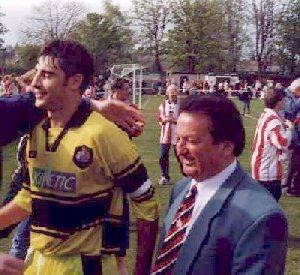 The speculation over the whereabouts of Altrincham's former captain, Chris Timons, has been ended by the news that he has signed for Ilkeston Town of the Dr Martens Premier Division. Chris (pictured, right, with Bernard Taylor), captained Altrincham to the Unibond Premiership in 1998-99 and remained captain for much of the 1999-2000 season in the Conference. By a pleasant coincidence, Altrincham have been draw away to Ilkeston Town in the F.A. Trophy on 4 November, so Altrincham fans should be able to renew their acquaintance with him on that occasion.
---
THEN AND NOW


Just six players remain at Altrincham from the team, seen above, which played the Club's last Unibond Premiership game, at Guiseley on 1 May, 2000. They are Stuart Coburn, Danny Adams, Jason Gallagher, Phil Power, Gary Talbot (who played no.9 that day) and Leroy Chambers. The rest of the squad for that game comprised Hodson, Timons, Ellender, Robertson, Harris, Lovelock, Kielty and Carmody.
---
Go to ALTRINCHAM FC ARCHIVE
---