Altrincham Football Club
News Archive 7-27 September 2000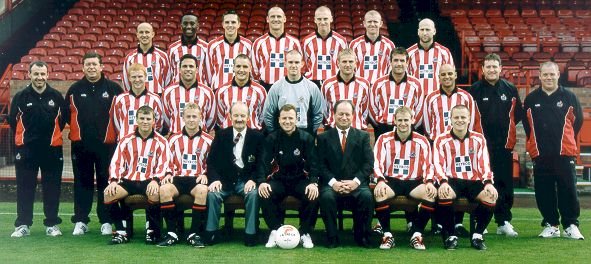 The 2000-01 squad; picture by Cliff Hase, supplied through the good offices of Alan Johnson and the
Altrincham FC Official Web site
.
Left to right, back row
: Shaun Goodwin, Leroy Chambers, Stuart Scheuber, Gary Talbot, Kevin Ellison, Mark Maddox, Danny Adams.
Centre row
: Joey Dunn (Res. Manager), Vic Green (Kit Man) Scott Wilson, Jason Gallagher, Carl Furlong, Stuart Coburn, Eddie Turkington, Richard Landon, Phil Power, J. Smith, Tony Murphy (Coach).
Front row
: Barry Crowe, Steve Porter, George Heslop (company secretary), Mark Ward (player-manager), Gerry Berman (chairman), Stuart Quinn, Steve Hawes.
---
27 September 2000
BISHOP AUCKLAND MOVE TO FIFTH
Unibond Premier Results Wednesday, 27 September
Bishop Auckland 1 Blyth Spartans 0
Gateshead 1 Barrow 2
The revised league table is here.
---
RESERVES RAINED OFF
Tonight's Reserves match versus Lancaster was postponed, due to heavy rain.
---
RUNCORN 0 ALTRINCHAM 2
Full match report is here.

Altrincham battled to a 2-0 victory on the Canal Street slope, with goals from Leroy Chambers (16 mins) and a fine strike from Kevin Ellison who went through the defence before finishing with a low shot into the corner of the net in the 89th minute. Runcorn hit the post and fought hard, especially in the second half of a game which rarely hit the heights. Altrincham remain third in the table. The new league table is here; tonight's team is here and the updated fixture grid is here Don't forget the Reserves are at home to Lancaster tomorrow (Wednesday), kick-off 7-30pm.
---
TUESDAY'S RESULTS
Tuesday, 25 September
Burscough 0 Accrington Stanley 0
Droylsden 4 Gainsborough Trinity 0
Hucknall Town 2 Stalybridge Celtic 2
Lancaster City 3 Bamber Bridge 2
Runcorn 0 Altrincham 2
Whitby Town 3 Spennymoor Utd 3
Worksop Town 12 (Twelve) Frickley Athletic 0 (Presumably this is not another hoax score like Hucknall's 7-5 earlier this season!)
---
25 September 2000
EMLEY GO TOP
Emley 3 Marine 2
Hyde Utd 1 Colwyn Bay 1
The new league table is here.
---
RUNCORN NEWS
Unofficial Runcorn sources suggest that they are about to sign Colin Rose, who played as sub against Altrincham last Tuesday for Northwich Vics. Rose, however, was sent off in last Saturday's Conference defeat by Boston. In return, Mick Mossley may move from Canal Street to the Drill Field. New player-manager, Liam Watson, scored as Runcorn gained only their second win of this season, last Saturday.
---
FAMOUS NAME AT MOSSLEY
Mossley, whom Altrincham play on Saturday in the FA Cup boast Mick Channon, 25 year-old son of the ex-Southampton, Manchester City and England star of the same name in their squad. Their players also include Mike Garside (26) a midfielder who used to play for Altrincham and, more recently, Trafford. Richard Ashcroft, another ex-Alty man and Steve Burns, who played 150 times for Trafford, are also now at Mossley. Player of the Year in 1999/2000 was Pedro Brennan, who scored their winner at Newcastle Town last Saturday. Mossley currently lie second in the NW Counties Division One after seven consecutive wins.
---
SPENNYMOOR CROWD
The attendance at Spennymoor's match against Altrincham last Saturday has been confirmed as just 198!
---
DIBBLE INJURY
Andy Dibble, the former Alty keeper, collapsed suddenly "like a sack of potatoes" in the words of an observer, in the warm-up before Stockport County's match on Saturday against Watford. He is believed to have a leg injury.
---
24 September 2000
RESERVES' FIXTURES AND TABLES
A page has been added to this site, here, covering the Altrincham Reserves, three of whom have already made their first-team debuts this season. It is hoped to add squad details to the fixtures and tables in the near future. Altrincham Reserves lost 2-0 at Bamber Bridge yesterday with a side which included Leroy Chambers. They now lie 10th in the 13-team Lancashire League.

---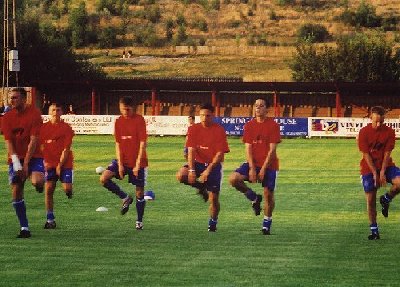 NEW PICTURES
A total of seventeen new pictures of Altrincham in action this season- including a sighting of the rare "Altrincham Wardance" (seen left) have now been added to the following match reports on this site: Accrington (A), Marine (A), Worksop (A), Whitby (A), Lancaster (H), Emley (H). The Altrincham Squad pages have also been updated and have had some new pictures added. Click on the photos for enlargements of them.
---
SHAUN GOODWIN GONE AND QUAYLE APPROACHED
Gainsborough Trinity fielded Shaun Goodwin in their 0-2 home defeat to Gateshead yesterday. Both he and the former Alty player Ally Pickering appear to have signed for the Lincolnshire side. Morecambe have made an approach to Mark Quayle who is currently injured but whether Mark has accepted is not yet known.
---
ELLENDER OFFER
Boston United have had a £100,000 bid for Paul Ellender rebuffed by Scarborough who, having "stolen" him from Altrincham, insist he is worth much more than the sum offered. Perhaps Scarborough wish to drive up the price so as to be able to honour their debts in unpaid transfer fees to Altrincham and Halifax- or, perhaps not!
---
SUNDAY PRESS
The Pink has an article today on Mark Ward and his young starlets. Those mentioned include teenagers Thomas, Porter, Farley, Garrity and Craney as well as elder statesmen like Crowe, Scheuber, Hawes, Quayle, Ellison, Turkington and Furlong- all in their early twenties. In the Non-League Paper Ward is quoted as praising Ian Craney, following his display at Worksop. A less attractive reason for buying the NLP this week is the special feature article on Northwich. This includes a picture of some keen Vics' fans; the caption does not say that the photographer actually had to ask Alty fans to move out of his line of view to take the picture at the match last Tuesday. Also in the press, the Pink carries an interview with Mossley boss, Benny Philips, in advance of next Saturday's Altrincham-Mossley FA Cup match.
---
23 September 2000
SPENNYMOOR UNITED (0) 0 ALTRINCHAM (2) 4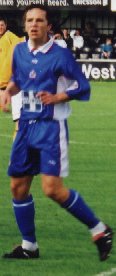 Right: Stu Scheuber, who had a fine game at Spennymoor.
Full match report is here and Alan Johnson's action photos of the match are here.
---
UNIBOND PREMIER FIXTURES, Saturday, 23 September
Worksop stay top but were helped by Barrow having two men sent off. Likewise Emley, benefited when Leek lost their keeper to a red card for the second time this season; Emley's goal came from their sole attack of the first half- sounds familiar? Hyde equalised in injury time.

Accrington Stanley 1 Stalybridge Celtic 4
Colwyn Bay 1 Blyth Spartans 0
Frickley Athletic 0 Marine 1
Gainsborough Trinity 0 Gateshead 2
Hyde United 1 Bishop Auckland 1
Lancaster City 0 Droylsden 2
Leek Town 0 Emley 1
Runcorn 2 Hucknall Town 1
Spennymoor United 0 Altrincham 4
Whitby Town 0 Burscough 2
Worksop Town 4 Barrow 2
---
22 September 2000
ACCOLADE FOR "ROBINS' REVIEW"
October's issue of "Team Talk" magazine praises Grahame and Terry Rowley's "Robins' Review", the official match-day programme of Altrincham F.C.. The programme is justifiably praised for its "large amount of reading material and good colour photographs". The same magazine has a picture of Stuart Coburn and a brief paragraph on former captain Mick Carmody, whilst Dean Greygoose is pictured in Chester kit on a page entitled "Shot Stopper of the Year"!
---
STRIP 4 SHELTER
Altrincham F.C. are one of the local clubs participating in a charity campaign for the homeless whereby individuals pay £2 to "Shelter" for the privilege of wearing their favourite football kit at work.
---
INTERNATIONAL TO JOIN ALTY?
The Evening News reports that Mark Ward has first refusal on 21 year-old Jamaican international striker, Jeff Cunningham, who plays for the Columbus Crew in the U.S.A.. His coach is based in Cheshire and wants Cunningham to gain experience in English football. Mark Ward has been sent a video by the coach, Nick Ross, and has been impressed enough to be seeking ways of securing his signature.
---
CROWD TROUBLE
Although Non-League on the Net was totally wrong to say that crowd trouble "ruined" Alty's match at Worksop, events that same day at Hucknall seem to have been more serious. According to the new unofficial Hucknall site, some £2000 of damage was done to Hucknall's new stand by Accrington Stanley fans.
---
21 September 2000
CHESHIRE SENIOR CUP Wednesday, 20 September
Stockport came from behind with four late goals to defeat Runcorn, last night, in the Cheshire Senior Cup; the final score was 1-4.
---
20 September 2000
<
NORTHWICH VICTORIA 1 ALTRINCHAM 0
Match report here

In a game played in pouring rain throughout, the better side lost. The only goal came from a free-kick twenty seconds before half-time. It was difficult to see whether the free-kick went directly into the net from a position 20 yards out, on the Northwich right or whether it got a touch as it went into Coburn's right-hand corner. After much deliberation the announcer gave the goal to Devlin. However, Altrincham clearly appeared to have the ball over the Northwich line in the first half in a goalmouth melee and in the second half Furlong and Landon rattled the crossbar and a post, respectively, inside a twenty-second period. Altrincham played some attractive passing football and apart from periods either side of half-time enjoyed the majority of the possession. The Alty side lacked Mark Ward, Jason Gallagher (both injured) and Kevin Ellison (rumoured to be ill) and comprised (in number order): Coburn, Crowe, Porter, Maddox, Talbot, Hawes, Craney, Scheuber, Furlong, Power and Chambers. All three subs were used; they were Landon, Farley and debutant Otis Thomas.
---
OTHER CUP RESULTS
Monday 18 September 2000
Cheshire Senior Cup 1st Round
Hyde United 6 Cheadle Town 1
Tuesday 19 September 2000
Cheshire Senior Cup 1st Round
Northwich Victoria 1 Altrincham 0
Winsford United 0 Stalybridge Celtic 1
Witton Albion 4 Congleton Town 2
Warrington Town 2 Woodley Sports 2
Crewe Alex 2 Chester City 1

---
PAUL HART
Paul Hart, Altrincham's diminutive young striker/midfielder has left Altrincham to join Vauxhall Motors.
---
18 September 2000
NEW NORTHWICH PLAYERS
Since Altrincham's four undefeated games with the Vics last season, they have acquired a lot of new faces, some of whom may be seen in tomorrow night's match. These include ex-Reading manager, Jimmy Quinn who has been playing on a match-by-match basis; Ged Kimmins from Hednesford Town, Adie Mike from Southport, 35 year-old centre-back Steve Davis (ex-Barnsley, Crewe) and emerging 19 year-old reserve player, Gary Fletcher. Mike is currently injured. Of the older guard, Lance Key, who kept goal for Alty for the latter part of last season was sub-goalkeeper in Northwich's last match and Stuart Terry has left the Drill Field. He was last seen at Connah's Quay; his replacement is Carl Laurie, a youngster signed from Crewe.
---
NEXT LEAGUE MATCH- SPENNYMOOR UTD (Away)
After tomorrow's (Tuesday's) Cheshire Senior Cup match at Northwich, Altrincham return to League duty next Saturday (23 September) with an away match in Durham at Spennymoor United. The Moors have signed a number of new players this season including goalkeeper John Jackson (Billingham Synthonia), Chris Leonard (Macclesfield!), Mark Wheldon (West Auckland), Andy Swalwell (Ballymena) and Ross Foreman (Northallerton).
---
17 September 2000
YOUTH TEAM RESULT
From Bob Allan comes news that Altrincham Youth Team beat Daten Sports 3-2 this weekend, having been 0-2 down at one stage. The scorers for Alty were Crowther (pen), Tilley and Thomas. Youth team games take place at Wythenshawe Town FC, adjacent to Tesco's at Baguley.
---
Wednesday 20 September 2000
Cheshire Senior Cup 1st Round
Runcorn 1 Stockport County 4
---
WORKSOP MATCH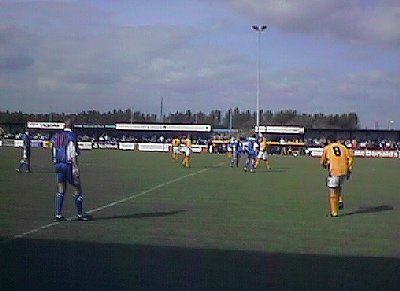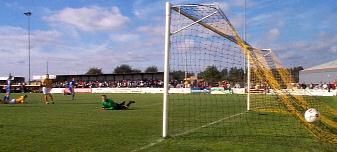 Left: Ellison and Waddle seen together in yesterday's match. Right: One of Alan Johnson's pictures from the Worksop game, reproduced with his kind permission. This one shows Ellison's winning goal. For the rest of Alan's photos, see the link below.

The attendance at yesterday's match at Worksop was 665, by far the highest in the Division. The Match report is here. For some excellent action pictures from the match, see Alan Johnson's photos on the Official Altrincham web-site. There is an interview with Mark Ward in today's Pink in which he reveals himself to be happy with the team's progress so far. Steve Porter is singled out for praise for his performance at left-back.


---
F.A. CUP
It is Mossley who will visit Altrincham on 30 September for the F.A. Cup Second Qualifying Round match. They beat Hebburn 2-0 yesterday in the First Qualifying Round. Trafford succumbed to a 2-3 defeat at Chorley, the winner coming deep into injury time.
---
RUNCORN MISFORTUNES CONTINUE
Having sacked their manager Mark Carter and installed Accrington player, Liam Watson, as the new boss, the Linnets have been going through difficult times. These were compounded yesterday when Watson injured himself in the pre-match warm-up and could not play. Runcorn then went on to lose 1-5 at Gateshead with their only goal coming from ex-Alty man, Tony Rigby. Mark Carter, meanwhile, has joined Bamber Bridge's playing staff whilst Dave Pace of Droylsden has reportedly refused to release Neil Whalley's player registration although the Bloods' man has been appointed as Watson's deputy at Canal Street.
---
SCARBOROUGH
Campbell McLay, an Alty fan, has a very sensible letter published in today's Non-League News. Whilst applauding Scarborough's survival from possible bankruptcy, he rightly points out that the Seadogs are making little attempt to mend their ways. They are still paying full-time wages and even seeking to sign new players whilst not even considering repaying creditors, such as Altrincham.
---
16 September 2000
WORKSOP TOWN (1) 1 ALTRINCHAM (0) 2

A full match report is here.

---
UNIBOND FIXTURES, Saturday, 16 September
NB As Whitby and Blyth's original fixtures were postponed, they hastily rearranged the League match between themselves.


Bishop Auckland 3 Gainsborough Trinity 1
Blyth Spartans v Bamber Bridge POSTPONED
Blyth Spartans 0 Whitby 2 REARRANGED MATCH
Burscough 4 Spennymoor United 1
Droylsden v Barrow POSTPONED
Emley 1 Lancaster City 0
Gateshead 5 Runcorn 1
Hucknall Town 2 Accrington Stanley 0
Hyde United 0 Frickley Athletic 0
Leek Town 2 Marine 2
Whitby Town v Colwyn Bay POSTPONED
Worksop Town 1 Altrincham 2
---
15 September 2000
NORTHWICH INJURIES
Northwich Victoria, who play Altrincham in the Cheshire Senior Cup on Tuesday (19 Sept.), have a number of injury concerns. The following are likely to miss Northwich's Conference game on Saturday:- Adie Mike (groin strain), Colin Rose (bruised ribs) and Ian Cooke, who is out for some time with cartilage trouble.
---
13 September 2000
UNIBOND RESULT, Wednesday 13 September
Bishop Auckland 2 Frickley Athletic 0
Gateshead v Whitby Town POSTPONED
---
ALTRINCHAM 3 COLWYN BAY 0

Full match report here.
After a goalless first half, Altrincham scored three times in the last 23 minutes to run up a slightly flattering scoreline against a Colwyn Bay side which had its chances to take the lead in the first half. Nevertheless, this was an improved performance over the match last Saturday. All three goals were from close range, coming firstly from Furlong (67 mins), then Ellison (81 mins) and finally Landon (88 mins) though Colwyn Bay defenders were also arguably involved with the final touch on all of the efforts. Above all it was a pleasure to watch two sides both trying to win the match rather than enduring the negativity witnessed in the recent encounter with Emley. Altrincham are now fifth; the Ceefax table is wrong again as Monday night's matches have been omitted! The correct table is here. Kevin Ellison was once more named Man of the Match, though Barry Crowe and Steve Hawes were amongst others who played well. Six Alty players were booked. Updated player appearance details are here and updated Altrincham results and scorers are here.
---
UNIBOND PREMIER MATCHES, Tuesday 12 September, 2000
Altrincham 3 Colwyn Bay 0
Burscough 1 Marine 3
Gainsborough Trinity 0 Stalybridge Celtic 0
Lancaster City 1 Accrington Stanley 1
Leek Town v Droylsden POSTPONED
Runcorn 2 Bamber Bridge 3
Spennymoor United 1 Blyth Spartans 2
---
PAUL FRANCE

Altrincham's former captain and centre-back, Paul France, has recovered from a year-long injury and is now fit to play again for Ashton United's League-topping side in the Unibond First Division.
---
11 September 2000
UNIBOND PREMIER RESULTS, Monday 11 September, 2000
Emley 0 Hucknall Town 0
Alty fans will be delighted that Emley Amateur Dramatic Society failed to go top with this goalless draw in front of a derisory crowd of 221. Emley drop to 3rd, behind new leaders Worksop, with Stalybridge now second. The updated table is here.
Hyde United 1 Worksop Town 3
Hyde's poor form continues with another defeat, this time against Alty's opponents next Saturday, Worksop.
---
10 September 2000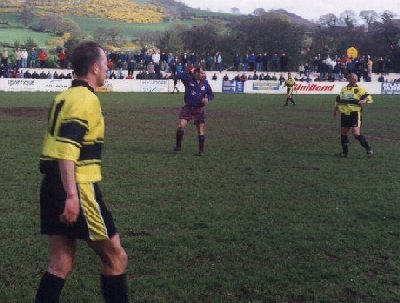 NEXT MATCH
Altrincham's next game is at home on Tuesday, 12 September at Moss Lane, kick-off at 7-45pm. The opponents are Colwyn Bay, whom we last played in April 1999, as seen left. Ricky Harris, now at Leigh RMI, is in the foreground, with Phil Power behind him. The game ended in a 1-1 draw at Colwyn Bay's rural ground. (Click on picture to enlarge).


---
SCOTT'S AWAY
Midfielder, Scott Wilson (19), has terminated his second brief spell at Moss Lane by moving to Radcliffe Borough. There, he joins Neill Hardy with the ex-Alty striker still caught up in his club's wrangling with Southport, following the seasiders' bid to take Hardy back into the Conference. Meanwhile, Southport have surprisingly transfer-listed ex-Northwich striker Robert Pell, who scored twice in the pre-season match against Altrincham.
---
ELEVEN WANT PROMOTION
Eleven of the Unibond Premier's 23 teams have applied for promotion to the Conference, should they win the league title this year. Apart from Altrincham, the applicants are Accrington, Barrow, Blyth, Gainsborough, Gateshead, Hyde, Lancaster, Runcorn, Stalybridge and Worksop.
---
DEPARTED ROBINS
Amongst recent ex-Robins in the goals yesterday were 'Bomber' Harris, from a Ged Kielty freekick, for Leigh in their 2-2 draw with bottom-place Boston; Matt McNeil, who netted for Stalybridge as they went top of the Unibond Premier; Andy Lovelock, who scored as Solihull Borough went down 3-5 at home to Rocester; Nathan Comley-Excell, who opened the scoring as Bangor City won 3-0 and, also in Wales, John Toner, who got TNS's winner against Cwmbran. Simeon Hodson's freekick laid on an 89th minute opener for Sutton Coldfield, who went on to draw with a last-minute penalty. Chris Timons's Ilkeston won 2-1 at Dorchester and Mick Carmody's Ashton United made it six wins out of six to head the Unibond First Division. Paul Robertson, Martin McDonald and Stuart Walker (named as sub.) were all in Hyde's squad yesterday, which lost at Barrow.
---
9 September 2000
ALTRINCHAM 0 EMLEY 2
A full match report is to be found here and the League Table is here..

After last Tuesday's fine performance at Marine, Altrincham came down to earth with a bump against a rugged but well-organised Emley side whose increasing use of time-wasting and spoiling tactics as the game wore on will have won them few friends. Despite almost camping in the Emley half for the final 45 minutes, Altrincham lacked the necessary incision to threaten the Emley goal. Emley arrived late and the match kicked off at 3.20pm and it was against the run of play when the visitors' Darren Day scored a fine headed goal from a left-wing free-kick after 25 minutes. Coburn was a virtual spectator for the entire second half but Altrincham's passing game lacked the guile to create many openings. However, Emley stole a second goal in the last minute when ex-Northwich Vics' player, Rory Prendergast, dispossessed Gallagher on the right and his fine cross was well-met by lone-striker, Simeon Bambrook who scored with a firm header a helpless Coburn. Altrincham dropped to tenth, whilst Emley rose to second, a position Altrincham would have occupied had they won. As Accrington and Hyde both lost, Stalybridge Celtic are now top of the League. To cap a bad day for Altrincham, Northwich beat Stevenage 3-2 in the Conference.
---
FIXTURE CHANGE
Altrincham's home fixture against Hucknall Town on 19 September has now been postponed to make way for the Cheshire Senior Cup tie at Northwich Victoria. The new date for the Hucknall match is not yet confirmed.
---
RUNCORN MANAGER
Runcorn's new manager is Liam Watson, the Accrington Stanley striker. Watson, who was sold for £13,000 by Runcorn to Accrington last season played for Stanley in the recent match against Altrincham. It is believed that Runcorn have paid a larger sum than his incoming fee from Stanley to lure him back to Canal Street to replace Mark Carter.
---
8 September 2000
NEW SIGNINGS ON HORIZON?
Tonight's Manchester Evening News reports that Mark Ward is "lining up moves" for Steve Morgan (32 next week), a former Coventry City left-back. Morgan, who was born in Oldham, started his career at Blackpool (144 appearances, 10 goals) before moving to Plymouth Argyle (121/6), Coventry City (68/2). Then, after five games for Bristol Rovers on loan, he signed for Wigan (36/2) before another five loan games, this time at Bury. Both loan spells and a subsequent 17 matches for Burnley yielded no goals, but he did score once in his 19 games for Hull City where he played predominantly as number 6, 4 or 7 and played in midfield. Morgan is 5ft 11ins and 12 stone and was a regular member of the side at the end of last season in Hull's Divison Three side. The other Altrincham target is Michael Garrity (born 1980), who was a youth player at West Bromwich but, more recently, was on loan at Nuneaton Borough.
---
7 September 2000
WHO PLAYED WHERE
A table showing each Altrincham player's League appearances for the 2000-01 season and the position in which he played is here. Only Stuart Coburn, Gary Talbot and Kevin Ellison have started all five games to date.
---
SHAUN GOODWIN
Rumours that Shaun Goodwin was unsettled have been confirmed with the news that he has asked for a transfer. Goodwin, one of the few players to have cost Altrincham a fee in recent seasons, is reportedly interesting Gainsborough Trinity. His brief spell at Moss Lane has been blighted by injury and he sat out the last match, at Marine, in the stand nursing an ankle injury.
---
MARINE 0 ALTRINCHAM 4
A full match report is here
---
Go to ALTRINCHAM FC ARCHIVE
---