Altrincham Football Club
News Archive- 22 September to 5 October, 2000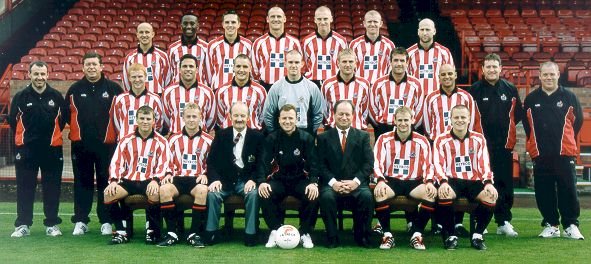 The 2000-01 squad; picture by Cliff Hase, supplied through the good offices of Alan Johnson and the
Altrincham FC Official Web site
.
Left to right, back row
: Shaun Goodwin, Leroy Chambers, Stuart Scheuber, Gary Talbot, Kevin Ellison, Mark Maddox, Danny Adams.
Centre row
: Joey Dunn (Res. Manager), Vic Green (Kit Man) Scott Wilson, Jason Gallagher, Carl Furlong, Stuart Coburn, Eddie Turkington, Richard Landon, Phil Power, J. Smith, Tony Murphy (Coach).
Front row
: Barry Crowe, Steve Porter, George Heslop (company secretary), Mark Ward (player-manager), Gerry Berman (chairman), Stuart Quinn, Steve Hawes.
---
5 October 2000
EMLEY AND LEBANESE INTERNATIONAL
Table-topping Emley are believed to have signed a full Lebanese International striker called Wael Naza who, bizarrely, lives near Huddersfield and came to the club via Terry Yorath who was manager of the Lebanese international team.
---
4 October 2000
ALTY v SPENNYMOOR- FIXTURE CHANGE
The home match with Spennymoor scheduled for 3 February 2001 has been rearranged and will now take place on Saturday 14 October 2000 at 3p.m..
S.A.F.E. RACE NIGHT
There is to be a S.A.F.E. (Supporters' Association) Race Night at 7-30pm on 21 October. More details to follow.
UNIBOND PREMIER RESULT, Wednesday, 4th October
Bishop Auckland 0 Gateshead 1
Updated league table is here

NORTHWICH SACK MANAGER
Mark Gardiner, manager of Northwich, has been dismissed. Steve Davis has taken over as caretaker boss. Brendan Phillips of Nuneaton Borough has also been sacked. Also, Southport manager Mark Wright has admitted an interest in the Oxford United vacancy. A Conference managerial vacancy is also to be found at Yeovil where Dave Webb has left to join Southend United.

RESERVES LOSE
In a fixture postponed from last week, Altrincham Reserves lost 0-3 to Lancaster City Reserves tonight at Moss Lane. Dickie Landon and Barry Crowe were in the side, Ryan McMahon kept goal and Otis Thomas came on for the last 17 minutes. Altrincham enjoyed a lot of possession but conceded two breakaway goals after 50 and 76 minutes to add to Lancaster's opener on 19 minutes.

ALTRINCHAM 0 STALYBRIDGE CELTIC 0
A full match report is here
A much improved performance, compared with Saturday's FA Cup exit, saw Altrincham gain a well-earned draw against Stalybridge Celtic. Indeed, Altrincham had the better of the second half after Stalybridge had enjoyed a strong spell during the first half, with Sullivan missing an open goal after rounding Coburn after 16 minutes. Altrincham fielded two new players, Alex Hay and Gary Scott. Both played well, particularly Hay, a young striker on loan from Tranmere Rovers. Scott a full-back from Leigh RMI, played in midfield. James Glendenning had his first start, playing at the back in place of the injured Maddox but Carl Furlong was again missing and Michael Garrity was reduced to the bench. The official Man of the Match award went deservedly to Steve Hawes but Stuart Coburn made some magnificent saves which made him a strong candidate too. As usual, Stalybridge won few friends with their at times robust style of which Martin Filson is the prime exponent but they also played some good football. A crowd of 828 watched the game. Altrincham remain third in the new table, which is here. Altrincham's team is listed here and the updated Unibond fixture grid is here.

FA CUP REPLAYS - Games on Tuesday, 3 October.
Accrington Stanley 4 Durham City 2
Marske Utd 0 Bamber Bridge 2
Lancaster City 3 Brigg Town 4 (aet)
Leek Town 3 Newcastle Town 2 (aet)
---
3 October 2000
Other Results, Tuesday, 3rd October
Blyth Spartans 0 Spennymoor United 1
Colwyn Bay 3 Droylsden 2
Frickley Athletic 1 Hucknall Town 2
Whitby 0 Emley 1
The following Tuesday-night matches were postponed because of F.A. Cup replays:

Accrington Stanley v Barrow
Bamber Bridge v Marine
Lancaster City v Runcorn
Leek Town v Worksop Town

---
2 October 2000
PLAYER NEWS
Mark Ward has signed Alex Hay, a Wirral-born 18 year-old forward from Tranmere Rovers, on a short contract and he will play tomorrow against Stalybridge. Injured keeper, Stuart Coburn, is expected to be fit for tomorrow's clash and Mark Ward also hopes to secure the services of Colwyn Bay's midfielder Jonathan Cross (see below) and a right-back, Gary Scott, from Leigh RMI in time for the match. Cross played for Wrexham, Tranmere and Chester City before joining the Bay on a short contract. Gary Scott has been released following the signing by Leigh of two full-backs from Burnley. Nevertheless, he has played nine times for Leigh this season, including their win over Dover last Saturday.

YOUTH TEAM GO TOP AND RESERVES WIN TOO
George Heslop's Altrincham Youth side went top of their league yesterday after 2-0 away win against Rylands FC. They have now scored 14 goals without reply in their three away games! Details of the Youth Team's results can be found here. Meanwhile, the Reserves beat Colwyn Bay 2-1 away. They now lie ninth in the 14-team Lancashire League.

IF ONLY...
Had Altrincham beaten Mossley in the F.A. Cup, they would have had a winnable home fixture against Frickley in the Third Qualifying Round. Other ties include:

Bamber Bridge/ Marske Utd v Gateshead
Bedlington Terriers/Durham City v Accrington Stanley
Emley v Barrow
Hyde United v Brigg/Lancaster City
Marine v Radcliffe Borough
Sheffield v Ashton Utd/Goole Town
Stalybridge Celtic v Billingham Synthonia or Bridlington

UNIBOND PREMIER FIXTURE
Monday, 2nd October
Hyde United v Burscough MATCH POSTPONED due to the sad death of the Hyde United Secretary, Ray Stanley. Also postponed is Friday's match, Gainsborough v Hyde, as that is the date of the funeral of Mr Stanley.
2 October 2000

NEW TRIALISTS AT MOSS LANE BUT CROSS DEAL OFF?
Mark Ward's hope of signing Colwyn Bay's former Wrexham midfielder, Jonathan Cross, has been halted by the Welsh club's requirement for a fee of £8,000 to be paid. Ward believes that the Bay are asking an excessive price simply because of Altrincham's reputation as a big club. However, Mark is giving trials to former Glasgow Celtic defender/midfielder, Craig Culkin (d.o.b 31/1/79), who is currently a student in Liverpool. Born in Jersey, he was at Celtic from July 1995 till released in August 1998. Also a trialist at Moss Lane is 25 year-old midfielder Francis Tierney, (d.o.b 10/9/75). Liverpool-born, Francis has played 87 times for Crewe and, from 1998/99, 33 times for Notts County, where he scored ten and four goals respectively. (Thanks to Terry Rowley for some of this information.)

F.A. CUP 2ND QUALIFYING ROUND- Saturday 30 September 2000
All of the fixtures involving Unibond Premier teams are listed below. No fewer than five Unibond Premier sides needed last minute goals to win or draw. Burscough, Marine and Gateshead scored last-minute winners, Emley scored two in the closing moments to win and Lancaster got two at the death to draw.:-

ALTRINCHAM 0 MOSSLEY 3
BAMBER BRIDGE 1 Marske United 1
BARROW 3 DROYLSDEN 0
Brigg Town 2 LANCASTER CITY 2
BURSCOUGH 2 RUNCORN 1
Chorley 0 WHITBY TOWN 2
Clitheroe 1 HYDE UTD 2
Durham City 2 ACCRINGTON STANLEY 2
EMLEY 3 Salford City 1
FRICKLEY ATHLETIC 1 Stocksbridge Park Steels 0
GATESHEAD 2 BISHOP AUCKLAND 1
Horden CW 1 GAINSBOROUGH TRINITY 3
HUCKNALL TOWN 4 Congleton Town 0
MARINE 4 COLWYN BAY 3
Newcastle Town 1 LEEK TOWN 1
SPENNYMOOR UTD 0 Bedlington Terriers 3
STALYBRIDGE CELTIC 2 BLYTH SPARTANS 0
Whitley Bay 2 WORKSOP TOWN 1
---
SCARBOROUGH EULOGY
Today's Non-League Paper has a centre-page spread on Scarborough. Its tone will annoy Altrincham fans as it is congratulatory at Scarborough's gritty avoidance of financial extinction and has no reference to their survival being at the expense of Altrincham and Halifax. Paul Ellender is pictured and cited as one of the team's key assets. However, on the Letters Page, a Southampton-based fan does eloquently argue the case that the Seadogs should not forget that they reneged on the transfer deals done with Altrincham and Halifax. The writer, A.P. Rowley points out that Scarborough "continue to progress and be one of the few full-time sides in the Conference. A situation which, to some extent, has been at the sacrifice of others".

"NON-LEAGUE PAPER" AT MOSS LANE
The editor of the Non-League Paper, the editor of Team Talk magazine and the chief executive of Non-League Media plc will all be at Moss Lane this Wednesday (4 October) "to meet fans and talk about [their] plans" from 12.30pm to 2.30pm.

OLD BOYS
In yesterday's matches Keith Russell made a rare start for Hednesford but was substituted after 74 mins in the 0-0 draw with Chester. Ricky Harris came on as a second-half sub for Leigh who beat Dover 2-1, whilst Ged Kielty played the whole game. Mick Morrell was Leigh's unused sub as was Dean Greygoose for Chester. Lance Key let in four goals as Northwich lost 3-4 to Hayes. Matt McNeil scored for Stalybridge in the FA Cup. There is a piece on Nathan Comley-Excell's Sunday-side, AFC Gardiner's in The Sunday Pink.
---
30 September 2000
ALTRINCHAM 0 MOSSLEY 3
Match report is here. Other results below.

Altrincham crashed out of the F.A. Cup to a Mossley side who, on the day, were better in virtually every department of the team. With Stuart Coburn injured, reserve keeper Ryan McMahon was in goal and he was lobbed by a 25 yard free-kick for the opener by Darrell Dicken (17 mins). Altrincham were also without Carl Furlong and Leroy Chambers from the side which played at Runcorn. Two former Trafford players, Steve Burns (61 mins) and Mike Garside (86 mins) scored the second and third goals. The second came after a fine reverse flick by Evans set up Burns from 15 yards and the third was set up by Taylor and Wardle before Garside finished excellently by rounding McMahon. Altrincham hit the crossbar twice in the second half but Mossley had also hit a post in the first half. Mossley were the more determined of the two sides and their play was a credit to the NW Counties League. The two teams are listed here.
---
29 September 2000
UNIBOND TEAMS' FINANCIAL PROBLEMS
Tonight's Evening News quotes Mark Ward as looking forward to a good Cup run, not least to generate some income. However, two other Unibond Clubs are today reported by Non-League on the Net to be in rather worse straits than Altrincham. One of these teams is Barrow whose large, but falling, crowds are not big enough to stave off debts. The Barrow Chairman is quoted as saying that decision-time will soon arrive and that he may have to sell players if crowds do not improve quickly. At Whitby, cuts are already biting and their Assistant Manager, Mitch Cook, has had to be released for financial reasons. Curiously, he has returned to our cash-strapped Conference friends at Scarborough as a Community Officer.
---
28 September 2000
MARK QUAYLE SIGNS FOR MORECAMBE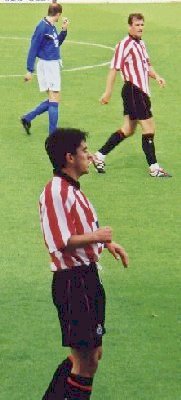 Striker, Mark Quayle (seen right) has left Altrincham and signed a two-year contract with Conference side Morecambe, where he is being touted as the replacement for Justin Jackson who was sold to Rushden for £180,000. Mark had played three pre-season matches for Morecambe before joining Altrincham. Although Quayle only spent 40 days at Moss Lane and completed just 267 minutes on the pitch for Altrincham, his skill made a big impact on the home fans. His appearances were limited by two bad injuries; a cut head against Accrington and a pulled hamstring which saw him stretchered off against Lancaster. The latter injury means that he will not play for Morecambe for at least two weeks. Quayle was only on a short contract with Altrincham so it is not thought that any incoming transfer fee is involved. In his four games, (two completed, two not), Mark scored twice.


---
FRICKLEY BOSS RESIGNS

Stewart Barrowclough, Frickley's manager resigned after their 0-12 trouncing at Worksop on Tuesday. He becomes their second management casualty since the end of last season.

---
NORTHWICH MOVE CONFIRMED

It has now been confirmed that Northwich will play at Witton Albion's ground next season, following the sale of the Drill Field to developers. So, we have probably played our last match at the venue which claimed to be the country's oldest surviving football ground. This week's visit to Runcorn was also probably the last to Canal Street, as the Linnets plan to play in Warrington next season. This season will also see several new venues visited by Altrincham, including Emley's new base at Wakefield.

---
SHAUN GOODWIN
Shaun Goodwin, who was unable to complete a game for Altrincham this season, has now played two full matches in a week for his new team Gainsborough Trinity.
---
27 September 2000
BISHOP AUCKLAND MOVE TO FIFTH
Unibond Premier Results Wednesday, 27 September
Bishop Auckland 1 Blyth Spartans 0
Gateshead 1 Barrow 2
The revised league table is here.
---
RESERVES RAINED OFF
Tonight's Reserves match versus Lancaster was postponed, due to heavy rain.
---
RUNCORN 0 ALTRINCHAM 2
Full match report is here.

Altrincham battled to a 2-0 victory on the Canal Street slope, with goals from Leroy Chambers (16 mins) and a fine strike from Kevin Ellison who went through the defence before finishing with a low shot into the corner of the net in the 89th minute. Runcorn hit the post and fought hard, especially in the second half of a game which rarely hit the heights. Altrincham remain third in the table. The new league table is here; tonight's team is here and the updated fixture grid is here Don't forget the Reserves are at home to Lancaster tomorrow (Wednesday), kick-off 7-30pm.
---
TUESDAY'S RESULTS
Tuesday, 25 September
Burscough 0 Accrington Stanley 0
Droylsden 4 Gainsborough Trinity 0
Hucknall Town 2 Stalybridge Celtic 2
Lancaster City 3 Bamber Bridge 2
Runcorn 0 Altrincham 2
Whitby Town 3 Spennymoor Utd 3
Worksop Town 12 (Twelve) Frickley Athletic 0 (Presumably this is not another hoax score like Hucknall's 7-5 earlier this season!)
---
25 September 2000
EMLEY GO TOP
Emley 3 Marine 2
Hyde Utd 1 Colwyn Bay 1
The new league table is here.
---
RUNCORN NEWS
Unofficial Runcorn sources suggest that they are about to sign Colin Rose, who played as sub against Altrincham last Tuesday for Northwich Vics. Rose, however, was sent off in last Saturday's Conference defeat by Boston. In return, Mick Mossley may move from Canal Street to the Drill Field. New player-manager, Liam Watson, scored as Runcorn gained only their second win of this season, last Saturday.
---
FAMOUS NAME AT MOSSLEY
Mossley, whom Altrincham play on Saturday in the FA Cup boast Mick Channon, 25 year-old son of the ex-Southampton, Manchester City and England star of the same name in their squad. Their players also include Mike Garside (26) a midfielder who used to play for Altrincham and, more recently, Trafford. Richard Ashcroft, another ex-Alty man and Steve Burns, who played 150 times for Trafford, are also now at Mossley. Player of the Year in 1999/2000 was Pedro Brennan, who scored their winner at Newcastle Town last Saturday. Mossley currently lie second in the NW Counties Division One after seven consecutive wins.
---
SPENNYMOOR CROWD
The attendance at Spennymoor's match against Altrincham last Saturday has been confirmed as just 198!
---
24 September 2000
RESERVES' FIXTURES AND TABLES
A page has been added to this site, here, covering the Altrincham Reserves, three of whom have already made their first-team debuts this season. It is hoped to add squad details to the fixtures and tables in the near future. Altrincham Reserves lost 2-0 at Bamber Bridge yesterday with a side which included Leroy Chambers. They now lie 10th in the 13-team Lancashire League.

---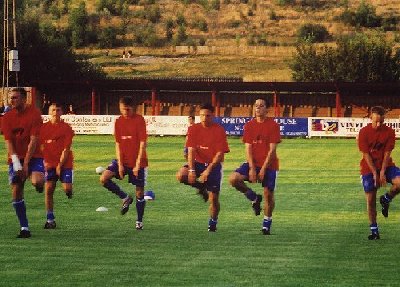 NEW PICTURES
A total of seventeen new pictures of Altrincham in action this season- including a sighting of the rare "Altrincham Wardance" (seen left) have now been added to the following match reports on this site: Accrington (A), Marine (A), Worksop (A), Whitby (A), Lancaster (H), Emley (H). The Altrincham Squad pages have also been updated and have had some new pictures added. Click on the photos for enlargements of them.



---
SHAUN GOODWIN GONE AND QUAYLE APPROACHED
Gainsborough Trinity fielded Shaun Goodwin in their 0-2 home defeat to Gateshead yesterday. Both he and the former Alty player Ally Pickering appear to have signed for the Lincolnshire side. Morecambe have made an approach to Mark Quayle who is currently injured but whether Mark has accepted is not yet known.
---
ELLENDER OFFER
Boston United have had a £100,000 bid for Paul Ellender rebuffed by Scarborough who, having "stolen" him from Altrincham, insist he is worth much more than the sum offered. Perhaps Scarborough wish to drive up the price so as to be able to honour their debts in unpaid transfer fees to Altrincham and Halifax- or, perhaps not!
---
SUNDAY PRESS
The Pink has an article today on Mark Ward and his young starlets. Those mentioned include teenagers Thomas, Porter, Farley, Garrity and Craney as well as elder statesmen like Crowe, Scheuber, Hawes, Quayle, Ellison, Turkington and Furlong- all in their early twenties. In the Non-League Paper Ward is quoted as praising Ian Craney, following his display at Worksop. A less attractive reason for buying the NLP this week is the special feature article on Northwich. This includes a picture of some keen Vics' fans; the caption does not say that the photographer actually had to ask Alty fans to move out of his line of view to take the picture at the match last Tuesday. Also in the press, the Pink carries an interview with Mossley boss, Benny Philips, in advance of next Saturday's Altrincham-Mossley FA Cup match.
---
23 September 2000
SPENNYMOOR UNITED (0) 0 ALTRINCHAM (2) 4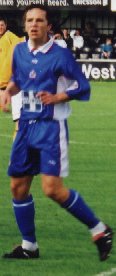 Stu Scheuber, who had a fine game at Spennymoor.
Full match report is here and Alan Johnson's action photos of the match are here.
---
22 September 2000
ACCOLADE FOR "ROBINS' REVIEW"
October's issue of "Team Talk" magazine praises Grahame and Terry Rowley's "Robins' Review", the official match-day programme of Altrincham F.C.. The programme is justifiably praised for its "large amount of reading material and good colour photographs". The same magazine has a picture of Stuart Coburn and a brief paragraph on former captain Mick Carmody, whilst Dean Greygoose is pictured in Chester kit on a page entitled "Shot Stopper of the Year"!
---
INTERNATIONAL TO JOIN ALTY?
The Evening News reports that Mark Ward has first refusal on 21 year-old Jamaican international striker, Jeff Cunningham, who plays for the Columbus Crew in the U.S.A.. His coach is based in Cheshire and wants Cunningham to gain experience in English football. Mark Ward has been sent a video by the coach, Nick Ross, and has been impressed enough to be seeking ways of securing his signature.
---
CROWD TROUBLE
Although Non-League on the Net was totally wrong to say that crowd trouble "ruined" Alty's match at Worksop, events that same day at Hucknall seem to have been more serious. According to the new unofficial Hucknall site, some £2000 of damage was done to Hucknall's new stand by Accrington Stanley fans.
---
Go to ALTRINCHAM FC ARCHIVE
---