News Archive: 6 to 17 October 2000
17 October 2000
TUESDAY'S RESULTS
Lancaster City 3 Marine 1
In the FA Cup it was a bad night for the Unibond Premiership teams- Stalybridge were beaten 3-0 by Billingham Synthonia- Stalybridge had to field a reserve goalkeeper; other results include Whitley Bay 2 Gainsborough Trinity 0, Leek Town 1 Sudbury Town 2 and Burscough 6 Witton 1. Frickley beat Mossley 3-0 but only after extra time; this means the match against Altrincham at Frickley on 28 October will be postponed

RESERVES
The Alty Reserves match against Runcorn, displaced by tomorrow's match for the first team against Manchester City, is now scheduled for Thursday night. However, the Club will make a final decision on the Reserves' fixture tomorrow, given the rain tonight.

MICHAEL MIDWOOD
Should Altrincham sign Michael Midwood, (see below), the following information, kindly supplied by Grahame Rowley, may be of interest. Midwood is 5ft 10ins tall, weighs 11st 7lbs and is a striker whom Ossett Town acquired from Hong Kong this season. So far he has started ten games for Ossett Town (plus twice as a sub) and scored three goals. He was born on 19 April 1976 and has played for Accrington, Huddersfield, Halifax, Scarborough and Emley.

HYDE UNITED 4 ALTRINCHAM 2

A full match report is here
Bad defending cost Altrincham this match after fine goals from Gary Scott had twice (38 and 57 mins) given them the lead. However, the team's rhythm had been upset as early as the 12th minute when Glendenning was sent off for foul language and for over an hour, until Band met the same fate as Glendenning, the Robins played with a man fewer than Hyde. Referee Cooke could politely be described as poor, giving wrong decisions to both sides throughout the game, though Glendenning found a more pithy Anglo-Saxon epithet for one of his Assistants to earn his dismissal. The ten men played superbly and even after Yeo had equalised (49 mins) came back to go ahead 2-1. However, errors gifted Hyde two goals, the first an own goal by Talbot after a slip by Scott, though the Hyde announcer credited Banim with the effort. The second lapse was by Talbot who missed a long ball in the air and let in Yeo for Hyde's third ten minutes from the end. Salmon scored a flattering fourth (88 mins), rounding Coburn, when he broke away after Altrincham had committed everything to attack. Click the League Table button above for the updated situation; the Statistics, Results and Line-Up pages have also all been updated. Emley won 1-0, at home to Blyth, to go five points clear.

---
16 October 2000
MIDWOOD FOR ALTY?
Michael Midwood, a former Macclesfield striker, now at Ossett Town, has been targeted as a prospective signing by Mark Ward, according to the Evening News tonight.

---
15 October 2000
NON-LEAGUE ON THE NET
The NLOTN web-site reports the transfer-listing of Dickie Landon and Leroy Chambers, as well as confirming that Mark Ward is hoping to make a new signing imminently.

THE DEPARTED
A page has been added to this site covering those players who have left Altrincham during season 2000-01. It can be found here.

ELLENDER SAGA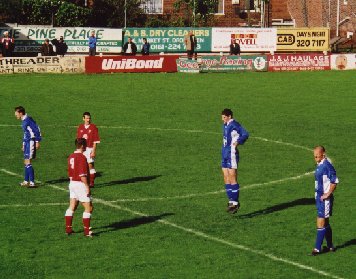 In an article on the transfer system, today's Pink clarifies the Paul Ellender situation. The sum that Altrincham were left out of pocket by Scarborough is cited as £12,000 and the trigger for any sell-on bonus to Altrincham occurs only if Ellender is sold for more then £70,000 in which case Alty will receive half of the sum above that figure. The same paper carries a colour picture of Gary Talbot in action at Droylsden; also from that match is the adjacent photo showing James Glendenning trying to impress Droylsden's Corns with his leaping ability as Farley and Talbot look elsewhere. Click on image to enlarge it.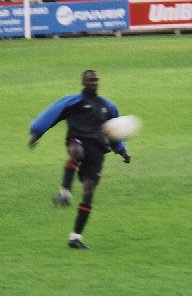 RISING STARS
Lee McDonald, a 16 year-old youth player with Altrincham, won a rave review from Manchester FA Youth manager Danny Johnson for his performance against Lancashire Youth this week. In the words of the Pink "the game was a personal triumph" for the young midfielder. For more on The Youth Team, managed by George Heslop, click here. Another young Altrincham player making an impression is Otis Thomas, seen right, who played in the British Colleges' team trial this week. Otis made his first-team debut against Northwich Vics this season in the Cheshire Senior Cup.

---
14 October 2000
ALTRINCHAM 5 SPENNYMOOR UNITED 0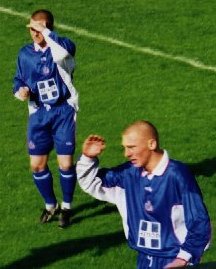 A full match report is here
Above right: Steve Hawes and Kevin Ellison look into the Droylsden sun, 8th October, 2000.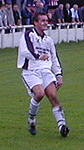 Altrincham sent Spennymoor back to the bottom of the table with a comfortable 5-0 win. All the goals were well taken but the match was too one-sided to be a real spectacle. Nevertheless, the Robins played some good football, with Carl Furlong becoming the first Altrincham player to score twice in a single match this season. His first came after 11 mins, after he had chested the ball down, the second just three minutes later, a header from a Hawes cross. Craney scored the third with a superb chip after he himself had won the ball (44 mins). Scheuber scored a fine fourth (48 mins) before Alex Hay scored his first for the Club after 67 minutes. Spennymoor did not give up but rarely threatened Coburn's goal. Official Man of the Match was Steve Hawes but Danny Murphy (seen left in a picture courtesy of John Cawthorne, editor of the Mossley match-day programme) and Carl Furlong also played well. Mark Ward came on as a substitute after recovering from his cartilage operation. Worksop lost, but Alty remain third on goal difference; the new Table is here; today's team is here and the updated statistics are here. The other League results today were:

Blyth Spartans 0 Droylsden 1
Colwyn Bay 3 Worksop Town 2
Lancaster City 3 Runcorn 1
On Monday night (16th), Altrincham have another league game, away to Hyde United, who won 2-1 in the Cup today, at home to Brigg Town. Other Cup results saw Accrington lose 5-2 to Bedlington Terriers, Whitby lose 0-1 at Easington, Emley defeated at home by Barrow 1-2 and Marine beaten at home 0-2 by Radcliffe Borough. Mossley drew 1-1 with Frickley. Gainsborough drew 0-0 with Whitley Bay and Hucknall beat Maidenhead 3-2. Stalybridge were held 1-1 by Billingham at the Bower Fold, Witton and Burscough drew 0-0 and Sudbury drew 1-1 with Leek in a generally bad afternoon for Unibond Premier teams.



---
NEW MANAGER AT FRICKLEY
Frickley have appointed Steve Richards, the former Gainsborough boss, as their new manager. His closest rival for the job is reported to have been David Hirst, the former Sheffield Wednesday striker. Richards spent 14 years as a League player before joining Guiseley, where he was player-manager, until he joined Gainsborough. Frickley meet Mossley, Alty's conquerors, in the F.A. Cup today.

---
12 October 2000
TWO TO GO?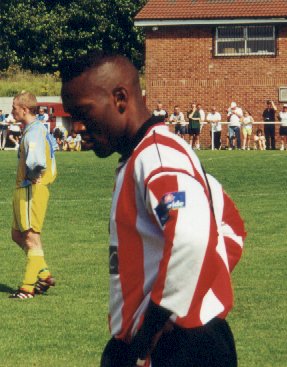 Following Mark Ward's criticism of some of his squad mentioned below (9th October), the Sale and Altrincham Messenger reports Mark Ward as saying "I'm happy with the defence and the midfield but, as far as the strike force goes, we're just not good enough". He went on to say that "I have inherited some players from the previous regime and it's quite difficult to shift them when they are on such good wages... We'll have to unload some players".

It now appears that strikers Leroy Chambers (pictured, left) and Dickie Landon have both been transfer-listed. So far this season Chambers has scored one goal from just one League start and two substitute appearances, whilst Landon has four goals from four starts and seven sub appearances in the League.

CHESHIRE SENIOR CUP
Had Altrincham beaten Northwich they would have had a home-tie versus Hyde United in the quarter-finals of the Cheshire Senior Cup. The other ties see Witton entertain Stalybridge, Woodley Sports v. Tranmere Rovers or Macclesfield and Stockport County v. Crewe Alexandra.Ties are scheduled for the week commencing 13 November.
---
11 October 2000
ALTRINCHAM 1 LEEK TOWN 1

A full match report is here.

The updated league table, fixture grid, team line-up and statistics pages can be found by clicking the appropriate buttons at the top of this page.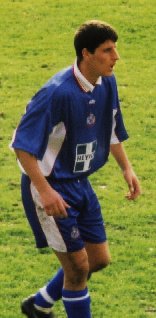 MICHAEL GARRITY
Michael Garrity, who played twice in midfield in League games for Altrincham this season, has been released by Mark Ward.




---
9 October 2000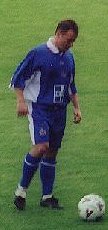 Mark Ward ponders his next move
NOT A HAPPY SHIP?
Although, to the casual observer, Altrincham may not appear to be too badly placed- they lie fourth in the League with a game in hand on two of the clubs ahead of them- all is not well behind the scenes if tonight's Manchester Evening News is to be believed. Mark Ward is quoted as leaving a "heated after-match inquest" at Droylsden yesterday to accuse his team of not possessing "enough winners [...] We've got a number of players who are just happy to sit on a fat wage". The manager went on to threaten to put a few of the squad on the transfer list. Rain permitting, Altrincham have a chance to regroup tomorrow when they host Leek Town at Moss Lane (7.45pm).


---
8 October 2000
DROYLSDEN 2 ALTRINCHAM 1

The full match report is here.
A disappointing performance, particularly in the front third of the pitch, led to Altrincham dropping all three points to "The Bloods". The loss of Ellison, who was injured as early as the second minute but limped on until substituted after 21 mins, robbed the side of its cutting edge. However, it was mistakes by the two centre-backs Talbot and Glendenning, which led to the goals. Talbot was rounded by Corns and then brought the Droylsden man down for a penalty which Holmes netted with ease (28 mins). Later, Hawes was clearly flattened by the keeper for a clear penalty (55 mins) but the referee gave nothing. After Hawes scored a wonderful 25-yard equaliser (68 mins), Altrincham looked the likelier to score again until Glendenning went forward to clear a ball, but missed it. Warner broke forward, fed Holmes and despite Coburn's half-save, the ball entered the net to give Droylsden their winner, against the run of play. For the updated League Table, Fixture Grid and Statistics pages, click the appropriate button at the top of this page.

Today's results were:

Accrington Stanley 2 Leek Town 1
Blyth Spartans 1Hucknall Town 1
Droylsden 2 Altrincham1


DANNY MURPHY
Mossley are reconciled to losing their midfielder, Danny Murphy, with Altrincham being his likely destination. More bad news for Mossley is that Steve Burns (ex-Trafford FC), who scored against Altrincham last week, has broken his leg.

THE JOY OF WATCHING ALTY
A letter in today's Pink from Mr A. Weaver tells how he has given up watching Manchester United in favour of coming to Moss Lane and he writes that "my love of soccer has been restored this season by regular visits to Altrincham F.C.. I've been impressed by the friendly, welcoming atmosphere and by the standard of football".

NORTHWICH AND BERNARD
The Pink also continues to fuel the rumours that Bernard Taylor is a leading contender for the Northwich managerial vacancy. In the Non-League Paper Vics' striker Jimmy Quinn rules himself out as their new boss.

EMLEY'S INTERNATIONAL
As reported earlier on this page, Emley have acquired a full Lebanese international, Wael Nazha. Nazha scored the final two goals to seal Emley's 5-3 win over Worksop on Friday. There is an article on the 26-year old ex-Greek Premier League player in the Non-League Paper. Without any irony, the Emley boss is quoted as saying that "Someone told him that if he came to us, we would knock him into shape".
---
7 October 2000
REMINDER
Tomorrow's match at Droylsden is a 1-30pm kick-off, assuming the rain allows play to take place. Today's 13 goals in two matches (see below) take the Unibond Premier total this season to 441 goals scored in 134 matches, of which 31 have been draws. Droylsden have yet to draw this season.

BERNARD TAYLOR LINKED WITH NORTHWICH
According to tonight's Evening News Northwich Vics are "eyeing" Altrincham's former team manager, Bernard Taylor as a possible replacement for the sacked Mark Gardiner. It will be recalled that under Bernard, the Vics were beaten three times by Alty last season - including a 1-6 thumping at the Drill Field.

WEEKEND FIXTURES
Saturday 7 October- Goals galore!
Gateshead 5 Frickley Athletic 0
Marine 3 Burscough 5 (HT 1-1)
Runcorn v Colwyn Bay POSTPONED
New League Table here.
---
6 October 2000
ALTY DROP TO FOURTH ON GOAL DIFFERENCE
Friday 6 October
Barrow 3 Bamber Bridge 1
Bishop Auckland 2 Whitby Town 1
Emley 5 Worksop Town 3
Gainsborough Trinity v Hyde United POSTPONED
Stalybridge Celtic 5 Lancaster City 0
The updated League table is here

ROBINS PURSUE MOSSLEY MAN
Mark Ward has served notice on Mossley that he is to make an approach to the club for their right-winger, Danny Murphy. Murphy, 23, formerly played for Wilmslow Albion and Cheadle Town. He gave the Altrincham defence a torrid time in the recent F.A. Cup match at Moss Lane.

STATISTICAL FOOTNOTES
Bore your friends with these fascinating statistics! So far, in their eleven League games, Altrincham have been watched by 6,108 spectators, with home gates averaging 648 and away crowds averaging 478. Of the five home League games to date, only two have been on Saturdays so far, with crowds of 620 and 641 respectively. The largest home crowd was for last Tuesday's clash with Stalybridge (828), the smallest home gate was against Colwyn Bay (501). Away, the largest gate was 1,006 at Accrington and the smallest, just 198, at Spennymoor United. As for goals, of the 24 League goals scored, nine have been at home where Altrincham have either scored three goals or failed to score at all in each match to date. A quarter (six) of the team's total tally of goals have come in the last nine minutes of matches but none has arrived in the first eleven minutes. A further six goals have been netted in the period between the 12th and 16th minute. In all, 11 goals have come in the first half and 13 in the second. The eleven games played have produced a total of 34 goals, for and against.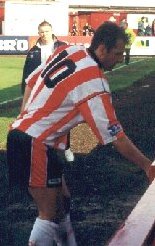 Left: Dickie Landon

The leading scorer is Kevin Ellison with 7 League goals in 11 matches, but Dickie Landon with 4 in 4 starts (and 5 sub apppearances) has the best ratio of goals to games. So far, nine different players have scored and in no match has any one player scored more than once for Altrincham. Altrincham have yet to score a Cup goal this season.

In defence, after leaking seven goals in their first four matches, only three more goals have been conceded in the subsequent seven League games. Altrincham have currently gone five League games without defeat. As for bookings, 25 have accrued in the first eleven League games, with eleven of these coming in just two matches (v Colwyn Bay and Worksop), neither of which were 'dirty' games.

---
NEW COMMERCIAL MANAGER
A new Commercial Manager, Peter Evans, has been appointed by Altrincham. For details see The Official Altrincham FC web-site.

---
---
Go to ALTRINCHAM FC HISTORICAL INFORMATION INDEX
---