---
24 January 2001
MORE ON THE BOARDROOM CHANGES
Reports in tonight's
MEN
indicate that whilst Gerry Berman has resigned as Chairman and as a Director of Altrincham, he remains the largest shareholder and is quoted as saying "I haven't relinquished any ties" with the Club. His resignation was apparently precipitated by an imminent winding-up order against the Club and the new arrangements were brokered by the now Acting Chairman, Mark Harris and Director, Anthony Taylor. Kevan Guiney, a knowledgeable and long-time supporter of Altrincham is a welcome new addition to the Board. Mr Guiney, who runs a newsagent's business, already sponsors amateur football leagues in the Altrincham area. Anthony Taylor is son of former manager, Bernard Taylor and his local interests have included a wine-bar in Sale.
Despite this news, fans still remain in the dark regarding both the long-term future of the Club and the composition of the "consortium" who are apparently footing the bills behind the scenes till the end of this season. The consortium is allegedly made up of "three businessmen and representatives of a Cheshire-based company". Whether the picture will become clearer at this Saturday's supporters' meeting (see below) remains to be seen.
VICS' NEWS
Northwich have released wide-man, Darren Vicary, who almost joined Alty in the 1990s and was recently rumoured to be on Mark Ward's shopping list. Vics were watched by just 161 souls in last night's Variety Clubs' (Conference League Cup) replay at Leigh; fewer than watched Alty at Ossett last week.
"MISSING" TRIO
When Carl Furlong and Eddie Turkington left Alty earlier this season, they were reported to be bound for Droylsden. However, neither has yet to appear there and, like Stuart Quinn, they appear to have disappeared without trace. Nevertheless the non-league magazine
Teamtalk
has twice recently printed what purport to be pictures of Carl Furlong. In the more recent of these in the February issue of the magazine, he is allegedly shown in action for Altrincham against Droylsden wearing a blue and black striped shirt in a match which actually seems to involve Guiseley. Any sightings of the missing three players will be gratefully received.
BIZARRE MATCH IN CHESHIRE CUP
The semi-final of the Cheshire Senior Cup last night ended in an 8-5 away win by Stockport County over Macclesfield, all the goals coming inside the normal 90 minutes. Whilst County's eight can be explained by an injury to the Macca goalkeeper which led to a centre-back keeping goal, Stockport's concession of five goals is less excusable. Brian Carrigan, who played against Alty in a pre-season friendly, netted five times for County. County meet Stalybridge in the final (see below for news of their semi-final win over Hyde) to be played at Witton.
GERRY BERMAN GOES AS NEW REGIME INSTALLED
The uncertainty surrounding the financial future of Altrincham Football Club was partly resolved yesterday when the Club's Chairman, Gerry Berman, resigned after an association with Moss Lane which extends over more than 20 years. Gerry has resigned both as Chairman and as a Director. His temporary replacement, as Acting Chairman, is the Vice-Chairman, Mark Harris, who will assume this role on an indefinite basis. Although Kevin Guiney, well-known for his support of local amateur football, has joined the Altrincham Board, there are other as yet other un-named financial backers, including local businessmen and a company, who will see the Club through to the end of the current season. Anthony Taylor now becomes acting Vice-Chairman, whilst SAFE Supporters' Association representative, Mark Eckersall also remains on the Board. The above changes resulted from a Board meeting yesterday and it is not yet clear what will happen beyond the end of the season. The Board meeting recorded its appreciation of Gerry Berman's commitment to the Club. More news on this development will be put here when available.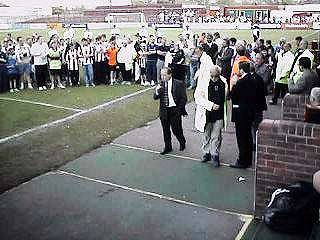 Altrincham's financial troubles were compounded by a last-day relegation in May 2000 which left the Club with players earning Conference-level wages but the Club's income from gate receipts and other sources much reduced. Gerry Berman is pictured, left, addressing the crowd immediately after relegation was confirmed on 6 May 2000 by a draw with Kidderminster Harriers at Moss Lane. Mark Harris is facing him, to his right. There will be a supporters' meeting at 12 noon on Saturday 27 January at Moss Lane to hear further details.
---
23 January 2001
MAPS ADDED
Links to maps of all scales from street-level (1:10,000) to country-wide have been added to this site for each Unibond Premier League team enabling spectators to find their way to each ground. The links are to be found
here
CHESHIRE SENIOR CUP
Stalybridge won 4-1 at Hyde last night in the semi-final of the CSC competition.
MATCH OFF
Tonight's match at home to Stocksbridge Park Steels in the ill-starred Unibond Challenge Cup was called off just half an hour before kick-off following torrential rain in the previous couple of hours. Stocksbridge had arrived later than scheduled courtesy of a World War II bomb which had been found near Manchester Airport and had caused traffic delays. Although the decision was late, the referee had little option but to postpone the game. Altrincham hope to stage a league game against Worksop Town at Moss Lane this Saturday. The Ashton-Ossett game in the Unibond Cup has now been deferred till 12 February.
TWO ON TRIAL
Two Altrincham players would have missed tonight's game as they are on trial at a Premiership club. Ring the Altrincham Club Call on 09066-555902 for further details.
---
22 January 2001
TRANSFER NEWS
Two players with Alty connections figure in this week's transfers. Our reserve keeper at the start of this season, Mark O'Connor has now moved from Chorley back to Leigh RMI, from whence he came to Altrincham. Francis Tierney, who was on the verge of joining us early this season has now moved back from Exeter City to Witton Albion. Recent Unibond Premier transfers include Barry Crellin (Middlewich T to Leek T) and Mark Wilson (Ossett T to Emley).
BLANK SATURDAY
As Morecambe beat Burscough 3-0 in tonight's Trophy replay, it will be Burscough rather than Altrincham who will meet Hucknall Town on 3 February. Altrincham were to play Spennymoor that day but moved the fixture forward and would have played their home match against Hucknall on that date had Burscough won tonight. Because Altrincham have played more games than anyone else in the league, Burscough were given precedence for a fixture against the Nottinghamshire side.
STOCKSBRIDGE
Weather-permitting Alty play Stocksbridge, from South Yorkshire, at Moss Lane tomorrow in their last group-stage match of the Unibond Challenge Cup competition. Unless Alty win, they cannot win the group stage as they trail Hyde by two points. They also need to score at least three goals as Hyde already have ten to Alty's seven. The deciding Group match, between Hyde and Ossett Town takes place on 29 January at Ewen Fields. Ossett visit Ashton tonight in the same competition.
MARK GARDINER
Mark Gardiner, the ex-Northwich boss who resigned recently from Leek Town, has surfaced at Middlewich Town as a player rather than manager. He had briefly been at Nantwich Town after leaving Harrison Park.
---
21 January 2001
THE ALTRINCHAM BACK FOUR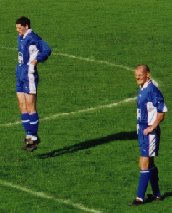 Although Altrincham have used a back line of three on a couple of occasions this season, a review of those who have played in the back-four shirt numbers of two to six is a staggering indication of the different combinations of defensive formation used in the 36 league and cup games played this season. In fact, 22 different combinations have been employed. The only combinations to have been used four or more times are (in shirt number order 2 to 5) - Farley, Porter, Maddox, Talbot; and Scott, Porter, Glendenning Talbot, whilst Scott, Porter, Farley, Talbot is the only line-up to have been employed five times. In all, 13 players have worn the four shirts in question. So far as the whole team is concerned, Altrincham have used 36 players in cup and league games. Of these, 14 have now left the club either permanently or on loan. Pictured left are James Glendenning and Gary Talbot.
SAFE IN EXILE
The first edition of "Fanfare for the Travelling Fan" exclusive to SAFE Exiles is now available, with the second issue being prepared for publication very early in March. Anyone who lives outside of Cheshire and Greater Manchester can register as an Exiles' member and get bi-monthly newsletters and a laminated "Founder Member" membership card. Contact Jacquie Foster at "jacqui.vale@unisonfree.net" to sign up!
YOUTH TEAM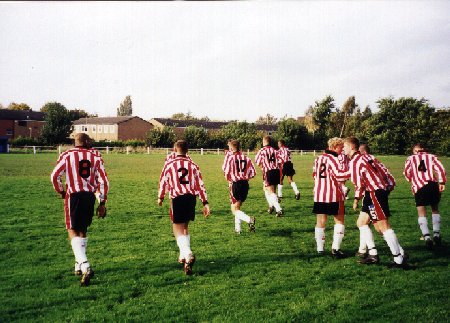 Today's scheduled Youth match at Wythenshawe Town against Runcorn was postponed. However, there is now a report of the previous game, a 4-0 win over Euxton Villa,
here
. George Heslop's Youth side has a 100% record this season and heads the NW Youth Alliance Under 18s Premier Division. Moss Lane fans will already have seen Youth players Otis Thomas and Mario Daniel break through into the first team but other names to watch include goalkeeper Dale Newbrook, who has yet to concede an away goal this season and the leading scorers, midfielders Paul Crowther and Paul Monaghan, with 8 and 7 goals respectively. Other ever-presents are midfielder Levi Kennedy and the centre-backs Steve Howe (captain) and Patrick Claffey. Entry to their matches is free; for the fixtures and other details, please visit the
Youth Page
and
Youth Players'
pages. The team is seen left before the home match with Walton-le-Dale in October, 2000.
BLYTH SPARTANS 1 ALTRINCHAM 1 AND ALTY'S NEXT MATCH
A full match report is now here.
The Blyth website report is
here
. The crowd yesterday was 383, whilst that at Ossett on Tuesday was 165. Alty's next match is on Tuesday at home to Stocksbridge in the Unibond Cup (7-45pm); this match has been switched from Stocksbridge. Altrincham must win to have a chance of winning the group. Stocksbridge have lost only three league games this season (out of 22) and lie fourth in the Unibond First Division. Their "biggest name" is veteran striker, Wayne Biggins.
EMLEY AND PROMOTION
Today's
Non-League Paper
goes a little way to clarifying the eligibility or otherwise of Emley for promotion. From its columns it would appear that the Wakefield ground and facilities are eligible but Emley need to conclude a ten-year deal to share the Wakefield Wildcats' ground to be accepted in the Conference. Such a deal is currently under negotiation.
BISHOPS APOLOGISE
Bishop Auckland have apologised to Burton Albion for the crowd trouble at their recent Trophy match. This was the third major disturbance involving the Bishops in three years, following those at Altrincham and Kettering. However, the Durham club points out the trouble is caused by people with no connection with the club other than that they latch on to their away games and cause trouble.
MONDAY UNIBOND CUP MATCH
Ashton United entertain Ossett Town on Monday (22 January) in the same group as Altrincham in the Unibond Challenge Cup. The same night Hyde play Stalybridge in the Cheshire Senior Cup semi-final.
SIX POINTS AT RISK?
Rumours are circulating that Spennymoor may be either about to call in the receivers or be subject to a takeover. Resignation from the league would be a sad blow to a club who despite their poor results have not resorted to crude tactics. However, having taken six points from the Moors, Alty will be hoping that their victories are not wiped out.
BURSCOUGH YOUTH
Matt Taylor, Burscough's 18 year-old keeper who played against us recently, is apparently being watched by Manchester United. In an article in today's
Non-League Paper
ex-Alty star and Burscough manger, John Davison stresses the importance of his youth policy to keeping the club financially afloat. Let us hope that Altrincham's excellent current
youth team
can do the same for us.
GAINSBOROUGH BOSS
Although their recovery has faltered a little of late, Gainsborough have confirmed Phil Tingay as their manager till the end of the season.
LANDON AND DROYLSDEN'S ALTY LINKS
As well as also having signed Barry Crowe, Droylsden have extended their loan of Dickie Landon for a second month.
The Pink
continues to name ex-Alty manager Bernard Taylor as a leading contender for the vacant deputy manager position at the Bloods. Manager Dave Pace has now released ex-Alty man, Tony Rigby who joined Droylsden from Rhyl this season.
---
20 January 2001
BLYTH SPARTANS 1 ALTRINCHAM 1
A draw was a fair outcome of this match although Altrincham came within six minutes of taking all three points. After Murphy and Finney had missed two clear chances in the opening five minutes, the first half was fairly even. However, it was against the run of play when Alty took the lead after 74 minutes. A corner from Scheuber was headed against the underside of the bar by Talbot and after a scramble, the ball was poked home. The scorer was apparently Gallagher, though the keeper may have had the last touch. Talbot then brought down a Blyth player in the left corner of the Alty box and Forster sent Coburn the wrong way from the spot.
Click the buttons above for today's Alty line-up, the updated league table, grid, and Alty statistics. The full Blyth match report is here.
SATURDAY'S RESULTS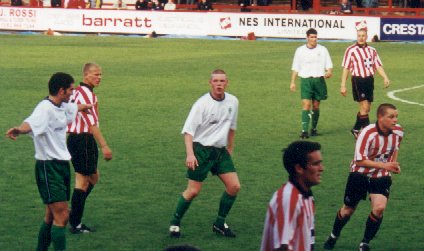 Alty drew at Blyth, after beating them 3-1 (right) at Moss Lane this season.
Accrington Stanley 1 Gainsborough Trinity 1
Bamber Bridge v Bishop Auckland POSTPONED
Barrow 1 Runcorn 2
Blyth Spartans 1 Altrincham 1
Burscough v Gateshead POSTPONED
Colwyn Bay v Frickley Athletic POSTPONED
Droylsden v Marine POSTPONED
Emley 4 Whitby 0
Hyde Utd v Lancaster City POSTPONED
Spennymoor Utd v Hucknall Town POSTPONED
Worksop Town v Stalybridge Celtic POSTPONED
YOUTH MATCH TOMORROW
Weather-permitting, table-topping Alty Youth play Runcorn Youth tomorrow at 2pm at Wythenshawe Town, behind Tesco's car park at Baguley (Timpson Road). Admission is free. There will be a report on this and the last match (v Euxton) on this site tomorrow.
---
19 January 2001
HAWES SUSPENDED
After five bookings this season, Steve Hawes is suspended for tomorrow's match at Blyth whilst manager Mark Ward is asserting his faith in youth in an interview with SAM and will otherwise name the side which beat Ossett (see Cup Line-Ups). "Altrincham have never had young players like this playing week in week out. The talent is there. The experienced players have not shown any desire to perform for Altrincham. I'm hoping to get them out as soon as possible", he rather ominously said.
UNIBOND AND LOCAL TRANSFERS
Steve Barber (Wrexham to Colwyn Bay)
Gregg Blundell (Vauxhall Motors to Northwich V £8,500)
Greg Booth (Marske Utd to Whitby T)
Ian Cooke (Northwich V to Stalybridge Celtic)
Mark Eccles (Tow Law T to Whitby T)
Steve Finney (Chester C to Altrincham - Permanent)
Dave Gardner (Salford C to Leigh RMI)
Steve Jones (Rhyl to Colwyn Bay)
Mark Ogley (Stalybridge Celtic to Frickley Ath)
Darren Roulston (Bishop Auckland to Spennymoor Utd)
Richard Tracey (Carlisle Utd to Gateshead)
Marvin Marston (Rugby Utd to Hucknall T)
Kevin Martin (Boston Utd to Whitby T)
MATT McNEIL
Ex-Alty man, Matt McNeil, now at Stalybridge is being pursued by Bury, with Nottingham Forest, Crewe and Rotherham reportedly waiting in the wings.
DROYLSDEN ACQUISITION SPREE
As well as taking on Alty's Dickie Landon (on loan) and Barry Crowe recently, Droylsden are also expected to sign Dave Nolan from Runcorn and a Conference striker, believed to be ex-Northwich man Robert Pell, now at Southport.
SOUNDS FAMILIAR?
The FA Trophy Protest Sub-Committee met this week and concluded that when three Bromsgrove Rovers players wore the wrong shirts against Lancaster City they had not set out to deceive the opposition. However, they were fined £250. Spectators at Alty's matches at Gateshead and Ossett will find this a familiar tale and hope that we get the shirts issued correctly this week-end.
GATESHEAD
Following their win over Alty last week, Gateshead have confirmed Paul Proudlock as their new manager.
---
18 January 2001
BLYTH NEWS
After losing 1-0 at Runcorn in mid-December, Blyth have had three convincing league wins, scoring twelve goals (including a 5-2 win at Gateshead) and conceding only two goals. Glen Robson, who has scored 12 times this season, is doubtful for Saturday's clash against Altrincham. However it is a defender, Richard Forster, signed from Hartlepool at the start of this season, who has been their Player of the Month for the last two months. Blyth's manager is Jack Charlton's son, John, who after a career in Australia was on Newcastle United's coaching staff, then the Republic of Ireland's at the 1988 European Championships and both the 1990 and 1994 World Cups.
FINNEY'S AWARD
Steve Finney was named as Alty's Man of the Match after Tuesday's game at Ossett Town. For a report from the other side, visit the Ossett Town site.
TWO PLAYERS LEAVE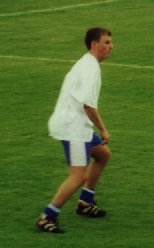 After the departure last week of Steve Morgan, another full-back has left the Club. Barry Crowe (pictured left) has left Altrincham and joined Droylsden. Barry started just 7 games for Altrincham this season and made 4 more substitute appearances. He had also previously been at the Club briefly in 1999-2000. Also leaving Moss Lane is recently-signed centre-back Terry Bowker, who has left for Castleton Gabriels after just one appearance for The Robins.
WARD STILL HOPEFUL
Mark Ward has told the Messenger that "We are perfectly capable of winning every game for the rest of the season" and thereby emulating his former club, Leigh RMI, by gaining promotion.
---
17 January 2001
OSSETT TOWN 1 ALTRINCHAM 5
There is now a match report here.
RESERVES
Tonight's scheduled Reserves match at home to Northwich has been postponed because of the frosty weather.
---
16 January 2001
OSSETT TOWN 1 ALTRINCHAM 5
The Statistics and Cup Line-Ups have been updated; please click the appropriate button above.
---
15 January 2001
"KILLER" KILCLINE SUFFERS AMNESIA
Alty's former joint-coach, Brian Kilcline, the ex-Coventry captain, now has an irregular column in The Huddersfield Examiner. For a sample of these literary gems, (mostly interviews in which he is referred to as "Killer Kilcline"), click here. He now works for Huddersfield Town's Academy as well as feeding match reports to the Press Association. Brian now lives in Holmfirth, home of Compo and Last of the Summer Wine. Interestingly, in his accompanying C.V., Brian rewrites history by omitting any reference to his spell at Moss Lane even though his spells at sides such as Thongsbridge United in the Huddersfield Men's League are chronicled. Thanks to Terry Rowley for pointing me towards the Killer's articles.
OSSETT TOWN
Ossett Town, whom we meet tomorrow weather permitting, have been active in the transfer market recently, signing Brendan West (from Frickley), Richard March (Sheffield), Eamonn Elliott (Farsley Celtic) and Jay Sobers (Garforth Town). Last Saturday they led 5-0 at Radcliffe Boro before scraping home 6-5, with a hat-trick (inc. two penalties) from Michael Midwood, whom Alty almost signed earlier this season. Ossett's keeper is Neil Bennett who was recently on loan at our neighbours, Trafford. Ossett, which is near Wakefield, currently lie ninth in the Unibond First Division.
EMLEY ELIGIBLE?
Phil Wilson, our friend from Stalybridge, is quoted in tonight's MEN as saying that Emley are not eligible for promotion. As this contradicts both what the Unibond League secretary and Mr Wilson himself have said on the subject in recent weeks, it is anyone's guess what the true situation is.
TROPHY DRAW
Had Altrincham beaten Bishop Auckland and Burton, they would have had an away tie at Scarborough from today's Trophy fourth-round draw. Emley will be at home to Yeovil Town, whilst Trafford will be away at King's Lynn if they win their replay at Telford tomorrow. Marine have drawn a plum; Rushden at home.
ATTENDANCES
101,499 people have attended Unibond Premier matches this season, 7,810 of these coming through the "Ellison's Patent Turnstiles" (obviously manufactured by one of Kevin's forebears) at Moss Lane. Our average home gate is 601, surpassed only by Accrington (749) and Barrow (1181). By way of comparison, the 1,893 fans who watched Macclesfield at home to Mansfield constituted by far the lowest crowd in the Nationwide Third Division at the weekend. Nevertheless, this paltry turnout was still more than 300 more than the combined gate of all six Unibond Premier matches this weekend, which totalled just 1,554.
---