Altrincham Football Club News Archive: 10 - 19 February 2001.
---
19 February 2001
EIGHT-GOAL THRILLER?
Hyde United and Barrow drew 4-4 in the Unibond Premiership tonight. The revised table is
here
.
KEVIN'S LEICESTER PROGRESS
After a shin injury sustained in Leicester City Reserves 1-2 defeat against Arsenal Res. at Filbert Street last week, Kevin Ellison is fit to play in tonight's Reserves' game against Chelsea, at Kingstonian's ground. Kevin will be facing a Chelsea side that includes Ed De Goey, Bernard Lambourde, Graeme Le Saux, Frank Leboeuf, Mario Stanic and Jon Harley. How different from Kev's opponents earlier this season in the Unibond! The
Leicester website
also carries an interview with Kevin, who describes his life working for his uncle on a Merseyside building site after leaving Southport, where the club only paid him £25 a week. He goes on to chronicle how Alty then bought him from Conwy sight unseen on the recommendation of Stan Allan. In his Foxes' debut against Arsenal he was taken off, injured, after an hour. The website says that "City new boy Kevin Ellison impressed in the opening 45 minutes" and that he "looked bright down the left flank and caused the Arsenal defence a number of problems with his pace and close control". It sums up his display by saying that "Kevin Ellison enjoyed an enterprising debut, causing the Arsenal rearguard a number of problems with his pace and close ball control".
HAWES ON TRIAL AND ELLENDER ON THE MOVE FOR £300,000?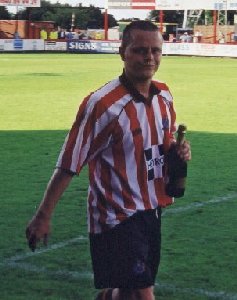 Tonight's
Evening News
reports that Steve Hawes (left) has gone on a week's loan to Doncaster Rovers of the Conference, starting today. Steve, now 22, was the youngest ever player for Sheffield United when he was 16 but was then rescued from amateur football by Alty's Bernard Taylor in 1999. He has had a spell at Belle Vue before, playing 18 games for the Rovers before his Moss Lane days. Meanwhile Wimbledon are said to have offered more than £300,000 for Scarborough's ex-Robin, Paul Ellender. Alty had a sell-on clause inserted in the November 1999 deal that took Ellender from Altrincham to Scarborough but the Seadogs' financial restructuring leaves the validity of that clause open to challenge. Scarborough, it will be recalled, reneged on £11,000 of the transfer fee. The sell-on amount involved is uncertain; the
MEN
claims it is 25% of the sell-on fee whilst at the
supporters' meeting on 2 December 2000
, fans were told it was 50% of any re-sale above £80,000.
HUCKNALL TOWN
Our league opponents tomorrow night (7-45pm), Hucknall Town, are the last Unibond Premier team that Alty fans will have seen these season in the league. Our away match with them is reserved for the last day of the season in May. Hucknall only entered the Unibond League in 1997/98 but won promotion from the First Division at the first attempt in 1998/99. They would have gone up as champions but for having three points deducted by the league. Their captain is their goalkeeper, Dave McCarthy. As well as seeing a new team at Moss Lane, fans will be able to get the first copies of the new Unibond Magazine, called "Extra Time". Its editor is Simon Matters, from Hucknall, and as well as seeking sales he also welcomes supporters' comments or contributions for future issues. The cover price is £1-20 and the magazine will be available around the ground and from the Club Shop. A proportion of the price of copies sold in the Shop will be donated to Club funds. Also available on the night is Gary Warrington's fanzine,
The Moss Lane Mouth
(50p) - proceeds go to SAFE, the Supporters' Association. Don't forget you can join SAFE at the SAFE cabin at half-time for just £3 (adults) and less if you are a junior or concessionary.
MOSELEY IS REALLY A TARGET FOR ROBINS
The on-off saga of striker Mike Moseley's move from Runcorn to Moss Lane is reported by the
MEN
to be dependent on Dickie Landon remaining permanently at Droylsden, where he is currently on loan and, therefore, off the Alty wage-bill. Landon is out of contract at Moss Lane this summer in any case. For more on Moseley, see below.
SPENNYMOOR
The
NL Football
site confirms that Spennymoor's inability to pay for a coach (four-wheeled not two-legged) was the real cause of the postponement of their fixture at Colwyn Bay last Saturday. However, the Moors expect to fulfil their next home fixture against Frickley. The Moors do have someone waiting to fund them further but he needs to reach agreement with a major creditor before he will put more in the Durham club's coffers.
---
18 February 2001
ALTY YOUTH STAY TOP
Altrincham Youth team drew 1-1 today with Warrington's Rylands FC at Wythenshawe Town's ground. After going ahead just before the break, Rylands gained a deserved draw in the second half. For a match report, click
here
. Tomorrow a largely different Altrincham Youth team play at Ridgeway Road, Timperley, against a Stockport County Youth side. Stockport's Youth side recently beat Tottenham Hotspur Youth and made the national press. Kick off is at 2pm.
S.A.F.E. MEETING NOTES
Unofficial notes of yesterday's SAFE Supporters' Association meeting are
here
- but remember, the only way to get the full news is to join SAFE and attend the meetings!
CEEFAX BOOBS AGAIN WHILST ALTY FILMED FOR T.V.
Ceefax yet again got it wrong yesterday, crediting Whitby with a 4-1 win over Lancaster; in fact Lancaster were the winners 5-1! The
league table
and fixture grid has been corrected- we are now fifth. Alty were filmed yesterday for the Sky Sports 1 "Non-League Football Show" for broadcast on Thursday (7pm). More news later this morning.
MARK SPEAKS
Acting Chairman Mark Harris is guest speaker at the Altrincham Referees' Society's monthly meeting on Thursday. Rumours that Mark Ward is also on the referees' guest list have not been confirmed!
SPENNYMOOR RUMOURS UNFOUNDED?
Reports that Spennymoor's match at Colwyn Bay was postponed for reasons other than an unfit pitch were contradicted with the match being officially called off due to a waterlogged surface. However, the Bay's
website
says "The perilous financial situation at Spennymoor United has meant that Saturday's UniBond League Premier Division match between the Bay and Spennymoor has been called off".
OLD BOYS
Leroy Chambers fired blanks for Frickley yesterday, Gary Talbot played for the Vics and Barry Crowe appeared for Droylsden in their 2-5 defeat but Dickie Landon did not. Paul Ellender was absent from Scarborough's side, as was Keith Russell for Hednesford. Andy Lovelock scored the winner for Solihull, whilst Simeon Hodson (Sutton Coldfield) and Chris Timons (Ilkeston) figured in draws. Dean Greygoose and David Anane played in Witton's 3-0 defeat. John Toner scored yet again for TNS in Wales as did Gary Powell. Danny Adams was reportedly Macclesfield Man of the Match yesterday as they lost to Hartlepool and he is named in the
Pink
's Team of the week.
---
17 February 2001
SUPPORT THE YOUTH TEAM!
THIS SUNDAY - 18th: Alty Youth team entertain second-placed Rylands FC at Wythenshawe Town (behind Tesco, Baguley carpark), k.o. 2pm. The Alty team are league leaders and are still to drop a point this season! Entry is free.
THIS MONDAY - 19th: Another Alty Youth team will turn out at Ridgeway Road, Timperley, playing Stockport County Youth. Stockport's Youth side recently beat Tottenham Hotspur Youth and made the national press. Kick off 2pm.
ALTRINCHAM 0 BISHOP AUCKLAND 2

The full match report is here.

Altrincham extended their run of league games without a win to seven with this defeat. They played well in the first half and went behind much against the run of play when Smith was allowed to run through the defence to set up Brunskill for a goal from six yards (22 mins). One of many strange decisions by referee Dunn gave Bishops a free-kick deep in their own half when Murphy was penalised in a situation where he should have received a free-kick in his favour. The free-kick passed through midfield where a foul on Ward went unnoticed to Brunskill who fed Smith. Referee Dunn chose not to apply the foot-up rule and Smith scored neatly (42 mins). The second half was something of an anti-climax. Altrincham had much of the possession but threats to both goals were few and far between as the visitors comfortably held on to their lead. Lancaster's win puts Altrincham down to fifth. Click the buttons above for the updated league table, fixture grid, statistics and team line-up.
RESULTS, Saturday 17 February
Accrington Stanley 4 Hyde Utd 1
Altrincham 0 Bishop Auckland 2
Bamber Bridge 1 Emley 1
Barrow 2 Blyth Spartans 0
Colwyn Bay v Spennymoor Utd POSTPONED -see below.
Droylsden 2 Worksop Town 5
Frickley Athletic 1 Leek Town 3
Gateshead 3 Marine 0
Hucknall Town 3 Burscough 2
Runcorn 1 Gainsborough Trinity 1
Whitby Town 1 Lancaster City 5 CORRECTED- Ceefax reported this as a 4-1 home win!
TODAY'S SUPPORTERS' MEETING
A brief report of this meeting will appear here later
GARRITY TO LEIGH
Michael Garrity, who played four times (+ 1 sub) for Alty this season has joined Leigh RMI from Chester City. Arriving at Hilton Park is James Stansfield from Ossett Town; he did not figure in the Ossett-Altrincham match this season.
---
16 February 2001
SPENNYMOOR OFF?
Tomorrow's match at Colwyn Bay with Spennymoor has reportedly been postponed, allegedly due to the Moors' financial situation. What happens next, if the rumours are true, remains to be seen.
FOUR ALTY HOME GAMES IN FOUR DAYS!
Alty fans can watch four home games in the next four days:
SATURDAY 17th: First team entertain Bishop Auckland, Moss Lane, 3pm. Available at the match is the latest issue of the fanzine, The Moss Lane Mouth.
SUNDAY 18th: Youth team entertain second-placed Rylands FC at Wythenshawe Town (behind Tesco, Baguley carpark), k.o. 2pm. The Alty team are league leaders and are still to drop a point this season!
MONDAY 19th: Youth team at Ridgeway Road, Timperley, playing Stockport County Youth. Stockport's Youth side recently beat Tottenham Hotspur Youth and made the national press. Kick off 2pm.
TUESDAY 20th: First team entertain Hucknall Town at Moss Lane, 7.30pm. Also, Simon Matters the editor of the new Unibond magazine, "Extra Time", will be there, selling copies of this new publication.
TEAM NEWS- NO MOSELEY?
Tonight's Evening News reports Mark Ward as "desperate to sign a centre-half". There is likely to be a home debutant as Mark Ward is set to play French-born striker Gerard Leonard again after his promising debut at Frickley last Tuesday. Gerard, 26, is a former Bury and Macclesfield trialist. The report by SAM that Alty had signed Runcorn's Mike Moseley has been denied so we may not have a second new striker tomorrow after all!
SAFE MEETING
There is a SAFE Supporters' meeting tomorrow at 12-30 in the Noel White Suite at Moss Lane where fans will hopefully be brought up to date with Club developments.
CHAIRMAN'S CUP
The Unibond Chairman's Cup draw is:

Burscough v Worksop Town
Barrow v Emley
Chorley v Leek Town
Harrogate Town v Runcorn
---
15 February 2001
ALTY OUT OF ALL OF THE UNIBOND CUPS
Leek Town beat Eastwood Town in their Unibond Cup match tonight 2-0 to eliminate Altrincham from even the Chairman's Cup, so there will be no first-team trophies at Moss Lane this season. The draw for the Chairman's Cup occurs on Friday. Whitby and Blyth drew 1-1 and Witton lost 1-2 to Marine in the Cup. Alty now have no fixture on Saturday 3rd March; hopefully the Tuesday 27 February away match at Colwyn Bay will be switched to that date to boost the gate as the Bay are also out of the Cups.
MOSS LANE SIGNING AND MORE TO COME?
Mark Ward, according to SAM, has signed Mike Moseley, aged 21, a striker from Runcorn and aims to have two new centre-backs in the team for Saturday's match versus Bishop Auckland (see below). Ward was unhappy with all three centre-backs at Frickley and is seeking experienced defenders, though he has only been offered youngsters by clubs that he has contacted so far. Moseley played against us earlier this season at Canal Street. A product of the Runcorn youth system, he was the Linnets' leading scorer last season with 14, though 12 of those came before the turn of the year.
FRICKLEY MYSTERY
SAM reports that James Glendenning got away with a head butt in Tuesday's match against Frickley, though none of the Altrincham fans who travelled on the supporters' coach nor the Frickley website match reporter seem to have seen it. The SAM report suggests that the incident prompted the sending off of a Frickley man for retaliation but states that it happened between Frickley's second and third goals. In fact the sending off came after 50 minutes and the third Frickley goal was after 24 minutes so it is all very mysterious! The Pyramid Portal quotes Phil Brown, the Frickley man who was sent off, as saying that the ref "sent me off for head butting Glendenning but I didn't touch him". The same site nominated Mark Ward as Man of the Match. The Yorkshire Post report is here For the Alty Pages match report, click here.
BISHOPS AT MOSS LANE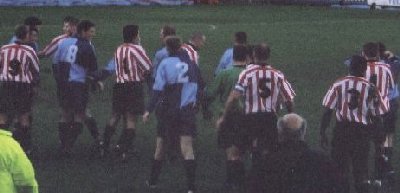 Next Saturday's guests at Moss Lane are Bishop Auckland who arrive unbeaten in their last nine league games since October 21st; eight straight wins and a draw last Saturday versus Barrow. On Tuesday they beat Tow Law Town 5-1 in the Durham Cup. Alty have not beaten them in five attempts in the Unibond League to date and they also knocked us out of the Trophy this season. With such a record, Alty must be due to win -mustn't they?! The Trophy match at Moss Lane saw Alty's Morgan sent off and a mass brawl of 19 players, the final stages of which is pictured left.
EVERTON HELP RUNCORN
Everton are playing a fundraising friendly at Runcorn on 21st February; perhaps Mark Ward's Everton contacts can lead to a similar match at Moss Lane?
---
14 February 2001
FRICKLEY REPORT
The full Frickley match report is now here.
POWER NETS TWO
Phil Power scored twice on his debut for Radcliffe against Trafford- a 2-2 draw. Also in the Boro side was former Robin, Scott Wilson.
NEW DIRECTORS
SAM reports that Alty have appointed two new directors. They are Jeremy Pollitt of Sale, a 39 year-old managing director of Hillcrest Homes of Grappenhall and Bob Green, a well-known name at Altrincham FC. He works for KLM UK but is also setting up as a business consultant. Mr Pollitt will have responsibility for Altrincham's commercial affairs. Older Alty fans will recall a former Chairman Freddy Pye whose business partner was a Pollitt; whether there is a connection remains to be seen.
SUPPORTERS' MEETING
There is a Supporters' meeting this Saturday at 12-30 in the Noel White suite before the Bishop Auckland game.
GATESHEAD OFF
Tonight's league match between Gateshead and Bishop Auckland is postponed.
---
13 February 2001
FRICKLEY ATHLETIC 3 ALTRINCHAM 3
Within 28 seconds Altrincham went behind to a goal, almost inevitably from Leroy Chambers, on loan to Frickley from Alty. Within 24 minutes Altrincham were 3-1 down and were employing their third different defensive formation of the evening, having substituted Farley as early as the 18th minute and having belatedly changed to a back four from the two variations of back three used from the kick-off. All three Frickley goals (after 1, 13 and 24 minutes - Chambers's second) came from bad defensive errors by three different players (Farley, Glendenning and Maddox), whilst Ian Craney's 40 yard run pulled one back for Alty after 18 minutes. Finney netted a penalty after 29 minutes following a foul on Altrincham's French debutant, Gerard Leonard. Frickley were reduced to ten men after 50 minutes and although Altrincham had the lion's share of possession they built up their moves so slowly from the back that they scarcely had a shot in the second period, whilst Frickley came close once or twice on the break. Alty got a deserved equaliser eight minutes from the end when Scheuber neatly converted a Hawes pass. The six goals scored raised the total seen in Altrincham's league matches this season to 100 - 58 for and 42 against. Alty remain fourth but have not now won in six league games. The new table is here and the Alty team line-up is here. Full report tomorrow (Wednesday).
TUESDAY LEAGUE MATCHES
Frickley Athletic 3 Altrincham 3
Leek Town v Worksop Town POSTPONED
Blyth Sp 1 Barrow 1
Stalybridge Celtic 3 Hyde United 1
---
12 February 2001
ALTY TO FINISH SIXTH?
In an attempt to iron out the disparities in the current league table caused by teams having played differing numbers of games from each other at home, away and in total, the following table is based on working out the average number of points gained in each team's home and away games to date and multiplying the answers to forecast the end of season position, with totals rounded off to the nearest point. This assumes that all teams continue to perform in the future as they have so far this season. On this basis, Altrincham finish sixth, Stalybridge are promoted and Spennymoor and tomorrow's opponents, Frickley, are the bottom two:

1. Stalybridge Celtic 105pts
2. Emley 103
3. Bishop Auckland 88
4. Worksop Town 76
5. Lancaster City 71
6. ALTRINCHAM 70
7=. Burscough 65
7=. Hucknall Town 65
9. Hyde United 62
10. Barrow 62
11. Accrington Stanley 60
12. Gateshead 58
13. Runcorn 57
14. Droylsden 57
15. Whitby Town 56
16. Bamber Bridge 55
17. Gainsborough Trinity 52
18. Blyth Spartans 50
19. Colwyn Bay 46
20. Marine 46
21. Leek Town 39
22. Frickley Athletic 33
23. Spennymoor United 15
UNIBOND CUP - Ashton 3 Ossett Town 1
Following Ashton's win over Ossett tonight, the best Altrincham can achieve is a place in the third-level cup competition, the Chairman's Cup. To enter that competition Alty need to be one of the six best third-placed group-stage teams. Alty finished with five points, whilst Ashton gained seven, Hyde ten, Stocksbridge four and Ossett one. Already Runcorn, Chorley, Barrow and Emley have finished third in their groups with better points hauls than Altrincham, whilst Guiseley have finished third with a worse goals-scored than us. We will definitely have a worse record than whichever is the third team in the unfinished group 6. That leaves one place to be won from the three remaining groups including our own group. So, if we do finish third, we need to be ahead of the third placed team in Group 1, which seems probable, and that would mean that our fate would depend on the encounter between Leek Town and Eastwood Town in group 9. A draw in that game would see us through to the Chairman's Cup but a win for Leek would knock us out.
NEW STRIKER ON WAY?
SAM reports that the Alty Board had given Mark Ward permission to acquire a new striker before last Saturday's game at Lancaster but his efforts were unsuccessful. "I'm ringing round to see who is available to the end of the season. I'm looking at people from the same league and for someone with a bit of pace", said Mark Ward. Ward admitted that the financial crisis had affected the team but added that "It's up to me to get them going - we've got some tough games coming up".
FRICKLEY
With fine weather forecast for tomorrow, hopes are high that tomorrow's game at South Elmsall, which lies between Barnsley and Doncaster, will go ahead. Frickley are enjoying a mini revival with no defeats in their last six league games whilst Altrincham will be seeking their first away win since October. Leroy Chambers, who is on loan from Altrincham to Frickley, did not figure in Saturday's draw at Accrington due to illness.
---
11 February 2001
UNIBOND TRANSFERS
John Allcock (Hinckley Utd to Hucknall Town)
Gary Ricketts (Hinckley Utd to Hucknall Town) (£1,500)
Dave MacPherson (Stone Dominoes to Leek Town)
YOUTH MATCH OFF
Today's Youth match against Morecambe was postponed due to the recent rain and the resulting state of the pitch at Wythenshawe Town, Alty Youth's home venue.
LANCASTER MATCH REPORT
A full report on yesterday's game is now here. For some interesting pictures of the action- and the state of the pitch, see Alan Johnson's official website here. The Lancaster view of the game is here.
ELLISON IN THE HEADLINES
Kevin Ellison's move to Leicester City attracts a lot of attention in the press this weekend including a front-page picture in the Non-League Paper, which also carries a centre-spread article, with a further picture and quotes from both Kevin and his new manager, Peter Taylor. Kev said he he thought "the best I'd get would be a second or third division club. It still hasn't sunk in yet [...] I would have signed a contract no matter what they'd [Leicester] offered me". Kev reports that his father was reduced to tears and "drank a week's supply of beer in one go" at the news of his transfer. The Pink says that Alty will receive 15% of the fee if Ellison is sold on; it does not record whether there are any conditions attached to that arrangement. Mark Harris (Acting Chairman) is quoted as saying that despite the £50,000 for Ellison, Altrincham "are still in the mire" financially.
WARD AGAIN SLAMS HIS BIG EARNERS
Mark Ward is reported in the NLP as having conceded the league title- "we've given up the chase, we are too far behind". He again lays much of the blame for Altrincham's failure on the lack of "hunger" of his "overpaid", senior players, - "I was bitterly disappointed with some of their attitudes", he said, going on to state that it has taken him "three-quarters of the season to get them out". It is reported that "it is likely that" even the three players who will still be contracted to Alty after this season ends "will be sold". In the Pink Ward states that recent sales and loan arrangements do not mean that "the directors are asset-stripping the club. We're simply doing everything we can to reduce a trading gap which [...] was growing at £5,000 a week".
SCHOOLS' INITIATIVE OFF THE GROUND
Bob Allan, Alty's Schools' Coordinator reports that Stamford Park Junior School, Altrincham has become the first in the district to take up the Club's offer of tickets to our remaining home league games. We hope that many of their pupils (and their parents) will become regulars at their local club. For more on Bob's scheme, click here
PUT DANNY ON YOUR BEDROOM WALL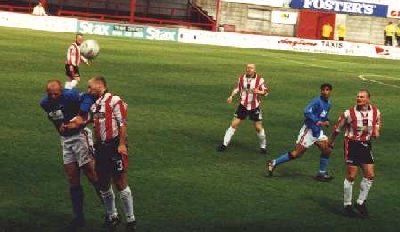 The Non-League Paper is selling for £2-50 (+£1.50 p&p) a 32x22 inches colour wall poster which lays out the non-league pyramid in detailed diagrammatic form. The poster's most prominent feature is a full-length picture of Danny Adams in Altrincham kit. Quite why a player who now plays outside the non-League ranks should be chosen for this honour is puzzling but, nevertheless, welcome for Alty fans. It is available, with cheques payable to "Non-League Paper Ltd", from NLP, 2nd Floor, Hill House, Highgate Hill, London N19 5DA. Danny earned praise yesterday in the Pink for his "well-delivered corners" at Exeter; he also nearly scored. A letter in the Pink exhorts Macclesfield to get Adams's signature on a long contract. Danny is here seen, left, in action against Doncaster last season (-this is not the picture on the poster).
OTHER OLD BOYS
Keith Russell got a rare start for Hednesford but scored only five on their performance ratings. Ricky Harris, Robert Trees and Ged Kielty all started for Leigh, whilst Mick Morrell was a sub in a 1-0 win at Boston. Lance Key and Gary Talbot figured in Northwich's defeat at Stevenage, Mark Quayle scored for Morecambe, David Anane and Dean Greygoose also figured for Witton but Paul Ellender was suspended for Scarborough. Chris Timons conceded the penalty which cost Ilkeston two points at Fisher. Dickie Landon was only on the bench for Droylsden, whilst Leroy Chambers did not appear in Frickley's squad. Lee Ellington netted Gainsborough's goal in a 1-1 draw at Burscough, whilst Paul Robertson laid on all three Hyde goals from corners against Gateshead.
STOCKSBRIDGE STREET HONOURS
Doncaster is to have two streets, Hurlstone Close and Fothergill Drive, named after Gary Hurlstone and Danny Fothergill who played for Stocksbridge Park Steels against Alty last week. The honour is not because of last week's victory over us but because a Steels' committee member is an architect for the builders, Henry Boot, and his duties include naming new streets. He therefore chose two of his favourite players' names. If Heyrod, the builders who are Alty's sponsors, ever do the same we could perhaps soon be travelling down Ward Way, Scheuber Street, Glendenning Grove, Scott-Freeway or Coburn Close. Perhaps Moss Lane itself could become Danny McGoona Boulevard?!
---
10 February 2001
LANCASTER CITY 4 ALTRINCHAM 1
This was not the rout that the score implies. Altrincham played very well in the opening stages and went ahead when an astute ball from Scheuber set Murphy free in the box and he scored well from ten yards after only six minutes. A tremendous free-kick by Glendenning smashed against an upright after 18 minutes as the visitors dominated play. Lancaster, fighting against strong winds and rain got back on level terms after 26 minutes through Welch, who was allowed to turn in the box and score. Potts put the Blues ahead soon after the interval following an error by Hawes and Ward got number three from very close range after 57 minutes after the lively Potts had surged into the box. Alty still enjoyed a fair amount of possession but lacked the vital spark in the last third of the pitch and allowed themselves to be caught out at the back by pushing too far forward at times. Ward headed number four from a right-wing cross with 13 minutes to go. Click the appropriate buttons at the top of the page for today's line-up, the revised league table and fixture grid. Alty remain fourth but have now gone five league matches without a win. A match report is here.

Accrington Stanley 1 Frickley Athletic 1
Bamber Bridge 5 Whitby Town 0
Barrow v Colwyn Bay POSTPONED
Blyth Spartans v Stalybridge Celtic POSTPONED
Burscough 1 Gainsborough Trinity 1
Droylsden 1 Hucknall Town 1
Emley 1 Leek Town 1
Hyde United 3 Gateshead 1
Lancaster City 4 Altrincham 1
Spennymoor United v Runcorn POSTPONED
Worksop Town 3 Marine 3
ANOTHER TALBOT MOVES
Robbie Talbot, Burscough's leading scorer has signed for Morecambe for a fee reported to be £9000. Talbot netted against Altrincham in the 2-2 draw on 6 January. On the move from Lancaster, our hosts today, is Kevin Baldwin who has also moved to Morecambe.
---