Altrincham Football Club News Archive.

This Page

29 April, 2001




All framed pictures on this site are enlargeable; just click on the images themselves.
---
29 April, 2001
MARIO SCORES IN BRAZIL
Alty Youth's Mario Daniel scored recently for Trinidad and Tobago U-17s versus top Brazilian side Fluminense of Rio de Janeiro. Whether the game was in the famous Maracan&atilde stadium, used by the Fluminense first team, is not known.
ALTRINCHAM 2 HYDE UTD 0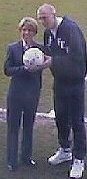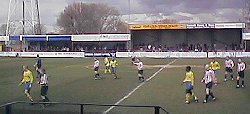 A full match report of the game is here. Pictured, left, is Kevin Ellison (now of Leicester City) with Jacqui Forster, the co-ordinator of SAFE in Exile, the supporters' association for Alty fans living outside the Manchester/Cheshire area. SAFE in Exile were yesterday's match-ball sponsors. Pictured, far right, are the two possible away kits for next season, modelled by Stu Scheuber (blue), Ryan Albiston (home kit) and Gary Scott (white). No one dared be seen in the third choice, an orange ensemble. Near right is an image of the game in progress yesterday before the rain started.




SPONSORED WALK
Yesterday saw the S.A.F.E. (Supporters' Association) Sponsored Walk along the 10.5 mile route from Maine Road via Old Trafford to Moss Lane. Weather conditions were poor with frequent downpours of rain and hail and as the walkers passed the Lancashire cricket ground the tannoy was announcing the abandonment of play. But the greatest danger to the participants came not from the weather but occurred, rather, when they were leaving Old Trafford and were nearly mown down by a group of camera-bearing Japanese tourists disgorging from a tour bus. Thanks are due to the support team of Peter Read (and colleague) who kept the walkers supplied with drinks throughout the journey. It is not yet known how much was raised by the event. For pictures of the walk, visit Alan Johnson's official AFC site, here
YOUTH MATCH
Today's match between the Youth team and Rossendale was postponed. The next scheduled game is on Wednesday, 2 May, versus Runcorn at Wythenshawe Town, 6-30pm kick-off.
MANAGERIAL SPECULATION IN THE PRESS
The Non-League Paper today alleges that both Mark Carter, the ex-Runcorn manager now playing at Radcliffe, and Tony Lee, the Bishop Auckland manager, have been interviewed for the vacant Altrincham manager's post. The same paper also carries a long interview with Peter Davenport, who refers to Altrincham's good squad and his interest in returning to Non-League after his departure from Macclesfield. He also said that he would consider the Alty job if offered it. He also confirms that Danny Adams's transfer to the Silkmen was for a £17,500 payment plus a potential £7,500 for league appearances. Speaking of Danny, he said, "He has been a success this season...We were also aware of...Kevin Ellison, whom we watched half a dozen times. There are a few very good lads at Altrincham". Altrincham are expected to announce their new manager before the season ends next week, with the above names and those of current caretakers, Bernard Taylor and Graham Heathcote, thought to be amongst those in the running.
OLD BOYS: "BOMBER" AND SIMEON SEE RED
Ricky Harris, just recovered from long-term injury, was sent off for a robust tackle for Leigh yesterday, whilst ex-Robins' full-back Simeon Hodson also saw red, playing for Sutton Coldfield. Hodson, a sub, was sent off for elbowing. Playing with "The Bomber" for Leigh yesterday were Ged Kielty and Robert Trees, with Mike Morrell a substitute. Chris Timons scored a 25-yarder for Ilkeston but it was an even better day for another old boy, Darren Emmett, who hit a hat-trick in a 6-2 win for Trafford at Congleton, for whom three different players appeared in goal during the match. Paul Ellender and Mark Quayle missed Scarborough's and Morecambe's games through injury, with Quayle also suspended. Danny Adams played as Macclesfield went down 4-1 at Brighton and Stuart Terry "fired wide" and "missed two opportunities" according to the NLP report of his side's win over Cwmbran.
---
28 April, 2001
ALTRINCHAM 2 HYDE UTD 0

Full match report here.

Other results saw Stalybridge come out tops at Emley

Accrington S. 3 Blyth S. 3
Bamber B. 3 Runcorn 1
Barrow 2 Worksop T. 1
Burscough 3 Droylsden 1
Colwyn B. 4 Leek T. 1
Emley 2 Stalybridge C. 3 ATTENDANCE 3,708! Last minute winner by Ian Cooke (ex-Vics)
Gainsborough T. 0 Bishop A.
Gateshead 1 Lancaster C. 0
Spennymoor U. 2 Marine 2
Whitby T. 2 Hucknall T. 2
Revised league table is here.
PLAYER OF YEAR
Winners of the SAFE Player of the Year awards for 2000-01 were: 1st Steve Hawes; 2nd Stuart Coburn; 3rd Jason Gallagher
---
REVISED FIXTURES
Revised fixtures are to be found on the Youth and Reserves pages of this site.
---
27 April, 2001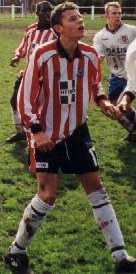 YOUTH TEAMS REACH FINALS
In a league cup semi-final at Moss Lane last Sunday, Alty Youth beat Morecambe. This Sunday (28th) the Youth team, who lie second in the table, entertain Rossendale at Wythenshawe Town (Timpson Road, behind Tesco, Baguley), k.o. 2pm. entry free. Altrincham FA Youth side, which includes many Altrincham FC players, also reached their cup final, by beating Stockport FA. There will be more details of these games, hopefully, over the weekend. Pictured, left, is Lee Shillito performing as sub. in a recent league game against Morecambe. For more on the Youth team, click here.


RELEGATION ISSUES
In the UniBond Premier, Spennymoor's win last night over Leek (see below) means that Frickley and Leek are locked in the Premiership relegation battle with the Welsh side. Both the Bay and Frickley have 39 points but the Bay have three games left and Frickley only two. Leek are just a point better off than these two sides, having three games left. The decider could well be Colwyn Bay v Leek on Saturday, though Barrow's home games with Frickley and Colwyn will also be vital. For the table, click here.The run-in is as follows:

LEEK TOWN P41 PTS40 GD-24 Colwyn Bay (A 28/4) Droylsden (H 3/5) Bishop Auckland (H 5/5)
FRICKLEY ATH. P42 PTS39 GD-31 Barrow (H 1/5) Lancaster C. (A 5/5)
COLWYN BAY P41 PTS39 GD-39 Leek T. (H 28/4) Worksop T. (A 1/5) Barrow (H 5/5)
Droylsden, Burscough, Marine and our own next opponents, Hyde, are all not yet statistically safe. Definitely relegated are Spennymoor, with Bradford P.A. being promoted from Division One. Meanwhile in the Conference, Kingstonian join Hednesford as a relegated team, with the third relegation place looking to be between a reviving Kettering, Forest Green or Hayes, with Morecambe and Northwich also not yet statistically safe. As none of the worst-placed teams is from UniBond territory, it remains to be seen who will join the Premier league next season.

PLAYER OF THE YEAR

Tomorrow sees the Altrincham Player of the Year awards. Altrincham fans clearly made wise choices last year for all three awards in 1999-2000 were won by players who have moved on to higher league clubs. In descending order of award, these were Danny Adams, Gary Talbot and Kevin Ellison, who are now at Macclesfield Town, Northwich Victoria and Leicester City respectively. In 2000-01, forty players donned Altrincham first-team shirts but only a half of these still remain at the Club and of those a mere nine have even started as many as half of the League games played; (i.e. Coburn, Craney, Farley, Gallagher, Hawes, Maddox, Murphy, Scheuber and Scott). In fact, only Coburn and Hawes have started more than 28 league games. However, a number of relative newcomers have also made sufficient impact to expect a fair level of voting support, with Danny Murphy falling into that category. If annual awards were made to non-players then both Peter Barry and George Heslop would be deserving recipients. Peter has transformed the playing surface at Moss Lane and must be the best groundsman in the UniBond League, whilst George has overseen the emergence of a fine crop of Youth Team players and, latterly, has also been running the Reserves with some success. Tomorrow also sees a parade of possible new away strips, sponsored by Hillcrest Homes; last year's models, pictured left, were the two injured 'keepers, Stuart Coburn and Dean Greygoose (now at Witton), who flanked Barry Crowe (now at Droylsden).
---
26 April, 2001
SPENNYMOOR WIN!
Blyth S. 4 Marine 1
Burscough 1 Colwyn B. 2
Gateshead 3 Hyde U. 0
Runcorn 1 Lancaster C. 0
Spennymoor U. 2 Leek T. 0
Revised league table is here
BUSY TIME FOR S.A.F.E.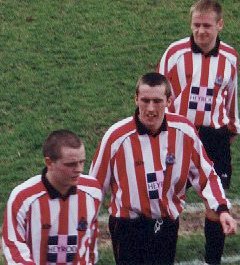 Although the season is drawing to a close, S.A.F.E. members have a busy time this weekend. Nominations for the S.A.F.E. Player of the Year Awards should now have been submitted in advance of the announcements of those to be honoured on Saturday. Alty captain, Steve Hawes is likely to figure in the awards and he is seen, left, leading defenders Adam Farley and Steve Porter off the pitch at Gainsborough recently, (click on photo to enlarge it). Also on Saturday, the S.A.F.E sponsored walk will take place from Maine Road, Manchester via Old Trafford to Moss Lane. Those taking part should be at the Altrincham ground at 8.30am, ready to be transported to Maine Road for the walk. Last year's event raised over £2,000 for the Club.
NEW GROUND
Bradford P.A. last night secured promotion to the Unibond Premiership, so Alty fans will be visiting Cemetery Road, Bradford next season, the location of the Horsfall Stadium.
HUCKNALL
John Ramshaw's reported resignation (see yesterday's news) is shrouded in mystery, with informed local sources denying that the manager has left.
---
25 April, 2001
SHORTLIST OF FOUR
Mark Harris has confirmed to SAM that there is a shortlist of four for the vacant manager's post. Steve Waywell has ruled himself out and both Peter Davenport and Paul Futcher have indicated that they have had no contact since they put in applications. In all there were sixteen applicants. As reported yesterday, Tony Lee of Bishop Auckland is known to be one of the four interviewees. Mark Harris has also stated that no one will be head-hunted; the Club wants a person who has actually applied to work at Moss Lane.
HUCKNALL SENSATION!
John Ramshaw, the manager of Hucknall Town whom we meet on 5th May in the last game of the season, has apparently posted a forthright letter of resignation on the Hucknall website, (though if you visit the site at present it cannot be seen). However, the Non-League Football site quotes Ramshaw as saying "After seven-and-a-half years of working my b*******s off to give the Hucknall public what I thought they wanted, a successful football club, I am starting to realise that, with the exception of our hardcore support, there is no way I can please them... The players I have brought to the club have taken it to its highest ever placing in the Non-League Pyramid, to the point where names like Gateshead, Altrincham, Barrow, Accrington Stanley are no longer revered but accepted as equals". Ramshaw has since refused to elaborate on this message.
NO CUP GLORY
Alty Reserves lost their league-cup semi-final at Morecambe last Monday 4-1. In the league they drew 0-0 with Marine. For the revised table, click here.
LAST HOME MATCH
Alty's last home game, this Saturday, is against Hyde United, who lie 15th in the league. They have 3 games in hand on Alty but are 16 points behind the Robins. After topping the table at the start of this season, the Tigers' form has been unpredictable in recent weeks. Following a win over Spennymoor 4-0 on 24 March, Hyde won again the next day at Whitby but then drew with Runcorn, lost to Emley, drew with Runcorn again and lost 1-4 to Worksop, before beating both Droyslden and Bishop Auckland. However they suffered a 1-4 defeat at home to Bamber Bridge last Saturday. This Thursday (26th) they travel to Gateshead before playing at Moss Lane on Saturday.

Hyde's top scorer, Simon Yeo has a knee-ligament injury and may miss the rest of the season but defender John Foster may be fit for the game at Altrincham after missing recent matches. Foster, is an ex-Manchester City first-teamer who had a pre-season trial at Altrincham a couple of years ago.

CEEFAX BOOBS YET AGAIN
Burscough beat Bamber Bridge 1-0 last night and not vice versa. The revised table is here.
NON-LEAGUE MEDIA
Non-League Media, who produce the Non-League Paper, Team Talk and the Non-League Club Directory lost £800,000 in the first half of the financial year. However, turnover rose from £236,000 to £849,000.
---
24 April, 2001
RESULTS
Emley came from behind to win and go back to the top of the league table.
Accrington S. 2 Barrow 1
Bamber B. 0 Burscough 1 (corrected- see above)
Emley 2 Runcorn 1
Leek T. v Droylsden POSTPONED
Whitby T. 0 Gateshead 1
Worksop T. 1 Bishop Auckland 2
PRESIDENT'S CUP FINAL Blyth S. 3 Stalybridge C. 3 (a.e.t. Stalybridge won 3-2 on pen's).
TONY LEE AND OTHER POSSIBLE RUNNERS
Apart from the current managerial caretakers, Bernard Taylor and Graham Heathcote, amongst the names quoted in the press as interested in the Altrincham managerial vacancy are:
Tony Lee - the long-time Bishop Auckland manager is reported by "The Northern Echo" newspaper to have confirmed that he has an interview at Moss Lane this week. The Bishops' record in recent seasons is: 8th (99-00), 20th (98-99), 10th (97-98), 2nd (96-97), 11th (95-96). Lee was a player at Leicester City, Bradford and Darlington and has managed Whitby Town, Billingham Synthonia, Gateshead and Northallerton.
Mark "Spike" Carter - Mark lost his job as manager of Runcorn early this season and has recently been playing for Radcliffe Borough.
Paul Futcher -the former Southport manager and Football League player sacked in 1999/2000 season.
Peter Davenport - the former Nottingham Forest and Manchester United player who left the manager's post at Macclesfield this season. Peter has recently turned out for Congleton Town.
Jimmy Quinn - a former Northern Ireland international who has played for numerous clubs and is currently at Hayes, though playing as well for Congleton Town. He also had a brief spell at Northwich this season.

Others mentioned as possible contenders include:
Steve Waywell- manager of Leigh RMI who, despite their Conference success this season, has voiced concern at his Club's poor level of home support.
Mike McKenzie - the Hyde United manager.
Dalton Steele - the former Winsford manager.
John Davison- holder of Alty appearances' record and currently manager at Burscough.
ATTENDANCES
Altrincham lie fourth in the UniBond Premier home attendances chart with an average of 593 spectators. Barrow have an average of 1062, Accrington 645 and Stalybridge 623. The average gate for all clubs is 377.
---
23 April 2001
BAD TIMING
Altrincham picked the wrong season to be in the Conference last year. Their points haul of 46 would, this year, have guaranteed them survival in the Conference, even with three games still to be played. Also, Altrincham went down with only 14 defeats to their name; this season none of the bottom three has lost fewer than 21 games and that total could be as high as 24 before the season's end.
DECIDERS
Just as crucial as the Emley v Stalybridge match this weekend, which is likely to decide the Premiership, the Ashton v Vauxhall game on 5 May will probably settle who joins Bradford P.A. as a side promoted to the UniBond Premier league next season.
---
22 April 2001
COLWYN BAY CRISIS
Although their form has picked up lately, off the field Colwyn Bay are still without any new backers despite a recent appeal. The Club will only have three directors if no one else comes forward and that is felt to be too few to run the Club next season. A further crisis meeting is scheduled for all interested parties at the Llanelian Road ground on Thursday 4th May 2001 at 7.30pm. Meanwhile Lancaster City are set to net £25,000 for the sale of striker Chris Ward to Birmingham City.
PRESS TALK
The Pink today claims that Paul Futcher, Mark Carter, Peter Davenport, Jimmy Quinn are all "keen to replace the axed Mark Ward" and that possible head-hunt targets for the job would include Steve Waywell, Phil Wilson and Mike McKenzie.


McDONALD FIRES WINNER
Alty Youth midfielder Lee McDonald scored the only goal as Manchester County Youth reached the Northern Counties Final for the first time in 20 years. Lee's performance was all the more notable as it came just four days after his mother had died, following a long illness. Alty colleague Mario Daniel was unavailable for the Semi-Final but should be alongside Lee in the Final squad. Lee is seen (left) in action last week for Altrincham Youth. This and six other new pictures of Altrincham Youth team players have been added to the Youth Pages 1 and 2.
OLD BOYS
In the Nationwide League, Nicky Daws was Bury's "Man of the Match" yesterday and Danny Adams returned to action for Macclesfield, following an injury. Andy Kilner's Stockport virtually assured themselves of First Division survival by beating Crewe. In the League of Wales, John Toner hit his 27th goal of the season for TNS and Nathan Comley-Excell netted for Rhayader Town. Paul Ellender scored for Scarborough and Northwich's side at Woking included ex-Robins Lance Key, Gary Talbot (pictured in the NLP) and Greg Challender. Key went off injured and was replaced by Challender. Also in the Conference, Mick Morrell was an unused sub for Leigh but Ged Kielty started. Keith Russell achieved the rare distinction of a second successive relegation from the Conference when Hednesford's fate was sealed yesterday. Russell himself is not even currently in their squad. In the UniBond, Leroy Chambers figured in Frickley's draw, whilst Barry Crowe played as Droylsden were trounced 0-4 by Accrington. Matt McNeil was in Stalybridge's team and Darren Emmett helped Trafford to their 10th game without defeat with a goal in a 4-1 win yesterday. Paul Robertson's move from Hyde seems to be off as his side lost 1-4. Dean Greygoose played and David Anane scored for managerless Witton, following the sacking of ex-Robin Nigel Gleghorn. Chris Timons's Ilkeston continued their slide down the Dr Martens Premier,whilst in the Eastern Division, Andy Lovelock's Solihull lost 0-3 and Simeon Hodson's Sutton Coldfield are still at some risk of relegation.
S.A.F.E
SAFE in Exile will be sponsoring the match ball for the last home game (v Hyde, 28 April). Before the game the SAFE sponsored walk will take place from Main Road via Old Trafford to Moss Lane. If you can help SAFE, contact the Club on 928-1045 and to contact the Exiles, please e-mail Jacqui Forster. For more on both SAFE groups, click here.
---
---