Altrincham Football Club News Archive.
This Page www.lusoweb.co.uk/alty1.htm

20 July, 2001



---
News Archive 20 July - 6 August 2001
All framed pictures on this site are enlargeable; just click on the images themselves.
---
6 August, 2001
FLIXTON MATCH
Courtesy of Grahame Rowley, there is now a report here on our friendly, last week, at Flixton.
GRAHAM HONOURED
On 27 July the UniBond League awarded Graham Heathcote a plaque in recognition of association with Altrincham over the last 30 years.
FAIR PLAY
Altrincham finished eleventh in the UniBond Fair Play league for last season, even though we were the only side to receive just one red card all season (James Glendenning!). Worksop won the title with Gainsborough and Marine the next two teams. Bottom were Colwyn Bay, with Hucknall then Frickley, just above them. Barrow got the most yellow cards (80). Alty received 64 cautions last season.
CONFERENCE APPLICANTS AND UNIBON PLAY-OFFS
Altrincham are one of eleven UniBond sides to apply for Conference membership should they win the league (or come second to a non-applicant) next season. The others are Accrington Stanley, Barrow, Burton Albion, Emley, Gainsborough Trinity, Gateshead, Hyde United, Lancaster City, Runcorn and Worksop Town. Rules for the UniBond relegation play-offs have been announced. The 21st team (3rd bottom) in our league will play against the 3rd to 5th finishers in the UniBond First. the Premier side will play at home to the 5th in the First Division, whilst the other two sides meet to decide who plays the winners.
---
5 August, 2001
SUPPORTERS' AGM
A report of yesterday's SAFE (Supporters' Association) AGM is here.
OLD BOYS
Danny McGoona is still at Caernarfon Town, newly promoted to the League of Wales. As well as scoring against Bury in a friendly last week, Danny scored "a brilliant individual goal" yesterday against Witton Albion, according to today's NLP. Another ex-Robin, Dave Anane, scored for Witton, who won 2-1. Tim Clarke played well for Barry as they beat FC Porto 3-1 last week. Paul Ellender is now reported to be a target for Rushden and Diamonds but he was missing from Scarborough's side yesterday against York City. Chris Sharratt scored a penalty for Rhyl as they lost 1-4 to Preston. Craig Skelton hit a hat-trick for Blyth versus Tow Law Town.
TEAM TALK
Team Talk magazine has now been re-named The Non-League Magazine. The first issue is out now, at £2.95.
STALYBRIDGE
Stalybridge, whom we meet next Tuesday, lost 0-1 at Ossett Town yesterday. Mark Stuart who joined Stalybridge only two weeks ago, from Southport, has left already and joined Guiseley.
CUP WINNINGS
The FA have announced that clubs winning 2nd Round Qualifying matches will earn £7,500; 3rd Round Qualifying winners will receive £10,000 whilst those winning a 4th Qualifier or 1st Round Proper tie would get £20,000. The FA Cup Winners will receive £2 million!!
---
4 August, 2001
KEITH PRINCE
It is with deep regret that the Club has announced the death of Keith Prince. For many years Keith was the kit-man at Moss Lane and he served under Johnny King during some of the Club's most successful years. Keith's death, at the age of 59, was announced at today's Supporters' meeting and the condolences of everyone present go to Keith's family.
ALTRINCHAM 0 BLACKBURN ROVERS 1
Against a Blackburn Rovers side which included six internationals in its line-up, a 1-0 defeat was a very creditable result for Altrincham, who were without Stuart Coburn, Paul Taylor and Mark Sertori. Blackburn included Alan Kelly, Jeff Kenna, Damien Johnson, Jason McAteer, Egil Ostenstad and Alan Mahon in their side. However, it took Rovers 79 minutes to get the ball past guest goalkeeper, Dean Greygoose, who had earlier defied the visitors with a string of fine saves. The goal came from substitute Ben Burgess. There is a fuller match report here.
YOUTH HONOURS
Six of last year's double-winning Altrincham Youth side played this week for Manchester County F.A. in their match against Huddersfield Under-19s. Those called up were Paul Robinson, Lee McDonald, Paul Coverley, Mario Daniel and Domain Esdale, whilst Wes Wilkinson was only prevented by injury from also playing in the game. Two other Alty Youth players, Vernum Rowland and Mark Drew, join Wesley Wilkinson in the Cheshire County F.A. trials tomorrow.
S.A.F.E. A.G.M.
The S.A.F.E. (Supporters' Association) A.G.M. took place before today's game. A full report will appear on this site tomorrow. A renewal form for S.A.F.E. membership can be found here.
YORK CONNECTIONS
As well as Alty's Mark Sertori and Kevin Hulme who were at York City last season, there are a couple of their former club-mates also now at UniBond teams. These are Steve Agnew, who is at Gateshead and Wayne Hall, who played over 400 games for York, and is now with Gainsborough. Another former York player, defender Barry Jones has been recruited by Southport's Phil Wilson
UNIBOND NEWS
Spennymoor United, relegated last season to the UniBond First Division, have signed Carl Chillingsworth and Mark Taylor from Whitby Town and Matty Hyson from Blyth Spartans. Local players who have also joined The Moors are Carl Beesley from West Auckland Town, Simon Kasinali from Marske United and Andy Richardson from Willington. Still at Spennymoor from last season are Andy Banks, Stuart Dawson, Leigh Grant, Chris Leonard, Andy Swallwell and Craig Veart. Bradford Park Avenue are giving a trial to Matlock Town's Kingsley Paul, a former British Universities' striker, who has played at Hayes, Nuneaton and Stafford Rangers. The Yorkshire club has re-signed the ex-Bradford City striker Ian Briggs. Darren Bradshaw has joined Worksop Town from Stevenage, whilst Colin Morton has gone to Blyth Spartans from Hibernian.
---
3 August, 2001
MATCH REPORTS
There is now a match report of the Graham Heathcote testimonial match and accompanying "Legends" games here. Also, courtesy of information kindly supplied by Grahame Rowley and Stan Riley, there is now a report here on the Trafford v Altrincham friendly which took place last Saturday. I hope to have a report on the mid-week Flixton game in due course.
THREE SIGNINGS ON THE CARDS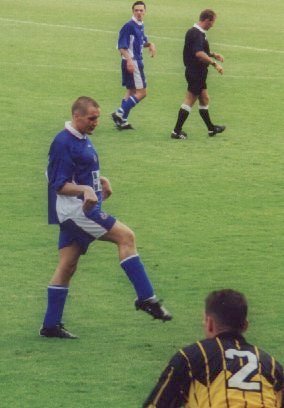 Altrincham have agreed terms with trialists Carl Furlong, Lee Poland and Dave Swannick, who are all expected to finalise their contracts in the next few days. Furlong, (seen left) is aged 24 and scored 5 goals in nine games (+2 sub) for Alty in a spell at Moss Lane at the start of last season before he went to TNS in Wales. Lee Poland, like Furlong a striker, has had spells at Northwich Vics and, after that, at Leek Town. He has impressed with a number of goals in the Altrincham pre-season matches. Swannick is a 22 year-old former Morecambe full-back, who came up through the Shrimps' youth system. For further details on all these players, see the Squad page. Meanwhile, SAM reports that both of last week's signings, Kevin Hulme and Mark Sertori, only came to Altrincham because of their friendship for Bernard Taylor and their respect for Graham Heathcote's coaching abilities. "It's important to have someone like Bernard in charge, who I know and trust", said Hulme, adding that "It's the same with Graham Heathcote. He is a great coach and he and Bernard make a great team". For his part, Mark Sertori stated that "I only came her because Bernard's in charge".




PLAYERS OUT- TEMPORARILY AND PERMANENTLY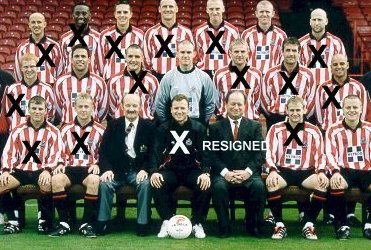 Recent signing, Mark Sertori, picked up an injury against Trafford last Saturday but is expected to be fit for the Blackburn game. Stuart Coburn and Paul Taylor are also both unavailable for that game. However, Adam Farley and Steve Porter have both left Moss Lane permanently; both have joined our rivals, Burscough. In the picture above, taken at the start of last season, only Mark Maddox, Jason Gallagher, Stuart Coburn and Steve Hawes remain at the start of this season. For details of all of the players who left Alty in 2000-01, click here.






UNIBOND NEWS
Darlington have given a one-year contract to one of Bishop Auckland's stars of last season, Danny Mellanby. No fee was required as Mellanby was a non-contract player. The Bishops' planning application for a new ground has lapsed but a new application is being prepared. Also in the North East, Blyth Spartans' Glen Robson has been on trial with Darlington. The striker has played for the Third Division side during their tour of Ireland this summer. Blyth are also to host Radio 5's Any Sporting Questions programme. This is due for transmission (provisionally) on 7 August at 7.15pm. The panel will include Sale sprinter, Darren Campbell, who is also a footballer with non-League experience. Barrow have taken Steve Gaughan, the former Halifax midfielder, on trial. Colwyn Bay have denied reports that they had signed the Ghanian international Maurice Addo. Reports had appeared in various sources, including the Non-League Paper.
---
2 August, 2001
DEANO RETURNS
Altrincham's goalkeeper in this Saturday's friendly against Blackburn Rovers will be Dean Greygoose (36), who kept goal for the Robins for half of their season in the Conference (1999-2000). Regular keeper Stuart Coburn is attending a wedding, so Dean, now looking for a club after a season at Witton Albion, is stepping in. He also kept goal in the Graham Heathcote testimonial at Moss Lane, last Thursday. However, Dean is believed to be looking for a club in East Anglia as a longer-term step, due to work commitments.
VICS AGAIN!
Altrincham have again drawn Northwich Vics in the Cheshire Senior Cup; this time at home on 18 September.
THREE FRIENDLIES
Wednesday, 1 August: SALFORD CITY (0) 4 ALTRINCHAM RESERVES (1) 2 Many thanks to Grahame Rowley and Mark Eckersall for the following information: The Altrincham side in this friendly was 1) Dale Newbrook 2) Paul Monaghan 3) Paul Johnson 4) Phil Burton 5) Terry Bowker 6) Carlos Meakin 7) Antony Hargreaves 8) Keith Mairs 9) Gerard Léonard 10) Harry Weetman 11) Ryan Gilligan. The many subs included Pat Claffey and Michael Julian. The goalscorers for Altrincham were Léonard (45 mins) and Julian (85).
Tuesday, 31 July: FLIXTON (0) 1 ALTRINCHAM (2) 3 Many thanks to Stan Riley for the following information.: The Altrincham side was 1. Stuart Coburn, 2. Steve Hawes, 3. Chris Adams, 4. Mark Maddox (subbed h/t), 5. Paul Taylor, 6. Jason Gallagher (subbed 79), 7. Kevin Hulme (subbed h/t), 8. Rod Thornley (goals 25, 60) 9. Lee Poland (goal 45 (pen), subbed h/t), 10. Ian Craney, 11. Jeremy Illingworth (subbed 87), 12. Carl Furlong (sub at h/t), 14. Dave Swannick (sub at h/t), 15. Gary Scott (sub at h/t), 16. Anthony Hargreaves (sub at 79 mins), 17. Keith Mairs (sub at 87 mins). After 25 minutes Thornley opened the scoring from close range from an Illingworth pass. Thornley then won a penalty when his shirt was tugged; Poland sent the keeper the wrong way from the spot (45 mins). Thornley added the third after 60 minutes, following a good pass from Hawes. Flixton scored after 78 minutes with a long range shot which Coburn ignored, presumably thinking it was going wide- a bit like he did at Stalybridge last season.
Saturday 28 July: TRAFFORD (0) 1 ALTRINCHAM (1) 4 Many thanks to Stan Riley for providing the information on which the following is based. :

Altrincham team:1. Stuart Coburn, 2. Steve Hawes(capt.), 3. Chris Adams, 4. Mark Maddox (subbed 55), 5. Paul Taylor, 6. Jason Gallagher (subbed h/t), 7. Jeremy Illingworth, 8. Kevin Hulme (subbed h/t), 9. Danny Murphy (subbed 73), 10. Ian Craney, 11. Lee Poland. Used subs:- 14. Dave Swannick (h/t), 15. Gary Scott (h/t), 16. Anthony Hargreaves (73 mins) 17. Mark Sertori (55 mins). Altrincham opened the scoring after 2 minutes, when Gallagher went down the wing and into the box, drew the goalkeeper before crossing to Illingworth, who scored. The second Altrincham goal came from Poland from close range after he had shown good control in a crowded goalmouth (19 mins). Anthony Hargreaves scored the third after 78 minutes with a good glancing header from a far post cross and the fourth came after 85 minutes when Lee Poland scored from an open goal following an Illingworth cross. Kevin Hulme and Mark Sertori made their debuts. Hulme had a quiet game but Sertori had a loud one, issuing instructions to all around.
S.A.F.E.
Support Alty to the full by joining the Supporters' Association (S.A.F.E). You will find a S.A.F.E. and Alty in Exile membership form here. Please don't forget the S.A.F.E. annual meeting at 12 noon on 4 August at Moss Lane (Noel White Suite).
CHAIRMAN'S STATEMENT
Chairman Mark Harris has posted a message on the Altrincham FC Web Forum which indicates that the Club's debts have been reduced by around £120,000 since January, though money is still owed to the Inland Revenue. Mark is hoping to make "another couple of Board appointments over the next month or so to kill off the remaining liabilities". He also stated that the Club hoped to sign Carl Furlong along with Lee Poland and Dave Swannick and that Mark Sertori and Kevin Hulme were signed at reasonable wages; in short the Club is still far from being awash with money. Mark ended by exhorting fans to use the bar, join the Yankee, buy the new Alty shirt and sponsor a matchball, player or a match. For the full message, visit the Fans' Forum here. Footnote: Lee Poland has signed for Altrincham for the coming season but Stuart Scheuber and Steve Finney have both left Moss Lane.
OLD BOYS
Neill Hardy, the ex-Altrincham striker, who recently joined Stockport County, scored on his first appearance in a 5-3 win over Rhyl yesterday. Robert Trees has joined Droylsden from Leigh and Graham Barrow has turned down the Northwich Vics manager's job. Paul Hart scored in Vauxhall's weekend win over Witton, whilst Dickie Landon played against a Manchester City XI for Radcliffe and Matt McNeil turned out for Stalybridge against Dukinfield Town in another friendly.
---
27 July, 2001
SHORT INTERMISSION
There will be no updates to this site for the next five days; I am gathering my strength for the new season! Apologies, but normal service will resume towards the end of next week. Then, it should be uninterrupted coverage all season on this site. For a brief account of last night's testimonial for Graham Heathcote, see yesterday's news (26 July, below).
---
26 July 2001
GRAHAM HEATHCOTE TESTIMONIAL: ALTRINCHAM 0 MACCLESFIELD TOWN 0
There were three matches at Moss Lane tonight. Top of the bill was the 90-minute game with Macclesfield Town, which was Graham Heathcote's testimonial match. It ended 0-0 with Altrincham more than holding their own against a team including many Macclesfield first-teamers. Rod Thornley was absent with his employers, Manchester United, so Carl Furlong and Lee Poland were paired up front. Otherwise the Alty team was as against Tranmere Rovers. Jason Gallagher made a welcome return from injury as substitute. Former Moss Lane favourite Danny Adams captained Macclesfield and gave a typically impressive performance, whilst for Alty Danny Murphy had a lively game in all senses of the word. At one point he was "sent off" for a fracas- no card was shown but he was waved off by the ref.; three minutes later he was substituted whilst still off the field; then, he returned to play the final part of the game! Graham Heathcote maintained a 90-minute stream of verbal advice and encouragement from the touchline and the coach will have been pleased with a second consecutive clean sheet at Moss Lane. Carl Furlong also made his presence felt but left the fray late in the game with a minor muscle strain. The two team sheets are here and a fuller match report will appear in due course.
Half-time saw a brief 7-a-side game between ex-Alty and Macclesfield players, who included Dean Greygoose, Chris Sharratt, Jeff Johnson, Kevin Hawkins, Paul Rowlands, Nigel Shaw, Graham Tobin, George Shepherd, John Timmons, Darren Heesom and Alan Heathcote. The "Reds" beat the "Whites" 1-0, thanks to Rowlands's fine header.
The third game of the night was a half-hour game between two full sides of Altrincham "Legends", though youth players Vernum Rowland and John Ross made up the numbers and Stuart Coburn kept goal. Predictably, Graham Heathcote's team won 2-0, the maestro scoring the first from a free-kick from outside the box. Kevin Hawkins got the second goal. The sides included John Davison, Ian Morris, Tommy Simcock, Jeff Johnson, Barry Howard, Graham Barrow, Andy Reid, Nigel Shaw, Simeon Hodson, Paul Showler, Ken McKenna, John Brady and Dean Greygoose. Graham Heathcote's brother Alan and son Charles also played. Also there, but not playing, were names such as John King, Lennie Dickinson and Peter Eales. There will be more on this "Legends" game in due course.
NEW SIGNINGS TAKE A BOW
New signings, Kevin Hulme and Mark Sertori posed for press photos before today's game. It is hoped that they will make their debuts at Trafford on Saturday.
---
25 July, 2001
ALTY SIGN TWO EXPERIENCED PLAYERS
Altrincham have today made a double signing. The two new players are Kevin Hulme and Mark Sertori, both very experienced and local-born, former League professionals and both aged 34 this year. Both players will be at Moss Lane tomorrow for the testimonial game but will not make their debuts till Saturday's game at Trafford. They have signed on one-year contracts.
KEVIN HULME is a central midfielder, 5ft 10ins tall and weighing 13st 7lbs. He started out at Radcliffe Borough before joining Bury and then Chester. Then, after 34 league games for Doncaster Rovers (8 goals) he returned to Gigg Lane for the same £45,000 fee which had taken him to Yorkshire. In all, for Bury he played 139 games. Next, he signed for Lincoln City (5 starts) and after a spell at non-league Macclesfield from Christmas 1995, he joined Halifax Town (33 games and 4 goals), where he became the team captain. He won a Trophy Winner's medal for Macclesfield and also played in a Wembley play-off for Bury. Kevin followed his former Halifax team-mate, Mark Sertori, to York City in September 1999. At York he started 38 league games and scored 7 goals but he was out for two months with a hernia operation and suspensions.

MARK SERTORI is 6ft 2in, weighing 14st 2lbs and played first at centre-back but more recently was employed as a striker/target-man at York City, who released him in March 2001. Previous to York he was at Halifax but he started his career as a striker at Stockport County (3 league starts) in 1987, before playing at Lincoln, Wrexham, Bury, Scunthorpe (82+1) and then Halifax. After leaving York he had one game for Shrewsbury and ten at Cheltenham before the season ended in 2001. In all, he has made 382 league appearances and scored 17 goals. He is described as a "no-nonense" type of player.

For more on both players see York City's excellent Arthur Bottom website. Amongst masses of information, you can also find the lyrics and hear the singing of two chants about Mark Sertori on that site! Many thanks, too, to that site's webmaster, Josh Easby, for the accompanying photographs.
NORTHWICH
The Vics have reportedly offered their manager's job to ex-Moss Laner, Graham Barrow. However, he is thought to prefer the vacancy at Carlisle United.
ROSSENDALE UNITED 4 ALTRINCHAM 2
There is a match report here now. For the Rossendale view of the game, click here. It is clear from this that the Rossendale fans had as much trouble identifying our players as we did theirs!
---
24 July, 2001
ROSSENDALE UNITED 4 ALTRINCHAM 2
Very-much a second-string Altrincham side went down 4-2 at Rossendale United tonight. The Alty side was similar to that which triumphed at Abbey Hey- in the starting line-up only Terry Bowker and Keith Mairs could be termed first-team players. A number of trialists were also included so it was a very young side which took on the NW Counties champions of last season. The Altrincham goals came from two of last season's Youth team players, Rico Richards and Levi Kennedy. There will be a match report here tomorrow.
NORTHWICH'S GROUND CLOSURE
Next season the Drill Field, Northwich will only admit spectators to the Dane Bank Terrace and the Main Stand, owing to safety restrictions imposed by Cheshire County Council. Terracing at the Water Street end and in front of the grandstand is to be closed.
STALYBRIDGE
Stalybridge, whom we entertain in a friendly on 7th August, currently have only 13 first-team players now that Nigel Evans has left for Droylsden. Those remaining are Ingham, Fish, Crookes, Locke, Scott, Stuart, Ward, Williamson, Parr, Pickford, Wood, McNeil and newcomer Courtney (see below). Celtic beat Hyde United 4-3 on penalties, last night, after finishing 1-1 in the Ray Stanley Trophy.
---
23 July, 2001
EX-ROBINS AND UNIBOND NEWS
Gary Talbot scored for managerless Northwich as they beat Buxton 3-1 on Saturday; the new Vics' boss is tipped to be Jimmy Quinn but no announcement has been made yet. Martin Doherty, at Altrincham a few seasons ago, has joined Hyde after a spell at Leek Town. Also signed by Hyde from Leek is defender Bradley Sandeman whilst Gareth Rowe, a striker has also been acquired, from Alsager. As previously reported Josh Howard has joined from Stalybridge Celtic and Gavin Salmon has re-signed for two years. Surprisingly, Celtic have also acquired Gerrard Courtney, who missed a hatful of chances at Moss Lane last season, but did score his side's only goal.
Worksop have signed striker Krystof Kotylo from Nuneaton Borough. Kotylo, originally at Sheffield Wednesday, had a loan spell at Worksop last season. The Tigers have also taken on trial Darren Bradshaw, a defender formerly with Stevenage Borough and previously at a string of league clubs; John Hayden, a midfielder from Sheffield United and Andy Evans, a striker from Barnsley. Back in training are Mick Goddard after a long injury and Andy Womble. Bradford had Southport and ex-Doncaster striker Dino Maamria on trial last week but could not afford to sign him. Gainsborough Trinity will be without Steve Circuit for the three months of the season as he is training with the fire service and Frickley's Nicky Limber has retired with a back injury. The Hyde website quotes manager Mike McKenzie: "Paul Taylor was allowed to leave the club having not been offered terms. Paul had missed a large chunk of the season with a knee problem which culminated in him having surgery. Paul has now moved on to Altrincham F.C who have signed him on a "free" and quickly placed him on a contract. The decision to let Paul leave was not a management decision. Speaking of Paul Robertson, he said, "Paul, I felt, was a great talent but his heart was not with the club. Paul had a lot to offer but perhaps we couldn't match his financial demands".
ROSSENDALE
Rossendale United, whom we meet tomorrow (see below) lost their first friendly of the season, 2-3 at home to Rochdale. Playing for Rossendale was Jody Banim, the former Hyde United player.
S.A.F.E. ANNUAL MEETING
The S.A.F.E. (Altrincham FC Supporters' Association) annual general meeting takes place at 12 noon in the Noel White suite, Moss Lane, on Saturday 4 August (before the Blackburn game). All members are urged to attend; membership can be renewed at the meeting. The provisional agenda for the AGM is:

1. Chairman's welcome (by Peter Read, Chairman of S.A.F.E.).
2. Apologies for absence.
3. Financial statement (by George Heslop, Treasurer).
4. Membership statement (by Simon Brotherton, Membership Secretary).
5. Review of past year.
6. S.A.F.E. members' meetings.
7. Newsletter.
8. Events for 2001-02.
9. S.A.F.E. directorship on the Club Board.
10. Election of S.A.F.E. Committee.
11. Rules of S.A.F.E.
12. Any other business.
---
22 July, 2001
PAUL EDWARDS & OTHER OLD BOYS
Today's Non-League Paper confirms that Paul Edwards made his debut as a Leigh RMI trialist in a midweek game against Oldham and that he was likely to sign for RMI. Another ex-Robin, Paul Robertson, was to blame for a "howler" which led to a goal as Bury defeated Leigh 3-0 yesterday. Lance Key kept goal for Kingstonian and Mark Quayle played for Morecambe in their friendlies this week.
FOOTBALL FESTIVAL
The Manchester Umbro International Football Tournament takes places this week at the University of Manchester sports complex beside the M60 at Wythenshawe. 400 teams from 25 countries are participating. From Wednesday to Saturday there is a youth competition but there are also women's and veterans' competitions during the event.
---
21 July, 2001
ABBEY HEY 1 ALTRINCHAM 6
An Altrincham side made up almost entirely of youth, reserve and trial players- including a Frenchman and a Japanese- eventually ran out comfortable winners against Abbey Hey. It was the home side which scored first and they also had a penalty saved by Dale Newbrook before Alty equalised. However, the Robins finished each half as the stronger side with all six goals coming in the last 10 minutes of each period. Lee Poland scored twice, the other Alty goals coming from McKenzie, Hunter, Leonard and McMain. A fuller match report is here.
UNIBOND TRANSFERS
Paul Eshelby (Northwich Victoria to Worksop Town). Eshelby only joined Vics in the close season from Ilkeston so has left before making his debut.
Terry Fearns (St.Helens Town to Vauxhall Motors)
Mark Beeston and Carl Laurie (both Hyde Utd to Newcastle Town)
Maurice Addo (from Laval [France] to Colwyn Bay). He is a Ghanaian now studying in Wales.
---