---
Altrincham Football Club News Archive
18 to 27 September, 2001.
---

---
This Page

29 September, 2001
All framed pictures on this site are enlargeable; just click on the images themselves.
---
28 September 2001
PACE EYES MATT
Droylsden boss Dave Pace is hoping to sign Stalybridge's former Alty striker, Matt McNeil, according to tonight's Evening News. Steve Vaughan, Pace's partner at the Butcher's Arms has today taken over Chester City. Vaughan, who was with Pace at the GMR Forum broadcast from Moss Lane last week, is the controversial former owner of Barrow FC.
FRICKLEY CONFIRM NEW BOSS
Gary Marrow has now been confirmed as Frickley manager, following Steve Richard's departure. He will be looking to lift Frickley after they lost 2-1 to Stocksbridge PS in the UniBond Cup last Tuesday. Former Alty player Soner Zumrutel is likely to be in the Yorkshire side's squad. Zumrutel had a brief spell at Moss Lane in the 1990s. Centre-back Matthew Wilkinson will be out of the reckoning, after a minor operation and George Santos has now left the club. Mark Tyrell, Curtis Bernard and Luke Smith are all out injured on a long-term basis. £7,500 is the prize for Altrincham if they can defeat Frickley in this 2nd Qualifying Round (QR) match. A win in the 3rd QR brings a reward of £10,000 to the winners. The First Round Proper follows the 4th QR.
MARSH TO FACE US?
Former Liverpool star Mike Marsh is reported to have had talks with Accrington (our next away League opponents) about a move from Boston United. Marsh wants a move because of travelling difficulties but Boston want £15,000 for him. Marsh helped Kidderminster to the Conference title in 2000 before moving to Southport and then Boston. Meanwhile, Gateshead have signed 20 year-old Leeds United front-man Dale Crawford.
---
27 September 2001
ATTENDANCES
The updated attendance grid can be found by clicking the Attendance Grid button above.
RUNCORN 0 ALTRINCHAM 2
A match report is now here. For the opposition view, see the Runcorn site. Pictured in last night's game, right, is Stuart Locke. Picture taken by Alan Johnson and reproduced by kind permission; there are more photos of the game on Alan's website.
OTHER UNIBOND CUP GAMES LAST NIGHT
Accrington S. 2 Chorley 3
Bradford P.A. 3 Harrogate T.1
Gateshead 0 Spennymoor U. 4
HYDE BOSS GOES
Mike McKenzie has resigned as boss of bottom-placed Hyde United, who lost again on Monday in the UniBond Cup (see below). Dave Nolan is the new caretaker manager.
JOB FOR BARROW
Ex-Robin and former Chester City boss, Graham Barrow, has been appointed first-team coach at Bury. He replaces Billy Ayre, the current coach, who has cancer. Graham was at Moss Lane last Friday, on the panel of the GMR Fans' Forum broadcast from Altrincham F.C..
---
26 September, 2001
THIS WEEK'S UNIBOND CUP RESULTS
(Tuesday) Blyth 4 Bishop A. 1 / Barrow 2 Bamber B. 0 / Lancaster 4 Workington 2 / Whitby T. 1 Guiseley 2 / Burscough 2 Rossendale U. 0 / Radcliffe B. 1 Marine 1 / Trafford 0 Vauxhall M. 2 / Witton 1 Colwyn Bay 0 / Ashton U. 6 Ossett A. 2 / Ossett T. 0 Droylsden 2 / Eastwood T. 1 Burton A. 1 / Leek T. 1 Belper T. 1 / Matlock T. 2 Hucknall T. 2 / N. Ferriby U. 2 Gainsborough T. 1 / Stocksbridge P.S. 2 Frickley A. 1 / Worksop T. 1 Lincoln U. 0 and (Monday) Hyde Utd 1 Emley 2.
CHESHIRE H.Q.
Cheshire F.A. are to create a new training and administrative headquarters at Moss Farm, Northwich, aided by £232,388 from the Football Foundation.
OLD BOYS
Mark Quayle hit another two for Telford, last night, in a 2-2 draw at Northwich. Neill Hardy was not on the scoresheet for Stockport yesterday but another former non-leaguer was; Glynn Hurst (ex-Emley) hit two and missed a penalty for County as they beat Bradford City 4-2, away.
---
25 September, 2001
UNIBOND TRANSFERS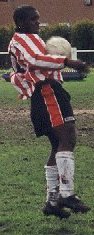 Recent transfers include ex-Alty Youth striker Rico Richards, (seen right), from Droylsden to Hyde United. Others are:

Anthony Bowden (Burnley to Accrington)
David Robinson (Runcorn to Accrington)
Richard Bown and Simon Linard (both Weymouth to Barrow)
James Wall (Nashville Metros USA to Burton)
Wes Kinney (Rhyl to Droylsden)
Ryan Gates (Barnsley to Emley)
Nicholas Manousios (Rochdale to Emley)
Jermaine Liburd (Nuneaton to Hucknall)
Jason Dormer (Curzon Ashton to Hyde)
CHESHIRE SENIOR CUP
Woodley Sports joined Altrincham, Stockport and Warrington Town in the next round of the CSC by beating Witton 3-2 last Tuesday.
ENGLAND MATCH AT MOSS LANE
The England FA (Semi-Professional) XI will play their annual match against a UniBond League XI on Monday, 19th November, k.o. 7.45pm and this year the venue will be Moss Lane. No doubt the excellent Moss Lane playing surface, prepared by Peter Barry, was a factor in the choice of venue. Replacing Marine's Roly Howard as the manager of the UniBond side will be our own management duo of Bernard Taylor and Graham Heathcote. So, both sides will have Alty connections as the England side is managed by ex-Robins' player, John Owens. The match could also see the return to Moss Lane of Paul Ellender, as a a member of the England side.
YOUTH CUP DRAW
Having overcome a Scottish side (Gretna) in the last round, Alty Youth will meet a Welsh team, Wrexham (away) if they can beat Morecambe Youth in the 3rd Preliminary Round of the FA Youth Cup, at Christie Park, on 3rd October.
RESTRUCTURING
Altrincham FC will be one of the clubs represented at a meeting about the restructuring plans for non-league football, to be held on 28th September at the Nene Stadium (Rushden & Diamonds).
UNIBOND CUP
Altrincham's UniBond Cup Group includes Trafford, Witton Albion, Colwyn Bay and Vauxhall Motors, as well as Wednesday's opponents, Runcorn FC Halton. Last year Altrincham did not get beyond the Group Stage into any of the three UniBond Cup competitions' quarter-finals.
OUR F.A. CUP OPPONENTS' NEW BOSS
On Saturday we entertain Frickley Athletic in the FA Cup 2nd Qualifying Round. Alty need to win this and two more rounds to reach the First Round Proper; for a list of all the occasions that the Club has got that far (or further) click here. Frickley boss Steve Richards resigned last week and has moved to Goole Town. His place is now taken by his former assistant, Gary Marrow, but the vacancy has been advertised. Marrow saw his charges come back from 0-3 to 2-3 against Barrow last Saturday. However, he suffered a blow when the Club had its one-point deduction for fielding an ineligible Luke Smith in the draw with Blyth Spartans was confirmed. The Club was also fined £150 for the offence.
AROUND THE UNIBOND
Bishop Auckland, yet to win at home this campaign, now require their fans to carry a Supporters' Club membership card, at least for certain of their home games. This follows trouble in the past caused by hooligans posing as Bishops' fans. Wael Nazha, Emley's Lebanese striker, has joined Bradford P.A.. Bottom-placed Hyde United have signed Chris Young from Droylsden; he was once briefly at Altrincham. Also at Hyde, Simon Yeo has now completed his suspension.
---
24 September, 2001
www.altrinchamfc.com
I am pleased to announce that, thanks to the generosity and assistance of the Dedicated Partnership, you will now be able to reach this site by a more memorable address (URL), namely http://www.altrinchamfc.com. You can find out more about the Dedicated Partnership by clicking on their logo above. I hope that you will find this new site address helpful. However, you will still be able to reach the site by using the existing address http://www.lusoweb.co.uk/alty1.htm as well, so you do not need to amend your Netscape Bookmarks or Explorer Favorites if you do not wish to do so. Also, to try and make navigation round the site a little simpler, the link buttons at the top of this page have now been alphabetized, although the Home Page has been placed out of alphabetical sequence at the start of the buttons for ease of access. A button linking to the "Through the Years" page has been added to give access to Howard Watts's data on Alty match results in past years. The new alphabetical button arrangement will be added to the other pages of this site over the next few days.
INJURED PLAYERS
On the SAM site is an interview with Bernard Taylor about a number of injured Alty players who are still making themselves available for selection. "In all the time I have been involved in football, this is the first time that I have had every man in a squad willing to play with injuries. They are a great bunch of lads and this fact is a great credit to them", said Bernard.
BEST IN NORTH WEST
Altrincham's crowd of 659 on Saturday was the best in North West non-league football at the weekend. The three N.W. Conference games attracted only 642 (Chester), 618 (Stalybridge) and 482 (Leigh RMI), whilst in our division, Accrington had a gate of 502.
TONIGHT
UniBond Cup Hyde Utd v Emley
---
23 September, 2001
RESERVES' REPORT
I am grateful to Danny Claffey for his report on the Reserves' first win of the season, at Ashton United on Saturday. It can be found here.
GATESHEAD GAME

Above, is a fine picture of the Gateshead game from Alan Johnson's website, where more may be found. It shows Danny Murphy's goal on Saturday. Danny is in the background, right, as the ball passes between the keeper and defender. A very fair report of Saturday's game is on the Gateshead web site. For this site's report, please click here.
YOUTH TEAM MAKE IT SIX WINS FOR ALTY IN NINE DAYS
Altrincham Youth gained a deserved but hard-fought 1-0 win over a tough-tackling Lancaster City side this afternoon at Wythenshawe Town FC. The goal was well taken by Paul Coverley moments before the interval. There is a match report on the Youth Page. The Club's other five recent wins were the Youth side's 9-2 trouncing of Euxton Villa, the Reserves' win at Ashton yesterday and the first team's victories at Burscough and at home to Northwich and Gateshead.
DODGY KEEPER?
Today's NLP has a feature on Bradford PA's keeper, Lutz Pfannenstiel whose debut was at Altrincham recently. The German keeper had recently served four months in a Singapore gaol for alleged match fixing, a charge he vigorously denies. Curiously, he seemed to think that the fans' chant of "dodgy keeper" was a reference to his alleged crime and not to his goalkeeping abilities.
LOCKE TO STAY?
Today's Pink reveals that ex-Stalybridge defender Stuart Locke is currently at Moss Lane only on a one-month basis and that his remaining there depends on the Club dropping another player off the wage-bill. Locke has won championship medals at Macclesfield, Flixton, Leek, Leigh and Stalybridge in the last seven years so is seen as a lucky talisman. "I'd love to hold on to everyone but the truth is, we can't afford to", said manager Bernard Taylor. Locke said, "This has the makings of a great move for me...I'm concentrating on making sure Altrincham get the best from me". So far 28 year-old Locke has appeared in just one of the three games played by the Robins since his arrival.
OLD BOYS
Neill Hardy hit two for Andy Kilner's Stockport County on his home league debut and was the Pink's Man of the Match in their 3-3 draw yesterday. There is also an interview with him in that paper. Neill says the main difference he has noticed in League football is the players' greater fitness and strength. Soner Zumrutel played for our FA Cup opponents of next week, Frickley, whilst John Toner scored for TNS and Mark Quayle turned out for Telford United. The NLP has an article on Ken McKenna and TNS. Chris Timons played for Ilkeston and Leroy Chambers missed a good chance for Hucknall Town, as did Andy Green for Droylsden, who is also pictured in the Pink in yesterday's game. Paul Edwards played for Swindon Town who lost 4-0. Danny Adams missed Macca's game at Plymouth and came to watch Alty instead yesterday. It was a bad day yesterday for some old boys; Adam Lillis was sent off for Caernarfon Town whilst Gary Talbot (Vics), James Glendenning (Droylsden) and Steve Porter (Burscough) all sat out their sides' games. After being out with a broken arm, Ged Kielty returned to the bench for Leigh RMI and former Alty trialist Michael Twiss scored twice for RMI. Mick Morrell was only a sub for Hinckley United as was Dean Greygoose for Stevenage. Fellow keeper Lance Key is pictured in the NLP letting in a penalty whilst playing for Kingstonian, who lost 2-3.
---
22 September, 2001
ALTRINCHAM 3 GATESHEAD 1
The match report is here. Altrincham have now moved ahead of Gateshead, into fourth place in the updated table. 659 people attended the game. Click the League Line-Up, Statistics and League Grid buttons (above) for other updates. Other games today:

Accrington S. 2 Whitby T. 3 (502)
Bamber B. 2 Bradford P.A. 1 (320)
Bishop A. 1 Runcorn FC Halton 3 (191)
Burton A. 4 Burscough 0 (1,361)
Droylsden 0 Blyth S. 0 (201)
Emley 2 Colwyn B. 0 (241)
Frickley A. 2 Barrow 3 (258)
Hucknall T. 1 Vauxhall M. 1 (202)
Lancaster C 4 Hyde U. 2 (365)
Marine 1 Worksop T. 1 (352)
ASHTON UTD RESERVES 0 ALTY RESERVES 1
A Simon McMain goal clinched the points for the Robins' Reserves this morning.
VOICE NEEDED
Altrincham FC need a matchday announcer to keep the spectators informed of line-ups, substitutions and goals, as well as to play music over the public address system. If you are interested in helping in this way, please contact the Club on 928-1045.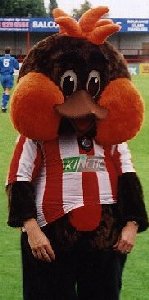 RONNIE ROBIN
Alty's mascot Rocky Robin (right) has for some reason now been officially re-christened Ronnie Robin. If you want to place a bet on him in next Sunday's Mascot Grand National at Huntingdon, you can do so here.
QUAYLE DEAL FALLS THROUGH
Telford United have had to abandon plans to sign ex-Robin Mark Quayle after Morecambe changed their minds and demanded a fee rather than allowing the provisional free-transfer to Telford to go ahead. Quayle's prolific scoring for Telford has prompted Morecambe's change of mind. However, one ex-Robin to have moved is 23 year-old Michael Twiss, who has now signed a permanent deal at Leigh RMI, having had a pre-season game for Altrincham. Also on the move is Greg Challender, who has left the Vics for Leek Town. Recent UniBond moves include:
Steve Appleby (Holbeach Utd to Gainsborough Trinity)
Mark Harbottle (Shepshed Dynamo to Hucknall T.)
Phil Naisbett (Exeter C. to Whitby T.)
Paul Watt (Norton to Whitby T.)
YOUTH CUP
Alty Youth now meet Morecambe in the next round of the FA Youth Cup after the Christie Park side beat Northwich 5-1 in midweek. For more on this and other Youth Team news, click here. On Sunday the Youth team, fresh from their 9-2 win last week, play at Timpson Road (Baguley):-
In a rearranged match the Reserves play Ashton (away) this morning.
GMR FORUM
The Noel White Suite at Moss Lane was full last night for the live radio transmission on GMR of a Fans' Forum, an event organised as part of the Graham Heathcote testimonial year. There were two sessions to the evening. The first panel comprised Graham Heathcote, Paul Futcher (Stalybridge manager), Graham Barrow (former Alty player and recent boss of Chester City) and Dave Pace (of Droylsden FC). The second panel consisted of Bernard Taylor and former players Lennie Dickinson and Ken McKenna, as well as former player and manager, John King. The event was superbly compered by Jimmy Wagg of GMR. As well as serious discussion of topics such as the non-league pyramid structure and financial aspects of the game, there was plenty of laughter. Amongst the tales told was one by Graham Heathcote of how former player/manager John King used to bang on the away team dressing room just before kick-off and shout to the opposition that Alty were more than ready to take them on. The Kettering manager subsequently admitted that his team used to turn white every time this happened! Dave Pace was also his usual entertaining self, claiming that to become a millionaire in the football business you had to start off with four million in the first place. Long-time Alty fan Kenny Palin asked some hilarious questions and was invited to join the second panel where his antics with John King kept everyone amused. During the evening an auctioned football and other memorabilia raised some well-earned cash for Graham's testimonial fund. Visit Alan Johnson's site for some good pictures of the event and further details of the participants.
---
21 September, 2001
INJURIES
Tonight's Evening News reports that Altrincham have five players hoping to "shake off" injuries for tomorrow's game (see below). Only Stuart Locke is identified as one of them, but Stuart Coburn, Mark Maddox and Jason Gallagher are likely to be three of the others in question. In addition, Carl Furlong is still suspended.
THIS WEEKEND
Gateshead come to Altrincham on Saturday lying second in the table, three points ahead of us but having played one game more. They will be without the injured Richie Alderson and Steve Bowey. The unfortunate Bowey missed much of last season with a knee injury and he twisted his ankle after only a few minutes of his first game this campaign. However, ex-Spennymoor man Rob Jones has completed a suspension and Phil Ross is also available again, for the match at Moss Lane. A player to watch is another ex-Moors man, striker Steve Preen, who has been scoring regularly for Gateshead this season. Howard Watts's Through the Years match results for the above date are here. Also on the statistical front, Altrincham's yellow and red cards this season are now shown on the League Line-Up page, as well as on the Statistics Page.
BARROW KEEPER
Barrow's goalkeeper Simon Bishop was involved in a post-match fracas with the referee after last Tuesday's match against Marine and is to be reported for it. Alty meet Barrow on 2nd October.
---
20 September, 2001
BRIG'S FINE
Bamber Bridge have been fined £150 for fielding an ineligible player against Blyth Spartans this season. Unlike Frickley, who have a point deduction hanging over them for the same offence, "Brig" were not deducted any points as they lost the game in question anyway.
LAST NIGHT
Bishop Auckland 1 Worksop T. 2
The revised league table is here.
---
19 September, 2001
EXILES GROWING
The Alty in Exile group, run by Jacqui Forster for Alty supporters based outside Cheshire or Gtr Manchester, now has 40 members in places as far afield as India, South Africa, Canada and Estonia, as well as across the United Kingdom. For details of the how to join them, see the SAFE/Exiles page.
TOP OF THE CHARTS
Altrincham are top of the UniBond charts for the number of league clean sheets, with four to their name this season. Only Worksop and Gateshead can make an equal claim. As for crowds, apart from Barrow and Burton, only Alty have had a crowd over 1,000 this season (for Burton's visit).
HAT-TRICK FOR DICKIE, DOUBLE FOR TWISS
Dickie Landon hit a hat-trick last night as Radcliffe trounced Trafford 6-1. Michael Twiss, who played for Alty in the pre-season game at Witton, scored two last night for Leigh RMI in the Conference. Another ex-Robin, Michael Garrity netted for Witton, who lost to Woodley Sports in the CSC.
ALTRINCHAM 3 NORTHWICH VICS 2
The match report is now here.
EMLEY MATCH REPORT
There is a report from the Emley side on last week's game. According to this, the Yorkshire side were "ravished by injuries", which sounds quite an enjoyable state! Click here to read it. 18 September 2001
TONIGHT'S RESULTS
Tuesday, 18th
Bamber B. 1 Lancaster C. 1
Burton A. 2 Hucknall T. 0
Colwyn B. 1 Runcorn FC Halton 0
Droylsden 2 Bradford PA 2
Gainsborough T. 1 Gateshead 1
Marine 3 Barrow 2
Whitby T. 1 Frickley A. 3
Revised table here.
Last night in the CSC, Hyde's misery continued as they lost 0-1 at home to Warrington Town.
FRICKLEY BOSS GOES
Steve Richards, the Frickley boss, has resigned after his side's poor start to the season. Alty host Frickley in the FA Cup on 29 September.
YOUTH TEAM HITS NINE!
Alty Youth beat Euxton Villa 9-2 away on Sunday, with four goals from Lee Shillito and one each from Lee McDonald, Paul Tilley, Lee Thompson, Mark Drew and Stephen Lunt. A brief match report is now to be found here. You can watch the team again next Sunday, at home (at Wythenshawe Town FC, Timpson Rd, Baguley) to Lancaster City (k.o.2pm, admission free).
GET WELL SOON
Altrincham fans will be wishing their Chairman Mark Harris well as he recovers from several days in hospital this week.
---
FOR EARLIER NEWS, CLICK HERE
---
---