---
Home Page: Altrincham Football Club News Archive, 21 to 27 October, 2001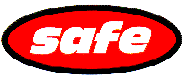 ---
27 October 2001
ALTY 3 NUNEATON BOROUGH 0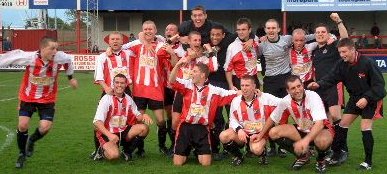 Match report now here
Pictured above by Alan Johnson are the victorious Alty team today. For more pictures, see Alan's website. Alty's reward for today's win is a fourth consecutive home FA Cup tie this season in the 1st Round Proper. However, the opposition will be from the UniBond- Lancaster City or Vauxhall Motors. Their replay is on Tuesday night. Other UniBond clubs in the 1st Round play as follows (on 17/18 November)
Exeter City v Hucknall T/Cambridge C.
Oldham A. v Barrow
Basingstoke/Dagenham v Marine/Southport
Bournemouth v Worksop T.
Whitby T. v Plymouth A.
RESULTS, Saturday 27 October
Other FAC4QR ties included:
Stalybridge C 2 Bedlington T 1
Leigh RMI 2 Worksop T. 4
Barrow 1 Chester 0
Marine 1 Southport 1
Whitby T 3 Scarborough 1
Lancaster C. 2 Vauxhall M. 2
Hucknall T. 1 Cambridge City 1
Burton A. 0 Gravesend & Northfleet 2
Telford U 1 Northwich V. 1
UniBond Premier

Accrington S. 1 Bishop Auckland 1
Bradford PA 3 Droylsden 1
Burscough 3 Gainsborough T. 1
Gateshead 3 Colwyn Bay 3
Hyde U. 3 Blyth Sp. 1
Runcorn FC Halton 1 Frickley A. 0
Click League Table button above for updated league positions.
RESERVES
Click the Reserve Team button to see the updated league table and this week's results.
---
26 October 2001
CUP TIE DOUBTS
According to the MEN both Jason Gallagher and midweek injury victim Carl Furlong will miss tomorrow's game against Nuneaton. Carl is facing "months on the sidelines" with torn knee ligaments from the Witton game. Bernard Taylor regrets playing his first team on Tuesday and is quoted as saying that "If I had my time once again, I'd do things differently". Kevin Hulme is also doubtful with flu. As for the opposition, the To the Manor Reborn website reports that Nuneaton will be without suspended midfielder Dave Crowley for tomorrow's clash at Moss Lane. "It is only since Crowley came back into the side that the Boro started winning games and moved up the table", says the excellent website. He is likely to be replaced by Jason Peake, who will play although injured. Also out injured is Barry Williams whilst transfer listed top-scorer Steve Whitehall will play what may be his last game for the Borough. "They will bombard us, throw everything including the kitchen sink at the Boro", the site states. The draw for the First Round is at 5.25pm on Saturday on BBC-1.
PLEASE SUPPORT THE RACE NIGHT!
Everyone is invited to the SAFE (Supporters' Association) Race Night, at the Moss Lane ground on Friday 23rd November. The doors of the Noel White Suite open for the event at 7.30pm, with the first race at 8pm. Entrance is just £1, which includes a race card. Even if you cannot attend, why not sponsor a horse, for just £5 or a race for £25? Individual or group/company sponsorship would be very welcome. The event is to raise funds for the Club, so please give it your support and bring your friends along, too, to enjoy a good night out.
YOUTH GAME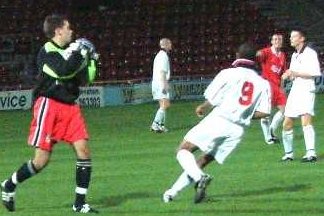 As well as the match report on this site on the FA Youth Cup game at Wrexham, accessible on this site, here, you can see Alan Johnson's pictures of the match here. One of these is shown above, with Mario Daniel and Lee Shillito foiled by the Wrexham keeper, Clitheroe.
TRANSFERS
Mark Antrobus (Caernarfon T. to Colwyn Bay)
David Burt (North Shields to Whitby T.)
Ian Edge (Emley to Bedford T.)
Steve Jones (Thornaby to Barrow)
Nick Kennerdale (Nuneaton B. to Hucknall T.)
Andy Smith (Lincoln C. to Worksop T .)
Phil Tittley (Gainsborough Trinity to Frickley A.
Soner Zumrutel (Frickley Ath. to Dover Ath.)
KEVIN ELLISON
Following a lengthy injury, ex-Robin, Kevin Ellison is back in action for Leicester City. Earlier this week he played in a Leicester City side which beat Boston United 2-0 in a friendly. In the closing stages Kevin rounded the Boston keeper to score the second goal for his side.
UNIBOND AND LOCAL MOVES
Bamber Bridge have signed Chris Denham, a striker, from Stand Athletic, whilst the Brig reserve keeper, Mathew Hogg, has signed for Vauxhall Motors. Following the resignation of their manager, Phil Tingay, names being mentioned as the new boss include former Lincoln City manager Phil Stant, currently playing for Worcester City and Paul Raynor, the ex-Hednesford player-manager. Steve Shaugnessy, who resigned as player-manager of Winsford after a heavy defeat at Ramsbottom, has now decided to stay at the Club in a playing capacity only.
---
25 October 2001
YOUTH REPORT
Altrincham Youth side, supported by at least 100 Altrincham supporters, lost 2-1 tonight in their FA Youth Cup 1st Round Proper at the impressive Racecourse Ground stadium to Wrexham Youth. They had the consolation of a wonderful goal from Paul Tilley; for more, see the Youth page- for reports from both sides.
WITTON REPORT
A report on the UniBond Cup match at Witton, on Tuesday night, is now here.
---
24 October 2001
TRINITY'S SURPRISE SACKING
Gainsborough Trinity have sacked their manager, Phil Tingay, because of "poor results". Trinity lie 14th in the table having lost six of their fourteen league games to date. It is rumoured that recent signing Paul Raynor, the former Hednesford player-manager, may be lined up to take over the manager's seat.
ALTY DROP IN GROUP 5
Tonight's UniBond Group 5 match ended as follows:
Runcorn FC Halton 1 Trafford 3
The Group 5 table is below. Positions are determined by goals scored not goal difference.
| | | | | | | | | |
| --- | --- | --- | --- | --- | --- | --- | --- | --- |
| Pos | Team | P | W | D | L | F | A | Pts |
| 1 | Vauxhall Motors | 3 | 2 | 1 | 0 | 7 | 4 | 7 |
| 2 | Witton Albion | 3 | 2 | 0 | 1 | 6 | 3 | 6 |
| 3 | Trafford | 3 | 2 | 0 | 1 | 5 | 4 | 6 |
| 4 | ALTRINCHAM | 3 | 1 | 0 | 2 | 2 | 4 | 3 |
| 5 | Colwyn Bay | 3 | 0 | 2 | 1 | 5 | 6 | 2 |
| 6 | Runcorn | 3 | 0 | 1 | 2 | 4 | 8 | 1 |
CELTIC WIN SHIELD 11-0!
In tonight's UniBond Shield match, between last season's UniBond League and Cup winners, Stalybridge Celtic trounced a Lancaster City second-string side by eleven goals to nil.
NOT THE ONLY ONES
As well as Altrincham, three other Premier sides lost to lower opposition in the league cup last night:
Matlock T. 1 Burton A. 0
Barrow 3 Kendal T. 5
Marine 0 Rossendale U. 2
WITTON ALBION 3 ALTRINCHAM 0
After a fairly even first-half, Altrincham went behind early in the second half when half-time substitute Jason Gallagher misheaded a back pass to allow Knight to score from close range. Altrincham were second best after going behind and things got worse when Carl Furlong suffered a serious injury after 63 minutes, when his attempted shot was blocked by a tackle as he turned. Carl was carried off and an ambulance was called to take him to hospital for treatment to a suspected cruciate ligament injury. Alty went two down when Pritchard was allowed a free header from a free-kick conceded by Murphy, who was booked for the offence along with his opponent, Heywood (71 mins). Witton scored a fine third, breaking down the left for Rendell to volley home at the near post (88 mins). Match report tomorrow (Thursday).

Other Group 5 match
TUESDAY: Colwyn Bay 2 Vauxhall Motors 2 23 October 2001
CSC DATES
Should our CSC match at Woodley be a draw on 13 November, the replay would be on 20 November. The Chester v Stalybridge tie has now been moved to 6 November.
SEGREGATION ON SATURDAY
It has been announced that the Altrincham v Nuneaton crowd will be segregated on Saturday. However, the bar will be open to supporters of both sides from 1pm until c.2.40pm, and also after the game.
REPRESENTATIVE GAME
Bernard Taylor and Graham Heathcote, managers of the UniBond representative side which meets the England semi-professional side at Moss Lane on 19th November, have asked their fellow UniBond managers to treat the fixture seriously, according to the UniBond Press Release. The duo are quoted as saying, "We shall be in touch with managers and players shortly and will be looking for a more positive response than in the past few seasons otherwise, what is the point of playing the fixture?"
DROYLSDEN ON OFFER
Dave Pace has offered to give away Droylsden for nothing to anyone who is willing to run the club. He claims to be "sick to death of having no support here" after the Bloods drew just 177 spectators on Saturday (only 130 of whom actually paid). Whether this is a stunt or not remains to be seen.
BURSCOUGH PAY CUT
Declining crowds are also a factor in Burscough's decision to impose a pay-cut on their players. Other factors are the Club's defeat in the FA Cup by Harrogate Town and the loss of the club's main sponsor.
---
22 October 2001
BOYD LEAVES WITTON
Following the resignation of manager Eddie Bishop, influential midfielder Charlie Boyd has also now left Witton Albion, our opponents tomorrow night. Both men were involved in an incident in the Cheshire Senior Cup defeat against Woodley Sports which lies at the root of their departure- By coincidence, Woodley are Alty's next opponents in the CSC.
ALTRINCHAM 2 BLYTH SPARTANS 1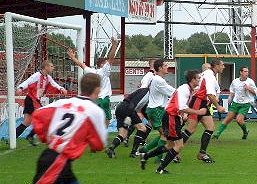 There is a match report here Shown right is Gary Scott (no.2) with Danny Murphy and Mark Sertori leading the charge out of defence. Picture courtesy of Alan Johnson's site; click on image to enlarge it. The Blyth web site, (one of the best in the UniBond) has a good match report, naming their keeper, Gilmore, as their man of the match.

SPALDING TRAVEL
Coach times for Alty's FA Trophy visit to Spalding United a week on Saturday have been added to the site; click the Away Travel button to see them. The travel page also has coach details for Witton (tomorrow) and Wrexham (Wednesday).
NUNEATON'S LEADING SCORER LISTED
According to the NLP site Nuneaton Borough, our FA Cup opponents, have received a surprise transfer request from their leading scorer Steve Whitehall. Whitehall wants to move because of work commitments which mean that he has to travel from the Chester area to Nuneaton to play; Whitehall formerly played for Chester City. Manager Steve Burr says Whitehall can go but only when he has a replacement lined up. The request follows Nuneaton's recent loss of another player, Nick Kennerdale, sold to Hucknall Town. Another UniBond move sees midfielder Paul Raynor, former manager of Hednesford Town, signing for Gainsborough Trinity. Raynor had previous League experience at Swansea, Cambridge United and Preston .
RESERVES REPORT AND OTHER UPDATES
The latest Reserves match report, by Danny Claffey, is now available here. The Youth Pages have also now been updated with new league tables and revised fixtures. Also updated is Howard Watts's "Through the Years" feature; click the button above to see it.
---
21 October 2001
ALTY 8 MACCA 2!
Altrincham & District FA, ten of whose players were from the Altrincham FC Youth side, hammered Macclesfield FA Youth by eight goals to two today at Trafford FC. This was a perfect warm up for Wednesday night's FA Youth match at Wrexham, especially as all eight goals came from Altrincham FC players. For more on the Youth side, click here.
BURTON SIGN WALKER
Burton Albion have signed Des Walker, the 35 year-old former England international and former Nottingham Forest team-mate of the Brewers' manager, Nigel Clough.
BERNARD SPEAKS
Today's Pink has an interview with Bernard Taylor, looking forward to next week's FA Cup tie against Nuneaton. So far this season Bernard believes that "the lads have performed admirably". As for attitude, "Our current squad are as good a bunch as I have ever worked with", said Bernard. He regretted losing Jeremy Illingworth to Stocksbridge this week, but could not guarantee him first-team football at Moss Lane. Bernard also praises physio Gary Thompson for his hard work on players' fitness for Altrincham, an input which has allowed the Club to operate on a small squad.
OUR CUP OPPONENTS
Witton Albion, whom we meet on Tuesday, were beaten yesterday 4-2 at Spennymoor but our CSC opponents, Woodley Sports, won away in the FA Vase at Thackley. Witton will remain in the charge of Director of Football, Terry Murphy for the immediate future at least. There is an article on Woodley Sports in the Pink, which charts their rise to NW Counties First Division title contenders. Nuneaton, our FA Cup opponents, lost 2-0 at Dagenham in the Conference. Spalding, whom we play in the Trophy, won 4-3 over St Leonards in the Dr Marten's Eastern league yesterday.
OLD BOYS
Ex-Robin Neill Hardy is back in training for Stockport Reserves after suffering a knee injury in training. Matt McNeil has asked to come off the transfer list at Stalybridge after a move to Droylsden fell through. John Toner scored two for TNS and, also in Wales, Stuart Terry netted for Connah's Quay Nomads. Jeremy Illingworth figured prominently for his new team Stocksbridge PS as they won 2-0 but they still lie second bottom of the UniBond 1st Division. Dean Greygoose again kept goal for Stevenage in their Conference win yesterday and Ged Kielty played in Leigh's 3-1 triumph over Woking. Chris Timons was in the Ilkeston side thrashed 6-1 at Chelmsford. Centre-backs Paul Ellender (Boston) and Gary Talbot (Northwich) were both victorious yesterday.
---
---
FOR EARLIER NEWS, CLICK HERE
---