---
Home Page: Altrincham Football Club News Archive, 4 to 13 December, 2001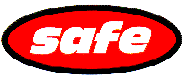 ---
13 December 2001
BURTON PRICES
Admission to Eton Park for Saturday's game against Burton Albion will be £6 for adults; senior citizens pay £4 and under-16s £2. Entry to the stand is subject to an additional £2 charge. The programme costs £1-80. For details of how to get there, click the Away Travel button above. Click the Through the Years button for Alty games on this date in previous years.


MORE ON TUESDAY'S DEBUTANTS
According to the SAM site Bernard Taylor felt that defender Neil Ryan, (left), who played against Vauxhall on Tuesday, "did really well, considering he has not played for a few months". (The picture, left, from the game is courtesy of Alan Johnson's Alty photographic website). Ryan, 26, was released by American A-League side Portland Timbers in late November, having previously played for the Boston Bulldogs.
The other debutant, Ashton-born David Wills (22), came on as a right-flank substitute and also showed some good touches. He was at Hyde United last season and previously was a trainee at Halifax Town and Manchester City.
NEILL HARDY
Former Robin, Neill Hardy made his comeback from injury in Stockport County's Reserves' 1-1 draw at Shrewsbury last night. However, he lasted just 23 minutes before taking a knock on the same ankle that had sidelined him for the previous 8 weeks.
UNIBOND CUP NEWS
The Frickley Athletic web site reports that former Alty man Mark Ogley temporarily took over the running of the Yorkshire side for their UniBond Cup match this week, which they won 4-2 against Lincoln United. Frickley's manager Gary Marrow was not available for the game because of work commitments, so Mark and his father Alan ran the side. Meanwhile, Lancaster City's midweek defeat by the only goal of their game against Bamber Bridge, means that they cannot now retain their UniBond League Cup title for a third successive year.
---
12 December 2001
CUP FEVER
The League Attendance Grid has been updated; click here. Compared with our average home League gate of 700, our FA Cup ties attracted an average of 1,612 but our UniBond Cup game home average is only 174. The average UniBond League home gate (for all clubs) is 398.
ALTY WIN £250
Altrincham and Whitby Town have each been given £250 by Henkel, the manufacturers of UniBond, for helping to publicise the brand during their FA Cup runs.
KIELTY LISTED
Former Robins' midfielder Ged Kielty, has been transfer-listed by Leigh RMI.
NEW PLAYERS
Neil Ryan, who made his debut last night against Vauxhall Motors, has signed for Alty from Portland Timbers in the USL Soccer A-League in the USA. David Wills, who also played last night, was formerly at Hyde, before joining Trafford.
ALTRINCHAM 2 VAUXHALL MOTORS 0
The match report is here.
AROUND THE UNIBOND
Our oppposition on Saturday, Burton Albion, have loaned out two defenders, Pat Lyons to Ilkeston Town and Mark Blount to Worcester City, for a month. Burton reportedly have a fully fit squad now that Jason Kavanagh is fit once more. Vauxhall Motors, our opponents last night, lead the latest UniBond Fair Play League list. As at 10 December, Alty lay sixth. Accrington Stanley have made an offer of £10,000 for Burscough's 19 year-old striker, Lee McEvilly. Whitby's striker Jamie Burt, who scored against Plymouth in the FA Cup recently, has been transferred to Chesterfield, who have also acquired Danny Walsh from Emley under a deal whereby the player's pay is sponsored by his own family to help him get into League football!
---
11 December 2001
ALTRINCHAM 2 VAUXHALL MOTORS 0
The match report is here

The Alty line-up is here and updated statistics here.

Tonight's other games in Group 5:

Colwyn Bay 0 Trafford 2
Witton A. 1 Runcorn FC Halton 1 11 December 2001
TAX DEBT CLEARED
Mark Harris is reported in last night's Evening News as stating that Alty's FA Cup income "has allowed us to clear our massive tax liabilities...We can now say that no one is about to close us down". Despite our Cup loss, the Alty Chairman also said, "We've still got an awful lot to play for and it would be a mistake to write us off in the league... Bernard and Graham have built a team with great spirit from limited resources".
TONIGHT'S GAME
We are not scheduled to meet Vauxhall Motors in the League till we have back to back away and home fixtures as the last games of the season. So, this will be our first opportunity to see an impressive newly promoted side who are now above us in the league, one point ahead of Alty after playing three games more. Vauxhall's home town is Ellesmere Port, on the Wirral. Their main man to watch is striker Terry Fearns with 20 goals in 28 starts, though Nicky Young is also a danger with 13 goals to date. A recent Vauxhall loan signing, from Tranmere, is Paul Aldridge, son of John Aldridge.
---
10 December 2001
RESERVES AND YOUTH
Click the Reserve and Youth Team buttons above for, respectively, the updated Reserve tables, the amended Youth fixtures and this week's Youth results.
---
9 December 2001
WHAT MIGHT HAVE BEEN
In today's 3rd Round FA Cup draw, Saturday's victors at Moss Lane, Darlington, drew a home tie with Peterborough United. Other local ties include:
Stockport Co v Bolton W.
Man. City v Swindon T. (and Paul Edwards)
Macclesfield (and Danny Adams) v West Ham Utd
Aston V. v Man. Utd
FA Cup 2nd Round: ALTRINCHAM 1 DARLINGTON 2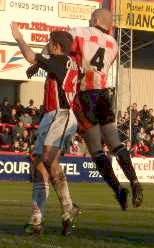 A full match report is here.
In the Pink the players' ratings gave Steve Hawes a mark of eight and everyone else for Alty a 6 or 7. Bernard Taylor said "I honestly thought we did enough to get something out of the game. Certainly on the balance of chances, we did". The Darlington view is on their official site.
Mark Maddox's goal is pictured, right, by Alan Johnson, on whose web site you will find more good pictures of the game.
LIFE GOES ON!
Despite Alty's exit from the Cup yesterday (and the unjustified dismissive comments by Mark Lawrenson on MoD about what was actually an entertaining game), the Robins still have a lot to play for this season. Burton's league defeat yesterday keeps the title chase boiling in the UniBond Premier, whilst we also still have the Trophy to play for in January. First up, however, is a UniBond Cup match against Vauxhall on Tuesday, before the big game at Burton next Saturday.
YEO
The Pink reports that Hyde's Simon Yeo has turned down a move to Southport and that "he has his heart set on joining Altrincham". Yeo can move on a free (Bosman) deal at the end of this season.
HYPOCRISY?
Scarborough, who defaulted on a significant portion of the fee owed to Altrincham when they "bought" Paul Ellender from us, are now initiating a winding up order against Boston United because of late payments by the Lincolnshire side for Ellender, whom they in turn had "bought" from the Seadogs!
OLD BOYS
Former Alty star Paul Cuddy turned out for Altrincham Reserves, whom he also manages, yesterday in a draw at Marine. Click the Reserves page button above for more on this. Mick Morrell scored for Gateshead and defender James Glendenning netted twice for a Droylsden side in which Adam Farley and Steve Porter also played. Paul Edwards scored a good goal for Swindon in the FA Cup and Danny Adams was in Macca's victorious Cup side yesterday. Danny McGoona got Caernarfon Town's only goal in a 1-5 reverse. Kevin Ellison was described as "always looking to create chances" in the Pink's account of Stockport's defeat. Elsewhere in that paper, Bernard Taylor says of Kevin, "I only wish he was coming back to us. He's a smashing lad". The same paper also has an article on Ally Pickering's new role as manager of Mossley. Leroy Chambers had an unhappy league debut for Bradford PA, who lost 1-5 at Accrington but Dean Greygoose was the unluckiest "old Alty boy" yesterday. His side, Stevenage, were 3-1 up against Northwich when the floodlights failed and the match was abandoned at half-time. Reports that Gary Talbot was seen with a pair of wirecutters have not been confirmed.
---
8 December 2001
FA Cup 2nd Round: ALTRINCHAM 1 DARLINGTON 2
A full match report is here.
Today's Alty team sheet is here; click Statistics button for updated data, too.
ALTY DROP to 7th BUT BURTON LOSE
Alty fell further behind in the number of league games played when most of the rest of the UniBond Premier Division played today, but Burton lost:
Accrington S. 5 Bradford PA 1
Bishop Auckland 1 Barrow 2
Burscough 3 Whitby T. 1
Colwyn Bay 1 Frickley A. 5
Droylsden 3 Vauxhall M. 2
Emley 3 Burton A. 2
Gainsborough T. 0 Marine 0
Gateshead 4 Hyde Utd 1
Lancaster C. 2 Worksop T. 1
Runcorn 3 Bamber Bridge 2
Revised table here.
ANANE GAOLED
Former Alty striker David Anane, more recently at Witton Albion, has been gaoled for 7 years for dealing in cocaine.
---
7 December 2001
TICKETS FOR SALE TOMORROW - GRAHAM ON GMR
Alty coach Graham Heathcote was a guest on GMR tonight and confirmed that over 100 main stand tickets remain available for tomorrow's game. These will be on sale from 9am tomorrow at the ground. Purchasers should bring some proof that they are locally based, as the crowd will be segregated. Graham also corrected press stories that our striker Rod Thornley had been gagged by his work-time boss Sir Alex Ferguson from talking to the press. The truth is that Rod has voluntarily chosen not to give interviews as he fears that journalists would only want to talk to him about his role as masseur to Manchester Utd and to England, rather than about Altrincham. Graham expressed pride that Alty, with virtually a new side this season, had done so well over the first four months of the season and, amongst others, mentioned the important role of Mark Sertori in bringing defensive stability to the side. Gary Scott was also mentioned as "doing ever so well", whilst the feats of Stuart Coburn and Lee Poland in previous rounds were also referred to.
DARLO LOSE THEIR WAY!
This site's fearless Stockport correspondent, Peter Wadsworth, has sent me this exclusive report from beside the A6 in Stockport this evening, "I had to get off the bus a stop early tonight because of the traffic queues through Great Moor. I walked past all the standing traffic, including, wait for it, the Darlington team coach. I don't know where it was going because it was heading towards Stepping Hill, Hazel Grove and Macclesfield. It would have taken another 30-45 minutes just for it to travel a further mile through Hazel Grove because of the roadworks there. I did think about shouting 'Come on Alty' at the players inside the coach!"
DARLO STATS
Today's Sports First paper reveals that Darlington's on loan Cambridge Utd striker Dan Chillingworth is 7th in the 3rd Division goalscorers' chart, with 8 goals, but only one for Darlo. Darlo lie third from top in the cautions table with 44 yellow cards and 4 reds in the league. They have picked up more home points (23) than divisional leaders Plymouth but away from home have conceded more goals than any other team except York, who have, like Darlo, let in 25 goals in 11 matches.
ALTY INJURIES
It has been confirmed that Anthony Hargreaves, who scored for Alty against Accrington on Tuesday, before being stretchered off, has a broken nose. Chris Adams is doubtful for tomorrow with a hamstring problem. In tonight's MEN Bernard Taylor states that "Darlington are a very good team who will take some beating". If we win, Bernard hopes for a draw against Manchester City.
UNIBOND MOVES
Following Leroy Chambers's arrival at Bradford PA, the Yorkshire side has allowed Lebanese international Wael Nazha to move on to Ossett Town. Nazha was formerly at Emley. Nazha has an exotic list of clubs for whom he has played or had trials, including Inter Milan, Lugano (Switzerland), QPR, Partick Thistle and Stevenage Borough! Other moves:
Anthony Bowden (Accrington Stanley to Marine)
Troy Hayder (Droylsden to Rossendale Utd)
David Kerr (Chester C to Droylsden [on loan])
Sam Kitchen (Bishop Auckland to Gateshead)
Robert Montgomery (Harrogate RA to Vauxhall Motors)
Steve Prindiville (Stafford R to Hucknall T.)
OPPOSITION LINE-UP
The Darlington website reports that their squad tomorrow will include midfielders Neil Maddison and Brian Healy who are both recovered from injuries but, as reported earlier, Mark Ford is suspended. In the absence of the suspended Conlon, the Darlo strikers will probably be selected from on-loan Cambridge United player Danny Chillingworth, the ex-Worksop striker Kirk Jackson, the former Bishop Auckland man, Danny Mellanby, Ian Clark or Paul Campbell. If Paul Campbell plays he is reported to have "got a very special goal celebration lined up". The website also says, "Whatever the result tomorrow respect the Altrincham fans; they're supporters just like us and they want to win as much as we do". We will second that statement.
Other sources suggest that 17 year-old Adam Rundle may get his chance tomorrow for a first-team debut. He has scored a lot of goals for the Reserves and has already been watched by a number of scouts from other clubs.
BIG DAY
With tomorrow's FA Cup match at Darlington now only hours away, please remember that:
It is a 1pm kick-off.
Please arrive early- gates open at 11am. Although up to 13 turnstiles will be open, a crowd in excess of 3,000 is hoped for so there could be some queues. There will be extra signed car-parking on the former Gas Board site, to the left off Moss Lane, as you arrive from the town centre.
Please bring the correct change if you are paying at the gate; £6.50 for standing adults, £4.50 for juniors and concessionaries.
Please do not invade the pitch after the game.
Please enjoy yourselves! The Match Guide is here.
LOOKING FORWARD TO NORTH FERRIBY
Alty travel to North Ferriby United in the Trophy on 12 January. On their web site forum, their commercial manager Tony Brown offers Alty fans a "warm welcome...The chuck wagon sells good food at very reasonable prices, the bar sells extremely good beer again at reasonable prices and everyone has a smile (especially when we win!) All the best for Christmas and the New Year - have a good time and we will see you 12th January 2002".
GATESHEAD CRISIS
According to their web site, "Gateshead are in great danger of folding after news that their main sponsors, Cameron Hall Developments, have pulled the plug...Chairman John Gibson admitted: "We are in a financial crisis...I have had a meeting with David Bunce of Gateshead MBC but the council say they are unable to help us in our current situation. I find that extremely disappointing and I must therefore appeal to the public to help me to put a rescue package in place." Following Bamber Bridge's recent loss of sponsorship, Gateshead become the second UniBond club to hit serious trouble recently- having been in a financial plight ourselves recently, Altrincham fans will wish both clubs well. In the meantime, the Gateshead players are playing for no wages.
---
6 December 2001
BANS STAND - MUSIC TO ALTY'S EARS!
It was confirmed today that the ban on Barry Conlon, the Darlington striker, for a sending off at Scunthorpe will stand and he will miss the Altrincham game as will his colleague Mark Ford. Danny Mellanby is set to play instead of Conlon, after a 6 week injury lay-off. Whilst Newcastle refused to release on-loan midfielder Gary Caldwell, Cambridge United have allowed their loaned player, Dan Chillingworth to appear against Alty.
SHEDDING LIGHT ON KICK-OFF TIME
The DAFTS site, the equivalent organisation to our own Alty in Exile, says that the 1pm kick-off this Saturday is due to our floodlights not being good enough for BBC TV. This may have been true a few weeks ago when several bulbs were out, but now that they are all working, there should not be a problem. In fact, there were no apparent problems when the BBC recorded highlights from our Round One game at Moss Lane.
GAZZA FOR DARLO DENIED!
Tommy Taylor, manager of our Cup opponents Darlington, has issued a denial of persistent rumours that his Chairman, George Reynolds, has tried to entice Paul Gascoigne, currently at Everton, to join the Quakers for £2 million. Manager Taylor only joined Darlington six weeks ago.
IN THE MONEY
Our opponents last Tuesday, Accrington Stanley, have confirmed that they will receive a first instalment of £200,000 for the sell-on of Brett Ormerod. They will use the money for off-pitch projects including new changing rooms and an upgraded shop and museum. They stand to gain another £25,000 if Brett plays for England.
SATURDAY - BERNARD AND GRAHAM'S REQUEST
Altrincham's Chief Steward, Doug Ashton has issued the following appeal on behalf of the Altrincham FC management: I have been asked by Bernard Taylor and Graham Heathcote to make a request of all Altrincham and Darlington supporters not to come onto the playing surface after Saturday's cup game. The reason given is that although our groundsman Sid is doing an excellent job of making sure all our games go ahead in preparing the pitch, an invasion after this game could hinder games in the foreseeable future. As everyone is aware, the club asked for the Manchester United v Aston Villa [youth] game which should have been played this Wednesday to be postponed, especially for Saturday, and, with there being a home game against Vauxhall scheduled for the 11th December, the backlog of games to be arranged would not be helped by further postponements. Bernard and Graham thank all of you for your understanding of this situation. Thank you, Doug Ashton. As you will see from the next item, the Darlington team will be setting a good example, in this respect, at the end of the game.
DARLINGTON
In an interview with the local Evening Gazette, to be found on the Darlington FC web site, the Quakers' manager Tommy Taylor recalls winning the Cup with West Ham in 1975. He also says, "If we win at Altrincham on Saturday, the Darlington players will shake hands with the Altrincham lads, then walk off. Even if we went on to a giant-killing in the third round we would not go crazy like the Stevenage players did. But if Altrincham beat us, they may well. That's one of the reasons I don't want it to happen". Although Darlington won away at Kidderminster in the FA Cup 1st Round, their only league away win this season was at Hartlepool in August. (For the record they drew at our Cheshire neighbours, Macclesfield). This site's Match Guide for Saturday is here and there is further news below on this page.
OLD BOYS
Leroy Chambers is cup-tied for his new club Bradford Park Avenue for this Saturday's UniBond Cup tie at Guiseley.
---
5 December 2001
YEO FOR ALTY?
The SAM site reports that the presence of unsettled Hyde United striker Simon Yeo at Alty's game last night was because he is in negotiation with Altrincham, despite reports that he was signing for Southport. However, chairman Mark Harris said of our recent FA Cup prize money, "What we have to do now is manage supporters' expectations to a degree... We simply cannot throw money at players willy-nilly". The Hyde web site reports that "Simon is still considering a move to Southport. In the meantime he remains a Hyde player and will be available for selection on Saturday".
DARLO'S VIEWS
The Darlington web site reports the club manager's views after watching Alty defeat Accrington last night. "Poland is very good as is Sertori but he was a league player not so long ago", said Tommy Taylor. "We know what we're going to do to win this game. They'll be looking to get past us for the financial aspect but we'll be going down there to win". All 150 seating tickets allocated to Darlington in the McDonald's Stand have been sold.
NEW BOSS AT HUCKNALL
Hucknall Town have appointed Phil Starbuck, the former Nottingham Forest striker, as their new manager. He replaces John Ramshaw, who resigned recently. So the UniBond now has another manager who is an ex-Forest star as well as Nigel Clough (Burton Albion).
UNITED AT MOSS LANE
Manchester United Reserves are expected to play some games at Moss Lane in 2002.
ALTRINCHAM 1 ACCRINGTON STANLEY 1 - Alty won 3-1 on pens.
Match report now here- a brief summary and other match information is below.
Shown right are the after match celebrations. For this and other photos of the game, visit Alan Johnson's site.
Other replay: Burton 5 Barrow 0
DARLINGTON BLOWS
Darlington have been refused permission by Newcastle United to play on-loan defender Gary Caldwell on Saturday at Altrincham. If appeals fail they will also be without two players sent off recently - Barry Conlon and Mark Ford. However, former Bishop Auckland star Danny Mellanby may have recovered from injury to play in place of Conlon while Brian Atkinson will take Ford's place in midfield. Atkinson played in the 1992 FA Cup Final for Sunderland.
GRAHAM SPEAKS
The Times carries an interview with Graham Heathcote, who is quoted as rating Rod Thornley as a better player than Brett Ormerod, who is about to sign for Southampton for £1.75 million. Graham reveals that he and John King tried to sign Ormerod for Altrincham just before he moved to his current club, Blackpool. Speaking of our Cup run, he says "individuals have risen to the occasion" in preceding rounds. As for possibly getting to the Third Round, Graham believes that "your [Christmas] turkey tastes so wonderful if you have a 3rd Round FA Cup tie to look forward to"!
---
4 December 2001
RESULTS- ALTY DROP TO 4TH
LEAGUE: Vauxhall M. 3 Burscough 2 - Vauxhall now 3rd- see table.
LEAGUE CUP GROUP 5: Trafford 1 Witton A. 0
RESERVES OFF
This Wednesday's Reserves' game is postponed.
HELP!!!
If you can help the Club by assisting as a steward or gate-person on Saturday for the FA Cup match, please e-mail Mark Eckersall or ring him as soon as possible at the Club on 0161-928-1045. Thank you!
STANLEY IN THE MONEY
Tonight's opponents, Accrington Stanley have not only been named UniBond Team of the Month for November, but are also on the brink of getting some £350,000 or more from the sell-on of Brett Ormerod by Blackpool to Southampton for £1.75 million. Stanley's cut is 20% or 25% depending on which report you believe. Ormerod is having a medical at Southampton today. Tonight Stanley will probably be without Paul Howarth and Robbie Williams again but they hope that midfielder Dave Robinson will be available for selection.
POLAND IN THE PRESS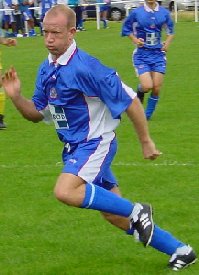 Today's Daily Telegraph carries an interview with Lee Poland and a photo of him in the Alty dressing room. Lee, a 23 year-old pharmaceutical engineer, recalls his experience at Northwich Vics when he played as a substitute in their 2-3 defeat at Leyton Orient in a 2nd Round FA Cup replay last season. He hopes to reverse that disappointment by playing for what he hopes will be a victorious Alty side against Darlington on Saturday. Speaking of Bernard Taylor he says, "I'll be knocking on his door if I don't start against Darlington...I have heard that the two lads at the back for Darlington are big six-footers, so hopefully we can get the ball down on the floor and play past them". He goes on, "the banter is better at Altrincham than it was at Northwich because there's a lot of Scousers in the side. The team spirit is brilliant and the fans are great. They follow us all over". As to whether Poland will start the game, Bernard Taylor is quoted as saying "I've not given it one thought yet, but I love pace up front and both Lee and Rod (Thornley) have got that". The article also recalls coach Graham Heathcote's career and the glory days of Altrincham, including the famous FA Cup win away at Birmingham City, then in the First (now Premier) Division, when David Seaman was the Brum goalkeeper. "After Yeovil, we are the second most successful non-League club in the FA Cup", said Graham, "now it's up to today's players to make their own bit of history". Lee Poland is seen, right, in a picture by Terry Rowley.

The FA has announced that the match officials on Saturday will be H.M. Webb, I.L. Faulkner and J.F. Tattan.
ALTY ON T.V. AGAIN IN NEW YEAR
The BBC are showing a documentary on F.A. Cup giant killers on 3rd January. Amongst the clubs to be covered will be Altrincham; more details will appear here when finalised. For a record of Alty's past F.A. Cup exploits, click here.
ATTENDANCE TRENDS
A graph showing Altrincham's home league attendance trends since 1979 has been added to the Attendance Grid page of this site, courtesy of Terry Rowley.
UNIBOND TRANSFERS
Michael Garrity (Witton A. to Burscough) Garrity was briefly at Alty last season.
Chris Nezianya (Manweb Liverpool to Bamber Bridge)
Sammy Hill (Chester C. to Droylsden)
Lee Potter (Chester C. to Bradford PA)
Paul Challinor (Ilkeston T. to Hucknall T [on loan])
Rob Montgomery (Harrogate Railway to Vauxhall Motors)
Lorenzo Bozzino (Rozzano Calcio [Italy] to Worksop T.)
---
---
FOR EARLIER NEWS, CLICK HERE
---