---
Home Page: Altrincham Football Club News Archive, 4 to 20 April 2002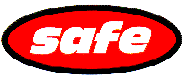 ---
20 April, 2002
SATURDAY SCORES
Accrington S. 1 Runcorn FC Halton 1
Bamber Bridge 0 Frickley 2
Barrow 1 Worksop T. 0
Bishop Auckland 0 Bradford PA 4 CEEFAX WRONG AGAIN- GAVE IT AS 0-0
Blyth Spartans 2 Colwyn Bay 0
Burton Albion 1 Droylsden 1
Gainsborough T 1 Altrincham 3
Gateshead 2 Burscough 0
Hucknall T. 3 Hyde U. 1
Marine 4 Lancaster City 4
Whitby T. 1 Vauxhall Motors 2
RESERVES WIN
Alty Reserves won against Barrow last Wednesday- for more see the Reserves' Page
FORMER ROBINS' CLASH
Former Robins David Esdaile and Nathan Comley-Excell are likely to clash at Moss Lane on 5th May when their Altrincham and District Amateur Sunday league sides clash in their Senior Cup Final at Moss Lane. David is player coach of Jackson's Boat, who are going for the Double and Nathan scores regularly for their cup final opponents and league runners-up AFC Gardeners.
---
19 April, 2002
DRINK TO ALTY'S SUCCESS!
As well as being able to watch Alty Youth compete for the NW Youth Alliance Premier Cup this Sunday at Bamber Bridge (k.o. 2pm), spectators may be able to take advantage of the Club's Beer Festival which runs until until Sunday- or until supplies run out! Altrincham's opponents are Morecambe.
EX-ALTY TRIALIST ON THE MOVE?
Leigh RMI's Michael Twiss, a trialist with Alty this season, is reported by the Nationwide League site to be the subject of an illegal approach from Morecambe. However, rumours suggest that Twiss is more likely to join Doncaster Rovers.
WORKSOP COUP
The Accrington site reports that after the recent game betwen Stanley and Worksop, whom we play next Saturday, the entire Board of Worksop Town was sacked following a take over of the club by a local millionaire.
---
18 April, 2002

BERNARD SPEAKS
On the SAM website, Bernard Taylor refers to the impending departure of Graham Heathcote and states, "I tried to persuade Graham to stay, but he has made his decision". As for Graham's replacement as coach, SAM reports that "It is believed that Taylor has been approached by around five people, expressing an interest".
INTERNET FANS ALTY PLAYER OF THE YEAR
On Gary Warrington's Alty Fans' Forum there is an "Internet Fans Player of the Year Poll". Gary is intending to have a trophy presented to the winning Alty player at the Presentation Night being held at Moss Lane on Saturday, 4th May. Votes can be cast either through the Forum itself or directly here. Details of the Presentation Night and how to get tickets (just £2) are here.
"ALTY 100"
The Club has issued an image (left) of the new badge for supporters signing up for the Alty100 scheme. Director David Tracey says that "The centurion image represents the 'one hundred' element and hopefully the 'legions' of fans who will sign up for the scheme. Although this is change from the usual Robin image, this will only be available to those who join the scheme and supporters who don't sign up for the scheme will be able to buy the offical club badge (which does have a Robin on it - available from the club shop). The new badges are now in production and will start to be distributed to Alty100 members before the end of the season". For more on the scheme, see below.
CLUB FINANCES
The Board of Altrincham F.C. has announced that "The club can probably survive on this day to day basis until the end of this season but no longer than that. This club needs to find at least £50,000 within the next few months in order to survive". For the full text of the Board's statement, which appeared in the Robins' Review for 16 April 2002, click here.
CHAIRMAN'S CUP
Worksop Town beat Droylsden 2-1, last night, in the UniBond Chairman's Cup Final.
FURLONG SAVES BAY?
Ex-Alty striker Carl Furlong made his debut for Colwyn Bay last night and scored the only goal in a 1-0 win over Emley, which could be crucial in keeping the Bay in the Premier Division. For last night's full results, see below.
---
17 April, 2002
BURTON CLINCH TITLE
Burton Albion tonight clinched the UniBond Premier title by defeating second-placed Vauxhall. At the bottom Colwyn Bay put pressure on Hyde, Bishop Auckland and Marine. The updated League Table is here.
Colwyn Bay 1 Emley 0
Gateshead 1 Hucknall T. 1
Vauxhall M. 1 Burton A. 4
ALTRINCHAM 2 LANCASTER CITY 3
Match report here..
Above, Ian Craney receives his Man of the Match award from Sarah Holt of Carole Nash Insurance, the match sponsors, last night. This and more pictures are to be found on Alan Johnson's photographic Alty website.
REMINDERS!
Player of the Year: Please submit your nominations to the SAFE cabin as soon as possible. Details of the awards ceremony on 4 May are here.
Club Fundraising: Please respond to the Board's appeal.
Goal Sponsorship: Please submit your payments to the Club Office at the address at the top of the page. So far Alty have scored 103 goals in league and cup games this season.
Youth Premier Cup Final: In this Final Alty Youth play Morecambe"A" at Bamber Bridge FC's ground, The Irongate, on Sunday 21st, k.o. at 2pm. Click on the Links/Maps button for the ground location.
---
16 April, 2002
TUESDAY RESULTS
Altrincham 2 Lancaster C. 3
Blyth S. 0 Marine 0
Runcorn FC Halton 4 Whitby T. 1
President's Cup Final Barrow 1 Gainsborough T. 0
---
15 April, 2002
MONDAY RESULTS
Monday 15th
Emley 3 Burscough 0
Worksop T. 5 Accrington S. 0
YOUTH AND RESERVES RESULTS
Alty Youth lost 3-1 at Morecambe on Sunday in a league match; for more and a brief report, click here. The score in the Reserves game against Rossendale on 6 March, which was abandoned in the first half because of high winds, is to be allowed to stand. More on this as well as other Lancashire League results can be found here.
FAIR PLAY
Altrincham now lie equal 15th in the UniBond Premier Fair Play Table. Top are Burton, bottom are Burscough. Also on the statistical front, Alty have kept 11 clean sheets in the League; only Burton (15) and Worksop (13) have more.
HYDE UNITED 3 ALTRINCHAM 2
Match report here.
Pictured above by Alan Johnson is Danny Murphy just after scoring his goal. More of Alan's pictures are to be found on his photo site.
---
14 April, 2002
PRESENTATION EVENT/ RACE NIGHT
Don't forget to get your ticket for the SAFE Presentation Night and Race Night to be held on Saturday 4th May in the Noel White Suite. Tickets are just £2 and include a free bet. Children, accompanied by paying adults, will be admitted free of charge. Tickets can be obtained from the SAFE cabin or via the Club (contact details at top of page). Horses are available for sponsorship at just £5 and all supporters of the club are urged to helped to raise funds for the Club by participating in this event either by attending or sponsoring it, or both. The first race is at 8.15pm but doors open from 7.30pm. The races include a Players' Race and it is hoped that many of the Club's players and officials will be present at the event. Voting cards for the Player of the Year have now been distributed to SAFE members.
UNITED AT MOSS LANE
Manchester United Reserves are believed to be planning to play Leeds United Reserves in a league match at Moss Lane on May Bank Holiday (Monday 6th May). Details to follow, when known.
YOUTH BACKLOG
Like the first team, Alty's Youth Team have a fixture backlog and will now be playing nine games in the next four weeks - including two cup finals. The revised fixtures and league table can be found on the Youth Page.
RIVAL FOR YEO
The Pink reports that Dave Pace of Droylsden is pursuing Hyde's Simon Yeo, who is also reportedly still a target of Altrincham for next season.
OLD BOYS
Andy Dibble and Kevin Ellison (as a sub) were involved in Stockport County's 3-1 win over Sheffield Wednesday yesterday whilst Danny Adams had another good game for Macclesfield. Leroy Chambers scored for Frickley, Craig Skelton got his fourth goal in five games for Whitby and Nathan Comley-Excell also netted for Flixton yesterday. Jeremy Illingworth scored for Stocksbridge as they fight to avoid relegation. David Wills played in Abbey Hey's win yesterday in the NW Counties League. The Pink carries an interview with ex-Alty Reserves' manager, Joey Dunn, who is now in charge at Trafford who are seeking to set up a new Under-19s side.
ANOTHER PLAYER OUT
To add to Alty's long list of absentees through injury, Dave Swanick starts a three-match ban this week.
---
13 April, 2002
ALTY ON ANOTHER CUP RUN?
Director David Tracey has announced that Altrincham may be in for another FA Cup run but this time, on Saturday 8th June 2002. Altrincham will be represented in the Table Football AXA FA Cup that is being held to support Pelynt FC raising funds in order to lease a new ground (their current ground is being built upon). The actual FA cup will be presented to the winning team and Carlton TV will be providing TV coverage.
The "FA Cup" competition takes place in Lanreath, near Looe in Cornwall, any Alty fans are welcome to support Altrincham in their endeavours in attempting to win the FA Cup for the first time! So if you are in Cornwall on this date, Pelynt have a great day organised that will be well worth the visit! "Come on Alty!"
David Tracey
---
12 April, 2002
MANAGEMENT CHANGES
Yesterday's announcement from the Club (see below) has clarified the immediate future of the Altrincham management team after weeks of rumour. The biggest change to occur is, of course, the impending departure from Moss Lane of Graham Heathcote. Ironically, Graham is set to leave at the end of his testimonial year after spending almost all of the last thirty years with Altrincham following his playing debut for Altrincham as a 17 year-old in 1971/72 season. His most recent role has been to combine the job of Club Secretary with that of first-team Coach so his departure at the end of this season will leave two jobs to be filled in the Club set-up. Graham was a key member of Altrincham's playing staff in its glory years and as Coach he enjoyed several years as John King's partner in the Conference, before joining with current Alty boss Bernard Taylor to lift the UniBond Premiership in 1999. All Alty fans will wish to thank Graham for his achievements for the Club over the years as well as to wish him good luck for his future career.

Manager, Bernard Taylor will also be facing change after accepting a part-time contract as manager. His priority will be to name a new Coach and this is expected next week. Whether Bernard is to continue in his existing dual role as Stadium Manager remains to be clarified. Supporters will also wish him every success as he seeks to retain key players from the current squad on a much reduced budget for next season. Only Rod Thornley and Jason Gallagher definitely remain on contract for next season, though the Club also has an option on Ian Craney's contract. It is, as yet, unclear when a new Club Secretary will be appointed.
YOUTH REPORT
There is now a brief report on the Youth team's fine Open Cup semi-final win against Marine in the Youth pages.
FIXTURES- Saturday 13 April
Accrington v Emley
Bamber Bridge v B. Auckland
Burscough v Runcorn FC Halton
Colwyn Bay v Gainsborough T.
Hucknall T. v Gateshead
Hyde U. v ALTRINCHAM
Lancaster C. v Frickley A.
Marine v Blyth S.
Whitby T. v Droylsden
Worksop T. v Barrow
REUNITING FOOTBALLERS
Footballers-Reunited is a new website aiming to put ex-footballers in touch with each other and with others. According to information from its webmaster, Ian Smith, "Registration is free, searching is free, and email addresses are kept confidential. There are spaces to enter every team played for, and also a database to list old football playing friends who you have lost touch with through the mists of time".
---
11 April, 2002
MANAGERIAL CHANGES AT ALTRINCHAM F.C.
The following is an announcement from the Board of Altrincham FC concerning the Management team at the Club.
Despite recent results, the board believe that Bernard and Graham have done an excellent job for the club this season. Until recently we were in with a chance of winning the league, we had a good F A Cup run, and we reached the final of the Cheshire Senior Cup.
More than this, in Bernard and Graham we have two men who share our love of Altrincham Football Club.
Even so, as their contracts come to an end this season, the club is not in a financial position where it can offer the same remuneration as it has done previously.
Bernard has accepted undertaking the position of manager, on a further one-year contract, but operating on a part-time basis. Bernard now has responsibility for appointing the coach for next season. We expect to be able to announce this appointment next week.
Graham was offered the position of Club Secretary, but again on a lower remuneration level, and has decided, with some reluctance and a great deal of genuine affection for Altrincham, that he can not accept this and that he will pursue his career in football elsewhere. We are extremely sorry to see him leave, and wish him the very best for the future.
Press Statement by Graham Heathcote
I wish to confirm that when my current contract expires on the 30th June 2002 I have decided to leave my position as Secretary of Altrincham Football Club.
The football club did make me an offer on greatly reduced terms and conditions to carry on as the full-time Secretary. However, it is my personal ambition to progress my footballing career and I feel this will be best served away from Altrincham Football Club. There is much sadness in my decision because of my long association with the club, but I now feel the time is right having faced many difficulties during the last three years in which I have been contracted. I feel the new Board of Directors should be given the opportunity to structure the football club to their own shape. I hope the football club goes from strength to strength and the way forward as indicated in the statement issued by the Board of Directors at the open meeting on Saturday, 30th March 2002 is kept to, as far too often the supporters have been disappointed by events of the last few years.
I would like to thank everyone who has helped me in my time at the club and I hope they believe I carried out my duties in a professional manner and the name of Altrincham Football Club is well respected throughout football and that I have played my part.
Graham Heathcote
Approved: David Tracey (Director)
Approved: Bob Peters (Director)
Date: 09/04/2002
YOUTH REACH ANOTHER FINAL
Alty Youth reached the final of the NW Youth Alliance Open Cup with a 3-1 win over Marine last night, at Burscough. The Alty Youth side already have another cup final booked for 21 April in the Premier Cup; see the Youth Page for details of both games.
DANNY'S COMEBACK IN RESERVES
Danny Murphy played the last 20 minutes of last night's Reserves' match against Ossett Town, which the Yorkshire side won 5-1. The game included a bizarre booking for Alty keeper and Man of the Match, Dale Newbrook- for wearing an earring! Match report here.
EVENTFUL UNIBOND CHALLENGE CUP FINAL
In the first leg of the Challenge Cup Final last night Bradford PA beat Accrington Stanley 1-0 with a very late goal at the Horsfall Stadium. This came after Stanley's keeper, Speare, was sent off and Stanley were reduced to nine men before half-time when outfield player Barrie Hart, who had taken over in goal, was also sent off! Stanley's Peter Cavanagh became their third keeper of the night and was not beaten till the last minute.
---
10 April, 2002
WEDNESDAY RESULTS
Bishop Auckland 0 Marine 0
Emley 2 Blyth S. 1
Gateshead 0 Barrow 0
Hyde U. 0 Vauxhall M. 0
Revised table here.
HARROGATE HERE WE COME
Harrogate Town clinched promotion to the UniBond Premier League last night. Assuming Whitby stay up, there will be five Yorkshire teams in the division next season- Bradford, Emley and Frickley being the other three.
TEAM NEWS
In an interview with SAM, Bernard Taylor underlines the injury problems at the club, with last night's game adding the names of Kevin Hulme, Keith Mairs and Stuart Coburn to the list of wounded. However, Bernard goes on to say that, "There is no money to buy players at the moment, but a few have said they will take a cut in money next season if they stay - which is really good to hear".
ALTRINCHAM 0 RUNCORN 2
Match report here
Pictured above by Alan Johnson is Rod Thornley in last night's game. More of Alan's pictures are to be found on his photo site.
Click the above buttons for updates; League Table; League Line-Ups and Statistics. Other results on Tuesday:
Bamber B. 0 Worksop T. 0
Burton A. 3 Lancaster C. 0
Droylsden 3 Burscough 1
---
9 April, 2002
HELP THE CLUB!
Please click the image to see how you can help Altrincham Football Club through its financial problems. See the news below for 8 April for further details.
NEXT ALTY GAME
| | | |
| --- | --- | --- |
| Saturday, 13 April 2002 | HYDE UTD | UniBond Premier League, AWAY, at 3p.m. |
BARROW RECOVERY
Barrow hope to come out of liquidation in a matter of weeks, according to their website. The management duo of Kenny Lowe and Lee Turnbull have been offered a new three-year contract by the Club.
---
8 April, 2002
MONDAY RESULT
Emley 0 Whitby T. 2
Revised table.


HELPING THE CLUB TO SURVIVE
The following is a message from Alty Director, Bob Peters.
Thanks to everyone who has already come forward and offered to be part of the Alty100 scheme. In response to comments about involving local businesses more with the club, we have also introduced a Corporate Business Sponsorship package. Business' participation will be acknowledged by mention in a 'businesses trade directory' within the club programme.
Details of the schemes are given here.
Please also read Dave Tracey's letter outlining how everyone can help the Club. This is here.
---
BAY WIN FAIR PLAY TITLE
Colwyn Bay have won the March award for Fair Play in the UniBond Premier. Their latest signing is Carl Furlong...
AWAY TRAVEL & UPDATES
Click the Away Travel button above for details of the trip to Hyde on 13 April. The Attendance Grid has also been updated, as have the league table in the Reserves' section and the Through the Years chart.
GATESHEAD 0 ALTRINCHAM 2
Match report here.
Picture above of Kevin Hulme, heading for goal, is courtesy of Alan Johnson on whose website are more fine pictures of the game.
YOUTH AND RESERVE TEAMS WIN
Alty Reserves, captained by Youth team midfielder Lee McDonald and including many of his Youth team colleagues had a fine 3-1 win over Barrow last Wednesday. For more on this, see the Reserves' Page. Today (Sunday) the Youth team beat Daisy Hill 2-1, away, to reach the semi-final of the Open Cup. However, they have lost three league points due to the resignation of Northfield Juniors. For more on both these stories, see the Youth Page.
---
7 April, 2002
BERNARD BLAMES SELF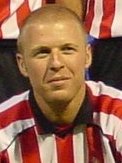 In the NLP today Bernard Taylor talks of Alty's injuries. "It's the worst I have known. We have had seven players out; four for the rest of the season...I feel guilty because Danny Murphy, Jason Gallagher and Chris Adams (right), who is a diabetic, all played on in pain for some time before having surgery- I let them. I feel I've used them. I told them I was struggling for players and they volunteered to help out. In that respect I am partly responsible...I don't feel good about it". Bernard goes on to single out Jason Gallagher for playing in pain for three or four months, "it was a marvellous gesture by him", says Bernard.
BERNARD GOES FOR MIKE
In today's Pink it is revealed that Taylor tried to sign ex-Stalybridge and Northwich striker Adie Mike before last week's transfer deadline. Bernard "has not given up hope of landing him in the summer". As in the NLP (see above), the Alty manager attributes the recent decline in Alty's form primarily to injuries. On that front, he is hopeful that Danny Murphy may return to action before the end of the season. The article also states that the injuries have allowed Taylor "to give promising youth teamers such as Vernum Rowland and Lee Thompson senior experience ahead of their time". Bernard adds that because of the poor recent results "the people I feel most sorry for are our travelling supporters who never cease to get behind the lads".
GATESHEAD 0 ALTRINCHAM 2
Match report here.
ILKESTON TO UNIBOND?
It is reported that Dr Marten's side Ilkeston Town have made an approach to switch to the UniBond, following Burton Albion's example last season. Ilkeston's centre-back is former Robins' captain Chris Timons who could, therefore, return to play at Moss Lane if his club's enquiries come to fruition.
OLD BOYS
Danny Adams was "on top form" (says the Pink) for Macclesfield yesterday and Kevin Ellison got in another substitute appearance for Stockport County. Matt McNeil scored his first goal for Runcorn - we meet him again this Tuesday at Moss Lane. Gary Talbot was involved in conceding a goal at Northwich yesterday. Jeremy Illingworth scored for Stocksbridge and the following also played yesterday; Leroy Chambers (Frickley) Stuart Scheuber (Colwyn Bay), Lance Key (Kingstonian), Sammy Ayorinde (Stalybridge). Tony Hemmings (Tamworth), Craig Skelton (Whitby) and Adam Lillis (Witton) all scored yesterday.
OTHER RESULTS
Other Saturday games
Accrington S. 4 Hyde U. 1
Bishop Auckland 3 Vauxhall M. 4
Blyth S. 2 Worksop T. 2
Bradford PA 2 Barrow 0
Frickley A. 2 Colwyn Bay 1
Runcorn 4 Gainsborough T. 0
Whitby T. 2 Marine 1
---
6 April, 2002
TELEGRAPH'S MISTAKE
In the "Transfers" column of its list of transfers and loans, the Daily Telegraph yesterday listed Lee Buggie as moving from Bury to Altrincham on a "free". This has now been confirmed by Altrincham as a false report. Buggie has, in fact, moved to Accrington Stanley.
ALTY'S MISTAKE
Despite the Club announcing at the open meeting last Saturday that left-back Chris Adams had left Altrincham, it has now been stated by the Club that he has not, in fact, left!
BIG WEEK AHEAD
This week's SAM newspaper reports that an announcement is expected this coming week on whether management duo Bernard Taylor and Graham Heathcote have accepted the new contracts offered to them. It is believed that at least one of them has not.
NEW BOSS FOR EX-ROBINS
Former Alty players Stuart Walker, Paul Robertson and Steve Tobin have a new boss at Kidsgrove Athletic. The ambitious Chairman of the NW Counties' side has surprisingly replaced successful management duo Dave Sutton and Russell Batho by Kevin Langley, who has been brought in from Congleton Town.
YOUTH CUP
Alty Youth's Premier Cup Final against Morecambe on April 21 has now been moved to Bamber Bridge from its original venue at Chorley. Kick off is 2pm. The team plays in the Open Cup tomorrow at Daisy Hill and in the League are lying just two points behind the leaders with four games in hand.
---
5 April, 2002
TELEGRAPH'S MISTAKE
In the "Transfers" column of its list of transfers and loans, the Daily Telegraph today listed Lee Buggie as moving from Bury to Altrincham on a "free". This has since been confirmed as a false report. Buggie has, in fact, moved to Accrington Stanley.
---
4 April, 2002
BAMBER BRIDGE 1 ALTRINCHAM 1
Match report here.
Alty have now gone eleven league and cup games without a win. Given the uncertainty at the club about finances, about who will be the new Chairman, about who will be managing or coaching the team next season and about who will be still on the playing staff given the 40% cut in the wage bill promised for next season, it is not surprising that results on the field have taken this dip. Hopefully once some of the rumours are confirmed or scotched, the team will be able to concentrate 100% once more on events on the pitch.
Pictured above by Alan Johnson is Ian Craney hitting the deck last night. More of Alan's pictures are to be found on his photo site.
Other results:
Gateshead 0 Bradford PA 7 Gateshead are our next opponents.
Marine 2 Runcorn FC Halton 0
Vauxhall M. 1 Droylsden 0
Whitby T. 4 Emley 1
---