Altrincham Football Club News Archive
19 to 27 October 2002
---
27 October 2002
MANAGEMENT DUO IN PINK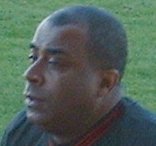 There are interviews with both Graham Heathcote and Dalton Steele (left) in today's
Pink
. Dalton says "The move to Altrincham was too good to turn down as I respect Graham and he is the only person who I would be assistant to". Dalton was boss at Flixton, whose Chairman Steve Mitten said, "He couldn't have turned down Altrincham and I fully respect his decision". For his part, Graham reiterated that he wants the Alty players to "understand that when teams face Altrincham, it's the name they are playing against, not what's in the shirt". He went on to salute Bernard Taylor, "He will always be remembered, and rightly so, for being manager at a time when Altrincham won five trophies in little more than a year. That's a record for which he deserves every credit. Bernard has also left some decent players behind him". Despite the limited budget, Graham still thinks it is sufficient to achieve a top ten finish. He insists that "there will be no big money contracts handed out...but what I can offer is the chance to be part of a good set-up with professional standards". He went on, "I feel I have found myself an ideal asistant in Dalton Steele...Dalton knows the local scene inside-out. Graham also adds, "a word of praise for our directors. They've come in for some stick...and that really is so unjust. People should remember that we were 24 hours away from not having a Board at all and the consequences of that would have been dire...They inherited our problems and are doing their very best to solve them".
OLD BOYS
Mark Sertori was sent off soon after the hour mark as Accrington lost their first league game of the season, at Frickley. Sertori also conceded a penalty (handball) for the first goal and it was his obstruction which led to the second goal from a free-kick. Anthony Hargreaves scored for Hyde, and Adam Lillis scored and was sent off for Witton. Terry Bowker played for Stalybridge but Carl Furlong was only a sub for Colwyn Bay. Two ex-Robins are now captaining their sides; Paul Robertson (Kidsgrove) and Jeremy Illingworth (Stocksbridge). Illingworth got two of his side's goals yesterday. Niell Hardy scored for Radcliffe, for whom Scott Wilson also played and Dickie Landon was a sub, against Chester in the FA Cup 4QR yesterday, whilst Matt McNeil netted for Runcorn at Blyth. Also in the Cup, Clive Freeman's Guiseley, (Alty's FA Cup conquerors), gave away an injury-time equaliser to Tamworth yesterday - they replay on Tuesday. Tony Hemmings played for Tamworth. Keepers Dean Greygoose (King's Lynn) and Lance Key (Kingstonian) played for their current sides yesterday, whilst Kevin Ellison played 90 minutes for Stockport County and Danny Adams featured for Macclesfield in the Nationwide League. Stu Scheuber is pictured in the NLP playing for Flexsys Cefn Druids in Wales.
WORKSOP TRIP
Click the Away Travel link above for the supporters' coach details for Worksop next Saturday. The Forum for Worksop Town, whom we meet next Saturday, reports that of all of their players only two, one of them being ex-Alty captain Steve Hawes, "acknowledge us back" when they are cheered. Steve could be busy on Saturday acknowledging both the home and away fans. Meanwhile Worksop's Alex Callery has moved to Gainsborough, whom we play the Saturday after next.
---
26 October 2002
RESULTS
League:
ALTRINCHAM 0 Wakefield & Emley 1
Ashton U. 3 Gateshead 1
Colwyn Bay 1 Stalybridge Celtic
Frickley A. 2 Accrington S. 1
Gainsborough T. 2 Bradford P.A. 2
Lancaster C. 2 Burscough 1
Whitby T. 3 Hyde U. 2
Worksop T. 4 Droylsden 1
FAC 4QR games involving UniBond sides:
Blyth S. 1 Runcorn 3 (so Alty's match at Widnes will be postponed on 16 Nov.)
Guiseley 3 Tamworth 3 (winners away at Luton in Round 1)
Harrogate Railway 4 Marine 2
Hucknall T. 1 Vauxhall M. 1
Northwich V. 3 Spennymoor U. 1
Nuneaton Borough 1 Barrow 1
Radcliffe B. 2 Chester C. 4
Wisbech T. 0 Harrogate T. 2
CHAIRMAN'S VIEW
From today's Robins' Review

I am writing to thank everyone who turned up for the meeting on Friday 17th October 2002. My opinion of the meeting is, or should I say the outcome, is that we, the Board, tell you the paying fans and sponsors the truth.

The first question which the Board was asked was why did we not advertise the manager's job. The answer to the question was, what was the point in advertising a job when you already have the best candidate available on your doorstep? I don't see the point in bringing in people for interview for show, it's not fair to them or the club. We will be honest and tell you the facts and we will stand on that decision.

Graham Heathcote has taken on the Secretary's job (part time) plus the ground maintenance (part time) for which he gets paid. He has also agreed to be the Manager as an unpaid position. This will then not be costing the Club any more money than before. This, as I see it, is a result. At the start of the season, the Manager's job, the Secretary's job and the groundsma's job cost the club £683.00 a week for all these jobs. We have since made a saving. Even with the fact that we will have to pay Bernard his contract money, as he did have a legal contract signed by the last Board. So, the question you asked about [whether] forsaking Bernard's job for another manager would cost us more money, yes it has - £5.00 per week. If we employed somebody from outside, to make some people happy and give them new blood and a new start, the answer would be different, at least costing an extra £300 per week. So please don't get confused, yes Graham gets paid but he only has to do 7 days a week and 3 jobs - for less than he got last year for 1 job. This is reality. Also, his managerial staff, as confirmed elsewhere in the programme, will be working unpaid for this season.

Another question asked was would I give Mr Tracey £11,000? Why should I?? I don't owe the money to him; neither do the other Directors. I was then asked to sell a [Goodwins] coach to give him the money. I wonder where he is coming from. If anyone has a Director's Loan then write in, give notice and we will look at it or should I say, the Board will write back and repeat ourselves: the football club is not in a position to pay any ex-directors. It has no "pot of money". I would like to point out that we do appreciate that people, or ex-directors like Mr Tracey, were at the time only helping the club. He asked me how much I have put in? Well, Mr Tracey, here we go, let's get it straight, for the record - no secrets. Last year I sponsored two games £800.00, discounted the coach hire for the team by £4,000.00, placed two adverts around the ground at £1,000.00 and, at the end of the year, the football club owed my company £4,000.00 which my accounts office had put into the hands of a solicitor to recover the debt, which, I have since, written off, to help cut the club's debt.

This year, free coaches for the team, approximately £12,000, to dinners, to golf teams, sponsored a day for potential sponsors, £1,000.00 cheque to help Bernard with his budget. A grand total of £25,000 in helping the club, not "a loan". This is put in adverts and other ways of helping your club plus, one of my staff helps in the week around the ground. I hope you, the supporters, agree with me, it's much better for Altrincham Football to have help like this than a Director who puts in a loan of money and then asks for it back! ' I have had an ex-Director round at my house last week - no names yet! - but he has asked for his £27,000 Director's Loan to be paid back and he has already served a 60 days notice letter to us, which is now up. He is away on holiday this week and his words to me were "I will shut the football club". Why would someone do that who said they love Altrincham Football Club? Why don't they wait until we can get a little straight then take so much a month? Why do people treat Football Clubs like toys, play with it then throw it away when it is "broken", but then want it back when somebody else has fixed it?

So, I say to all you ex-Directors who love the club so much, why not write off the loan or at least some of it, to help the club you used for your enjoyment, come on, have a heart!

I don't even like football that much, but I have put £25,000 in one way or other and I won't be asking for it back, there are loads of things you can have in exchange for "loans", such as adverts, sponsorship of games, etc.

Please look at the whole picture of the club, shut the club and then there is no money for anyone, more importantly, no football at Moss Lane, end of Altrincham - can anybody stop that?

That is why my vision is different. No loans from Directors only donations, this way it will work as you will not owe as much money. This is going to be a low budget club, with great fans and a good football team that can hold its own. Built on good foundations, that's if we can weather the foreseeable problems.

There was a question regarding the club's future - hopefully we will have an answer within the next two weeks. Andrew Shaw is dealing with a big deal, lets all wish him luck.

The question of shares in the club, is a good idea. The share issue will be sorted out in the near future, after the land deal which will then give us working capital rather than pay the debts off.

May I say thank you to SAFE and the supporters who I had the pleasure of standing with last Saturday in the second half against Whitby. At first Gary was a bit nervous and Zigger Zagger soon got going, mind you, I did look out of place with my shirt and tie on. I stood with a great set of lads, joking and singing, it was good to see the game from their outlook. Thanks lads for your support for the team; it helps us all and makes it worthwhile.

The thing is you would not recognise me outside of the club, I myself, do not think I am the right person for the Chairman job, it is all shirt and tie in the ground; outside it is tracksuit, t-shirts and trainers but, until it is all sorted out, you will have to put up with me or replace me.

May I please ask you to thank Grahame Rowley who works non-stop for the club, raising money with raffles, auctions, plus the fantastic dinner he put on was second to none? Well done Grahame Rowleyl and family. Plus, may I say sorry to Mr Shaw and Mr Rowley as I am always saying what I think and hold no punches? I believe "say it as it is". I think sometimes they cover their ears - sorry, lads.

Anyway, thank you again to Dougie the steward and everyone who makes the clock tick at Altrincham, everyone is appreciated. I don't know everyone's names but a big thank you from me and the Board. Without you, the fans who work free, there would be no football club.

Finally, a big thank you to Bob Peters, one of the last Board, for all his continual help. As he so rightly pointed out, he was a Director of the club but hasn't asked for a penny back. And, to make a point when I said last week the Board walked leaving a big debt, it's fair to say the last Board did not create it. But, unfortunately, they left it. Anyway, one more time, thank you to anyone who helps the club, ex-directors, fans, stewards, etc.

If you can help in anyway by way of a standing order to your club, even £1.00 a week to the Yankee, until we get straight, the Board would appreciate it, I promise you, we will not waste your money.

Geoff Goodwin.
MANAGER'S VIEW
From today's Robins' Review Cote's Comments: by Graham Heathcote

After a lively discussion on Friday night at the open meeting I would like to thank everyone for getting behind the team against Whitby last Saturday. I'm sure you will all agree that the players gave their all and we all got our reward with a very good win against a very good Whitby side. The players have been put through their paces physically this week and their attitude to this was first class. The hard work they are putting in will be rewarded with the right results. There will be a few departing from the playing staff in the near future. One because of the wage bill situation, going back to budget and two, because some players here are playing no football, which is no use to anyone and whilst they may not be being paid, their fitness level would be insufficient if they were needed to play. I have brought in Dalton Steele to be my assistant manager and I welcome him. He works very hard at his football, has great knowledge of the Non-League scene, especially the areas which we will have to be looking at for players. I have, this week, integrated into our training some of the youth team and I was delighted with their level of fitness, opportunity knocks - do you want it? Can you take it? We'll see. To the players, keep up the good work today - it's you who will put the smile on everybody's faces.
UNIBOND NEWS
Gateshead defender Martin Reed has joined Whitby where he will be reunited with keeper Dave Campbell who made his Whitby (second) debut against Alty last week, after also moving from Gateshead. Gateshead captain Steve Preen has decided to stay with the club rather than join Blyth. Hyde had defender Matty Taylor back from Mossley to play against Trafford this week. In that UniBond Cup game Trafford included ex-Robins Dale Newbrook and Mario Daniel, with the subs including two more; Lee Shillito and Paul Johnson. Hyde have released Richard Eyre and Danny Webster, who have joined Kidsgrove.
---
25 October 2002
CORRECTION
The Altrincham v Hyde UniBond Cup match is apparently to be played on MONDAY 18 November not Tuesday 19 November as originally stated.
MURPHY AND YOUNG RELEASED; HULME TO HYDE?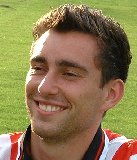 Altrincham have today released full-back Neil Murphy (left) and midfielder/striker Chris Young (right), whilst Kevin Hulme is expected to sign for Hyde United, who have already signed four other players this week (see below). Neither player has yet signed for a new club. Apart from Stephen Rose, Young was the only player to have played in all of Alty's games this season, whilst Murphy had played 12(+1) times for the Robins. Chris scored 3 goals in 15(+3) starts. Kevin Hulme played just once after returning to Moss Lane this season. See the Playing Squad page for more on all these players.
ALTY DRAW HYDE
Alty have drawn Hyde United at home in the UniBond League Cup, the game will be on MONDAY, 18 November. Hyde beat Trafford 2-1 last night in Round One at Ewen Fields. All other games unless noted are on Tuesday 19 November. The full draw:
Altrincham v Hyde U., Playing MONDAY.
Ashton United v Vauxhall M.
Barrow v Accrington S.
Bradford PA v Spennymoor U., Playing WEDNESDAY.
Eastwood T. v Kidsgrove A.
Harrogate T. v Blyth S. or Bishop Auckland
Lancaster C. v Leek T.
Matlock T. v Worksop T.
Marine v Stalybridge C. Playing MONDAY.
North Ferriby U. v Gainsborough T.
Ossett T. v Guiseley or Farsley C.
Radcliffe B. v Colwyn Bay
Runcorn FC Halton v Chorley, Playing WEDNESDAY.
Stocksbridge P. S. v Alfreton T.
Wakefield & Emley v Gateshead or Whitby T.
Workington v Rossendale U.

Winners enter the Third Round whilst losers go into the President's Cup,
STATISTICS
If Alty beat Wakefield & Emley tomorrow it will be the first time they have won three consecutive league games since 23 February 2002, when they won at Blyth. Howard Watts's statistics show Altrincham's complete record on October 26th Through the Years.
QUIZ NIGHT
The Stamford Arms at Bowdon is running a quiz night on behalf of Altrincham Football Club on Monday 4 November at 8.30pm for a 9pm start. Teams of up to five people can enter at a cost of £10 a team. There is a £100 first prize. Just turn up to enter.
UNIBOND NEWS
Accrington report that they "are currently in the early stages of talks with an experienced International player who has played in the Football League this season. The unnamed forward is in his mid 30s and was playing in the Premiership a couple of years ago". Hyde have made four signings; Scott Westwood (22) a defender from Stalybridge Celtic, Richard Whelan (19) a left sided local player, Stuart Harkness (22) a midfielder from Leigh RMI and Larry Farren (20), a midfielder, on a month's loan from Leeds United.
---
24 October 2002
SATURDAY GAMES
SAM quotes Graham Heathcote's account of his first formal meeting with the Alty players since his appointment as manager when, he says, "I spoke to them about what it means to be an Altrincham player. Sometimes the past can be a taboo subject around here but the fact remains that football clubs are built on their traditions - and Altrincham has a great tradition". Talking of the game on Saturday against Wakefield & Emley, he said "Altrincham have shown they can give anyone in the league a game". Alty have lost their last five encounters with (Wakefield &) Emley, including a 2-1 reverse, away, earlier this season.
UNIBOND NEWS
Blyth Spartans sponsors, Viz magazine are launching a new version of their dictionary Roger's Profanisaurus at Saturday's FA Cup game. Some of the profits will go to Blyth. Hyde's former Alty defender Dave Swanick has been suspended after receiving five cautions this season and team-mate Paul Ashwell is banned for four games for his dismissal at Barrow. Marine keeper Chris Conneally was sent off for handball in their 5-3 UniBond Cup win against Witton (a.e.t.) on Tuesday.
---
23 October 2002
ASSISTANT NAMED
The Club has announced that Graham Heathcote's new assistant is Dalton Steele. Dalton will have the title of Assistant Manager and his responsibilities will include finding new local talent, whilst Graham will retain coaching as well as overall managerial responsibility. Dalton Steele's appointment is with immediate effect. Until today he was Flixton's manager, having joined the Valley Road club during last season when they were already rooted to the bottom of the NW Counties Division One. He oversaw a very marked improvement in form but it took a reprieve to save them from relegation when Stand Athletic failed to make the ground grading requirement for promotion to Division One. This season Flixton currently lie in mid-table. Dalton also has previous managerial experience at other clubs which include Droylsden, Winsford United, Chorley as well as an earlier spell at Flixton, where he first made his name as a manager, taking them from amateur football to the UniBond First Division. Born in Barbados, Dalton is 44 or 45 years of age. One of his former charges at Winsford was current Alty centre-back, Gary Talbot, whilst Vernum Rowland was with him at Flixton earlier this season.
UNIBOND CUP RESULTS
Belper T. 1 Matlock T. 4
Burscough 1 Colwyn Bay 3
Chorley 1 Bamber B. 0
Hucknall T. 0 Gainsborough T. 3
Lincoln U. 1 N. Ferriby U. 2
Rossendale U. 2 Droylsden 1
Stocksbridge P.S. 2 Frickley A. 0
Witton A. 3 Marine 5 (a.e.t.)
Workington 6 Kendal T. 0
LEGEND
Defender Eric Westwood's profile is the 25th "Alty Legend" to be added to this site, here, courtesy of Terry Rowley and Bill Coop.
UNIBOND NEWS
Barrow have signed striker Brian Dawson from Bootle. Dawson had a previous spell at Barrow, as well as playing for Netherfield Kendal and Workington. Gateshead are to report Blyth Spartans to the FA over an alleged illegal approach for striker Steve Preen but Blyth boss John Charlton said: "I am astounded to hear we are being reported to the F.A.". Meanwhile, new Gateshead manager Derek Bell is having talks with Preen about his future at the club. Runcorn have released ex-Southport defender John Ryder (21) to Trafford and another defender, Mike Edwards, who only joined them this season, has also been allowed to leave. Stalybridge have lent out Matthew Edgington to Colne to get fit after injury.
SAD STAND
Stand Athletic have withdrawn from the NW Counties League Divison 2, which they won last season but from which they were denied promotion due to ground grading problems. Their website says: "The Club has for some time been run by a very few dedicated people. Despite considerable effort to recruit more colleagues and sponsors, the burden - emotionally and financially - has proven too much for them to bear. Stand Athletic juniors will continue to play in their respective leagues and we have every hope that they will continue to enjoy success. The senior side will, it is hoped, return at some point in the not too distant future". Altrincham last played Stand in a pre-season game in 2001.
---
22 October 2002
SHATTERED
The MEN reports Graham Heathcote as saying "The lads came off shattered, I couldn't have asked any more of them" after the win over Whitby on Saturday.
CSC DRAW
Crewe Alexandra, who knocked Alty out of the Cheshire Senior Cup this season, now host Vauxhall Motors following the 2nd Round draw. In the FA Vase, local sides Flixton and Abbey Hey have drawn home ties against St Helens Town and Hall Road Rangers respectively.
OLD BOYS
One-time Robin, Mossley's manager Ally Pickering, has sacked Matty Taylor, the ex-Hyde defender, for being a "disruptive influence both on and off the field". He will be replaced at right-back by another ex-Robin, Robert Trees who has been playing out of position to accommodate Taylor.
LEGENDS
A profile of Paul Showler has become the 24th Alty Legend, by Terry Rowley and Bill Coop, to be added to the site; here.
RED CARDS
Although FIFA have ruled that all players who receive a red card should be immediately suspended, an FA spokesman has confirmed that, for the rest of this season, in England there will still be a 14 day delay before suspensions start. Alty have picked up four red cards so far this season; for details of the Robins' bookings this season, see the Line-Up pages. Alty have yet to complete a league game this season without at least one booking!
---
21 October 2002
AJET LANDS AT VAUXHALL
After leaving Altrincham less than a fortnight ago, Adewale Ajetunmobi was reported to have joined Witton. However, he has now joined Vauxhall Motors.
ALTRINCHAM 2 WHITBY TOWN 1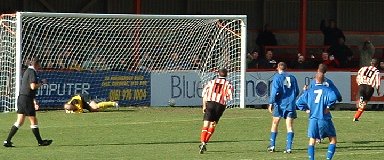 Above: Rod Thornley (no.10) scores the opening goal from the spot.
Match report here. The table is here. There is a very fair report on the Whitby site too.
CHAIRMAN SUMS IT UP
The following is extracted from an article by Alty Chairman Geoff Goodwin (seen left) in Saturday's Robins' Review. He started by thanking former manager Bernard Taylor: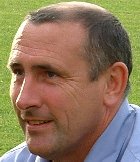 "Mr Bernard Taylor, I thank you for all the years and your loyal services to Alty Football Club and, in the short time I have known you, you have become a friend...it was probably the lowest I have ever felt when the board voted to ask Bernard to leave and, as Chairman, I was the one who had to talk to Bernard and, I must say in his favour, he was ready to leave and let someone else take on the task of building a team on a low, but manageable, budget. Let's not forget Bernard was doing his best to finance the team above the budget in the hope of success. I used to tell him not to put his own hard earned money in but, Bernard is Bernard! ...We have parted with Bernard on good terms...THANK YOU to Bernard Taylor good luck for the future. Also, thank you to Vic Green who has given good service to the Football Club along with Sid (Burton) and thank you to Andy May for his short time with us...
Let's not look back, let's look forward...it's fair to say that without Graham Heathcote there would be no Altrincham Football Club today. Graham found 3 people to help keep the club alive as there wasn't a queue for the Directors' job. The worry is that as we begin to get straight the ex-Directors are threatening to "take us to the cleaners" and people who know me know that I will have no hesitation in naming and shaming anyone who tries to put the club in debt thus resulting in the closure of the club. What other business could you put money into, make it financially in a mess because you cannot add 2 + 2, then walk away, let someone else take over and pick up the pieces [and] try to turn the club around and clear the debt they created and then [they] have the balls to ask for [their] money back once it has been turned around, knowing that it will then hurt the club, [they] are supposed to love!
Let's build the club from the bottom i.e. start again. You can't build a house with shaky foundations. We need a good youth policy which, as Chairman, I will see to when we get the finance sorted out... I thank every Altrincham Fan and ask for your loyalty, support and understanding. We said that we will always be truthful with you and we will. I will tell you as it is. I have always noticed that there are a lot of unsung heroes at our club who work for nothing. To them I say a big THANK YOU. Thank you to SAFE, who again work for nothing. A few times I have wondered why I do the Chairman's job the truth is I DON'T KNOW, but what I do know is this, I want to help the club keep going. We all need to pull together and get behind the manager, team and board.
Thank you,
Geoff Goodwin."
TRANSFERS
David Campbell (Gateshead to Whitby) made his debut v Alty.
Paul Burns (Accrington to Burscough) - made his debut v Alty last week.
Chris Hill (Harrogate T. to Guiseley) - made his debut v Alty last week. Bought for a four-figure fee.
Adewale Ajetunmobi (Altrincham to Witton A.)
Craig Coates (Easington Colliery to Gateshead)
Nathan Hollingsworth (Hucknall T. to Eastwood T. om loan)
Sean Hope (Whitby T. to Bishop Auckland)
Paul Howarth (Rossendale Utd to Accrington S.)
Andy Wright (Scarborough to Droylsden)
Ian Arnold (Morecambe to Barrow)
Darren Fell (Harrogate to Goole)
Curtis Bernard (Harrogate to Frickley)
David Linigan (to Hyde Utd)
---
20 October 2002
HILL AT HYDE
Hyde United have confirmed that ex-Manchester United winger and former Chester boss, Gordon Hill, is the new full-time manager of the Tigers.
GRAHAM AND BERNARD SPEAK TO 'PINK'
In today's Pink, reporter Tony Glennon states that "Robins' supporters are split over the Board's decision, backed by the club's major shareholders, to axe boss Bernard Taylor...Alty stalwart Heathcote is adamant that, despite being one of the club's five biggest shareholders, he wasn't among those consulted by directors before they announced they were terminating Taylor's contract. Said Heathcote...'At the end of the day the public don't know what I've done in the dressing-room over these past four years, but the players do and they showed that with their re- sponse at Burscough. Whether or not the fans want to believe it, the truth is I played no part in the decision over Bernard, and only when it had been made did I make the Board aware I'd be available to take over. I'd made it clear from the end of last season that I didn't want to be a number two any longer and I'd have even gone elsewhere had the right offer come along. But no-one loves Altrincham more than me and, having twice turned down offers to be manager here, I count myself extremely fortunate that it's here I'll now get the chance to hopefully prove what I've already proved to myself- that I'm capable of making the step up to management'. The article goes on, "Heathcote says: 'I've neither appointed nor signed anyone yet. I've merely brought a couple of players back [i.e. Adams, Rowland]. If my appointment was a fait accompli...then I'd already have a backroom staff in place. But that isn't the case and my respect for this club will lead me to spend a week to ten days deciding the right people to bring in to take Altrincham forward. As for finances, the same restraints are still in place. I'd love to be working with the sort of money we've had here in the past, but people seem to be forgetting we're £650,000 in debt, so that isn't going to happen. I'm going to be very limited in terms of bringing in staff and players and, indeed, some are going to have to go. But we nevertheless have a budget which should see us in the top-10 of this league, although our aim for this season will simply be to get away from the position we were in before the Burscough game'."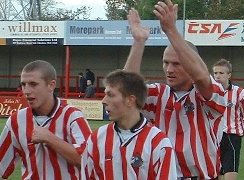 Right: Ian Craney, Andy Tunnicliffe, Gary Talbot and Stephen Rose leave the pitch yesterday.
"Meanwhile, Taylor, who has gone along with his coach, Andy May, and no. 3, Vic Green, says 'I can only say good things about Altrincham. I've had some great times there, made some great friends, and all I'm taking from the club are some wonderful memories. I've been touched by all the kind letters I've received this week from fans. If I'd known I was going to get all these, I'd have left ages ago! I've no complaints and all I can say after Tuesday's victory is keep winning Alty...I'd like to thank all those who have helped me, especially those who have been putting their hands in their pockets to boost my wage-bill. You can't ask for greater support than that'. Taylor...now plans to cut his Robins' ties completely by handing over his shares to the supporters' group, SAFE. He added: 'My heart will always be with Altrincham, in particular with the fans at the Golf Road end. But I've gone for good this time. I'll get myself a job, maybe not in football. Whether I'll ever return to the game, it's too early to say'."
OLD BOYS
Yesterday, Danny Adams played to his "normal high standards" foor Macclesfield according to the Pink and also in the League, Kevin Ellison was a sub for Stockport. In UniBond One, Leroy Chambers scored a penalty for Belper and Adam Lillis played against him for Witton. Dale Newbrook kept goal for Trafford. In the FA Vase, there were two goals for Nathan Comley-Excell for Flixton as they won at Warrington. Elsewhere Mark Quayle again scored for Nuneaton in the Conference, whilst Ged Kielty and Stuart Coburn played for Leigh RMI - Stuart was cautioned. Other ex-Robins in action yesterday included Mark Sertori (Accrington), Steve Hawes (Worksop), Chris Timons (Gainsborough), Dave Swanick (Hyde), Derek Ward (sub for Vauxhall), Neill Hardy (Radcliffe Borough), Robert Trees (Mossley), Phil Bolland (sent off for Chester), Matt McNeil (Runcorn) and Stuart Terry (scored for Connah's Quay). Gainsborough's two ex-Alty men Colin Alcide and Lee Ellington both scored for Gainsborough who drew 4-4 at Burscough yesterday
---
19 October 2002
OPEN MEETING
For a summary of last night's Open Meeting at Moss Lane, see the news below dated 18 October.
RESULTS
Accrington Stanley 1 Worksop T.1
ALTRINCHAM 2 Whitby T. 1
Burscough 4 Gainsborough T. 4
Colwyn Bay 1 Blyth Spartans 2
Harrogate Town 1 Lancaster C. 3
Hucknall Town 2 Ashton United 3
Marine 4 Hyde U. 1
Runcorn FC Halton 0 Frickley A. 1
Stalybridge Celtic 4 Gateshead 4
Vauxhall Motors 1 Barrow 1
Wakefield & Emley 2 Bradford P.A. 0
---