Altrincham Football Club News Archive
19 to 30 November, 2002
---
30 November 2002
TROPHY RESULTS
The following are the FAT ties involving UniBond Premier clubs today:
Barrow 4 Whitby T 2
Bradford P.A. 0 ALTRINCHAM 1
Droylsden 1 Colwyn Bay 2
Grantham T. 0 Gainsborough T. 1
Harrogate Town 2 Burscough 2
Lancaster C. 6 Stamford 1
Leek T. 3 Hyde U. 1
Moor Green 2 Blyth Spartans 3
Runcorn FC Halton 0 Rugby U. 3
Stalybridge C. 2 Rothwell T. 0
Tamworth 4 Accrington Stanley 1
Vauxhall Motors 4 Frickley A. 2
Wakefield & Emley 5 Spalding U. 0
Worksop T. 4 Solihull B. 2
SATURDAY LEAGUE GAMES
Alty dropped a place in the table as Marine, whom we play on Monday, won today.
Ashton United 2 Marine 3
Gateshead 1 Hucknall T. 5
SITE USAGE
This site's home page has now had more than 100,000 "hits" during the calendar year 2002 to date. I should like to thank all those who have helped towards this total, either through contributing material to the site or simply by visiting it. The patterns of usage show that Mondays are the peak viewing days (when people go back to work!), followed by Wednesdays (after Tuesday night games). The busiest day ever was 16 October 2002, following Bernard Taylor's dismissal as manager. At present, there are typically just over 300 "hits" every day.
PHOTOS
Alan Johnson has a number of excellent photos of last night's successful Bring & Buy event at Moss Lane on his site. Don't forget you can also buy copies of Alan's 2003 Alty photo calendar from the Robins' Shop or by post; details here.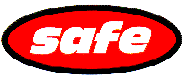 SAFE MAKES DONATION
SAFE, the Altrincham supporters' association, yesterday donated £3,500 to the club, taking the total donated since 1995 to almost £60,000. With no home game until Boxing Day, the Club is particularly pleased to receive this income at the present time. Thanks are due to everyone who worked or contributed towards this total.
TROPHY PRIZE
If Alty can win today's Trophy game at Bradford they will earn £1,000 in prize money. Prizes thereafter are 3rd Rd: £1100, 4th Rd: £1500, 5th Rd: £2500, 6th Rd: £3000, SF: £6000 and the Final winners earn £12000.
BARRY RELEASED
Accrington report that former Alty left-back Barry Shuttleworth has been released. As at Alty last season, injuries limited Barry's availability for Stanley. Further departures are expected from the Crown Ground.
UNIBOND NEWS
According to the NLP, Hyde United boss Gordon Hill has confirmed that "he is chasing Altrincham schemer Andy MacDonald". The informative UniBond site reveals that Hucknall Town have signed Trinidad & Tobago international Clint Marcelle from Harrogate Town - for whom he played against Alty earlier this season. Marcelle (34) played 20 games in the Premiership for Barnsley in 1997/98, after a career in Portugal. He will not be allowed to play for Hucknall against Harrogate next week.
MONDAY'S GAME
Marine, whom we meet on Monday, will be without long-serving captain Jon Gautrey who is "taking a break from the game due to work commitments and on-going injuries. Jon is to retire from the game at the end of this season, but has said that he could be available and come back refreshed for the last few months". He has played 687(+58) games and scored 100 goals in 17 years with the club.
---
29 November 2002
ARRIVAL FROM CREWE
James Robinson, a 20 year-old striker/midfielder from Crewe Alexandra, is expected to be in the Alty squad on Monday. Born in Whiston, he is ineligible for tomorrow's match in the Trophy. James, who arrives on loan, has the no.24 squad number at Gresty Road.
EVENTS AT MOSS LANE
Tonight there was a successful Bring & Buy/ Coffee Evening, attended by about 100 people in the Sponsors' Lounge at Moss Lane. First-team manager Graham Heathcote ran the raffle draw, whilst Youth team manager George Heslop organised the bingo. Proceeds will go to the Club.
McGregor Nightwear Samples are holding a sale at Moss Lane every day from 2nd to 8th December from 10am to 4pm.
TRUST
The STAR working party is continuing to work hard behind the scenes on the necessary framework for setting up a supporters' trust at Moss Lane. As indicated at the recent public meeting, there is to be a further meeting in the New Year period. Further details of this will appear nearer the date. Details of the STAR Trust are here, where a press release and background information can also be found.
---
28 November 2002
MARINE TIMES
The SAFE Supporters' coach will run as usual to Marine on Monday night (2nd Dec.), when we are due to play a league match against Marine (7-45pm k.o.). Details are here. This match could be re-arranged if Saturday's Trophy match is a draw at Bradford.
ALTY INJURIES
SAM quotes Graham Heathcote as saying, "We had eight lads who did not train on Thursday. Also we had four fitness test when the lads came in early on Saturday". Gary Talbot, Danny Murphy and Neil Ryan all missed Alty's last game whilst Mark Maddox played despite injury and Jason Gallagher could not complete the match. "Several [players] will be subject to fitness tests before Saturday's Trophy match", adds SAM.
UNIBOND NEWS
Harrogate Town have signed Leonard Curtis (29) from Kettering Town. He was formerly at Leeds United, Boston United and Shamrock Rovers. Richard Landon's goal for Radcliffe on Tuesday was his third in three games. Hucknall Today says that Hucknall Town have "made a sensational record transfer offer of £15,000 to underline their determination to climb the Unibond League, Premier Division table...for an un-named striker currently with a club in the Nationwide Conference. The player won't be coming to Watnall Road because, although the clubs agreed the fee, he rejected personal terms. But it demonstrates the efforts Town are prepared to make to improve their lot, plus the faith they are prepared to place in manager Phil Starbuck. Two other, smaller, financial offers have been lodged for another striker and a midfield player, also with Conference sides". Town also hope to re-sign defender Lee Soar from Gedling Town. Blyth are marketing Christmas cards by Viz magazine artist Graham Dury; they are available both at the ground and in two retail outlets in the town and nearby. Chris Perkins has moved from Lancaster City to Rossendale United.
---
27 November 2002
HARDY SENDS US TO BAY
A 119th minute extra-time goal by an ex-Robin, Neill Hardy, for Radcliffe last night means that Altrincham now play away at Colwyn Bay in the President's Cup on 11 December (date to be confirmed). Dickie Landon also scored for Boro' and Marc Limbert netted for Bay as Radcliffe won 3-2 last night in front of 85 spectators. Radcliffe proceed to the Challenge Cup 3rd Round.

The revised draws are as follows. All matches are in the w/c 9 December.:
UNIBOND LEAGUE CHALLENGE CUP 3rd ROUND
Alfreton T v Eastwood T.
Bradford Park Avenue v Ossett Town
Gateshead v Harrogate Town
Marine v Hyde United
Radcliffe B v Barrow
Rossendale United v Lancaster City
Vauxhall Motors v Runcorn FC Halton/Chorley
Worksop T v Gainsborough Trinity
UNIBOND PRESIDENT'S CUP
Ashton U. v Accrington S.
Colwyn Bay v ALTRINCHAM
N. Ferriby U. v Matlock T.
Runcorn FC Halton/Chorley v Leek T.
Spennymoor U. v Bishop Auckland
Stalybridge C. v Workington
Stocksbridge PS. v Kidsgrove A.
Wakefield & Emley v Farsley C.
UNIBOND CHAIRMAN'S CUP
Bamber B. v Burscough
Guiseley v Droylsden
Belper T. v Lincoln U.
Witton Albion v Trafford
Frickley Athletic v Whitby T.
Byes: Blyth S., Hucknall T., Kendal T.
THROUGH THE YEARS
Alty play at Bradford in the FA Trophy on Saturday 30 November. You can see the Through the Years page for Howard Watts's data of previous Alty games on 30 November; don't be put off by the fact that it is the anniversary of Alty's biggest ever defeat, in 1929, when we lost 13-2 at Chester, and on that day in 1996, we lost 7-1 at Woking! Alty's full Trophy record is here.
OLD BOYS
Two of the leading scorers in the NW Counties League this season are ex-Alty men. Nathan Comley-Excell of Flixton has 10 goals, whilst Wesley Wilkinson, a member of the youth team last season, has scored 9 for Nantwich Town, who are managed by Nigel Gleghorn, himself formerly at Alty in 1998.
---
26 November 2002
VAUXHALL BEAT QPR!
Tuesday 25th
FA Cup 1st Rd Replays
QPR 1 Vauxhall Motors 1, a.e.t. Vauxhall won 4-3 on pens and now get £100.000 from Sky for their televised match against Macclesfield in the 2nd Round.
Runcorn FC Halton 1 Bristol Rovers 3 a.e.t.

UniBond League
Burscough 2 Barrow 0

UniBond Challenge Cup 2nd Rd.
Eastwood T. 3 Kidsgrove A. 2
Matlock T. 2 Worksop T. 3
Radcliffe B. 3 Colwyn Bay 2 a.e.t.
Stocksbridge PS 1 Alfreton T. 4
FIXTURE CHANGE
On 18 January Alty will now play Runcorn FC Halton at Moss Lane instead of Hucknall Town. The Runcorn match has been moved from 3 May. The Hucknall game is, as yet, not re-arranged.
STAR NEWS RELEASE
A "News Release" has been issued by the STAR Working Group. This here.
GATES
Courtesy of Terry Rowley, the UniBond attendance grid has been updated. Every ground which Alty has visited in the league has seen an above average gate for the host club this season.
FA TROPHY ROUND 2
Our FAT opponents on Saturday, 30 November are Bradford P.A., whose site said after their side's home defeat by Whitby on Saturday, "Much more urgency will be needed if Avenue are to maintain the challenge at the top of the table, and make progress in the FA Trophy at the expense of Altrincham next week".
JOHN HUGHES
Terry Rowley's profile of 1970s' striker John Hughes has been added to the Alty Legends section.
---
25 November 2002
STAR - SUPPORT THE ALTRINCHAM ROBINS
An open meeting attended by more than fifty people, held at Moss Lane on Saturday (23rd), approved the draft objectives of a Football Supporters' Trust for followers of Altrincham F.C..

For a report on this, see the STAR page of this site.
ALTRINCHAM 1 FRICKLEY ATHLETIC 0

Ian Craney attempts to thread his way through the Frickley defence, with Rod Thornley (no.10) and Jason Gallagher looking on as Frickley skipper Mark Hancock moves in for a tackle.
Match report here.

MATTY TAYLOR
Mossleyweb states that former Hyde defender Matty Taylor, linked in this week's press with a move to Altrincham, has moved to Atherton Collieries.
---
24 November 2002
OLD BOYS
Mike Turner, who left Alty this season, scored again for Flixton yesterday, whilst Gareth Strange netted for Atherton LR and Dickie Landon was on the mark for Radcliffe. Trafford have three ex-Alty keepers and it was Ryan McMahon's turn to be first choice yesterday. In the Conference, Stuart Coburn and Ged Kielty figured in Leigh's win and Mark Quayle scored again for Nuneaton to become second top scorer in that league. Steve Porter and Adam Farley, with James Glendenning, all figured for Droylsden. Chris Timons and Steve Hawes scored for Gainsborough and Worksop respectively. The Pink reports Dave Moss, manager as Macclesfield, as saying Danny Adams is now a "fully-fledged midfield player..all that is missing are some goals".
SWAP DEAL?
The Pink claims that yesterday's Altrincham Man of the Match, Andy McDonald, is being lined up to move to Hyde. The paper says: Hyde's defender Matty Taylor "will almost certainly be on his way to Altrincham if ...Andy McDonald agrees to join the Hyde in exchange". It also reports that Altrincham are "poised to draft in a striker on loan from a Nationwide League club".
CUP DATES
Travel details for the FA Trophy tie at Bradford P.A. on Saturday 30 November can be found by using the Away Travel link, above. The UniBond Chairman's Cup tie away at either Radcliffe or Colwyn Bay will be on Tuesday 10th December.
HYDE DRAW
Hyde drew 3-3 with Accrington Stanley at Ewen Fields today. Kevin Hulme scored Hyde's second but Stanley got a draw with a last-minute penalty.
BAND FINED
Peter Band has been fined by the Club for his after-the-whistle dismissal against Hyde on Monday night.
---
---
23 November 2002
BURSCOUGH LIST 9 FIRST-TEAMERS
Burscough, who started the season so well, have surprisingly transfer-listed 9 contracted first-team players following a recent slump in form. They are defenders Carl Macauley, captain Ryan Bowen, midfielder Marvin Molyneux, strikers John Norman, Gary Martindale, Lee Furlong, John Lawless and Peter Wright, as well as goalkeeper Matty Taylor. Six of them played against Alty recently.
A STAR IS BORN
An open meeting after today's game at Moss Lane took a number of key steps towards setting up a Supporters' Trust at Altrincham. The name for the Trust, chosen by an almost unanimous show of hands, is STAR, an acronym for Support The Altrincham Robins. More on this tomorrow.
ALTRINCHAM 1 FRICKLEY ATHLETIC 0
Today's Alty line-up is here; click on the Statistics and League Table links above for other updates. Match report to follow.
Other scores:
Blyth S. 1 Stalybridge C. 4
Bradford P.A. 2 Whitby T. 3
Droylsden 1 Wakefield & Emley 0
Gainsborough T. 2 Colwyn Bay 1
Gateshead 2 Barrow 2
Harrogate T. 2 Worksop T. 2
Hucknall T. 3 Runcorn FC Halton 3
Lancaster C. 1 Ashton U. 3
Marine 1 Vauxhall M. 2

Click the Through the Years link above for a record of previous Alty games on 23 November.
---
22 November 2002
ALTY AWAY DRAW
In the UniBond President's Cup, Altrincham will be away to either Radcliffe Borough or Colwyn Bay, who meet at Radcliffe on 26 November.
GRAHAM BACKS TEAM
Despite the indifferent results in recent games, Graham Heathcote has told the MEN that, as regards an improvement in form, he has "every confidence the lads can do it for me. Except for a couple of lacklustre halves, they've put in some good performances since I took over". Rod Thornley is back from England duties to play tomorrow but the injury list is still long. After the game tomorrow against Frickley, Alty will have played half of this season's league fixtures.
ALTY BOUND?
Hyde United report that "After making himself unavailable for 4 out of the last 5 away games, including Monday's game at Altrincham, Matty Taylor has been released by Gordon Hill and is likely to join Altrincham". Taylor, a full-back, was also recently at Mossley where their manager and one-time Alty player, Ally Pickering, sacked him last month for allegedly being a "disruptive influence both on and off the field".
SUPPORTERS' TRUST
Don't forget the Supporters' Trust open meeting in the Sponsors' Lounge at 5pm after tomorrow's match.
STUART TERRY
Terry Rowley and Bill Coop's profile of winger Stuart Terry is now on this site.
UNIBOND NEWS
Gainsborough have signed two 19 year-olds - Ben Scott, a goalkeeper, and striker Daniel Sloane, from Sheffield United. Another Blades player, midfielder Tyrone Thompson, may also join on loan. Gateshead keeper Adam Dowell, who only joined the club from Whitby this month, has already left so ex-Durham keeper Marc Riches is now the first choice. Former Newcastle United reserve, David Turner, has joined Gateshead to replace the departed Neil Radigan.
NOT BERNARD
Contrary to rumours in the Pink linking ex-Alty boss Bernard Taylor and Phil Power with the Kidsgrove managerial vacancy, the UniBond First club have appointed Telford United's Dean Spink as player/assistant-manager where he will work with former Chester City colleague Andy Porter.
UNITED RESERVES
Man. Utd Reserves beat Aston Villa Res. 6-2 at Moss Lane last night.
---
21 November 2002
FOOTBALLER TO LIGHT UP ALTRINCHAM
Altrincham town centre (above) will have its Christmas illuminations switched on by Diego Forlán of Manchester United at 4.30pm on Saturday (23rd). Forlán is no stranger to the town; he made his United debut at Moss Lane playing for their Reserves and also scored his first home goal from open play at Altrincham's ground in a later game.
SUPPORTERS' TRUST
Interviewed by SAM, Jon Stack, a member of the Altrincham Supporters' Trust working party said of this Saturday's open meeting about the Trust, "There are a number of items on the agenda and the working party is keen that as many people as possible step forward to offer whatever help they can in order to get the Trust up and running". The paper cites the three main aims of the Supporters' Trust as (1) to raise the club's profile within the local community, (2) to raise funds for the club and (3) to obtain a stake in the club, enabling the Trust to work more closely with the board of directors. "No firm or final decisions have yet been made about the Trust and the working party is determined to ensure that anyone with a contribution to make has the opportunity to do so", said Jon.

Saturday's meeting is open to all and takes place in the Sponsors' Lounge at Moss Lane at 5pm, after the game against Frickley.
RESULTS
UniBond Challenge Cup
Bradford PA 2 Spennymoor U. 2. BPA won 5-4 on pens.
Runcorn FC Halton P Chorley P
Wakefield & Emley 1 Gateshead 3

So, the losers (Spennymoor and Wakefield) now enter the President's Cup, in which Altrincham will also compete.
UNIBOND NEWS
Bradford Park Avenue manager Trevor Storton has signed Gary Reece (20), a full back who started his career at Barnsley. He also played for Frickley Athletic last season, and has been playing for Belper Town this year. Gainsborough are in talks with an as yet un-named goalkeeper and striker, both currently at Sheffield United. They hope to complete the signings before Saturday. Chris Noye (18) played in goal for Trinity on Tuesday night after first-team 'keeper Barry Richardson suddenly left the club. Former Durham City goalkeeper Marc Riches has been signed by Gateshead, as has Newcastle Blue Star midfielder Lewis Tait, the son of Darlington's acting manager Mick Tait.
DAVE ESDAILLE
Former Alty player Dave Esdaille, who suffered a bad leg fracture earlier this season whilst playing in the FA Vase for Flixton, is to have a game for his benefit between Flixton and Trafford at Valley Road, Flixton on Monday 16th December.
---
20 November 2002
ALTY DROP
Altrincham dropped a place to 18th last night when Hucknall won.

Hucknall T. 1 Frickley A. 0
Table.

Results below are from UniBond Cup games:
Ashton U. 1 Vauxhall M. 2
Barrow 3 Accrington S. 2
Harrogate T. 4 Bishop Auckland 0
Lancaster C. 2 Leek T. 0
N. Ferriby U. 2 Gainsborough T. 3
Ossett T. 3 Farsley C. 0
Workington 2 Rossendale U. 4
CSC
Stockport County have been reinstated in the Cheshire Senior Cup after losing 3-1 to Chester City, who fielded an ineligible player in the quarter-final. Chester have been fined £30 (thirty!) for the offence. County now play Northwich Vics. In the other semi-final, our conquerors Crewe are at home to Tranmere Rovers, who beat Woodley Sports 7-1.
TRANSFERS
Christopher Noye (Retford T. to Gainsborough T.)
Ross Marchant (Whitby T. to Harrogate T.)
Neil Murphy (Altrincham to Marine)
Chris Newton (Farsley C. to Frickley A.)
UNIBOND CUP
The UniBond League Cup draws will be made on Friday evening, possibly on GMR. Alty will be in the President's Cup draw.
JUST OUR LUCK
Gainsborough goalie Barry Richardson missed the game before his team played Alty (against Stalybridge) because he was late returning from Spain. He then played twice for Trinity as his team gained four points from Altrincham. Now he has left the club without a keeper after being fined half a week's wages for missing the Stalybridge game. Manager Phil Stant said, "I don't think anybody should be exempt from being fined especially after fining myself 3 times this season!" According to player-manager Stant, who himself had to keep goal at Stalybridge, the keeper has now become Youth coach at Doncaster Rovers. However, Richardson told the Lincolnshire Echo, "I have been offered a job as a labourer which pays better."
GATES
The League Attendance grid has now been updated, thanks to Terry Rowley.
UNIBOND NEWS
If Vauxhall Motors beat QPR in their FA Cup replay, their away game at Macclesfield on 7 December will be screened live on Sky TV and they will receive £100,000 from the FA. Gateshead have released Neil Radigan, who only joined this season; Billingham Synthonia may be his destination.
---
19 November 2002
TRUST ON GMR
A spokesperson for the Altrincham FC Supporters' Trust working group will be interviewed live on GMR from Moss Lane, tomorrow morning (Wednesday) between 8.15 and 9.15am.
JOIN THE GOAL RUSH
The Goal Rush is the new Club fundraising scheme. Just use the form below to send in your entry to the Club at the address at the top of this page- all proceeds go to the Club. It costs just £5 a month.
HARGREAVES RELEASED
Ex-Alty striker Anthony Hargreaves has released by Hyde United at his own request. He did not figure in last night's game against Alty (see below).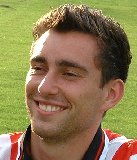 MURPHY AT MARINE
Ex-Blackpool right-back, Neil Murphy, who was released by Alty earlier this season, made his debut for Marine last night. We play at Marine on 2 December so we should soon come up against him.
ALTY LOSE AND TWO SENT OFF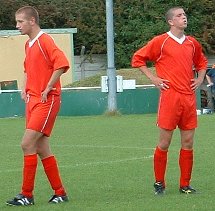 ALTRINCHAM 1 HYDE UNITED 2 - Match report here
Alty included four Youth players in their squad last night. In the picture two of them, Francis Evans, (left), and Jon McEvoy, (right), are seen playing for Altrincham F.A. in September. As losers, Altrincham now go into the President's Cup. The Altrincham line-up, minus Thornley, Rowland, Ryan, Talbot and Maddox and including the less than fit Murphy and Gallagher, is here and the updated statistics are here.
Above, from Alan Johnson's photo site, where more pictures are to be seen, is Richard Acton being dismissed.
UNIBOND TRANSFERS
Gareth Holmes (Nuneaton B. to Hucknall T.)
John Gillies (Marine to Rossendale U.)
David Cameron (Chester C. to Droylsden on loan)
Richard Mercer (Preston NE to Lancaster C.)
David Henderson (Scarborough to Whitby T. on loan)
David Nolan (Kidsgrove A. to Marine)
NOW OUT
The Non-League Club Directory, all 1088 pages of it, has now been published at £19.99. The Altrincham FC entry is a curious mixture of the up-to-date and the out-of-date. Nevertheless, it remains a mine of useful information. In late 2003 the publishers aim to produce a 25-year history of the Northern Premier League.
---
FOR EARLIER NEWS, CLICK HERE
---