Altrincham Football Club News Archive
28 December 2002 to 4 January 2003
---
4 January 2003
RESULTS
ALTRINCHAM 3 Lancaster C 0.
Ashton U. v Harrogate T. POSTPONED
Barrow 1 Marine 0
Bradford PA v Vauxhall M. POSTPONED
Burscough v Accrington S. POSTPONED
Frickley A. v Stalybridge C. POSTPONED
Gainsborough T. 1 Droylsden 4
Hucknall T. v Blyth S. POSTPONED
Hyde U. 0 Colwyn Bay 2
STAR MEETING
About 35 Alty supporters attended a public meeting after today's game to advance the foundation of STAR, the proposed supporters' trust at Altrincham. Further details to follow. For more on STAR, click here and see Alan Johnson's site for fuller details.
REORGANISATION
The NLP reports that several clubs have already applied to join the proposed new Conference feeder divisions. These include Dr Martens sides Halesowen Town, Hednesford Town and Havant & Waterlooville. Ryman League Premier Division club Borehamwood's chairman Danny Hunter said: "This is possibly the biggest ever shake up of non-League football". UniBond Premier club Hucknall Town's vice-chairman Glenn Lathall said: "We would be very interested. It is a case of waiting to see what is on offer" and tonight on GMR Hyde United indicated their interest. As yet Altrincham have not issued any statement on the subject.
TRANSFERS
Simon Brown (Hucknall T. to Ilkeston T.)
Ian Richards (Bradford PA to Belper T.)
Jamie Udall (Leigh RMI to Lancaster C.)
Roger Willis (Cambridge C. to Hucknall T.)
Tony Sullivan (Southport to Vauxhall Motors)
Steve Lyons (Hyde U.to Trafford)
Matty Taylor (Mossley & ex Hyde U. to Trafford)
Chris Shaw (Gainsborough T. to Hucknall T.)
John Gayner (Bury to Hyde U.)
Stephen Gunby (Bury to Hyde U. on loan)
Chris Senior (Huddersfield T. to Wakefield & Emley)
Nick Richardson (Harrogate T to Ossett T. on loan)
David Fish (ex-Stalybridge and Woodley Sports to Hyde U.)
Padi Wilson (ex-Droylsden, and after 10 days at Leigh RMI to Hyde U.)
Steve Flitcroft (Accrington to Hyde U.)
Anthony Tansley (Sheffield U. to Gainsboro' T.)
Ross Turner (Worksop T. to Alfreton T.)
UNIBOND NEWS
Whitby Town chairman Graham Manser has told supporters that Whitby have "a young team with exceptional potential, they are joint top goals scorers in the Premier Division which is a tremendous achievment by Harry Dunn and his backroom staff. Our problem is that our gates will not finance a team in the Northern Premier League, let alone a team in the top six in the premier division. This is a problem that the committee will be tackling this month... Our Junior section continues to flourish... We need the juniors progressing through the Reserves to the first team. Each week more than 100 players wear the blue shirt of Whitby Town FC... The club has £70,000 invested on the money market and it is entitled to grants of £139,500. The plans [for ground improvement] have been passed...so we are on our way".
---
3 January, 2003
FRIDAY GAMES
Gateshead v Whitby T. POSTPONED
Wakefield & Emley 1 Worksop T. 0
NEXT GAME
Lancaster City, whom we entertain on Saturday, are having a bad run at home but away from the Giant Axe they are strong opposition and are unbeaten in their last five away trips. Andy Whittaker, with 19 league goals, is the second highest scorer in the Division this season but has been troubled with injury recently. Alty's Mark Maddox will be free from suspension tomorrow as Alty attempt to win their third league game in succession, an achievement that has so far eluded them this season. Saturday's games are:
ALTRINCHAM v Lancaster C.
Ashton U. v Harrogate T.
Barrow v Marine
Bradford PA v Vauxhall M.
Burscough v Accrington S.
Frickley A. v Stalybridge C.
Gainsborough T. v Droylsden
Hucknall T. v Blyth S.
Hyde U. v Colwyn Bay
UNIBOND NEWS
Despite a 6-0 drubbing at the Bower Fold, Hyde United's new manager Steve Waywell told the NLP, "It's a massive challenge for me but Hyde United really is a sleeping giant. The whole set-up at Ewen Fields is fantastic. I know I've dropped down a league but I saw this opportunity as too good a chance to turn down at this moment. I feel as though I'm at a football club now. Unfortunately at Leigh the club lacked support and a stadium, and I'd had enough". Waywell's new assistant manager is Tony Ellis, most recently at Mossley but previously at various League clubs (Blackpool, Burnley, Bury, etc) and in the Conference with Northwich. Hyde's side against Stalybridge included ex-Alty reserve Lee Evans and, as a sub, Dave Swanick.

Accrington hope to make Andy Gouck's loan from Morecambe permanent. Stanley also now have veteran ex-Liverpool midfielder Mike Marsh back in training.
STAR MEETING
All Alty supporters are invited to the Sponsors' Lounge, Moss Lane, at 5.30pm on 4 January where there will be a public meeting to advance the foundation of STAR, the proposed supporters' trust at Altrincham. For more on STAR, click here and see Alan Johnson's site for fuller details.
---
2 January, 2003
THROUGH THE YEARS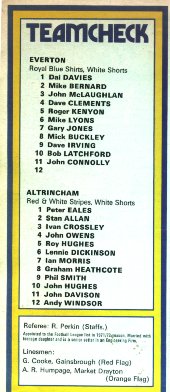 This Saturday's game against Lancaster will mark the 28th anniversary of Alty's celebrated 1-1 draw at Goodison Park against Everton in the FA Cup 3rd Round. Reproduced, right, is the teamsheet from the programme for that game. Alty lost the replay the following Tuesday at Old Trafford 0-2. Altrincham have only once previously played a Northern Premier League game on 4 January - in 1969, when they beat Goole Town 6-1. For Howard Watts's full log of Alty games on this date, click here.
PROGRAMMES
A new page has been added to this web-site, dedicated to the Altrincham FC programme. It is based on four articles written by Terry Surridge, to whom I am very grateful for permission to reproduce them. As many of you will know, Terry is still a very active worker for the club and is a great authority on the subject of football programmes. It is hoped in coming weeks to provide changing reproductions from past home and away matchday programmes. The new page is here.
KEVIN STARS
Ex-Alty winger Kevin Ellison, returned to Stockport County's side yesterday after injury and, although he was substituted after an hour, he nevertheless scooped the Man of the Match award in a 1-1 draw with Port Vale.
UNIBOND NEWS
Following their home defeat to Hyde, Tyneside press reports quote Blyth boss Paul Baker as saying that his players have "'a Sunday morning attitude to UniBond League Premier Division football'...and he warned them, 'I am bringing in some house rules some of you won't like. I have got problems with some members of the squad. The guilty players must be made to realise it is just not good enough for Blyth Spartans'". Worksop Supporters' Club are planning to lobby the local council over its perceived lack of cooperation with the ground development plans at the Club's Sandy Lane stadium. Recent UniBond transfers include:
Darren Connell (Scarborough to Barrow, loan extended)
John McGill & Neil Fisher (both Leigh RMI to Hyde U.)
Glenn Robertson (Oswestry T. to Vauxhall M.)
---
1 January, 2003
GAME OFF
After a mid-morning pitch inspection at the Butcher's Arms, today's match between Droylsden and Altrincham has been postponed due to a waterlogged pitch. Other games:
Lancaster C. 1 Barrow 5
Stalybridge C. 6 Hyde U. 0
Table here.
HAPPY NEW YEAR
The Altrincham FC Official Web Site wishes all of its users a Happy New Year in 2003.
UNIBOND NEWS
The UniBond Club of the Month for December for Goals Scored is Harrogate Town. Although Worksop Town actually scored more, no club can win the award twice. Frickley won the Best Defence award.

Matty Hogg (ex-Bamber Bridge) has replaced Andy Ralph as Vauxhall's goalkeeper after Ralph fractured his arm recently.

Transfers:
Marcus Hallows (Stalybridge C. to Lancaster C. on loan)
John McGill (Leigh RMI to Hyde U. on loan)
---
31 December 2002
NEW FIXTURES
Altrincham will now play their home games against Accrington Stanley and Hucknall Town on Saturdays 8th and 22nd March, respectively. The away match against Runcorn FC Halton will now be on Easter Monday, 21st April. All these were previously blank dates.
JOEY DUNN LEAVES TRAFFORD
Trafford FC yesterday parted company with their manager, Joey Dunn. Joey was an Alty player and, under Mark Ward, was Alty Reserves' manager. His departure came even though Trafford won their first game for several weeks on Boxing Day. The Shawe View club has appointed former Winsford United and Hyde United boss Mike McKenzie as the new manager, who will be helped by former Stockport County player Osher Williams. Andy Nelson and Andy Thorp remain as the Reserves' management duo.
2002 CALENDAR YEAR RECORD
In the calendar year 2002, Alty played 52 league games compared with just 38 in 2001 and 45 in 2000. In contrast, we played just 6 cup matches in 2002 (losing four of them) compared with 17 ties in the 2001 calendar year. Below, is the League record over the calendar years 2000 to 2002. Curiously we have amassed 63 to 66 points in each of the last three calendar years, but in 2002 this was from 14 fewer league games than we played in 2001.

| | | | | | | | | | | | | | |
| --- | --- | --- | --- | --- | --- | --- | --- | --- | --- | --- | --- | --- | --- |
| - | P | W | D | L | F | A | W | D | L | F | A | GD | PTS |
| CONFERENCE 2000 | 22 | 3 | 4 | 4 | 16 | 15 | 1 | 6 | 4 | 10 | 18 | -7 | 22 |
| UNIBOND 2000 | 23 | 7 | 2 | 2 | 24 | 11 | 5 | 3 | 4 | 22 | 16 | 19 | 41 |
| LEAGUE TOTAL 2000 | 45 | 10 | 6 | 6 | 40 | 26 | 6 | 9 | 8 | 32 | 34 | 12 | 63 |
| LEAGUE TOTAL 2001 | 38 | 13 | 3 | 4 | 37 | 21 | 5 | 6 | 7 | 26 | 28 | 14 | 63 |
| LEAGUE TOTAL 2002 | 53 | 9 | 6 | 12 | 36 | 37 | 10 | 3 | 13 | 34 | 41 | -8 | 66 |
2002 RECORDS
Longest League Runs in 2002
Without defeat: 6 (4 wins, 2 draws 2/2/02 to 2/3/02)
Without a win: 10 (4 draws, 6 defeats 2/3/02 to 6/4/02)

Rod Thornley (behind the no.6) nets his first of the season, from the spot, against Gateshead in August, 2002.
Highest Scorers in 2002
Rod Thornley - 22 (incl. 5 penalties; 18 goals in league, 4 in cup). Rod hit 32 in calendar year 2001 (19 league, 13 cup) but he played in more games in that year.
Ian Craney - 10 (all league)
Peter Band - 8 (7 league, 1 cup)
Hat Tricks in 2002

Rod Thornley (v Gateshead 26/8/02)
In 2001 Rod hit three hat-tricks. Lee Poland hit one hat-trick and also hit four against Woodley Sports in the CSC.
Clean Sheets

2002: 7 in league games and 2 in cup games.
2001: 8 in league games and 4 in cup games.
Bookings

In 2002-03 season to date we have had 39 yellow and 3 reds in 26 league games and 2 yellow and 3 red in 6 cup matches, making 41 yellow and 6 reds in 32 games. This time last year we had had 19 yellow and 2 reds in 17 league games plus 18 yellow cards in 17 cup games, making a total of 37 yellow and 2 red in 34 games. This season's red cards have gone to Ryan, Scott and Talbot in the league and to Acton, Band and Phoenix in the Cup.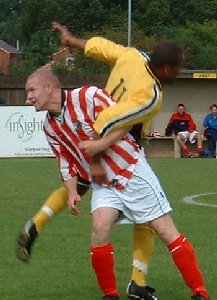 Mark Maddox (seen right at Worksop) remains Alty's most loyal servant with 212(+12) appearances for the club, to date.
Highest and lowest home League gates in 2002
897 v Stalybridge (5/10/02)
455 v Vauxhall Motors (8/10/02)
Highest and lowest home League gates in 2001

1,018 v Burton Albion (27/8/01)
438 v Hucknall Town (20/2/01)
Highest and lowest home Cup gates in 2002

625 v Crewe Alexandra, CSC Final at Northwich (19/2/02)
513 v Kendal Town (28/9/02)
206 v Hyde (18/11/02)
Highest and lowest home Cup gates in 2001

3,302 for the visit of Darlington in FA Cup 2nd Rd, 8/12/01
114 for the visit of Vauxhall Motors in the UniBond Cup, 11/12/01
Players used in 2002-03

38 players have so far started or appeared as substitutes in league and/or cup games in season 2002-03 to date; 27 had been used at this stage last season. In the whole of season 2001-02, 35 players appeared. Stephen Rose has made most appearances to date in season 2002-03, with 29(+2), then come Peter Band 28 and Ian Craney 26(+3). Rod Thornley is leading scorer with 14 including 4 penalties, followed by Peter Band with 8 and Ian Craney with 6. We have used four keepers this season (Stephens, Moore, Acton and Edginton) and had four captains (Thornley, Band, Maddox and Talbot). Nine players have returned to Moss Lane during 2002 after previous spells at the club; they are Adams, Edginton, Gardner, Hargreaves, Hulme, Rowland, Shuttleworth, Talbot and Young.
UNIBOND NEWS
The Frickley site reports that Yorkshire Electricity have found two breaks in the cable feeding their ground. These caused a floodlight failure and the abandonment of Saturday's game with Ashton.
FORM GUIDE
Stalybridge Celtic have been named as UniBond Club of the Month for December. In the current form guide over the last eight matches, Altrincham lie joint 7th in the Premier Division. Joint top of this guide are Vauxhall Motors and Harrogate with Stalybridge third. Bottom are Wakefield & Emley.
---
30 December 2002
YOUTH UPDATE
Alty Youth now have a fixture next Sunday. For details of this and for the updated Youth player statistics for this season, see the Youth Page.
STATISTICS
Saturday's gate of 447 at Llanelian Road was just three below Colwyn Bay's best of the season, which was against Accrington on an August evening. Terry Rowley's updated attendance chart for all UniBond Premier League clubs is here. Although Terry is currently in the UK, he normally supplies this information from his workplace in Algeria. Equally well-travelled is the Through the Years data on this site as Howard Watts sends this information from the United States, where he works. The information relating to New Year's Day is here. I am most grateful to both of these longstanding Altrincham supporters for their provision of these statistical tables.

This site's annual end of year statistical review will appear tomorrow. In the interim, here is some data on the season 2002-03 so far. Last season, by 31 December 2001, Alty had 34 points from 17 league games; this year we again have 34 points but from 26 league games. In 2001 we had already played 17 cup games by 31 December; this year early exits from the FA Cup, CSC and UniBond cups and a later entry into the Trophy mean that we have played only 6 cup games so far. As can be seen, 2002-03 has been a season of two halves to date in the league:
2002/03 LEAGUE AND CUP RECORD TO DATE
| | | | | | | | | | | | | | |
| --- | --- | --- | --- | --- | --- | --- | --- | --- | --- | --- | --- | --- | --- |
| 2002/03 season | P | W | D | L | F | A | W | D | L | F | A | GD | PTS |
| League Games 1-13 | 13 | 2 | 2 | 3 | 11 | 11 | 1 | 0 | 5 | 4 | 14 | -10 | 11 |
| League Games 14-26 | 13 | 3 | 2 | 2 | 8 | 6 | 4 | 0 | 2 | 10 | 7 | 5 | 23 |
| League Total | 26 | 5 | 4 | 5 | 19 | 17 | 5 | 0 | 7 | 14 | 21 | -5 | 34 |
| Cups | 6 | 1 | 0 | 1 | 2 | 2 | 1 | 0 | 3 | 5 | 7 | -2 | [6] |
| All Games Total | 32 | 6 | 4 | 6 | 21 | 19 | 6 | 0 | 10 | 19 | 28 | -7 | [40] |
OLD BOYS
Former Alty winger Ryan Hevicon apparently fell out with outgoing Hyde manager Gordon Hill but failed to mend bridges by failing to turn up for new boss Steve Waywell's first game in charge last Saturday.
---
29 December 2002
YOUTH GAME OFF
Today's youth team game has been postponed because of heavy rain.
COLWYN BAY 2 ALTRINCHAM 3
Barry Shuttleworth, who had a fine game, is seen with Graham Heathcote at Colwyn Bay yesterday.
Match report here.






HERO HEATHCOTE
Today's Pink has a headline "Heathcote's the hero" over a review of 2002. It states; "even Heathcote's biggest detractors cannot fail to have been impressed by the way he's steadied the ship" since replacing Bernard Taylor.
JORDAN BURKE
Last Saturday Alty's new signing Jordan Burke was in Flixton's team at Nantwich Town in the NW Counties Division One but he did not look at all out of place, two divisions higher yesterday playing in central midfield and, later, defence against Colwyn Bay. Jordan's previous clubs include Southport, from where he moved to Kendal Town in March 2001 and Vauxhall Motors, where he went from Flixton in August of 2002 before returning to Valley Road.

Other UniBond transfers:
Simon Collins (Belper T. to Bradford PA)
Andrew Wright (Whitby T. to Bradford PA)
Gary Reece (Bradford PA to Frickley A.)
UNIBOND NEWS
Ashton's game at Frickley was abandoned after a floodlight failure - this follows two power failures at Ashton home games this season. Gainsborough have released Adie Mike after trials.
OLD BOYS
Adam Farley retained his place and James Glendenning was recalled to Droylsden's side yesterday but Steve Porter was unfit to play. Dickie Landon scored for Radcliffe and a Neil Murphy free-kick led to Marine's winner yesterday. Both Rico Richards and Chuku Otutu scored for Flixton yesterday whilst Darren Lyons, now player/manager of East Manchester, also netted in his side's last game.
---
28 December 2002
MORE ON DAVE
Accrington S. 3 Gainsborough T. 0
Blyth S. 1 Hyde U. 3
Colwyn Bay 2 ALTRINCHAM 3
Droylsden 0 Barrow 2
Frickley A. v Ashton U. Abandoned h/t floodlight failure.
Harrogate T. 2 Burscough 1
Lancaster C. 0 Whitby T. 1
Marine 2 Hucknall T. 1
Stalybridge C. 2 Bradford PA 2
Vauxhall M. 1 Wakefield & Emley 0
Worksop T. 2 Gateshead 0
MORE ON DAVE
Alty's new signing Dave Gardner is 26 years old (d.o.b. 17/9/76 in Salford). Dave had a previous, brief spell at Altrincham but played just once in a 2-2 away draw at Welling in the Conference in October 1999. His career started as a Manchester United junior before he joined Manchester City on 1 July 1995. He was released from Maine Road in the 1996 close season and went, on Pontins' (Reserve) League forms, to Blackpool, Birmingham City, Bury and Barnsley before joining Wrexham on 27 January, 1997, where he played one game as a sub in a cup competition. Dave moved on to Morecambe for a couple of seasons, making a number of Conference appearances. He was a team-mate at Christie Park of David Swanick, who was with us last season. Since then he has played for various non-league clubs including Haslingden, Curzon Ashton, Leigh RMI (two spells) and Salford City, from whom he joined Altrincham in time for his Moss Lane debut this Boxing Day against Droylsden. Many thanks to Terry Rowley for much of the above information..
HYDE SIGN JAMES
Just before Gordon Hill was sacked (see below), Hyde United signed James Wilkinson, formerly at Altrincham. A former Macclesfield Town defender, James made just three sub appearances for Alty last season.
KETTERING TRUST BID
Kettering Town, whom we meet in the Trophy in two weeks, have received a bid for the club from their own Supporters' Trust, The club has been put up for sale by chairman Peter Mallinger. The NLP reports Trust chairman Derrick Smith as saying, " We have offered what we consider to be a substantial sum for the football club, but this, of course, is subject to certain conditions being met. "We have no ill feelings towards Peter Mallinger. In fact, the contrary is true as we appreciate everything he has done over the years for the good of the club. But we're merely following the groundswell of public opinion by making our interest known." The Trust, with a membership of over 300 recently purchased the Kettering Town Football Club Limited title which had laid dormant after Mallinger opened a new company a few seasons back. "This is just the first step," Smith continued. "We will be opening this to every fan and invite them to become involved in buying a share in their club".
GREYGOOSE OFF
Ex-Alty keeper Dean Greygoose was sent off after 20 minutes whilst playing for King's Lynn on Boxing Day and his side went on to lose 8-2 to Histon, after leading 1-0 and after Histon missed the penalty awarded for Dean's offence!
---
FOR EARLIER NEWS, CLICK HERE
---