Altrincham Football Club News Archive
5 to 14 January 2003
---
14 January 2002
TROPHY SCORES
Farsley C. 1 Gainsborough T. 1
Ilkeston T. 0 Burscough 3
Kettering T. 1 ALTRINCHAM 1
Lancaster C. 0 Morecambe 1
Leigh RMI 1 Vauxhall Motors 2
Northwich V. 3 Barrow 1
Stalybridge C. 0 Scarborough 3

PRE-MATCH NEWS: Northants Today reports that on Saturday the match at Kettering was postponed when "local referee Gary Capps called the game off after a 9.30am inspection of the bone-hard Rockingham Road pitch...The postponement meant mixed fortunes for manager Carl Shutt and his small Poppies squad battling to overcome a number of injuries. Club captain Lee Howarth, first-team skipper Craig Norman, Brad Piercewright and Gez Murphy were all struggling to shake off a variety of aches and pains. 'The delay gives them a few extra days to recover and with our limited resources, of course, that's a great help to us', said Shutt. 'However, because of the weather we've not been able to train properly either on our own ground or at an alternative venue. So we're maybe lacking a little bit of, if not match fitness, then certainly sharpness for a very important match in terms of easing our present financial problems'... Shutt, though, certainly won't want a repeat of his side's last midweek date, a 5-0 capitulation at home to Hastings in the FA Cup back in October".

The same site reports Shutt saying, "'I've been reasonably happy with our recent performances. Even in the two games we lost to Scarborough and Chester, I thought overall we did well and possibly deserved something out of both of them' ... Shutt also relishes pitting his managerial wit against visitors and long-term rivals from the North-west. Altrincham won a second-round replay 3-2 in 1988, the season before their last Rockingham Road success. 'I've had them watched and I understand they like to knock the ball about from the back and try and play attractively', he added. 'That suits us. Our effort and commitment are good and will need to be again for this game. But while we obviously respect them we're not scared of anyone. Nor should we be afraid. If we perform to our best we're capable of competing with most teams at our level and beating quite a few of them. If we don't, then Hastings are there to remind us of the danger of taking things for granted and what could happen!'"

Other FA Trophy results

Farsley C. 1 Gainsborough T. 1
Ilkeston T. 0 Burscough 3
Lancaster C. 0 Morecambe 1
Leigh RMI 1 Vauxhall Motors 2
Northwich V. 3 Barrow 1
Stalybridge C. 0 Scarborough 3
TRANSFERS
Ex-Alty keeper Ryan McMahon (whose only first team match was against Mossley in the FA Cup) has moved back to Prescot Cables from Trafford.
UNIBOND CHAIR
The new chairman of the UniBond Northern Premier League in succession to Duncan Bayley is the Wakefield & Emley Chairman, Peter Maude. Bayley continues as Secretary to the League. After his election Maude said, "I am sure that football is going to have a shakeup. The present situation can't carry on".
---
13 January 2003
ALTY DRAW "DUCKS" or "Ks"
Altrincham have drawn Aylesbury or Kingstonian at home should they manage to beat Kettering in the FA Trophy Round 3 tomorrow night. Both potential opponents are currently mid-table in the Ryman Premier. Kingstonian's keeper is our old friend Lance Key. Games are on 1 February, when we should be at Harrogate in the League.
Kettering T/ALTRINCHAM v Aylesbury Utd
Colwyn Bay v Havant & Waterlooville
Scarborough v Dover A./Gravesend
Halifax T/Doncaster R v Purfleet/Grays Ath
Windsor & Eton v Vauxhall M.
Northwich V v Canvey I.
Worksop T v Hayes/Crawley T
Hereford U./Yeovil T v Lancaster C/Morecambe
Alfreton T v Burscough
Farsley Celtic/Gainsborough Trinity v Forest Green R/Barnet
Worcester C/Newport Co v Margate
Dagenham & Redbridge v Leek T/Southport
Gloucester C. v Woking/Chesham Utd
Wakefield & Emley v Heybridge Swifts/Hendon
Tamworth v Stevenage B/Oxford C
Rugby Utd/Telford Utd v Farnborough T
TUESDAY'S ANNIVERSARY
When Alty travel to Kettering on Tuesday 14 January it will be the anniversary of two important events in Altrincham's history, as Howard Watts points out. Howard kindly provides the Through the Years data for this website, which he mails from the USA. He reminds us that on 14 January 1984 the FA Trophy defeat to Kidderminster was the last game of the long and successful Tony Sanders era. On that same date in 1986 came the even more memorable 2-1 win at Birmingham City, who were then in the First Division (now Premiership) and had David Seaman in goal. The first Alty goal, from Ronnie Ellis, is seen in the above picture. For the full list of previous games on this date, click here.
A fascinating match report from a much earlier date, Alty's first-ever pre-season trial games in 1903, is here. The report are reproduced from the Altrincham & Bowdon Guardian courtesy of Terry Rowley.
UNITED CHANGE
Moss Lane was to host the Man. Utd Reserves v Sheffield Wednesday Res. game on 16 January. This has now been switched to 6 May. United Reserves' fixtures are here.
---
12 January 2003
OLD BOYS
Carl Furlong hit a late winner for Colwyn Bay yesterday in the Trophy against Blyth Spartans. Mark Sertori was a late sub as Accrington went down 5-1 at Gateshead, after having a man sent off for fighting. The Pink credits Leroy Chambers with a goal on his Droylsden debut but most other sources attribute the goal to Wael Nazha. The whole Droylsden bench comprised ex-Alty men yesterday; Steve Porter, Stuart Locke and Leroy. Starting the game were two more; James Glendenning and Adam Farley. For this season's Manchester Senior Cup matches, Droylsden will again have their tea-ladies managing the side.
TRANSFERS
Gary Hatto has rejoined Frickley, having recently been at Wakefield & Emley. The Athletic have also signed central defender Craig Boardman from Ossett Town and formerly at Nottingham Forest, Peterborough Utd, Scarborough and Halifax. In addition, Frickley's youth team goalkeeper of last season, Andy Taylor, has signed as cover for Mark Samways. Stalybridge have released ex-Lancaster and Bradford midfielder, Dean Martin.

Also,
Luke Campbell (Wrexham to Colwyn Bay)
Andy Gouck (Morecambe to Accrington S.)
MISSING SCORES
Two gaps in Altrincham's FA Cup history have been filled by club historians Terry Rowley and Howard Watts. Exactly how Alty were knocked out in 1911-12 and 1925-26 had been unknown but now it has been confirmed that in 1911-12 Altrincham were eliminated for failing to turn up to a replay against St Helens Recs. In 1925-26 they lost 1-4 to Witton in a Preliminary Round. The full FA Cup record is now here.
---
11 January 2003
SATURDAY GAMES
Trophy 3rd Round
Chester C. 0 Worksop T. 0 Abandoned after 26 mins.
Colwyn Bay 1 Blyth S. 0
Wakefield & Emley 1 Burton Albion 0
UniBond Premier
Alty dropped to 11th in the table after Harrogate's win.
Bradford P.A. v Ashton U. OFF
Gateshead 5 Accrington S. 1
Harrogate T. 2 Hucknall T. 0
Marine v Frickley A. OFF
Runcorn FC Halton v Hyde U. OFF
Whitby T. 5 Droylsden 2
KETTERING GAME OFF
Today's F.A. Trophy match at Kettering has been postponed. It will now be played on Tuesday 14 January at 7.45pm. Please ring the Club (928-1045) to book your place on the supporters' coach, which SAFE is organising for this match. It will leave the Vine at 3.20pm, Hare and Hounds 3.30pm, Station House 3.35pm and Moss Lane at 3.40pm (details here).

In Friday's MEN, Graham Heathcote says, "I've watched Kettering and, if you were to put them in our league, I think they would be very close to winning it".
OLD BOYS
Tamworth have sold ex-Alty winger Tony Hemmings back to his former club Ilkeston Town, a year after he left them for £7,500. He previously joined Ilkeston from Altrincham.
TRANSFERS
Lee Furlong (Burscough to Marine)
Tony Black from Accrington S. to Stalybridge C.)
John Foster (ex-Alty trialist from Mossley to Trafford)

Gateshead central defender Rob Jones is signing a new contract with the club.
UNIBOND NEWS
The NLP reports that Tony Lee, an interviewee for the Alty manager's job last season, has resigned from Spennymoor United. Lee left Bishop Auckland last season and had achieved some good results at Spennymoor but he has "had a clash over club policy with Spennymoor officials and the positions of the two sides became irreconcilable".
CONFERENCE PLANS SCUPPERED
ConfGuide reports that at the Football Association Sanction and Registrations Committee's meeting in London on 7 January the Conference's "proposed amendments for season 2003/2004 were not accepted, so the change is postponed ". In a letter from the Ryman League to its members, it is stated that "However it was decided the proposals would be referred to the National League System Committee with a recommendation that the Football Conference and the National League System Committee work together in order that the best interests of the game can be upheld. It would be normal practice for the various Leagues to be invited to give their views to the Committee. Any decisions would then be referred to Council for confirmation or otherwise".
---
10 January 2003
KETTERING NEWS
From the Kettering site today:
The Poppies are appealing to any fans who may be able to help in preparing the pitch for Saturday's FA Trophy fixture with Altrincham. The pitch has been frozen all week but is softening up enough to work on and any supporters who are able to help are urged to turn up at Rockingham Road with forks anytime from now. The club is hopeful the game will go on providing the pitch can be diveted today. There will be a pitch inspection at Rockingham Road at 9.30 a.m in the morning to assess the condition of the pitch following the recent frosts. But with ground staff and helpers working round the clock on the pitch the club are hopeful the game will be on. Fans are urged to check the website or teletext from 10 a.m before travelling to the game.
CONFERENCE VIEWS
All UniBond clubs must respond to the Conference about their restructuring plans by 15 January and, if they are resigning from the UniBond, they must give non-binding notice to the Northern Premier League by 28 February. Pending any formal decision by the Club, Altrincham manager's Graham Heathcote's views on the new Conference feeder proposals can be heard by ringing the ClubCall on 09066-55902. One of the big factors is obviously finance; "Can we afford to go into it or can we afford not to go into it?" asks Graham. Frickley's site reports that "they will be applying to join a regional Conference League. The Blues' Committee decided that the club would obviously like to play at as a high level as possible but that it would currently be impossible financially for the club to survive in a national league but it should be able to compete in a regional league. No details are yet known as to what criteria clubs would have to satisfy in order to gain entry to the new league with the Conference no doubt waiting to see what response they get before deciding". Runcorn are less enthusiastic, saying "If the new structure proposed by the Conference is approved, then the Club will be in a position to confirm whether it has applied for a place in the new league/leagues". Blyth too are cautious, "The club has expressed an interest in a regional second division but are seeking further information".
OLD BOYS
Leroy Chambers's move to Droylsden apparently came after he was substituted at Chorley after Christmas and asked for a move from Belper. The Tameside Advertiser reports that the Mossley manager and former Alty midfielder, Ally Pickering, turned down the recent Hyde United managerial vacancy. "The Hyde board made no hesitation in offering the job vacated by Gordon Hill to him. This was before Steve Waywell was eventually installed". Ex-Alty centre-back Terry Bowker will return to the Stalybridge side in midfield after Earl Davis's recall from loan by Burnley. Celtic are considering signing the ex-Leigh striker Tony Black.
---
9 January 2003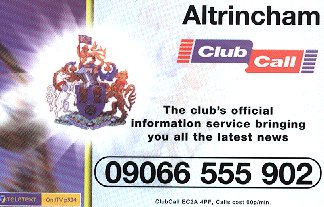 CONFERENCE CHANGES
On the Fans' Forum Alty's Clubcall correspondent Brian Flynn describes Graham Heathcote's recorded views on Conference restructuring as a "jolly good listen"! To hear them, ring the number shown (right). Proceeds from Clubcall help the Football Club.
TROPHY OPPONENTS
The Northants News reports that veteran striker and Kettering manager Carl Shutt "has admitted that his relegation-battlingside needs freshening up and the Poppies' boss will spend the next tendays looking around to replenish the smallest squad in the Conference".Shutt said, "I've been told that I can bring in a new face or two and I'll do my best to find someone with a bit of quality and experience within the budget allowed to me". He added, "We've still got some players going out there not 100 per cent... One or two could now do with a break ...Nothingwill be done transfer-wise, though, before this Saturday's FA Trophy third round clash with old rivals Altrincham at Rockingham Road as the signing deadline has gone... Club captain Lee Howarth (twisted knee) and first-team skipper Craig Norman (hip) continue to receive treatment in the hope of being fit for the Altrincham tie".
UNIBOND NEWS
All of Wednesday's UniBond Cup matches were postponed.

The Tameside Advertiser reports Droylsden boss Dave Pace as saying that "Gainsborough manager Phil Stant made a point of ringing me on Monday to say that we were the best side he'd ever seen at their ground" after the Bloods had won there 4-1. Pace continued, "I know what my players are capable of, we just need pepping up a bit and I've done that this week by signing Leroy Chambers (left) from Belper Town. Chambers, the former Altrincham striker, will step straight into the squad for Saturday's league trip to Whitby", but another ex-Alty man, Steve Porter is still doubtful after being injured against Altrincham on Boxing Day.

From the other side of Saturday's match, The Lincolnshire Echo reports that "Gainsborough Trinity manager Phil Stant fired his players a warning after the defeat to Droylsden by declaring: 'One more display like that and you're out'. The veteranstriker was furious with his side's shambolic showing as Droylsden inflicted Trinity's biggest home defeat of the season ...To make mattersworse, top scorer Lee Ellington [ex-Altrincham] could be out for a lengthy spell after suffering a suspected broken arm".

A Huddersfield press site reports that Wakefield & Emley Secretary Richard Poulain has left for the second time in 3 months. Poulain said, "After spending Christmas and New Year working away in Great Yarmouth, I returned to discover an e-mail stating that my services were no longer required".
---
DATE FOR DROYLSDEN
The rearranged away match against Droylsden, postponed on New Year's Day, is now scheduled for Monday, 31 March at 7.45pm. Amongst other re-arranged UniBond games Accrington have midwek trips to Blyth Spartans and Whitby Town to contend with and they now travel to title rivals Vauxhall on Tuesday 15 April.
KETTERING 1999
Altrincham travel to Kettering this Saturday for an FA Trophy 3rd Round game. Alty last played at Rockingham Road on Sunday 14 November, 1999 in the Conference. Since then both sides have been relegated but Kettering regained their Conference status last season, though they are now bottom of the league. The 1999 game, played before 1,170 fans, turned out to be the only 0-0 game of Alty's league season and was the start of a run of 11 unbeaten games for the Robins, of which 10 were draws! If any one of those games had been won, we would not have been relegated in May 2000.

The Alty side at Kettering that day was: Greygoose, Hodson, D. Adams, Gallagher, Ellender, Talbot, Hawes, Russell, Landon, Power, Ellison, with the bench comprising Burke, Maddox, Timons, Lovelock and Kielty. None of the Alty starters that day played last Saturday for the Robins, though Jason Gallagher was on the bench. Dean Greygoose is now at King's Lynn, Danny Adams is at Macclesfield, Paul Ellender is with Boston, Gary Talbot is back at Alty but is fighting to get fit, Steve Hawes is at Worksop, Keith Russell was last heard of at Rushall Olympic, Dickie Landon is at Radcliffe, Phil Power is no longer playing and Kevin Ellison is at Stockport County. Of the subs, Brandan Burke has retired, Mark Maddox is likely to play for Alty this Saturday, Chris Timons is at Gainsborough, Andy Lovelock is at Solihull Borough and Ged Kielty is with Leigh RMI.
STAR LOGO
Details of the STAR (ALtrincham Supporters' Trust) logo competition are to be found in the Trust section of Alan Johnson's photo website.
UNIBOND NEWS
The UniBond site reports that three Burscough players escaped serious injury on Monday after training at Edge Hill College "when their car skidded and overturned after hitting a patch of black ice in Ormskirk. The players were Mark Toohey, Steve Brown and Dylan Evans. Toohey had back and neck injuries whilst Brown and Evans had suffered cuts and lacerations but it was something of a miracle that no one had been killed under the circumstances".

Transfers:
Michael Dickinson (Carlisle U. to Gateshead loan extension)
Craig Fairbrother (Port Vale to Marine)
Michael Ellison (Oldham Athletic to Marine)
Blake Norton (Stockport County to Marine)
---
7 January 2003
UNITED MATCH OFF
Tomorrow night's match at Moss Lane between Manchester United Reserves and Middlesbrough Reserves was called off this afternoon after a referee had inspected the frost-bound pitch. The game is NOT being transferred to Old Trafford, nor back to Middlesbrough where it was originally scheduled to take place.
GARDNER LOSES GOAL
The third goal against Lancaster last Saturday has now been credited to a defender as an own goal, even though the UniBond website, the Non-LeaguePaper and this site saw it as a Dave Gardner goal. The official match forms submitted to the UniBond League describe it as an own goal. Dave Gardner also figures in last night's Evening News in a story about Ryan Giggs, where the Alty flanker is described as "Ryan's best friend".
COVERING OLD GROUND
2003 is the centenary of the renaming of Broadheath F.C. (founded 1891) as Altrincham F.C. and of the club's move from playing in Broadheath and West Timperley to the Moss Lane area of town. However, from 1903 to 1910 they played at Pollitt's Field, about 200 yards away from the current Moss Lane ground. For a map and details of the old ground and of the club's first trial games in 1903, click here.
UNIBOND NEWS
All the UniBond cup matches scheduled for Monday night, including Guiseley v Droylsden, were postponed.

The Daily Telegraph reports that "between 18 and 20" of the Unibond premier's 23 teams are "interested in joining an expanded Conference next season". If there is an exodus, UniBond League Secretary Duncan Bayley is quoted as favouring a reduction of the Northern Premier League to one division, rather than attempting to form a second NPL division from NW Counties sides. Bradford chairman Frank Thornton states that "If there is going to be a second division of the Conference we want to be part of it...It is unclear exactly how the system will work but we will endeavour to be a part of it if, it does happen." For financial reasons, Thornton would only favour a regionalised second-tier to the Conference, however.

Gatesheadexpect four players to sign contracts till the end of this season including their captain and former Newcastle United midfielder Gareth McAlindon. Also set to sign are David Colvin, a left-winger as well as youngsters Ben Cattanach and Steve Harrison.
---
6 January 2003
ALTRINCHAM 3 LANCASTER CITY 0
Match report here.

Above, StephenRose goes up for a header in a crowded Lancaster goalmouth, pictured by Alan Johnson, who has more photos on his website.
NEXT GAME
Altrincham's next game is away at Kettering Town in the FA Trophy 3rd Round on Saturday (11th). Alty's first ever visit to Kettering's Rockingham Road ground was on 6 October, 1979 in the first year of the Alliance Premier League, the forerunner to the Nationwide Conference. Alty's current manager, Graham Heathcote, scored the first of Alty's goals that day, from the penalty spot, in a 2-1 winwhich sent Alty to the top of the League, which they were to win that season. John Rogers netted the second Alty goal, whilst keeping goal for Alty that day was Alex Stepney, who had been Manchester United's goalkeeper in their first European Cup Final win. However, Altrincham'sonly two previous Trophy games played on 11 January, Through the Years, ended in defeats.
CROWDS THEN & NOW
2,867watched Alty's first game at Kettering in 1979; for the UniBond Premier League attendances this season, see here.
TRUST MEETING
For details of the Trust Meeting on Saturday, visit the Trust Page.
FORM IMPROVES
In the current form guide, compiled over the last 8 league games, Altrincham have moved up to joint fourth from the top, (with league leaders Accrington), behind Vauxhall and Harrogate (joint form leaders) and Stalybridge. In November, Altrincham finished sixth from the bottom in the UniBond Fair Play awards.
GERRY CASEY
Gerry Casey has become the 34th Alty legend to be added to this site, here, courtesy of Terry Rowley.
---
5 January 2003
LEROY JOINS DROYLSDEN!
Both the Pink and NLP report that striker Leroy Chambers is joining Droylsden from Belper Town for a "small fee". Since leaving Alty, Leroy has had spells at Frickley Athletic, Bradford PA, Hucknall Town and Belper.
FURLONG OFF AGAIN
Volatile ex-Alty striker Carl Furlong was sent off again for Colwyn Bay yesterday. With the Bay two up and with five minutes to go, at Hyde, he swore at a linesman and was shown a straight red card.
ALTRINCHAM 3 LANCASTER CITY 0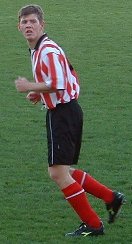 Match report here.

Alty are now 10th in the updated table. Also updated are the Alty Line-Up and Statistics pages. Pictured, right, in today's game is recent signing Jordan Burke, who had another good match in central midfield and laid on the third goal.
SIGN UP
Seats on the supporters' coach, organised by SAFE, for the Trophy game at Kettering next Saturday are filling quickly, so if you want to be included please ring the club (928-1045) to book a seat as soon as possible. Click the Away Travel link for times and fares. According to the NLP, Alty are 50-1 to win the Trophy but are fancied by punters to spring a surprise at Kettering next week.
SAFE BUCKETS
SAFE members collected £141.63 in the bucket at Saturday's match. Many thanks are due both to the collectors and the donors.
CONFERENCE
In the Pink, Alty Director Grahame Rowley says of the new plans for feeder divisions of the Conference, "We'd want to be involved with anything that's seen as progress but we need more information from the Conference and also to know where the FA stand before we'd even think of committing ourselves. There would appear to be a risk of clubs resigning from the UniBond League and then being left in limbo if the plan were to fall through". Droylsden's Dave Pace "is even more cautious" of the plans, says the Pink.
TRANSFERS
Adam Fowler (Huddersfield Town to Wakefield & Emley)
Oliver Cowie (Blyth Spartans to Bishop Auckland)
UNIBOND NEWS
The UniBond Fair Play award for December went to Burscough, but Vauxhall Motors are the season's leaders for the award.
KEEPING FIT
Alty's Simon Woodford again turned out for Flixton yesterday.
OLD BOYS
Macclesfield went out of the FA Cup yesterday with "snarling full-back Danny Adams", as the Pink describes him, in their side. Kevin Ellison had another good game for Stockport County. Chris Timons was at fault for one of Droylsden's goals at Gainsborough yesterday, whilst fellow centre-backs Adam Farley and James Glendenning were in Droylsden's squad. Dave Swanick was only a sub for Hyde United.
---
---
FOR EARLIER NEWS, CLICK HERE
---