Altrincham Football Club News Archive
22 January to 1 February 2003
---
1 February 2003
RESULTS
Altrincham 0 Aylesbury Utd 1
Colwyn Bay 0 Havant & Waterlooville 2
Windsor & Eton v Vauxhall Motors OFF
Worksop Town v Hayes OFF
Alfreton T. 1 Burscough 1
Gainsborough T. 0 Forest Green Rovers 2
Wakefield & Emley 0 Hendon 0

Today's UniBond Premier games are:
Blyth Spartans 1 Lancaster C. 0
Frickley A. 0 Droylsden 2
Gateshead 1 Bradford P.A. 1
Harrogate T. 0 Ashton U. 1
Hyde U. 0 Marine 2
Runcorn FC Halton 0 Accrington S. 2
Whitby T. v Barrow OFF
Table.

These results mean that Altrincham remain 13th in the Unibond Premier League.
UNIBOND NEWS
The UniBond Premier Club of the Month for January is Wakefield & Emley. The Endsleigh Sports Insurance goalscoring award went to Stalybridge Celtic, whilst the Sportsnet Best Defence award went to Barrow, though Wakefield & Emley had a better record but were not allowed to win the prize twice in one season. However, the Yorkshire club did lift the Fair Play award.

Hyde United had a gate of 3,370 for the Manchester Senior Cup tie between Manchester City and Manchester United's Reserves last Monday evening. The crowd included Sir Alex Ferguson and Kevin Keegan who saw City win 3-0. Hucknall are expected to sign Steve Hodgson, a former Manchester City and Macclesfield Town goalkeeper, now released by Nuneaton Borough.

Blyth Spartans, whom we meet next Saturday (8th) at Moss Lane are seeking to strengthen their squad. Manager Paul Baker stated, "I said it would take me time and it will. But I have to make sure the players I bring to the Club are able to perform at a standard that is required". Carl Furlong will miss Colwyn Bay's Trophy match tomorrow. Marine have launched a £20,000 appeal to raise funds for thier dressing room extension and other development work which will cost a total of £55,000.
---
31 January 2003
GRAHAM'S DILEMMA
The Pink reports that Graham Heathcote has a dilemma about leading scorer Rod Thornley, who has recovered from his thigh strain but "has yet to fully test the injury by kicking a ball". So, Rod faces a late fitness test tomorrow before the Aylesbury game. Of the other players, only Neil Ryan remains sidelined by injury.
HELP, PLEASE!
Additional gate-persons to staff the turnstiles for tomorrow's game against Aylesbury United are required. Please contact Derek Wilshaw at the Club office on 928-1045, as soon as possible, if you can help.
NEW AYLESBURY SIGNING
Up the Ducks reports that Saturday's opponents, Aylesbury United, have signed Dwayne Plummer from Gravesend & Northfleet, a club he had only joined 10 days previously and for whom he played just 30 minutes of football. The website reports that "Plummer can play either as an attacker or midfielder, and has already played for Bristol City, Bristol Rovers, Stevenage, Chesham before his spell with Gravesend. Despite this wealth of experience, Plummer is still only 24 and a good talent. Dwayne lives in Slough and had travelling problems, hence him signing for the Ducks". Other recent arrivals at Aylesbury are former Chelsea apprentice Paul Thornton and ex-QPR front-man Julian Charles.

Several of Aylesbury's players came to the club from Ryman club Hampton & Richmond in the wake of manager Steve Cordery's arrival at Aylesbury from the same origin. Such players include pacey striker Kezie Ibe (once at Arsenal) and Fiston Manuella, a strong midfielder. Another is 34 year-old Craig Maskell, a striker/assistant manager with a wealth of experience at league clubs including Southampton. He is expected to be recoverd from injury for Saturday. However, defenders Richard Horner and Steve McGrath may miss the Alty game through injury.

The Ducks on the Web site advises Aylesbury fans who are coming to the "wild North" (i.e. Altrincham) to wear the following: "Flat cap, clogs, trousers that are too short in the leg, secured with a piece of string, string vest". More seriously it says, "we want as much ticker tape as we can muster & don't forget to sing for 90 minutes. Many Ducks fans who will be going won't have seen us reach the last 16 in the Trophy before, so let's make it as memorable as we can for everyone".
IMPORTANT SUPPORTERS' MEETING
Don't forget the Supporters' Trust meeting at Moss Lane, 5.15pm this Saturday; details here.
YOUTH
The Alty Youth fixtures for February are now in the Youth section of the site.
EXILES
Jacqui Forster, coordinator of Alty in Exile, has produced volume 3 number 3 of Fanfare for the Travelling Fan, the very informative and well-produced newsletter for Altrincham fans based away from the locality of Moss Lane. To join the Exiles, click here.
CONFERENCE
The F.A. National League Systems Committee confirms that it "has rejected The Football Conference's application to extend its membership for 2003-04. However, given 63 out of the 69 Premier League clubs from the three existing Feeder Leagues have indicated their interest to join a regional two-Feeder League structure administered by The Football Conference... the FA will be asking The Football Conference to provide a more detailed proposal that can be further considered by both The FA, and the clubs". This suggests a change for 2004-05 rather than 2003-04.
SERTORI MOVES
The Tameside Advertiser confirms that ex-Alty defender Mark Sertori has signed for Hyde United. Former Leigh player Nicky Spooner has also signed for the Tigers. Manager Steve Waywell said, "Mark's a big strong lad, a good organiser and just the kind of player we need at the back". Hyde also hope to sign Burnley defender Earl Davis who played against Alty recently for Stalybridge, whilst on loan.
---
30 January 2003
DALTON THANKS FANS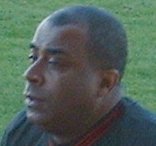 SAM quotes Alty Assistant manager Dalton Steele (left) as saying, "I'm happy for Altrincham Football Club because they started off badly at the start of the season, but with a number of the same players, Graham Heathcote has managed to get them to believe in themselves...The atmosphere here is great and the fans are superb. Especially the ones who came to Kettering on a bad night. The players, Graham and myself would like to record our thanks for their support". Regarding Saturday's game against Aylesbury, SAM goes on "Rod Thornley may figure after recovering from a thigh strain, while Gary Talbot who returned to action as a sub against Kettering has had further treatment and is likely to play some part in the game".

Aylesbury United have two very good unofficial websites, namely Up the Ducks and Ducks on the Web. Up the Ducks reports that they are aiming to bring "two coachloads and a possible extra mini-bus" of fans so the visitors should be well supported. We wish them a good journey to Altrincham.
UNIBOND NEWS
Last night's league result:
Bradford P.A. 1 Harrogate T. 0

Stalybridge Celtic have arranged a Friendly at home to Leigh RMI this Saturday with admission £3.00 for adults and £1.00 for others.

Transfers:
Barrow: Darren Connell from Scarborough loan extension.
Harrogate T.: Marc Smith from Eastwood Town on loan.
Rossendale U.: Liam Croxton from Vauxhall M.
---
29 January 2003
ALTY YOUTH
Having not played a game for six weeks, Altrincham Youth have played fewer matches than any other team in the NWYA Premier Division. However, the updated league table is accessible via the Youth Page.
OLD BOYS
Two players released from Moss Lane in the past have moved to new NW Counties clubs this week. Leon Smith, with us briefly last season, has signed for Atherton LR, whilst Mike Turner, who played for us at the start of this campaign, has transferred from Flixton to Salford City
UNIBOND NEWS
Stalybridge Celtic will start work on their the new stand on 10 February. Barrow report that "Regarding the Nicky Peverell situation, [manager] Kenny Lowe believes its unlikely he will play again this season due to him requiring his ankle ligaments having to be sewn back on". Lowe hopes to keep on-loan striker Darren Connell from Scarborough.
---
28 January 2003
UNIBOND LEAGUE
Tuesday, 28th
Ashton United 2 Vauxhall M. 1

Wakefield will now play Hendon in the Trophy after tonight's replay win over Heybridge Swifts.
UPDATE
Through the Years has been updated for 1 February.
REPLAY
Should Saturday's Trophy game be a draw, the replay would be on Tuesday 4 February at Aylesbury's Buckingham Road ground.
UNITED DATE
Manchester United Youth will play Sheffield United Youth in the FA Youth Cup at Moss Lane on Wednesday, 5 February at 7pm.
WILSON GOES
Phil Wilson, an ex-Alty player and former Stalybridge boss, has left the manager's post at Southport "by mutual consent" with the Club. "I've not been enjoying it for a period of time. Results haven't helped and we both agreed it was time to move on," said Wilson.
UNIBOND NEWS
Burscough have confirmed that they are discussing with Skelmersdale United about the NW Counties side groundsharing at the UniBond club's Victoria Park ground next season. Gateshead are giving a trial to South Shields reserve goalkeeper Dan Petterson whilst Marine have signed a 'keeper, Peter Crookes from Hyde United. Runcorn have released Ian Baines. Hucknall have signed Boston United striker Tony Battersby but Hucknall Today reports that the Board has "opted to pull the plug on Hucknall Reserves only five months after resurrecting them". "We were not getting any benefits and it was costing us a fortune with travelling expenses and fees for match officials, which were £100 per match," said Club press officer Mr Donaldson. But the club chairman said, "The reserve-team fixtures were having to be fulfilled by the youth team and they were getting hammered, which was not in the best interests of the club... We simply hadn't collected sufficient players of strength to fill all three teams". Hucknall player-manager Phil Starbuck is to have surgery on his ruptured medial ligament in his knee.

The new vice-chairman of the UniBond League is Tom Culshaw, Marine's chairman. Marine are upgrading their dressing rooms as a measure to ensure they meet next season's tightened grading criteria in the UniBond Premier league.
HYDE SWOOP
Hyde United report that "Steve Waywell hopes to make at least six new signings to his squad within the week. He said: 'We have given everybody a chance and it is time to seriously think about getting people in. "The ones interested in joining us are still at their clubs so we can't really reveal their names but we are very hopeful of getting them in for the next game [on 1 Feb.]...Most are defenders because we have conceded a lot of goals this season...It is going to be hard but I'm looking at 9 wins out of 13 to give us a chance of getting in the [relegation] play-offs'. Two of Waywell's transfer targets are thought to be on Burnley's staff at present. Another is believed to be from UniBond leaders Accrington Stanley with the others from Conference Clubs".
---
27 January 2003
OLD BOYS
Stuart Terry was on the mark for Connah's Quay at the weekend, as was Ricky Harris for Mossley. Their former team-mate, Niell Hardy, scored for Radcliffe. In the Conference, Mark Quayle is staying put at Nuneaton after a deal with Southport fell through; he "scored" twice on Saturday but both efforts were disallowed. Stuart Coburn helped Leigh to a win, whilst in the League Kevin Ellison was substituted after an hour for Stockport but Danny Adams saw out the 90 minutes for Macclesfield. Adewale Ajetunmobi was a sub for Vauxhall Motors in their UniBond Cup defeat.
---
26 January 2003
ALTY IN THE PINK
In the Sunday Pink Graham Heathcote writes of the win over Kettering, "It was a great cup-tie and one which evoked memories of some of our famous past exploits in the competition... All credit to the people who [came] to watch us for really getting behind the lads and creating a great atmosphere. For us to have beaten them over two hard games is, I think, a marker of how far we've come over the last three-and-half months". Graham added, "We weren't in action yesterday and have no game in midweek, which means I and my assistant, Dalton Steele, should have far more selection options next weekend than we did the other night. Our skipper, Rod Thornley (left), should be back from his short absence with a pulled thigh muscle, while Dave Gardner will also be available again after recovering from the sickness which forced him to pull of Wednesday's game. Our new signing from Southport, Tony Sullivan, is also available... and with Gary Talbot having successfully got through 40 minutes the other night after five weeks on the sidelines, the picture's starting to look a lot healthier. Having said all that, one really has to give credit to all the lads who have come in for us over a difficult month and really done a great job. I believe we're slowly building a smashing little squad and, with a couple of decent additions, we'll hopefully be ready to have a crack at doing something in the league next season. Our target for the time being has to be to continue to build on what has been achieved so far".
TEAM SPIRIT
This week's UniBond Weekly Review has an article about Altrincham in which Graham Heathcote pays tribute "to the new found spirit amongst the young side he has nurtured since taking over early in the season. Once a big spending outfit Altrincham are now working on a much reduced budget but Heathcote said 'We are putting together a good squad of players and the unity of that squad is the key to any success we may achieve in the future. I won't allow anybody to jeopardise that'. He was particularly impressed with the attitude shown by new signing Dave Gardner who flew back early from a business trip to Monaco to land at Luton airport in order to make his way to play against Kettering Town in the FA Trophy. Ironically, having taken all that trouble to play in the first match against the Conference club, Gardner missed the home replay last Tuesday due to illness!"
BAND BANNED
Peter Band's suspension for his sending off against Hyde United in the UniBond Cup is for two matches and will mean he misses the league matches against Blyth (H) and Gateshead (A) on 8 and 15 February.
TRANSFERS
Ryan Hevicon (Hyde U. to Trafford)
Nick Welton (Vauxhall M. to Mossley)
Steven Ridley (Scunthorpe U. to Barrow)
Wayne Noteman (Harrogate T. to Frickley A.)
Martin Regan (Farsley C. to Frickley A.)
Anthony Battersby (Boston U. to Hucknall T.)
Peter Crookes (Hyde U. to Marine)
Graham Lewis (Frickley A. to Lincoln U. loan made permanent)
Gateshead have re-signed defender John Watson for his third spell at the club; the last being in 1998/99 season.
TROPHY OPPONENTS
Aylesbury, our Trophy opponents, have visited Moss Lane before. Altrincham met them home and away in 1988/89, when Aylesbury had their one season in the Conference. In fact, Aylesbury's debut game in the Conference was at home to Altrincham, with the Robins winning 2-1 after trailing at half-time, thanks to goals from Ronnie Ellis and Gary Stewart. The gate was 1,378. Alty also won the return, at Moss Lane, 1-0. The teams have never met in the Trophy or FA Cup till now.

Known as The Ducks, Aylesbury were founded in 1897. Their best FAT performance was to reach the quarter-finals in 1980-81. They beat Kingstonian 1-0 in this year's Round 3. Aylesbury play in a green and white strip and currently occupy the same 13th position in the Ryman Premier as Altrincham occupy in the UniBond Premier so we should be well-matched. The Ducks were promoted to the Premier after finishing third last season in the 1st Division, where they had spent two seasons.
---
25 January 2003
OLD BOYS
With no Alty game, the match at Chorley v Trafford produced the consolation of several ex-Robins in action. Trafford included goalkeeper Ryan McMahon and Anthony Hargreaves, whose fellow-striker was Ryan Hevicon, making a surprising debut. Hevicon was playing for at least his fifth club this season (Alty, Carlisle, Mossley, Hyde, Trafford). One of the Trafford subs was Paul Tilley, Alty Youth team captain last season. After a goalless first-half, Trafford lost 4-0 to a Chorley side which included ex-Alty man Darren Emmett.
DUCKS WIN
Aylesbury United, whom we meet next week in the Trophy, won 3-2 against Grays Athletic today in the Ryman Premier.
SATURDAY GAMES
UniBond Premier Division clubs' fixtures were:

Premier Division
Burscough 0 Accrington S. 1
Gainsborough T. 0 Barrow 2

League Challenge Cup 3rd Round
Gateshead 1 Harrogate T. 0

League Challenge Cup Quarter Finals
Marine 1 Worksop T. 0
Vauxhall M. 0 Rossendale U. 1

Chairman's Cup 1st Round
Guiseley 1 Droylsden 3

Chairman's Cup Quarter Finals
Blyth S. 3 Frickley A. 0
Lincoln U. 0 Hucknall T. 2

President's Cup 1st Round
Wakefield & Emley 2 Farsley C. 1

President's Cup Quarter Finals
Ashton U. 1 North Ferriby U. 0
Runcorn FC Halton 3 Spennymoor U. 1
Stalybridge C. 3 Colwyn Bay 0
HARROGATE DATE
Alty's away game at Harrogate, postponed from next Saturday because of our Trophy involvement, will now be played on Tuesday, 11 March at 7.45pm. Harrogate Town report that "new signings from Norway and Australia, Pell and Horsley, are now eligable to play for Town following the arrival of their International Clearance. The exact situation with Pell is unknown though, as he played and scored twice for Southport in the Conference" last week.

The UniBond fixture grid is now up-to-date.
SENIOR RE-SIGNS
The UniBond League website confirms that Altrincham have re-signed experienced goalkeeper Ian Senior from Stalybridge Celtic. Ian will be cover for the Trophy game next week, when Kurt Edginton may be unavailable. Ian, 43 next July, played for Alty in 1999-2000, having previously been with the Robins as a youngster. He is seen, right, shooting at Dean Greygoose at Hednesford during that season.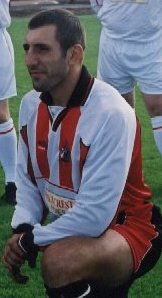 STANLEY RELEASE SERTORI
Alty's centre-back last season, Mark Sertori, has been released by Accrington Stanley and is expected to join Hyde United, according to the Stanley website.

Other UniBond transfers:
Jon Kennedy (Sunderland to Gateshead, loan extended)
Simon Carden (Accrington S. to Radcliffe Boro on loan)

This is Bradford reports that Bradford PA's colourful German keeper Lutz Pfannenstiel is flying out on Monday to become player-manager at Dunedin Technical in New Zealand. "This is an excellent opportunity for me to get into coaching," said the keeper. If things fail in New Zealand, he has a clause allowing him to return to BPA on a free transfer.
AYLESBURY
Aylesbury United, whom we meet next Saturday (1 Feb) in the Trophy at Moss Lane lie 15th in the Ryman Premier but recently had an unbeaten 12-game run which only ended last week against Canvey Island. Alty manager Graham Heathcote is travelling to Buckinghamshire to watch The Ducks play on Saturday at home to Grays Athletic, when they may be without central-defender Richard Horner. Aylesbury have just renewed the loans of goalkeeper Lee Worgan from Wimbledon and defender Alex Stanley. Aylesbury's best known player is probably striker and assistant manager Craig Maskell who came with manager Steve Cordery from Hampton this summer. Maskell has played in the Premiership and his clubs include Leyton Orient, Southampton, Huddersfield, Reading, Swindon, Brighton and Bristol City. Also a striking threat is Sierra Leonean Chris Bangura, once with Tottenham Hotspur.

The excellent Aylesbury unofficial Ducks on the Web site lists one of their fans' favourite Cup-match songs, sung to the tune of "Those Magnificent Men," which we are likely to hear next week. It goes:

"Up, down, to the next round,
Kicking the ball all over the ground,
Up, down, to the next round,
Those magnificent men,
Those magnificent men,
Those magnificent men,
In the gree-ee-ee-ee-een!"
HOT-POT & CURRY EVENING
There will be a hot-pot and curry evening with special guest speaker, Bob Greaves, the entertaining former Granada Reports presenter. This is in the Sponsors' Lounge at Moss Lane on Friday 21 February at 7.30pm for 8pm. Tickets are £15 and are obtainable from the Club, (928-1045). All proceeds are for the benefit of the Club, so please support this event.
GOLD RUSH
At the half-way stage for January, the leader in the Gold Rush competition was Niall Flynn; a list of every entrants' score is to be found in the bar and Sponsors' Lounge at Moss Lane. The prize is £100. The event will run again in March, so please sign up as soon as possible - details are here. All proceeds are for the benefit of the Club.
UNIBOND NEWS
The Barrow Mail reports that Trevor Tearney has rejoined Barrow after leaving recently for Billingham Town. The Barrow manager said "He doesn't like the standard where he's been playing, so he's looking at coming back and fighting for a place...There's only 14 in the squad, so he knows he's going to get games" - especially after striker Neil Tarrant left this week for South Korea. Blyth report that "the F.A. will review the club's disciplinary record again at the end of the season as an improvement has been seen since Paul Baker took over", but "cash flow forecasts indicate that the overdraft limit will be reached within a short period. Cost cutting measures are required immediately". Gateshead have renewed the loan of keeper Jon Kennedy from Sunderland for another month but defender Glen Downey has left the club. Carlisle striker Michael Dickinson has one game left before he returns from Gateshead to Brunton Park. Ossett Town have re-called central defender Craig Boardman from loan to Frickley Athletic. Whitby have Emlyn Hughes leading an all-star celebrity XI on 9 February in a game to be played as part of the club's fundraising for their new stand; they have so far raised £19,163. Various "soap" stars will take part in the game as well as ex-footballers David Johnson, Mike Milligan, Mick Horswell and Emlyn himself.
YOUTH
Alty Youth hope to play their first game for six weeks on Sunday when they host New Mills at Wythenshawe Town FC at 2pm.
---
24 January 2003
BAND STAYS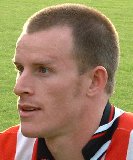 Altrincham FC wish to underline that there is no truth whatsoever that Peter Band (right) will be leaving the club at the end of the season, as has been rumoured in some quarters. Peter has been upset by these statements and wishes to underline his commitment to the Club, whilst manager Graham Heathcote emphasises that he has no intention of releasing him as he is an important member of the team.
UNITED AT MOSS LANE
Nicky Butt played in last night's Man. Utd Reserves clash with Everton at Moss Lane, Altrincham. Everton won 4-1.
RECORD INTEREST
If the number of visitors to this website is any guide at all then the signs are that Wednesday's FA Trophy win has generated some new interest in the club. Prior to yesterday the record number of daily hits to this webpage had been the 629 recorded in the aftermath of Bernard Taylor's sacking as manager last October. However, yesterday, the Nedstat counter for the www.altrinchamfc.com address recorded a total of 722 hits.
UNIBOND NEWS
Accrington Stanley report that their Crown Ground has been passed fit for the Nationwide Conference but they are now looking to make the ground good enough for the Football League as well. Gateshead fans are to repeat their "Supporters Tour" of last August in which a number of supporters visited every ground in the UniBond League in as short a time as possible. It took them 30 hours and 15 minutes last time and they raised £500 for Gateshead FC. This time their target is 24 hours. Barrow's Neil Tarrant is leaving Holker Street to play in South Korea. Stevenage Borough have agreed to accept a four-figure fee from Worksop Town for midfielder Matt Fisher. Craig Smith from Halifax Town and Mark Vickerage from Brodsworth MW have both moved to Bradford Park Avenue.
NEW BOSS
Paul Fairclough is the new England semi-professional side's manager.The former Stevenage boss takes over from ex-Alty star John Owens, who resigned the post some time ago.
---
23 January 2003
ALTRINCHAM BEAT KETTERING
Mark Maddox's winning penalty captured by Alan Johnson. More excellent photos are on Alan's website.
Despite a small attendance, there was a real cup-tie atmosphere at Moss Lane last night as injury-hit Altrincham deservedly knocked Conference-side Kettering out of the FA Trophy.
Match report here.
Reports from the Kettering side:
Kettering FC site.
VERNUM
Alty's teenage midfielder/defender Vernum Rowland, who has been sidelined by injury in recent weeks, is recovering his fitness by playing for Nantwich Town in the NW Counties League. He had an earlier spell with Nantwich this season.
UNIBOND NEWS
Marine report that "An extensive enlargement and refurbishment of the dressing rooms and in-filling of the pitch perimeter fences are essential in order to achieve the Unibond's Grade A standing". Clubs who do not match this grading have been threatened with relegation from the Premier Division. Marine are approaching the Football Foundation to help with this but "still have to raise a substantial amount of money towards the new scheme. A new ground development fund is to be launched immediately with a minimum target of £15,000". Meanwhile, Stalybridge have set up a "sponsor a seat" fundraising scheme at £25 per seat.
ALTERNATIVES
With no Altrincham game this Saturday, the non-league alternatives involving local clubs include Chorley v Trafford (UniBond First) and Flixton v Prescot Cables (NW Counties First).
CHESHIRE SENIOR CUP
Stockport County lost 2-1 to Northwich Vics in last night's CSC game. County had a player sent off.
---
22 January 2003
LATEST FROM KETTERING
Northants News today quotes Kettering manager Carl Shutt as saying, "Generally we're a better away team [than a home one]. We seem happier when the onus is not on us to do all the running. I don't think Altrincham were very ambitious at our place. But how they approach the game does not concern me. They have to employ whatever tactics suit them best. Hopefully, though, they will come out more and give us the chance to exploit them at the back. To achieve that we have to pass and move the ball around while using the full width of the pitch to open them up. We've shown we possess the necessary quality at times...and I can't stress how important this match is in terms of boosting finances".
MORE ON KETTERING TONIGHT
Northants News reports that Kettering will be without new striker Neil Tolson tonight for the Trophy game at Moss Lane as he played, and got sent off, in the Trophy whilst playing for his previous club Leigh RMI. However, Gez Murphy, suspended last Saturday, will return to lead the Poppies' attack. Midfielder Shaun Murray "is unlikely to have recovered from a swollen ankle in time to take part at Moss Lane". For their part, Alty will await fitness reports on Rod Thornley, Peter Band and Dave Gardner.

Howard Watts points out that today, 22 January, is the anniversary of what "was probably the biggest game in Altrincham's history as of that time [1966]" when Altrincham played Wolverhampton Wanderers in the FA Cup. On the same date in 1979 Alty, as Trophy holders, went out of the competition to Cheltenham Town despite Cheltenham's centre forward Dave Lewis having to play in goal. As Howard recalls, the stand-in keeper "saved everything that was thrown at him". For Howard's full details of previous 22 January games, click on the Through the Years link above.
BECKHAM BEST MAN
Tuesday's MEN had details of Alty winger Dave Gardner's impending summer marriage to former Hollyoaks TV star Davinia Murphy. The paper reveals that Manchester United captain David Beckham is to be Dave's best man whilst Dave, himself a former United trainee, reportedly gave his fiancée a £40,000 engagement ring. Off the field, Dave is a partner of Sir Alex Ferguson's son, Jason, in the Elite sports agency. For her part, Davinia has a £2.5 million London home bought for her by her father from Noel Gallagher.
MOSS LANE
At Moss Lane last night Manchester United Youth beat Sheffield Wednesday 2-0 in the FA Youth Cup. Ben Collett got the first but was then sent off, with 10 mins to go. However, United conjured up a second, four minutes from the end, through Kieran Richardson, who has already played in United's first team. The crowd was about 750. United Reserves play at Moss Lane on Thursday, at 7pm, versus Everton.
UNIBOND
The much-travelled Robert Pell, who had signed for Harrogate recently, has now instead signed for Southport.
---
FOR EARLIER NEWS, CLICK HERE
---