Altrincham Football Club News Archive
12 to 17 February 2003
---
17 February 2003
ALTRINCHAM YOUTH 2 EUXTON VILLA 0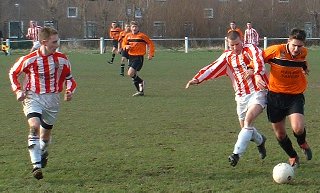 Paul Glynn looks on as Josh Collins contests possession against Euxton.
Report here.

GATESHEAD 0 ALTRINCHAM 0
Match report here.
Updated pages: Alty line-up and bookings, statistics, League table.
CRANEY'S VIEWS
Interviewed in SAM, Ian Craney says of his recent selection for the England National Game XI, "I couldn't believe it when I found out. I did not even know they were watching me. I've got to thank the other lads [at Altrincham] for their part in everything". Talking of Altrincham, he added, "We have a superb spirit within the squad and, if we play well, we can finish in the top 8 and have a great chance of going for it next year. Graham Heathcote and Dalton Steele are the right people in charge to win this league. They know the UniBond and they know how to beat teams".
POOR MEMORIES
As reported here last week, the recent 11-goal Conference game between Burton and Telford equalled a record, which Altrincham hold twice over, of being involved in the highest scoring matches ever played in the Conference (or its foreunners) - 7-4 v. Nuneaton in 1985/86 and 9-2 v. Merthyr Tydfil in 1990/91. A piece in yesterday's
NLP
about the two Alty players who figured in both of these games reveals that neither can actually recall the earlier game! One of them, goalkeeper Jeff Wealands also explains why he left Manchester United; "I happened to think I was a much better goalkeeper than Gary Bailey but unfortunately I didn't pick the team". The second Alty player involved in both matches, Gary Anderson (43), now a Merseyside taxi-driver, likewise can only remember the Merthyr match.
OLD BOYS
Stuart Locke is recovering from injury at Droylsden and Danny McGoona appears to have returned to Caernarfon Town's side, after his ban for an alleged drugs offence, if he is the "McGonna" listed in their team last Saturday by the
NLP
. Paul Ellender was fit enough to be on Boston's substitute bench last weekend, whilst Carl Furlong returned from suspension to play for Colwyn Bay and Neill Hardy turned out for Radcliffe. Leroy Chambers and James Glendenning were only subs for Droylsden but Steve Porter and Adam Farley started for the Bloods.
UNIBOND FUN DAY
The
UniBond League
announces that "League Sponsors, Henkel, are to host what is believed to be the first footballing fun day for an entire League when all 22 matches being played in the UniBond League on 5th April will be the setting for a great family day out. [Alty host Ashton that day]. The idea is still in its infancy at the moment but there will be free offers available to children and attractive prizes to be won by both children and adults attending every ground. In addition there will be a tremendous major prize on offer for an overall winner. It promises to be a very special day and more details will be released by the League when known".
Alty remain third in the UniBond form guide, behind Barrow and Stalybridge who are unbeaten over the last eight games. Alty's recent record is D W D W W W L W. Bottom are Hyde but, surprisingly, second bottom are Lancaster City who have lost 6 of their last 8 games. City's Assistant Manager Barrie Stimpson said "Results have been disappointing recently and a number of new faces will be on show between now and the end of the season with some players moving on as we continue to reduce costs. Manager Tony Hesketh and myself have watched a host of matches throughout the North West recently and with our contacts in the game there will be a lot of players passing through between now and the end of August".
BBC 1's "Football Focus" is to show a story about Accrington Stanley on 22nd March. Stanley's first team, playing as their reserves, beat Northwich Reserves 5-0 on Saturday. Craig Stones has left Gainsborough and returned to Brigg Town.
---
16 February 2003
RUNCORN WOE
Our Cheshire neighbours Runcorn FC Halton have put their entire squad up for sale according to the
UniBond League
who say "Runcorn FC Halton are the latest UniBond club to feel the financial pinch and are willing to listen to offers for any of their first team squad most of whom are on contract. Steve Carragher, David Gamble, Peter Ellis, Chris Lightfoot, Kevin Leadbetter, Anthony McMillan, Matt McNeil, Dominic Morley, David Ness, Lee Parle, Chris Price and club captain Michael Tomlinson, who played for England's National Game Board X1 in Belgium this week, are the contract players being made available. Clubs interested in any of these players should make contact with manager Liam Watson". It is reported, but not confirmed, that the club has to find £150,000 before the end of February. It is also believed that the Linnets' Mike Tomlinson, who made his England semi-pro debut with Alty's Ian Craney last week, has already been sold to Accrington for £5,000. As a club with its own financial worries, Altrincham will hope that Runcorn are not in such a bad position as these reports suggest.
WEIGHTS
In today's
Pink
, manager Graham Graham Heathcote is quoted as having "told his players that only after the last ball is kicked on April 26 will he allow them to relax". Heathcote said: "Don't get me wrong, the lads have done really well for me and my assistant, Dalton Steele, but we've told them it won't be a case of them putting their feet up once we've reached our 47-point safety target. If we're going to do anything next season, we've got to improve, and, over the next couple of months, our players have individually got to prove to me and Dalton that they are capable of doing that. Our league record for the last four months would, taken over the course of a season, make us a good side, but you need to be a very good side to win whatever league you are in and that has to be our goal". He added: "I'd like to think it wouldn't take too many new faces to turn us into a championship threat. Whether we'll be financially equipped to get the ones we want is another matter, though, because our wage structure is clearly going to have to remain very tight and there will be no big spending here in the summer, that's for sure. Having said that, I don't want to be saying all next season that we're doing well considering the size of our budget. In every league there are teams achieving success on limited finances. Just look at Vauxhall Motors, for instance. All credit to them for that and we now have to try to follow their example". The article concludes, "Heathcote is planning some unusual training for his players this summer. He has arranged for them to be put through a six-week weights programme under the supervision of long-standing Robins' fan Terry Surridge, who is a qualified weight-lifting coach".
TRANSFERS
Mark Camm (Lincoln C to Gainsborough T. on loan)
Gary Parkinson (Stalybridge C. to Rossendale U.)
James Elliott (Guiseley to Bradford PA)
James McDaid (Harrogate R. to Harrogate T.)
Gary Lunt (Runcorn FC Halton to Kidsgrove A.)
---
15 February 2003
SATURDAY RESULTS
Ashton U. 1 Gainsborough T. 3
Blyth Spartans v Barrow OFF
Burscough v Stalybridge C. OFF
Colwyn Bay 2 Frickley A. 3
Gateshead 0 ALTRINCHAM 0
Harrogate T. 0 Whitby T. 2
Hucknall T. 1 Wakefield & Emley 1
Hyde U. v Worksop T. OFF
Marine 4 Bradford P.A. 2
Runcorn FC Halton v Lancaster C. OFF
Vauxhall Motors 2 Droylsden 1
MACCA MOVES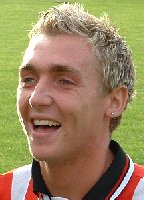 Andy McDonald, right, the midfielder who made 18(+6) appearances for Alty this season, before being released recently, has now joined UniBond 1st Division side, Kidsgrove Athletic.
UNIBOND NEWS
Accrington Stanley report that they "will field an Algerian trialist, Hadji, a striker who has played in the Football League with Chester City and spent last season with Hamilton Academicals" in a Reserves' match with Northwich Vics tomorrow in which Stanley will field their otherwise game-less first team. Droylsden narrowly beat Abbey Hey 1-0, on Thursday in the Manchester Senior Cup in a game switched to Abbey Hey after several postponements at the Butcher's Arms.
Transfers
Ian Dixon (Chester-le-Street to Blyth S.)
Nicky Scaife (Sheffield U. to Gainsborough T.)
Gary Evans (Bury to Hyde U. on loan)
Paul Robinson (Tranmere R. to Vauxhall M. on loan)
Paul Challinor (Droylsden to Eastwood T.)
NLP SITE
The Non-League Paper website has now renamed itself as Non-League Footy. The site states: "Welcome to the new-look Non-League Footy.com - features are exactly the same as before, with up-to-date news, fixtures and results, details on over 9000 players and our Ground2Ground section. We now are no longer directly connected to the Non-League Paper - Steve Whitney". (Neither the new nor old address seemed to be working this morning).
---
14 February 2003
CRANEY AND BAND OUT
For the trip to Gateshead, Altrincham will be without both Peter Band and Ian Craney, due to suspension. Ian, who made his semi-pro international debut this week, was booked for the fifth time against Aylesbury so sits out one game, whilst Peter is missing the second game of his two-match ban for his post-match dismissal against Hyde, well before Christmas. Alty go into the game with the third best record in the Division over their last 8 games (6 wins, 1 draw, 1 loss) whilst Gateshead are sixth with 5 wins, a draw and 2 defeats.
NELSON STIFFLE
Long-standing Alty fans will be interested to known that the website has had an e-mail from the son-in-law of Nelson Stiffle, who was Alty's top scorer in both 1952-53 and 1953-54. Nelson moved on from Altrincham to several League clubs - Chesterfield ('54), Bournemouth ('55), Exeter ('58), Coventry '60) and is now resident in Queensland, Australia. If anyone has any photos, memories or information relating to Nelson's time at Moss Lane, please contact me (address at foot of page) and I will put you in touch with his son-in-law.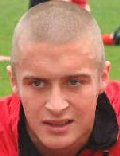 ANOTHER EX-ROBIN TO HYDE
Matthew Duffy, right (picture courtesy of Alan Johnson's photo website), the defender loaned to Altrincham by Rochdale earlier this season, has joined Hyde United. He made just one start and two sub appearances for Altrincham. Hyde manager Steve Waywell said of Duffy, now released from Spotland, "We asked him to come down and train and he looks quite the part".
UNIBOND NEWS
Accrington manager John Coleman has spoken of Hyde's ex-Alty defender Mark Sertori to the Stanley website, "We got stronger at the back at the start of the season, thanks to him. But he missed a few games, lost his place and wanted to play first team football. We accepted his decision." Coleman also insisted that midfielder Simon Carden's return to Radcliffe Borough on loan "is only a temporary move". Coleman is on the look-out for a third striker as reserve to Paul Mullin and Lutel James. In the Tameside Advertiser Stalybridge manager Dave Miller confirms that Craig Dootson is staying at the club despite Bradford City's notice of approach for the keeper. The same source reports that "Droylsden chairman and manager Dave Pace confirmed he would be having talks today (Thursday) regarding a buy-out of Tranmere Rovers. He is part of a consortium which had tabled a £5m offer to buy the second division club. That offer was withdrawn after Rovers were slow in replying to Pace's consortium but further talks are taking place. Pace's group, including his friend Stephen Vaughan, are in competition with a supporters' group consortium".
---
13 February 2003
GATESHEAD WARM UP
Gateshead warmed up for Saturday's clash with Altrincham by beating First Division leaders Alfreton Town 5-4 at the International Stadium last night, after extra time in the UniBond Challenge Cup Quarter-Final. Just 127 fans watched the match in which Gateshead led 2-0 and then 4-3 until the final minutes.

Gateshead, yesterday signed Keith Douglas, a young midfielder from Durham City, the former club of the Tynesiders' manager Derek Bell.
HOT-POT & CURRY EVENING
There will be a hot-pot and curry evening with special guest speaker, Bob Greaves, the entertaining former Granada Reports presenter. This is in the Sponsors' Lounge at Moss Lane on Friday 21 February at 7.30pm for 8pm. Tickets are £15 and are obtainable from the Club, (928-1045). All proceeds are for the benefit of the Club, so please support this event.
GOAL RUSH
The fundraising Goal Rush competition is to be run again during March; the prize is £100. So please sign up as soon as possible and by 1 March at the latest - details are here. All proceeds are for the benefit of the Club.
UNIBOND NEWS
Keith Firth, chairman of Northern Counties East team Eccleshill United, has told his neighbours Bradford Park Avenue, to "get off their backsides and find their own ground". He believes that Council-owned Horsfall Stadium "should be developed as an athletics stadium for the Bradford community ... Why should Avenue expect help from others when they don't help themselves? We bring the kids through, Avenue bring in players from outside the area. Very few of theirs are Bradford players". Avenue's acting chairman Bob Robinson said: "We have made exhaustive searches for alternative sites but there are none suitable ... We pay a commercial rent and have invested about £200,000 in Horsfall Stadium in fencing, seating and the social club".

Accrington's Gary Sampson, formerly at Manchester United, has gone to Radcliffe Borough after making a handful of first-team appearances for Stanley. As they have no match this week, Accrington will play their first XI as "Reserves" against Northwich Victoria Reserves on Saturday at the Crown Ground.

Shades of Peter Band's current suspension for Altrincham in the next story... The Evening Mail reports that Barrow keeper "Simon Bishop was reported to the Football Association for an incident after Barrow's 2-1 Unibond League Cup defeat at Radcliffe Borough on December 10, but his suspension could have far-reaching consequences for AFC's campaign. Bishop was actually sent off after the game for allegedly swearing at officials at a time when Barrow's title hopes looked to be hitting the rails. But AFC have not lost a league game since the incident, notching seven wins and a draw, and any suspension to Bishop would now leave the club with a big gap to fill between the sticks. Club and player received letters from the FA asking for Bishop's reaction after the incident and the big shot-stopper pleaded guilty to the offence. Bishop could now face a two or three-match suspension, which would force AFC to bring in a loan signing or play reserve team keeper Ross Liddicott". Alty play Barrow on 4 March. However, the Bluebirds' Wayne Bullimore, injured on January 14, may soon be back in action though Neil Tarrant, who left Holker Street last month "is still waiting to hear if he's done enough to earn a contract playing in South Korea after a recent trial".

Blyth's site quotes manager Paul Baker over the club's disciplinary hearing: "I attended the disciplinary hearing which took place in Huddersfield and the disciplinary committee assured me that they certainly do not want to take our money but the remainder of the season has to improve on the field. The committee also warned us that if the situation does not improve then that fine could and would be doubled". Gainsborough's Antony Eldings is likely to join Stevenage only shortly after arriving at Northolme. Whitby Town, whom we meet a week on Saturday staged a fundraising game between their 1997 team and a Celebrity XI led by Emlyn Hughes, which ended 10-7 even though play was only 30 minutes each way!
---
12 February 2003
CRANEY DOES WELL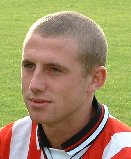 The FA's match report on last night's England semi-pro international in Belgium suggests that Altrincham's Ian Craney had a good game. England lost 3-1, with Craney setting up the England goal. England were reduced to ten men just before the interval and were playing a side used to playing together. Ian played the full 90 minutes and in the first half he "sent Scott Rickards scampering away with a perfectly weighted first time ball. Rickards held off the challenge of Eecloo and squeezed a shot away that rolled agonisingly wide of the far post". Then, in the second half, "A well worked training ground set-piece saw Ian Craney float a free-kick to the far post, and as Mike Tomlinson nodded the ball back across the goal mouth, Aldershot's Roscoe d'Sane was on hand to gleefully ram the ball into the roof of the net from two yards".

Team: Key (Kingstonian), Kennedy (Canvey I.), Ward (Canvey I.) - Capt., Pullan (Crawley T.), Duffy (Canvey I.), Rivierre (Welling U.), Craney (Altrincham), Manuella (Aylesbury U.), Wilde (Worcester C.), McAllister (Basingstoke T.), Rickards (Tamworth)

Subs:
12 - Tomlinson (Runcorn) - 63 mins for Pullan
13 - Bull (Aldershot) - 66 mins for Key
14 - D'Sane (Aldershot) - 74 mins for Rickards
15 - Keeling (Purfleet) - 71 mins for Wilde
16 - Sills (Kingstonian) - 58 mins for McAllister
OPPONENTS APPLY TO CONFERENCE
Gateshead, whom we meet on Saturday, have a new official website, which started in January 2003. It confirms that the club has "submitted an application to the Nationwide Conference for inclusion in the new Second Division North for season 2003/2004. The deadline for applications is 18th February 2003 and a letter advising the Unibond League of the club's intention to resign from the league at the end of the current season must be lodged with the league secretary by the end of this month. The decision confirms the Tynesiders' ambition to play at the highest possible level and is an indication of the progress made both on and off the field at the club since the beginning of the season. Acceptance into the newly formed second division will inevitably mean an increase in the amount of travelling with the boundary between the northern and southern divisions possibly being drawn from The Wash and south of Birmingham across the country. However, the club relishes the challenge that a Conference second division would bring and provides the perfect springboard to develop the club and realise its true potential". As yet, no new statement on this subject has been issued by Altrincham F.C..
OLD BOY
Stevenage Borough are believed to be in talks with Nuneaton Borough about signing former Alty striker Mark Quayle, who has 14 goals to his name this season.
UNIBOND NEWS
Gainsborough's assistant manager, Colin Benson, and their physio, Peter Jellett, have both left the club, whilst former-manager Ernie Oliver has been appointed Chief Scout.
---
FOR EARLIER NEWS, CLICK HERE
---
Copyright: ©


Compiled by John Laidlar