Altrincham Football Club News Archive
18 to 26 February 2003
---
26 February 2003
TONIGHT
Runcorn FC Halton 2 Marine 1
TUESDAY RESULTS
Aylesbury, who knocked Alty out of the Trophy, beat Windsor & Eton on penalties on Tuesday night after a 1-1 draw a.e.t. They now meet Gloucester City at home as they beat Southport in another replay.
Premier Division
Blyth S. 1 Barrow 1
Burscough 0 Bradford P.A. 1
Hucknall T. 2 Hyde U. 0
Lancaster C. 4 Frickley A. 0
Worksop T. 1 Vauxhall M. 1

President's Cup Q.F.:
Wakefield & Emley 5 Kidsgrove A. 1

Manchester Premier Cup S.F.
Ashton U. 6 Flixton 1
UNIBOND NEWS
Runcorn FC Halton have appointed Dominic Morley as captain to succeed Mike Tomlinson who has gone to Vauxhall. Colwyn Bay have released Ady Moody who has joined Rhyl. David Donaldson has moved from Harrogate Town to Bradford PA. Ex-Alty defender James Glendenning scored the 3rd goal in Droylsden's 4-2 win on Monday.
---
25 February 2003
STAR TRUST
For the latest STAR (supporters' trust) News Release, click here.
ANNIVERSARY
Saturday 1 March, when we play Worksop, is the 6th anniversary of the Bishop Auckland FAT game at Moss Lane when police had to be called to control the visiting fans who were protesting over the presence of Alty's George Shepherd. Shepherd, when a Macclesfield player, had sued the Durham club for one of its players' tackles on him, which had broken his leg. For the full data of games on this date, see Howard Watts's Through the Years data.

Also updated are the UniBond Attendance statistics, courtesy of Terry Rowley.
MONDAY SCORE
Chairman's Cup Quarter Final
Droylsden 4 Witton A. 2 a.e.t.
UNIBOND NEWS
Vauxhall Motors have paid £6,000 for Runcorn FC Halton's 22 year old captain Mike Tomlinson. Tomlinson partnered Alty's Ian Craney in the recent England semi-pro international in Belgium.
TROPHY
Alty's Trophy conquerors, Aylesbury Utd have landed another home draw in the last eight, if they can win their replay. Draw:
Aylesbury U/Windsor & Eton v Gloucester C/Southport
Farnborough T v Tamworth
Forest Green Rovers v Havant & Waterlooville
Yeovil T. v Burscough.
---
24 February 2003
YOUTH F.A. TEAM WIN
Alty Youth made up the entire Altrincham F.A. representative squad yesterday which beat Stockport F.A. 5-1 at Trafford FC. Above, Jon McEvoy hits the second goal. A match report and pictures can be seen via the Youth Page.
WHITBY TOWN 0 ALTRINCHAM 1
Match report here.
Alan Johnson's pictures are on his website. Bri Murfield has alerted me to more excellent pictures of the game on his "Just a few pictures from the Turnbull" Whitby site, which is here.
Saturday's gate of 402 at Whitby was the Seasiders' biggest home league attendance this season. It has emerged that Marc Riches kept goal for Whitby because regular keeper David Campbell had gone to France after winning a family holiday at Euro Disney.
UNIBOND TRANSFERS - ANDY MOVES TO TRAFFORD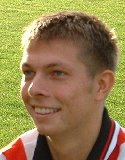 Alty's Andy Tunnicliffe has moved to Trafford to get match practice. He made his debut for the UniBond 1st Division side on Saturday. Andy, a former Manchester City trainee, has started 3 games for Alty this season but has been a used "sub" 13 times.

Other moves:
Martin Diggle (Hyde United to Rossendale U.)
John McGill (Leigh RMI to to Rossendale U.)
David Robinson (Accrington S. to Rossendale U.)
Stuart Gelling (Marine to Colwyn Bay)
Andy Evans (Frickley A. to Belper T.)
Marc Riches (Gateshead to Whitby T.) - he was in goal v. Alty last Saturday.

The UniBond site also reports that "Gainsborough Trinity boss Phil Stant has had a clear out of players this week releasing no fewer than a dozen of his squad including several with a large number of Football League appearances under their belts. Colin Alcide [ex-Alty], Adie Mike, Max Nicholson, Barry Richardson and Dean Walling have all enjoyed considerable full time careers in the game and they are joined by Mark Anderson, Alex Callery, Frazer McHugh, Jermaine Richards, Craig Stones, Neil Thompson and Chris Pettit in Stant's purge". Danny Barratt has also left, for Australia.

Accrington report that "midfielder Dave Robinson has been released ... Dave was signed from Runcorn in September 2001 for £4,000, and made 40 appearances. Harrogate Town have taken Worksop's Darren Beesley on loan. But Harrogate "have so far been unsuccessful in their attempts to extend their loan of Marc Smith from Eastwood Town. Smith's loan runs out next weekend, but Eastwood are unwilling to let him stay on at Wetherby Road. If Mr Reed wishes to keep Smith, he will have to sign him before the end of the transfer window on 31st March".
GRAHAM DEFENDS CHOICE
After comments from Dave Miller, manager of Stalybridge, criticising the omission of his team's players from the England side for which Alty's Ian Craney was chosen, Graham Heathcote has defended his midfielder. "Being chosen for your country is a reflection of your individual talent rather than how well your club is doing. I and plenty of others believe Ian Craney is an outstanding young player, more than worthy of his England call-up".
UNIBOND NEWS
Alty lie fourth in the UniBond form table over the last eight games, behind Stalybridge, Barrow and Accrington Stanley. Our next opponents, Worksop, lie fifth. From Colwyn Bay's site: "Speaking in the North Wales Weekly News, manager Colin Caton said: 'The situation isn't good but all we can do is keep going and try and turn things round. I'm looking to bring in one or two promising local youngsters, mainly as a cost-cutting exercise, but they might just bring in a bit of freshness'".
SWANICK THE SURVIVOR
Hyde United's site says that in Saturday's game "there was only Dave Swanick in the line up from the start of the season". Dave, of course, spent last season at Moss Lane. In the same Tigers' side were three other ex-Robins - Matthew Duffy and Mark Sertori, with Lee Evans a used sub and goalscorer.

Other former Robins in action at the weekend included Kevin Ellison (subbed by Stockport in the second half), but Danny Adams was suspended for Macclesfield. Paul Ellender played in midfield for Boston whilst Danny McGoona (Caernarfon), Neill Hardy (Radcliffe), Gareth Strange, Paul Tilley and Rico Richards (all Trafford) were also in action.
MOSS LANE GAMES
The Pink reports that Alty, with Stalybridge and Radcliffe as well as Oldham Athletic, will host a summer tournament involving top Asian teams playing young sides from five club, namely Manchester City, Oldham Athletic, Parma (Italy) and Scotland's Rangers and Celtic. The Asian sides will be from Thailand, Japan and China and the tournament will take place in July/August. Some games will be beamed live to Asia.
---
23 February 2003
ALTRINCHAM FA YOUTH 5 STOCKPORT FA YOUTH 1
The Altrincham F.A. side was entirely made up of Altrincham FC players as they beat Stockport 5-1 this afternoon at Trafford F.C. to qualify for the final of this inter-F.A. youth competition where they will meet Macclesfield F.A. Above, Jon McEvoy nets the second goal; the others came from Steve Lunt, Todd Hayes, Francis Evans and Andy Thorpe. More pictures on the Youth page.
---
22 February 2003
RESULTS
FA Trophy 5
Burscough 5 Wakefield & Emley 0
Premier Division
Ashton U. 2 Hucknall T. 3
Blyth S. 1 Colwyn Bay 1
Frickley A. 2 Runcorn FC Halton 2
Gateshead 0 Stalybridge C. 1
Lancaster C. 1 Harrogate T. 2
Whitby T.0 ALTRINCHAM 1
Worksop T. 1 Accrington Stanley 4
HOT POT SUCCESS
Last night more than 70 people attended the Club's Curry & Hot Pot Evening at Moss Lane, where former Granada TV presenter and local resident Bob Greaves was the humorous after-dinner speaker. Bob had kindly donated his time but deservedly received some recompense when he won a CD-player in the raffle. Alty manager Graham Heathcote entertainingly compered the evening and succeeded in raising £400 for a signed Manchester United shirt worn by John O'Shea in last season's European campaign, in addition to the income from the event itself. The shirt had been kindly obtained by Alty's Rod Thornley and had all the team's signatures except for Laurent Blanc's.
OLD BOYS
IC Cheshire reports that ex-Alty striker Mark Quayle has signed, on loan, for Chester City from Nuneaton. "A delighted Chester boss Mark Wright said last night: "We needed a new face to freshen things up at the club. We have agreed a fee with Nuneaton and if all works out well we will sign Mark permanently at the end of the season. We are extremely serious about pushing for a return to the Football League and Mark's signing will bolster the push to achieve our aspirations".

Vauxhall Motors have released former Alty winger Adewale Adjetunmobe (right).
UNIBOND NEWS
After Sean Smith's car crash last Sunday, Accrington Stanley report that Andy Gouck "is not available after spending two nights in hospital following a car crash on Tuesday, though he only suffered minor injuries and could return in time for Wednesday evening's semi-final against Kendal Town".

Blyth Spartans have secured a new lease from the local Council and "Most of the heroes of Blyth's 1977-78 F.A. Cup run have confirmed that they will be attending the reunion evening on the 25th Anniversay of the Wrexham [FA Cup 5th rd] replay on Thursday 27th February. Supporters are also welcome on the evening which will include a quiz and raffle but mainly just an opportunity to reminisce". The Tameside Advertiser says that Hyde United are also "organising a reunion which will see the side that won the Cheshire League treble in 1982 come together. They will dust off their boots to take on an all-star showbiz side, offering supporters the opportunity to reminisce and raise some much needed money for the Tigers' coffers. The match will take place at Ewen Fields on Friday, April 25". The all-stars side will be captained by actor Michael Le Vel, Coronation Street's Kevin Webster, who has previously been at Moss Lane supporting Altrincham. Blyth are likely to use 21-year-old Ray Booth, "a striker plucked straight from Sunday-morning football... for today's battle with Colwyn Bay. 'Going from that straight into the top flight of the UniBond League may be a big step, but he has scored 36 goals this season'", said manager Paul Baker.

Meanwhile, Hyde manager Steve Waywell "is furious that his side have only two games in two months". He added, "In the last few weeks we are going to end up playing twice a week or three times a week". Stalybridge Celtic boss Dave Miller was another unhappy manager after seeing his team's match against Burscough frozen off. He said: "It just seems to be one thing after another. We either haven't got a game through the fixture list or it is the weather". IC Newcastle says that Gateshead boss Derek Bell "is ready to stay on as manager next season after dragging the club away from the threat of relegation. 'I have had a series of talks with the chairman and we are singing from the same hymn sheet. It will be nice to take things further'".

The Citizen quotes Lancaster City boss Tony Hesketh, "We are hurting this season - and badly", after six successive defeats. He added, "We are constantly on the lookout for new players but there's no money around. We're in poor form financially although our gate has held steady around the 300 mark". IC Cheshire state that "Mike Tomlinson may have played his last game for crisis-torn Runcorn after UniBond League rivals Vauxhall Motors were granted permission to speak to the new England non-league international. The Linnets - forced to make their entire squad available for transfer to survive - are close to agreeing a £6,000 deal with the Ellesmere Port club. Runcorn player-manager Liam Watson said: 'Tommo doesn't want to leave and I don't want him to leave either. But, unfortunately, if he doesn't leave the club, there is a good chance of us folding.'". Watson has also had an undisclosed offer from Prescot Cables and an inquiry from Rossendale about Kevin Leadbetter. "The combined fees for Tomlinson and Leadbetter would go a long way to helping Watson to bring in the £11,000 chairman Dr Dave Robertson has asked him to find. The player-boss added: 'If we can get to the end of the season, the club aren't in a bad position in terms of what we owe but don't generate an awful lot of money. The playing budget for next season would be minimal but at least the club will keep going'".
CHESHIRE NEWS
Northwich Victoria have agreed with Witton Albion to continue their groundshare for the 2003-04 season, until the Vics' new stadium is ready in 2004 New Year. "Northwich expect to receive a 50% instalment for the sale of their old ground from developers Wilcon Homes, in the region of £1 million, by the end of February", says IC Cheshire.
---
21 February 2003
SEAN SMITH
Graham Heathcote, speaking to SAM of Sean Smith, who broke his leg last Sunday in a car crash, said, "I've spoken to the chairman and we are going to do everything we can for him while he is unable to work or play football. It is a massive blow for him personally, first and foremost. Football becomes irrelevant at times like these. We have a close-knit group of players here and it has upset the camp a little bit. Whenever Sean has come in, he has done a good job for us. He has been a big contributor to us turning it around this season".
WHITBY GAME
Ian Craney and Peter Band will be back from suspension for Saturday's game. Graham Heathcote told SAM that "without these two players, attacking options at Gateshead were limited, but he did take a couple of positives from the 0-0 draw. He said, 'I thought we looked really solid, defensively. Also, Jason Gallagher played nearly a full 90 minutes which is another plus as he comes back to full fitness'".

YOUTH TEAM
Pictured, right, Jon McEvoy launches the ball forward for Andy Thorpe in last Sunday's Youth game against Euxton Villa. For more pictures of the game, visit the Youth Page. Most of the team will be representing Altrincham F.A. versus Stockport F.A. this Sunday at Trafford FC, k.o. 2pm.
UNIBOND NEWS
This is Lancashire reports that Lancaster City are to host the newly formed Lancaster Rugby League LFC, who will play in next summer's National Conference, at the Giant Axe. "The Axe was the home of Lancaster's original rugby league club at the end of the 19th century, and rugby club chairman John Thomason says: 'It feels as though the game in Lancaster is coming home'. City's Cora Patel said, 'We are really pleased to form this new partnership with Lancaster Rugby Club. It is a major contribution to the development plans of Lancaster City and will help to strengthen our position in Lancaster's sporting community. All too often there is a narrow closed culture within football. Lancaster City is moving towards a more fresh open approach and will continue to focus on developing relationships with other bodies'". Worksop Today reports that the Tigers' midfielder Darren Beesley has gone on loan to Harrogate after making 28 first-team appearances this season. "Boss Paul Mitchell said: 'He needs to go and build up his confidence again. He was very upset at some of the stick he got at Emley and he hasn't recovered since then, but we hope this spell will put him back in the first team picture'". Frickley report that transfer-listed forward Andy Evans is set to move to Belper Town for a nominal fee. The NW Mail reports that Barrow's Neil Tarrant is back at Holker Street after a trial in South Korea for a club managed by ex-Sunderland man Ian Porterfield. Striker Tarrant said of his Korean side, "By all accounts they haven't got anyone better than I was. So I'd like to think it's looking positive. If it comes off then brilliant, if not then at least Barrow have been brilliant about it. They said if things don't work out I'm still welcome back. I want to get playing full-time football again but if I can't play full-time football then there's not many better non-league teams than Barrow". Bradford PA have lost centre half James Stansfield with ankle ligament trouble "that could keep him out for a month". So, manager Trevor Storton "has had to step up his seach for new blood at the back". Alty travel to Bradford on 29 March.
---
20 February 2003
THREE FIXTURE CHANGES
The dates of three Altrincham away games in March have been altered.
Hyde United v Altrincham is now 3pm on Saturday 15th March, not 29th.
Harrogate v Altrincham is now 7.45pm on Tuesday 18th March, not 11th.
Bradford PA v Altrincham now 3pm on Saturday 29th March, not 15th.

The Hyde date-swap with BPA has been made to accommodate the Tigers who, otherwise, had no Saturday game for three weeks. The revised fixture list is here.
UNIBOND NEWS
Runcorn FC Halton have issued a statement: "The club's survival is assured to the end of the season, and so there are no fears that we have played our last home game. It is true that the club's financial position is very tight, but this is not news to many of our supporters. The club's financial position is not helped by the lack of games that we are playing at the moment, but we are working on ways to raise more funds, via sponsorship and other activities, and are also looking for ways to reduce costs". Gateshead's 6ft 7in centre-back Rob Jones is going on trial to Oldham Athletic. The Tynesiders are holding a Celebrity Golf Day on 27th March 2003 led by former Sunderland and Arsenal star, Niall Quinn.
---
19 February 2003
ALTRINCHAM F.C. AND THE CONFERENCE
The following is my account of a discussion today with Altrincham FC Secretary and Manager, Graham Heathcote. Any errors below are my responsibility!
The Club is aware that many of its supporters are concerned to know its position on the proposed restructuring of the non-league pyramid, which has been prompted by proposals from the Football Conference to establish two new feeder leagues to the existing single Conference division.
The Board of Altrincham FC has been holding lengthy discussions to decide the Club's strategy on this important issue. As you will know, the Conference recently asked all interested clubs in the UniBond, Dr Martens and Ryman Premier Divisions to submit an application to them to join the new feeder divisions. Applications were to be accompanied by a payment from each applicant of £1,750 plus VAT. The deadline for such applications has now just passed. Altrincham FC has not made an application, for the following reasons.
Firstly, and most importantly, the Conference, just like the UniBond (Northern) Premier League or indeed any other significant League, is subject to the rules of the Football Association. The F.A. has made an irrevocable decision that the Conference's proposals will not be enacted for 2003-04 season. Altrincham F.C. are full members of the F.A. and, as such, are required to abide by the rules and decisions of the F.A., such as the above decision on the Conference. Should the F.A., at some subsequent date, change its outlook on the Conference proposal, the Club understands that the F.A. will insist that all of its members be able to apply at that stage. The Conference is expected to submit new proposals to the F.A. in the near future.
Altrincham FC is also concerned not to rush into a new system without there being adequate safeguards to protect the interests of those clubs who would be left behind in the NPL, were the majority of current NPL clubs eventually to move to a new Conference feeder league.
Although Altrincham F.C., as we all know, remains in a difficult financial situation, the decision not to apply at the present time was not dictated by the need to pay the Conference £1,750 + VAT. Should the Conference and F.A. reach agreement at some future date, Altrincham F.C., as a forward-looking club, would be keen to be part of any restructuring of the leagues.
STAR EVENT
The following is from Jon Stack of STAR:
STAR, the Altrincham FC Supporters' Trust, has been given permission by the owners of the Town Centre precinct to use Stamford Square on Saturday March 1st and Saturday March 8th. We want to use the opportunity to publicise the home matches later on those days and the Launch of the Supporters' Trust on Sunday 9th March. We hope to have a colourful stall and a small scale penalty shoot out competition for young children. Those taking part in the penalties will receive "kids go free" vouchers for the match. The events will run from around 10am to around 2pm on each day. I'd be interested in hearing from anyone who can help out on either day, or who can provide any of the following equipment:
a table for a stall, covered in flags, etc with some red/white balloons, streamers, etc
penalty shoot out equipment: a small scale goal with net and a mat to dive on, and lightweight plastic footballs.
goalkeepers!
volunteers to man the stall and distribute leaflets.

If you would like to help then please e-mail Jon Stack or ring him on 01827 64471.
TUESDAY GAMES
Premier Division
Harrogate T. v Blyth Spartans OFF
Vauxhall M. 1 Burscough 0
Runcorn FC Halton v Lancaster C. OFF
President's Cup QF
Wakefield & Emley v Kidsgrove A. OFF
M/cr Premier Cup SF
Ashton U. v Flixton OFF
WHITBY
Alty meet Whitby this Saturday. After losing French striker Stefan Zoll to Farsley Celtic recently, the Yorkshire side's other main scorer, Aaron Wilford, is reported to have gone on trial to Middlesbrough, for whose Reserves he used to play. Wilford is a defender, converted to a striker by Whitby.
GATESHEAD TOUR
As Alty fans who went to the away game last Saturday will know, five Gateshead supporters are raising money for charity by visiting the grounds of all 45 UniBond League clubs. Last year it took them 30 hours and 15 minutes but their target this time is 24 hours. Proceeds of their sponsorship go to the Disability Gateshead charity. The organiser Alan Percival can be reached by email here if you wish to help. More details are on Alan's Unofficial Gateshead FC website. They raised £500 last year. The same site reports that Gateshead's centre-back Rob Jones, who played well against Alty on Saturday was watched in that game by scouts from Oldham Athletic, Carlisle United and Queen of the South.
---
18 February 2003
SEAN BREAKS LEG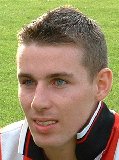 Alty's young midfielder Sean Smith (right) has broken his leg after being involved in a head-on accident between a Mondeo taxi, which he was driving, and a Rover car at 11.15pm on Sunday night in Salford Road, Over Hulton. Earlier reports that both legs were broken have thankfully proved not to be the case. According to This is Bolton "firemen had to demolish a garden wall in order to get the taxi driver out of his vehicle". Sean, 22, was having surgery yesterday in the Royal Bolton Hospital and everyone at the club wishes him a full and speedy recovery. Last season's he was the Eccles Sunday League player of the year, before he joined Alty in summer 2002. He had established himself as a regular on the left of midfield in the Alty side this season, and had made 15 starts and 2 sub appearances to date. There will be a collection for Sean at Alty's next home game on 1 March.
UPDATES
The following pages have been updated:
Attendances - courtesy of Terry Rowley.
Through the Years - courtesy of Howard Watts.
HOT-POT & CURRY EVENING
There will be a hot-pot and curry evening with special guest speaker, Bob Greaves, the entertaining former Granada Reports presenter, in the Sponsors' Lounge at Moss Lane on Friday 21 February at 7.30pm for 8pm. Tickets are £15 and are obtainable from the Club, (928-1045). All proceeds are for the benefit of the Club, so please support this event.
NEXT GAME & LAST GAME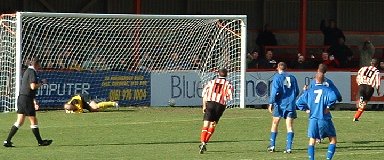 Rod Thornley scores from the spot as Alty beat Whitby 2-1 at Moss Lane last October.
The excellent Whitby site has a preview of Alty's visit next Saturday - "Our record against Altrincham is poor to say the least in seven league meetings between the two sides we have lost 5 and drawn 2 with no wins at all. Earlier in the season we had a great chance to beat the Robins at Moss Lane, only to go down 2-1. At the time, Alty were struggling and amazingly languishing near the relegation places. Since then they have improved vastly under their new manager Graham Heathcote and are one of the form sides of the league at the minute. Unbeaten in 6, with only one loss in 11, Alty are now up to 11th in the table, which is poor for them I guess. With Whitby's dreadful home run on THAT pitch, and Alty playing well, it could be very tough test for Harry's youngsters. League Tracker predicts a 2-1 home defeat. We'll have to see. Hopefully some sensible people from Manchester/Cheshire will make the journey to boost the crowd!!"
Whitby, joint leading scorers in the division, have surprisingly won only one of their last six home league games. 119 goals have been scored by Whitby or their opponents in their 30 league games this season- an average of virtually four per match!
Speaking to IC Newcastle about our last game, Gateshead manager Derek Bell said, "We had a lot of pressure, but just couldn't find a goal but I was pleased with our performance".
BARROW KEEPER TO MISS ALTY GAME
Barrow have confirmed that goalkeeper Simon Bishop has been suspended for 3 games "for verbally abusing the referee after the game at Radcliffe and the club has now been notified of the suspension, starting on 3rd March. The influential keeper will miss games against Altrincham (4th March), Wakefield Emley and Harrogate and Kenny Lowe must now decide whether to throw reserve keeper Ross Lidicott into the fray". Liddicott is just 16 years old. Earlier this season Barrow chose to get a loan keeper, Richard Siddall, to replace Bishop, rather than play Lidicott. Talking of youngsters, manager Lowe told the NW Evening Mail "Ideally you would want to blood them in less pressurised environments for them to do well". Bishop has also been fined £100 for his offence.
TRUST ANNOUNCEMENT
A press release by STAR Launch Co-ordinator, Mark Harris, is on the STAR page of this site.
---
---
FOR EARLIER NEWS, CLICK HERE
---