Altrincham Football Club News Archive
20 to 27 March 2003
---
27 March 2003
TONIGHT
Droylsden 2 Bradford PA 0.

Leroy Chambers scored the first goal in the above match, which was watched by Alty manager Graham Heathcote - in advance of our trip to Bradford on Saturday.
NEXT GAME
The Yorkshire Post reports that our next opponents, Bradford PA, lost striker Richard Tracey earlier this week "to an ankle injury that could have put an end to his season" but "the new-look back four, with Graham Mitchell at right back and Wayne Benn in the centre, had yet another outstanding game in keeping the side's third clean sheet in four games". The new BPA goalkeeper Chris Howe has played only twice for the club, following the emigration of Lutz Pfannensteil. Bradford are now 5th and Alty 17th in the form guide over the last eight matches.
FINAL
On Friday 28th Altrincham & District FA Youth play Macclesfield FA in the District Cup Final at Moss Lane (note k.o. is 7.30pm; £2 entry, £1 for concessionaries). Alty FC Youth team makes up virtually all of the Altrincham FA squad, who are seen above.
CSC FINAL
Both of Crewe's goals in their 2-1 win at Moss Lane last night in the CSC Final against Northwich came from Paul Edwards, an Academy player. He netted in the 29th and 36th minutes. Vics pulled back a goal after 89 minutes through Gregor Rioch, whose 35-yard shot went through keeper Bankhole's hands. It was Alex's second successive Cheshire Cup win, having defeated Alty last season in the Final.
UNIBOND NEWS
Harrogate Today states that "despite winning seven of their last nine games and moving up to seventh place, Harrogate Town's home crowds have taken an alarming dive in recent weeks...315 and 368 gates were recorded for the games against Colwyn Bay and Altrincham". Manager John Reed added, "For us to compete with the top teams in this division we need to get around 600 through the turnstiles, so we can bring in more players. Our future lies with another two to three hundred coming through the gates". But Runcorn FC Halton boosted their gate last Saturday by sending 700 free tickets to schools in Runcorn and Widnes, of which 250 were used in a 429 crowd, the biggest at the Halton Stadium for a league game this season, according to This is Runcorn. Sadly Runcorn lost 0-5 and the gate for Tuesday's game at home to Droylsden was just 168.

Gainsborough's adaptation of the UniBond Fun Day on 5 April will see free admission to children under 16 and "the first 50 children through the gates will receive a free burger". Marine report that the final of the Unibond League Cup will be played over two legs against Gateshead with the first leg at South Shields on April 9 or 10 and the second leg on April 24. The winners of the final will play the league champions, away, in the League Shield on May 3.
---
26 March 2003
GRAHAM ON HUCKNALL
SAM quotes Graham Heathcote on the Hucknall game last Saturday; "I thought it was a decent football match. They knocked the ball about well in the first half and caused us problems. We tightened things up later in the game, move forward better and began to cause them some problems. There were some strong words after the Harrogate match - which I would hope will turn out to be a one-off blip. You've got to bear in mind that this is nowhere near the strongest side we could put out. The eleven that did go out showed the pride and effort that we want to see". Graham agreed that a draw was a fair result against the Nottinghamshire side.
YOUTH PILE-UP
Alty Youth now have 10 league games in a four-week period, as well as having matches to be arranged in the two NWYA cup competitions. In early April they play 4 times in a week! Full fixtures are in the Youth section of this site.
TRANSFERS
Nicholas Beach (Bradford C. to Barrow)
Guy Heffernan (Blackpool to Barrow on work experience)
Sean Singh (Scunthorpe U. to Barrow on work experience)
Steve Richardson (Burnley to Blyth S.)
Nathan Reid (Parkgate to Hucknall T.)
Simon Carden (Accrington S. to Radcliffe Borough, loan extended)
Worksop have recalled Darren Beesley from Harrogate, where he was on loan. He played against Alty a week ago.
---
25 March 2003
MIDWEEK FIXTURES
Tuesday
Ashton U. 5 Harrogate T. 0
Blyth S. 2 Worksop T. 1
Burscough 1 Gateshead 0
Colwyn Bay 1 Vauxhall M. 1. This point retains Bay's mathematical chance of survival from relegation.
Hucknall T. 0 Barrow 3
Runcorn FC Halton 0 Droylsden 0
ULCC SF: Ossett T. 0 Marine 1

Thursday
Droylsden v Bradford PA
ATTENDANCES
The updated UniBond Premier attendance chart is here, courtesy of Terry Rowley. With just two home games to come, against Ashton United and Colwyn Bay, this season's average home league attendance at Moss Lane is 598 compared with 638 for the whole of last season.
UNIBOND NEWS
Runcorn report that the club's management is "working on a weekly wage bill which is the lowest in the League" and that "the Club has suffered a catastrophic injury crisis during the last few weeks and has done well to compete so strongly. Some teams in our League have wage bills of three and four times what ours is". In the UniBond form guide, Alty now lie 16th over the last 8 games; our next opponents, Bradford PA were third before last night's draw with Frickley.
ALTY YOUTH REPORT
Alty Youth beat Marine A 4-1 on Sunday; above, Mark Griffiths nets goal number three.
Match report and more pictures in the Youth section.
OLD BOYS
Marc Lloyd-Williams hit six goals on Saturday for Bangor City in their 8-0 win over Llanelli in the League of Wales. Amazingly Marc scored six in one game last season, too!
---
---
24 March 2003
NEXT GAME
Bradford PA drew 2-2 at home to Frickley tonight, after leading 2-0 with two minutes to go. Alty play Bradford Park Avenue next Saturday; it will be the Yorkshire club's fourth game in eight days. Though they now play at the modern Horsfall Stadium, the clubhouse has an interesting diaplay of memorabilia of this historic former-League club, with the career of ex-player Len Shackleton being a central focus. Click the Through the Years link, above,for previous Alty games on 29 March.
OLD BOYS
Flixton have signed Otis Thomas who, as a teenager, played for the Alty first team under Mark Ward. A profile of the somewhat older but much respected Joey Pritchard has been added to the Legends section.
BUCKETS
The supporters' association, SAFE reports that yesterday's half-time bucket collection raise £104.26 making a season's total of £2,387, for which the club is very grateful.
UNIBOND NEWS
IC Newcastle reports that Blyth striker Glen Robson has received a six-match suspension and that Scott Emmerson has a "bad injury". The Blyth Spartans website quotes manager Paul Baker on the moves of midfielder Carl Pepper and Phil Brumwell from Croft Park: "The departure of Philip Brumwell was chiefly due to myself, whereas Carl Pepper left due to work commitments".

The NW Evening Mail states that "Barrow AFC director Phil Cowing told fans last night that the club remains on course to come out of liquidation by the end of the season". The article goes on "Manager Kenny Lowe again spoke of his admiration for Stalybridge Celtic's Colin Potts and even admitted he had virtually signed the player earlier in the season. Lowe then talked of Accrington Stanley's Lutel James, with whom he had held transfer talks, 'But we could not get anywhere near what he was on at Accrington'." The same paper confirms that Barrow striker Grant Holt has signed for Sheffield Wednesday but "his switch to Hillsborough is not expected to command a transfer fee".
---
23 March 2003
ALTRINCHAM 0 HUCKNALL TOWN 0
Above: Ryan Young of Hucknall saves Ian Craney's last-minute penalty.
Match report here.
AWAY GAMES
The supporters' coach times for Bradford (29 March) and Droylsden (31 March) are now here. Although Runcorn FC Halton are switching some games from the Halton Stadium to allow the pitch to be improved, the visit of Altrincham is not one of them. They have switched their games against Hyde United and Runcorn to Prescot Cables FC. Alty's game on Easter Monday (21 April) will be the first game back at the Halton Stadium after the remedial work.
OLD BOYS
Carl Furlong scored for Colwyn Bay but the Welsh side lost and have now been caught by Hyde United at the bottom of the table. Other ex-Robins in action in the UniBond were Chris Timons (Gainsboro'), Neil Murphy (Marine), Steve Hawes (Worksop), Adam Farley, Leroy Chambers (sub) and James Glendenning (Droylsden). Mark Sertori played as a striker for Hyde but had to go off injured. In Division 1, Neill Hardy hit two for Radcliffe Borough and Gareth Strange played for Trafford. Dean Greygoose saved a penalty for Sudbury, who won 1-0 in the 1st Leg of the Vase semi-final yesterday. In the Conference, Stuart Coburn played for Leigh and Mark Quayle was used as a sub for Chester City. Tony Hemmings turned out for Ilkeston Town and Stuart Terry for Connah's Quay.
TRANSFERS
Michael Chilton (West Allotment C. to Gateshead)
Anthony March (Dunston Federation to Gateshead)
James Connolly (Southport, loan extended to Marine)
Dominic Crookes (Hyde U. to Belper T.)
David Brown (Salford C. to Radcliffe B.)
Marc Nixon (Carlisle U. to Workington)
Paul Roberts (Caernarfon T. to Colwyn Bay)
Paul Williams (Leigh RMI to Hyde U.) Williams, 33, made many league appearances for Plymouth Argyle, Stockport County, Coventry City, Gillingham and Bury.
Alex Callery (Gainsborough T. to Worksop T.)
Adam Russell (Pickering T. to Frickley A.)
RESTRUCTURING
UniBond League Chairman Peter Maude has made the following statement about the new Conference feeders. "We support the idea conditionally but I must emphasise there are still many matters that have yet to be jointly agreed by the new eight man board. These include such important issues as promotion/relegation, play-offs, sponsorship etc as well as the terms and conditions for membership of the new North and South Divisions. The decision to delay the new structure until 2004 will provide more time for constructive consultation and I am very mindful of the responsibility to look after the interests of all member clubs including those who may not initially form part of the expanded Conference. The delay will also enable clubs to plan more effectively for the potentially differing requirements of the 2004/5 season".
UNIBOND NEWS
The Chairman's Cup Final will be on Monday 28th April between Droylsden and Hucknall Town at the Butcher's Arms. Droylsden won the toss for choice of venue. Wakefield & Emley have listed leading goalscorer Simeon Bambrook and left-back Ryan Crossley. 22 year-old Crossley was voted both the Supporters and Players' Player of the Year last season, whilst Bambrook has netted 18 times this season.

A UniBond League Family Fun Day will take place on Saturday, 5th April, (when we host Ashton Utd). "Each home club will be distributing letters/entry forms to local schools in the run up to the event and the first fifty children to hand these in at each game will be supplied with a free burger. All spectators will receive a free pen whilst children will have free entry to a 'ball in the bucket' fun game for a T-shirt. In addition, up to 200 helium filled balloons will be released at each ground and the person whose balloon travels furthest will win a prize. Finally there is a competition for the major prize of a family holiday to Portugal that is open to supporters of all UniBond clubs. Those clubs who are playing away on the day or who have no game will receive an entry form with their home match programme to be played on a date near to 5th April. It promises to be a great day out for all the family and even the clubs playing on the day have a chance of winning something. The Sponsors are giving away half a dozen training balls to both the home and away sides who score the quickest goal of the day respectively".
---
22 March 2003
SUM UP
Arising from the FA announcement (see yesterday's news), it would appear that, subject to final approval:
Two new Conference feeder divisions, one North and one South, will start in 2004-05. The criteria for selecting the clubs for these divisions are not yet clear but will probably include ground facilities, financial considerations, playing record and "role in the community". A new "Alliance", comprising the Conference, UniBond, Ryman and Dr Martens will manage the new feeders.
Only one current Conference side will be relegated this season. The three current feeder leagues will still each supply a promoted team to the Conference for 2003-04, thereby enlarging the Conference to 24 teams. This would appear to mean that two of the current feeders will become one club smaller e.g. the UniBond Premier could be back to 22 instead of its current 23 clubs, depending who is relegated from the Conference.
REMINDERS
There will be an open meeting of STAR, the Altrincham supporters' trust, at 5.15 pm in the Sponsors' Lounge today after the Hucknall game at which the Board of STAR will report back on current areas of activity.
Altrincham FC Announcement: There will be a Prize Bingo Evening on Wednesday 23rd April in the Sponsors' Lounge at Altrincham FC, 7.30pm. Please can you donate any of the following for the evening?
Wine / Tinned Produce / Biscuits / Sweets / Chocolates / Jam / Sauces / Household Goods / Toiletries.

All goods will be gratefully received. Please ring 928 1045 or 904 9936 to arrange for collection of goods or otherwise please drop off your donations at the Club.
UNIBOND NEWS
The Droylsden Forum warns visitors to the Butcher's Arms to be aware of vandalism. After last Monday's game two fans wrote; "We came out of the ground last night to find that all four tyres on our car had been slashed. We weren't the only ones, another Bloods' fan had three done... Add this to the burning bus shelter, which was almost as interesting as the penalty shoot-out, the tons of glass all over Market Street, and the half dozen police cars down the other end of the road in which we were parked, and it made for a pretty crappy night. Hopefully this is a one-off, and nobody else will have to go through this when they visit the ground, but for the moment everyone should keep an eye open for problems".

Vauxhall Motors' defender Matt Haddrell has joined Macclesfield Town "for £20,000 plus add-ons",according to the UniBond site. Haddrell came to Vauxhall from Newcastle Town for £2,000.

The President's Cup Final (Ashton U. v Stalybridge C.) will be over two legs. The first is at the Bower Fold on 29 March with the return on 24 April.

Whitby Town's site reports that the "future in the Unibond Premier Division is secure for one more season after the Unibond ground grading committee granted the Blues extra time to complete the new stand development". Press reports confirm that "The club was threatened with relegation by league bosses if a £45,000 shortfall was not found to upgrade facilities, including provision of a 350-seater main stand and clubhouse. The appeal fund currently stands at £20,895 with the promise of more cash to roll in. But chairman Graham Manser said the club had 'exceptional circumstances' which meant their place in the league's top flight was secure for another season. Mr Manser said the exceptional ciurcumstances were that the club did not own the ground, which meant borrowing money was difficult. 'I am pleased to announce, however, that provided certain work to the ground is completed by 7 June, we have satisfied the requirements of the ground grading committee of the Unibond League and our participation in the premier division is guaranteed for next season', he said".

Saturday 22nd Fixtures:
Accrington S. 1 Whitby T. 1
Altrincham 0 Hucknall T. 0
Barrow 2 Colwyn Bay 1
Blyth S. 2 Burscough 1
Droylsden 0 Hyde U. 1
Gateshead 2 Frickley A. 2
Harrogate T. 1 Marine 1
Runcorn FC Halton 0 Gainsborough T. 5
Vauxhall Motors 0 Bradford P.A. 1
Wakefield & Emley 1 Lancaster C. 4
Worksop T. 3 Ashton U. 2
---
---
21 March 2003
UNITED LOSE
Man Utd Reserves lost 7-6 on penalties to Oldham Athletic Res. last night at Moss Lane in the Manchester Senior Cup. United striker Danny Webber broke his leg in the second half of the match, which ended 2-2 after 90 minutes. Amongst the paying spectators were United's Quintin Fortune and a group of "merry" Icelanders who had come over for the United v Fulham match this weekend!
CHANGE IN 2004
From the FA site:

After several recent meetings between The F.A., The Football Conference and the 3 Feeder Leagues - Ryman Isthmian League, Dr Martens Southern League and UniBond Northern Premier League - a number of agreements have been made with regard to the future structure of the National Leagues System.

On 13 March, a major breakthrough was achieved when all four competitions - Nationwide Football Conference, Ryman Isthmian League, Dr Martens Southern League and UniBond Northern Premier League - agreed to the formation of a new Football Alliance that will operate as an extension of the Nationwide Football Conference.

The new Alliance will be formed by each of the four competitions taking a 25% stakeholder position in decision making, with two members of each competition forming a new eight-man board.

During recent meetings, there has been a significant acknowledgement by both Football Conference and Feeder League clubs to extend the Football Conference by creating two feeder leagues into the Football Conference. The FA's proposal for restructuring has always maintained that a 2 Feeder plus 4 Feeder system was the best structure for the future (known as proposal C).

The FA National Leagues System Committee today reviewed the Football Conference's request to extend its competition and supported the creation of a structure that is in line with The FA's original proposal.

As a result, the creation of a new Conference North and Conference South Division, feeding into The Football Conference will commence from the beginning of season 2004/05, subject to ratification by FA Council in May 2003.

FA National Game Director Steve Parkin said: "During the past 2 ½ years, one of The FA's key objectives has been to make the National Leagues' System more competitive, exciting and consistent. This agreement has been achieved through teamwork between The FA and all Leagues down to Level 4; they should be commended for their positive cooperation in helping to shape the future of football at this level. The FA will now work with the Football Conference, Isthmian League, Southern League, Northern Premier League and Level 3 and Level 4 clubs to finalise all details and establish selection criteria for entry into the two Feeder Leagues, ensuring that all clubs have this information before the start of season 2003/04."

In addition, The Football Conference today invoked an existing Football Conference regulation, requesting permission from The FA to increase its membership for season 2003/04 from 22 clubs to 24 clubs.

This proposal has today been sent to the 3 Feeder Leagues for their consideration and consultation, prior to a FA National Leagues Sanctions Committee meeting before the end of the current season.
SWITCH
The Heathcote/King Roadshow, announced by Altrincham FC yesterday will now take place at 7.30pm (for 8pm) on 2 May and not on 25 April as originally scheduled. The change is due to a local cup final now being played at Moss Lane on 25 April.
SATURDAY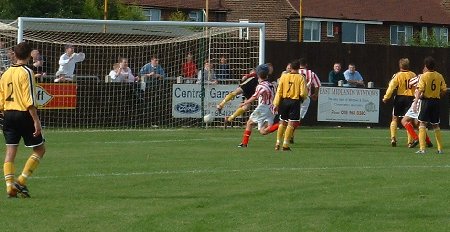 Hucknall Town, whom we meet on Saturday, are 3rd in the UniBond Premier form guide, whilst Alty lie 14th. Hucknall Today reports "Town must play four matches inside seven days after being ordered to squeeze in their Notts FA Senior Cup quarter-final next Thursday night". Pictured above Gary Talbot scores Alty's first goal of this season at Hucknall in a 4-1 defeat on 24 August 2002.
KICK OFF TIMES
The District Cup Final between the Altrincham & District FA Youth team (normally made up almost entirely of Altrincham FC Youth players) and Macclesfield FA, will kick off at 7.30pm next Friday 28 March at Moss Lane. The Cheshire Senior Cup Final, on Tuesday 25 March at Moss Lane, is a 7.45pm kick off.
TITLE DECIDER?
This is Lancashire reports that Accrington Stanley "need just 14 points from their remaining nine game to secure promotion to the Nationwide Conference", assuming the chasing teams win all of their games. So, when Stanley host Altrincham on 12 April it could be the decider. A profile of Accrington Stanley will be broadcast on BBC1's Football Focus this Saturday.
UNIBOND NEWS
IC Cheshire reports that Runcorn FC Halton "are investigating if a couple of April home games can be switched away from Halton Stadium to enable remedial work on the pitch". Altrincham are due to play at the Halton Stadium on 21 April. However, "'We can't move back to Runcorn because there is no stadium to play at which fits our requirements', added club secretary Debbie Quaile, who stressed the cash-strapped club will still be in existence next season. Unless the state of the pitch improves, Everton say there will be 'serious doubts' as to whether they continue [to play reserve games] at Halton Stadium in 2003-04". Runcorn hope to sign 6ft 2in striker Steve Daley (21) from Birchfield FC (Ormskirk). According to manager Liam Watson, Daley "was on trial at Everton last week and this week is on trial at Wigan Athletic. Burscough have put seven days on him as well. He has already spoken to Accrington but turned them down because he doesn't think he is going to get automatic first-team football". The Linnets' former Alty striker, Matt McNeil, is likely to be out for two weeks with an ankle injury. Runcorn like Vauxhall have received £8,000, to go to charity, for their FA Cup exploits this season.

Barrow's Grant Holt played for Sheffield Wednesday Reserves last night, having been recalled for a second trial by The Owls. IC Newcastle quotes Blyth manager Paul Baker as accusing his players of "'playing boys' club football' in their 5-1 drubbing at Bradford Park Avenue" this week. He added: "We were awful". Another upset manager is Alvin McDonald of Vauxhall Motors who, after defeat at Frickley, told IC Cheshire "On days like these you feel like packing in football. It's all about enjoyment and I didn't enjoy that today. I didn't enjoy watching the game or having to put up with a very bitter and hostile atmosphere. It was all round the place, which the match didn't justify, but the crowd ended up making it that way".
---
20 March 2003
HELP!
Volunteers are needed to help to steward the Cheshire Senior Cup Final (Crewe Alex. v Northwich V.) at Moss Lane on Tuesday 25th; please contact the club (928-1045) if you can help.
ALTY ROADSHOW
Altrincham FC Announcement: There will be a "Heathcote / King Roadshow" at Moss Lane on Friday 2nd May (7.30pm for 8pm start). Graham Heathcote and John King, two great legends from the past are teaming up to provide a night's entertainment on the penultimate night of this season. What better way to prepare for our trip to Frickley than to reminisce with the dynamic duo over a few beers and a hot pot/curry? Tables of six are available for the bargain price of £90 with individual tickets selling at £15 a head.
Tickets are available now. Please see Grahame Rowley or contact the club (928-1045) for further details.
Johnny King is pictured right, with Graham Barrow (picture courtesy of Terry Rowley).
BEST WISHES
Mark Maddox missed Tuesday's game as his father is ill and not because of injury. Everyone at Altrincham wishes Mr Maddox well.
MANCHESTER FESTIVAL
Moss Lane will host the Final of the Manchester Festival competition at 1pm on 3rd August 2003. However, it has now been decided that none of the international youth tournament games which are to be played in July and August will be played at Altrincham, contrary to earlier press reports.
YOUTH UPDATE
Joel Ekolongeni (right) is Alty Youth's French striker/midfielder. For an update on the Altrincham FC and Altrincham & District youth teams, visit the Youth Page.
UNIBOND NEWS
Vauxhall Motors have received cheques for charity worth £8,100 as their reward for their FA Cup success this season. The money, from the receipts of the FA Community Shield will be presented to the club's nominated charities. The Motormen have acquired two Shrewsbury players on work experience; they are midfielder Neal McCann and striker Stephen Morgan.

The NW Evening Mail reports that Barrow's striker Nicky Peverell may shortly make his first appearance of the season after injury. The Bluebirds will also still have the services of Neil Tarrant as his proposed move to South Korea has fallen through. Barrow's on-loan keeper Luke Weaver from Carlisle, who made an impressive debut against Altrincham recently, keeps his place in the side despite the end of Simon Bishop's suspension.

Transfers:
Adam Russell (Pickering T. to Frickley A.)
Phil Taylor (Brodsworth MW to Wakefield & Emley)
Nicky Wood (Wakefield & Emley to Worksop T.) for £2,000.
CONFERENCE
There is to be a meeting of the National League Systems Committee today (March 20) to discuss the proposed restructuring of the Conference and feeder leagues.
---
FOR EARLIER NEWS, CLICK HERE
---