Altrincham Football Club News Archive
8 to 19 April 2003
---
19 April 2003
Altrincham lined up for an end of season team picture before today's match. The five trophies on display were all awards won this week by Chairman Geoff Goodwin's coach firm, Go Goodwins!
Line-up - Back: Tony Cullen, Danny Murphy, Steve Lunt, Mark Maddox, Gary Talbot, Richard Acton, Peter Band, Stephen Rose, Neil Ryan, Dave Gardner, Jason Gallagher, Chris Adams, Tony Sullivan. Front: Behind the prostrate Geoff Goodwin are Gary Scott, Ian Craney, Rod Thornley, Barry Shuttleworth, Andy Tunnicliffe and Paul Robertson.
CRANEY SWEEPS BOARD
At tonight's SAFE Player of the Season Awards and Race Night, Ian Craney swept the board by winning the supporters', the players' and the Internet Player of the Year awards. A popular runner up for the supporters' player of the year was Mark Maddox. The full first-team squad was in attendance at the event, along with manager Graham Heathcote and his assistant, Dalton Steele. Pictured above is Ian Craney receiving one of his awards from Graham Heathcote, with Mark Maddox in the background.
RESULTS
Altrincham 4 Colwyn Bay 2
Ashton U. 3 Runcorn FC Halton 3
Barrow 0 Droylsden 0
Bradford PA 2 Stalybridge C. 1
Burscough 0 Harrogate T. 1
Gainsborough T. 1 Accrington S. 5
Gateshead 2 Worksop T. 3 @ South Shields
Hucknall T. 2 Marine 1
Wakefield & Emley 1 Vauxhall M. 1
Whitby T. 2 Lancaster C. 3
PICTURES
Click the following links for Andy Boyers's pictures from the Ashton and Accrington games: Dave Gardner, Mattie Hughes with Gary Scott, Hughes's goal. Peter Band 1, Paul Robertson, Peter Band 2.
UNIBOND NEWS
Worksop Town have announced the appointment of "Steve Ludlam as the new manager in succession to Paul Mitchell, who was sacked last month. Ludlam, 47, has most recently been working at Chesterfield's Academy, and made over 200 League appearances for Sheffield United, Carlisle United and Chester. He has been charged with gaining promotion to the Nationwide Conference next season". Barrow will receive the runners-up trophy if they beat Droylsden and Stalybridge fail to win at Bradford. Gateshead quote manager Derek Bell as saying, "I don't want to be the manager that takes Gateshead down and I don't want to be involved in any play-off - and they have a chance tomorrow to give everybody at the club a boost". Former Alty full-back Neil Murphy may be back in the Marine side tomorrow after injury.
---
18 April 2003
GRAHAM
Speaking to SAM, Graham Heathcote said of his squad, "I will speak to everyone between now and the end of the season and I would like to think everyone can stay but finances dictate that that may not be possible". He added, "For the club to still be going at the end of this season is a big acheivement...It's easy to forget the effort that people are putting in around here. For us to be in a position to take our place in the re-organised Conference next year [2004-05] will take even more hard work". Referring to the defeat at Accrington last week, Graham said "Anyone watching the game would most likely agree that there was not a massive gap between the sides".
UNITED WIN
Man. Utd Reserves beat Leeds Utd Reserves 2-0 at Moss Lane last night.
FRIDAY
Hyde U. 1 Blyth Spartans 1 (k.o. 3pm)
UNIBOND NEWS
The UniBond site reports that "Gainsborough Trinity are the only founder members of the Northern Premier League in 1968 to have maintained 100% membership of the top tier throughout the history of the League". Meanwhile Burscough fans will have to find £18 to watch their side in the Trophy Final at Villa Park on Sunday 18 May at 4.05pm. Tickets can also be obtained by post from the Club at Victoria Park, Mart Lane, Burscough L40 0SD.
---
17 April 2003
BAD NEWS FOR LEIGH?
The FA reports that "Following written submissions to The Football Association from the 3 Feeder Leagues, the Nationwide Conference's request was this week debated at the FA Sanctions and Registrations committee, and the decision of the committee was to reject the Nationwide Conference's request to expand their membership for season 2003/04. The decision...is subject to ratification by The FA Council on 21st June 2003".
THURSDAY
Marine 0 Frickley A. 1
STAR

There will be a STAR (supporters' trust) Open Meeting in the Sponsors' Lounge at 5.15pm after Saturday's match against Colwyn Bay. All are welcome. The following statement has been issued by STAR:

Members of the acting Board of STAR have been putting together a programme of fund raising activities, and will be looking for further ideas and volunteers to help. A series of events is being planned, starting with the Altrincham Festival in July, and a sponsored pub crawl in August. Anyone coming to the Open Meeting will also hear about the latest progress with membership, marketing and schools' initiatives and will also have an opportunity to ask questions of members of the acting Board of STAR, as well as pick up membership application forms.
YOUTHS WIN AGAIN
Alty Youth beat Euxton Villa 1-0, away, on Tuesday, to extend their record to one defeat in their last 17 games. The goal came from Joel Ekolongeni. Match report in the Youth section, courtesy of George Heslop.
UNIBOND NEWS
Colwyn Bay, whom we meet on Monday, beat Bradford PA 2-0 on Tuesday but BPA had two captains dismissed. In the words of This is Bradford, Graham Mitchell went for "swearing at spectators while receiving treatment for a head injury... Throwing his captain's armband at the referee did not help his cause. Jason Maxwell picked up the band but had to give it up himself in the 88th minute when he received his second yellow card". Manager Storton said, "Too many of these players think they can turn up and just win games, they think it is automatic. Well I can tell them now, it isn't. They need to perform or they can just leave. I am not going to stand by and watch players just go through the motions".

This is Hucknall reports that "wing-back Danny Mayman was rushed into hospital with appendicitis and could miss the rest of the season".

"Sacked Worksop boss Paul Mitchell said he was not surprised by the decision of the Worksop Town board", according to the local Guardian newspaper. He felt he was on the way out after Worksop lost to Bournemouth in the FA Cup and then things got worse when he had to "stand in front of the lads and tell them we couldn't go up because of the ground".

The Huddersfield Examiner reports that Wakefield and Emley's goalless match with Runcorn this week was "enhanced with a super refereeing display from Gary Kellett, but watched by a Belle Vue lowest crowd of 167". Mr Kellett was the man who officiated the Accrington v Alty match last Saturday. Emley's Wael Nazha was carried off.

Droylsden's tea ladies lost out 0-2 to Ashton United in the Manchester Premier Cup Final. Barrow have lost Simon Shaw who broke his leg in two places in a training ground collision with team mate Trevor Tearney and Scottish Under 21 international Neil Tarrant has left to join Drogheda United in the Irish Eircom League. The Blyth Spartans site has some photos of the stadium improvement works going on at Croft Park.
---
16 April 2003
WEDNESDAY
Burscough 0 Stalybridge C. 1
Gateshead 1 Whitby T. 3 at S. Shields
ROD SIGNS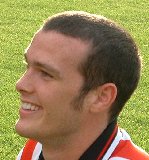 Altrincham FC are pleased to announce that their captain, Rod Thornley (right), has signed a new one-year contract with the Club. Rod, who was 26 this month, joins midfielder Ian Craney, who recently also renewed his contract to stay at Moss Lane. Despite missing much of this season through injury, Rod is still the leading scorer for 2002-03, with 14 goals from 26 starts. In his Alty career he now has 54 goals from just 91(+1) appearances.
BUSY WEEK
Saturday 19, 3pm: Altrincham v Colwyn Bay, followed by SAFE Race Night and Player of the Season Presentations at 6.30pm in the Noel White Suite.
Sunday 20, 2pm: Altrincham Youth v Lancaster City Youth at Moss Lane in the NWYA Open Cup semi-final.
Monday 21, 3pm: Runcorn FC Halton v Altrincham at the Autoquest Stadium, Widnes.
Wednesday 23, 7.30pm: Bingo evening at Moss Lane.
TUESDAY SCORES
Barrow 3 Worksop T. 1
Blyth S. 1 Hucknall T. 2
Colwyn Bay 2 Bradford PA 0
Vauxhall M. 0 Accrington S. 1
Wakefield & Emley 0 Runcorn FC Halton 0
NEXT GAME
Alty entertain Colwyn Bay on Saturday 19 April. Click here for Alty's record on 19 April, "Through the Years".
UNIBOND NEWS
Gateshead report that "the club has received a letter from the UniBond League stating that they will not allow any possible play-off matches to be staged at Gateshead's temporary South Shields base... With the International Stadium still unavailable due to refurbishment and pitch reseeding, it means that Gateshead would be forced to play away in the event of finishing in the play-off zone... Gateshead Chairman Mike Coulson... said "I cannot understand how Filtrona Park has been passed fit to stage three League games and the Challenge Cup final, but is now not suitable to stage play-off games".

This is Lancashire reports that "An allegation that an Accrington Stanley player assaulted a doorman during the club's promotion party has been dropped. However, another player has been cautioned with obstructing a police officer following a fracas outside Opium nightclub, Willow Street, Accrington, at about 1am on Sunday... Some 30 members of Stanley staff, including manager John Coleman, went to ... celebrate the club's promotion-clinching 3-1 victory over Altrincham that afternoon. But they were ejected by door staff three hours later after complaints about their behaviour from other clubbers. Mick Cookson, owner of Opium, branded them a disgrace and barred Stanley's staff from returning to his club".
---
15 April 2003
PRESENTATION AND RACE NIGHT
SAFE's Mark Eckersall reports a "tremendous response" for the Player of the Season and Race Night set for Saturday (19th) at Moss Lane. All the horses have been sold and all the races have now been sponsored. If you have not yet named your horse please do so as soon as possible as the race cards need to be printed. You can e-mail Mark with the names. Doors open at 6.30pm and the first race is at 7.15pm. Admission (including a race-card) is just £2 (under-14s admitted free).
YOUTH PRESENTATIONS
The Alty Youth Team Presentation Night will be at Moss Lane on 17 May at 7.30pm. Please contact the Club (928-1045) for tickets, which are £3 and include a disco.
DIARY DATES
The dates of FA Cup ties for next season have been announced:
Extra Prelim. Round 23 August 2003
Preliminary R'd 30 August
1st Qual. R'd. 13 September
2nd Qual. R'd. 27 September
3rd Qual. R'd. 11 October
4th Qual. R'd. 25 October
1st R'd Proper 8 November
FROM THE OTHER SIDE
This is Lancashire, the newspaper website covering Accrington, agrees with most Robins' fans that Alty had a rough deal from the referee on Saturday. It states, "Prendergast chased a ball into the Robins' box, he tangled with defender Gary Talbot who tumbled on top of the ball and was deemed to have handled by referee Gary Kellett. Alty rightly protested, but James kept his cool to tuck away the spot kick. Seconds later Altrincham assistant manager Dalton Steele failed to keep his cool after Stanley's Steve Hollis was very fortunate not to be cautioned for a bad challenge on Peter Band, and he was sent from the dug-out by Kellett".

In Monday's Evening News, Graham Heathcote says of Accrington, "Any team who win their league by entertaining and scoring goals deserves credit".

According to the Daily Telegraph, Accrington players are being taken on holiday by their chaairman as a reward for promotion. The likely destination is Las Vegas. Meanwhile, former Stanley striker Brett Ormerod, whose £1.75 million move from Blackpool to Southamption helped to fund the Stanley championship bid via a sell-on clause, has reached the FA Cup Final with The Saints. Of Accrington he says, "If it wasn't for them, I wouldn';t be waiting to play in the FA Cup Final".
---
14 April 2003
MONDAY
Marine 1 Burscough 0
ALTY YOUTH 3 KINGSLEY UTD 1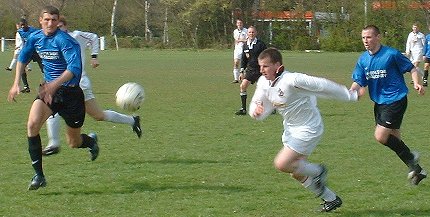 Altrincham Youth had a good 3-1 win yesterday over Liverpool side Kingsley United. Match report here. Above, midfielder Stevie Taylor (in white) is seen in action in the game.
ACCRINGTON STANLEY 3 ALTRINCHAM 1

Above, Barry Shuttleworth (in blue, behind the no.2) nets Alty's goal to the delight of some of the travelling fans.
Match report here.
---
13 April 2003
BAN STAYS
The appeal against Mattie Hughes's 42-day suspension, incurred whilst at Salford City, has been rejected so we will not see him in action again for Altrincham till next season.
GRAHAM SPEAKS
Graham Heathcote has an article in The Pink today in which he thanks his players for getting Altrincham to league safety this season. "With no cheque book to resort to, we've done it by sticking together and grafting...Well done, boys! The task now is to build on the platform we've created...Over the summer we can add one or two quality players in certain areas. You never know how close that could take us to winning the UniBond League and thereby by-passing the new [feeder] division. It will be extremely difficult, I know, but that's what we will set out to do. Looking through our current squad I think it's fair to say we've based our improvement on solid defence. The back-four has, by and large, remained the same since I took over and we have, I feel, had an unsung hero in our goalkeeper Richard Acton... There are a lot of good players here who will not be on contract but their commitment to this club is there for all to see... We have many players who could earn better money elsewhere...but what we cannot give them in cash, we try to make up for in professionalism".
MANAGER OF THE SEASON
A "leader" in the NLP says "Manager of the season?...Our vote goes to Altrincham's Graham Heathcote". The paper describes how Graham as well as former Director Dave Tracey and current Director Grahame Rowley have written off the debts owed to them by the Football Club. Graham said, "We haven't got the money, so I said let's forget it. You can't say you love a club, then wait for the money... The club has had the best 12 months financially since 1995-96 as we've worked within our budget".

The same paper has a front-page picture of Alty's Stephen Rose hacking the ball clear after it had been judged to have crossed the line for Accrington's second goal yesterday.
GATES
The crowd of 2263 at the Accrington v Alty match was more than 400 higher than all of the other eight UniBond Premier games added together. The lowest gate was just 113 at Prescot to watch Runcorn beat Colwyn Bay. Alty entertain the Bay on Saturday and then travel to the Halton Stadium to play Runcorn on Easter Monday (3pm).
22 OR 23 BUT NOT 24
A late proposal to enlarge the UniBond Premier to 24 clubs next season has been rejected. However, it will not be till 15 May before it is finally decided whether 1 or 3 clubs will be relegated from the Conference this season. If Kettering alone go down, the UniBond Premier would have 22 clubs instead of its current 23; if Leigh were to be relegated we would have 23 clubs back in the UniBond again.
OLD BOYS
In the NW Counties, Vernum Rowland scored for Nantwich Town and Dave Gamble did so for Rossendale. In the UniBond First, Neill Hardy and Scott Wilson turned out for Radcliffe. In the League, Danny Adams was booked playing for Macclesfield. Kevin Ellison was not used in the Stockport side yesterday but he has now made 16(+5) league appearances for County. However, Nicky Daws did play in the League for Rotherham. The NLP has a picture of Phil Bolland in action for Chester. Stuart Coburn's Leigh picked up a point yesterday. Stuart Terry (Connah's Quay), Andy McDonald (Kidsgrove), Dave Swanick and Mark Sertori (Hyde) all played yesterday, as did Terry Bowker (Stalybridge).
---
12 April 2003
SCORES
FA Trophy SF 2nd Leg
Burscough 1 Aylesbury U. 0. Burscough meet Tamworth in the Final.

League
Accrington S. 3 Altrincham 1
Ashton U. 2 Barrow 2
Frickley A. 0 Harrogate T. 1
Hyde U. 0 Gateshead 1
Lancaster C. 0 Stalybridge C. 1
Runcorn FC Halton 6 Colwyn Bay 2 (at Prescot Cables)
Vauxhall M. 0 Blyth S. 1
Wakefield & Emley 2 Gainsborough T. 1
Whitby T. 0 Worksop T. 1
VOTE NOW
The Alty Fans' Forum, run by Gary Warrington, is again running its Internet Player of the Season poll. To register your vote, please click here. Last year's winner, Ian Craney, must also be in the running this season.

Also, if you are a member of SAFE, don't forget to register your Player of the Season vote. Next Saturday, after the Colwyn Bay home game, sees the players' award ceremony at Moss Lane, combined with a Race Night. Doors open at 6.30pm and entry is just £2. You can buy horses for £5 or sponsor a race for £25 by contacting Mark Eckersall or other members of the SAFE Committee or by ringing the club on 928-1045. Come along and meet the players, have a good time and raise money for the club!

The following Wednesday there is a bingo night at Moss Lane at 7.30pm which is also an important fundraiser. If you have any items for tombola prizes, they would be very welcome. Then, on 2 May is the John King/ Graham Heathcote Roadshow at Moss Lane, which is fuelled by a hotpot and curry supper. Tickets are £15. For further details of both these events please ring the club on 928-1045.
---
11 April 2003
MATTIE HUGHES
Alty fan and student of photography Andy Boyers has kindly sent a few of his excellent pictures taken at the Ashton match last weekend. The first of these, showing Mattie Hughes's celebrations after scoring is now here.
UNIBOND NEWS
Ex-Alty captain Steve Hawes skippered Worksop at Droylsden on Monday but was sent off. Tuesday night's UniBond Challenge Cup Final first leg at South Shields was decided by a goal after 4 minutes from Marine's David Nolan according to a report on the Gateshead website. Gateshead manager Derek Bell said, "Marine managed one shot on goal and they have won 1-0. We created chance after chance and on another day, we would have put the tie out of sight". The second leg is on 24 April.

The NW Evening Mail reports that Barrow, with just one defeat in 17 league games, are likely to be without both midfielder Graham Anthony and striker Nicky Peverell for the season's run-in. Also out for the rest of the season is Runcorn's ex-Alty striker Matty McNeil. IC Cheshire reports that he has an ankle injury.
---
10 April 2003
DEFENCE IS THE KEY
SAM quotes Graham Heathcote after the win over Ashton, which mathematically secured Alty's place in the UniBond Premier for next season. "We've completed the job today and I've been into the dressing room just now and thanked everyone of them. These players deserve a lot of credit, they have worked very, very hard... Make no mistake, when you look at the clubs around us at that time in October, both Colwyn Bay and Hyde United have gone and Gateshead are still among it - we are one of the few clubs who have managed to pull away from that. It just shows you what can happen once you are in that position - it can get very difficult to turn it round". Graham identifed "the basis of much of our progress; sound defence... Now we need to work our way up this table over the last four games, strengthen the squad for next season and see what we can achieve". Graham also confirmed that Rod Thornley "is close to agreeing things for next season, which will be a massive boost".
EASTER SUNDAY
Altrincham Youth team's league game against St Helens on Easter Sunday (20th) has been replaced by the Open Cup semi-final which will be played at Moss Lane, at 2pm. The opponents will be Lancaster City.

Last Tuesday night, Alty Youth drew 2-2 at Marine. Report in the Youth Section, courtesy of George Heslop.
UNITED GAMES
Manchester United Reserves have two games at Moss Lane next week; on Monday they play Bury and on Thursday they entertain Leeds United. Both matches are at 7pm.
TRAFFORD GO DOWN
Bernard Taylor's Kidsgrove beat North Ferriby United 2-0 last night. This result both ensured Kidsgrove's avoidance of relegation and condemned our neighbours Trafford to the North West Counties League.
RESTRUCTURING
A statement from The Alliance, a working group formed between The Football Conference, The Northern Premier League, The Isthmian League and The Southern League follows:
After the formation of an 'Alliance' between the four major leagues on 13 March, representatives of the four competitions held their first 'Working Party' meeting on Wednesday 9 April 2003. Proposed structures are being considered and evaluated with a view to implementation for season 2004/05. Further meetings will be quickly held to discuss more finite detail, some of which will be to consider the feasibility and timetable of the development of the 'Alliance' and when to make public the new proposals.
Meanwhile the FA will not confirm that only side will be relegated from the Conference this season till 15 May. However, Kettering are now unable to escape the bottom three places.
Our Cheshire Conference neighbours Northwich Victoria are moving from twice-weekly training for their players to three-times a week. Manager Jimmy Quinn told IC Cheshire, "I have to try and make players better and if I get more time to do it then switching to three mornings will be worthwhile".
UNIBOND NEWS
Barrow have signed goalkeeper Luke Weaver on another month's loan from Carlisle; he made his debut against Altrincham a few weeks ago. Alty are now 17th in the UniBond form guide; our next opponents Accrington are top of it and are unbeaten at home in the league this season.
---
---
9 April 2003
RESULTS
Bradford PA 1 Wakefield & Emley 1
Hucknall T. 2 Droylsden 0
Runcorn FC Halton 1 Hyde U. 1
UniBond Challenge Cup Final 1st Leg: Gateshead 0 Marine 1
NEXT GAME
In Tuesday's Daily Telegraph, Accrington chairman Eric Whalley says of Saturday's game against Altrincham: "It would be nice to clinch the title at home and we are expecting a crowd of 2,000 plus to see if we can do it. We have been lucky because we have kept Lutel James and Paul Mullin fit all year- Lutel's scored 30 goals and Paul 29".
IN THE PICTURE
Martin Worthy of Bradford Park Avenue has kindly sent me this excellent photo (right) courtesy of the Bradford Telegraph & Argus, of Peter Band (right) and Barry Shuttleworth in action with BPA's Jason Maxwell at the Horsfall Stadium ten days ago.
OLD BOY
Ex-Alty keeper Dean Greygoose's team AFC Sudbury, already 2003 FA Vase finalists, are now also top of the Jewson Eastern League with five games in hand. They are also the reigning champions.
UNIBOND NEWS
The Whitby site reports that "It is with great sadness that Whitby Town FC announce the sad loss of club stalwart Geoff 'Papillon' Swales today (Monday) in a tragedy at the Turnbull Ground. Geoff lived & breathed WTFC, he was Mr Secretary's gopher, programme editor, contributor... well, damned near everything. A true Seasider through & through". Geoff was a great character at the Turnbull Ground and the condolences of all at Altrincham go to his family.

Burscough will be charging £8 admission and the main stand will be all-ticket for the second leg of the Trophy semi-final between Burscough and Aylesbury United. A Marine XI will play the Isle of Man international team at College Road on 12 April (1pm).
---
8 April 2003
ALTY GO UP
Alty rose a league-place to 12th without playing tonight, because Ashton's goal difference is now worse than ours.
Burscough 3 Ashton U. 2
Harrogate T. 3 Blyth S. 1
APPEAL FOR MATTIE
The MEN reports that Graham Heathcote is appealing to the FA to amend new striker Mattie Hughes's 42-day ban, incurred before he joined Altrincham, to a three-match suspension. "But if that can't happen, at least we saw things from him on Saturday that augur well", said Graham.
STANLEY SURPRISE
Accrington report that "Jonathon Smith has been given the all clear to play against Altrincham next week despite suffering a broken nose and a fractured cheekbone at Droylsden on Saturday afternoon".
MONDAY RESULT
Droylsden 0 Worksop T. 1
Updated Table
---
FOR EARLIER NEWS, CLICK HERE
---