You are in the
F.A. TROPHY 1982
page







---

F.A. Trophy Final, 1982

---
F.A. Trophy Final, 15 May, 1982.
ALTRINCHAM 0 ENFIELD 1
Att: 18,678. Enfield's goalscorer was Taylor.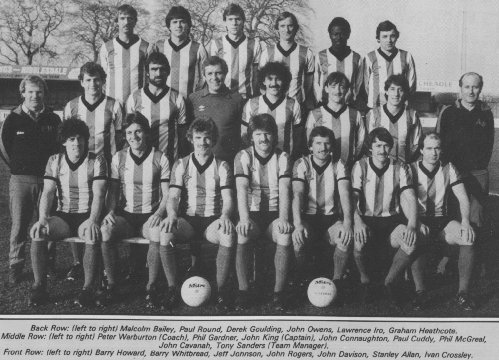 Road to the Final
Round 1: ALTRINCHAM 1 Nuneaton Borough 0 (Howard)
Round 2: Epsom & Ewell 0 ALTRINCHAM 1 (Howard)
Round 3: ALTRINCHAM 2 Mossley 0 (Heathcote 2 pens)
QF: ALTRINCHAM 2 Bishops Stortford 2 (Rogers, McGreal)
QF replay: Bishops Stortford 1 ALTRINCHAM 3 (Howard 2, Johnson)
SF1: ALTRINCHAM 1 Wycombe Wanderers 1 (Rogers)
SF2: Wycombe Wanderers 0 ALTRINCHAM 3 (Rogers 2, Howard)
Final Line-Up
Altrincham's Final team was: 1. Connaughton, 2. Crossley, 3. Davison, 4. Bailey, 5. Cuddy, 6. King (Whitbread), 7. Allan, 8. Heathcote, 9. Johnson, 10. Rogers, 11. Howard, 12. Whitbread.
Pen Pictures
The following pen pictures of Altrincham's squad are from the Trophy Final programme for 1982.
CONNAUGHTON, John: ĎCharlie' joined Altrincham from Port Vale in February 1980, having previously played for Manchester United, Halifax Town, Torquay United and Sheffield United for a total of 220 Football League appearances. Aged 32.
CROSSLEY, Ivan: A loyal servant of the club who is now in his eighth season at Moss Lane, having been signed from Bangor City after experience with Coventry City. 30 years of age.
DAVISON, John: Aged 29, a regular in Englandís semi-pro team since its inception, he is an accomplished player on the left hand side. Joined from Burnley in 1971 and had a short spell at Bangor five years later, before returning to the club. Has represented the British Universities.
BAILEY, Malcolm: After four years at Runcorn, he joined Altrincham in 1977 and scored the goal that put them through to Wembley, at the expense of his former club, in 1978. 31 year old who was earlier with Northwich Vice and Port Vale.
CUDDY, Paul: 23 year-old defender who joined the Robins from Chorley last October, having spent two years with Rochdale before moving to Huddersfield and Bolton. He has quickly become a regular since his February debut.
KING, John: 32 year-old club captain, formerly with Wigan and Northwich as well as a junior with Shrewsbury Town and Everton. Always in the thick of things, he has two Trophy medals one winning one losing and scored Altrinchamís third goal at Wembley in 1978.
ALLAN, Stanley: 35 year-old full back who came from Skelmersdale in 1972 after starting at Kirkby Town. Formerly club captain, he has the distinction of a winnerís medal in both Amateur Cup and Trophy.
HEATHCOTE, Graham: Joined Altrincham as a 16 year-old eleven years ago, although he had a short spell at Northwich in 1976. Leading goalscorer last season and one of the most skilful players around.
JOHNSON, Jeff: Came from Hyde United in 1976 with Football League experience at Stockport. Converted from a striker to midfied in 1979 so successfully that he played in this role for England semi-pro last year and is a member of this seasonís squad. Aged 31.
ROGERS, John: Now 31, another player with appearances in two Trophy Finals, scoring in both, and who played for the England semi-pro team last summer. Began his career at Burscough before moving to Wigan and Port Vale. Also played in the States, a consistent goalscorer.
HOWARD, Barry: Outstanding last season when he was voted Player of the Year and won three England semi-pro caps. Came from Stockport in 1978, having also been with Runcorn and Hyde. A wlnger who takes the direct route to goal. Aged 31.
WHITBREAD, Barry: A regular for England at non-League level for three seasons, he joined Altrincham from Runcorn in 1979 for a club record fee, having scored 181 goals in five seasons. A qualified FA coach he started with Lancaster City. 33 years of age.
ROUND, Paul: Versatile midfield player aged 22. Spent six seasons with Blackburn Rovers, playing over 80 League games. Joined Bury via the French club La Havre and moved to Altrincham in February.
GARDNER, Phil: 20 year-old Liverpudlian who played for Everton Youth and A teams before joining Altrincham in October and rapidly making an impact. In his second year at Liverpool University, he can play at full-back or in midfield.
OWENS, John: Aged 31. He has now spent ten seasons at Altrincham after a short spell at Skelmersdale. A former member of the British Universities' side who is a fully qualified FA coach.

In addition here are some notes from the Barrow v Altrincham programme, 15/9/81

Last season Altrincham completed an amazing hat-trick when they became the first Non-League' Club in modern times to reach the F.A. Cup 3rd Round proper in three consecutive seasons. This time the Robins were drawn away to reigning Football League champions Liverpool at Anfield, and although beaten 1-4 Altrincham's cultured display brought warm praise from the media and the 37,170 present at the match. Altrincham have also defeated Rochdale, Scunthorpe United (twice), and Hartlepools in F.A. Cup games.

But the strongest proof of Altrincham's progress during the last two decades has been provided by their performances in the Alliance Premier League. The Robins won the first championship in 1980 with a superb home record in which they remained unbeaten all season and dropped only three points, and were beaten only on penalties over two legs in the Alliance Premier League Cup Final.

Last season the Robins went one better, retaining their Alliance Premier League Championship and making up for their previous disappointment by winning the Alliance Premier League Cup in a two legged Final against Kettering Town.

Over many years Altrincham's major ambition has been to obtain Football League membership, and the ambitious and imaginative Board of Directors have consistently developed the Club's facilities. Their 'A' rated ground is among the best in the Alliance Premier League.

The bitter disappointment of missing a Football League place by the narrowestpossible margin in 1980 left the Club more determined than ever to achieve their ambition at the earliest possible time, only to be thwarted once again when their outstanding ,achievements went unnoticed at the Football League's Annual General Meeting last June.

PEN PICTURES -
JOHN CONNAUGHTON (Goalkeeper). Connaughton joined Altrincham from Port Vale in February, 1980 after a total of over 200 Football League appearances with Manchester United, Port Vale, Halifax Town, Torquay United, and Sheffield United. He made his League debut for Man Utd ina 1st Div game at Sheffield in April, 1972
STANLEY ALLAN (Defender). A former captain of the Club who joined Altrincham , from Skelmersdale in 1972 after starting his career at Kirkby Town. AIlan has won, both an F.A. Amateur Cup winners'medal for Skelmersdale v Dagenham, and an F.A. Trophy winners' medal for Altrincham v Leatherhead in 1978.
JOHN DAVISON (Defender/midfield). Has played for the England semi-professional International' Team' on seven occasions and was top scorer in last summer's four nation tournament in Italy, after scoring twice from the penalty spot. Davison first joined the Robins from Burnley in the 1971-72 season but had a short spell with Bangor City five years later but soon returned to Moss Lane. He has also played representative football for the British Universities, and the North Premier League.
MALCOLM BAILEY (Defender). Joined Altrincham from Runcorn in August, 1977, and later in his first season scored the goal that knocked his old club out of the FA Trophy semi-final before going on to claim a winner's medal at Wembley. Bailey won a Northern Premier League Championship medal in 1976 during his four year stay at Runcorn after earlier playing experience with Northwich Vic and Port Vale.
IVAN CROSSLEY (Defender/midfield). A tremendous loyal servant to Altrincham who decided to stay on and fight for a first-team place after being offered a free transfer at the end of 1979-80, his testimonial season. Now in his eighth season at Moss Lane, Crossley was signed from Bangor City after Football League experlience with Coventry City.
JOHN OWENS (Defender). Joined Altrincham ten seasons ago after a short spell with SkelmersdaIe and had a very successful joint testimonial game with Stan Allan, Ivan Crossley, and Mickey Brooke (who has since left the Club), when the Robins beat Man City 2--0 at Moss Lane in October, 1979. Owens is a fully qualified FA Coach, and a former member of the British Universities' side.
GRAHAM BARROW (Midfield). Signed for Altrincham from Southport in October, 1979, and quickly became an important member of the side. Barrow was previously with Chorley for whom he scored the last minute winner in the 1976 LancashIre Challenge Trophy final against Wigan at Springfield Park.
GRAHAM HEATHCOTE (Midfield). Finished last season as Altrincham's leading goalscorer in all competitions. He first joined Altrincham as a 16-year-old and has been at Moss Lane for eleven years apart from a short spell at neighbouring Northwich Victoria in 1976.
JEFF JOHNSON (Midfield/Striker). Johnson joined Altrincham from Hyde United in 1976 after playing Fourth Division football for Stockport County earlier that year. Originally a striker he moved into a midfield role in the 79-80 season and the change proved so successful that he represented the England semi-professional International side in Italy last summer. Johnson was chosen as Altrincham's 'player of the year' by the supporters in both 1977-78 and 1979-80.
JOHN KING (Midfield). Club Captain. He inspired many successes with his former Clubs, Wigan Ath and Northwich Vic, before joining Altrincham in 1977 since when he had led the Moss Lane club to a host of honours. King was a junior with both Shrewsbury Town and Everton before joining Kirkby Town. He has played in two FA Trophy finals, for Wigan Ath v Scarborough in 1973, and for Altrincham v Leatherhead in 1978 when he .scored the Robin's crucial third goal.
BARRY HOWARD (Forward). Had an outstanding season in 1980-81 which earned him "Player of the Year" award ann three England semi-professional International caps during the summer. He joined Altrincham from Stockport County in the summer of 1978, and was previously with Runcorn where he won a Northern Premier League championship medal. He began his career as a junior with Oldham before joining Hyde United.
JOHN ROGERS (Striker). Only iniury late last season prevented him from being Altrincham's leading goal scorer for the third successive year, but Rogers was included in the England semi-professianal International party which travelled to Italy last summer, and made three appearances. He has scored in both his apparances in FA Trophy finals at Wenlbley, for Wigan Ath in 1973, and for Altrincham in 1978. He joined Altrincham from Port Vale in July, 1977, after beginning his career at Burscough before joining Wigan. Rogers has also played in the United States for Portland Timbers, and represented the Northern Premier League.
BARRY WHITBREAD (Striker). A regular member of the England semi-professional side, having made seven appearances in the last three summers. He joined Altrincham from Runcorn in October, 1979, for a Club record fee after scoring 181 goals in only five seasons and winning a Northern Premier League Championship medal. Another fully qualified Coach, he began his career with Lancaster City.

Below are supplementary portraits from 23/2/82, Stafford Rangers v Altrincham programme.
GARETH SMITH (Goalkeeper) 20 year-old local goalkeeper who lives close to the Altrincham ground and joined the Robins last October from Manchester United. he spent three years at Old Trafford during which time he progressed as far as the Central League side.
JOHN CAVANAH (Defender). After two years with the Robins' second team, John moved into the first-team squad this season and made his debut as substitute on the opening day of the season. Aged 20, he can either play at full-back or in midfield. Was previously at Preston North End.
DEREK GOULDING (Defender) A powerfully-built 18 year-old centre-half who was signed from Everton immediately before the start of this season. He had figured promi ently in Everton's Central League side and has already attracted a number of Football League scouts to Moss Lane.
---
Click the links below for
Altrincham's full F.A. Trophy Record.
Altrincham's 1978 F.A. Trophy Final team details.
Altrincham's 1986 F.A. Trophy Final team details.
---

Copyright: ©


Compiled by John Laidlar.