You are in the
F.A. TROPHY 1986
page







---

F.A. Trophy Final, 1986

---
Altrincham Players of 1985/86 Season
featuring the F.A. Trophy Final, 17 May 1986.
ALTRINCHAM 1 RUNCORN 0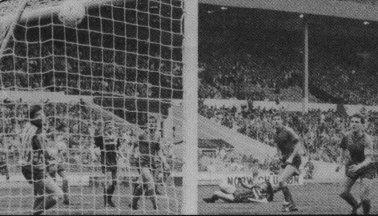 The winning goal, scored by Farrelly.
The Road to the Final
Round 1: Ryhope Community Association 1 ALTRINCHAM 3
Round 2: ALTRINCHAM 6 Bangor City 1
Round 3: ALTRINCHAM 1 Bishop Auckland 0
QF: Cheltenham Town 0 ALTRINCHAM 2
SF1: Enfield 1 ALTRINCHAM 1
SF2: ALTRINCHAM 2 Enfield 0
Pen Pictures
The following pen pictures of Altrincham's squad are from the Trophy Final match programme for 1986.
WEALANDS, Jeff: 34 year-old goalkeeper who made a total of 391 Football League appearances beginning with his home town club, Darlington. After lengthy spells at Hull City and Birmingham City, he moved to Manchester United before joining Altrincham last August and has been first choice ever since. An insurance consultant, he has been beaten only twice in five Trophy outings.
GARDNER, Phil: Liverpool-born full-back who joined 'Altyí from Everton in October 1981 having played in the Youth and A teams. He scored the winner in that seasonís Cheshire Cup Final victory over Runcorn but was not in the side beaten by Enfield at Wembley. 25 years of age, a technical officer, he has now played more than 200 first team games.
DENSMORE, Peter: A former Liverpool junior who was signed last October from the North West Counties League side Ford Motors. He made his debut soon after and has retained the left-back spot with some impressive displays. One of four ever-presents in this seasonís Trophy run, he is a scaffoider aged 26.
CUDDY, Paul: 27 year-old defender who joined the Robins from Chorley in October 1981 and appeared at Wembley against Enfield in his first season. He is now approaching his 200th game but has been sidelined with a leg injury since the end of January. His previous experience includes Rochdale, Huddersfield and Bolton.
FARRELLY, Mike: 23 years of age, he signed for Altrincham at the start of the season from Preston North End for whom he made 82 Football League appearances, having joined them from school. A midfielder who has moved back into defence recently, he played for England Schoolboys. Currently unemployed.
JOHNSON, Jeff: Since he came to Altrincham from Hyde United he has made close to 500 first team appearances in virtually every position. Having scored nearly 150 goals, he is now in the middle of the defence. 35 years old, he was in both the Trophy Final sides, scoring in 1978, and has 16 Semi-Pro caps. An engineering manager.
DAVISON, John: Club captain and also skipper of the England Semi-Pro team for whom he has a record 21 caps. He holds Aitrinchamís individual appearance record having passed 650 in February, and was a member of the previous two Wembley sides. He came to the club in 1972 from Burnley and had a short spell with Bangor City four years later. Aged 33, with a cultured left foot, he is a schoolteacher.
CONNING, Peter: 21 year-old midfielder who is in his second full season with the Robins and is approaching 100 first-team games. Former England schoolboy international, he played in Liverpoolís junior teams before moving to Wigan Athletic. A student, he is sitting his Finals at Liverpool University next month.
NEWTON, Doug: Midfield man who joined Altrincham last October from Burton Albion having started his career at Chesterfield and then moving on to Eastwood, Alfreton and Belper. Starred in Burtonís F.A. Cup run and won three England Semi-Pro caps last year. Aged 27. He converted two Semi-Final penalties against Enfield.
ANDERSON, Gary: Now in his second spell with the Robins, following manager King back from South Liverpool, he operates on the left side of midfield. He has played in all this seasonís Trophy matches, scoring twice at Ryhope. Aged 26, with over 100 first team appearances, he is a builder.
REID, Paul: 30 year-old striker who was transferred to Aitrincham last August from Northwich Victoria, for whom he appeared in the 1983 and 1984 Trophy Finals. Came to prominence with Nantwich Town and now tops Aityís goalscoring charts including a Second Round hat-trick. A vehicle builder.
ELLIS, Ronnie: 28 years of age, he is a former Runcorn player who has now played over 100 first team games for Altrincham in the past three years. He also played for Burscough and Winsford United, and scored in the famous FA Cup victory over Birmingham City as well as in the Trophy semi-final against Enfield. An electrician.
BUXTON, Steve: Midfielder who joined Wrexham as a junior and made over 100 Football League appearances. Joined Altrincham from Stockport County in the close season and also played for Witton Albion. His only Trophy appearance was at Cheltenham. Unemployed.
McMAHON, John: Midfield player who came to Altrincham in October from South Liverpool. He played regularly for Evertonís reserves before moving to Southport and is a brother of Liverpoolís Steve. 21 year old leisure centre officer, he is ineligible for todayís game.
JACKSON, Phil:. Second-choice goalkeeper who has made his mark with the North West Counties League side Cheadle Town and proved an able deputy for Wealands. A gas board clerk, he made his debut in the Trophy defeat of Bangor City.

The following additional pen pictures of Altrincham's squad for '85-86 are from the Barnet v Altrincham match programme for 7 September 1985. This programme also announced that: "Altrincham have released three players. Right-back David Constantine, midfieldman Graham Heathcote amd central defender Rick Hardman. Constantine, the England non-league full-back is joining Stalybridge Celtic, which is nearer his home. Heathcote had been with Altrincham for 15 years while Hardman was signed midway through last season from Runcorn".
CHESTERS, Colin: Striker. Started as apprentice with Derby County and made 9 First Division appearances, scoring once, before joining home town club, Crewe Alexandra. He made 61 appearances for Crewe before moving into non-league football with Northwich Victoria. He played in successive FA trophy finals for Vics, scoring both at Wembley and in the replay at Stoke's Victoria Ground when Vics won the Trophy in 1984. Chesters signed for Altrincham later that summer but his first season with the Robins was severely hampered by a broken pelvis siffered in October, which kept him out of the side for 16 weeks.
FAGAN, Mick: Midfield. Highlighted last season, his first with the Ronbins, by scoring the goal which knocked 4th Division Blackpool out of the FA Cup. A former Burscough and Macclesfield Town player, Fagan also played briefly in the Gola League for Runcorn, before joining Altrincham.
BENNETT, Graham. Striker. Scorer of over 200 goals in senior non-League football. Cardiff-born Bennett started his career in the Southern League with Barry Town before moving on to Bridgend Town, where he totalled 92 goals in less than four seasons. He won a Southern League Division One North championship medal with Bangor City and another championship medal with Bangor City in 1981-82 in the Northern Premier League, when he broke the League's individual goalscoring record with 41 goals, plus 12 in other competiitons. He has remained a consistent goalscorer with Altrincham, topping the club's goalscoring list in each of his three seasons at Moss Lane.
EDWARDS, Elfyn: Defender. Had spells with both Wrexham and Tranmere Rovers before joining Runcorn and starring in their Alliance Premier League championship-winning side. He also won the club's player of the year award while at Canal Street. Chose to join Altrincham at the start of last season when he was an outstanding performer at the heart of the defence.
DANCE, Trevor: Goalkeeper. Made 110 Football League appearances for Port Vale and spent a loan period with Stoke City before joining Stafford Rangers in the Alliance Premier League for a £10,000 fee. Made 150 appearances for Stafford over the next three years before joining Altrincham, in October 1983. An ever-present in the side last season, when he was a member of the p[ovisional squad for the English semi-professional international side.
ASPINALL, John: Midfield. Started his career in the West Cheshire League with the highly successful Cammell Laird's team and caught the eye of Bryan Hamilton, the manager of his home-town club, Tranmere Rovers. He spent three years at Prenton Park, toalling 102 first-team games and topping the club's goalscorers with 15 in the 1983-84 season. Throughout gthis time he remained a semi-professional and thus had to leave Tranmere when the club's American chairman decided to have a staff of full-time professionals only for this season.

Click the links below for
Altrincham's full F.A. Trophy Record.
Altrincham's 1978 F.A. Trophy Final team details.
Altrincham's 1982 F.A. Trophy Final team details.
---

Copyright: ©


Compiled by John Laidlar.