---
F.A. Trophy Final, 29 April, 1978.
ALTRINCHAM 3 LEATHERHEAD 1
Att: 20,000. Altrincham scorers- Johnson, Rogers and King.
Road to the Final
1: Workington 0 ALTRINCHAM 0
1R: ALTRINCHAM 4 Workington 0 (Heathcote, Rogers 2, Bailey)
2: ALTRINCHAM 4 Frickley Athletic 0 (Johnson 2, Davison, Rogers)
3: Matlock Town 1 ALTRINCHAM 1 (Morris)
3R: ALTRINCHAM 2 Matlock Town 0 (Johnson 2)
QF: ALTRINCHAM 4 Winsofrd United 2 (Johnson 2, Heathcote, Davison)
SF1: ALTRINCHAM 0 Runcorn 0
SF2: Runcorn 0 ALTRINCHAM 1 (Bailey)Altrincham beat Leatherhead 3-1 before a crowd of 19,000.
Final Line-Up
1. Eales, 2. Allan, 3. Crossley, 4. Bailey, 5. Owens, 6. King, 7. Morris, 8. Heathcote, 9. Johnson, 10. Rogers, 11. Davison, 12. Flaherty (replaced Davison).
Above: Courtesy of Campbell McLay of the Robins' Shop comes the above nostalgic photo of Altrincham FC stepping out at Wembley for the FA Trophy Final against Leatherhead in 1978. From front to back the line-up is Tony Sanders (manager), John King (captain), Stan Allan, Peter Eales, John Owens, Jeff Johnson, John Davison, Graham Heathcote, Ian Morris, Ivan Crossley, Malcolm Bailey, Joe Flaherty and John Rogers.
Pen Pictures
The following pen pictures are from the 1978 FA Trophy Final programme.
PETER EALES: Goalkeeper. He re-signed for a second spell at Altrincham from Bangor City last summer, having also previously been with South Liverpool and Wigan Athletic. A very humorous character on the field. 31 years old.
STANLEY ALLAN: A very dependable full-back who signed for the club six years ago, after four years with Skelmersdale United with whom he won an Amateur Cup Winner's medal. Started his career with Kirkby Town and has only missed a few matches for Altrincham. 32 years of age.
IVAN CROSSLEY: 25-year-old defender, now in his fourth season at Altrincham having joined from Bangor City. He previously had Football League experience with Coventry City.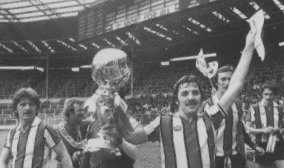 Rught: Graham Heathcote leads the celebrations.
MALCOLM BAILEY: Commenced his career with Northwich Victoria and Port Vale, before going to Runcorn where he spent four years, during which time he won a Northern Premier League Championship Medal. Joined Altrincham in the close season. Age 28.
JOHN OWENS: He has now spent six seasons at Altrincham after a brief spell with Skelmersdale United. A former captain of the British Universities' team who is a great favourite with local supporters. 27 years old.
JOHN KING: 28-year-old Club captain who is Altrincham's most recent signing from Northwich Victoria. He has immediately exerted great influence on the team, and was formerly with Kirkby Town and Wigan Athletic, after a League career with Shrewsbury.
IAN MORRIS: A fast, tricky winger who signed two seasons ago from Macclesfield Town. He has also had Football League experience with Stockport County. Aged 29.
GRAHAM HEATHCOTE: A midfield player who rejoined the club after a short spell with Northwich Victoria. Graduated through the Altrincham Youth Team. Aged 23. Has had a trial with Plymouth.
JEFF JOHNSON: 26-year-old, signed last season from Hyde United, and earlier was on trial with Stockport County for whom he played a number of first team matches. Currently Altrincham's leading goalscorer.
JOHN ROGERS: A close season signing from Port Vale who was formerly a top goalscorer in the Alliance Premier League with Wigan Athletic, aged 27.
JOHN DAVISON: Rejoined the club from Bangor City, in the summer, after an earlier spell of five years at Altrincham. Previous to that he had experience with Northwich Victoria and Burnley and also represented the British Universities. Aged 25.
JOE FLAHERTY: Midfielder, now in his second season at the club after signing from Bangor City. Converted to midfield after starting his career in attack. 27 years of age.
TOMMY CAVANAGH: Goalkeeper, in his third season with the club. Son of Manchester United's assistant-manager, he is a young man for whom great things are predicted. Distinguished himself in last season's Trophy run. Aged 22.
MICKEY BROOKE: A very versatile player who can play in attack or defence. Joined the 'Robins' six seasons ago after a lengthy spell with Ellesmere Port Town. Aged 30.
LARRY GARRITY: 23 years old. The most recent signing from Cheshire County League side Burscough, for whom he was top goal-scorer. Has also played for Wrexham.
---
Click the links below for
Altrincham's full F.A. Trophy Record.
Altrincham's 1982 F.A. Trophy Final team details.
Altrincham's 1986 F.A. Trophy Final team details.
---