News Archive
27 November to 9 December 2000.
9 December 2000
ALTRINCHAM 3 MARINE 1
A full match report is here
Altrincham gained ground in the promotion race by beating Marine 3-1, as Emley drew and Stalybridge lost for the first time this season. Altrincham moved up to third as Bishop Auckland's game was called off. The following have now been updated: League Table, Fixture Grid, Statistics and Line Ups. Cameras from Channel 4 were at Moss Lane, recording scenes from today's game for a programme in a series entitled "The Virtual Body", to be screened on schools' TV next autumn. The other results today were:
Accrington Stanley 2 Colwyn Bay 2
Altrincham 3 Marine 1
Bishop Auckland v Runcorn POSTPONED
Blyth S. v Hyde Utd POSTPONED
Burscough 1 Leek Town 0
Droylsden v Frickley A POSTPONED
Emley 0 Barrow 0
Gainsborough T 2 Bamber Bridge 0
Hucknall T. 1 Spennymoor Utd 0
Lancaster C. 3 Stalybridge Celtic 2
QUAYLE THE HERO IN CUP
Mark Quayle got the winner for Morecambe as they beat Cambridge Utd in the FA Cup. Northwich Vics drew 3-3 at home to Leyton Orient. Gateshead lost 5-0 to Swindon Town.
BISHOPS' CROWD
The attendance at last Tuesday's trophy replay at Bishop Auckland was 235, just three fewer than watched the League game at Bishop Auckland between the two sides on Saturday, 18 November.
MORE ON FINNEY AND PELL
Steve Finney, the striker signed on a month's loan (see below), had a trial at Exeter City in summer 1999 before moving to Barrow. He then moved to Chester where he made four Division Three starts and nine sub appearances but failed to score. His previous clubs include Preston, Manchester City, Swindon, Carlisle and Leyton Orient. 21 year-old Robert Pell (see below) was at Rotherham and Doncaster before joining FC Jara (Finland). He then signed for Northwich before moving to Southport for whom he played ten games and scored five goals. (Thanks to Terry Rowley for the above).
---
8 December 2000
LANDON AND CROWE TO DEPART AS FINNEY ARRIVES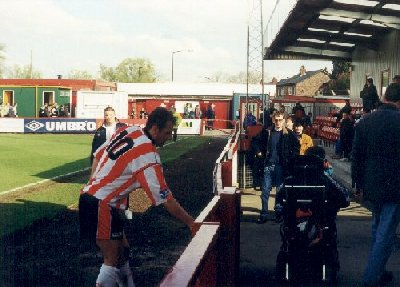 Left: Is Dickie Landon on his way out of Moss Lane?
The Messenger website reports that Dickie Landon and Barry Crowe are being lined up to go on loan to Droylsden whilst Steve Finney has been signed from Chester City on a month's loan. Mark Ward is also hopeful of bringing Southport's ex-Northwich striker, Robert Pell to Moss Lane. Finney, aged 27, is a 5ft 11in striker who had played 137 Football League games by the end of last season; this total included 73 at Swindon where he scored 18 of his 27 League goals. He joined Chester after a spell at Barrow.
WARD SEEKING "MAXIMUM POINTS"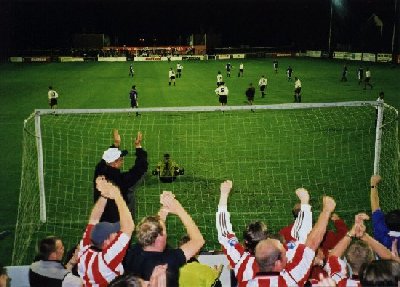 After only one win in the last eight games, Mark Ward is quoted in tonight's Evening News as saying, "We've got to start winning again. We need maximum points from our next four games to haul ourselves back into contention". Alty entertain Marine tomorrow at Moss Lane, having beaten the Crosby side 4-0 in the away fixture on 5th September (click on picture, right, to enlarge). Marine currently lie sixteenth despite having played more matches (21) than anyone else in the Division, with their only away wins being at Burscough and Frickley. With Gary Talbot having joined the sizeable injured list on Tuesday, team selection could be problematical for Mark Ward. However, Adam Farley is likely to have recovered from injury but Steve Hawes also has a knock but may play. Some of tomorrow's other matches are already postponed (see above).
YOUTH MATCH
The Youth team play at Lancaster on Sunday, weather permitting, in a rearranged fixture. See the Youth Page for details.
FELGATE FOR RUNCORN
Alty fans can look forward to baiting Dave Felgate once more. Leigh RMI's current first-team keeper is to be released to join Runcorn. He may be allowed to join Runcorn even before Leigh's normal first-choice keeper, Craig Dootson, recovers from injury. If this happens, Runcorn's Richard Acton would temporarily move to Leigh on loan.
7 December 2000

OUT OF TROPHY
As reported below, Alty lost last night at Bishop Auckland. I am grateful to Alan Johnson, webmaster of the Official Altrincham FC site, who has produced a match report to which he has kindly allowed me to link, here. There is also a brief, exultant report on the Bishops' site, here. Altrincham have now won only one of their last eight league and cup games, a Trophy replay against Ilkeston. In contrast, the Bishops are unbeaten in eleven games.
---
6 December 2000
ALTRINCHAM LOSE AT BISHOP AUCKLAND TONIGHT
Altrincham lost 1-3 in the replay of the second round Trophy match at Bishop Auckland tonight.
---
5 December 2000
ALTY TIPPED TO WIN
Altrincham make a rare appearance on the football coupons this weekend as their match at Moss Lane against Marine is one of just two Unibond Premier matches so honoured. The Evening News is forecasting a home win. The other match, Accrington v Colwyn Bay, is forecast to be a draw.
UNIBOND LEAGUE BECOMES A COMPANY
At a recent meeting of the Unibond League in Sale, member clubs agreed to the League becoming a limited company, just as the Conference, Ryman and Dr Martens leagues already are. The aim of this change is to protect officials should legal action ever be taken against the League. The existing Management Committee will become a Board of Directors from 1 January 2001.
LEAGUE MATCH OFF TONIGHT
Worksop T v Hucknall T POSTPONED
TONIGHT'S LEAGUE CUP FIXTURES
Accrington S 4 Trafford 3
Bamber B 2 Winsford U 1
Droylsden 2 Radcliffe B 2
The following were postponed: Barrow v Workington, Colwyn Bay v Burscough, Gretna v Lancaster C, Harrogate v Frickley A, Leek T v Matlock T, Stalybridge C v Chorley, Whitby T v Blyth S.
---
4 December 2000
FA TROPHY- BURTON ALBION
Should Altrincham get past Bishop Auckland in Wednesday's replay they will travel to meet Nigel Clough's high-flying Dr Martens side, Burton Albion, in the 3rd Round on 13 January. Alty beat Burton 1-0 at Moss Lane in January 1999 at the same stage of the Trophy competition. Also in today's draw, our neighbours Trafford have been drawn at home to Telford United. Other ties involving Unibond Premier sides are:

Burscough v Morecambe
Emley v Accrington Stanley
Hyde Utd v Blyth Spartans
Leigh RMI v Hucknall Town
Marine v Stalybridge Celtic
Runcorn v Scarborough
Worksop Town v Bromsgrove Rovers
---
3 December 2000
DROYLSDEN'S ALTY LINKS
Owen Brown, whose period at Moss Lane last season coincided with Alty's slide from mid-table to relegation, is now being linked to the vacant deputy's job at Droylsden. Neither Eddie Turkington nor Carl Furlong, rumoured to be heading for the Butcher's Arms when released recently by Altrincham, has yet surfaced in the Bloods' first team.
PUBLIC MEETING ON THE CLUB'S FINANCIAL SITUATION
A report on yesterday's public meeting between the Board of Altrincham FC and the supporters is to be found here. This meeting clarified the financial situation of the Club following various recent reports in the press.
YOUTH FIXTURES
Alty Youth's fixtures have been revised once more; the updated details are here.
LINKS PAGE
The Links Page of this site has now been re-arranged and checked for currency. It contains links to sites for all Unibond Premier sides and other relevant local and national sites.
WARDY'S DOUBTS
For the first time since his appointment, Mark Ward is now entertaining the idea that Altrincham may not bounce back up to the Conference this season. In an article in the Pink, today, Mark pledges that the team will nevertheless fight to the finish and he links the recent dip in form to the revelation to the players of the Club's financial plight. The extent of this is such that the players were asked to travel to Bamber Bridge last week by their own cars, rather than by a hired coach. (At least this spared them Gretna's problem yesterday; their coach broke down in Stockport and they had to hire four taxis to complete their journey to Matlock!). Mark also asks for understanding in that he is new to management, there is no money to bring in new players and there has been a long injury list.
EX-ALTY MEN
Mark Quayle scored his first senior goal for Morecambe yesterday when he came on as sub in the 1-1 draw with Hereford. Paul Ellender got Scarborough's winner at Hednesford, who again omitted Keith Russell. Matt McNeil scored again for Stalybridge but Dean Greygoose earned the headline "Greygoose in a flap" from the same game. His former goalkeeping colleague, Lance Key, had better luck as Northwich won again, 3-0, against Dagenham & Redbridge. However, another ex-Alty keeper, Andy Dibble was sent off in Stockport's 0-2 reverse against Sheffield United. Ricky Harris and Mick Morrell were subs for Leigh RMI yesterday and Ged Kielty played from the start as the Railwaymen defeated Kingstonian 2-0 away from home.

---
2 December 2000
ALTRINCHAM 2 BISHOP AUCKLAND 2
A full match report is to be found by clicking here
This incident-packed match included an Altrincham opener inside 30 seconds of the start, three more finely taken goals, a nineteen-man melee and the sending-off of Altrincham's Steve Morgan some twenty minutes from the end. Danny Murphy got the opener from the edge of the box after a prodigious kick from Coburn was cleverly shepherded to him by Alex Hay and the home side dominated the opening stages to the extent that the Bishops' first shot did not arrive until 27 minutes had passed. It all went wrong in the last few minutes of the half when a poor tackle by Morgan precipitated a general set-to near the half-way line. Morgan and the visitors' Bell were booked, as was their captain Salmon, who had seemed to throw a punch in the brawl. Literally seconds before the half ended Gallacher beat a hesitant Morgan and Murphy to score a fine equaliser. The Bishops dominated the first period of the second half after Lee had scored an excellent goal (50 mins). The equaliser came after an hour from a superb 25-yard strike by Mark Ward. Morgan was then justifiably sent off for a second bookable offence (71 mins), but Altrincham raised their game and produced an impressive finish in which they launched a wave of attacks. Altrincham should have had a penalty when Scheuber impressively danced past several defenders only to be upended as he was about to shoot from close range. The referee amazingly saw nothing wrong and despite persistent pressure from the Robins, the teams ended on level terms and now meet again next Wednesday. Today's crowd was 437. The scheduled league cup match against Ashton next Tuesday is now postponed.
SATURDAY RESULTS- 2 December
Selected FA Trophy Ties
Altrincham 2 Bishop Auckland 2
Blyth S 3 Stafford Rangers 0
Burscough 1 Gainsborough Trinity 0
Emley 5 Vauxhall Motors 3
Hucknall T 1 Redditch U 0
Hyde U 1 Spalding U 0
Lancaster C 0 Bromsgrove Rovers 1
Marine 2 Gateshead 1
Radcliffe B 0 Accrington S 3
Runcorn 2 Guiseley 1
Stalybridge C 2 Witton A 0
Trafford 2 Spennymoor Utd 0
Worksop 4 Atherstone U 2
Unibond Premier Matches

Barrow 2 Droylsden 0
Colwyn Bay 1 Bamber Bridge 0
Leek Town 0 Whitby Town 1
New league table is here

SUPPORTERS' MEETING
Almost a hundred fans attended a meeting before today's match to hear from the Board about Altrincham's financial plight. Details will be reported here later.
---
1 December 2000
COMINGS AND GOINGS?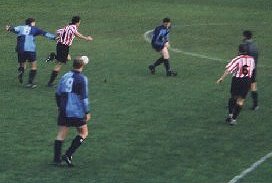 Stuart Coburn is set to return for a further trial at Leicester City following his appearance for Leicester's Reserves last week. Although his side lost 1-5, the Premiership Club were sufficiently impressed to invite Stuart back. The two Altrincham Youth players to have broken through to the Robins's first team, Mario Daniel and Otis Thomas, are also both set for trials away from Moss Lane. Mario is playing for Everton's Academy side over the weekend whilst Otis Thomas is set to play on trial at Bristol Rovers, having recently spent a fortnight with Bristol City. Mario Daniel is also being pursued by Leicester City should Everton not make a move for him. Stuart and Mario must be considered out of the running for tomorrow's Trophy match at home to Bishop Auckland either because of absence or to protect their fitness in advance of their trials. However, Otis Thomas is still available for selection this weekend. Ryan McMahon must therefore be expected to keep goal tomorrow in what would be his first appearance since the FA Cup defeat by Mossley. Also likely to be sidelined are a number of injured players. Jason Gallagher is recovering from the 27 stitches inserted in his mouth wound but is also suffering a leg injury. Adam Farley is also thought to be doubtful whilst Phil Power and Danny Murphy have missed recent first-team action through injury. Pictured above, left, are Stu Scheuber and Mark Ward in action at Bishop Auckland two weeks ago.
DON'T FORGET THE MEETING!
Tomorrow (Saturday) at 12-30pm there is an important meeting in the Noel White Suite at Moss Lane to clarify and discuss Altrincham's current financial plight. The Chairman and Board will be in attendance and straight answers are promised to fans' questions. The meeting is open to all those who have an interest in the Club.
---
30 November 2000
BISHOP AUCKLAND
Bishop Auckland, who visit Moss Lane on Saturday for a 2nd Round trophy match, have now gone nine games without defeat in all competitions, winning seven of those matches and scoring 29 goals whilst only conceding seven. Defender, Steve Hutt, is the only ever-present Bishops' player in the League this season but has missed one Cup match. Their leading scorer is "Snapper" Shaw, with 12, although five of those came in one local cup match. However, he did score the opener against Alty this season.
---
29 November 2000
EMLEY LOSE IN TONIGHT'S CHALLENGE CUP FIXTURES
Bishop Auckland 4 Whitby Town 2
Bradford P.A. 3 Emley 2

IMPORTANT PUBLIC MEETING, Saturday 2nd December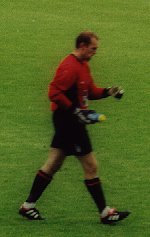 The poor financial situation of Altrincham FC has prompted the Board to call a public meeting before the Trophy match against Bishop Auckland on Saturday. The meeting will start at 12.30pm in the Noel White Suite at the ground. The Club Chairman Gerry Berman and the Directors will be in attendance, as will Club Secretary, Graham Heathcote. All supporters are urged to attend this meeting during which it is promised that the true state of the Club's finances will be revealed in the light of the recent appeal for financial investment. The possible sale of Stuart Coburn, (pictured left; see item below "Ring the Robins' Round-Up!"), is being touted in The Sale & Altrincham Messenger as one route to financial salvation, albeit for the short-term.




UNIBOND CHALLENGE CUP GROUP FOUR
The following table shows the current position in Altrincham's league cup group. As indicated in an earlier news item on 21 November, if teams are level on points, it is goals-scored NOT goal-difference which determines the leading side.
PLACE
TEAM
PLAYED
WON
DRAWN
LOST
GOALS FOR
GOALS AGST
POINTS
1
HYDE UNITED
2
1
1
0
5
4
4
2
OSSETT TOWN
1
0
1
0
3
3
1
2
STOCKSBRIDGE PARK STEELS
1
0
1
0
3
3
1
4
ALTRINCHAM
1
0
1
0
1
1
1
5
ASHTON UNITED
1
0
0
1
3
4
0
---
28 November 2000
RING THE ROBINS' ROUND-UP!
If you ring 09066-555-902 you will hear Brian Flynn's latest "Robins' Round-Up", which includes details of Stuart Coburn's appearance for a Premier league reserve side, and Mario Daniel and Otis Thomas's trials at a Premiership and Division 2 side respectively. Brian also reveals the extent of Jason Gallagher's nasty injury at Bamber Bridge as well as of Adam Farley's ankle injury in the same game.
CROWDS
Altrincham's average home gate in the League is currently 612, bettered only by Accrington 778 and Barrow 1254. Five of Alty's away games have brought the hosts their highest gate of the season to date (Accrington, Hyde, Marine, Runcorn, Whitby). (Info from Terry Rowley- thanks!).
VICS WIN
Northwich Vics beat Bury 1-0 tonight in an FA Cup 1st Round replay before a crowd of 2,869. They now meet Leyton Orient at home in the next round.
ALTY MATCH OFF
Tonight's League Cup match at Ossett Town has been postponed due to the muddy state of the pitch. Alty currently lie 4th in their Group. Other Cup results were:

Monday 27 November

Ashton United 3 Hyde United 4 - a bad result for Alty as "goals scored" are the first criterion for separating teams which finish on equal points.
JUNIOR ROBINS
The "Junior Robins" Christmas Party is on Thursday, 14th December from 5-30pm till 7pm in the Sponsors' Lounge; first-team players will be there in the latter stages to sign autographs. The Party is free to "Junior Robins"; it costs just £5 to join for a year.
CAROL SERVICE
There will be a Christmas Carol service in the Noel White Suite at 7-30pm on Thursday, 14th December i.e. just after the "Junior Robins" Party (see above).
INJURIES
Danny Murphy's current injury is apparently to his foot, whilst Phil Power has been sidelined by an Achilles's heel problem.
---
27 November 2000
LIFE WITHOUT STUART
Having breathed a sigh of relief that Stuart Coburn was not sent off, as he might well have been in the opening minutes at Bamber Bridge, Altrincham may nevertheless have to get used to life without their reliable keeper. He is reported to be about to go on trial to a Premiership side, following his recent trial at First Division Crystal Palace.
STEVE MORGAN
Although recent signing, left-back Steve Morgan (32), finished last season at Hull City, he actually joined Alty from Halifax Town. He had joined Halifax in late September after a trial at Moss Lane and he appeared once for the Yorkshire side this season. He has over 400 League appearances and 21 goals at eight clubs to his name in a career dating back to 1986, when he joined Blackpool. The peak of his career was at Premiership side, Coventry City (1993-96), where he made 65 appearances and scored three times. (I am endebted to Terry Rowley for the above information). Other recent transfers involving Unibond Premier Clubs were:

Oliver Crawley (Farsley Celtic to Marine)
James Gray (Hallam to Worksop T)
Joshua Howard (Manchester Utd to Stalybridge C)
David Hunter (FC Mikkeli [Finland] to Gateshead)
Damian Logan (Chesham Utd to Marine)
Kevin Noteman (Hucknall T to Harrogate T)
Colin Potts (Bamber Bridge to Lancaster C)
Paul Tomlinson (Hucknall T to Lincoln Utd)
Kevin Tutt (Everton to Colwyn Bay)
Ian Williams (Gretna to Whitby)
Paul Williams (Northwich V to Runcorn)
---