---
1 February 2001
ELLISON ON MOVE?
One absentee from last night's "Reserves" game (see below) was Kevin Ellison whose trial at Leicester City is believed to have gone well enough to fuel strong rumours that a sizeable transfer may soon be concluded. Kevin is pictured left with one of his many Man of the Match awards. Despite injury, Kevin has scored ten goals in twenty starts this season.
"RESERVES" WIN
Alty Reserves trounced Guiseley Res. 6-1 last night at Moss Lane, with a hat-trick from Steve Finney, two from Ian Craney and one from Steve Hawes. In fact, virtually all the first-team played; see the
Reserves
page.
UNIBOND CUP
If Alty do qualify for the President's or Chairman's Cup as seems likely, they will play their quarter-final match on Saturday 3rd March.
MORE ON UNIBOND MAGAZINE
As reported earlier, Simon Matters, a Hucknall fan, is producing a new "UniBond magazine" which will be a monthly publication containing "news, reviews, programme reviews, club website news plus many other exciting articles". It will be called
Extra Time
and the first issue is due out on 21st February. It can be obtained from
Simon Matters
199, Nottingham Road, Hucknall, Nottingham NG15 7QB. He is also soliciting articles for inclusion in future issues. It costs £1-20 per monthly issue or you can subscribe to 13 issues for £12, or six for £6.50, postage paid. A SAE of A5 size should accompany any orders. Simon is also keen to receive articles and other contributions.
YOUTH AND RESERVES' RESULTS
Altrincham Reserves lost 0-1 to Colwyn Bay last week but George Heslop's Youth side keep on winning, triumphing 3-2 at Lancaster last Sunday. They still have a 100% record and lead the
table
.
SLOUGH OF DESPOND
Slough Town, thrown out of the Conference in 1994 for financial reasons, are once more in deep financial trouble, whilst Canterbury City have had a winding-up order served on them by a former director.
---
31 January 2001
NORTHWICH GOT TALBOT AT REDUCED PRICE
According to
SAM
Northwich tried to sign Gary Talbot soon after Keith Alexander came as manager before Christmas and at that time they were offering Alty twice as much as the £2,500 which they now claim to have paid. (The Supporters' Meeting last Saturday was told that an unspecified higher price than this had been paid). Alexander said "It's a bargain because there was talk of a lot more money [for the fee] early in the season." Even before Alexander's arrival, the Vics had tried to sign Gary whilst he was at Winsford. Talbot has signed till the end of the 2001/2 season and, although there are now five centre-backs at the Drill Field, his next league match should be against Keith Russell's Hednesford.
STUART OFFERED NEW CONTRACT & SCHOOLS' INITIATIVE
Alty goalkeeper Stuart Coburn has been offered a new contract at Altrincham, again according to
SAM
. The same source also reports Bob Allan's appointment as Schools Coordinator, which is aimed at attracting youngsters to come to watch their local team. As Mark Harris says, "Just as we are grooming players of the future on the field and in the reserves and youth team, we need to grow the supporters of the future".
LANDON SCORES AGAIN
Dickie Landon scored again for Droylsden in last night's Manchester Senior Cup Quarter-Final with what was described as a "bullet header". The goal secured a 1-0 win over Curzon Ashton.
SAFE MEETING
The next SAFE Supporters' Meeting will be on 17 February - before the Bishop Auckland home game.
RESERVES TONIGHT
Mark Ward was expected to field a strong team for tonight's Reserves' match against Guiseley.
---
30 January 2001
UNIBOND CUP UPDATE
Stocksbridge lost 2-5 to Ashton tonight in Alty's Unibond Cup group; Alty remain second but Ashton can overtake us if we don't defeat Stocksbridge next week. Farsley, Hyde, Bamber Bridge, Gainsborough and Droylsden are all already winners of their groups, so we can't meet any of them in the President's Cup unless one of them turns out to be the one with the worst record of the nine group winners.
MARK HARRIS IN "DAILY TELEGRAPH"
Today's
Daily Telegraph
carries an interview with Alty's acting Chairman, Mark Harris, about the recent financial events at the Club. "The chairman thought it was time to step down and we have to take the club forward", he said. Mark is now reported to be "going through the books with a fine toothcomb with the aim of cutting costs and increasing income" but the "primary objective is to get more investors into this football club". He also mentioned the Club's intention to increase its supporters' base by going out to local schools.
---
29 January 2001
ALTY ELIMINATED
Hyde beat Ossett 5-1 tonight to clinch Group 4 of the Unibond Cup. Depending on results elsewhere, Alty are likely to go into the last eight of the President's Cup, which is for the seven best runners-up in the nine groups plus the ninth winning team.
MOSS LANE MOUTH
Issue 10 of "The Moss Lane Mouth" fanzine is now sold out but issue 11 is due on 20 February.
FURLONG SURFACES- BRIEFLY!
The
Non-League Paper
reported yesterday that Carl Furlong, who left Alty recently, made his debut with League of Wales Champions, TNS, on Saturday. Starting alongside another ex-Robin, John Toner, Furlong was sent off for two yellow cards! Toner scored in a 1-1 draw with Afan Lido.
FIXTURE CHANGES
Altrincham will now play at home against Droylsden on Saturday, 17th March (instead of 21 April) and will contest the previously postponed match with Hucknall Town on Tuesday, 3rd April. We now have dates set for all of our remaining league fixtures: see the full list
here
.
STOCKSBRIDGE
Alty fans wanting a preview of the threat posed to us by Stocksbridge in the Unibond Cup on 6th February can watch the Yorkshire side this Saturday at Trafford F.C., whom they play in a Unibond First Division match. Altrincham have no match this Saturday.
SQUAD TURNOVER
With the departures of Phil Power and Gary Talbot in the last few days, Altrincham have now shed 15 players who have made at least one first-team appearance this season. Currently 21 players who have appeared for the first team this season remain at the Club. To see who is in each category visit the
Squad Page
and the
Departed Players' Page
.
BROMSGROVE FACE WIND-UP ORDER
Bromsgrove Rovers of the Dr Martens Western League, who were relegated from the Conference with Altrincham in 1997 were scheduled to answer a winding-up at Liverpool Crown Court today because of £18,000 of unpaid VAT. This was the fate that awaited Altrincham last week had the new consortium not stepped in. Bromsgrove's Chief Executive fears that the Club may now have played its last game. They need the local Council to grant them a lease before financial backers will commit themselves to invest in the Club. Another recent Conference side, Runcorn, are also in a similar boat to Altrincham. Their recent transfer-listing of highly-rated keeper Richard Acton, like the earlier release of Carl Ruffer to Chester and the transfers of David Nolan and Ian Brunskill were all apparently moves that were forced on the Club by wage levels that were too high to be met by the Club's current income.
EMLEY'S LANDLORDS
The Independent
reported today that Emley's landlords, the Wakefield Warriors rugby league side have serious financial problems. Indeed, their new stand may have to be dismantled if they do not pay the builders £350,000!
---
28 January 2001
UNIBOND TRANSFERS
Gary Talbot (Altrincham to Northwich Vics - a £2,500 fee is quoted in the press although yesterday's public meeting suggested the fee was actually higher).
Scott Bentley (Rocester to Leek T.)
Steve Bott (Meir KA to Leek T.)
Mark Carter (Bamber Bridge to Radcliffe B.)
Robert Pell (Southport to Droylsden- a partner for Dickie Landon?)
ALTRINCHAM 1 WORKSOP TOWN 2
A full report is to be found by clicking here.
SUPPORTERS' MEETING
There is a full report here of the important Supporters' Meeting held at Moss Lane, before yesterday's game, in which the recent financial goings-on were the predominant subject of discussion. In the light of this week's crisis and the offloading of highly-paid players from Moss Lane, it is interesting to note that the NLP today reports that Stalybridge's wage-bill is less than £2,000 a week.
BERMAN'S "MAD MONEY"
An extensive interview with Gerry Berman in the Pink has the ex-Chairman quoted as saying he was losing £5,000 a week funding Altrincham- "mad money", as he terms it. He again states that "I haven't relinquished any ties with the Club" despite stepping down as Chairman and he is still said to be "the largest shareholder" though this was denied at yesterday's meeting (see above). Gerry attended yesterday's match and received a chorus of "There's only one Gerry Berman" from the Golf Road End choir. Mark Harris is cited as saying the moves this week were a "short to medium term measure" only and that much work still needs to be done to prune costs and generate income. He is also quoted as being about to unveil "a new sales manager within the next few days". Garry Cook in the NLP repeats Mark Harris's praise of Mark Ward's managerial performance amidst the financial difficulties. Mark Harris is also reported to have said that the new backers' money was a "modest but not too modest" sum.
LANDON AND CHAMBERS SCORE
It was a good day for ex-Robins strikers yesterday but a poor one for defenders. Dickie Landon's 20 yarder won three points for Droylsden at Spennymoor whilst Leroy's header for Frickley gained a 1-1 draw against Runcorn. Another former Moss Lane striker, Darren Emmett, hit a last minute penalty to clinch a 1-0 win for Trafford but Mark Quayle had a quiet game for Morecambe. As for defenders, Gary Talbot made his debut as Northwich lost at Forest Green; he could now join Vics' team-mate Lance Key and Hednesford's Keith Russell as a player to suffer two consecutive Conference relegations. Russell was a sub as ex-Robin Ged Kielty's goal set Leigh on the road to a 2-1 win yesterday. Ex-Robins Ricky Harris and Robert Trees were RMI subs. Danny Adams's Macclesfield were trounced 2-5 at home and the Pink commented that he "needs to lose some weight" in its summary of his performance. Dean Greygoose was arguably scorer of an own goal in Witton's draw with Matlock. Ex-Alty man David Anane scored for the Wincham Park team. The exception to the unhappy ex-Alty defenders was Paul Ellender, described by the NLP as a "tower of strength" in the 1-1 draw with Southport. However, his former defensive partner Chris Timons suffered a 1-6 home defeat as Weymouth trounced Ilkeston. Andy Lovelock's Solihull met Simeon Hodson's Sutton Coldfield yesterday and the game ended goalless.
STOCKSBRIDGE
Stocksbridge, our Unibond Cup opponents on 6 February switched the match to Moss Lane because of pitch problems which are reported in today's press. They have called in drainage experts and will have to re-lay the pitch during the close season.
GATESHEAD MAN BACK AT MACC.
Dick Tracey who scored the last gasp winner for Gateshead against Alty two weeks ago, has returned to Macclesfield. He had been at Carlisle but loaned out to Gateshead.

---
27 January 2001
ALTRINCHAM 1 WORKSOP TOWN 2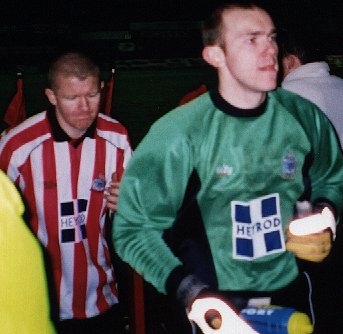 A full report is to be found by clicking here.

After a week of financial turmoil during which the Club was almost "wound-up", today's defeat somehow did not seem quite as important as a normal loss feels. This was a hard-fought match in which Worksop gained revenge for Alty's win at Babbage Way earlier this season. The Robins, captained by Steve Hawes, can count themselves a little unfortunate to emerge with nothing after striking the woodwork three times and producing a rousing finale to the game. The game turned on a moment of magic from Chris Waddle, bemusing the Alty defence, to get in a cross from which Whitehead scored at the near post (58 mins). Altrincham's Maddox then gave away two penalties in quick succession. The first was brilliantly saved by Coburn (67 mins) before Townsend converted the second five minutes later. (Coburn and Maddox are pictured left after the match against Frickley). Danny Murphy then scored a superb goal for Altrincham (77 mins) but the equaliser would not come. Alty now drop to fourth. Click on the buttons at the top of this page for the updated League Table, League Line-Up, Fixture Grid and Statistics pages.

Other results today:

Barrow 1 Marine 0
Bishop Auckland 4 Burscough 0
Blyth Sp. 0 Bamber Bridge 0
Colwyn Bay 0 Emley 4
Frickley Ath. 1 Runcorn 1
Gainsborough Trinity 1 Whitby Town 3
Hucknall Town 1 Hyde Utd 2
Lancaster City 3 Leek Town 2
Spennymoor Utd 0 Droylsden 1
Stalybridge Celtic 2 Gateshead 1
POWER GOES
As well as Gary Talbot, Phil Power has also now left the Club. Sidelined by injury since October, Power has joined Dickie Landon and Barry Crowe at Droylsden, where he will be on loan till the end of the season. He started seven games this season, scoring twice.
---
26 January 2001
MARK WARD ON GMR TONIGHT
Mark Ward was interviewed on GMR's Sports programme tonight. He said that more of the experienced players would be leaving at or by the end of the season as they had not performed well enough or shown enough "desire". Declaring that "I was maybe too confident" at the start of the season, when he hoped to win promotion at the first attempt, he went on to say that "I'm a winner". He alluded to moving to bigger things after getting his managerial grounding at Altrincham and also referred to his many contacts in the game including Alan Devonshire, Paul Bracewell and Tony Cottee. He thought Altrincham sometimes played "too much [good] football" for their own good but it was his philosophy to play that way. Finally, Wardy admitted he was still learning and that this sometimes meant making mistakes.
MORE ON TALBOT'S SALE

It is reported by SAM that Gary Talbot, whose departure is reported below, was sold because he would have been out of contract at the season's end and the Club would have received nothing for him then. If so, this suggests that other players could be on their way soon. Mark Ward is quoted as saying "I did not want to lose my captain. He's been a great player for the club. I've got three other centre backs, so I'm well covered but we are going to miss his strength and experience. Sometimes you've got to let your best players go for the club. He will be sorely missed, but at the end of the day, business is business and it was good business." Just eight of the 18 players on the pre-season team photo remain at the Club; they are profiled here. In all, 15 of the 36 players used this season have now left Moss Lane. Gary is pictured left at Bamber Bridge on 25 November, 2000.

MEANWHILE, BACK ON THE PITCH...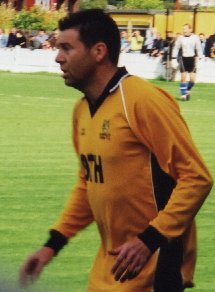 After the turmoil off the pitch at Moss Lane this week, Altrincham return to football action on Saturday, when they entertain Worksop Town at Moss Lane. Despite the presence of Chris Waddle, seen right during the match, Alty won the away league game 2-1 in September, thanks to goals by Carl Furlong and Kevin Ellison. Alty should have both Ellison and 'keeper, Stuart Coburn, in their side after their week on trial at Leicester City, where the midweek Reserves match against Watford in which they may have figured, was postponed. Steve Hawes returns to the side after suspension.
CAPTAIN SOLD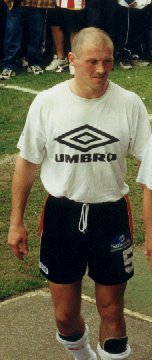 Altrincham's captain, Gary Talbot (left), became the latest player to leave Moss Lane when he was sold yesterday to local rivals Northwich Victoria for a mere £2,500. However, even this sum is more than we have raised on any other player this season and the prime motive for his sale was almost certainly to reduce the weekly wage-bill. It seems an unusual move for the Vics to acquire a 30 year-old centre-back. Gary came to Altrincham from Winsford United in 1999 and immediately established himself as a regular first-team choice, becoming the regular captain on the departure of Chris Timons. He had started more games than any other Alty player this season (33) and in his career he appeared 92 times for the Robins, scoring on 12 occasions. It is sad that his final game, last week at Blyth, saw him played out of position at left-back and conceding an equalising penalty five minutes from the end of the match, which brought him his only league booking of the season. Happier memories are of his awesome clearing headers and his headed goals from set-pieces. With the earlier departure of Eddie Turkington and Terry Bowker, Alty are left with three first-team centre-backs: Mark Maddox and James Glendenning (both of whom have served suspensions already this season), together with full/centre-back Adam Farley. It is uncertain who will be the new club captain but candidates must include Steve Hawes, Mark Maddox and Mark Ward himself. No longer will we hear the immortal chant of "Gary Talbot wo-oh, Gary Talbot wo-oh, he's bigger than Jaap Stam and he plays for Altrincham"!
---
25 January 2001
REARRANGED MATCHES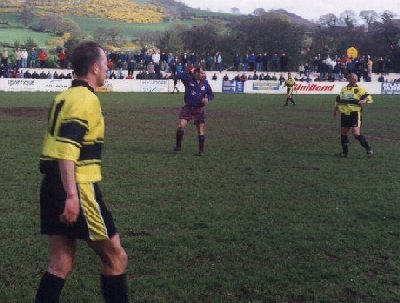 Three new mid-week fixture dates have been set and as a result we won't be seeing Colwyn Bay in as bright light as on our last visit, pictured right, when "Bomber" Harris was playing for us, in 1999. The new dates are:

Altrincham v Stocksbridge Park Steels in the Unibond Challenge Cup at home on Tuesday, 6th February.
Frickley Athletic (league), away, on Tuesday, 13th February.
Colwyn Bay (league), away, on Tuesday, 27th February.

There is still no Saturday match after this week's (v Worksop) for three weeks, till 17th February. For the full diary of matches see the League Fixtures and Cup Fixtures pages.
"FAR FROM OUT OF THE WOOD"
Acting Chairman, Mark Harris is quoted in tonight's Evening News as saying that Altrincham are "far from out of the wood" despite the changes on Tuesday at the Club (see below). He promises a purging of the wage bill at the Club as Altrincham seek a way out of their second major crisis in five years. There will be a report on this page of Saturday's Supporters' Meeting (12 noon, Moss Lane), at which more details may emerge of the behind-the-scenes developments. For more on this situation see "The New Regime" story, below.
Mark Eckersall's plea to fans is here
STALYBRIDGE OFFER SYMPATHY
Peter Dennerly, Stalybridge's Chairman, has offered sympathy to Altrincham in their present financial plight, having seen his own club emerge from a similar position a year ago. His motto now is "What we cannot afford, we are not spending". Stalybridge's recovery involved every player taking a wage cut and the manager being given a fixed budget for the season.
AFTER THE TEA-LADIES, THE BAR-STEWARD
After appointing two tea-ladies to run his side in local Cup matches, Dave Pace (the Droylsden manager and Chairman) has made the financial pages tonight for refusing to pay £1,800 damages to the Club's former bar steward and his wife. Pace sacked them for allegedly closing the clubhouse at key-times and thus losing revenue. Pace has already invested a million pounds in The Bloods, money derived from his six companies.
ELLENDER
Wimbledon are the latest club reported to be interested in acquiring Paul Ellender from cash-strapped Scarborough.
THE NEW REGIME
SAM has now revealed some more details of the goings-on at Moss Lane following Gerry Berman's resignation from the Board and as Chairman. Last Tuesday, an un-named former director prepared to issue a winding-up petition against the Club for recovery of its debts to him. Then, Gerry Berman stepped down in favour of a similarily un-named consortium which has both agreed to absorb the Club's debts, believed to be £450,000, and to underwrite the rest of this season's costs. The new backers' identities are expected to be unmasked "sooner rather than later". It is confirmed by SAM that it was Mark Harris and Anthony Tiani [sic] who brokered the deal to rescue the Club. Presumably Anthony Tiani is a misprint or is the alias of Anthony Taylor, a Director of the Club. Anthony is credited with getting the businessmen's consortium together, whilst Mark Harris got the support of an un-named local company. Mark Harris is quoted as saying that "the Club was saved literally 24 hours from disaster". Mark Harris has also promised major developments as regards the Club's involvement with the local community.

As well as Kevin Guiney joining the Board, ex-Manager Bernard Taylor is also expected to do so. Mark Eckersall, the Supporters' Association's Director on the Board is also quoted as welcoming the deal.