Altrincham Football Club News Archive:
20-28 February 2001
---
28 February, 2001
GATESHEAD OFF
Gateshead against Whitby, the only Unibond Premier match scheduled for tonight has been postponed.
WARD ON STALYBRIDGE
Mark Ward is quoted by
SAM
as saying of Stalybridge that "in my opinion...I do think that it would be a sad sight if they won the Unibond. They don't really play football - they go totally against the grain". Mark attributed last Saturday's defeat to his side's lack of a "cutting edge".
COCO TO LEIGH?
Leigh RMI have served notice of approach on Hyde United for the ex-Alty man, Paul "Coco" Robertson. Leigh are also trying out the Winsford United (and ex-Flixton) striker, Troy Hayder, in their reserve side.
DONCASTER ROVERS AT MOSS LANE THIS SATURDAY AND CITY NEXT WEEK?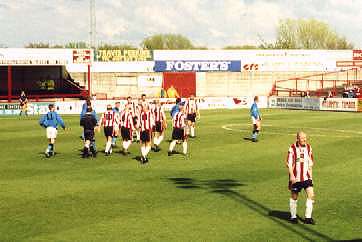 A friendly has been arranged at Moss Lane this Saturday (3pm), with Conference side, Doncaster Rovers, being the visitors. Alty captain, Steve Hawes has been on trial at Doncaster recently but whether this game signals some kind of transfer deal is not known. Doncaster were last at Moss Lane on 24 April, 2000 when the atmosphere was less friendly; they beat Altrincham 2-1, with Mark Maddox being sent off (as shown, left). Admission will apparently be free to season-ticket holders and £5 for other adults, £2 for concessionaries, wherever they go in the ground. Alty also hope to entertain a Manchester City side on March 10.
LEROY HITS HAT-TRICK
Frickley moved out of the relegation places last night thanks to a hat-trick from Altrincham's on-loan striker, Leroy Chambers. Leroy has now scored 7 goals in 7 league starts, including two against the Robins this month.
---
27 February, 2001
VICS' MAN TURNS DOWN ALTY
Northwich's defender, Wes Simpson is reported by the Vics'
website
to have turned down a loan move to Altrincham. The loan was designed to help the 23 year-old ex-Crewe man regain match fitness. Meanwhile, Graham Lewis, who ran Alty ragged at Frickley recently, has returned to Northwich Vics from whom he was on loan and the youngster scored against Boston last Saturday. Frickley's
website
headlines its match report on last Saturday's 1-0 defeat at Marine "Chambers's Misses Prove Costly"!
BAY DROP INTO RELEGATION PLACES
Altrincham's game tonight at Colwyn Bay was postponed due to the bad weather and Frickley's win sent the Bay into the relegation places. For the updated table, see
here
. The results tonight are:
Bamber Bridge 2 Hyde United 1
Barrow 0 Stalybridge Celtic 0
Colwyn Bay v Altrincham POSTPONED
Frickley Ath. 4 Blyth Spartans 2
Hucknall Town 2 Leek Town 0
Runcorn v Lancaster City POSTPONED
Spennymoor Utd 0 Bishop Auckland 0 ABANDONED AFTER 20 MINS DUE TO SNOW
ALTERNATIVE ENTERTAINMENT
With the postponement of tonight's match at Colwyn Bay and no match scheduled for Altrincham this coming Saturday, fans may be looking for alternative entertainment. The other four Premier sides who were knocked out of the Unibond Cups have arranged fixtures against each other this Saturday (Colwyn B v Frickley; Whitby v Gateshead), leaving the Robins unemployed. Alternative action on Saturday in the locality includes the following options:
Northwich Vics v Scarborough - watch and compare Gary Talbot and Paul Ellender.
Leigh RMI v Nuneaton Borough - see some or all of these ex-Robins who are currently at Leigh- Ricky Harris, Ged Kielty, Mick Morrell and Robert Trees.
Ashton Utd v Stalybridge - a Unibond Cup game in which Paul France and Mick Carmody are possible starters.
Hyde Utd v Bishop Auckland - in the Unibond Cup.
Flixton v Mossley - in the NW Counties Division One.



ALTY STRIKERS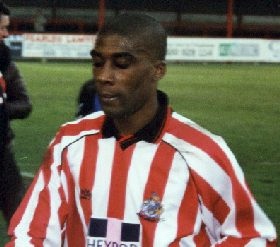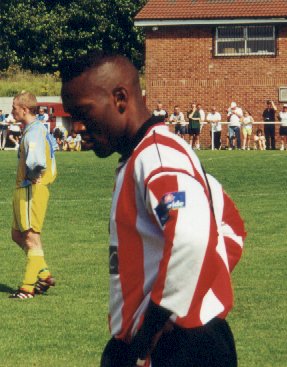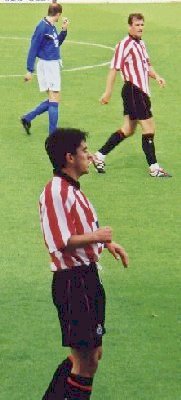 A reminder of some of the strikers tried by Mark Ward this season. Left to right: Gerard Leonard (played 1+1, scored 0); Leroy Chambers (played 5+4, scored 1); Mark Quayle (played 4, scored 2); Adam Lillis (played 1, scored 0). For more on these and other players see, the Squad Pages, the Departed Players and the Statistics Page.




---
26 February, 2001
WARD CRITICISES CELTIC
After his criticism of Hucknall Town following last Tuesday's game, Mark Ward has now turned his attention to Stalybridge. In tonight's Evening News, he states that Altrincham dominated the game on Saturday and claims that "Stalybridge don't play football. They just launch the ball".
CROWDS
Altrincham are now averaging exactly 600 spectators at home league games. This places us fourth after Barrow (av'ge crowd 1116), Accrington (732) and Stalybridge (633). However, Alty have been the biggest attraction at four away grounds this season, (Accrington, Marine, Runcorn, Whitby), more than any other team. Curiously Accrington and Barrow have each also been the lowest draw at two grounds, at Colwyn Bay and Blyth respectively. Spennymoor's average gate is the lowest (158). Thanks to Terry Rowley for this information.
TROPHY
Worksop, the Unibond's only Trophy survivors, have been drawn away to Forest Green in Round Six.
FIXTURES- Tuesday, 27 February
Weather permitting, Alty travel to Llanelian Road to take on Colwyn Bay, who are having a poor run of form. They have now gone 18 games in league and cup without a win since they beat Worksop on 14 October. They have taken only two points from their last 13 league matches and their last five league defeats have been heavy 1-5, 0-4, 2-4, 2-4 and 1-4. The Bay lie 21st in the table, just a point above Frickley, but with games in hand. However, ex-Manchester United starlet Deiniol Graham is back with the Bay after a cost-cutting loan to Bangor City.

TRANSFER ACTIVITY HEADED BY GATESHEAD AND LEEK
Two players have left Gateshead this weekend; Kenny Cramman has moved to Whitby Town who visit the International Stadium for a league match on Wednesday. Paul Dalton has also left Gateshead after refusing a pay-cut. Leek Town have lost both Paul Harris and Andy Myatt to Stone Dominoes and Nick Hemmings to Leek CSOB. Other moves include:

Steve Hussey (Everton to Burscough)
Nathan Peel (Barrow to Clitheroe)
Lee Taylor (Barrow to Gretna)
Grant Holt (Halifax T to Barrow [Loan])
Mark Patterson (Accrington Stanley to Darwen)
Mark Sheeran and Kevin Bromley (both Darlington to Spennymoor Utd)
Mark Slythe (Kendal T/Leigh RMI) to Bamber Bridge)
Mark Tyrrell (Scarborough to Frickley Athletic)
Alex Willgrass (Pickering T to Frickley Athletic)
---
25 February, 2001
STALYBRIDGE CELTIC 1 ALTRINCHAM 0

There is a full match report here. The attendance was 1,025.

YOUTH v STOCKPORT
Based on information kindly supplied by George Heslop, there is now a brief match report here on his Youth side's fine win over Stockport County last Wednesday. You can also check the new league table showing the Alty Youth side at the top, here. Today the Youth side play at Runcorn.
WARD LOOKING TO LOWER LEAGUES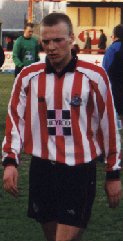 The Pink today reports that Mark Ward has a "hit list" of players from lower leagues, such as the NW Counties, to draft into Moss Lane next season. "I want hungry players, lads who will come here wanting to play for Altrincham", said Mark. He is impressed by the success of other teams "with players earning less than £100 a week. That's what I want us to have". The article also confirms that Dickie Landon's return to the wage-bill from Droylsden has scuppered the proposed arrival of Mike Moseley from Runcorn. The paper carries colour pictures of Hawes and Bowker tackling Matt McNeil in yesterday's game and of Danny Murphy in action against Bishop Auckland. (Bowker is seen left in an earlier match). The article also refers to the expected summer clear-out at Moss Lane. It is unclear whether all of the existing young players brought in from outside, such as Scheuber and Porter, will be allowed to leave as well as the higher wage-earners. Given the last couple of promising displays from the Robins it is to be hoped that there will be at least some continuity from this season to next.
OLD BOYS
Ex-Robins' centre-backs, Paul France and Paul Ellender scored yesterday for Ashton and Scarborough respectively. Danny Adams was again Macc's Man of the Match and is included in the Pink's team of the week. Neill Hardy returned to the Radcliffe Borough side after injury and scored the only goal in a game described as a "personal triumph" by the Pink. Scott Wilson also played for the Boro'. Dean Greygoose and David Anane turned out for Witton for whom Steve Haw scored in a 3-1 win. Gary Talbot continued in the Vics's side as did Chris Timons for Ilkeston and Mark Quayle for Morecambe whilst, as usual, John Toner netted for TNS in Wales. Andy Lovelock's Solihull beat Bromsgrove 2-0. Leroy Chambers played in Frickley's defeat at Marine as did Barry Crowe in Droylsden's loss at Bishop Auckland. Craig Skelton netted for Whitby and Mike Garside scored for Mossley in a 2-1 win over Maine Road but Keith Russell was an absentee for Hednesford.
MOORS PLAY ON
Spennymoor have pledged to the Unibond League that they will not resign before the end of the season.
---
24 February, 2001
STALYBRIDGE CELTIC 1 ALTRINCHAM 0

There is a full match report here. The attendance was 1,025.

Altrincham were unlucky not to take a point from a good display against the title favourites at the Bower Fold. It took a shot from 30 yards by Dominic Crookes after 72 minutes to beat the Robins. Stuart Coburn either immediately knew he was beaten or he misjudged the direction of the shot, for he remained motionless on his line as Crookes's shot entered the top corner of the net. Coburn made amends shortly afterwards when he made a magnificent double save from Bauress's spot kick, though the penalty award itself was highly dubious. Alty remain fifth. Updated tables, statistics, fixture grid and today's line-up are available by clicking the appropriate button at the top of this page. Other results were:
Bishop Auckland 2 Droylsden 1
Burscough 2 Whitby Town 3
Emley 4 Colwyn Bay 1
Gainsborough Trinity 2 Accrington Stanley 0
Hucknall Town 1 Bamber Bridge 0
Lancaster City 1 Hyde United 4
Leek Town 1 Gateshead 2
Marine 1 Frickley Athletic 0
Runcorn 3 Barrow 1
YOUTH TEAM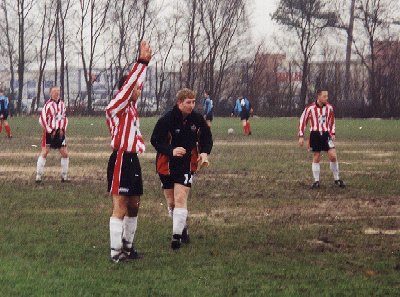 L to R: Youth captain Steve Howe with André Lewis, Danny Wright and Danny Leahey are pictured before last Sunday's game with Rylands. Match report here.

The Youth team travel to Canal Street to take on Runcorn Reserves tomorrow (Sunday).




DROYLSDEN VISIT REALLY IS ON 17 MARCH!
Contrary to the change of date printed in the programme, it has been confirmed that Droylsden will not be playing at Moss Lane at 21 April but will be coming to Alty on 17 March as originally planned. The re-revised fixture list is here.
RESERVES DRAW
In a largely unpublicised Reserves' game last Wednesday, Altrincham drew 1-1 with Bamber Bridge, despite playing for much of the match with only ten men following the sending off of Eric Seekie. Four of the Youth Team - Paul Crowther, Pat Claffey, Mario Daniel and Levi Kennedy - figured in the match. It is a shame that such games are not made known more widely to fans before they take place.
---
23 February, 2001
WARD NEEDS ANOTHER OPERATION
SAM revealed today that Mark Ward will miss tomorrow's match at the Bower Fold and will have to have another cartilage operation in the close season. He says that having inherited many players this season, "I will be judged on how the team play next season", when all the players at the Club will be ones he has chosen himself. He expressed pleasure at the win on Tuesday and especially at Terry Bowker's performance though he was less than gracious about Hucknall unfairly classing them as one of those "sides...who don't want to play the game". See the match report here.
SCORERS AND STATISTICS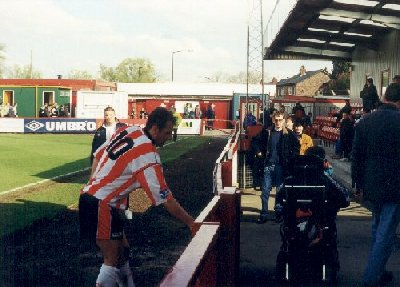 The return of Dickie Landon (pictured right, opening the gate before leaving Moss Lane) means that he is restored as Altrincham's joint second highest scorer this season amongst those still at the Club. Danny Murphy leads the chart with 8 goals from 22 cup and league starts, whilst Dickie has 7 from just 12 starts (and 12 sub appearances). Also on 7 goals is Steve Finney from 14 games, with Steve Hawes whose seven have come from 38 starts. Seventeen different players have scored for Alty during this campaign. Kevin Ellison scored 10 before he left and Alex Hay scored 8. Of those who have played more than ten games this season, only Adam Farley and Steve Porter of the outfield players have yet to find the net. 103 goals have been seen in league matches involving Altrincham this season, just over 10% of the 1002 scored in the Unibond Premiership as a whole, to date. Stuart Scheuber is the only player to have appeared in all 42 Altrincham matches this season. There are more statistics here.
BRAVE WORDS!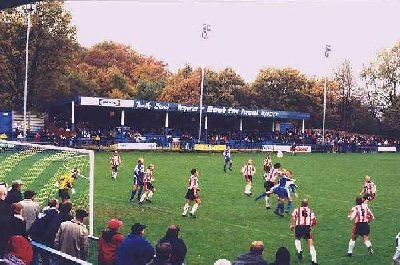 In advance of tomorrow's match at Stalybridge, Mark Ward reveals in tonight's Evening News that he has never been on the losing side against a team of Phil Wilson's and "I don't intend to start tomorrow". Mark goes on to say, "Maybe I'll be eating my words after the game, but I believe that, individually, we're better than Stalybridge and this is our chance to show it." Stalybridge's man-mountain, Martin Filson, will play tomorrow after being suspended but Kevin Parr may miss the game because of a shin injury. Pictured, left is last season's final Cup encounter at the Bower Fold where Alty let a two goal lead slip- and Filson was a major factor in in the turnaround.
---
22 February, 2001
MARK HARRIS & THE ELLENDER SELL-ON CLAUSE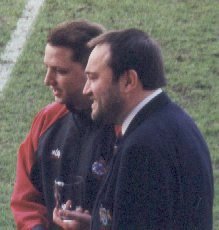 SAM quotes Mark Harris, Acting Chairman of Altrincham, as confirming his belief that the 50% sell-on clause for Paul Ellender is still valid. But, he goes on to say: "Mind you, even this would be a drop in the ocean compared to the money we need here at Moss Lane. It may appear that we have won the battle with the sale of Kevin Ellison, but nothing could be further from the truth. The fact of the matter is, the hard work has only just begun." He indicated that the Club would be joining forces with SAFE to create a "fighting fund" for the Club. Mark is seen left presenting Steve Finney with his Man of the Match award given by Ossett Town for his performance against them in the Unibond Cup.
VIRGINS' DAY
As reported at last week's SAFE meeting, on Mothers' Day, Sunday, 25 March, when we entertain Accrington Stanley, there will be a "Virgins' Day" at Moss Lane, aimed at first-time visiting families. A special offer means that two adults and up to two children will be admitted for the price of one adult.
RECENT TRANSFERS
Richie Alderson (Durham City to Gateshead)
Leigh Grant (Whitby Town to Spennymoor Utd)
Stuart Heppell (Queen of the South to Blyth Spartans)
Danny Hobby (Rocester to Leek Town)
Greg Pearce (Chesterfield to Worksop Town [loan])
Tom Phillips (Airdrie to Gateshead)
Don Riatt (Gateshead to Bishop Auckland)
SATURDAY'S GAMES
Although, realistically, they cannot now win the title, Altrincham can influence its outcome this weekend when they visit the Bower Fold to take on second-placed Stalybridge Celtic. In recent times Celtic have been a bogey team to the Robins and this Saturday Altrincham will be facing a team unbeaten at home this season, with eight wins and one draw from their last nine league games (home and away). Stalybridge's ex-Robin, Matt McNeil, is reported to be a target for Doncaster Rovers who are also, of course, eyeing up our own Steve Hawes. Hawes's trial at Belle Vue is now reported to be of a fortnight's duration. Steve will have found the Yorkshire club riven by disputes between the manager, Steve Wignall, certain players and some of the supporters.
---
21 February, 2001
ALTY DROP TO FIFTH AND 1000 GOALS SCORED
The only league result tonight was Bishop Auckland 1 Lancaster 3 which means that Alty drop to fifth. The second goal in this match was the 1000th scored in the Unibond Premiership this season. The new league table is here.
HUCKNALL MATCH
A full match report on the game against Hucknall, last night, is now here.
GRAHAM HEATHCOTE ON TRANSFERS
SAM carries an interview this week with Altrincham Secretary, Graham Heathcote, on the impact of the proposed new transfer system. Graham says that "Season tickets provide us with a lot of revenue in the summer, but fans want to know which players they are going to see each week. You wouldn't buy a season ticket for a theatre if you didn't know what plays were going to be shown. If players can give three months' notice before leaving, there will be real problems. It will be impossible to keep a team together."
CHAMBERS SCORES AGAIN
Leroy Chambers scored Frickley's fourth of five goals last night at Spennymoor- at the second attempt, from six yards.
TEAMTALK
The March 2001 issue of Teamtalk magazine features a colour picture of Stuart Coburn and Steve Porter in action against Droylsden.
---
20 February, 2001
YOUTH SIDE WIN AGAIN
George Heslop's Youth side beat Stockport County Youth 3-1 in a friendly at Ridgeway Road, Timperley, yesterday afternoon. Although many of Stockport's first-choice players were allegedly involved with their Reserve side and did not play in this game, the Alty team was also virtually completely new. This was because the first-choice Alty Youth eleven had played the day before and because it was an opportunity to look at many new, younger players to replace those who will be over-age for the Youth team's campaign next season. It was therefore a very good result for Altrincham, especially as it was an away game on a ground regularly used by Stockport's Academy teams.

ALTRINCHAM 1 HUCKNALL TOWN 0
After a delayed kick-off due to Hucknall's late arrival, Altrincham clinched their first win in eight games with a close-range goal two minutes from the end, through Steve Hawes, after good work by Scheuber, Landon and Finney. The first half had been very even and entertaining but Altrincham dominated the second half after Ward and Craney gave way to Landon and Scheuber at the interval. Landon made a surprise return from his loan at Droylsden, whilst Hawes had been thought to be unavailable due to his trial at Doncaster. Alty move up to fourth with this, their first win in eight games and their first clean sheet this year. Terry Bowker was the official Man of the Match. Click the above buttons for tonight's line-up, the new league table, the team statistics and the fixture grid. Full match report here.

Burscough 1 Stalybridge Celtic 1
Colwyn Bay 2 Accrington Stanley 4
Leek Town 2 Runcorn 1
Marine v Bamber Bridge POSTPONED
Spennymoor United 0 Frickley Athletic 5

KEV SHINES AGAIN
As reported below, Kevin Ellison turned out for Leicester Reserves again last night against a very strong Chelsea side. The Foxes won 1-0 thanks to a mis-kick by Ed de Goey. The Leicester website reported that "recent signing Kevin Ellison enjoyed an impressive performance".
---