Altrincham Football Club News Archive

This Page

21 April, 2001




All framed pictures on this site are enlargeable; just click on the images themselves.
---
21 April 2001
CHAIRMAN'S DUTIES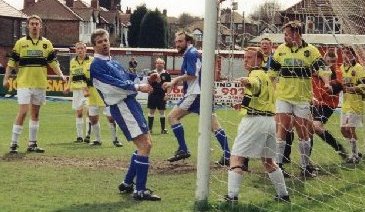 Altrincham's Chairman's duties are nothing if not varied. Today Mark Harris was reportedly shortlisting candidates for the manager's post whilst recently he was engaged in a very different activity- in the thick of the Alty Veterans v Alty Supporters' game at Moss Lane. He is seen, left, in the Vets' blue strip behind TNS player-manager Ken McKenna. Those looking on for the Supporters include Ian Rosendaal (far left) and Gary Warrington (far right). In the background is referee (and Alty Stadium Officer) Phil Taylor. However, whoever Mark and the Board select as manager need not worry about the Alty midfield next season as Brian Flynn of the Altrincham Clubcall gave a solid performance for the Supporters in the above match (see right). Click on the images to enlarge them.
STALYBRIDGE GO TOP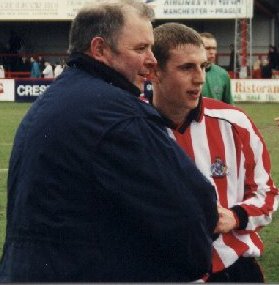 Emley could only draw today as Stalybridge won to go to the top of the league. Colwyn Bay also gained ground on Frickley at the bottom. The revised table is here. Alty were not in action today but a reminder of a recent win is this picture (right) of Ian Craney receiving his Man of the Match Award (v. Accrington) from Club director, Kevan Guiney. Click photo to enlarge it. Today's Premier results were:

Barrow 3 Gainsborough T. 2
Bishop Auckland 0 Stalybridge C. 2
Blyth Sp. 1 Burscough 0
Colwyn Bay 2 Whitby T. 1
Droylsden 0 Accrington S. 4
Frickley A. 0 Lancaster C. 0
Gateshead 0 Worksop T. 0
Hyde U. 1 Bamber Bridge 4
Marine 2 Leek T. 0
Runcorn 1 Emley 1
Spennymoor U. 0 Hucknall T. 1
---
20 April 2001
GROT SPOT
SAM this week carries a feature on what it calls the "grotty lane" behind Altrincham's ground. The lane, behind the Popular Side, is shared with Council allotments and it is not yet clear who owns it.
NIGEL GLEGHORN
Ex-Alty player/coach Nigel Gleghorn was interviewed on tonight's GMR sports programme, following his sacking from the manager's post at Witton Albion. Gleghorn revealed that he had had offers already to turn out for Trafford and Radcliffe Borough. Nigel is employed in the Sports section of South Trafford College in Altrincham and he runs the College football team.
CHAIRMAN'S CUP
In the Unibond League Chairman's Cup Final last night Harrogate Town lost 0-3 on penalties to Barrow after the game ended 1-1 after extra time. All three Harrogate penalties were saved by 'keeper Simon Bishop. The attendance at Harrogate was a creditable 903.
---
19 April 2001
CUP FINALS
Ashton United trounced Droylsden 4-0 last night to win the Manchester Cup, despite the best efforts of Dave Pace and the Droylsden tea-ladies. Tonight, at Harrogate, the Unibond League Chairman's Cup Final takes place between Harrogate Town and Barrow.
KEVIN ELLISON
Each Leicester City player is expected to do work with a local charitable organisation and the Leicester City site reports that former Alty player Kevin Ellison is helping to raise the profile of the local Victim Support Scheme.
---
18 April 2001
CELTIC AND FRICKLEY WIN
Bishop Auckland 3 Hyde Utd 1
Burscough 1 Frickley Athletic 2
Leek Town 0 Lancaster City 2
Stalybridge C. 2 Blyth Spartans 0
Worksop Town 1 Hucknall Town 1
Revised league table is here
MANAGER INTERVIEWS
SAM reports Mark Harris as saying that interviews for the new manager will take place next week. "I can confirm that the board will be meeting on Saturday to draw up a short list, and we will make an appointment before the end of the season. He also revealed that "We have finished the budget for next season and while we have reduced expenditure significantly, we will still have the highest wage bill in the Unibond. And reduced expenditure in no way means reduced ambition. We will be making it absolutely clear to the new manager that it is the club's aim to get out of the UniBond as quickly as possible".
NEW KIT
Just as last season, the last home game of the season (v Hyde on 28 April) will be used to model possible new away strips for next season with fans being given the chance to vote for the one they prefer.
ALTY TOP OF FAIR PLAY LEAGUE!
If red-cards alone are taken into account, Altrincham are the best behaved club in the UniBond, an accolade shared with Bishop Auckland who are the only other club to have suffered just one player dismissal this season in the league. Alty's only villain was James Glendenning, dismissed for a verbal offence at Hyde United. However, if yellow cards are counted, Altrincham have had 64 cautions in 42 games to date. In the latest table of cautions, which does not include recent games, Altrincham had 60 bookings against their name with only Barrow (64) and Hucknall (65) having more. When all yellow and red cards are taken into account, Altrincham are joint 14th with 63pts in the Fair Play table where a red card counts as 3 and a yellow as 1. Marine are top, with 37pts (31Y+2R) and Colwyn Bay are bottom with 97pts (58Y+13R). As Altrincham have played more games than other teams, we should rise up the table before the end of the campaign. There is no table for penalties but the Robins have given away 12 in the League, a total unlikely to be beaten by anyone else. Altrincham have had just three penalties awarded to them in the league this season. For details of Alty's bookings, click here.
IAN SENIOR
Alty's former keeper, 40 year-old Ian Senior could be set for UniBond First Division action after Radcliffe Borough lost yet another keeper to injury at the weekend.
---
17 April 2001
BURSCOUGH CONNECTIONS
Altrincham fans reading the match programme at Burscough yesterday will have seen a few familar names. Not only is the Lancashire Club managed by ex-Moss Laner John Davison, its Youth Coach is Derek Goulding and three of its Reserve players this season have been Eric Seekie, Gareth Mostyn and Ryan McMahon, all of whom have played in the Altrincham Reserve or first-team side this season.
---
16 April 2001
BURSCOUGH 1 ALTRINCHAM 1

There is a full match report here.
The revised league table is here. The updated statistics and today's line-up can be found by clicking the appropriate buttons at the top of the page.
Other results:

Bamber Bridge 3 Accrington S. 0
Emley 0 Frickley Ath. 0
Gainsborough T. 4 Blyth Sp. 2
Hucknall T. 2 Gateshead 2
Hyde Utd 3 Droylsden 2 (ko 7-30pm)
Leek T. 2 Colwyn Bay 4
Marine 1 Barrow 2
Runcorn 2 Stalybridge C. 1
Spennymoor U. 0 Worksop T. 1
Whitby T. 1 Bishop Auckland 1
---
15 April 2001
ALTY YOUTH 1 MORECAMBE YOUTH 1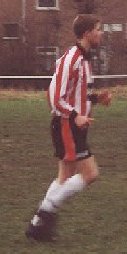 Altrincham had enough chances to have won this top of the table clash but only Rico Richards's fine 29th minute finish, from an excellent ball played forward by Levi Kennedy, separated the sides at half-time. Morecambe's equaliser came after 65 minutes from a controversial penalty when a tug on a Morecambe player was spotted by the linesman, rather than the referee. Morecambe's number two smashed home the spot kick past Wolszczuk who, otherwise, had little to do all afternoon as the Alty defence of Rowland, Howe, Claffey (pictured left) and Robinson played solidly. Richards and his strike partner, Wesley Wilkinson gave way to Lee Shillito and Paul Fitzhenry in the closing stages but they were unable to grab a winner. Alty team: 1-Wolszczuk, 2-Rowland, 3-Robinson, 4-Howe (capt), 5-Claffey, 6-Leahey, 7-McDonald, 8-Kennedy, 9-Wilkinson, 10-Richards, 11-Crowther. Subs: 17-Shillito (for Wilkinson 70), 16-Fitzhenry (for Richards 79) and Monaghan (for Crowther 88). A number of today's team will turn out for the Reserves tomorrow night at Morecambe. For more on the Youth team, see the two pages devoted to them here and here
MANAGER'S JOB ADVERTISED
Today's Non-League Paper carries an advert for the Altrincham Manager's post. "Candidates with suitable credentials should send CVs marked 'Strictly private and confidential' for the attention of The Chairman...to arrive no later than Friday 20th April". Meanwhile another UniBond Chairman has resigned; Worksop's Rick Knowles has left the Board of the Nottinghamshire club after eight years.
GLEGHORN SACKED?
It is reported that ex-Robins' player-coach Nigel Gleghorn has been sacked by Witton Albion after a 5-2 mauling at Stocksbridge yesterday. Gleghorn only missed promotion for Witton on goal difference last season and they lie 7th in the UniBond First today.
BURSCOUGH


Lawless scores for Burscough from the spot in the 2-2 draw at Moss Lane in January. The return fixture is tomorrow. Burscough have not played since 2 April and have won only one of their last 13 league matches. Managed by ex-Robin John Davison, they have taken only two points from the last 24 available. They lie 19th in the table but have 6 games in hand on Altrincham. Burscough are missing the firepower of Robbie Talbot, sold to Morecambe earlier this year.

ALTRINCHAM WIN AWARD
With no league title attainable and having been knocked out of six Cup competitions this season it was a pleasure to see Altrincham pick up an award yesterday as UniBond Premier Fair Play winners for the month of March. The prize appeared to be a bottle of wine.
S.A.F.E. EVENTS
The Supporters' Association has organised a Race Night next Saturday at the Club at 8pm and on 28 April, the sponsored walk starts from the ground at 8.30am. Lifts will be given to Maine Road to those who have declared themselves as walkers and the walk will then proceed from there via Old Trafford to Moss Lane (10 miles). Contact S.A.F.E. at the Club (928-1045) if you wish to walk.
OLD BOYS
Ex-Robin Gary Talbot scored his first goal for Northwich today in a 3-2 away win at Telford but Mark Quayle was sent off as Morecambe lost again. Matt McNeil got his 20th goal of the season for Stalybridge and Paul Ellender was Man of the Match for Scarborough. Keith Russell was nowhere to be seen for Hednesford but Ged Kielty and Robert Trees figured in Leigh's 1-6 reverse at Yeovil. Leroy Chambers played for Frickley who now have their survival in their own hands after gaining a draw yesterday. Dean Greygoose conceded a penalty and Lance Key kept goal for Northwich once more. Chris Timons's Ilkeston lost. Gary Powell, John Toner and Ken McKenna all scored for TNS in a 6-0 away win at Port Talbot. Also in Welsh football, Stuart Terry netted twice on Friday for Connah's Quay Nomads, the first being a penalty, as his side won at Oswestry. Ray Wallace has gone missing from Witton after just a fortnight at Wincham Park. Neill Hardy scored Radcliffe's winner.
---
14 April 2001
ALTRINCHAM 2 RUNCORN 1 - BUT ALTY DROP A PLACE
The full match report is here.

Elsewhere, Emley lost and Spennymoor conceded their 104th goal of the season. Click the respective links for the new League Table, today's Alty line-up, the revised player statistics and fixture grid. Other Saturday results are:

Accrington S. 3 Marine 2
Barrow 5 Spennymoor Utd 0
Bishop Auckland 2 Hucknall T. 0
Blyth Spartans 2 Emley 1
Burscough 2 Lancaster City 3
Droylsden 0 Bamber Bridge 1
Frickley Ath. 1 Whitby T. 1
Gateshead 2 Gainsborough Trinity 1
Stalybridge C. 4 Colwyn Bay 0
Worksop T. 4 Hyde Utd 1
EMLEY PASS GROUND TEST
Emley, as well as Stalybridge, have had their grounds approved for Conference football, following the recent completion of ground-grading visits. However, all promotion applications are subject to Nationwide Conference Board approval on April 19th and confirmation of financial arrangements by April 30th. Earlier this season there were doubts about the financial set-up at Wakefield, where Emley lease the ground for their home games, but these have not been mentioned recently in the press so are presumably no longer a barrier to Emley's promotion.
YOUTH AND RESERVES
Altrincham Youth host Morecambe Youth tomorrow at Wythenshawe Town (behind Tesco, Baguley), k.o. 2pm. The Reserves are away at Morecambe on Monday night in a cup match and they have a home game on Wednesday at Moss Lane, k.o.7.30/7.45pm.
---
13 April 2001
ROBINS' REVIEW
There is a very favourable review of the Altrincham matchday programme, the Robins' Review in issue 3 of Extra Time, the UniBond League magazine produced by Simon Matters. The programme scores 10 out of 10 in the reviewer's "value for money" category. Extra Time is available for £1.20 from Simon Matters, 199 Nottingham Road, Hucknall, Nottingham, NG15 7QB. An A5 SAE should be sent with orders.
PLAYER OF THE YEAR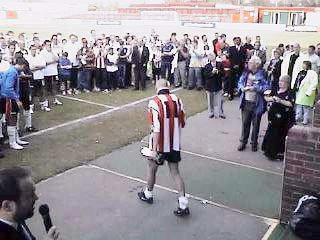 Player of the Year voting forms must be returned to the SAFE Cabin or by post, c/o the Club, by 25 April. To help you choose from the 40 players who have appeared for the first-team this season, see the details of the squad, here, and for statistics of their appearances, goals and cautions, click here. This season's leading scorer is Steve Finney; the player with most appearances is Stuart Coburn. As the adjacent picture shows, a year is a long time in football; Kevin Ellison is seen left picking up last year's third-place award, announced by Mark Harris (foreground). Kevin is now at Premiership Leicester City whilst Mark is now Acting Chairman. Last year's Player of the Year was Danny Adams (now at Macclesfield) and Gary Talbot (now at Northwich) was runner-up.

---