---
Home Page: Altrincham Football Club News Archive, 10 to 20 October, 2001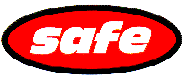 ---
20 October 2001
RESERVES WIN TOO
Alty Reserves won 2-0 against Bamber Bridge Reserves today, despite having only ten men for most of the game after Jason Anthony was sent off in the eigthteenth minute. Alty had four members of the youth team in the starting lineup!. Thanks to Danny Claffey for this information.
ALTRINCHAM 2 BLYTH SPARTANS 1
Match report here Danny Murphy (pictured below) was Man of the Match.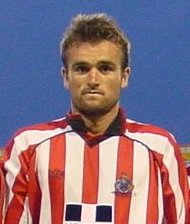 Alty move up to third in the updated table; also updated are the Statistics, League Line Ups and League Grid (click appropriate button above). Match report later tonight. The full results:
Altrincham 2 Blyth Spartans 1
Bishop Auckland 2 Burscough 1
Burton Albion 3 Accrington Stanley 1
Colwyn Bay 0 Worksop Town 3
Droylsden 2 Whitby Town 3
Emley 2 Barrow 1
Frickley Ath. 2 Bamber Bridge 0
Gainsborough T. 1 Runcorn FC Halton 4
Lancaster City 4 Bradford P.A. 0
Marine 2 Hucknall Town 0
Vauxhall Motors 4 Gateshead 1
STEWARDS
The Club is keen to recruit more matchday stewards for games at Moss Lane. If you can help, the Chief Steward, Doug Ashton, would be very pleased to hear from you. He can be contacted via the Club at the address and telephone number shown above
OUT AND INS?
Contrary to reports in SAM, Jeremy Illingworth has moved to Stocksbridge Park Steels and not Ossett Town. He made his debut in midweek against Radcliffe Borough. Also, Alty have served "notice of approach" for two players who they wish to bring to Moss Lane.
QUIZ NIGHT
There is a SAFE (Supporters' Association) quiz night at Moss Lane on Friday 26th October (7.30pm for 8pm start). Teams of up to five are welcome; the questions will be wide-ranging - you won't need a knowledge of Altrincham FC to answer them - so bring your friends along too and help raise some funds for the Club. Visit the SAFE cabin or contact the Club (0161-928-1045) for further details.
CHESHIRE SENIOR CUP
The dates for Round 2 of the CSC are:
Tuesday, 6 November
Macclesfield Town v Warrington Town
Monday, 12 November
Stockport County v Crewe Alexandra
Tuesday, 13 November
Chester City v Stalybridge Celtic (who beat Tranmere 2-1 this week)
Woodley Sports v Altrincham
Work on a new stand at our opponents, Woodley Sports, starts next Tuesday but ground resurfacing has already been completed thanks to a £15,000 FA grant.
UNIBOND TRANSFERS
Andy Betts (Yorkshire Main to Frickley Ath.)
Phil Johnson (Runcorn FC Halton to Harrow B.)
James Middleton (Marske Utd to Bishop Auckland)
David Smith (Armthorpe Welfare to Frickley Ath.)
Jon Wordsworth (Stocksbridge PS to Frickley Ath.)
However, ex-Robin Ally Pickering has decided to stay at Mossley rather than move, as planned, to Hucknall Town. His brother Sean has decided not join Ally at Mossley and remains at Abbey Hey.
---
19 October 2001
YOUTH HONOURS
Nine Alty Youth players were in the squad for Manchester FA's 6-1 win over the West Riding last week. For more on other honours for Alty Youth players, see the Youth Page. Sunday's Youth match against Prestwich Heys has now been postponed.
JEZ LEAVES; STUART AND CARL DOUBTFUL
Jeremy Illingworth (left) has left Altrincham and joined Stocksbridge Park Steels, not Ossett Town as reported by the SAM website. Illingworth played 12(+3) games and scored one goal for the Robins after his close-season move from Ashton United. The same source also reports that Jason Gallagher is out of the running for tomorrow's game due to a groin strain. Also doubtful are Stuart Coburn and Carl Furlong, both of whom will have late fitness tests. Blyth arrive at Moss Lane tomorrow having lost just one away league game this season, having also drawn four and won two. Midfielder Justin Keegan was their player of the month for September but ex-Alty striker Craig Skelton and his partner Glen Robson are also men to watch. Blyth lie 9th in the table.
RESERVES' BOSS LEAVES
Alty Reserves' boss Graham Wright is reported to have left the Club to take up a scouting position elsewhere. The Reserves' next scheduled game is:
| | | |
| --- | --- | --- |
| Saturday, 20 October 2001 | Alty Reserves v BAMBER BRIDGE | Lancashire League, AWAY |
DOING BETTER
Compared with this stage of last season, Alty have gathered 3 more points, but still lie in the same position, fourth. For the current standings, click the League Table button above.

| | | | | | | | | | |
| --- | --- | --- | --- | --- | --- | --- | --- | --- | --- |
| YEAR | POS | P | W | D | L | F | A | GD | PTS |
| 2000 | 4th | 12 | 7 | 2 | 3 | 25 | 12 | 13 | 23 |
| 2001 | 4th | 12 | 8 | 2 | 2 | 20 | 10 | 10 | 26 |
HYDE EXODUS
As reported earlier on the Youth Page, ex-Alty Youth striker Rico Richards has left Hyde for Chester City. Following Martin Filson's arrival as player/assistant manager, Hyde have also sent midfielder Colin Hall to Trafford on loan and sold Jason Dormer to Ashton United for £500. Ashton themselves have let midfielder Andy MacDonald return to Alty's next opponents in the Cheshire Senior Cup, Woodley Sports.
---
18 October 2001
QUIZ NIGHT
As previously announced there is a SAFE (Supporters' Association) quiz night at Moss Lane on Friday 26th October (7.30pm for 8pm start). Teams of up to five are welcome; the questions will be wide-ranging - you won't need a knowledge of Altrincham FC to answer them - so bring your friends along too. Contact the Club (0161-928-1045) for further details.
SUPPORT THE SPONSORS
There is now a page on this site listing the Club's major sponsors and a button has been added above to link to it. Please do support those companies which support Altrincham FC! Click here to see who they are; matchday sponsors are recorded in the league and cup match reports but will also be separately listed in the near future.
---
17 October 2001
TUESDAY RESULTS - RUNCORN DUMPED OUT OF CUP
Accrington Stanley 3 Colwyn Bay 0
Bradford P.A. 2 Emley 1
Click League Table button above for updated positions.
FA CUP 3QR replayBedlington Terriers 4 Runcorn 1
ATTENDANCES
Altrincham attendances are up on last year's with an average home league gate of 706 so far this season. Barrow (1302) and Burton (1226) are the only sides ahead of us. Leroy Chambers's Hucknall have the lowest average (195). The full statistics are here, courtesy of Terry Rowley.
FIXTURES
As well as sitting out a midweek game yesterday, due to our scheduled opponents' (Runcorn) involvement in a Cup replay tonight, Altrincham will also miss a league game (at Bamber Bridge) on 27 October when they compete in the FA Cup. In addition, the Robins have a scheduled blank Saturday on Saturday 10 November due to the uneven number of clubs in the Division. However, they now sit fourth in the table and Lancaster's draw last night (see below) means that only Burton would remain ahead of Altrincham if the Robins win their game in hand.
---
16 October 2001
TUESDAY'S LEAGUE RESULTS
Blyth Sp. 0 Frickley A. 0
Burscough 2 Vauxhall M. 3
Lancaster C. 2 Droylsden 2
Whitby T. 0 Gainsborough T. 4
Worksop T. 1 Hucknall T. 0
The updated table is here.
FA Cup Replay
Rossendale Utd. 3 Barrow 3 (Barrow won 5-4 on penalties).
NEXT GAME
| | | |
| --- | --- | --- |
| Saturday, 20 October 2001 | BLYTH SPARTANS | UniBond Premier League, HOME, at 3p.m. |
Altrincham have won on the last seven occasions that they have played a game on 20th October- see Howard Watts's Through the Years data. However, we will have to watch Blyth's Glen Robson, 3rd top scorer this season in the UniBond Premier, with nine goals.
ALTY FAN IN YORK
Would the Alty supporter in York who recently wrote to the Altrincham FC Sales and Marketing Manager, Mark Eckersall, about goal sponsorship please e-mail Mark Eckersall or contact Mark at the Club by phone or post (the number and address are at the top of this page)? Mark wishes to get in touch with the fan in question but a change of computer has unfortunately led to the loss of his contact details. All fans are reminded that they can sponsor each and every Altrincham first-team goal for as much as they like.
RESERVES' TABLE
The updated Reserves' league table can be found here.
SENIOR DRIVER
Ex-Alty keeper, Ian Senior, is now not only making occasional appearances for Radcliffe Borough's first team, (at the age of 41), but he is now reported also to be driving the team's bus to away matches. Perhaps his next move will be to act as coach?
---
15 October 2001
AWAY TRAVEL
Details of the supporters' coaches to both Witton (23rd October) and Wrexham (24th) are now here
ALTY DRAW NUNEATON
Altrincham have drawn Conference side Nuneaton Borough at home in the 4th Qualifying Round of the FA Cup, to be played on 27 October. As well as £20,000 in prize money, a win would mean a place in the First Round Proper, at which stage the Nationwide League clubs join in. Alty have a 100% cup record against Nuneaton to date, as the following data from Howard Watts shows:
| | | | | | |
| --- | --- | --- | --- | --- | --- |
| Date | Venue | In | Round | Result | Score |
| 10.11.1980 | H | Alliance PLC | 3 | W | 2-0 |
| 16.1.1982 | H | FA Trophy | 1 | W | 1-0 |
| 29.11.1997 | A | FA Trophy | 3QR | W | 2-0 |
YOUTH SIDE WINS
Altrincham Youth won 2-0 at Northfield Juniors yesterday.
TONIGHT IN THE LEAGUE
Hyde United 1 Burton Albion 2 Updated league table here
DOGMATIC SUPPORT?
The informative Blyth Spartans website has announced the ultimate in football supporting fanaticism, the "soccer dog-coat" for your pet. You can now buy a green and white dog coat with the Blyth logo on it and £10 of the price will go to the football club. The manufacturers, Soccer Dogs, will make coats for any club - see the company's website for details and pictures!
---
14 October 2001
ALTRINCHAM 4 WITTON ALBION 1
A match report is here.
Left, Alty's Carl Furlong is brought down by Mark Styles for a penalty in yesterday's game. Click on the image to enlarge it. More photos of the game, like this one by Alan Johnson, are on his Altrincham photographic website.
OLD BOYS
Dickie Landon netted for Radcliffe and receives praise from his manager in the Pink for scoring goals this season despite often being used as a centre-half. Leroy Chambers scored for Hucknall but Stuart Scheuber was only on the bench for Colwyn Bay. Greg Challender turned out for Leek Town and Dean Greygoose played in goal for Stevenage Borough in a 0-0 draw at Forest Green. Ex-Robins' centre-backs Gary Talbot (Northwich) and Paul Ellender (Boston) also played in the Conference yesterday as did Ged Kielty who was the NLP star-man for Leigh RMI yesterday at Barnet; "Bomber" Harris was an unused sub. Defenders James Glendenning and Adam Farley both played in Droylsden's fine win at Bishop Auckland. The Pink reports Dave Pace's impatience with the agent for Matt McNeil, the ex-Alty striker whom he is trying to sign from Stalybridge. Paul Edwards played for Swindon as they won at Reading. Les Atwood has been dismissed as manager of Fleetwood Freeport and former Alty manager Mark Ward, as well as Owen Brown, are being linked with the Chester City managership in the NLP. Poor Terry Bowker is once more listed as "Bonker" in the NLP team sheet for yesterday's game!
RESERVES GO DOWN
Alty Reserves lost 4-1 yesterday at Ossett Town- one of the Ossett goals came from ex-Robin, Shaun Constable. For more, and a link to a match report, go to the Reserves' Page
BERNARD'S BOTTLE
Bernard Taylor is featured in a colour picture in the Pink with his champagne prize as Manager of the Month in the UniBond Premier for September. There is also a picture of Carl Furlong, Danny Murphy, Ian Craney and Steve Hawes celebrating yesterday's first goal.
---
13 October 2001
ALTRINCHAM 4 WITTON ALBION 1
Today's crowd was 841 - Northwich had only 698 in the Conference. The updated player stats are here. Other 3rd Qualifying Round ties involving UniBond Premier sides were:
Lancaster C 2 Stocksbridge PS 1
Emley 1 Accrington Stanley 0
Worksop T 4 Gainsborough Trinity 0
Barrow 1 Rossendale Utd 1
Whitby T 3 Spennymoor Utd 0
Runcorn FC Halton 2 Bedlington Terriers 2
Marine 4 Bradford PA 2
Blyth Spartans 1 Harrogate RA 2
Burton A 2 Berkhamsted T 1
Hucknall T 2 Stourport Swifts 0
Vauxhall Motors 3 Harrogate T. 1
TWO ALTY GAMES POSTPONED
Today's FA Cup results mean that two Altrincham league matches have been postponed. The away League game at Bamber Bridge scheduled for 27 October clashes with our FA Cup 4th Qualifying Round game and Runcorn FC Halton have an FA Cup replay this Wednesday, which means that the scheduled league game against Altrincham this coming Tuesday is postponed.
LEAGUE GAMES
Today's results:
Bishop Auckland 1 Droylsden 2
Burscough 4 Colwyn Bay 0
Frickley A. 2 Hyde U. 2
Gateshead 1 Bamber Bridge 1
Revised league table here.
AROUND THE UNIBOND
Gateshead have signed ex-Emley reserve goalkeeper Graeme Waind and Hyde have acquired Southport's young striker, Benjamin Obong for a month's loan. The Tigers' Chris Young, who was briefly at Moss Lane, has been suspended for one game after receiving his fifth yellow card of the season, three of which came when he played for Droylsden. Hyde have also lost Peter Band for one game after a sending-off. Hucknall's millionaire chairman has reportedly offered manager John Ramshaw "a massive amount of money to spend on players if he so needs. The figure overshadows what most other UniBond clubs get but John has chosen not to spend it so far", according to club official Simon Matters. Recent transfers include:
Jason Ainsley (Bishop Auckland to Spennymoor Utd)
Danny Barton (Rhyl to Colwyn Bay on loan)
Jamie Burt (Scarborough to Whitby T.)
Andy Hirst (Whitby T. to Spennymoor Utd)
Scott McAuley (Southport to Marine)
Brett McNamara (Kettering T to Gainsborough Trinity)
Danny Taylor (Farsley Celtic to Bradford PA)
Julian Ward (Southport to Vauxhall Motors)
Simon Watson (Harrogate T. to Gainsborough Trinity)
MARK HARRIS
On the SAM site, Alty Chairman Mark Harris states that, "While there is no premature back-slapping going on, I think Bernard Taylor and Graham Heathcote deserve the thanks of everyone who has Altrincham FC at their heart" for their achievements so far this season".
FAT REWARDS IN F.A. CUP; THIN REWARDS IN F.A.T.
If Alty beat Witton tomorrow, they will earn £10,000 which is the same sum that is earned by whichever team wins the F.A. Trophy Final this season. Elsewhere, Radio Five will have a match report at around 5.30pm on the Marine F.A. Cup tie. The radio station was covering Maine Road FC in the F.A. Cup and will now follow Marine, who knocked out the NW Counties League side, till they, in turn, are beaten.
OLD BOYS
Ex-Alty man Danny McGoona is back in training at Caernarfon after being out all season so far; his ex-Robins colleague Adam Lillis is suspended.
---
12 October 2001
WITTON'S EX-BOSS SPEAKS
Eddie Bishop, who resigned as boss of our opponents tomorrow, Witton Albion, has explained his motives to the Northwich Guardian. In a long, open letter Bishop said that "The whole affair has left me feeling deflated and lacking my natural enthusiasm and self-motivation to have the same drive and passion that is my hallmark, and if I do not have that coming through then Witton Albion are not getting 100% out of Eddie Bishop, and as such I feel I have been forced into a position where I have to leave. I would like to wish the team the best of luck for the forthcoming FA Cup tie [at Altrincham], which I believe they are more than capable of winning. I trust my successor will be able to take the team to a top five play-off place, which I believe the players are more than capable of achieving despite our Jekyll and Hyde start to the season".
FOUR WITH KNOCKS
The Evening News reports that Bernard Taylor is wary of tomorrow's Cup opponents Witton (see below), after last season's Cup exit to another lower division side, Mossley. The Robins have four players with knocks who will, it is hoped, be fit to play. They are Stuart Coburn, Ian Craney, Kevin Hulme and Carl Furlong.
UNIBOND NEWS
Barrow captain Mark Hume, who missed the recent game at Moss Lane through injury, is going to Scunthorpe United on trial. Hume is a non-contract player so no fee would be paid for his transfer. Hyde have confirmed Martin Filson as their assistant manager and have also taken Crewe's young centre-back/midfielder Gareth Liddle on loan. However Chris McCready's loan from the same club has now ended.
WHO'S NEXT?
It had been reported that if Alty Youth defeat Wrexham Youth on 24 October they would play Huddersfield Town or Farsley Celtic in the FA Youth Cup 2nd Round. However, the FA website lists Huddersfield as playing Chesterfield and Farsley as entertaining Darlington in the 1st Round, so Alty's potential opponents are now unclear.
---
11 October 2001
COACH TO WREXHAM
SAFE, the supporters' association, is planning to run a coach to Wrexham's Racecourse Ground on Wednesday, 24 October, for the FA Youth Cup match against the Welsh side. The coach will leave the Vine at 5.10pm, the Hare & Hounds at 5.20pm, opposite Station House at 5.25pm and Moss Lane at 5.30pm. Prices will be £6 adults and £4 for concessionaries. SAFE will donate any profits from the trip and from a football card to George Heslop and Neil Thomason to help the youth team directly as they need training balls, etc. Ring the Club (0161-928-1045) to book your seat. For more on the Youth team and its exploits click here.
OLD BOYS
Gary Talbot was sent off for Northwich against Stalybridge on Tuesday. The same night, former Alty keeper Ian Senior, now 41, played for Radcliffe Borough as they beat Rossendale United 3-1. He replaced the rested Danny Hurst in goal and may keep his place for Saturday's league game as Hurst will be serving a one-match ban.
RESERVES CRASH
After drawing 0-0 at Chester last week, Altrincham Reserves went down 0-6 in the home fixture at Flixton last night. There is a match report here.
WITTON BOSS GOES
Just three days before they meet Altrincham in the FA Cup, Witton's manager Eddie Bishop has resigned. Bishop was only reinstated a few days ago after being suspended following an incident in the Cheshire Senior Cup match against Woodley Sports (Alty's next opponents in the CSC). Terry Murphy, Witton's Director of Football will look after the team at Moss Lane on Saturday. Alty's FA Cup record against Witton is not good; for details of past encounters see Howard Watts's data here and see if you can fill in the one result which Howard needs to complete his information on Witton/Altrincham clashes.
---
10 October 2001
THROUGH THE YEARS
Alty's record through the years on 13 October, when we meet Witton, is on the Through the Years Page, courtesy of Howard Watts. Click the button at the top of this page to see it.
UNIBOND
Tonight's league result:

Bishop Auckland 2 Bamber Bridge 0
YOUTH CUP
Alty Youth's FA Youth Cup 1st Round proper match away to Wrexham, at the Racecourse Ground, will be on Wednesday 24th October, k.o. at 7.30pm. If they win that match they travel to the McAlpine Stadium, Huddersfield or to Farsley Celtic in the next round. It is hoped to run a supporters' coach to Wrexham for the match on 24th October. More details to follow when available. Alty's win in the last round was secured by goals from Lee Thompson and Wes Wilkinson. For more on the Youth team see the Youth Page and the Youth Players/Fixtures Page of this site.
ALTRINCHAM 0 TRAFFORD 1
Match report here. The Statistics and Cup Line Ups pages have also been updated, click the buttons above to visit them. The other matches last night in Alty's group were:
Colwyn Bay 3 Runcorn 3
Vauxhall Motors 3 Witton Albion 2
The Group 5 table is below. Positions are determined by goals scored not goal difference.
| | | | | | | | | |
| --- | --- | --- | --- | --- | --- | --- | --- | --- |
| Pos | Team | P | W | D | L | F | A | Pts |
| 1 | Vauxhall Motors | 2 | 2 | 0 | 0 | 5 | 2 | 6 |
| 2 | Witton Albion | 2 | 1 | 0 | 1 | 3 | 3 | 3 |
| 3 | ALTRINCHAM | 2 | 1 | 0 | 1 | 2 | 1 | 3 |
| 4 | Trafford | 2 | 1 | 0 | 1 | 2 | 3 | 3 |
| 5 | Colwyn Bay | 2 | 0 | 1 | 1 | 3 | 4 | 1 |
| 6 | Runcorn | 2 | 0 | 1 | 1 | 3 | 5 | 1 |
---
FOR EARLIER NEWS, CLICK HERE
---