---
Home Page: Altrincham Football Club News Archive, 28 October to 11 November, 2001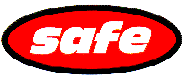 ---
11 November 2001
ALTY YOUTH FA WIN
A large number of Altrincham Youth players played for the Altrincham & District FA this afternoon in their win at Trafford FC today against Stalybridge FA. A match report is in the Youth team section of this site.
STUART
Alty keeper Stuart Coburn again features in the NLP and the Pink. In the former he is singled out as the reason why we are still in the FA Cup. Manager Bernard Taylor confirms that league clubs previously interested in Stuart included Barnsley (Dave Bassett) and Charlton Athletic. "His reflexes are unbelievable", said Bernard. In the Pink he is pictured with Mark Sertoti and Steve Hawes receiving the UniBond Team of the Month award.
LANCASTER
The Sunday press reports that Lancaster City are unhappy that none of their players is in the Taylor-Heathcote selection for the UniBond Representative XI. It has been denied that this is a response to Lancaster for fielding a complete reserve side in the UniBond Shield match recently.
NEXT OPPONENTS
Woodley Sports, whom we meet in the Cheshire Senior Cup on Tuesday, lost 0-3 to Pickering Town in the FA Vase yesterday.
OLD BOYS
Leroy Chambers scored as struggling and managerless Hucknall Town had a fine 3-1 win at Burscough yesterday. The NLP continues to cite Terry Bonker (i.e. Bowker) as a member of Bamber Bridge's side in its match reports. Danny McGoona, back after injury, scored for Caernarfon Town and, also in Wales, Stuart Terry was on the mark for Connah's Quay. Stuart Scheuber has now been converted from a midfielder to a right-back and is now playing in the Colwyn Bay defence. Ged Kielty came on as a Leigh RMI sub whilst Craig Skelton scored for Blyth and Scott Wilson also found the net, for Radcliffe Borough for whom Dickie Landon also turned out. Steve Porter and Adam Farley started for Droylsden, whilst Mick Carmody, still at Ashton United, gets a mention in an article by ex-Alty boss Gerry Quinn in the Pink. Gary Talbot was back in the Vics' side in their draw yesterday and Dean Greygoose now seems to be the regular keeper for Stevenage Borough. Tony Hemmings scored and Chris Timons played for Ilkeston Town.
RADIO FIVE
BBC Radio 5 is to have a programme on Non-League football at 7.45pm on Monday evenings, starting tomorrow. On Thursday there is also a FA Cup 1st Round preview from 7pm to 10pm on the same channel.
AROUND THE UNIBOND
Worksop's Chris Waddle has turned down the chance to manage Conference strugglers Scarborough. Gary Williams, who recently returned to Accrington after a spell at Southport, has now gone to Chester City on loan.
---
10 November 2001

GOOD RESULTS FOR ALTY
Altrincham had no game today but both Burton and Lancaster dropped two points. All of the UniBond Premier results are below; the updated table is here. Altrincham can now go (at least joint) top if they win their games in hand. Only one side, Marine, has played fewer league games than Altrincham.

Blyth S. 1 Barrow 1 (1pm)
Burscough 1 Hucknall T. 3 (1pm)
Burton A. 1 Bamber B. 1
Colwyn Bay 1 Bradford PA 2
Frickley 3 Droylsden 1
Lancaster C. 1 Runcorn FC Halton 1
Marine 0 Whitby T. 3
Vauxhall M. 1 Accrington S. 2
Worksop T. 3 Hyde U. 2 (1pm)
BAMBER BRIDGE CRISIS- AND LEIGH TOO
Bottom of the table Bamber Bridge have released seven players after emergency talks to address the club's financial crisis. Amongst those who have left are goalkeeper and Player of the Year Billy Stewart and strikers Simon Burton and Karl Robinson. The others to go are Carl Gleaves, Peter Smith, Paul Lin and Brad Pates. The remaining players and management have taken pay cuts. For more on this see the Brig's website here. Leigh RMI have also asked their players to take a pay cut but have assured fans that they will fulfil their Conference fixtures. The club's financial plans have suffered after Leigh were knocked out of the FA Cup by Worksop Town.
UNIBOND MOVES
Richard Dacombe (Vale of Leven to Colwyn Bay)
Mick Goddard (Worksop T. to Alfreton T.)
Phil Hutchison (Grimsby to Colwyn Bay)
Cyril Sharrock (Kendal T to Bamber Bridge)
Malcolm Tidswell (Caernarfon T to Colwyn Bay)
Darren Williams (Flint Town Utd to Colwyn Bay)
---
9 November 2001
SPALDING
The Spalding Guardian match report describes Altrincham's second-half performance as superb on Tuesday night, when we won the Trophy Replay against Spalding United. For this site's report, click here.
PICKERING NOW A MANAGER
Ally Pickering, who had a brief spell as a player at Altrincham, has been named as the new Mossley boss in succession to Benny Phillips, who has moved on to Witton Albion as their new manager following the departure of Eddie Bishop.
YEO LISTED
Hyde United's Simon Yeo has been transfer-listed at his own request, with a £15,000 price-tag allegedly having been quoted to Southport. Morecambe and Stalybridge have also expressed an interest in Yeo.
FRIDAY SCORE
UniBond Premier
Gainsborough T. 1 Bishop Auckland 1
For the latest league positions, click League Table button above.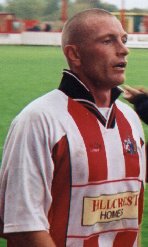 INJURIES
SAM reports that Kevin Hulme (right) and Jason Gallagher, who were injured against Spalding last Saturday, are unlikely to start the FA Cup 1st Round match against Lancaster City next week (17th Nov).
HYDE THROUGH
Thursday 8th
FA Trophy 1st Round replay
Hyde U. 3 Ossett T. 1
WORKSOP LOSE MAN
Former Manchester City player and Darlington manager Gary Bennett has moved on to Scarborough within a week of joining Worksop Town. Meanwhile, Scarborough are reported to have not yet paid the October wages of their players.
---
8 November 2001
RACE NIGHT
If anyone would like to buy a horse for the Race Night (see below), please e-mail Gary Warrington. The cost is just £5 per horse, or to sponsor a race the cost is £25. Payment can be made at the SAFE cabin at Moss Lane on matchday (17 November) or personally to Gary. If you contact Gary, please give your full name and the name of your horse.

| | | |
| --- | --- | --- |
| Friday 23 November 2001 | RACE NIGHT | Noel White Suite (doors open 7-30pm for 8pm start). Entry/ race card £1; horse sponsorship £5, race sponsorship £25 |
IT'S STANLEY!
In last night's FA Trophy 1st Round replay, Accrington Stanley beat Dickie Landon's Radcliffe Borough 2-0 to claim a second round tie at the Crown Ground against Altrincham on 1 December. Former Boro player Simon Carden got both the goals to ensure our third meeting with Stanley this season.
RESERVES WIN
Alty Reserves beat Flixton 2-1 in a friendly last night.
RESULTS
Wednesday 8th
UniBond Premier
Bishop Auckland 1 Emley 0
Bradford PA 2 Gainsborough T. 0
Runcorn FC Halton 4 Burscough 0
Click League Table button above for updated placings.
ALTY LEGEND
A profile of goalkeeper Willy Mailey has been added to the Alty Legends page, courtesy of Terry Rowley. Previous former Alty stars featured here are Jackie Swindells, Lenny Dickinson and John King. Click the Alty Legends button above to see the profiles.
BARROW
The controversial new owner of Chester City, Steven Vaughan, has now sold his majority shareholding in Barrow to Barrow AFC (1999). Vaughan has also agreed not to attempt to buy the Holker Street ground when it comes up for sale.
NO COMMENT
The Bradford PA website report of their recent game against Droylsden states that an opposing player was sent off "after only 8 minutes for kicking Wael Nazha while he was on the ground... Spectators in the stand said it was blatant and inexplicable". The man in question was ex-Alty defender James Glendenning.
---
7 November 2001
HUCKNALL BOSS GOES
19th-placed Hucknall Town have parted company with their manager, John Ramshaw. He had differences of opinion with his chairman and in a phrase reminiscent of Mark Ward's sacking at Moss Lane, "the club are also concerned about their disciplinary record", according to a report on the NLP site.
ALTRINCHAM 3 SPALDING UNITED 2

Sertori (the Alty player nearest camera) scores the second goal; picture courtesy of Alan Johnson who has more photos here


The match report is now here. The Cup Line-Up, Statistics, League Table and League Grid buttons above will all take you to updated pages.
TUESDAY RESULTS
Tuesday 6th
UniBond Premier
Barrow 1 Colwyn Bay 1
FA Trophy 1st Round replays
Frickley A. 1 Droylsden 1 (Frickley won 4-3 on pens a.e.t.)
Marine 3 Matlock T. 2
Whitby T. 2 Stocksbridge PS 0
Ossett Albion 0 Trafford 3

---
6 November 2001
SAFE MEETING
The SAFE supporters' meeting scheduled for 17 November has now been cancelled and re-scheduled for 22 December at 12.30pm
SPORTSMAN'S EVENING
Manchester City "legend" Mike Summerbee will be the guest speaker at a Sportsman's Evening to be held at the Cresta Court Hotel, Altrincham on Friday 23rd November at 7.30pm for 8pm. Comedian Gerry Aiden will also entertain the guests. Tickets are £25 each or are available in tables of ten for £250. Please contact the club (928-1045) for tickets for what promises to be an entertaining evening.
AROUND THE UNIBOND
WHITBY ON T.V.: Whitby Town's FA Cup tie with Plymouth Argyle on 17 November will be featured on Match of the Day on BBC. The game itself has a 1pm start.
HYDE SIGN PICKERING: The much travelled Ally Pickering has now rejoined Hyde United, from Mossley, but Neil Hall is to leave the Tigers.
BARROW: A Court hearing to sort out the ownership of Barrow's Holker Street ground has been scheduled for 3rd December, in Leeds. The hearing may lead to the sale of the ground and payment of the company's creditors.
BISHOP AUCKLAND: Midfielder David Bayles is to retire but his midfield colleague David Gallacher is reportedly discussing a move to another North East club, though manager Tony Lee is angry at not being notified by the player himself.
---
5 November 2001
WOODLEY TRIP
Please click the Away Travel button for coach times and fares for the CSC match on 13th November, as well as directions to the ground.
UNIBOND XI
The UniBond XI, chosen by Graham Heathcote and Bernard Taylor to play the England FA XI at Moss Lane on 19 November is as follows:

From Altrincham: Stuart Coburn, Mark Sertori, Steve Hawes and Rod Thornley
From Barrow: Mark Hume, Lee Warren, Steve Housham, Wayne Bullimore, Scott Maxfield
From Burton Albion: Matt Duke, Darren Stride, James Wall and Dale Anderson
Steve Nicholson (Emley), Gary Townsend (Worksop T.), Steve Hutt (Bishop Auckland), Simon Yeo (Hyde Utd) and Lutel James (Accrington S.)
The England squad is in the News below for 2 November. In the corresponding fixture with the Ryman League, ex-Alty man Lance Key is the Ryman's keeper.
MANCHESTER UNITED AT MOSS LANE
According to UniBond sources, the Manchester United Under-16 side entertain Stoke City at Moss Lane on 14th November. With groundsman Peter Barry's departure (see below), his successor will be kept busy by three games in five days at Moss Lane - this youth match, the FA Cup tie against Lancaster City (17th) and the above-mentioned UniBond Representative game (19th).
SPALDING UTD 0 ALTRINCHAM 0
The match report is here.
ATTENDANCES
Please click the Attendance Grid button above for the updated attendance data, kindly supplied by Terry Rowley.
THANKS TO PETER
Peter Barry leaves his position as groundsman at Moss Lane at the end of this week. Regulars at Moss Lane will be very sorry to see him go as his hard work has transformed the state of the playing surface over the last two seasons.
STANLEY CHANGES
Accrington, who may be our FA Trophy opponents if both clubs win their replays, have signed the former Clitheroe captain and defender Barrie Hart. However, Mark Ceraolo has been released from his contract because of a long-term injury.
---
4 November 2001
YOUTHS DRAW
Alty Youth drew 2-2 today with St Helens College. Click here to get to the match report.
OLD BOYS
Michael Twiss played and Ged Kielty was a sub in Leigh RMI's win yesterday at Scarborough. Jeremy Illingworth's Stocksbridge drew 1-1 with Whitby in the Trophy. Paul Edwards started for Swindon, who lost to Stoke, whilst Danny Adams was in the Macclesfield side which drew with Carlisle.
---
3 November 2001
FA TROPHY - SPALDING UTD 0 ALTRINCHAM 0
Please click here for the match report.
LEAGUE RESULTS
Bishop Auckland 1 Burton Albion 1
Worksop Town 0 Lancaster City 1
---
2 November 2001
TEAM OF MONTH- AGAIN

Altrincham have been named UniBond team of the month for the second time running. It is believed that players Mark Sertori, Steve Hawes and Stuart Coburn (right), rather than the managership duo, will receive the award before Tuesday night's league match against Marine.
ALTY'S INJURY LIST
SAM reports that Chris Adams has a very bad ankle injury and will not play tomorrow at Spalding, where Jason Gallagher will also only be fit to be a substitute. Both Dave Swannick and Anthony Hargreaves are expected to be in the starting line-up tomorrow.
ENGLAND AT MOSS LANE
John Owens, the former Alty player and now manager of the England Semi-Professional side has announced his squad for the match against the UniBond Representative XI, managed by Bernard Taylor and Graham Heathcote, at Moss Lane on Monday, 19th November at 7.30pm. It comprises:

Andy Woods, Stuart Elliott & Steve Brodie (Scarborough), Steve Dickinson, Chris Lane & Martin Clark (Southport), Simon Marples, Tim Ryan & Justin Jackson (Doncaster Rovers), Neil Durkin (Leigh RMI), Paul Beesley, Andy Scott & Steve Pickford (Stalybridge Celtic), Stewart Drummond & Robbie Talbot (Morecambe), Warren Peyton (Nuneaton Borough). For some reason there are no Boston players in this or either of the other two squads below, so Paul Ellender is not in evidence.

The other squads are:

Against the Dr Martens League (at Crawley Town, 20.11.01)
Steve Farrelly, Michael Warner, Barry Laker, Steve Watson & Gary Patterson (Farnborough Town), Phil Smith (Dover Athletic), Terry Skiverton, Anthony Tonkin & Darren Way (Yeovil Town), Steve West, Nick Roddis, Chris Sharpling, Warren Patmore & Barry Moore (Woking), Graham Porter & Leon Braithwaite (Margate)

Against the Ryman League (at Bishop's Stortford, 21.11.01)
Paul Wilkerson, Jason Goodliffe, Paul Sturgess, Sam McMahon & Simon Wormull (Stevenage Borough), Steve Perrin & Simon Travis (Forest Green Rovers), Mark Smith, Ken Charlery & Mark Stein (Dagenham & Redbridge), Greg Heald, Mark Arber, Leon Bell & Ben Strevens (Barnet), Dean Clark (Hayes), Lee Charles (Nuneaton Borough)
TRANSFERS
Worksop Town, home to veteran Chris Waddle, have signed another "oldie" in 39 year-old defender Gary Bennett, who was formerly manager of Darlington. Other moves:
Paul Foot (Frickley Ath to North Ferriby Utd)
Barrie Hart (Clitheroe to Accrington Stanley)
Troy Hayder (Leigh RMI to Droylsden)
Fraser Sidebottom (Stocksbridge Park Steels to Frickley Ath)
Danny Walsh (Guiseley to Emley)
HYDE AND ALTY
As previously reported Hyde United have signed ex-Alty Gerard Leonard, who was once at Montpellier in the French Premier Division. After being released by Mark Ward, he came back to Moss Lane this pre-season, scoring in the friendly against Abbey Hey and playing for the Reserves. Hyde have also served notice of approach to Mossley for veteran Ally Pickering, another ex-Robin. Another former Robin, left-back Paul Robertson has left Mossley and signed for Kidsgrove Athletic where he joins a number of ex-Hyde players including two more ex-Alty men, Steve Tobin and Stuart Walker. Stuart is pictured in this week's SAM playing in the Altrincham and District Sunday League. In the same league Nathan Comley-Excell netted a hat-trick last week for AFC Gardeners. There is another, albeit tenuous connection with Mossley, as the NW Counties side has signed midfielder Paul Mitten, grandson of former Alty manager and Manchester United star, Charlie Mitten.
---
1 November 2001
UPDATES
Click the Youth Team button above to find the updated league table and a new picture of the match against Burscough. The Through the Years feature, by Howard Watts, has also been updated.
NUNEATON MOVES
Nuneaton, whom we beat last Saturday, have acquired a Danish striker Jakob Fenger from US side Nashville Metros, whilst offloading Steve Whitehall, who was an unused sub in the game at Moss Lane, to Southport for a "nominal fee".
SPALDING
Alty travel the 135 miles to Lincolnshire to play Spalding United in the FA Trophy on Saturday. Spalding, who play in orange and black and are known as "The Tulips", play a level below Alty in the Pyramid, in the Dr Martens Eastern Division, where they currently lie tenth with 21 points from 14 games. However, they have been having a fairly good run recently. Their main strikers are Lee Stephenson, Robbie Williams and Lee Sowerby who, like our own Rod Thornley, celebrates his goals with a somersault. Last season they finished 15th but were bottom the year before, avoiding relegation because two teams resigned from their division. Their ground, the Sir Halley Stewart Playing Field, is named after a former local M.P. and holds 7,000 people, though the last two Saturday home crowds were just 171 and 139. Spalding do have some Trophy pedigree, having reached the 3rd Round in 1999-2000 and, though they are sponsored by Geest, Altrincham will be hoping that Spalding do not prove to be a banana skin in their Trophy campaign. There is a link to a map of the area around Spalding's ground on the Away Travel page as well as details of the supporters' coach to the match.
| | | |
| --- | --- | --- |
| Saturday, 3 November 2001 | SPALDING UNITED | FA Trophy, 1st Round, AWAY, at 3pm |
---
31 October 2001
ALTRINCHAM 3 ACCRINGTON STANLEY 1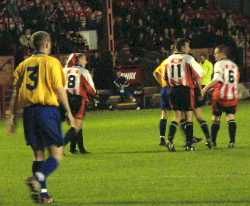 The match report is now here.
Pictured above, by Alan Johnson, is the scene after Gary Scott's goal; for more pictures see Alan's website here. Alty are now second in the updated table; also updated are the League Line-Up, Statistics and League Grid pages- click the buttons above to see them.
LEFT-BACKS, NEW AND OLD
The UniBond Press Release lists the transfer from Macclesfield Town to Altrincham of James Wilkinson. James is a left-back from Knutsford who has reportedly joined the Reserves squad. Meanwhile, our former left-back Steve Porter has left Burscough and joined Droylsden, for whom he was a sub on Saturday.
---
30 October 2001
TUESDAY SCORES
UniBond Premier Games
ALTRINCHAM 3 Accrington Stanley 1
Burscough 3 Barrow 2
Burton A. 1 Worksop T. 0
Colwyn B. 4 Hyde U. 4
Frickley A. 2 Bishop Auckland 1
Gainsborough 2 Whitby T. 0
LANCASTER TO PLAY US IN FA CUP
FA Cup Replays-
Vauxhall M. 0 Lancaster C. 1 (winners play Alty on 17th November).
Southport 2 Marine 1
---
29 October 2001
YOUTH WIN
Alty Youth won at South Sefton yesterday; click here for more on this game.
STUART- "FINEST EVER"
The MEN tonight quotes Bernard Taylor as describing keeper Stuart Coburn's performance last Saturday as the "finest goalkeeping performance I've ever witnessed". The To the Manor Reborn Nuneaton website report says that "Stuart Coburn in the Altrincham goal was quite simply awesome".
NO MORE THAN SIX LEFT NOW
Six is now the maximum number of UniBond Premier sides which can now play in the FA Cup 1st Round after today's match, in which Hucknall lost 3-1 at Cambridge City. Marine have a Qualifying Round replay to win before they reach Round 1, as do Vauxhall and Lancaster who are competing to play at Altrincham.
KILNER GOES AND BOMBER TOO
Ex-Alty man, Andy Kilner has today been relieved of his duties as manager of Stockport County, who are bottom of Division One. Also, Ricky (Bomber) Harris has gone on loan from Leigh RMI to Rossendale United
£100 FOR FAN
The Pink yesterday offered £100 prize to a lucky Alty fan who was ringed in a picture taken of the crowd at Moss Lane on Saturday.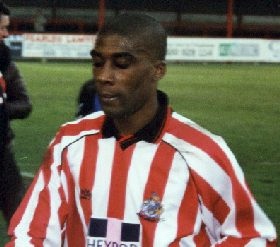 GERARD AT HYDE
French striker Gerard Léonard, (right), who turned out for Alty's first team last season and our Reserves this year, has reportedly joined Hyde United, for whom Martin Filson scored at the weekend for the first time since he joined the Tigers as Assistant Manager. Hyde have also acquired midfielder Tom Brookes, formerly at Frickley.

---
28 October 2001
ALTY 3 NUNEATON BOROUGH 0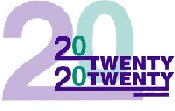 Alty's FA Cup campaign is sponsored by 20/20 Research. Please click the logo to visit the company's site.

Match report now here

The follow-up picture to Alan Johnson's (below) is on the front page of today's N-L Paper and in the Pink.
48 EXILES

The Alty Exiles supporters' group, run with such energy by Jacqui Forster, has now got 48 members. A new edition of the Exiles' newsletter, The Fanfare for the Travelling Fan is out now. It is a very attractive, colour publication packed with news about Alty and also its Exiles' activities. The current issue also has a feature on Jacqui's attendance at the Supporters' Direct meeting in London. If you support The Robins and live outside the Altrincham area, why not join? For further details, click here
OLD BOYS
James Glendenning was sent off early in Droylsden defeat yesterday and "slimline Danny Adams" as the Pink describes him, was also on the losing side for Macca yesterday. Gary Talbot was suspended for the Vics. A Stu Scheuber free-kick laid on a goal for Colwyn Bay and Dickie Landon netted for Radcliffe Boro. Stuart Terry scored again for Connah's Quay but Paul Edwards was subbed for Swindon whilst Nicky Daws was on the bench for Rotherham. Dean Greygoose kept goal for Stevenage again, as did Lance Key for Kingstonian. But another ex-Alty keeper, Andy Dibble is out injured at Stockport. Paul Ellender turned out for Boston United and Terry Rowley reports that Andy Lovelock is still apparently at Solihull Borough but is sidelined by injury.
CROWDS
Courtesy of Terry Rowley, the UniBond attendance grid has been updated to 24th October.
---
FOR EARLIER NEWS, CLICK HERE
---