---
Home Page: Altrincham Football Club News Archive, 21 April to 5 May 2002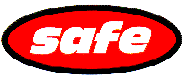 ---
5 May, 2002
ALTY GATES UP
Altrincham's home league gates in 2001-02 were up to 638 compared with last season's average of 597. Click the Attendance Grid button above for full details.
ALTRINCHAM 0 VAUXHALL MOTORS 1
Match report here.
Alan Johnson's picture above shows Rod Thornley receiving the Junior Robins' Player of the Year award. This and Alan's pictures of the Vauxhall game on Friday evening are on his website.
PLAYER OF YEAR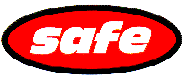 A very successful Player of the Year and Race Night was held at Moss Lane last night. The event, organised by the supporters' association (S.A.F.E.) in conjunction with the Club, was attended by most of the first team squad. At the event Alty in Exile made a £300 donation to the Club's funds and Rod Thornley revealed a hidden talent as an auctioneer! For details of the event, see the S.A.F.E. page.
ALTY COACH AND PLAYER NEWS
In the Pink it is reported that "an ex-pro, well-known in Manchester" is "in the frame" to be named as Bernard Taylor's new coach to succeed Graham Heathcote. The same article also says that Manager Bernard Taylor "fears goalkeeper Stuart Coburn...could be on his way to Chester". (Chester's current keeper is the England Semi-Pro international Wyane Brown). The article goes on, "Taylor recognises he could also be about to lose [ex-]skipper Steve Hawes and the club's two most experienced players...Kevin Hulme and Mark Sertori. Taylor appears more hopeful however of reaching agreement with Danny Murphy and Neil Ryan, while Mark Maddox and Gary Scott have already told him they are staying. They'll join Rod Thornley, Ian Craney and Jason Gallagher who are all contracted for another season... Mario Daniel and Vernum Rowland...are likely, he says, to remain in the first team picture next term". The same article reports Alty Director Dave Tracey's comments on the Club's finances- "The club's condition is not critical but it is serious...Without the help of our supporters we are afraid the future looks bleak".
OLD BOYS
Although he only joined Flixton half-way through this season, former Moss Lane favourite Nathan Comley-Excell hit his third hat-trick of the campaign last Friday as his relegated side defeated champions Kidsgrove Athletic 4-3. The NLP pictures three ex-Alty men celebrating Colwyn Bay's survival in the UniBond Premier - Stuart Scheuber, Carl Furlong and Marc Limbert. Marc scored the goal against Droylsden that kept Bay up- regardless of the ground grading furore at the bottom of the League. The Bloods' James Glendenning is pictured in the same paper conceding a penalty. In the Stockport Times Niell Hardy tells of his shock at beign released by Stockport County and says "unless I agree to an offer which suits me, I will stay at edgeley Park and see out my remaining year [on my contract]".
PLAY OFF PROBLEMS
The chaos caused by the refusal to allow Ossett Town to come up and the enforced relegation of Bishop Auckland has led to protests to the F.A.. Ossett, in particular, are aggrieved that they were refused promotion when they were only 48 hours away from completing ground improvements; the work schedule had been hit by bad weather during the winter. Meanwhile Bamber Bridge are desperately putting together a team for their unexpected play-off appearance- they had already told several players they were not needed for next season. Ex-Alty boss Gerry Quinn of Ashton United is annoyed that Hyde have stayed up whilst his side has been forced to play-off for promotion. He is also upset that if Ashton beat Spennymoor, the final play-off match will be away, possibly at Radcliffe, who finished two places below Ashton in the First Division.
LOWEST GATE
Just 82 souls watched Droylsden play Bishop Auckland last week at the Butcher's Arms.
---
4 May, 2002
HYDE STAY UP!
After Bishop Auckland were relegated by the League (see below) and Ossett Town were refused promotion from the First Division, the UniBond League has ruled that Hyde United will remain in the Premier Division next season. Shildon, where the Bishops were to play next season, are building a new stand, which was due for completion within days of the 30 April inspection deadline, but the League ruled that this was not acceptable. Likewise, Ossett's new stand was not completed on time. Even bottom-placed Bamber Bridge now have a chance of survival as they will contest the play offs, in which the ties on 6th May (3pm) are:
Ashton Utd v Spennymoor U.
Bamber Bridge v Radcliffe Borough

The final play-off is on Thursday 9 May. So, at present the only promoted side is Harrogate Town, as Ossett Town occupied the second spot.
ALTRINCHAM 0 VAUXHALL MOTORS 1
Match report here.
Alty finished ninth in the league table. Other results:
Accrington S. 3 Marine 1
Bradford PA 1 Whitby T. 1
Burton A. 3 Bishop Auckland 0
Colwyn Bay 1 Droylsden 0
Emley 3 Hucknall T. 0
Frickley A. 0 Gateshead 0
Lancaster C 0 Burscough 3
Worksop T. 1 Runcorn FC Halton 1
GOAL SPONSORSHIP
Alty Goal Sponsors are asked to make their payments to the Club Office or by post (address above) as soon as possible. Alty scored 110 goals this season - 66 in the league and 44 in the cups. See the Statistics Page for details.
FIXTURES AT MOSS LANE
Sat. 11th May, 2pm, ALTY YOUTH v Prestwich Heys (Open Cup Final) £2 (£1 concessions)
Wed. 15th May, 7.30pm, ALTY RESERVES v Accrington S. Reserves (Lancs League)
---
3 May, 2002
CONFUSION OVER RELEGATION/PROMOTION
As well as the relegation of Bishop Auckland (see below, yesterday's news), it is now also reported that Ossett Town's ground has failed the ground grading criteria and that they would not be promoted should they secure a promotion spot in the UniBond First Division table. Where this leaves the relegation/promotion play-offs is anyone's guess. The plan had been for the 21st team in the Premeier Division to play-off against the 3rd, 4th and 5th teams in the First Division.
KIELTY CONTRACT
Former Robins' midfielder Ged Kielty has signed a new two-year contract with Leigh RMI.
DUNN CONFIRMED
Last season's Alty Reserves' manager (under Mark Ward), Joey Dunn, has been confirmed as Trafford FC's manager for next season. Dunn took over as caretaker boss in March.
---
2 May, 2002

BISHOPS RELEGATED!
According to the Bishop Auckland website, the Durham club has been "relegated to the UniBond League First Division due to the ground at Shildon not being up to standard by the 30th April deadline". Shildon's ground was selected by the Bishops as a temporary home next season, whilst their new stadium is being built. The Shildon ground was inspected on Tuesday morning and seemingly has not met the League criteria. This is odd, as Bishops looked at a number of grounds - including Spennymoor's - before selecting Shildon. It is unclear whether the third placed team in the First Division will now come up automatically or whether some form of play-off will still occur - or whether some other solution will be found.
RESPONSE TO WINDING-UP THREAT
On the SAM website, Alty Director Dave Tracey speaks about the response to the threat of a winding-up order being served on Altrincham F.C. (see the news section of this page for 1 May, (below), for the original story). "It's not panic mode yet, but it is not far short. Things are looking very dark at the moment", he says, before going on to state that "Our first task now is to correspond with the Inland Revenue, and we will impress upon them that the matter is an urgent, top priority and request that we be given a little more time".
UNIBOND SHIELD
The Peter Swales UniBond Shield between the UniBond League and Cup winners will be contested between Burton Albion and Accrington Stanley on Monday 6th May at Eton Park. Stanley hope to open their new 1,200 seater stand by the start of next season,
RESERVES DRAW
Alty Reserves drew 2-2 last night against Northwich Victoria. The goals came from Steve Lunt and Francis Evans. A match report is accessible through the Reserves' Page.
MARSH TO BURSCOUGH?
Mike Marsh, the former Liverpool player, is being strongly tipped as the new manager at Burscough in succession to John Davison, who is now at St Helens Town.
---
1 May, 2002
TODAY'S NEWS
The rest of today's news is beneath the following message from the Board.
THREAT OF WINDING-UP: MESSAGE FROM THE BOARD
It is with regret that we need to announce that we have now received the final demand for payment of our Inland Revenue liabilities of £43,000 with immediate effect, the result of non-payment in the near future will result in a winding-up order being issued without prior notification.
The board is working tirelessly to rectify the situation, and we have appreciated the contributions that have been made. However in total the input received from Shareholders and Supporters falls far short of the requirements.
As we have expressed at the open meeting, now is the time for us all to pull together and ensure the survival of the Club, as it currently exists. At the time of the special meeting we told all present that the club needed £50,000 to survive within the next few months. This time period has now expired and the predicted outcome is now upon us.
As a Board we will take whatever action is necessary to help preserve the future of the club and give it a fighting chance of survival. As a final rallying call to Shareholders and Supporters, we would ask you all to join the initiatives we have outlined now and for you to donate as much as is possible. As a Board we will continue to pursue with vigour future sponsors, renewals and opportunities to raise funds, but in summary without your help the future looks bleak.
I trust for those of us who choose to support the club that this is indeed hard news to digest, but as always if we work together then even this massive challenge could be overcome.
On behalf of the Board of Directors of Altrincham AFC.
Please click here for details of the fundraising initiatives mentioned above.
VAUXHALL MOTORS 2 ALTRINCHAM 1
Match report here
The League Table, Statistics and League Line-Up pages have all been updated.
Alan Johnson's picture above shows Mario Daniel worrying the Vauxhall defence. More of Alan's pictures are on his website.
Other results:
Barrow 4 Blyth Spartans 1
Burton Albion 4 Frickley A. 0
Droylsden 1 Bishop Auckland 0
Hucknall T. 0 Worksop T. 1
Whitby T. 0 Lancaster C. 2
Challenge Cup Final 2nd Leg Accrington S. 1 Bradford PA. 0 Aggregate 1-1; Accrington won on penalties.
RESERVES REPORT
Alty Reserves drew 1-1 on Monday night, away to Northwich Victoria. Danny Claffey's match report can be found through the Reserves Page, along with fixture news.
---
30 April, 2002
ATTENDANCES
Tonight's games should take the combined UniBond Premier attendances to over 200,000 for this season. For full details click the Attendance Grid button above.
DANNY TO THE RESCUE
Former Altrincham wingman Danny McGoona has been playing in Welsh football since leaving Moss Lane, most recently at Caernarfon Town. However, he is now unable to deicate as much time to the game due to his work as an ambulanceman and this also seems to have been a factor in his turning down a move to play for Rhyl a few months ago. Danny combined both of his jobs recently when his ambulance was called out to a recent Colwyn Bay match to take an injured player to hospital.
---
29 April, 2002
MURPHY TO STAY?
On the SAM website, Danny Murphy states, "I have had talks about a new contract...I'm a local lad and I'm really looking forward to staying for next season". Meanwhile boss Bernard Taylor says, "It's good to see some of the injured players come back, and some of the lads we have brought in are doing well also. I'm not as worried about next season as I was a while back". Meanwhile, pictured right is another player whom fans will be hoping to see again next season, keeper Stuart Coburn. He is captured here in action by Andrew Boyers who kindly sent in this picture (click to enlarge).
UNIBOND FIXTURE TONIGHT
Emley 2 Gateshead 2
UNIBOND NEWS
COLWYN BAY are counting on Bishop Auckland not winning at either Droylsden on Tuesday or Burton Albion on Friday to avoid being condemned to the relegation play-offs. If Bishops lose both games then Bay will only need a draw at home to Droylsden on Friday night to survive. They were not helped on Saturday by Carl Furlong's late withdrawal before they lost 5-0 to Bradford. VAUXHALL MOTORS have announced a "Trophy Presentation" on Tuesday at their game against Altrincham, but which trophy is unclear! ACCRINGTON Chairman Eric Whalley has stated that his club is to make two influential signings on free transfers. One is believed to be a midfielder with Football League experience.
ELLENDER'S SUCCESS
Former Alty defender Paul Ellender will be playing in Division Three next season after his Boston United side clinched promotion from the Conference yesterday.
---
28 April, 2002
YOUTH TEAM DEFEATED
Alty Youth lost 0-2 this afternoon to South Sefton. A match report can be found via the Youth Page.
RESERVES WIN
Like the first team, Alty Reserves won yesterday -but in curious fashion at Colwyn Bay. For this and other scores, as well as the updated league table, visit the Reserves' Page.
ALTRINCHAM 2 WORKSOP TOWN 0
Match report here.
Click the above buttons for updates of the League Table, Statistics, League-Line Up pages.
In the adjacent picture by Alan Johnson, Barry Shuttleworth's free-kick sails into the net past keeper Holmshaw. More of Alan's photos of the game are to be seen on his website. Alan has also captured on his site the presentation of awards to Alty Safety Officer Phil Taylor and steward Steve Jamieson, both of whom have completed 25 years of service at Moss Lane. Congratulations to both!
KIDSGROVE UP
Kidsgrove Athletic have been promoted from the NW Counties to the UniBond First Division so we could meet them next year in the UniBond Cup. Kidsgrove players include ex-Robins Paul Robertson and Stuart Walker. Amongst the sides reported by the NLP to be relegated from NW Counties Division One are local neighbours Flixton and Maine Road.
GET WELL SOON
Best wishes go to Cliff Hase, who for many years has been the official photographer at Moss Lane. Cliff was taken ill on holiday in Malta recently and everyone at the Club wishes him a speedy recovery.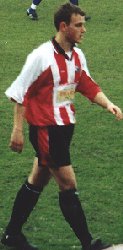 BURY RELEASE WHITEMAN
Striker Marc Whiteman, (right), who has been playing at Altrincham whilst on loan from Bury, has now been released by the relegated Gigg Lane club. However, Whiteman did not figure in Alty's squad yesterday.
OLD BOYS
Ged Kielty was sent off for Leigh RMI yesterday as they lost to Farnborough. In the UniBond, Craig Skelton netted for Whitby and Matt McNeil scored two for Runcorn. Dickie Landon played for Radcliffe, who lost to Spennymoor.
---
27 April, 2002
RESULTS
ALTRINCHAM 2 Worksop T. 0
Blyth Spartans 0 Burton Albion 1
Bradford Park Avenue 5 Colwyn Bay 0
Droylsden 0 Marine 2
Frickley Athletic 3 Burscough 0
Hyde United 2 Emley 3
Lancaster City 1 Hucknall Town 0
Runcorn FC Halton 3 Bishop Auckland 1
Vauxhall Motors 2 Barrow 0
Whitby Town 2 Accrington Stanley 1
SEASON TICKET DETAILS
Details have been announced of Altrincham's 2002-03's season ticket arrangements, which include a number of special offers for children. You can read the details and print off the accompanying form to apply for your ticket(s) by clicking here.

Details of the Alty 100 and 200 and other fundraising schemes are here.
---
26 April, 2002
ALTY PROGRAMME WINS AGAIN!
For the second successive year, the Robins' Review, Altrincham's matchday programme has won the Wirral Programme Society's award as the best programme in the UniBond Premier League. With 161 points, the Robins' Review was 16 points ahead of the programme from Bradford P.A. and 17 ahead of Barrow's publication. The Robins' Review came 34th overall in the national table. Congratulations to the editors, Grahame and Terry Rowley.
---
25 April, 2002
YOUTH FIGHTBACK
Alty Youth came back from 0-2 down tonight to beat Marine deservedly 3-2 in their NW Youth Alliance league match. See the Youth Page for a match report.
TOUGH AT THE BOTTOM
The teams most likely to occupy the play-off spot at the bottom of the Premier league table are Marine, Burscough, Bishop Auckland and Colwyn Bay. These clubs have nine games to play between them and eight of them are away fixtures. As the list below shows, Droylsden will have a big say in who goes down. So far as Alty are concerned this season we allowed the Bishops to gain 4 league points off us, Marine and Burscough to win 3 but we gave none away to Colwyn Bay who, ironically, have two ex-Robins- Stuart Scheuber and Carl Furlong- in their side. The remaining fixtures are:
MARINE: Droylsden (A) 27/4, Accrington (A) 3/5
BURSCOUGH: Frickley A. (A) 27/4, Lancaster C. (A) 3/5
BISHOP AUCKLAND: Runcorn (A) 27/4, Droylsden (A) 30/4, Burton Albion (A) 3/5
COLWYN BAY: Bradford (A) 27/4, Droylsden (H) 3/5

Relegated Hyde received a further blow in Monday's game against Whitby when striker Simon Yeo need ten stitches in a mouth injury after being caught accidentally by an opponent's knee when he stumbled. In its description of the game, the Whitby website refers to Hyde using "one from the lardiest substitutes in history, Filson I think"! The demotion of Hyde may mean an Alty Christmas double-fixture with Droylsden, though the possible promotion of Ashton United could alter that.
---
24 April, 2002
BERNARD DISAPPOINTED
On the SAM website Alty manager Bernard Taylor states that "I feel I have let the club and the supporters down by not delivering one piece of silverware all season". The article goes on to say that "Taylor remained tight-lipped about who Heathcote's successor may be,- only revealing that a number of people from outside the club had expressed an interest. Many people connected with Altrincham are tipping centre back and team captain Mark Sertori for the job, but this will depend on him agreeing to the offer of wages for next season - a decision all players who wish to stay at Moss Lane will have to make".
RESERVES MATCH OFF
Alty Reserves' match against Accrington Stanley Reserves tonight at Flixton FC has now been postponed at the request of the visitors.

SIGN UP NOW!
Application forms for the Alty 100 and Alty 200 fundraising schemes are now available on this site.
ALTY 100 - A form is here for those who want to take advantage of the 5 instalments x £20 option. Those who want to make one payment of £100 should please send a cheque made out to Altrincham Football Club, for the attention of David Tracey, at Altrincham FC (address at top of page).
ALTY 200 -This scheme will start in July and supporters are asked to give in multiples of £5. When the form is completed, it should be sent to David Tracey, as above.
---
23 April, 2002
DIBBLE AND HARDY RELEASED
Stockport County have released two ex-Robins, goalkeeper Andy Dibble (nearly 37) and striker Niell Hardy. Another former Robin, Mark Quayle of Telford, has been called into the England semi-professional squad for the match this week against Holland.
TUESDAY RESULTS
Lancaster C 2 Gateshead 0
Runcorn FC Halton 0 Bradford PA 2
Vauxhall M. 4 Gainsborough T. 0
Worksop T. 2 Bishop Auckland 1
Burton A. 4 Barrow 0
Hyde U. 1 Whitby T. 1 Hyde relegated.

ILKESTON REFUSED
It is reported that the UniBond League Management Committee has turned down Ilkeston Town's application to join the League.
MOSS LANE IN HEAVY USE
As well as Alty's remaining league fixtures, there is now a heavy schedule of other games at Moss Lane:
Sun. 28 April, 11am: Altrincham Sunday league match.
Sun. 28 April, 3pm: Timperley Junior B League match.
Wed. 1 May, 7pm: Man. Utd. U-14s v Everton U-14s
Mon. 6 May, 2pm: Man. Utd Reserves v Leeds Utd Res
Wed. 8 May, 7.30pm: Wythenshawe Sunday League match
Thu. 9 May, 7.30pm: Wythenshawe Sunday League match
Fri. 10 May, 7.30pm: Altrincham FA Senior Cup
Sat. 11 May, 2pm: NW Youth Alliance Open Cup Final- ALTRINCHAM v Prestwich Heys
Sun. 12 May, 11am: Altrincham FA Senior Sunday Cup
---
22 April, 2002
YOUTH AND RESERVE FIXTURES
Alty Reserves play Accrington Stanley on Wednesday (24th) at Flixton FC, whilst the Youth team take on Marine on Thursday at Wythenshawe Town, k.o. 6.15pm. For other fixture changes see the Youth page.
UNITED AT MOSS LANE
Manchester United Reserves will play Leeds United Reserves at Moss Lane on May Bank Holiday Monday, 6th May, k.o. at 2pm.
MOSS LANE VISITORS
Altrincham FC wil be hosts to Jamaican side Village United during their five match tour of Britain. Their side includes the Jamaican national goalkeeper. Mick Morrell, the former Alty striker, also joined United earlier this season. More details to follow.
CHARGE REFUTED
The following texts by Alty Chairman Mark Harris are from the Robins' Review and are reproduced here courtesy of the editors.
Text 1:
DROYLSDEN v ALTRINCHAM 5th March 2002
RACIAL ABUSE
Following the match at Droylsden on 5th March, the club received notification that it had been reported by one of the officiating assistant referees. The nature of the allegation was that one or more Altrincham fans had racially abused one of the Droylsden players during the game.
Having spoken to a number of the fans present in the vicinity of the alleged offence that night, I am totally satisfied and convinced that no-one associated with this club was guilty of the offence as alleged. Indeed I have written to the Football Association to this effect and a copy of my letter is reproduced below.
What this incident does illustrate however is that - quite correctly - taunting or insulting a player because of his race or religion is unacceptable and illegal. Let me therefore remind everyone that any individual found guilty of abusive, threatening or violent behaviour will be banned for life from this club.
And if anyone thinks that is an idle threat, one (I cannot bring myself to call him a supporter) individual is currently the subject of such an exclusion order.
Please be vigilant. This no place for any anti-social activity; and there's no excuse for not shopping the offenders.
Thanks
Mark Harris
Chairman

Text 2:
18th April 2002
To: Mr Mark Knowles, Compliance Unit, The Football Association, 25 Soho Square, London W1D 4FA.
Dear Mr Knowles
REF: DROYLSDEN v ALTRINCHAM, UNIBOND PREMIER DIVISION, 5TH MARCH 2002
I refer to your letter to our secretary Graham Heathcote of 4th April, the contents of which are noted.
We have undertaken exhaustive enquiries into the allegations made against us concerning racial abuse against an opposing player in the above match. I am totally satisfied that, having interviewed a number of supporters and our Sales & Marketing Manager, all of whom were stood immediately behind the assistant referee who made the allegations, no Altrincham supporter was guilty of an offence of any kind.
Altrincham F.C. takes most seriously the issue of racial intolerance in any form, and has for many years published a strict condemnation of any insulting behaviour or language in the match programme. Indeed I attach a copy of our next matchday programme that re-iterates the measures that would - and last year were - taken against any individual found to have committed any such act.
Finally, I can assure you that we will maintain constant vigilance to play our full part in eradicating racism in football.
Yours sincerely
Mark Harris
Chairman
ALTY YOUTH LOSE FINAL BUT ANOTHER TO COME

L to R, back: George Heslop (Manager), Paul Robinson, Nathan Ardayfio, Mark Drew, Lee Thompson, Jordan Broxson, Paul McGrath, Neil Wolszczuk,Steve Lunt, Michael Bailey, Vernum Rowland. Front: Paul Glynn, Richard Smith, David Walsh, Paul Tilley (capt.), Ian Horton, Lee Shillito, Lee McDonald, Neil Thomason (Coach).

Alty Youth lost in the NW Youth Alliance Premier Cup yesterday 4-1, to Morecambe, at Bamber Bridge. However, the date has now been set for Alty Youth's second Final of the season, in the Open Cup. For a match report and more on the Open Cup, see the Youth Page. Pictured above by Alan Johnson is the team before the game; more of Alan's excellent pictures are on his website.
GAINSBOROUGH TRINITY 1 ALTRINCHAM 3
Match report here.
Above, Mario Daniel proves a handful for Trinity's defence in a picture from Alan Johnson's Alty photo website, where more images of the game are to be found.
UNIBOND KNOCKOUT
The UniBond League Management Committee is reported to be considering a reversion to a knock-out format for the League Challenge Cup next season instead of the current group qualifying system.
---