Altrincham Football Club News Archive
10 to 18 October 2002
---
18 October 2002
OPEN MEETING
The following is NOT an official account of the meeting, nor does it record the meeting in its entirety - it lasted an hour and three-quarters. It is a brief summary which I hope is accurate.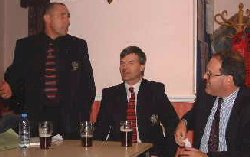 Left, are Geoff Goodwin, Grahame Rowley and Andrew Shaw at the meeting as pictured by Alan Johnson, whose website is here.
At tonight's Open Meeting at Moss Lane, the Board and the Club's major shareholders responded to questions from an audience of over a hundred fans (and a mystery man, apparently from a business publication). As well as the Chairman (Geoff Goodwin), the other two Directors (Grahame Rowley and Andrew Shaw) and club secretary/team manager Graham Heathcote answered questions put from the floor. Also in attendance were a number of the major shareholders. These included Club President Noel White, former Chairman Gerry Berman, Ernie Fryer and John King. Geoff Goodwin started the meeting and responded to a question about why the recent managerial vacancy had not been advertised by saying that Graham Heathcote was appointed because in him "we had the best coach in non-league football, already at the club". It was indicated that Bernard Taylor's contract would be paid up weekly till the end of the season. However, as Graham is receiving no pay for managing the club, over and above that for his part-time role as Club Secretary, and the playing budget has remained unaltered, there was no additional cost incurred by the change of manager.
Amongst the facts to emerge from the meeting was that the current Board adopted previously incurred debts amounting to £700,000, including substantial former Directors' loans. However, as Andrew Shaw explained, by far the most pressing debts were those to the Inland Revenue and to H.M. Customs and Excise (VAT). Because of the urgent need to address the debts to these two bodies, the Board had concluded that it had no option but to attempt to broker a "land deal" involving Moss Lane. Like the previous such deal, which expired recently, this new deal was subject to confidentiality clauses, for the time being. Trafford Council were involved in this deal and this, it was stated, guaranteed that the club would not cease to exist or move a significant distance from Moss Lane as a consequence of the deal. The sponsorship of the club shirts was also tied to this deal, though the income from the sponsorship would be additional to the land deal. It was stressed that this deal had not been signed and that no announcement could be made for several weeks, even assuming the deal was successfully concluded. This was "secrecy for the right reasons", said Andrew Shaw. Geoff Goodwin stressed that the club would have to adopt "low budget" football in future if it was to survive. Barry Pond underlined the need to find sponsors for games and other activities at Moss Lane and urged all supporters to help in this task.
The mystery businessman, armed with the Altrincham FC accounts and a list of shareholders, asked a number of searching questions about share issues and other financial matters, including the destination of any funds raised from a sale of the ground. Andrew Shaw responded to these but felt unable to answer them all due to the confidentiality of the impending deal. Grahame Rowley pointed out that the timescale for a share issue was too long given the pressing debts so the land deal was the only viable option to save the club. The persistent line of questioning from the businessman elicited an angry response from Gerry Berman, who then walked out of the meeting. A number of questions from supporters expressed concern at the lack of communication about the land deal and other events at the club. Concern was also expressed at the perceived lack of support for the creation of a Supporters' Trust at Altrincham and that the club might lose its fan base if it moved. There was also anger when John King, after attacking "stupid directors" in the club's past, then accused the supporters of having a significant role in the club's debts by their failure to question why players in the past were signed for large transfer fees which had cost the club too much money. John later publicly apologised for his attack on the supporters.
There was a "frank exchange of views" at one or two points during the evening but the meeting was for the most part conducted constructively. Grahame Rowley and Geoff Goodwin stressed that they were always happy to be approached if fans had questions. On the playing front, some supporters expressed the view that certain players had let them down this season. Graham Heathcote indicated that he had held a meeting with the players yesterday evening at which he had laid down the ground rules for playing for the Club. Amongst these are that players turn up punctually, wear the required "gear" and spend some time in the Club bar after each home match so that supporters can talk to them. He is determined to instil a sense of pride in the Club and will not hesitate to replace anyone who does not show such an attitude. Indeed, Graham had told the players that "if you believe there is a better non-league club than Altrincham in the North-West, you are wrong". He received strong applause for his statement. He is fully aware of the financial constraints and will appoint an unpaid assistant to help in the near future. Between them they will scour the local leagues to locate talent as it "does not come knocking at the door". Graham also commented on the need to support the players and, indeed, the concluding sentiment of the meeting was that everyone must pull together and put aside the factionalism that has been evident in the past. As Ernie Fryer put it, in conclusion, "Let's go forward".
SERIOUS OUTBREAK OF THORNLEYS
With the arrival of Gareth Thornley at Accrington from Rochdale, there are now three Thornleys in the UniBond Premier,- Rod at Altrincham and Mark, the Lancaster keeper, being the others. A fourth could soon be back in the North West as Rod's brother Ben, now at Aberdeen, is being sought by Blackpool. Rod Thornley will be back for Alty on Saturday after missing three games masseuring for England.
---
17 October 2002
UNIBOND NEWS
After being relegated last season to the UniBond First Division because their temporary home at Shildon was judged unfit for Premier Division football, Bishop Auckland have received confirmation from the Football Stadia Improvement Fund that they are eligible for the maximum £250,000 grant for their new stadium.
FORLAN SCORES AT MOSS LANE
Fans at Old Trafford have yet to see Diego Forlán score for Manchester United's first team from open play but spectators at Moss Lane saw him do it tonight when he tapped in the opening goal after 27 minutes as United's Reserves beat Birmingham City Reserves 3-0. Daniel Nardiello got both the other goals in the second half, the second being a penalty. United have yet to concede a goal at Moss Lane in four matches this season. Birmingham started well but by the end were well beaten. Amongst those playing tonight for United were Quinton Fortune, David May, Ricardo and Luke Chadwick and spectators included Denis Irwin and Pat Crerand as well as the Altrincham team, led by Rod Thornley, back from his duties with England. The crowd looked to be around the thousand mark.
UNIBOND NEWS
Blyth Spartans beat Durham City 3-1 tonight in an FA Cup replay.
S.A.M. REPORTS
The S.A.M.
site
now has a report on the managerial change at Moss Lane. It quotes former boss Bernard Taylor as saying that "he wished everyone at the club the best of luck for the future, adding 'I would like to say thanks to everyone at the club including the fans. I'll be taking more good memories away with me than anything else'.. Director Grahame Rowley told SAM, 'We do want to emphasise the fact that there will be no increased budget for Heathcote'...[and] added to this, saying, 'We have always strived to be an honest and open board, and I would urge any fans with questions to ask them at the meeting - you will get an honest answer'." Footnote: the meeting is at 6.45pm this Friday (18th) in the Noel White Suite at Moss Lane.
OLD BOYS
Leroy Chambers netted a late penalty for Belper at Trafford on Tuesday, whilst ex-Alty reserve Lee Evans scored for Hyde in their Monday defeat by Barrow. Richard Landon scored for Radcliffe as they won at Leek on Tuesday.
UNIBOND NEWS
Gainsborough
have already released recent signing Fraser McHugh from Tamworth, whilst
Hyde
have allowed Ged Smith to join Rossendale United. Dave Nolan, sacked by Hyde, has now become manager as well as a player at Kidsgrove Athletic.
Accrington
have signed Morecambe's 26 year-old Michael Knowles, a midfielder with Conference experience this season.
---
16 October 2002
ALTY DROP A PLACE
Gateshead 3 Lancaster City 3
Table
SUPPORT AT BURSCOUGH
As reported elsewhere some Altrincham fans chose to withdraw their normally strong vocal support and display of team colours, flags, etc. last night at Burscough. To clarify any confusion about the reasons for this, I am happy to reproduce Alty fan Gary Warrington's explanation of those events. Gary writes, "The not singing was NOT because Bernard has been sacked (as we needed a fresh approach) or indeed that Graham was in charge but with the dealing of the whole matter and what is happening at the football club at this present time. The meeting [of the club and fans on Friday] will be a good place to get questions answered so make sure you all attend please".
NEW FIXTURE
Altrincham now have a league fixture on Saturday, 26 October, which was otherwise blank. It will at home to Wakefield & Emley at 3pm. and has been moved from 22 March 2003.
BURSCOUGH 0 ALTRINCHAM 3
Match report here.
In their first game under Graham Heathcote's managership, Altrincham put in an excellent team performance to withstand a lot of Burscough pressure. They also suffered the early loss of Danny Murphy through injury as they became the first side to win this season at a ground where the home side had only previously conceded one goal during the league campaign. Fielding the returning Chris Adams and debutant Sean Smith, Altrincham scored from their first real attack after 14 minutes when Jason Gallagher netted from close range after Ian Craney's shot had been parried. Determined and organised defending kept Burscough at bay until Ian Craney scored two cracking goals in the last ten minutes to make it 3-0 to Alty. Despite pointedly mute support from a small section of the travelling fans, who were unhappy at the circumstances leading up to the appointment of the new manager, the majority of Altrincham supporters were heartened by a vastly improved performance compared with Saturday's Cup exit at Guiseley, (who incidentally lost 5-0 at Witton last night).
---
15 October 2002
MIDWEEK FIXTURES
Tuesday 15th
Ashton United 2 Wakefield & Emley 2
Frickley Athletic 2 Gainsborough Trinity 2
Hucknall Town 1 Bradford Park Avenue 2
FA CUP Replays:
Harrogate T. 3 Accrington S. 2
Spennymoor U. 3 Droylsden 2
EVENING NEWS
Tonight's Evening News quotes Alty chairman Geoff Goodwin as saying "We feel that Graham Heathcote's experience will be invaluable during these worrying times" in its report of Graham's appointment following the dismissal of Bernard Taylor as Alty manager. The article states that "also out is coach Andy May" but as the Alty coach is on holiday, this is yet to be confirmed.
---
14 October 2002
MONDAY RESULTS
Hyde United 1 Barrow 3
Marine 1 Stalybridge Celtic 2

BERNARD TAYLOR'S CONTRACT ENDED
The following is a Press Release from Altrincham FC.

Press Announcement.

The Directors of Altrincham Football Club, after consultation with a number of the major shareholders in the club, have today terminated the contract of the Manager, Mr Bernard Taylor. This decision was arrived at following the team's recent poor run of results culminating in the FA Cup defeat at Guiseley on Saturday. The Board wish to record their appreciation of Mr Taylor's efforts during the years with which he has been associated with Altrincham Football Club.

Mr Taylor's replacement will be Mr Graham Heathcote, who has been involved with Altrincham Football Club, both as a player and in various off field activities for the last 30 years. Mr Heathcote will combine the role of team manager with that of General Secretary. Mr Geoff Goodwin, Chairman of Altrincham Football Club commented "Graham's experience of both Altrincham and the non-league football scene will be invaluable during these worrying times. We are still in a serious financial situation and the new Manager will have to work within the same budgetary constraints as Mr Taylor had previously".

The Board are acutely aware of the fans concerns at this present time and are thus proposing to hold an open fans' meeting this coming Friday, commencing at 6.45pm in the Noel White Suite.

Altrincham Football Club
14th October 2002

Bernard originally managed the club from March 1998 till May 2000 before resigning in the wake of relegation from the Conference. Before that Bernard enjoyed cup and league successes in 1998-99, culminating in the UniBond Premier League championship in 1999. His second period in charge, initially as a caretaker manager with Graham Heathcote as coach, began in March 2001. This spell started well in 2001-02 but results fell away in the Spring and this season has seen a further disappointing run of league and cup results.

A chart summarising recent changes at Altrincham is here.
WHAT MIGHT HAVE BEEN
Alty's conquerors, Guiseley have drawn a home tie in the FA Cup 4th QR against Tamworth. The remaining UniBond Premier clubs are playing as follows:
Wisbech T v Accrington Stanley/Harrogate T
Durham C/Blyth Spartans v Runcorn FC Halton
Harrogate Railway v Marine
Northwich V v Droylsden/Spennymoor Utd
Hucknall T v Vauxhall Motors
Nuneaton B v Barrow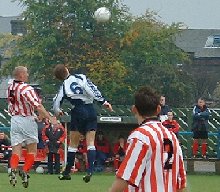 GUISELEY 2 ALTRINCHAM 1
Match report here and for the opposition's view of the match, click here
Seen, left, is Gary Talbot competing with Guiseley's David Cooke, as Bernard Taylor (standing on the touchline between the two players), Andy May (standing on a bench, far right) and Neil Murphy (no.2), look on.





UNIBOND NEWS
The Pink reports that Hyde United are expected to name their new boss this week, following the dismissal of Dave Nolan which came after the Hyde chairman concluded that the club was "in relegation trouble and it couldn't continue". The former Manchester United winger and Chester City boss, Gordon Hill, is in temporary charge at Ewen Fields.
OLD BOYS
Former Alty players in action last weekend included Anthony Hargreaves, who scored Hyde's goal in their FA Cup exit at Barrow on Saturday and Otis Thomas, the Alty Youth striker who reached the first team during Mark Ward's managership. Otis is now playing for Moss Amateurs in the Lancashire and Cheshire League. Also, Andy Lovelock scored for Solihull Borough.
---
13 October 2002
BERNARD AND ANDY SPEAK
The following is from today's Pink; it was presumably written before yesterday's result :

ROBIN TO FLY NEST
Alty boss reveals quit plan
BY TONY GLENNON

Under-fire Altrincham chief Bernard Taylor has sensationally revealed he plans to get the rocking Robins back on an even keel - and then resign. Taylor admits he's having sleepless nights due to the pressure he and new coach, Andy May are under following Alty's dismal start. But the Moss Lane boss claims it's not fear of losing his job that worries him but that of being labelled a failure. In fact, he says he'd be perfectly happy to quit while he's ahead and go out on a high note, if only he and May can haul the Robins to a position of safety in the UniBond Premier division.
Taylor, who's in his second spell in charge at Altrincham, the first of which ended in relegation from the Conference after he'd previously been hailed a hero following 18 months of non-stop success, said: "Some people have been kind enough to say that, overall, I've done well here and have nothing to be ashamed of, but I'd hate to go out as a failure. That's what's worrying me, not the fear of the sack, which is why I think that, if Andy and I can somehow drag us up the table. I'll then get out while the going's good. I'd like people to say good things about me, but, at the moment, I'm hearing bad. It sometimes hurts me that nobody seems to remember all the money me and my family have poured into this club. I don't expect a pat on the back for that. but why do certain people have to slate me as much as they have been doing? I just don't know what I've done to deserve that".
Taylor says, though, that he has no complaints about the amount of support he's receiving from Alty's new board, nor with the vast majority of the club's fans. He added: "Our new chairman. Geoff Goodwin, and the other directors have been absolutely smashing. if anything they've been more lenient then I'd expected. The fans, too, by and large, are still brilliant with me. A few of the things I've read on the internet have upset me, but, there again, some people didn't like me when we were doing well".
May, too, is aware of the pressures, but says that, unlike Taylor, he doesn't let them worry him. He said: "I'm different to Bernard in that I don't go home and dwell on things. It's not that I don't care, it's simply the way I am. But, as a coach or manager, you've got to be realistic and accept that when your team's in a poor position, as we are, you could be sacked. It's part and parcel of the job. To be fair to the board, their expectations for this season are not that high, although they are still obviously higher than we are currently achieving. We're falling in what they are asking for and they are not really asking for that much. We're in similar shape to Hyde and you only have to look what has just happened to their manager to see what could be round the corner here". May remains confident that, providing they're given the chance, he and Taylor can steer Alty to safety. He added: "I don't think our results so far reflect our overall level of performance. We've lost a number of games we should have won. I'd like to think we'll stay up. I believe we will because we're better than a number of sides in this division".
SUNDAY GAME
Jason Dunford, boss of East Levenshulme, explains his side's exit last week from the FA Sunday Cup as follows: "What really killed us is that we were without our two Altrincham lads, Andy McDonald and Peter Band who both had to withdraw due to club commitments. They won't be playing for us today either".
OLD BOYS
Former Robin, Shaun Goodwin, has become manager of Maltby Main (near Rotherham). Mark Ward has blamed "lack of fitness" for Leigh's poor form this season. However, they won yesterday with Ged Kielty scoring and Stuart Coburn in goal but only 335 watched the game at Hilton Park. Mark Quayle netted again for Nuneaton but Dean Greygoose let in six as Ilkeston thrashed Kingstonian, 6-1. Craig Skelton got one of Whitby's 7 goals yesterday; their next Saturday away game is at Moss Lane. In UniBond One, Jeremy Illingworth scored for Stocksbridge and Dale Newbrook kept goal for Trafford yesterday, for whom Dave Collins scored. Kevin Ellison played the first half for Stockport and Danny Adams was a star for Macclesfield yesterday. The Pink has an interview with Stuart Locke, now at Droylsden. Ryan Hevicon scored for Mossley and Matt McNeil netted for Runcorn as did Marc Limbert for Colwyn Bay.
---
12 October 2002
AJET OFF
Adewale Ajetunmobi had been released after just four substitute appearances and has joined Witton Albion.
SATURDAY FA CUP GAMES

Alty's FA Cup record is here.
Guiseley 2 ALTRINCHAM 1
ACCRINGTON S. 0 HARROGATE T. 0
ASHTON U. 0 RUNCORN FC HALTON 3
BARROW 3 HYDE U. 1
Durham C.1 BLYTH S. 1
BRADFORD PA 3 Bridlington T. 5
COLWYN BAY 1 Radcliffe B. 2
DROYLSDEN 0 Spennymoor Utd 0
HUCKNALL T. 1 Worcester C. 0
Dunston FB 0 MARINE 1
VAUXHALL M. 6 GAINSBOROUGH T. 1
Grantham 1 WORKSOP T. 0
SATURDAY LEAGUE GAMES
Frickley A. 1 Whitby T. 7
Gateshead 1 Burscough 0
Stalybridge C. 1 Lancaster C. 0
UNIBOND NEWS
Blyth will receive just 15% of the seats in the stand for today's F.A. Cup tie. Bradford Park Avenue keeper Lutz Pfannenstiel, who made his BPA debut at Moss Lane last season, "was [once] described by Franz Beckenbauer as 'the greatest goalkeeping talent in Germany'". "I went to a [German] Division Two team to get first team football", said Pfannensteil, "and Bayern rang up and offered me a chance to come back as number two or three. But I did not want to be a reserve so I stayed where I was. Then one of the goalkeepers got injured and I could have been number two to Oliver Kahn". Since then he has had a spell in a Singapore gaol for alleged match-fixing and played in Finland, New Zealand and at Wimbledon. Gainsborough have completed the signing of Colin Alcide from Cambridge United on a non-contract basis. They also hope to sign Richard Lucas, a left sided player from Hednesford. Gateshead's chairman expects "three or four players" to leave the club after a big cut in wages.
---
11 October 2002
S.A.F.E. PRIZE DRAW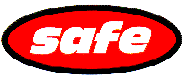 SAFE, the Alty supporters' association, is holding its Christmas Prize Draw once more this year. The Draw is a major fundraiser for the Club so all supporters are asked to help to make it a great success once more. If you can donate any prizes, whatever their size, they would be very much appreciated...anything, from bottles of wine upwards, will be very welcome. If you have contacts at work or amongst your friends who might be able to donate a prize, too, then please ask them to help. Given the Club's present financial plight, it is more important than ever to make this year's Draw successful. Prizes can be left at the S.A.F.E. cabin on matchdays or, otherwise, at the Club. Please contact Rob Muir if you have any suggestions or queries.
F.A.T.
Altrincham do not yet know their opposition yet in the F.A. Trophy 2nd Round to be played on 30 November. Prize money for that Round is £1,000. This compares with a £10,000 prize if Alty can win on Saturday in the FA Cup at Guiseley.
STARS OF TOMORROW
Former Alty director, Jeremy Pollitt of Hillcrest Homes is pictured in SAM this week as his company sponsored a Mini-Soccer Festival for local children held at Broadheath recently. The event was held in conjunction with the Trafford Football Development Scheme, which is backed by Trafford Council.
UNIBOND NEWS
It is reported that Gateshead FC are discussing a takeover with a firm called Kicks Leisure, which already owns the Gateshead Thunder rugby league team. A Gateshead Sporting Club could be formed, possibly incorporating a new Women's Football Club. The acting Gateshead FC chairman says, "A takeover won't happen overnight and the release of former chairman John Gibson's shares is crucial, but I'm optimistic". As well as management duo Gary Gill and Steve Agnew, two players Nicky Mohan and Neal Bishop have left the club in the last few days. Accrington report that Wigan Athletic are watching goalkeeper Jamie Speare, a former Everton trainee.
---
10 October 2002
"A BUNCH OF STRANGERS"

In this week's SAM Alty coach Andy May (right) is quoted as follows after the defeat by Vauxhall, "If we play like that at Guiseley...we are out of the Cup. It's strange how we have gone from a team who overplayed and tried to walk the ball into the net against Ashton and Marine, to a side who look as though they have never played together before. We are playing like a bunch of strangers right now and it is puzzling. The emphasis in training has always been on passing, moving, possession and ball-winning. We struggled to string two passes together tonight".
BAD INJURY AT MOSS LANE
Stalybridge report that Marcus Hallows, who was stretchered off against Alty last Saturday has dislocated his shoulder and fractured his arm. He will be out for four to twelve weeks. Altrincham fans send him their best wishes for a speedy recovery. Celtic's Nathan Wharton, now credited with the equaliser against Alty in that game, has since damaged his medial knee ligaments in training and could be out for anything up to three months. Ex-Robin Terry Bowker picked up his fifth booking of the season at Moss Lane and will now be banned. Better news is that Celtic have signed 20 year-old midfielder Danny Hooper from Woodley Sports and also Stephen Clegg (19), who has just been released by Manchester United.
OLD BOYS
Kevin Ellison completed his first 90 minutes for Stockport in a league game on Tuesday against Peterborough. It was also a foul on Kevin which led to Peterborough having a man sent off. Hyde report that ex-Alty defender Dave Swanick "has asked to have this message put on the [Hyde] website... He would like to unreservedly apologise for his unfortunate gesture to the crowd following the match v. Frickley. He feels he has let the club, fellow players and fans down by his actions and is sincerely sorry". Vernum Rowland is reported to have moved on from Flixton to fellow NW Counties side Nantwich Town, managed by ex-Robin Nigel Gleghorn. Mark Quayle scored the winner for Nuneaton last night at Chester City whilst Leroy Chambers scored for Belper Town in a 4-2 defeat by Alfreton. Dale Newbrook kept goal for Trafford in their defeat at Spennymoor 3-0; another former Robin, Mario Daniel was a used sub. Stuart Coburn's Leigh lost 0-2 to Hereford. Martyn Hindley's match report on the Leigh site said "the usually placid [manager] Waywell was partnered by [ex-Alty boss] Mark Ward, who cut a sombre figure on the sidelines with legs and arms folded. It was as if they were resigned to the inevitable and it hardly went unnoticed [by the fans]". Glossop North End have signed former Alty man Danny O'Brien.
CROWDS
The UniBond Attendances Page has now been updated. This season Accrington have taken over Barrow's mantle as the best supported UniBond side.
UNIBOND NEWS
Hyde's recently sacked boss Dave Nolan has signed as a player for Kidsgrove Athletic. Gateshead's Dave Southern has returned to the club after leaving at the start of the season. The Tynesiders have also signed on loan Neil Shotton from Dunston Federation Brewery.
---