Altrincham Football Club News Archive
28 Ocrtober to 7 November, 2002
7 November 2002

QUIZ SUCCESS
Alan Johnson has pictures on his
site
of the successful Quiz Night held at The Stamford Arms last Monday for Club funds. Many thanks are due to the Stamford Arms for hosting the event. They provided the room, food and a raffle prize. £245 was raised by the eleven competing teams.
BARROW VIEW
Speaking of their win at Altrincham on Tuesday, Barrow manager Kenny Lowe told the local press, "I didn't think it was a penalty. I actually thought Lee Warren kicked the floor...and I thought we were fortunate for the [other] goal".
NEXT OPPONENTS & UNIBOND NEWS
Gainsborough, who play Alty on Saturday, lost at Stalybridge on Tuesday 3-0, with player-manager-striker Phil Stant having to play in goal as their regular keeper Barry Richardson had been delayed in getting back from a football event in Spain (see below, News 4 Nov.). In the game, Gainsborough's Dean Walling needed four stitches in his head and, a former Robin, Colin Alcide, tore his earlobe. Making his debut for Trinity was Chris Shaw (19), a full-back from Grantham.
Accrington
's second goal last night was a Mark Sertori header from a corner. Droylsden striker Padi Wilson, who was arrested just before his side's game on Saturday, has been fined £30 by the Courts. Eight policemen had taken him away from the Butcher's Arms ground for breaching a community service order for wounding and damage offences.
HONOUR FOR NOEL WHITE
Altrincham FC President, Noel White, who is also the UniBond League President has been appointed Vice-Chairman of the UEFA National Team Committee that represents European Nations which play in European Competitions at Senior and Under-21 level, according to the
UniBond site
. Mr White is also a Director and ex-Chairman of Liverpool FC.
---
6 November 2002
RESULTS
Accrington S. 2 Gateshead 1
League Table here.
UniBond Cup
Blyth S. 2 B. Auckland 3
GATE STAFF
George Heslop would welcome any volunteers to help on the turnstiles this season but particularly for the Hyde United UniBond cup match on Monday 18 November. If you can assist, please ring the Club on 928-1045.
AWAY TIMES
Times of departure for the supporters' coach to Gainsborough on Saturday are here.
SUPPORTERS' TRUST
A statement from the Trust Working Party-
Following the unanimous support for a Trust to be formed, a preliminary working party meeting was held on 26 October where the logistics of setting up a trust were discussed. A follow-up Progress Meeting will be held at 5pm on 23 November, after the home match with Frickley. It will be in the Sponsors' Lounge at Moss Lane. EVERYONE IS WELCOME. Topics to be discussed include:
The name of the Trust
Trust logo
Caretaker committee
Bank account application
Agreement to aims and objectives of Trust
Agreement to Constitution
Agreement of launch date
Suggestions for launch event
Registration of Trust
Further nominations for working party.

Please note, many of the above have already been worked on but the initial working party feel all supporters should have the chance to contribute their views before any final decisions are made. The need for communication with all Alty fans is recognised and we aim to make full use of the communications media to ensure you, the supporter, has the chance to participate in what is, after all, your Trust. There is a lot of hard work to get through and we need as much help as possible.
BRING & BUY/COFFEE EVENING
A Bring & Buy/ Coffee Evening will be held in the Sponsors' Lounge on Friday 29 November at 7.30pm. Entry is just 50 pence which includes coffee or tea. There will be tombola, a white elephant, tinned produce and cakes. All proceeds go to the Club. Contact Derek in the Club Office (928-1045) for further details.
FURLONG RED
Ex-Alty striker Carl Furlong was sent off playing for Colwyn Bay last night - he was dismissed for arguing with the referee in injury time.
ALTRINCHAM 1 BARROW 2
Match report here.
Alan Johnson's pictures are here.
Other Tuesday results
Colwyn Bay 1 Lancaster C. 1
Runcorn FC Halton 3 Ashton U. 2
Stalybridge Celtic 3 Gainsborough T. 0
Vauxhall M. 1 Hyde U. 0
Wakefield & Emley 1 Whitby T. 0
FAT Replays
Frickley A. 2 Kidsgrove A. 1 aet
Harrogate T. 3 Gresley R. 0
---
5 November 2002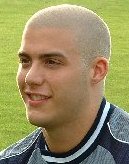 MOORE GOES
Alty keeper Andy Moore (right) has moved to Trafford, whose current goalkeeper is another ex-Alty man, Dale Newbrook. Andy made seven starts for Altrincham this season before being unfortunate to lose his place to Richard Acton, who then established himself as first choice. Andy was formerly at Squire's Gate.
UNIBOND NEWS
Bradford have signed 23 year old midfielder Danny Walsh from Kettering Town. He was formerly at Oldham Athletic and Chesterfield. Burscough's Lee Madin has gone to Kidsgrove Athletic after only six weeks at the club. Burscough hope to have injured striker John Norman back in 3 weeks after his serious eye injury. Hyde report that "in midfield Dave Swanick set a captain's example" for them against Gateshead at the weekend. Hyde have also signed Steven Ferguson on a month's loan from Leeds United.
MONDAY GAME
FAT1 Replay: Marine 1 Burscough 3 a.e.t.
---
4 November 2002
ALTY'S TOUGH DRAW
Altrincham have drawn high-flying Bradford Park Avenue, away, in the FA Trophy Round 2 to be played on 30 November. There is a £1,000 prize for the winners. In the interim Bradford visit Moss Lane for a league game on 13 November.

WORKSOP TOWN 1 ALTRINCHAM 2
Match report here.
Alty's line-up is here, the updated table here and statistics here.
Alan Johnson's pictures are here .
FUNDRAISERS
Don't forget there is a quiz night tonight at the Stamford Arms (Bowdon) with proceeds going to Club funds. It starts at 8.30pm. On Friday 29 November at 7.30pm there will be a coffee evening at Moss Lane, also for Club funds. This event will include tombola, a white elephant stall and cakes will also be available.
YOUTH WIN
Alty Youth won 4-1 yesterday. For a report, visit the Youth Page.
NEXT GAMES
Tomorrow, Alty play Barrow and on Saturday meet Gainsborough. There will be a minute's silence before the Barrow game in tribute to Mark Pover (right), Altrincham's 17 year-old Youth player who died on 26 October whilst playing football for a local side.

Barrow's Holker Street Newsletter says "It would be nice to break a record that has lasted for 34 years. Our last win at Moss Lane came in January 1968 in the FA Cup Second Round when we won 2-1. At the time, we were in Division 3 whilst the Robins were in the Cheshire County League. Since losing our Football League status in 1972, we have never won at Moss Lane. Hopefully we can achieve the elusive win on Tuesday". Barrow will be without Neil Tarrant, who dislocated his knee on Saturday and could be sidelined for six weeks. However, Grant Holt will be available to play at Moss Lane after completing a suspension.

Meanwhile Gainsborough goalkeeper Barry Richardson is competing in Spain today (Monday) in The Play Station 2 EA Sports FIFA 2003 tournament, in which the other competitors include Brazil's Roberto Carlos, Edgar Davids, Spanish international 'keeper Canizares, and Ryan Giggs.
PAUL LAKE
Former Alty physio Paul Lake has been appointed physio at Macclesfield Town.
UPDATES
The Through the Years and the UniBond attendances pages have been updated, thanks to the supply of data by Howard Watts and Terry Rowley, respectively.
---
3 November 2002
STRIKER ARRESTED
Droylsden striker Paddi Wilson was arrested yesterday by police on the Butcher's Arms pitch, just before kick-off, for failing to attend a Court hearing. The Pink also reports that "ex-Altrincham and Leigh striker Graham Leishman (37) has been fined £100 [by Manchester FA] for an alleged assault on a match official".
OLD BOYS
Dave Swanick was captain of Hyde United yesterday as they won in the Trophy, with ex-Robins Jason Anthony and Leon Smith amongst those also in the Hyde team. Released Alty full-back Neil Murphy is now being linked to the Tigers where he would join half a dozen other ex-Robins. Dave Gamble helped Runcorn to a 2-0 lead at Bradford but they lost 3-2. James Glendenning, Steve Porter and Adam Farley were all in Droylsden's squad yesterday. Carl Furlong netted both Colwyn Bay goals as they won in the Trophy but Dean Greygoose's King'S Lynn were knocked out of the competition yesterday. Paul "Coco" Robertson got Kidsgrove goal as they drew in the Trophy. Niell Hardy was sent off for Radcliffe Borough and Scott Wilson played in the same team yesterday. Darren Lyons has taken over as manager of East Manchester. In the Conference, Mark Quayle scored yet again, whilst Stuart Coburn and Ged Kielty figured in Leigh's draw. In the League, Kevin Ellison was subbed midway through the second half for Stockport. Danny Adams states in the Pink that he is playing worse than he has done for five years- "Dan thinks he's played like a donkey", the paper says. Danny blames the Macclesfield 3-5-2 systen for this dip in form. Nicky Daws scored for Rotherham.
UNIBOND NEWS
The Accrington site confirms manager John Coleman as saying, "We have spoken to [former Scottish international] Kevin Gallacher but he wants to stay in the League. He was interested but like all players in his position he has had an excellent career and he wants to prolong it as long as possible". Gateshead have signed Carlisle United striker Michael Dickinson on a month's loan to replace Steve Preen, who has joined Spennymoor despite recently pledging to stay at Gateshead.
---
2 November 2002
SCORES
Saturday
League
Barrow 1 Accrington S. 0
Bradford PA 3 Runcorn 2
Lancaster C. 1 Vauxhall M. 2
Stalybridge C. 0 Wakefield & Emley 0
Worksop T. 1 ALTRINCHAM 2
FAT1
Blyth S. 5 N Ferriby U 3
Burscough 0 Marine 0
Droylsden 2 Ashton U. 1
Gainsboro T. 3 Kendal T. 1
Gateshead 0 Hyde U. 2
Gresley R. 0 Harrogate T. 0
Kidsgrove A. 1 Frickley A. 1
Rocester 0 Colwyn Bay 2 Carl Furlong got both goals.
Rugby 2 Hucknall T. 1
Stocksbridge PS 0 Whitby T. 1
BLYTH WOES
The reasons behind John Charlton's sacking as manager at Blyth are given on the Blyth website. The following is just an extract from a lengthy and very interesting report of a Fans' Forum at Blyth: "Blyth's budget was set at £88,000 at the start of last season but...we ran out of money shortly before the end of the season and we were £4,000 short of the budget. We had to cut the wages to allow for this and we told the manager the situation and asked him to explain to the players...In reality they were not told the situation last season. They were told that they would be repaid in future. That is not the message that they were supposed to get. This season the same budget was set. The manager was told that, unlike some other football clubs, all payments to players would be made legitimately. They would be subject to PAYE and NI just as everyone else who works is. The manager was asked to explain this in June this year. He didn't tell them until the season had started and they had signed registration forms. The players were unhappy when they suddenly found that they were having tax and NI deducted".

[This season,] "the budget was set at £88,000 once again. In addition the manager was promised that 25% of any prize money from the first two rounds of the F.A. Cup would be added to the budget. This was publicised on the noticeboard in the dressing room. Last Friday the Executive Committee had a two and a half hour meeting with John Charlton and Graeme Clark. The committee had promised £2,000 from the potential prize money from last Saturday's game as a bonus to the players. This would go directly into the player's pool. This would effectively double their wages for that one game. The rest of the prize money would go towards the budget for the rest of the season. John Charlton wanted 25% of the prize money to be given to the players because that is what he had promised them".

"In the short term Tom Wade has agreed to look after the team and hasn't asked for a penny. His task has been made more difficult because the players have been verbally threatened and told not to turn up to play on Wednesday or Saturday. Tom has spent a lot of the time on the phone persuading players that they have a commitment to Blyth Spartans and the supporters". Wade said "50% of the players are playing for the club. The other 50% are playing for the money...When I gave my team talk yesterday it was all about playing for the supporters of the club. [Question:] Will we have a team for Saturday ? Tom Wade: We're not 100% sure".

Tony Platten said "We purposely didn't interfere with the manager. We expected him to act with integrity and communicate our decisions to the players. He hasn't transmitted information to the players". Visit the excellent Blyth website for the full story. All at Altrincham will wish them well.
UNIBOND NEWS
Our opponents today, Worksop Town, have won October's UniBond Premier Fair Play award, but Vauxhall are the overall leaders for the award for the season so far. Vauxhall are also UniBond Club of the Month as well as winners of the Endsleigh goalscoring award and the Sportsnet best defence award. Gainsborough Trinity, whom we meet twice in the next fortnight, have appointed former Lincoln City owner and Chairman John Reames as their new Chairman. Trinity's manager Phil Stant was formerly a Lincoln player. A Club spokesman said, "There is little doubt that the club will be restructured from top to bottom" as they aim for the Conference.

Transfers:
Danny Walsh (Kettering T. to Bradford P.A.)
Steve Cushion (Burscough to Marine)
Lee Madin (Burscough to Kidsgrove A.)
OLD BOYS
Mossley report that John Foster, once an Alty trialist, "has announced that he doesn't want to play for Mossley due to differences with the management [and] Ryan Hevicon has had his contract cancelled by mutual consent". However, Robert Trees and Ally Pickering are two remaining ex-Robins at Mossley.
---
1 November 2002
GONE

The UniBond site confirms that Altrincham have released the UniBond registrations of Christopher Barton, Ryan Hevicon, Neil Murphy, Jamie Phoenix, Andrew Watson and Chris Young. Watson never played for Altrincham, whilst Barton started just one game (+ 1 sub. appearance). Phoenix had the distinction of being sent off on his league debut but he also played a cup game. Murphy played 12(+1) and Young 15(+3) games for Altrincham. Hevicon is now believed to be considering a move to Hyde United.
UNIBOND NEWS
Vauxhall Motors FA Cup tie with QPR on 16 November has been switched to the Deva Stadium,Chester. A crowd in excess of 2,000 is expected. Eleven clubs have applied to join the UniBond next season should they win their leagues; they are Ossett Albion, Brigg Town and Bridlington Town (from the N. Counties East) and eight teams from the NW West Counties League; Mossley, Winsford United, Clitheroe, Nantwich Town, Newcastle Town, Prescot Cables, Salford City and St Helens Town. Marine have registered their 19 year-old keeper Steven Cushion for UniBond games as first-choice Billy Stewart is injured and deputy Chris Conneally is soon to be suspended. Carl Furlong scored for Colwyn Bay on Wednesday night. Gateshead have signed former Spennymoor centre-back Glen Downey and Carlisle's striker Michael Dickinson may also be joining on a month's loan.
---
31 October 2002
INTERNATIONAL TALENT AT MOSS LANE
At Moss Lane tonight, a Sunderland Reserve side with a collective value approaching £20 million beat Manchester United Reserves 3-1. The Sunderland side, with management duo Howard Wilkinson and Steve Cottrell watching from the stand, included the Brazilian Emerson Thome, Stanislav Varga (Slovakia), Matt Piper, Julio Arca (Argentina), Marcus Stewart, Stefan Schwarz (Sweden) and the Scottish international Kevin Kyle. For their part, United included Roy Carroll, David May, Luke Chadwick, Daniel Nardiello and, as a used sub, Kieran Richardson. Although Sunderland kicked off, within 20 seconds of the start they had conceded a penalty, which was won and converted by Nardiello. But Sunderland struck back with two goals in two minutes from Marcus Stewart (11 and 13 mins). Arca was stretchered off with his leg in a splint early in the second half before Kyle headed a late third for the visitors (86 mins). In the crowd were Jim Ryan of Manchester United, Brian Horton, the Port Vale manager, and Wrexham boss Denis Smith.
SAM
Dalton Steele is quoted in SAM as saying "The season is all about steadying the ship...My job here is to help Graham. There is local talent out there and we do not have the money to bring in lots of players. The lads here are trying their best and it's a matter of making clear to them what we need them to do". Also, according to the paper, "Jason Gallagher and Danny Murphy are doubtful" for Saturday's game at Worksop. There is also a tribute to Mark Pover, the Alty Youth player who died last Saturday. Alty Youth manager George Heslop told SAM, "Mark was a talented player. He was going to figure in plans for the future".
COMING UP
Alty's game at Worksop on Saturday is their fourth in succession against a top-five side. Following it are more games against top-half sides, Barrow (7th), Gainsborough (12th) and Bradford (2nd). Gainsborough Trinity, whom we meet twice in the next fortnight, include two ex-Robins, Chris Timons and Lee Ellington in their ranks. Timons was the Alty captain in our UniBond Championship year of 1999, whilst Ellington is currently one of the top scorers in the UniBond League. A possible form guide is that Trinity host Kendal Town on Saturday in the FA Trophy as it was Altrincham who knocked Kendal out of the FA Cup this season, 1-0.
CROWDS
Click here for the UniBond Attendance statistics for this season.
ALTY CONNECTIONS
Without their manager Dalton Steele, now at Moss Lane, Flixton lost 0-5 this week at home to a Mossley side lacking former Moss Laners Ryan Hevicon and the injured Ricky Harris.
SEE THEM FIRST AT MOSS LANE
Whilst TV commentators and Old Trafford regulars struggled to recognise many of Manchester United team playing in the Champions' League against Haifa, regulars at Moss Lane would have recognised 12 of the 18-strong squad as having played on the Moss Lane turf for United Reserves this season. There is a chance to see at least some of them again as United Reserves play Sunderland Reserves at Moss Lane tonight (30th, at 7pm, £2 entry).
TRANSFERS
Jonathan Stott (Guisborough T. to Whitby T.)
Bret Peel (Arnold T. to Hucknall T. )
Dave Robinson (Accrington to Witton A. on loan).
---
30 October 2002
B.P.A. GO SECOND
League:
Bradford PA 4 Colwyn Bay 2. Click for table.
League Cup:
Gateshead 6 Whitby T. 3 (a.e.t - 3-3 at f/t)
NEW FIXTURE DATE
Because Runcorn will be playing Bristol Rovers in the FA Cup on 16 November they cannot play Altrincham as scheduled on that date. Instead, on that Saturday, Altrincham will now be at home to Gainsborough Trinity, a fixture originally scheduled for 8 March 2003. Coincidentally, Alty and Trinity now meet twice on successive Saturdays, as we travel to the Northolme on 9 November. Gainsborough are free on 16 November because their prospective opponents, Barrow, are also engaged in the FA Cup. The full Alty fixture list is here.
ELLISON STRIKES
Former Alty winger Kevin Ellison's 30-yard "piledriver" last night, in the Nationwide Division Two against Blackpool, was his first League goal since joining Stockport County.
UNIBOND NEWS
The Bradford Telegraph & Argus reports that the club's German 'keeper Lutz Pfannenstiel "has been passing on useful tips to a fellow goalkeeper, Edwin van der Sar. Pfannenstiel was invited down to fill in for Fulham's goalkeeping coach Gerry Peyton last week and found himself performing drills with van der Sar and understudy Maik Taylor". Pfannenstiel, currently playing with a fractured thumb, is registered as a coach in Czechoslovakia. Ex-Robins Dave Swanick, Leon Smith and Anthony Hargreaves all played for Hyde on Monday night, whilst Matt McNeil and David Gamble were in the opposition Runcorn squad.
---
29 October 2002
GUISELEY WIN PLUM TIE

Guiseley, who knocked Alty out of the FA Cup, won through tonight to Round One and an away tie at Luton Town whilst Vauxhall now entertain QPR. Barrow will host Moor Green.
FA Cup 4QR Replays:
Barrow 4 Nuneaton 3
Tamworth 2 Guiseley 3
Vauxhall M. 5 Hucknall T. 1
League:
Gainsborough T. 1 Harrogate T. 2
Frickley v Stalybridge - POSTPONED as mark of respect for Mark Pover.
£1,000 RAISED BY S.A.F.E. COLLECTIONS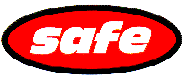 The bucket collections carried out this season by SAFE (the Altrincham Supporters' Association) have now raised more than £1,000 for the Football Club. Many thanks are due to all those who give their time to make the collections as well as those who contribute. If anyone is able to help with making these matchday collections at half-time, would she or he please contact Gary Warrington, either in the SAFE Cabin on matchdays or via e-mail?

Also, on the fundraising front, new members and collectors are always welcome for the Saturday Yankee. Big prizes can be won and the profits go to the Football Club; details here.
MARK POVER
It is with deep regret that Altrincham FC record the death of one of their current Youth Team players, 17 year-old Mark Pover. Mark died on Saturday after collapsing whilst playing in a local league game in the Stalybridge area, where he lived. His collapse came just five minutes into the match. The condolences of everyone at Altrincham FC go to Mark's family, his team-mates and friends.

Mark was the son of the Stalybridge Celtic FC physio, Dave Pover, who was formerly at Leigh RMI. Mark himself played for the RMI Reserves last season before joining Altrincham for 2002-03. A tall midfielder/defender, Mark had already broken through into the Altrincham Youth team's starting line-up. He had also won representative honours with the Stalybridge & District F.A. side. Tonight's match between Frickley and Stalybridge has been postponed as a mark of respect.
UNIBOND NEWS
Bradford PA's ex-Lancaster City midfielder Dean Martin has been released. Gainsborough, whom we meet on 9 November have injury problems, with Dean Walling the latest victim. Manager Phil Stant said, "I will have to think about bringing in another centre back with Allison, Barratt and now Walling injured". Lee Flannigan has rejoined his former club Billingham Synthonia from Gateshead as the departures from the International Stadium continue, with the squad now down to 16 including the player-manager and his assistant. Alty assistant manager Dalton Steele has been succeeded at Flixton by Gary Thomas and former Hyde player Gus Wilson. In the UniBond Press Release Altrincham top the list of teams failing to score, having now done so in 8 league matches.
---
28 October 2002
ALTY DROP
After tonight's result, Altrincham dropped to 18th:
Hyde U. 0 Runcorn FC Halton 2
BLYTH SACK CHARLTON
Blyth Spartans report that "The directors and executive committee of Blyth Spartans today announced that they no longer have confidence in Manager John Charlton and accordingly he will be leaving the Club with immediate effect. Arrangements have been made to ensure the smooth running of football at the club and further announcements will be made in the very near future. The Club would like to thank Mr Charlton for his efforts in the past". As with Altrincham's recent change of manager, the Blyth move comes immediately after an FA Cup exit; the Spartans lost 0-3 at home to Runcorn on Saturday. Blyth's league form is actually mid-table; they have had 5 wins, 5 defeats and 3 draws. Although they lie 15th in the League, Blyth have three games in hand on Alty and have won one more point.
ALTRINCHAM 0 EMLEY 1
Match report here.
Saturday's line-up is here and the updated table is here.
HULME SIGNS
Hyde United have confirmed the signing of Kevin Hulme from Altrincham. At Ewen Fields he joins Dave Swanick, Jason Anthony, Lee Evans, Leon Smith and Anthony Hargeaves who were all at Moss Lane last season.
SUPPORTERS' TRUST
A meeting of the Altrincham Supporters' Trust "working party" was held on Saturday and there is a brief report and picture of this on Alan Johnson's site.
ANOTHER LEGEND
Mid-80s striker Graham Bennett has been added to the Alty Legends section.
---
---
FOR EARLIER NEWS, CLICK HERE
---