Altrincham Football Club News Archive
8 to 18 November, 2002
---
18 November 2002
UNIBOND CUP RESULTS
ALTRINCHAM 1 Hyde U. 2
Marine 2 Stalybridge Celtic 0
ALTRINCHAM 1 GAINSBOROUGH TRINITY 1
Match report here
League table here, today's line-up here and player statistics here.
Pictured right, from Alan Johnson's photo site are SAFE bucket collectors, (l. to r.) Simon Ellis, Ian Rosendaal and Gary Warrington who do a great job collecting much needed funds for the Club.
---
17 November 2002
BERNARD & POWER TO KIDSGROVE?
The Pink reports that former Alty boss Bernard Taylor "is keen for a swift return to management" and that he has been "sounded out" for the vacancy at Kidsgrove Athletic of the UniBond First Division. "Given the opportunity, [Bernard] would add former Robins' striker Phil Power to his backroom staff".
GRAHAM'S SUPPORT TEAM
The Pink also confirms the appointment by Graham Heathcote of Dave Mitten "to work alongside his [Graham's] son Charles, in charge of Alty's kit" and of Brian Griffin, a former Witton striker, who will act as a scout for Altrincham. Dave's uncle was former Alty manager and Manchester United inside forward Charlie Mitten, who played in the 1948 FA Cup Final.
OLD BOYS
Dickie Landon scored for Radcliffe yesterday for whom Alty trialist Steve Spencer also now plays. In a bizarre game, which Flixton led 4-3 against ten-man Fleetwood, before losing 7-4, all the Flixton goals came from ex-Alty men - Mike Turner, Chuku Otuto and Rico Richards (2). Gareth Strange is now playing for Atherton LR in the NW Counties league. Nigel Gleghorn scored for Nantwich Town, whom he also manages.
FA CUP
Our conquerors, Guiseley, lost 4-0 at Luton yesterday but more than 5,000 watched the game. Alty's former Goal of the Season winner, Clive Freeman, hit the bar for Guiseley from a free-kick. The surviving UniBond sides had mixed fortunes. Vauxhall held QPR and Runcorn drew away at Bristol Rovers; Barrow beat Moor Green but Harrogate Town were 5-1 down after 35 minutes at Farnborough - and the score did not change by the end. In the 2nd Round Vauxhall will meet Macclesfield, away, if they win their replay. Runcorn would play Rochdale at home if they won their replay whilst Barrow will be away at Shrewsbury.
---
16 November 2002
RESULTS
Accrington S. 2 Hucknall T. 0
ALTRINCHAM 1 Gainsborough T. 1
Ashton U. 2 Hyde U. 1
Burscough 1 Blyth Spartans 3
Colwyn Bay P Worksop T. P
Frickley A. 1 Marine 3
Stalybridge C. 2 Droylsden 1
Wakefield & Emley P Lancaster C. P
Whitby T. 2 Gateshead 2
TRANSFERS
Kieron Darlow (Frickley A. to Whitby T.)
Stephen Wallace (Leigh RMI to Bamber Bridge)
Matt Wright (Chorley to Hyde U.)
Hucknall Town Gareth Holmes (Nuneaton Borough to Hucknall T.)
John Gillies (Marine to Rossendale U.)
MONDAY'S OPPONENTS
Alty play Hyde on Monday at Moss Lane in the UniBond Cup. Before then,Hyde play Ashton and the Tameside Advertiser quotes Hyde manager Gordon Hill as saying "I'm very confident about the game on Saturday and will be playing Steve Ferguson and Larry Farren, who I've just taken on a short-term loan from Leeds United...Dave Linnegan and Kevin Hulme should also start on Saturday, giving us a bit of thrust up-front and I am trying to address the lack of balance we have on the left. I was surprised to find we didn't really have any left footed players here, but hopefully by the weekend we will announce the arrival of one who should be registered in time for the game".
---
15 November 2002
SUPPORTERS' TRUST
The following is a News Release from the Altrincham FC Supporters' Trust Working Group issued today:
Altrincham FC Supporters' Trust meeting open to all.
Fans of Unibond Premier League Altrincham Football Club are working hard to bring back the glory days to this famous club by setting up a Supporters' Trust.
Supporters recently overwhelmingly voted to take this step in order to raise the Club's profile within the local community, to raise funds for the Football Club and to obtain a stake in the Club, enabling them to work more closely with the Board of Directors.
A section of the supporters have been very busy setting up an initial working party and a supporters' meeting is to be held on Saturday November 23rd at 5.00pm in the Sponsors' Lounge at the Moss Lane ground following the home Unibond Premier League Fixture against Frickley Athletic. The meeting will also be open, of course, to those who cannot attend the match.
There are a number items on the agenda and members of the the initial working party are keen that as many people as possible step forward to offer whatever help they can in order to get the Trust up and running. No firm or final decisions have yet been made about the Trust and the working party is determined to ensure that anyone, with any contribution to make, has an opportunity to do so.
It is intended to be truly a Supporters' Trust run for the supporters by the supporters.
Any local business people who feel that they could either make a contribution with their expertise or who may have an idea as to how the Trust and the local community, local businesses and the Football Club can enjoy a mutually beneficial relationship are particularly welcome to give their ideas.
Anyone unable to attend the meeting who would like further information about the proposed Supporters' Trust should contact Bob Peters on 01226 767120 or write to Bob Peters, AFC Trust, c/o 20/20 Research, 2-4 Bridge Street, Penistone, Sheffield S36 6AJ.
Media Enquiries: Please contact Jon Stack on 01827 64471 or e-mail him here
PREDICTION
According to Barrow's Holker Street Newsletter, Tracker software forecasts that Vauxhall Motors will win the UniBond League with the runners-up being Bradford Park Avenue and Worksop, and current leaders Accrington finishing fifth. Altrincham are forecast to finish 18th, whilst bottom will be Colwyn Bay with Hyde and Gateshead just above them.
BLYTH'S NEW BOSS & UNIBOND NEWS
Blyth have appointed Paul Baker as their manager in succession to John Charlton. Baker played for more than a decade in the League with Hartlepool, Carlisle Utd and other clubs. He has also played for Blyth themselves. They also report that "Work has now started on the major ground improvements at Croft Park and with this appointment the club is now looking forward to several years of steady progress aimed at resolving the well documented historical financial situation at the club and advancing to the next stage of non-league football".

Hyde United are advertising the services of defender/midfield player Paul Ashwell. Accoring to their site, "The club will require a fee or player exchange. Initial contact should be to Gordon Hill and not the player direct". Gateshead's Ian Dixon has denied that he is leaving the club for Bishop Auckland, as reported in the press. Also in the north East, Paul Gascoigne is set to play for Morpeth in the FA Vase. After trials at Exeter, Grant Holt has signed a new contract at Barrow.
---
14 November 2002
CHAIRMAN'S VIEW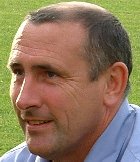 SAM reports Altrincham Chairman Geoff Goodwin (left) as saying "It's true that the club is terminally ill at the moment. We need to get out of the mire we are in. The way the club is run at the moment, it is basically sound. The debt has not increased and we are slowly chipping away at it. Once we are out of this mire, my aim is to see good, young lads playing football on this pitch. That's the only way it is going to work. I'll be happy with a mid-table finish this season, and with a sensible budget for the future we can start to build on things. You can't build a house without sound foundations and that is what we are trying to do here".
ON THE FIELD
After the draw with Bradford, manager Graham Heathcote told SAM, "I thought we put in a very good display, playing some good football...We've played most of the top sides in this league now and I don't think anyone can say we haven't done well. With concentration and effort, we have shown we can give anyone a game".
NEXT GAME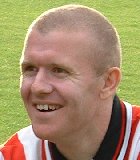 Gainsborough, whom we meet on Saturday, have released defender Dean Walling. Alty fans will remember him as the man involved in the mix-up which gave Alty the winning goal at the famous "Siege of Doncaster" in the 1999-2000 season. Both Trinity goals against Altrincham on Saturday have now been officially credited to Lee Ellington by the referee, though Trinity had given Eshelby as the scorer of the second. Both Mark Maddox (right) and Vernum Rowland will be subject to fitness tests for Saturday, whilst Jason Gallagher and Danny Murphy remain doubtful, through injury. Click here for Howard Watts's record of previous Alty games on 16 November "Through the Years".
UNIBOND NEWS
After gaining a controversial penalty at Moss Lane last week, Barrow conceded one last night at Harrogate, who beat them 3-2. The Barrow keeper was sent off after for a verbal offence after conceding the penalty (after 15 mins) and then, later in the game, Barrow captain Mark Hume was also dismissed. According to Harrogate, "Later, a sound of breaking glass was heard from the changing rooms and the Barrow keeper was taken away to the hospital with a bandaged hand".

Blyth report "There seems to be a rumour going around to the effect that the budget relating to players' wages has been cut. The Executive Committee would like to state that this is not the case and the new manager will be given exactly the same budget to work with that John Charlton was". Defender Ian Dixon was the 13th player to leave Gateshead recently as he left for Bishop Auckland. Kevin Hulme had work commitments so missed Hyde's game at Emley, "but has pledged to be back for Saturday, contrary to reports he is joining Leigh...Gordon Hill moved Dave Swanick to right back and he had a terrific game". Another ex-Robin, Ryan Hevicon (left), made his Hyde debut after joining from Mossley and ex-Alty Reserve, Jay Anthony, also played, whilst Anthony Hargreaves was a sub. The draw ended Hyde's run of 12 consecutive league defeats.
Marine have released striker John Morgan by mutual agreement after he had scored 70 goals in nearly 200 matches. Stalybridge have signed central defender Greg Pearce, "who played 35 games for Chesterfield last season but was released as part of a cost-cutting exercise". Emley secretary Richard Poulain has resigned from the club after seven years. Emley have also released striker Rodney Rowe who played against Alty this season. Ex-Hyde boss Dave Nolan has been sacked for the second time in a couple of months, this time by Kidsgrove, who have had three managers already this season.
Other UniBond transfers:
Chris Taylor (Willington to Blyth Spartans)
Gary Jones (Nuneaton Borough to Hucknall T.)
James Collins (Vauxhall Motors to Leek T.)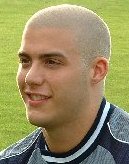 OLD BOYS
One ex-Alty keeper, Andy Moore (right), displaced another, Dale Newbrook, in Trafford's side on Tuesday but they lost 6-1 at leaders Alfreton Town. In the Trafford team, too, were ex-Alty Youth trio Lee Shillito, Mario Daniel and Dave Collins, whilst Paul Johnson was a used sub. There was better luck for some other ex-Robins as Adam Farley, Stuart Locke and Steve Porter all played for Droylsden, who beat Blyth 7-0 on Monday. James Glendenning was a sub in the same game.
---
13 November 2002
STANLEY WIN
Wednesday
Accrington S. 4 Stalybridge C. 1
Table.
HELP NEEDED
Turnstile operators are needed at Moss Lane, where there are three home games coming up in the next ten days. If you can help, please contact George Heslop or ring the ground on 928-1045.
ALTRINCHAM 0 BRADFORD P.A. 0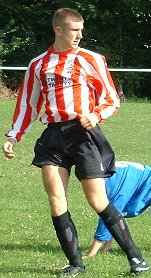 This entertaining match saw three teenagers in the Alty squad; midfielder Vernum Rowland, striker Steve Lunt (right) and midfielder Jon McEvoy.
Match report here.

ALTY CALENDARS
2003 calendars featuring colour photos of Altrincham action by Alan Johnson are available from the Robins' Shop at £6. They can also be ordered by contacting the club (928-1045). The calendar has been produced by Stephen Peters of Funktions, with support from 20/20 Research. All profits will go to the club. Mail order prices are £7.50 (UK), £9.00 (USA) and £10.00 (Australia). All payments to be made in sterling to Altrincham FC, c/o Jenny Heslop,at the Club (address above).
PRIZE DRAW
The annual SAFE prize draw is now scheduled to be held on 1 March 2003 rather than Boxing Day, as originally planned.
OLD BOY
There is an article in the Daily Telegraph today on Runcorn's FA Cup tie at Bristol Rovers on Saturday which features Matt McNeil, the former Alty player. Manager Liam Watson says Matt, who has scored in every round so far, "has been a class act since the day he signed". Runcorn's preparations went wrong as they lost 0-5 at home last night.
---
12 November 2002
ALTRINCHAM 0 BRADFORD P.A. 0
Tuesday Results
ALTRINCHAM 0 Bradford PA 0
Colwyn B 1 Ashton U 1
Harrogate T. 3 Barrow 2
Hucknall T. 1 Whitby T. 2
Runcorn FC Halton 0 Vauxhall M. 5
Wakefield & Emley 1 Hyde U. 1
GAINSBOROUGH
Andy Boyers's photo of the celebrations after Rod Thornley's goal at Gainsborough on Saturday is seen above. There are some familiar faces amongst the spectators too! More of Andy's excellent pictures are on Alan Johnson's site.
FAIR PLAY
Altrincham were bottom of the UniBond Fair Play table for October, having picked up 11 yellows and 2 red cards. For the season to 31 October, Alty lay second from the bottom with 29 yellow and 3 red cards in all games excluding the FA Cup in which Alty picked up another red when Jamie Phoenix was sent off against Kendal. Alty have yet to get through a league game without at least one booking. Who got booked where is recorded here and the current bookings totals for each player are here.
MIDWEEK GAMES
If Bradford beat Altrincham on Tuesday they will go top of the league for at least 24 hours. This will be Alty's sixth game out of the last seven against top five opposition. Although BPA are 2nd and Alty 16th in the League, Bradford lie only four places above Altrincham in the current form table, (based on the last 6 league games), in which they are 4th and the Robins lie 8th. Altrincham's points this season have virtually all come in two short bursts. 10 points were won in four games (games 4 to 7 of the season) and 9 more came in four more games (games 14 to 17). In the other 11 games we have won just 1 point! The informative Bradford website points out that they have visited Moss Lane five times previously and never won and that their only point came in 1972/73, in a match in which Graham Heathcote played.
HULME SIGNS
Leigh have now signed Kevin Hulme, who left Alty in mid-October and played for Hyde last Saturday. Manager Steve Waywell said, "He's just the player we need and I'm hoping he's going to do well for us".
---
11 November 2002
BLOODS HIT 7
Droylsden 7 Blyth S. 0
League Table.

Apparently Blyth struggled to field a side following the acrimonious departure of manager John Charlton. They had no subs and lost a player injured after 25 minutes.

GAINSBOROUGH TRINITY 2 ALTRINCHAM 1
Richard Acton retrieves the ball after Gainsborough's first goal from Lee Ellington. The Alty defenders are (l. to r.) Maddox, Scott and Talbot.
Match report here.
Alty are now 16th but the next four teams are within two points and all have games in hand.
TRANSFERS
Troy Hayder (Flixton to Hyde)
Julian Ward (Vauxhall to Hyde)
Ryan Hevicon is also expected to join Hyde this week.
Matthew Rush (Droylsden to Ashton U.)
Phil Bayliss (Ashton to Chorley)
Darren Hughes (Marine to Rossendale U.)
UNIBOND NEWS
Gateshead are holding an extraordinary general meeting on November 21 "when news of a rescue package is expected to be confirmed". A businesseman is believed to have stepped in to save the club. Harrogate Town have signed Clayton Donaldson on work experience from Hull City. Hyde's website reports the club's "twelfth successive league defeat and not a single point since Nolan's departure. The Mail on Sunday appear to have us relegated already as we are not in their league table for the second week...Kevin Hulme made his first (and possibly last) appearance for the Tigers.He may sign for Leigh, but he needs some more fitness".
---
10 November 2002
TO SIGN OR NOT?
The Pink quotes Graham Heathcote as saying "Dalton and I have got irons in the fire player-wise but when your team's giving you so much effort as ours has been, why rush in to making signings? In fact, I'd love to think we'll still be sitting here in May with exactly the same set of lads as we've got now. But...only they can decide that. At the moment I can have no complaints because each and every one of our players has given me 100%. We can take confidence by the way we've performed against some very useful sides". As the paper points out, all of the games under Graham's managership had been against top five clubs before yesterday's at Gainsborough. The Alty manager tips Barrow for the UniBond title and says, "it was no disgrace for us to lose narrowly to them" last Tuesday.
OLD BOYS
Kevin Hulme played his first and, probably, last game for Hyde United yesterday before moving to Leigh, for whom Ged Kielty and Stuart Coburn played yesterday. Anthony Hargreaves was a Hyde sub. Dave Swanick captained Hyde and is pictured in the Pink picking up the UniBond Fair Play award for his team. Also in the UniBond, Adam Farley netted an own goal for Droylsden and Steve Porter also played for the Bloods, with Stuart Locke a substitute. Matt McNeil played for Runcorn and niell Hardy for Radcliffe. Mike Turner scored for Flixton in the Vase. Elsewhere, Dean Greygoose kept goal for King's Lynn, Leroy Chambers scored for Belper Town and Stuart Terry found the net for Connah's Quay. Mark Quayle is now ineligible for the non-league national side as a new rule bars players over the age of 23. In the League, Paul Edwards, now bereft of his dreadlocks, scored the winner for Wrexham but Paul Ellender's Boston and Danny Adams's Macclesfield both lost. In the NLP, Mark Ward has told his Leigh RMI players to get fitter if they wish to avoid relegation. Goalkeeper Jerome John is now playing for Billericay Town in the Ryman Premier league.
---
9 November 2002
MATCH OFF
This Sunday's Altrincham FA Youth game against Stockport at Trafford FC (Shawe View) has been postponed.
RESULTS
Ashton United 0 Burscough 0
Barrow 1 Wakefield & Emley 1
Blyth S. 2 Vauxhall Motors 5
Bradford P.A. 3 Droylsden 1
Frickley A. 3 Colwyn Bay0
Gainsborough T. 2 ALTRINCHAM 1
Gateshead 2 Harrogate T.3
Hyde U. 0 Hucknall T. 1
Lancaster C. 1 Marine 0
Whitby T. 0 Runcorn FC Halton 3
Worksop Town 1 Stalybridge C. 1
LEGENDS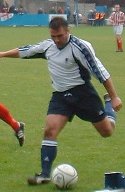 Two more profiles in Terry Rowley and Bill Coop's series of "Alty Legends", (Clive Freeman and Nicky Daws), have been added to the site, here. Freeman is seen, right, playing for Guiseley against Altrincham last month.
SATURDAY 9th GAMES
Alty's opponents today, Gainsborough Trinity, report that Richard Logan has rejoined the club from Lincoln City, initially on a month's loan, and is expected to make his debut today. The 33 year-old Barnsley-born defender has played more than 200 league games at Huddersfield, Plymouth, Scunthorpe and Lincoln since he left Gainsborough in 1993. Former Robin Colin Alcide has this week been allowed to join Exeter City and Trinity have also just released Max Nicholson.
UNIBOND NEWS
Dean Martin, well-known to Alty fans for his encounter with Carl Furlong last season whilst playing for Lancaster City, has now joined Stalybridge Celtic. He recently joined Bradford PA but was released soon afterwards. Martin has also played 300 League games in his career. Chester City's Danny Collins, who had been on loan to Vauxhall Motors, has now signed for the Merseyside team.
---
8 November 2002
HULME MOVING AGAIN?
Less than a month after leaving Altrincham, Kevin Hulme is now set to leave Hyde United for Leigh RMI. In tonight's MEN, Hyde manager Gordon Hill appeals to Hulme to play just one game for the Tigers, this Saturday, before leaving, as Hyde have a striker crisis. However, Leigh RMI are equally hopeful that Hulme will play for them against Northwich tomorrow rather than make his Hyde debut. Another ex-Robin, Ryan Hevicon will definitely make his debut for Hyde tomorrow.
UNIBOND NEWS
Though Accrington are top of the league and Gateshead are struggling, only one of the two managers was happy after the team's midweek clash - and it was not John Coleman of Stanley. "The win was the only good thing to come out of it," was his comment on their midweek win over Gateshead, adding "It was an absymal last 25 minutes, the worst we have played this season, and it is unacceptable. If they carry on putting in performances like that, some players will be leaving the club and we will be getting some new ones in". However Derek Bell, the Gateshead boss told the Evening Chronicle, "We were robbed. My team gave me everything but victory. Their attitude was out of the top drawer and we deserved a point at the very least". This week was the 8th anniversary of Ronnie Glavin's arrival as manager at Emley. Captain Paul David is the only player still in the Emley side from Glavin's first game in charge in 1994. Lancaster City striker Andy Whittaker has now scored 18 goals in 18 appearances this season. Overall, the former Bamber Bridge man has hit 50 goals in 63 club appearances.
---
---
FOR EARLIER NEWS, CLICK HERE
---
---