John Gillies (Marine to Rossendale U.)
MONDAY'S OPPONENTS
Alty play Hyde on Monday at Moss Lane in the UniBond Cup. Before then,Hyde play Ashton and the Tameside Advertiser quotes Hyde manager Gordon Hill as saying "Iím very confident about the game on Saturday and will be playing Steve Ferguson and Larry Farren, who Iíve just taken on a short-term loan from Leeds United...Dave Linnegan and Kevin Hulme should also start on Saturday, giving us a bit of thrust up-front and I am trying to address the lack of balance we have on the left. I was surprised to find we didnít really have any left footed players here, but hopefully by the weekend we will announce the arrival of one who should be registered in time for the game".
---
15 November 2002
SUPPORTERS' TRUST
The following is a News Release from the Altrincham FC Supporters' Trust Working Group issued today:
Altrincham FC Supporters' Trust meeting open to all.
Fans of Unibond Premier League Altrincham Football Club are working hard to bring back the glory days to this famous club by setting up a Supporters' Trust.
Supporters recently overwhelmingly voted to take this step in order to raise the Club's profile within the local community, to raise funds for the Football Club and to obtain a stake in the Club, enabling them to work more closely with the Board of Directors.
A section of the supporters have been very busy setting up an initial working party and a supporters' meeting is to be held on Saturday November 23rd at 5.00pm in the Sponsors' Lounge at the Moss Lane ground following the home Unibond Premier League Fixture against Frickley Athletic. The meeting will also be open, of course, to those who cannot attend the match.
There are a number items on the agenda and members of the the initial working party are keen that as many people as possible step forward to offer whatever help they can in order to get the Trust up and running. No firm or final decisions have yet been made about the Trust and the working party is determined to ensure that anyone, with any contribution to make, has an opportunity to do so.
It is intended to be truly a Supporters' Trust run for the supporters by the supporters.
Any local business people who feel that they could either make a contribution with their expertise or who may have an idea as to how the Trust and the local community, local businesses and the Football Club can enjoy a mutually beneficial relationship are particularly welcome to give their ideas.
Anyone unable to attend the meeting who would like further information about the proposed Supporters' Trust should contact Bob Peters on 01226 767120 or write to Bob Peters, AFC Trust, c/o 20/20 Research, 2-4 Bridge Street, Penistone, Sheffield S36 6AJ.
Media Enquiries: Please contact Jon Stack on 01827 64471 or e-mail him here
PREDICTION
According to Barrow's Holker Street Newsletter, Tracker software forecasts that Vauxhall Motors will win the UniBond League with the runners-up being Bradford Park Avenue and Worksop, and current leaders Accrington finishing fifth. Altrincham are forecast to finish 18th, whilst bottom will be Colwyn Bay with Hyde and Gateshead just above them.
BLYTH'S NEW BOSS & UNIBOND NEWS
Blyth have appointed Paul Baker as their manager in succession to John Charlton. Baker played for more than a decade in the League with Hartlepool, Carlisle Utd and other clubs. He has also played for Blyth themselves. They also report that "Work has now started on the major ground improvements at Croft Park and with this appointment the club is now looking forward to several years of steady progress aimed at resolving the well documented historical financial situation at the club and advancing to the next stage of non-league football".

Hyde United are advertising the services of defender/midfield player Paul Ashwell. Accoring to their site, "The club will require a fee or player exchange. Initial contact should be to Gordon Hill and not the player direct". Gateshead's Ian Dixon has denied that he is leaving the club for Bishop Auckland, as reported in the press. Also in the north East, Paul Gascoigne is set to play for Morpeth in the FA Vase. After trials at Exeter, Grant Holt has signed a new contract at Barrow.
---
14 November 2002
CHAIRMAN'S VIEW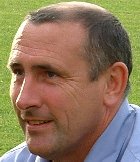 SAM reports Altrincham Chairman Geoff Goodwin (left) as saying "It's true that the club is terminally ill at the moment. We need to get out of the mire we are in. The way the club is run at the moment, it is basically sound. The debt has not increased and we are slowly chipping away at it. Once we are out of this mire, my aim is to see good, young lads playing football on this pitch. That's the only way it is going to work. I'll be happy with a mid-table finish this season, and with a sensible budget for the future we can start to build on things. You can't build a house without sound foundations and that is what we are trying to do here".
ON THE FIELD
After the draw with Bradford, manager Graham Heathcote told SAM, "I thought we put in a very good display, playing some good football...We've played most of the top sides in this league now and I don't think anyone can say we haven't done well. With concentration and effort, we have shown we can give anyone a game".
NEXT GAME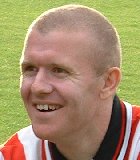 Gainsborough, whom we meet on Saturday, have released defender Dean Walling. Alty fans will remember him as the man involved in the mix-up which gave Alty the winning goal at the famous "Siege of Doncaster" in the 1999-2000 season. Both Trinity goals against Altrincham on Saturday have now been officially credited to Lee Ellington by the referee, though Trinity had given Eshelby as the scorer of the second. Both Mark Maddox (right) and Vernum Rowland will be subject to fitness tests for Saturday, whilst Jason Gallagher and Danny Murphy remain doubtful, through injury. Click here for Howard Watts's record of previous Alty games on 16 November "Through the Years".
UNIBOND NEWS
After gaining a controversial penalty at Moss Lane last week, Barrow conceded one last night at Harrogate, who beat them 3-2. The Barrow keeper was sent off after for a verbal offence after conceding the penalty (after 15 mins) and then, later in the game, Barrow captain Mark Hume was also dismissed. According to Harrogate, "Later, a sound of breaking glass was heard from the changing rooms and the Barrow keeper was taken away to the hospital with a bandaged hand".

Blyth report "There seems to be a rumour going around to the effect that the budget relating to players' wages has been cut. The Executive Committee would like to state that this is not the case and the new manager will be given exactly the same budget to work with that John Charlton was". Defender Ian Dixon was the 13th player to leave Gateshead recently as he left for Bishop Auckland. Kevin Hulme had work commitments so missed Hyde's game at Emley, "but has pledged to be back for Saturday, contrary to reports he is joining Leigh...Gordon Hill moved Dave Swanick to right back and he had a terrific game". Another ex-Robin, Ryan Hevicon (left), made his Hyde debut after joining from Mossley and ex-Alty Reserve, Jay Anthony, also played, whilst Anthony Hargreaves was a sub. The draw ended Hyde's run of 12 consecutive league defeats.
Marine have released striker John Morgan by mutual agreement after he had scored 70 goals in nearly 200 matches. Stalybridge have signed central defender Greg Pearce, "who played 35 games for Chesterfield last season but was released as part of a cost-cutting exercise". Emley secretary Richard Poulain has resigned from the club after seven years. Emley have also released striker Rodney Rowe who played against Alty this season. Ex-Hyde boss Dave Nolan has been sacked for the second time in a couple of months, this time by Kidsgrove, who have had three managers already this season.
Other UniBond transfers: