Altrincham Football Club News Archive
27 February to 7 March 2003
---
7 March 2003
NEW FACES
During tonight's Open Forum (see above), Graham Heathcote revealed that two new faces had joined Altrincham FC. These are former Manchester United youngster Steven Clegg, who has come on loan from Stalybridge Celtic, and Salford City's 33 year-old midfielder Tony Cullen, who has signed this week. Tony, a Geordie, has previously been at Newcastle United, Sunderland, Aston Villa, Blackburn Rovers and Radcliffe Borough. Steven (d.o.b. 16/4/82) is a 5ft 9in defender released by Manchester United on 1 June 2002 after a spell in February 2002 at Oldham Athletic. In October he joined Stalybridge Celtic for whom he played 12 games. He has previously played at Moss Lane for United's Reserves. He is the younger brother of United's Michael Clegg.
The Alty team has been ravaged by injury so it will again be a patched-up side playing tomorrow, with Saturday fitness tests determining the exact make-up. In contrast, our opponents, the league-leaders Accrington Stanley have gone six games without dropping a point and have a full strength squad to choose from. However, Graham Heathcote is confident that whatever its make-up, the Altrincham team will give Accrington a good game tomorrow. Alty have not lost any of the last five games between the sides.
REDS WIN
At Moss Lane last night Manchester United defeated Tranmere Rovers 3-1 in the FA Youth Cup 6th Round. They now meet Charlton Athletic in the two-leg semi-final. The first leg is away. The Club wishes to thank those who volunteered to help with stewarding and other duties last night.
UNIBOND NEWS
Hyde's side which surprisingly beat Vauxhall this week included four ex-Robins - Swanick, Sertori, Duffy and former Alty Reserve Lee Evans. The Tigers hope to sign 34-year-old former Derby County and Sheffield Wednesday defender Simon Coleman, who was recently at Rochdale. Hyde's attempt to sign on-loan Marcus Hallows from Stalybridge has fallen through because Celtic's Tony Black has been released, allowing Hallows a chance to re-establish himself with Celtic. Droylsden's walk-over this week against Salford City to reach the Manchester Senior Cup Final arose because City could not raise a side after several players left with the outgoing manager. The Final is against Ashton United at Oldham Athletic.
IC Newcastle
quotes Blyth boss Paul Baker as saying, I have made up my mind about one thing - some of the players won't be here next season...the club, our supporters and myself were let down big time last night", after Spartans lost to Harrogate.
IC Liverpool says that "Skelmersdale United will be playing on their old rivals Burscough's ground next season and with the signing of the formal agreement on Friday, comes good news from both camps. Burscough FC are able to take OFF the list the eight remaining senior professionals they had decided last November to make available for transfer because of a serious financial situation at the time. That's because a terrific run in the FA Trophy which ... has already brought in £6,850, which has helped ease cash problems at the club... along with the money Skem United are paying for the use of Victoria Park next season... A further sum in the region of £10,000 is also projected as Burscough's share of the gate when they travel to Yeovil for the quarter-final".
The Tameside Advertiser reports on Terry Styring who resigned as Ashton United chairman last week. "The club wanted to develop the ground and improve the clubhouse which had been broken into on occasions. It would have cost around £750,000 to do the work they wanted and Styring said he was willing to provide money himself and bid for grants without asking the local authority to contribute. However no progress was made despite lobbying Ashton MP David Heyes and local councillors, including council leader Cllr Roy Oldham...The alleged lack of willingness from Tameside Council raises the thorny issue of its sponsorship of Stalybridge Celtic, where Cllr Oldham is club president, something which has aroused debate in the past".
The N. Wales Pioneer quotes Colwyn Bay director Chris Chambers's response to manager Caton's criticism of the way the club is run. "If the manager says to the board of directors that he can no longer motivate the players or work within the financial constraints agreed, maybe we both need a change", he said. This is Runcorn reports that The Linnets hope to sign Ashton Town's young striker Paul Prescott "before the end of the week".
---
6 March 2003
TONIGHT
Manchester United Youth take on Tranmere Rovers Youth tonight in the FA Youth Cup, 6th Round. Kick off is 7.30pm.
MEETING
Don't forget the supporters' open forum called by the Club for Friday (7th) at 7.30pm in the Noel White Suite.
THANKS
The homepage of this website passed the 200,000 visitors mark this morning. Thank you to all who have contributed to this total by providing information or images, or simply by visiting the site. The original counter was started in March 2000 when the site was an unofficial one.
UPCOMING OPPONENTS
Alty travel to
Bradford PA
on 29 March and, as at Barrow on Tuesday, we may face a replacement goalkeeper, Ross Turner, as their regular no.1 Jamie Holmshaw has an ankle injury which may rule him out for a month.
Hyde United
, whom we play on 15 March may be lacking striker Steve Foster who will miss "a couple of games at least", through injury. The Tigers' Jason Lydiate "has been suspended for one game following his recent sending off. He will miss the Altrincham game". Hyde have also "encountered severe vandalism this week. The floodlights have been damaged as well as perimeter fencing near the dressing rooms. Anybody with any information is asked to contact a club official or the Police". Droylsden have won the UniBond Premier February "Fair Play" awards but Vauxhall Motors lead the race for the overall award for the season.
---
5 March 2003
WEDNESDAY SCORES
Bradford PA 3 Burscough 2 - Abandoned, 84 mins, because of power failure.
Hyde U. 1 Vauxhall M. 0 - Something of a turn-up!
BARROW 4 ALTRINCHAM 0
Report here.
Updated: Alty Line-Up, League Table, Statistics.
MIDWEEK
Tuesday 4th
Barrow 4 Altrincham 0
Blyth S. 0 Harrogate T. 3
Frickley A. 0 Hucknall T. 0
Gainsborough T. 1 Stalybridge C. 1
Lancaster C. 1 Colwyn Bay 0
---
4 March 2003
STAR WEBSITE
From the STAR (Altrincham's supporters' trust) Press Release no.4:
STAR, the Altrincham FC Supporters' Trust, is pleased to announce that Mr. Stephen Screeton, owner of NetdesignsUK and Netmanchester.com has agreed to sponsor, design, manage and host the web site for the Supporters' Trust. The site will be published for the first time after the launch of the Trust, which occurs at the Cresta Court Hotel in Altrincham on Sunday 9th March at 2pm.
From Sunday evening, the website will be open for visitors at www.star4alty.co.uk, and users will be able to view all the latest news and information regarding the newly formed Supporters' Trust. A membership application form is also available for download on the site, and details of subscription rates and donation schemes.
For more on STAR see Alan Johnson's photographic website.
BLOODS IN FINAL
Droylsden have reached the Manchester Premier Cup Final after Salford City withdrew from the semi-final with the Bloods.
---
3 March 2003
YOUTH TEAM WIN
Alty Youth won 2-0 yesterday at Ashton Athletic. Courtesy of manager George Heslop, there is a match report accessible on the Youth Page.
ALTRINCHAM 2 WORKSOP TOWN 4
Above:Barry Shuttleworth watches as Dave Gardner is challenged by Worksop captain and double-goalscorer, Linden Whitehead.
Match report here.
Line-up here, player statistics here, league table here.
NW COUNTIES NEWS
The NW Counties League site reports that ex-Alty Youth striker Wes Wilkinson, now at Nantwich, is to spend next week with Crewe Alexandra. His manager Nigel Gleghorn, another ex-Alty man, is quoted as saying rather enigmatically "He is a good player... He is too stubborn at times". The site also reports that a current Alty Youth midfielder, Joel Ekolongeni, has signed for Oldham Town. In a week when Ashton United's Chairman resigned because of his inability to get Tameside Council's agreement to ground improvements, their neighbours Curzon Ashton have "have scored a massive £559,000 grant from the UK's largest sports charity, the Football Foundation and the Football Stadia Improvement Fund. The huge cash boost will provide the Ashton-under-Lyne outfit with a new stadium complete with community grass roots facilities".
UNIBOND NEWS
Marine report that they are holding a game between former Liverpool and Everton players at Rossett Park on Sunday, 9 March at 1.00pm to mark the club's 100 years at the ground. The ex-players involved include Liverpool's Barnes, Kennedy, Fairclough, Whelan and Ablett and Everton's Sharp, Harper and Thomas. Proceeds will go to the ground development appeal.
---
2 March 2003
SAFE AND STAR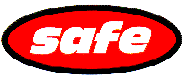 SAFE, the Altrincham FC supporters' association has issued a letter to members urging them "to show the support you have given SAFE to the newly formed STAR". STAR is the Altrincham supporters' trust, which will be launched next Sunday at the Cresta Court Hotel (2pm). The letter reminds members that "The future of SAFE can only be decided by its members at the AGM this year, although the committee feel that the time has come for SAFE to disband and throw its weight behind STAR".

Meanwhile STAR made the following statement in yesterday's Robins' Review:

The Official Launch: Sunday, 9th March 2pm (doors open 1pm) at the Cresta Court Hotel, Church Street, Altrincham.

All Welcome. Free Entry.

The Launch will take the form of a presentation by leading members of the Supporters' Trust and by Brian Lomax, from Supporters' Direct, the Government backed organisation which promotes the establishment of Supporters' Trusts throughout the country. The presentations will be followed by a question and answer session and both local and national media will be in attendance, as well as supporters, players, former players, local commercial bodies, and the many others who have an interest in the future success of Altrincham Football Club.

Some well known former players, including a number of Alty Legends, have said they will be attending and there will also be a display of Club photographs, memorabilia and other items. Those attending will be able to join STAR on the day and take part in a fund raising raffle. The new Supporters' Trust logo will also be unveiled and the prizewinners presented with their prizes.

If you are unable to attend but would like to receive further information about the Trust or would like to receive a membership application form then ring Jon Stack on 01827 64471, or email him, or write to Jon at STAR, c/o Altrincham Football Club, Moss Lane, Altrincharn. Cheshire WA15 8AP.
HOPE FOR CRANEY
The Conference is again playing awkward with the FA National Game XI and refusing to confirm that Conference players will be released for the next non-league international against Holland. So, manager Paul Fairclough, who for the last international employed non-Conference players including Alty's Ian Craney, has said "Some of those who played last time did very well and remain in our plans".
OLD BOYS
Colwyn Bay were robbed of a possible win yesterday when they led 2-1 at half-time but had the match against BPA abandoned due to heavy rain. Though the result won't stand, Bay's Carl Furlong's booking will. Sadly the same rain only reached Moss Lane after we had lost to Worksop! Mark Quayle scored for his new team Chester City in a match where another ex-Robin, Phil Bolland, was sent off. Stuart Coburn kept a clean sheet and Ged Kielty was a sub as Leigh gained a welcome away win. Another ex-Alty keeper, Dean Greygoose, withstood a siege of the Sudbury goal yesterday as his team overcame our neighbours Mossley 2-0 in the FA Vase. Steve Porter's two-footed tackle started a 22-man fracas in the Droylsden v Whitby game, but Leroy Chambers scored and both James Glendenning and Stuart Locke were subs in this match. Both Neill Hardy and Dickie Landon scored for Radcliffe Borough whilst Andy Tunnicliffe turned out for Trafford in UniBond One. The following ex-Robins also played yesterday: Stuart Terry (Connah's Quay), Matt McNeil (Runcorn) and Chris Timons (Gainsborough).
CONFERENCE
"Nearly sixty" clubs have now applied to join the proposed new Conference feeder divisions. Further talks between the Conference and the FA take place on 18 March, followed by a meeting of Conference chairmen on 19 March.
STARS AT MOSS LANE
This website received two unexpected requests last week for a picture of sixties' pop stars The Karl Denver Trio. Fans of Manchester-based Karl, who died in 1998, had found a reference to the singer by doing a Google search and had discovered the excellent articles by Alty's Terry Surridge on the history of the Altrincham matchday programme which are on this site, here. In these, Terry refers to a visit to Moss Lane by the Trio, who had six Top 20 hits between 1961 and 1963. They came to see Alty v Chester on 19 August 1961 in the Cheshire County Football League. Terry tells me that he has further pictures of pop stars who have appeared at or visited Moss Lane over the years and one group he cites is the Dale Sisters who had a minor hit in 1961! Now does anyone remember them?
MOVES
Paul Ashwell (Hyde U. to Trafford)
Tom Jones (Stocksbridge PS to Gainsborough T.)
Jon-Paul Stanhope (Vauxhall M. to Marine)
---
1 March 2003
SATURDAY SCORES
Accrington S. 3 Blyth S. 2
ALTRINCHAM 2 Worksop T. 4
Barrow 3 Burscough 0
Colwyn Bay 2 Bradford PA 1 abandoned at h/time waterlogged
Droylsden 2 Whitby T. 1
Harrogate T. 0 Gainsborough T. 2
Hucknall T. 1 Gateshead 1
Lancaster C. 5 Wakefield & Emley 2
Marine 1 Ashton U. 0
Stalybridge C. 0 Runcorn FC Halton 1
Vauxhall M. 5 Frickley A. 0
STAR
STAR, the new supporters' trust, will be publicising itselff and the club again next Saturday in Stamford Square from 10am to 2pm. A similar session was successfully held today. STAR's official launch is a week on Sunday (9th) at the Cresta Court (2pm) - entry free to all.
ALTY WIN AWARD

The Sportsnet Best Defence award for the UniBond Premier for February has been won by Altrincham, who conceded three goals in four matches. The prize is a full goalkeeper's kit of jersey, shorts and socks for Richard Acton (right) to wear. Overall Club of the Month is Hucknall Town (4 wins and a draw), whilst the Endsleigh Top Goalscorers were Droylsden.
COMING UP
Alty travel to Barrow on Tuesday. Barrow's regular keeper Simon Bishop is suspended and the reserve keeper is only 16 years old but it has now been confirmed that they have signed Carlisle's 3rd choice keeper Luke Weaver (23) on a month's loan and he will play against Alty. Weaver moved from Orient to Sunderland for £250,000 earlier in his career. He made 59 appearances for the Cumbrians between 1999 and September 2001.

Scarborough striker Darren Connell has been recalled from his 3-month loan at Barrow even though Barrow want to sign him. This weekend Barrow also have defender Mark Salmon and Steve Gaughan injured, whilst Scott Maxfield and Graham Anthony "are also carrying knocks".
DEANO
Former Alty keeper Dean Greygoose is now Sudbury Town's keeper; they face Mossley tomorrow in the FA Vase quarter-finals.
JAMES MOVES AGAIN
Striker James Wilkinson, who played 2(+1) games for Alty this season on loan from Crewe, has now moved from Hyde to Rossendale United. Other moves:
John Burns (Burton Albion to Hucknall T)
Blake Norton (Marine to Trafford)
UNIBOND NEWS
In the Tameside Advertiser, Stalybridge manager Dave Miller said, "I thought one or two players grew up on Saturday - Terry Bowker was immense and for someone in his early 20s to play that way shows he has come on leaps and bounds". Terry was at Alty under Mark Ward. Gateshead's Rob Jones is set to play on trial for Oldham Reserves against Manchester City's a week on Monday. Accrington Stanley are approaching Kettering Town for defender Mark Haran. Haran played in both recent games against Altrincham. Jamie Williams has moved from Hucknall to Rugby United.
---
28 February 2003
PRESS STATEMENT
The Club has issued the following Press Release:

No more land options for Moss Lane.

The Board of Altrincham Football Club today confirmed that all discussions in respect of a land option deal with a preferred residential developer have been terminated.

The club had an agreement with a developer giving a first right of purchase of the Moss Lane ground if Altrincham were ever to move, which expired in late summer last year. Since then negotiations have been taking place to find a successor, solely due to the financial plight of the club. These discussions have also involved Trafford Borough Council as freeholders of the Moss Lane ground and extensive talks have taken place over the last six months.

It has become apparent to the club directors since Christmas that these talks were not leading to an acceptable solution for Altrincham Football Club. Given that it was always the Directors' intention to avoid moving from Moss Lane if at all possible the Board has unanimously agreed not to take any discussions further.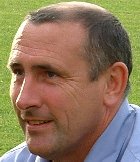 The consequence is that, although there will now be no third party influence on an enforced move from Moss Lane, it does leave the club severely vulnerable to any actions to recover historic debts.
As a significant gesture, Mr Geoff Goodwin, (right), the Chairman of Altrincham Football Club has agreed to sponsor the first team shirts for the remainder of this season and throughout 2003/2004. This involves a significant investment by Geoff Goodwin and the Board are very grateful for his contribution.
For further information relating to this press release, please do not hesitate to contact Graham Heathcote on: - 0161-928-1045.
FANS' MEETING
From the Club:

The Board and Management of Altrincham Football Club are holding an open Fans' Forum in the Noel White Suite on Friday March 7th commencing at 7.30pm. Everyone is welcome to attend this meeting, where you can ask any questions regarding the club. If you are unable to attend but would like your views aired, please send your question/comment into the Club before Friday 7th.
ALTY CUP FINAL
Altrincham FC Youth team usually make up the entire Altrincham FA representative side and they have reached the final of The Cheshire FA's youth cup competition. They will play Macclesfield FA on Friday, 28 March at Moss Lane, k.o. time to be decided. Many new Alty FC Youth fixtures can now be found on the Youth Page.
RE-INDEXED
This site has been reindexed today so you should be able to find all past news for this season by using the search box at the foot of this page or, for last season and earlier, by using the archive section search box.
WORKSOP
Altrincham still lie 4th in the Form Guide based on our last 8 league games, of which we have won 5 and drawn 2. Our opponents, Worksop, lie 11th after winning 4 and drawing 1 of their last 8. Worksop Today describes the Tigers as "Having relinquished their outside title hopes at the weekend", when they lost 1-4 at home to Accrington. They lie 6th in the league with 5 games in hand on Stanley but are 23 points adrift. They have lost just two away league games out of 11 this season, the best away record in the Division. In their side should be former Alty captain, Steve Hawes.
CLIVE COLBRIDGE
Sports Special has an interview with former Alty player Clive Colbridge, now 67 and a retired insurance agent, on the occasion of his invitation to a sportsman's dinner on March 7 to commemorate Workington FC's first season of League football 50 years ago. Colbridge, a left-winger, famously scored an FA Cup goal for Workington against Manchester United in January 1958, just before the Munich air disaster. "Apart from Leeds I've never been back to any of the clubs I played for", he said, "but that's nothing against those clubs because I enjoyed my time with all of them". Perhaps STAR can lure him to their launch a week on Sunday (9th)!

Colbridge also enjoyed four years with Manchester City for whom he played nearly 100 times before, as he says. "I then moved to Wrexham but I was getting near the end then and I eventually moved to Altrincham, going part time. Jack Swindells, who had played at Workington, was there then. My last competitive games were for Rhyl".
LAST NIGHT AT MOSS LANE
Manchester United Reserves lost 1-3 to Blackburn Rovers Reserves last night at Moss Lane.
SOMETHING TO LOOK FORWARD TO?
Alty meet Hucknall on 22 March at Moss Lane and hopefully it will be a better game than Town's last match at home to Hyde which Hucknall Today described as "Near the top of a list headed 'Worst Matches Seen at Watnall Road'. Badly bereft of excitement, incident or cohesive football from start to finish, it was a night for the most diehard of fans only. And as Town's season meanders towards its conclusion, with little or nothing to play for, you cannot escape the feeling that more such dreary encounters are on their way in the coming weeks... Why were we served such dire fare? A hard, bobbly pitch, heavily sanded in many areas, did not help. And neither did the discovery that Hyde really are as awful as their league position suggests... The fact that Town did not produce one other shot on target, nor force a single corner, tells its own story". Oh dear!
GAMBLE GOES AT RUNCORN
Former Alty player Dave Gamble, now at Runcorn, has joined Rossendale United on a month's loan with a view to a permanent move. No money changed hands but, according to IC Cheshire "his departure will free up money for Liam Watson to bring in new players and he has targeted three potential recruits. Watson said: 'Gambo has been told we won't be able to offer him anything next season because of the new budget, and it is probably in his best interests if he gets himself sorted out. He hasn't been a big crowd favourite but he did well for us last season. His best days are maybe behind him but he has never caused me any problems'". Watson is chasing Phil Woods, a keeper with St Helens, Paul Prescot, a striker at Ashton Town and central defender Tony Hallam, released by Preston NE.
---
27 February 2003
NEXT WEEK AT MOSS LANE
The kick off when Manchester Utd Youth meet Tranmere Rovers at Moss Lane in the FA Youth Cup 6th Round on Thursday 6 March, will be 7.30pm and NOT 7pm as is usually the case with United games at Altrincham.
UNIBOND NEWS
Barrow defender Mark Hume picked up his 10th booking last night but his ban will not start until after Alty travel to Holker Street next week. Accrington lost at home 1-2 to Kendal Town last night in the Lancashire Marsden Cup semi-final. Ashton United's chairman Terry Styring has resigned after eight years at the club. According to the UniBond site, "Over recent months Terry has been frustrated with the lack of cooperation by Tameside Borough Council on their lack of support to the Hurst Cross improvement plans. Terry leaves Ashton in a sound financial state".

The N. Wales Pioneer quotes Colwyn Bay manager Colin Caton: "I have said for years to the club committee, that if they don't do something we are going to go down. You can't escape it with limited resources... We can't attract players with the money we're paying. We can´t compete with the likes of Bangor City, financially. It´s the same with Rhyl and Caernarfon.". He went on, "My heart and soul is in the club. I have had much bigger offers. Some people are driven by money, some are not. I like the challenge. My heart is here". Speaking of relegation, he said, "I do think this team would do alright, but I do not think it would be in the top half of the first division". Caton added, "I think players have become harder to work with. I´ve got to be careful what I say to players... You can´t make demands with the money they are being paid". Underlining his problems, Colwyn Bay centre-back Dean Whittall-Williams has signed for Lancaster City and the Bay have also lost Jon Fisher-Cook and Adrian Moody in the last week to Rhyl.

Centre-back Nicky Wood has been transfer-listed by Wakefield & Emley. Accrington confirm that "Algerian trialist Hadji will not be joining the club" and that they have "released Lee Buggie to ... Rossendale United". Ashton United beat Flixton 6-1 on Tuesday in the M/cr Senior Cup but lost Phil Denney with a bad injury that caused a 20 minute delay to the game. Denney "had a very bad cut on his leg that had allowed some fatty tissue to show through" following a collision with a perimeter hoarding. However, the club website reports that he "may be back in business in 10 to 14 days".

Transfers:
Jon Kennedy (Sunderland to Gateshead, loan extended)
Martin Kearney (Frickley A. to Spennymoor U.)
---
FOR EARLIER NEWS, CLICK HERE
---