Altrincham Football Club News Archive
8 to 19 March 2003
---
19 March 2003
RESULT
Bradford PA 5 Blyth S. 1
League table.
THURSDAY GAME
Man Utd Reserves play Oldham Athletic tomorrow in the Manchester Senior Cup at Moss Lane (7pm).
UPDATES
Updates:
Howard Watts's Through the Years.
Terry Rowley's UniBond Attendance Grid.
HARROGATE TOWN 3 ALTRINCHAM 0
Match report here..
Other Tuesday results
President's Cup SF
Ashton U. 1 Wakefield & Emley 0

League
Burscough 3 Worksop T. 2
Frickley A. 1 Stalybridge C. 0
Runcorn FC Halton 1 Lancaster C. 4
---
18 March 2003
HARROGATE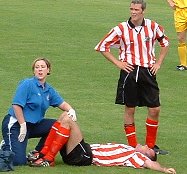 The opening game of the season against Harrogate was the start of Danny Murphy's injury problems this season, as shown left.
Alty travel to Harrogate on Tuesday night (k.o. 7.45pm). Although only Burscough and Hyde have scored fewer away goals than Alty this season, the Robins have won 7 away league games, a record only bettered by Worksop of those teams who have played the same or a lower number of away games than Altrincham. Harrogate beat Alty 4-0 at the start of the season but Town manager John Reed told The Advertiser on Friday: "Altrincham will want to put the record straight and there are no easy games in this league". He added, "We are really enjoying life at the moment. In our last three games we have achieved six points and got into the County Cup final. We are having a wonderful time". Chairman Bill Fotherby said, "'If we won the league next year we would not go up with this ground and there is no point in winning the league if we are not going to go up'. Fotherby's favoured solution is to move into a purpose-built 'All Sports' complex with Harrogate RUFC at Claro Road".
The Alty team back in August was Stephens, Rose, Adams, Maddox, Talbot, McDonald, Murphy (D), Craney, Young, Thornley, Hevicon; subs: Woodford, Gallagher, Turner. Only four of these starters (Rose, Maddox, Talbot and Craney) also started our game last Saturday, at Hyde. One of the few players to have appeared for both sides is Barry Shuttleworth, who had a brief spell at the Yorkshire side a couple of seasons ago.
TROPHY
Aylesbury United, who knocked Alty out of the Trophy, will play our UniBond colleagues Burscough in the Trophy semi-finals. The other tie is between Tamworth and Havant & Waterlooville.
UPCOMING OPPONENTS
Alty entertain Hucknall next Saturday and Hucknall Today reports that last weekend Hucknall Town's "eye-catching turn of the day came from Town's latest striker, professional Danny Bacon (22), who has signed on-loan from Mansfield Town. He proved a class above and was a constant thorn in Blyth's side in place of the injured Clint Marcelle...This season he has made just a handful of appearances [for Mansfield] as sub and now finds himself well down the pecking order". Meanwhile, Hucknall's Scott Huckerby remains out on loan to Eastwood Town.

Alty have yet to play away to Runcorn this season but last week This is Runcorn stated that "The Linnets' fixture despair deepened last weekend when yet another match was postponed due to the worsening condition of the Halton Stadium pitch... The referee opted to call off Runcorn's game with Whitby Town - the third cancellation in under a month... The pitch has already come under criticism from Widnes Vikings, who now only get limited access due to its condition, and Everton have also had to call off reserve games".
UNIBOND NEWS
The excellent Gateshead site reports that the club has signed central midfielder Anthony March (25) from Dunston Federation Brewery and striker Michael Chilton (22) from West Allotment Celtic. Manager Derek Bell also hopes to sign 17-year-old midfielder Scott Blandford from Whitley Bay. Stoke City have joined Oldham Athletic in tracking Gateshead centre-back Rob Jones - "Chairman Mike Coulson has agreed that Stoke can take Jones on trial for a short period".
---
17 March 2003
RESULTS
League
Marine 0 Colwyn Bay 0

Chairman's Cup SF
Droylsden 0 Bamber Bridge 0 Droylsden won 7-6 on pens.
YOUTH TEAM PROGRESS
The Alty Youth team made progress in the NWYA Open Cup yesterday by defeating Kingsley United "B" from Liverpool, 3-1 at Wythenshawe Town FC. Match report in the Youth section.
HYDE UNITED 0 ALTRINCHAM 2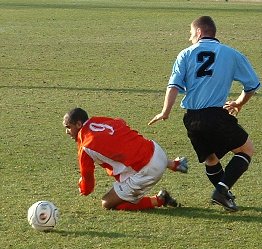 Right: Gary Scott contests possession with Hyde's Paddi Wilson.
Match report here.
Updated: Alty Line-Up, Statistics and Table.
OLD BOYS
Levi Kennedy, an Alty Youth and Reseve player in 2000-01 has joined Flixton. After leaving Moss Lane, Levi had a spell at Chester City.
---
16 March 2003
OLD BOYS
Kevin Ellison played 21 minutes for Stockport before he was subbed yesterday and Danny Adams helped Macclesfield climb away from relegation. Droylsden had to make five late changes in midweek after a car carrying the ex-Alty trio of Glendenning, Porter and Farley, as well as two other players, arrived late at the ground. Neil Murphy was sent off playing for Marine yesterday, whilst Andy McDonald and Neill Hardy were in opposition when Kidsgrove met Radcliffe yesterday. Kidsgrove report that Stuart Walker, who was at Alty a couple of seasons ago, has had to retire from football due to injury. The NLP has an article on Dean Greygoose's hopes of lifting the Vase with Sudbury Town. In Wales Danny McGoona (Caernarfon) and Stuart Terry (Connah's Quay) were in action.
PRESS REPORT
The NLP and Pink both have reports on the STAR supporters' trust launch last Sunday.
---
15 March 2003
RESULTS
FAT 6
Yeovil T. 0 Burscough 2
Aylesbury U. 2 Gloucester C. 1

With Tamworth and Havant the other semi-finalists, there now cannot be a Conference winner of the Trophy.

League

Just one home-win today:
Barrow 1 Harrogate T. 2
Blyth S. 0 Droylsden 1
Colwyn Bay 0 Worksop T. 2
Frickley A. 1 Vauxhall M. 0
Gainsborough T. 1 Runcorn FC Halton 1
Gateshead 1 Marine 2
Hyde U. 0 Altrincham 2
Lancaster C. 1 Accrington S. 2
Stalybridge C. 1 Hucknall T. 2
Whitby T. 0 Wakefield & Emley 1
A record of Alty games played in the past on 15 March is here, courtesy of Howard Watts.
GRAHAM ON ALTY
In a lengthy interview recorded a week or more ago, but only broadcast on GMR last night, Alty manager Graham Heathcote, (seen right with Barry Shuttleworth), ranged over a wide range of issues. He firstly expressed the hope that the club's financial problems might be "eradicated" over the next few years, before he praised the players and the staff at Moss Lane. He believes the club has uncovered "one or two little gems so far" amongst the new players signed this season, with Dalton Steele's role being important in this. As for the improved results, Graham said that "The players have been given guidelines and gone out and done it" on the pitch. He also praised all the unpaid workers behind the scenes, such as Derek Wilshaw, who works in the club offices five days a week, Jenny Heslop who does the kit-washing in addition to running the bar and shop, and groundsman Peter Barry. Graham's interviewer pointed out that the Alty manager himself also does pitch maintenance, sticks up matchday adverts around the town and puts the dustbins out for collection.

On the playing side, Graham is looking forward to pairing a fit Rod Thornley with Tony Sullivan, next season. Ian Craney was also praised as "a quality player, with great feet" whilst Dave Gardner had also brought quality to the team. Peter Band "has a heart as big as a lion" which inspires the rest of the team, said the Alty manager.

"My heart is at Moss Lane I am not sure if I would ever want to move even if the club moved", said Graham. "I believe the club's history should be a motivation for the present players", he added. Indeed, he regularly tells the current players to try and emulate the club's historical successes in the 1970s and 1980s. Graham also praised the Altrincham youth side run by George Heslop and Neil Thomason, whom he curiously described as the "Sven Goran Eriksson of Altrincham"! Graham singled out Steve Lunt as a local Timperley lad who has made the first-team squad this season and he vowed that "I'll give youth players a chance" as he himself had been given a chance as a player at a young age. Many club scouts still frequent Moss Lane, said Graham, so if youngsters reach the first team at Altrincham they stand a good chance of being "picked up" if they are good enough to prgress further.

Graham hoped the new Trust would help unite everyone at the club and went on to praise the current board, "who have worked their tripe off" and without whom the club might not exist today. They had brough realism to the club and set a budget which they had stuck to throughout the season, said Graham. Before then the financial situation at the club in recent years had meant that Graham, as Club Secretary, had often had bailiffs in his office. Even now the state of the finances meant that the club could not spray around contracts to players as it needed to retain the flexibility to release those who did not make the grade. However, Graham hinted that youngsters such as Steve Lunt were amongst those to whom the club would consider offering contracts.
---
14 March 2003
UNIBOND NEWS
The Tameside Advertiser reports that ex-Alty player and Mossley manager Ally Pickering is "trailing Salford City's striker Matty Hughes... Mossley compete with Radcliffe and Altrincham for Hughes". The same paper says that Hyde manager Steve Waywell has set his team "a target of winning six of their remaining matches, starting with Altrincham on Saturday". Hyde include a number of ex-Robins in their squad, including Mark Sertori, Dave Swanick and Lee Evans. Waywell hopes to finalise the "signing of former Derby County and Sheffield Wednesday man, Simon Coleman". On Tuesday we visit Harrogate Town, whose defender James McDaid played for Wrexham's reserves this week in a 2-1 win against Chesterfield reserves. McDaid was only signed last month from Harrogate Railway.

The NW Evening Mail states that Barrow are inviting local companies to enter a "sponsorship raffle for £250, plus VAT, with the prize of being Barrow's main shirt sponsor for the 2003/04 season...With the local economy the way it is with BAE etc, it's making it harder and harder to find one main shirt sponsor... It can be anybody from a small corner shop right up to a multi-national company that wins... As well as having their name on the AFC home and away shirts for the season, the winner will also receive: their names on all the letterheads and promotional literature, a full ground board advert, a full page in the programme, match-day hospitality for two at every home game".

This is Cheshire reports that Runcorn FC Halton "have devised a cut-price admission package for their next four Halton Stadium games... Before kick-off in the Lancaster game, spectators can buy a ticket ... to cover all four games. The £20 price represents one free match plus an extra £1 saving". Runcorn have completed the signing of striker Paul Prescott from Ashton Town.
UNITED WIN
Manchester United Reserves beat Manchester City Reserves at Moss Lane last night 1-0, with a goal just before the interval by Danny Webber.
OLD BOYS
Former Alty keeper Andy Dibble is the phone-in guest on Silk FM radio (106.9FM) tonight from 6.15pm to 7pm. You can ring in on 01625-269000.

A profile of sixties' Alty star Alan Foster, courtesy of Terry Rowley, is here.
---
13 March 2003
STANLEY
Match report here.
GRAHAM AND BARNARDO'S
This week's SAM has a picture of Alty manager Graham Heathcote at Tesco's Irlam store launching the company's "Barnardo's project in Wythenshawe" which is part of the Tesco Charity of the Year activities.
SEAN SMITH
Sean Smith, Alty's midfielder who broke his leg in a car accident last month, has been given a cheque for £2,100. The money came from collections from supporters, staff, Board members and players, all of whom wish Sean a speedy recovery.
UNIBOND NEWS
After playing and getting injured in a trial match for Oldham Athletic, Gateshead's central defender Rob Jones has been invited to play in a second trial with the Lancashire club. Oldham's goal in a 1-0 win over Man. City was scored by Michael Clegg, the brother of recent Alty acquisition (on loan), Steven Clegg. On the Worksop Forum manager Paul Mitchell has responded to his side's two recent defeats by saying,"I would like to apologise for the two recent results and the downturn in results of late". Injuries and loss of form are blamed for the situation. Comparing Worksop with the teams above them in the league he said, "I don't think the other clubs would have sold the best striker and best goalie in non-league football, without re-investment", as the Tigers have done.
---
12 March 2003
WEDNESDAY
Hucknall T. 0 Blyth Spartans 2
President's Cup Semi-Final: Runcorn FC Halton 2 Stalybridge C. 4
ALTRINCHAM 1 ACCRINGTON STANLEY 1
Match report here.
Also updated: Line-up, Table, Player Statistics.
AWAY TIMES
Click the Away Travel link, above left, for supporters' coach times and fares to Hyde (15th) and Harrogate (18th).
RACE NIGHT
SAFE, the supporters' association, is running a Race Night at Moss Lane on Saturday 19 April, the evening of the home match versus Colwyn Bay. Sponsorship of horses costs £5 whilst race sponsorship is £25. Race Nights help to raise important funds for the club and are also enjoyable evenings so please help by supporting this event. Sponsors should please visit the SAFE cabin on matchdays or contact the Club on 928-1045.
STAR LAUNCH
A press release on the STAR supporters' trust launch event last Sunday is now on the STAR web site, to which there is a link above the counter, further up this page.
---
11 March 2003
TUESDAY SCORES
Altrincham 1 Accrington Stanley 1
Ashton United 2 Droylsden 1
Colwyn Bay 1 Burscough 3
Worksop T. 2 Frickley A. 4
THE REAL TONY CULLEN
Last week Alty signed Tony Cullen from Salford City. According to the recently published Ultimate Book of Non-League Players 2002-03, Tony Cullen of Salford City was a Geordie who had also played at Newcastle, Sunderland, Aston Villa, Blackburn Rovers and Radcliffe Borough and was born in 1969. It turns out that the Tony Cullen who has signed for Alty did indeed play for Aston Villa and Blackburn Rovers but is not a Geordie, did not play for Newcastle or Sunderland and is only 29 years old! Our Tony is a right-back/midfielder.
UNIBOND NEWS
Wakefield & Emley assistant manager Jimmy Martin has resigned, according to the Huddersfield Daily Examiner. Martin, who has been with the club for four seasons, said: "I just felt that I was stagnating".
---
10 March 2003
MONDAY GAME
Marine 2 Wakefield & Emley 1
SAFE?
Altrincham have 45 points in the league. Hucknall Today claims that "No team in the history of the Unibond League has gone down with more than 45 points or even finished third-from-bottom which, these days, means a place in the relegation/promotion play-offs with teams from Division One".
NO RESIGNATIONS
The UniBond league has confirmed that "while a slight majority of their Premier Division clubs have allegedly submitted an application for membership of the Football Conference for season 2003/2004 they have yet to receive a single resignation from member clubs... The date by which clubs may resign without penalty (28th February) has now passed leaving any club who may move to the Conference other than by the normal promotion agreements subject to a fine of up to £1,000 in accordance with UniBond League rules".
OLD BOYS
Last season's Alty reserve striker Jason Anthony has moved from Hyde United to Flixton.
UNIBOND NEWS
Alty are now 7th in the UniBond form guide based on the last eight games; our opponents on Tuesday, Accrington, are top. Hucknall Town (who visit Alty on 22 March and were Club of the Month for February) have signed 22 year old Danny Bacon on loan from Mansfield Town until the end of the season. Harrogate report that Worksop's Darren Beesley "has had his loan period extended until the season. Meanwhile, Town have signed Stuart Elliot on trial until the end of the season after Halifax Town released him". Grant Holt, Barrow's no.11 against Alty last Tuesday, has been invited to play for Sheffield Wednesday Reserves.
---
9 March 2003
SUNDAY GAME
Runcorn FC Halton v Whitby Town OFF
LINKS
Quick links to the other three most active Altrincham FC-related sites have now been placed above the counter at the top of this page - the same links are also amongst the 150 or so non-league links which have always been on this site's Links/Maps Page. The three sites in question are the "Alty Fans' Forum" operated by Gary Warrington, the "Home Page of a Photographic Record of Altrincham F.C." run by Alan Johnson and the new STAR (Altrincham Supporters' Trust) site.
STAR LAUNCH
For this site's report on the launch and background to STAR, the supporters' trust for Altrincham, click here. For the STAR website, see link above.
COCO SIGNS
The Club has confirmed that Paul "Coco" Robertson re-signed for Altrincham from Kidsgrove Athletic on Saturday morning. Paul, a left-back/midfielder, was at Altrincham during our first spell in the UniBond between 1997 and 1999. 31 year-old Paul joins a list of nine others - Adams, Senior, Rowland, Gardner, Shuttleworth, Talbot, Hevicon, Hulme and Hargreaves - as a player who has re-signed for the Robins this season after a previous spell at Moss Lane.
IN THE PRESS
The Pink reports on Alty's finances and the collapse of the ground-sale deal. Our total debts are stated to be £650,000 (including the single major debt which is only repayable if we leave Moss Lane - see the Open Forum report for more on this). Graham Heathcote said, "The Board are working tirelessly but the fact is the same few people cannot keep carrying the club...We need a lot more people to help us".
OLD BOYS
The Pink has an article on Graham Barrow, now coach at Bury FC. Steve Hawes was pitted against Terry Bowker as Worksop crashed to Stalybridge yesterday. Former Alty defender James Wilkinson has moved on from Hyde to Rossendale United. Kevin Ellison was subbed after only 14 minutes yesterday for Stockport but Danny Adams completed 90 minutes for Macclesfield. Stuart Terry is pictured in the NLP playing for Connah's Quay in the Welsh Cup; he later had to go off injured. Carl Furlong scored for Colwyn Bay.
CONFERENCE CRITERIA
The Non-League Paper quotes a Conference spokesman on the four criteria for acceptance into the proposed new Conference feeder divisions. These are:
1. Stadium facility. Clubs will need not have to meet the current Conference requirement of 4,000 capacity and 500 seats.
2. Financial stability of the club "based on the last couple of years". The Conference would accept "Clubs that we would reasonably be able to say could afford to play in a semi-national division".
3. Playing record; -over how long is not specified.
4. The "involvement of the community that they reside in" - what this means is not clear.

In the NLP, Graham Heathcote says, "We're nor going to trample on the smaller clubs. Clubs like ourselves and Accrington Stanley have always ensured big gates on our travels. What is going to happen to the clubs left behind in the UniBond League if the big clubs...quit?"
TRANSFERS
Mark Swales (Billingham S., ex Gateshead, to Whitby T.)
Mark Camm (Lincoln C., loan extended to Gainsboro' T.)
Stuart Elliott (Halifax T. to Harrogate T.)
Daniel Bacon (Mansfield T. on loan to Hucknall T.)
Scott Huckerby (Hucknall T. to Eastwood T.)
Jamie McGowan (Hucknall T. to Eastwood T.)
UNIBOND NEWS
Runcorn quote manager Liam Watson as saying, "I am hoping that we will not have to do anymore cost cutting for the rest of the season. I am looking to bring in a couple of younger players in the next couple of weeks as the league transfer deadline approaches". Gateshead will play their three fixtures in April at Filtrona Park, South Shields. "The temporary re-location has been necessary due to the unavailability of the International Stadium because of the installation of a new athletics track". Frickley "are asking supporters if they can help the club's quest for UniBond Premier Division survival by pledging an amount per week up until the end of the season to help increase the playing budget. Members of the Committee have already done likewise and any donation can either be anonymous or publicised in the match programme, website. etc, depending on the wishes of the individual...The club are auctioning an autographed Bayern Munich shirt which is signed by the Bayern side that lost 2-1 to Manchester United in the 1999 Champions League Final. It is also accompanied by a certificate of authenticity".
---
8 March 2003
MATCH OFF - ALTY DROP A PLACE
Today's match at home to Accrington was called off at 1.45pm. Heavy rain since late morning, added to an overnight deluge forced the decision. The UniBond League has announced that the game will now take place at 7.45pm on Tuesday 11th March. Alty's historical record on 11 March is here

Results
Altrincham v Accrington S. OFF
Droylsden v Bradford PA OFF
Gainsborough T. 0 Burscough 1
Harrogate T. 4 Colwyn Bay 1
Stalybridge C. 4 Worksop T. 1
Vauxhall M. 6 Lancaster C. 2
Whitby T. 1 Barrow 1
Table
League Cup SF
Gateshead 4 Rossendale U. 0
Ossett Town v Marine OFF
Chairman's Cup Semi Finals
Hucknall T. 4 Blyth S. 1
President's Cup Semi Final
Ashton U. v Wakefield & Emley OFF
DEPARTURE
Midfielder Jordan Burke has left Moss Lane for Skelmersdale United, his fifth club this season. Jordan asked to go as he felt that his career would be better served elsewhere. He made 7 starts and 1 sub appearance for Altrincham. 20 players have now left the club this season - all are detailed here.
OPEN FORUM
At last night's Open Forum at Moss Lane, chairman Geoff Goodwin, directors Grahame Rowley and Andrew Shaw, with manager/secretary Graham Heathcote answered a very wide range of questions about the club, its finances and its players. Those present learnt a lot about the club and were pleased to hear of moves to address our financial problems as well as Graham Heathcote's informative and entertaining views on the team, the Conference and many other topics. Details here.
---
FOR EARLIER NEWS, CLICK HERE
---