News Archive: 10-24 December 2000.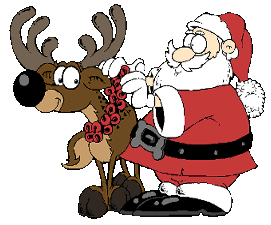 A Happy Christmas to All Visitors!
24 December 2000
ALTY TOP OF THE TABLE
Although they have not been able to play a game since 22 October, Altrincham's Youth Team still remain top of their league table, which can be found on the
Youth Page
.
STEVE HAWES AND SOUTHPORT
The
Pink
carries a story which suggests that Gerry Berman had set up a deal with Southport whereby Hawes would leave for just £15,000, with four additional instalments totalling £5,000 and a sell-on clause. Steve could not agree personal terms with the Sandgrounders but other clubs, including Stevenage and Barnet are now hovering for him. The latter's manager is Ward's former West Ham colleague, Tony Cottee. Ward accepts that Hawes, Coburn and Ellison "will all be gone sooner rather than later" and believes that all of them are good enough for Nationwide League football. However, as regards the Unibond Premier championship, the Alty manager is "not throwing the towel in, and neither should anyone else".
SITE ACCESS
I understand that some visitors to this page are still having access problems, whilst others are unaffected. I have contacted U-Net (the service providers) again and hope that they can get to the bottom of it; in the interim I apologise for the difficulties.
CUP CURSE
The Unibond Cup curse struck again yesterday when Stocksbridge's tie against Ashton was postponed.
S.A.F.E. IN EXILE AND GARY TALBOT
Jacquie Forster has a letter about SAFE in Exile, the exiled Altrincham Supporters' organisation, printed in the January 2001
Teamtalk
magazine. Exiled Robins' fans can join by e-mailing
Jacquie
or ringing the Club (tel: 0161-928-1045). The same magazine includes a colour picture of Gary Talbot.
OLD BOYS
Danny Adams was the
Pink
's Macclesfield Man of the Match in yesterday's defeat by Cardiff. Matt McNeil scored again in Stalybridge's win. Alty's reserve keeper at the start of this season, Mark O'Connor, is now playing at Chorley.
23 December 2000
ALTRINCHAM 3 WHITBY TOWN 1
A full match report is here.
A hat-trick from Steve Finney, in only his third match on loan from Chester City, wrapped up the three points for Altrincham. Finney's three were the first Altrincham League hat-trick since Keith Russell hit a hat-trick against Spennymoor in April, 1998 and Steve also became the 16th player to score a League goal for Altrincham this season. His first came after 5 minutes when the Whitby keeper, Campbell, let the ball escape him and he finished from close range. His second, after 28 minutes arrived after Campbell and his defence only half-cleared a corner and Finney slotted home the loose ball from ten yards. The third goal was the best, a stooping header from a fine cross by Barry Crowe, who had also initiated the move up the right wing (70 mins). Altrincham then went to sleep and allowed Ludlow to score a strange consolation goal when Coburn appeared to completely misjudge a low shot following Glendenning's loss of possession in midfield (81 mins). Altrincham remain fourth in the
league table
. The revised team and player statistics are
here
; the line-up for today's match is
here
and the Unibond Premier fixture grid is
here
.
OTHER LEAGUE RESULTS, Saturday, 23rd December
Altrincham 3 Whitby Town 1
Bishop Auckland 5 Bamber Bridge 2
Blyth Spartans 3 Runcorn 0
Burscough 1 Barrow 2
Droylsden 0 Gateshead 0
Emley 1 Accrington Stanley 0
Hucknall Town 1 Colwyn Bay 0
Lancaster City 2 Gainsborough Trinity 1
Leek Town 3 Spennymoor United 1
Marine 0 Worksop Town 1
Stalybridge Celtic 3 Frickley Athletic 0
---
22 December 2000
CHEER YOURSELF UP!
If you are looking for a last-minute Christmas gift, you can order a six-issue subscription to What the Northwich Vics Was That?", the impressively humorous fanzine produced by Tim Mercer and his colleagues. It costs only £4 for six issues and the 32-page issue number six is now available from WTNVWT, 64 Stockwell Drive, Knaresborough, North Yorkshire. Amongst the highlights of this issue are the Alty Christmas booklist, which includes Keith Russell's tome "My Big Book of Excuses" and the programme for the Alty Christmas pantomime, "Mark Ward and the Seven Dwarves starring Steve Hawes as Mark Ward". You will have to buy the fanzine to complete the cast list- and to get the free gift!
CLUB FOR SALE £2 O.N.O.
Slough Town are reported to be up for sale for just £2! Ex-Spurs star, Graham Roberts is tipped to lead a consortium which will take over the cash-strapped Ryman club. Meanwhile, Kettering Town have been given £200,000 by a businessman friend of their Chairman.
YOUTH TEAM
The revised fixture list for Altrincham Youth Team is here. There is a friendly against Bury Youth on 27 December but the first league fixture for eleven weeks, due to the bad weather, is set for 7 January. Click the above link for details.
HAWES STAYS
Steve Hawes has turned down a £20,000 transfer to Southport, according to tonight's Manchester Evening News.
---
21 December 2000
WHITBY TOWN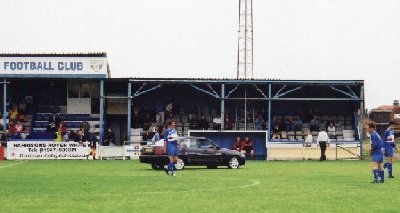 Whitby, our opponents in the League on Saturday (23rd) at Moss Lane, have, like us, lost three games to Bishop Auckland since the beginning of November. Before disposing of Altrincham, the Durham side knocked Whitby out of the Trophy after a replay and, before a crowd of just 79, also beat them in the Unibond Challenge Cup. Whitby currently lie tenth in the Premier Division. Despite bringing a car onto the pitch (click to enlarge picture, left), they could only draw with Alty 2-2 when the sides met at Whitby on 26 August. That day Alty's team included Danny Adams, Stuart Quinn, Eddie Turkington, Dickie Landon and Mark Quayle, all of whom have now moved on, either permanently or on loan. Recently signed by Whitby is Craig Skelton, who briefly figured in the Altrincham squad last Spring.
---
20 December 2000
MAN UTD UNDER-16s 3 ASTON VILLA UNDER-16s 0
The Manchester United and Aston Villa under-16 sides met at Moss Lane tonight. In an entertaining match Villa had a penalty, by Swaby, well saved by Heaton after only 8 minutes but eventually it was United who ran out comfortable 3-0 winners with goals from Jemal Johnson (16 mins), David Jones (60 mins) and Lee Lawrence (65 mins). The crowd of more than 100 included Sir Alex Ferguson and Steve McClaren, whilst Steve Bruce was also there to watch his son, Alex, the United number eight.
KEY DISASTER
In tonight's FA Cup replay, Northwich lost 3-2 at Leyton Orient, to a 116th minute goal, after leading 2-0 with goals by Cooke and Mike (10 and 11 mins). The Orient equaliser was an own goal by Wes Simpson (70 mins). The winner came when ex-Alty keeper, Lance Key, kicked a clearance which rebounded off an Orient player and into the net.
UNIBOND CUP RESULTS
Gateshead 3 Bishop Auckland 0
Hyde Utd v Ossett Town POSTPONED So, yet another tie in Alty's group fell foul of the weather.
HAWES TO LEAVE?
The Evening News reports that Steve Hawes is set to leave Moss Lane for Southport for a fee of £20,000. If this occurs, Southport will have a bargain. The same paper also reports that the Club could soon also be "pressed into selling two more big names", Stuart Coburn and Kevin Ellison.
ALTY FANS' FORUM
Gary Warrington's revamped Altrincham Fans' Forum can be found here or here. On it you'll find news, rumours and exchanges of views from Altrincham and other Clubs' fans. Gary also promises a "new, improved chatroom for the New Year".
---
19 December 2000
CHRISTMAS FOOTBALL FOR ALTY FANS
Although the Altrincham First XI has no match between 23rd and 30th December, the table-topping Altrincham Youth Team will play against Bury F.C. Youth team on Wednesday, 27th December, at Wythenshawe Town FC, Timpson Road, Baguley, kick-off 2pm. For details of how to get there and more information on the match and the Youth squad, please go to the Altrincham Youth Team page.
GERRY BERMAN INTERVIEW
The Messenger site carries an interview with Gerry Berman which contains the following quote- "When asked if he was looking at a matter of weeks rather than months before the club would have to fold, he [Berman] said, 'We just do not know'". For the rest of the interview, click the above link.
COBURN TO LEICESTER FOR ANOTHER TRIAL
The above-mentioned interview also reveals that Leicester City have requested that Stuart Coburn return to Filbert Street for further trials.
STOCKSBRIDGE MATCH OFF
The weather-curse on the Unibond Challenge Cup continues: tonight's match at Stocksbridge has been postponed. The ground is under water and there is also thick fog there. Alty's next match is now at home to Whitby this Saturday (23rd). Other cup ties involving Premier sides tonight finished as follows:
Blyth S. 3 Spennymoor U. 1
Barrow v Gretna POSTPONED
Lancaster C. 3 Kendal T. 0
Frickley 3 Bradford P.A. 3
Bamber B. v Accrington S. POSTPONED
Winsford 0 Runcorn 2
Vauxhall M. v Burscough POSTPONED
Witton A. v Marine POSTPONED
Radcliffe B. v Stalybridge C. POSTPONED
Hucknall T. v Leek T. POSTPONED
RUSSELL SCORES
Keith Russell, very much a fringe player at Hednesford since he left Altrincham, scored his side's goal as they lost 3-1 to Chester in the Conference's Variety Club league cup competition.
NEXT ONE TO COME THROUGH?
Terry Bowker, Altrincham Reserves' centre-back, is set to be the next young player to appear in the first team. 18 year-old Terry was a non-playing member of the squad at Leek last Saturday. First-choice centre-back Gary Talbot's injury has been revealed to be a calf-strain.
---
18 December 2000
STOCKSBRIDGE
Altrincham travel to South Yorkshire tomorrow night to take on Stocksbridge Park Steels in the Unibond Challenge Cup. The club was only formed in 1986 after the merger of Oxley Parks and The Works sides and this season they lie third in the Unibond First Division. Their best-known player is striker Wayne Biggins, formerly of Burnley, Stoke, Barnsley, Wigan, Celtic, Norwich, Lincoln, Luton and Oxford. Wayne doubles up as a coach. Also known to Alty fans is Liam Robinson, who was formerly at Stalybridge Celtic. The Stocksbridge ground, Bracken Moor, is unusual in boasting a fence along one side of the pitch, which is taken down each summer to allow cricket to be played. The ground also has a 500-seat stand with seats donated by Sheffield Wednesday. The Steels are holders of the Sheffield Senior Cup, having beaten Emley in last year's final at Hillsborough.
VOTE FOR GOODWIN!
The newly located Messenger webpage on Altrincham FC has a voting form for best player of the season. The list of candidates includes Shaun Goodwin but not Mark Ward!
UNIBOND PREMIER TRANSFERS
Stuart Corns (Droylsden to Halesowen Town)
Danny Taylor (Halifax T to Emley)
Daryl Wilkes (Leek T to Kidsgrove Ath)
WHAT A WEEK!
Thanks to new fixture changes, we now have away matches at Gateshead (Sat. January 13th), Ossett (16th) and Blyth Spartans (20th), which mean fans face return journeys totalling some 700 miles in eight days! The other changed fixture is the home match with Worksop which is now to be on 27 January. Moving this match and the Gateshead match from March, means two blank Saturdays on 10 and 17 March. The Altrincham fixture lists on this page have now been revised for both League and Cup matches.
---
17 December 2000
SITE ACCESS
There appears to be a fault with accessing this page even though all appears to be in order with it from this end. I have spoken to U-Net, (Sunday 11-05am) the site providers, who confirm that everything is in order and that all pages are accessible from their standpoint. They can only suggest that if people are using either Netscape or MS Explorer they should un-check the "proxy server" setting. As I cannot see the fault from my machine, I should be very grateful to be informed if the problem persists or, indeed, if all is okay when you use these pages! My e-mail address is at the foot of this page.
GLOOMY READING
Both the Pink and Non-League Paper have lengthy pieces on Alty's finances based on an interview with Director, Mark Harris. Whilst much of the detail was already known from the recent Public Meeting, new and confirmed information includes the following:

The Board are having "a series of meetings with external advisers to try to develop a strategy to get us out of this mess".
"Altrincham aren't up for sale because the Club is no one person's to sell".
We are losing £3,000 a week.
"We are looking for a quality commercial manager"
"Our wage bill is twice as much as that of the nearest club in the League".
Mark Ward is quoted as saying "I've been told that I've got to really reduce the squad" and that new signings are therefore unlikely.
Alan Brotherton of SAFE is reported as regretting the Club' failure in the past to dispel its image as "the Manchester United of Non-League" when, in fact, our financial state was parlous. The priority, Alan says, is to ensure the Club's survival, even if the team is shorn of high-profile players.
CEEFAX BOOB AGAIN AS LANDON SCORES
Ceefax yesterday gave Frickley a 1-0 win over Droylsden. In reality, the score was 1-1 with, inevitably, Dickie Landon the scorer after 61 minutes. The league table and grid are now corrected.
OLD BOYS
As well as Dickie Landon's goal yesterday (see above), other Alty "old boys" in action included Mark Quayle, who followed up his FA cup winner last week with a hat-trick against Paul Ellender's Scarborough in a 4-4 draw. Keith Russell played as a sub for Hednesford who lost 5-1 to Rushden. Keith is well on course for two successive Conference relegations as Hednesford are 21st in the table. Nathan Comley-Excell hit five for AFC Gardiners Sunday-league side. Ally Pickering, the footballing gipsy, is again loking for a new club after being released by Gainsborough, where he was captain. Mick Morrell played in Leigh RMI's 2-2 draw with Southport, whilst Ricky Harris and Ged Kielty were subs.
ANOTHER BRAWL
For the second week running Stalybridge were involved in what the Pink described as a "mass brawl" and, once more had a player sent off. This time it was Gary Bauress. Nevertheless, Celtic won 1-0 at Whitby.
---
16 December 2000
LEEK TOWN 0 ALTRINCHAM 0
A full match report is here.
Altrincham were unlucky not to win this match after dominating an entertaining second half and hitting the uprights twice, through fine shots from Alex Hay and Steve Finney. The two points dropped at Harrison Park leave Alty 10 points behind Emley and in fourth place after Bishop Auckland overtook them today. The game was played on a difficult, damp surface worsened by rain which fell for most of the 90 minutes. Leek had a goal disallowed for a clear offside (23 mins) in a first-half which was not a classic but the second half was much more lively as Altrincham stepped up a gear. As well as the shots against the post, keeper Statham made some fine saves, notably from Ian Craney. Steve Hawes, as ever, played well, as did Danny Murphy, whilst Steve Finney also made intelligent use of the ball. The new league table is here, the updated statistics are here, today's line-up is here and the updated fixture grid is here.

Today's other fixtures were as follows.

Bamber Bridge 1 Hucknall Town 3
Barrow 1 Bishop Auckland 4
Colwyn Bay v Lancaster City POSTPONED
Frickley Athletic 1 Droylsden 1
Hyde United 3 Accrington Stanley 3
Leek Town 0 Altrincham 0
Marine 0 Emley 2
Runcorn 0 Blyth Spartans 1
Spennymoor United v Gainsborough Trinity POSTPONED
Whitby Town 0 Stalybridge Celtic 1
Worksop Town v Burscough POSTPONED and replaced by
Gateshead v Burscough which was also POSTPONED
QUAYLE HAT-TRICK
Ex-Alty striker, Mark Quayle, hit a hat-trick for Morecambe today in their 4-4 draw with Paul Ellender's Scarborough.
THE CHANGING FACE OF ALTRINCHAM
As the picture here shows, just nine of the eighteen players in the start-of-season team photo now either remain at Altrincham or have not been transfer-listed or loaned out. However, the following unpictured players are also at the Club and have figured in League games: Craney, Daniel, Farley, Finney, Glendenning, Hay, Morgan, Murphy, Scott, Seekie and Thomas. For details of all the current players, click here and for the departed players, click here. With Garrity and Quayle having come and gone since the photo was taken, that makes a total of 31 players who have played some part in the league matches this season. For their appearance details, click here.
TODAY'S MATCH ON
Ceefax has taken the curious step of marking the Leek v Altrincham match as "definitely on" today. Leek's regular keeper, Mark Statham is out injured. His replacement is Andy Banks, who was Morecambe's first-choice keeper for most of last season. Ex-Stalybridge man, Andy Mason is also currently on loan at Leek, who were November winners of the Unibond "Fair Play" award; Altrincham currently lie 20th in this competition.
---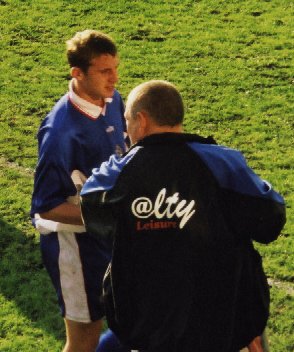 15 December 2000
TEAM NEWS
Both Mark Ward and Steve Morgan are suspended for tomorrow's match at Leek Town. Mark has been banned after accumulating five bookings in 13 League and Cup starts (and 2 sub appearances), whilst Steve is sidelined after he was sent off against Bishop Auckland. Also likely to be absent is Dickie Landon who is set for a month's loan to Droylsden. However, the injured trio of Craney (pictured left), Gallagher and Talbot may be fit for selection.

FIXTURE CHANGES
It is rumoured that the League fixtures from one of the Saturdays in April are being brought forward to January 27th, which had been earmarked by the League for Unibond Cup quarter-final ties.
MICK MORRELL
Leigh have denied rumours that ex-Alty striker Mick Morrell has been transfer-listed.
ACCESS TO THIS PAGE
There appears to have been some kind of problem in accessing this page yesterday, even though it was reachable from some locations. If anyone has any problems in future, I would be very grateful to be advised, via the e-mail address at the foot of this page.
ROLE REVERSAL
Following publicity about Bury's financial plight, Accrington Stanley have approached Bury with an offer to meet them in a fundraising match.
---
14 December 2000
LEAGUE CUP
Last night's only scheduled Cup fixture saw Bishop Auckland's fine form continue with a 4-1 win over Blyth Spartans.
---
13 December 2000
ANOTHER FORMER ROBIN SCORES
Craig Skelton, who played for Altrincham briefly in February-March 2000, whilst on loan from Darlington, has now joined Whitby Town after being released by the Nationwide League side. He scored on his debut in the recent match against Bishop Auckland, which Whitby nevertheless lost.
UNIBOND CHALLENGE CUP
Whilst Droylsden joined Gainsborough last night as confirmed winners of their Unibond league cup groups, Altrincham's group and the one involving the "Lakeland" teams have seen only three fixtures completed so far. As noted on an earlier page on this site, only eight of the nine group winners go through to the next stage; the ninth group winner goes into the President's Cup instead. Droylsden's 3-2 win at Stalybridge last night was courtesy of a Carl Holmes hat-trick with two of these being penalties in the last few minutes.
RECENT UNIBOND PREMIER TRANSFERS
Tommy Saunders (Blyth Spartans to Spennymoor Utd)
Phil Trainer (Crewe Alex. to Hyde Utd, on loan)
Phil Brown (Kendal T. to Lancaster C.)
Tony Charles (Crewe Alex. to Hyde Utd on loan)
---
12 December 2000
LEAGUE CUP RESULTS, Tuesday 12 December
Accrington S. 1 Runcorn 1
Burscough 5 Marine 3
Chorley 2 Radcliffe B. 1
Gainsborough T 2 Guiseley 0
Matlock T. 1 Hucknall T. 2
Stalybridge Celtic 2 Droylsden 3
All other scheduled matches were postponed.
---
SATURDAY'S OPPONENTS
Leek Town, who entertain Altrincham on Saturday, are having a poor run with only one win in their last thirteen League games, which have yielded a total of just seven points- one of these being gained at Moss Lane. During that period they have also been knocked out of the Trophy by Radcliffe Borough and the FA Cup by AFC Sudbury. Leek are currently in 21st position in the League. Their recently appointed player-manager is Mark Gardiner, who was the boss at Northwich Victoria until dismissed earlier this season and he has already brought in a former athletics coach to improve team fitness. Like Altrincham, the Club has just announced further cuts in its budget. On the excellent Leek HOOF website, the form table shows Leek as 19th and Altrincham 13th based on the results of the last five League games.
---
11 December 2000
A DIFFERENT PERSPECTIVE
There is a review of the victory over Marine last Saturday on the Marine website, which states that "I don't think I am being biased when I say this, but Marine could and should have won this 6-4".
MARK WARD'S PLEDGE
In tonight's Evening News Mark Ward is reported as "planning to ruthlessly wheel and deal hard up Altrincham back into the thick of the promotion hunt". Ward is quoted as saying "I am going to be ruthless because this job means too much to me to fail". Dickie Landon's loan to Droylsden (see below) is still on the cards whilst incoming targets include two ex-Northwich players, striker Robert Pell from Southport (see below) and wide-man Darren Vicary.
UNIBOND CUP TONIGHT
Alty have no midweek match this week. Tonight's matches in Altrincham's Unibond Challenge Cup group between Hyde United and Stocksbridge PS and between Ashton United and Ossett Town were postponed. However, Emley lost 0-1 to Harrogate Town in the same competition.
---
10 December 2000
PLUM DRAW FOR NORTHWICH
If Northwich can beat Leyton Orient in their FA Cup replay, they will entertain Tottenham Hotspur at the Drill Field in Round Three. Morecambe have a home tie against Ipswich, whilst the other non-Leaguers are all away. Chester are at Blackburn, Yeovil at Bolton, Dagenham at Charlton and Kingstonian at Southend.
RESERVES LOSE AGAIN
Alty Reserves lost 3-2 at Marine on Friday.
HAY LOAN RENEWED TO YEAR END
Altrincham's loan of Alex Hay has been renewed for the final time, until the end of the year, at which point he is set to return to Tranmere. Hay is now Alty's top scorer with 7 League strikes and 1 Cup goal. This puts him ahead of the injured Kevin Ellison and of Dickie Landon who each have seven goals.
YESTERDAY'S ATTENDANCE
579 spectators watched yesterday's match against Marine.
COBURN FOR ENGLAND
With Steve Farrelly out after a major operation, the Non-League Paper carries an interview with John Owens, the FA XI manager, in which he lists possible contenders for the national team's goalkeeping position. Stuart Coburn is the only non-Conference keeper in Owens's shortlist.
BISHOPS' DOUBLE
Just as Bishop Auckland knocked Alty out of the Trophy, so too did Bishops' under-15 team defeat Trafford under-15s in the Heinz Ketchup Trophy last week.
OLD BOYS
Mark Quayle is honoured with a front-page picture in the Non-League Paper after scoring Morecambe's FA Cup winner yestrday.
Dean Greygoose and Matt McNeil are in the Pink where a colour photo shows the latter beating the former to score last week for Stalybridge versus Witton.
Chris Timons laid on Ilkeston's goal in a 1-1 draw with Clevedon.
John Toner scored again for TNS in Wales.
Simeon Hodson and Andy Lovelock were due to confront each other yesterday but the fixture between their teams (Sutton Coldfield and Solihill Borough) was postponed.
PRIDE BEFORE A FALL
A couple of weeks ago Phil Wilson the Stalybridge manager was quoted in the Pink taking pride in his side's disciplinary record. Celtic then had two players sent of in their match against the football purists of Emley and yesterday saw them receive another red card in a match which featured a twenty-man brawl - one more than the 19-man set-to between Altrincham and Bishop Auckland last Saturday. An even worse example of celebrating too soon occured yesterday at Lincoln City where the home 'keeper was announced as Man of the Match moments before committing a howler which allowed non-League Dagenham & Redbridge to dump Lincoln out of the FA Cup in the last minute.
UNIBOND TRANSFERS AND BAY TROUBLE
Accrington have now reunited Radcliffe's strike partnership of Simon Carden and Paul Mullin by signing Carden for £5,000 to join his former team-mate at the Crown Ground. Colwyn Bay, who entertain Alty on 30 December have lost their ex-Manchester United player, Deiniol Graham, to Bangor City. Graham had scored 15 goals for the Bay this season. Like us, the Bay are in financial difficulties as the following statement from the Club confirms: "Despite strenuous efforts in the past six months to attract sponsors, the response has been poor, and attendances at home games have been hugely disappointing, despite the fact that at one stage of the season we were fifth in the UniBond Premier Division"
---