14 January 2001
YOUTH TEAM STILL UNBEATEN
The Altrincham Youth side won 4-0 today at home to Euxton Villa; see the
Youth Page
for the latest league table, showing Altrincham as the undisputed leaders. The Reserves lost 0-3 to Guiseley in the league, having beaten them by the same score last week in the league cup.
GARDINER LEAVES LEEK
Only weeks after his appointment as Leek's manager, ex-Northwich boss Mark Gardiner has left the club "by mutual consent". He has been replaced by a dual management team of Karl Wilcox and Mark Bromley formerly at Rocester of the Dr Martens Western league. They enjoyed promotion at Rocester before leaving recently. Leek's new keeper is Kevin Welsby, signed from Crewe in place of Mark Statham who has a broken arm.
GATESHEAD 2 ALTRINCHAM 1
There is a full match report here
.
BISHOPS' FANS
Bishop Auckland fans twice invaded the pitch at Burton Albion yesterday. This was a Trophy match in which Altrincham would have figured had they not lost to the Durham side in the previous round.
OLD BOYS
Lance Key saved Northwich from a heavier Trophy defeat at Matlock but Dean Greygoose's error allowed Workington their goal in the Unibond First Division draw. Andy Lovelock and Chris Timons figured in Solihull and Ilkeston's wins, whilst Simeon Hodson's Sutton Coldfield lost. Dickie Landon (Droylsden) and Leroy Chambers (Frickley) both played in their side's league wins, whilst Mike Garside scored as Mossley beat Flixton 2-0.
BERMAN APOLOGY
In today's
Pink
Gerry Berman apologises for under-resourcing Mark Ward's assault on the championship. "Last summer, we didn't realise we'd have these [financial] problems", the Chairman said. Gerry goes on to rate Mark Ward in the Jan Molby and Mark Wright class as a manager. For his part, Mark Ward appears to be staying at Moss Lane despite his assertion on appointment that if we did not win promotion this year he might not necessarily stay here. He now states that "I'll be starting afresh in the summer, whatever league we are in. I inherited quality players but the quality was not hungry enough". Fans may think that apart from the lack of financial foresight pinpointed by the Chairman, other factors such as the loss of promising youngsters like Stuart Quinn and Carl Furlong, injuries, and frequently changed team personnel have played their part in the team's failure to top the league. Encouragingly, the Club is now talking about next season rather than a complete financial meltdown.
---
13 January 2001
GATESHEAD 2 ALTRINCHAM 1
Gateshead gained revenge for their last-minute defeat at Moss Lane on the opening day of the season with a last-gasp winner of their own today from Dick Tracey after 88 minutes. Altrincham had started slowly but improved and were unlucky not to take the lead after 23 minutes when Finney diverted an Ellison cross-shot onto the crossbar. Gateshead took the lead soon after the interval when Dalton's free-kick led to hesitancy from the advancing Coburn and Ross scored. Ellison equalised (68 mins) following a poor clearance by keeper Swan and Altrincham looked good value for at least a draw until Talbot and Coburn dithered and allowed Tracey in for the winner.
A full report will be here, either late tonight or tomorrow
. Altrincham's team-sheet, showing another changed defensive line-up, is
here
. Alty remain third - league table
here
. The only other league results were:
Bamber Bridge 0 Frickley Athletic 1
Droylsden 2 Barrow 1
Lancaster City 2 Spennymoor Utd 0
Leek Town 1 Gainsborough Trinity 0
Whitby Town 5 Colwyn Bay 1
SELECTED TROPHY RESULTS
Both Stalybridge and Northwich lost, whilst our conquerers Bishop Auckland also went out of the Trophy today.

Burton Albion 2 Bishop Auckland 0
Emley 3 Accrington Stanley 0
Hyde Utd 0 Blyth Sp. 0
Marine 2 Stalybridge Celtic 0
Matlock Town 2 Northwich Vics 0
Trafford 1 Telford United 1
Both Stocksbridge and Ossett our fellow group members in the Unibond Cup won in the League today; Ossett won 6-5 away at Radcliffe!
---
12 January 2001
GATESHEAD NEWS


Alty travel to Gateshead tomorrow hoping not to concede any more penalties; six have been conceded since 8 October, the last being that against Burscough, pictured above, netted by John Lawless. Gateshead's Steve Preen and captain Sam Kitchen are possible absentees through injury but newcomer Richard Tracey will join the recently returned Paul Thompson as the strike force.
ONE IN AND ONE OUT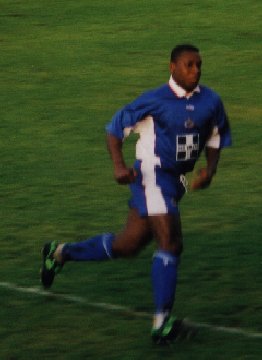 Steve Finney's one-month loan from Chester has now become a non-contract signing till the end of the season, allowing Mark Ward to try to forge a new strike partnership between Finney and former Stockport youth forward, Adam Lillis, who made his debut in Tuesday's cup match against Ashton. Finney has scored four times in five starts for Altrincham. Leaving Moss Lane after a brief stay is Steve Morgan, (seen left at Bamber Bridge) the experienced ex-Coventry and Hull left-back who played just eight games for the Robins. This total comprised four league matches in which he was never on the losing side (3 wins and a draw) but he received a red-card in one of his four cup starts, the Trophy match against Bishop Auckland. His departure should allow young left-back Steve Porter a sustained run, now that he has recovered from injury. Morgan joins the "Departed" whose details are here.



STOCKSBRIDGE GAME SWITCHED
Because of Stocksbridge's poorly drained pitch at Bracken Moor, the Unibond Cup match against the Yorkshire side has now been switched to Moss Lane and will be played on 23 January at 7-45pm.
---
11 January 2001
ASHTON CROWD
The attendance for Tuesday's match in the Unibond Cup against Ashton was a paltry 193. Given that full prices were charged but very much a reserve line-up was fielded, there may be a case in future for reduced admission prices for such games to try and drum up some more spectators.
---
10 January 2001
GATESHEAD NEWS
Saturday's opponents Gateshead, who sacked their manager last weekend (see below) will have a new signing, Richard Tracey, in their side against us. He is on trial from Carlisle and scored the Gateshead goal in their match last night (see below). Paul Thompson has also rejoined Gateshead after being released in controversial circumstances on Boxing Day. For more on the above and the real reasons for Wayne Edgcumbe's even more controversial dismissal for disciplinary reasons visit the excellent Heedarmy site.
ASHTON MATCH REPORT
A report on last night's match against Ashton United is here.
VICS' VETERAN JOINS THE 'BRIDGE
Ian Cooke, Northwich Vics experienced striker, has joined Stalybridge Celtic and scored on his debut last night against Runcorn.
WALTON-LE-DALE YOUTH 0 ALTRINCHAM YOUTH 8
Altrincham Youth not only kept the league leadership but maintained yet another clean sheet with this 8-0 victory on Sunday. Five up after 17 minutes, there were hat-tricks for Crowther and Daniel, with the others coming from Kennedy and Thomas. More on this match as well as the updated table and fixtures are to be found here, whilst updated player stats are here. The Youth side entertain Prestwich Heys at Wythenshawe Town's ground (behind Tesco at Baguley) at 2pm on Sunday (14 January).
---
9 January 2001
ALTRINCHAM 1 ASHTON UNITED 1
Altrincham fielded three debutants in their starting line-up and a fourth on the bench to signal the lack of importance Mark Ward places on the Unibond Challenge Cup competition. Keith Mairs (from the Reserves), Terry Bowker (ex-Reserves, recently re-signed from Bamber Bridge) and Adam Lillis (apparently on loan from Caernarfon Town) all played and Paul Walsham (Reserves) came on as a sub. A trademark goal from Kevin Ellison from a free-kick gave Altrincham a fine start (2 mins) but Ashton deservedly equalised through Illingworth's header after 21 minutes. Thereafter the game rarely reached the heights. Alty's team-list is here and a match report will be here tomorrow. Altrincham now need to win their remaining two games and Hyde to lose to Ossett to win the Group. Our opponents on Saturday, Gateshead, drew 1-1 in the same cup competition at Whitby.
STALYBRIDGE WIN AGAIN
In tonight's Premier League match, Stalybridge overcame Runcorn 3-1. The revised table is here.
ALTY RES v GUISELEY RES
This match takes place on Wednesday, 10 January at Moss Lane (k.o. 7-30pm)
---
8 January 2001
ALTY FACE UPHILL STRUGGLE
Hyde beat Stocksbridge 5-2 tonight in the Unibond Challenge Cup. As Hyde have now scored 10 goals and gained 7 points from three games, Altrincham have a lot to do to win their group as goals scored are the determinant of the group title in the event of teams having equal points. Alty currently have one goal and one point from a draw with Hyde.
TOMORROW'S MATCHES
Altrincham take on Ashton United at Moss Lane tomorrow night in the Challenge Cup (7-45pm) whilst, in the league, Stalybridge entertain Runcorn.
LATEST UNIBOND INS AND OUTS
Andy Allen (Easington Colls to Spennymoor Utd)
Michael Beirne (Atherton Colls to Hyde Utd)
Lee Calvert (Ossett Alb to Ashton Utd)
Leroy Chambers (Altrincham to Frickley Ath [Loan])
John Gillies (Marine to Kendal T)
Andy Gregory (Emley to Frickley Ath)
Robert Montgomery (Winsford Utd to Ossett T)
Steve Rimmer (Marine to Hyde Utd)
Lee Stratford (Bradford PA to Frickley Ath)
Eddie Taylor (Bradford C to Emley)
Micky Waller (Barrow to Gretna)
GATESHEAD SACK MANAGER
Gateshead, our next League opponents, sacked their manager Matt Pearson after Saturday's 0-2 defeat by Bamber Bridge. Pearson, the manager for two and half years, had been under pressure for some weeks as Gateshead failed to challenge for the championship. After a disastrous start to the season, Gateshead climbed the table but have now slumped to 18th place. Paul Proudlock has taken temporary charge. Since we played Gateshead at the start of the season, striker Wayne Edgecumbe has been dismissed for "disciplinary reasons".
PENALTY VIEWS
The Evening News quotes Mark Ward as being "disgusted" with himself after giving away the penalty which got Burscough back into Saturday's match but the player-manager added that "unlike some of my players, I was chasing back when the incident occurred". Curiously, both the Non-League Paper on Sunday and the on-line "nlfootball.com" site reported on Saturday's game that: "Steve Finney, on loan from Chester City, put the Robins in front as early as the third minute but a brace of penalties from John Lawless in the 18th and 75th minutes seemed to have given the visitors the points until Danny Murphy grabbed an equaliser five minutes from time". Two penalties??? (Footnote: Altrincham have now conceded six penalties since October).
---
7 January 2001
YOUTH AND RESERVES UPDATES
The Youth and Reserves pages have been updated with the revised fixture list and updated league table and results, respectively.
LEROY GOES
Leroy Chambers has signed for Frickley Athletic, on loan, until the end of the season, when his Alty contract expires. He played in yesterday's 1-1 draw between Frickley and Hyde and almost got a late winner, his 85th minute header hitting the bar. 26 year-old Leroy hit 24 goals in 75 starts and 15 sub appearances for Alty but latterly had been plagued by injury and loss of form.
OTHER OLD BOYS
Substitute Keith Russell netted a last-minute equaliser for Hednesford at Hayes, where the crowd was smaller yesterday than at Moss Lane. Mark Quayle's Morecambe met their match in Ipswich in the Cup, whilst Paul Ellender's Scarborough shared a 1-1 draw with Leigh, who fielded ex-Alty men Morrell, Kielty and Trees (as a playing sub) and Ricky Harris was an unused sub. Dickie Landon featured in Droylsden's 1-0 defeat at Marine.
STAR LETTER
Longstanding supporter, Bob Allan, is author of the leading letter in today's Non-League Paper. In it, he eloquently appeals for someone to step in and save Altrincham.
NEXT WEEK
Alty entertain Ashton United on Tuesday in the Unibond Cup. The Tamesiders beat Kendal Town 8-1 yesterday, with hat-tricks from Hamlett and Illingworth; they also won last month's Team of the Month award. On Saturday next we travel to Gateshead and will find the club an unhappy one, with some supporters calling for a change of manager. Only 185 fans attended the Gateshead match where the home side lost 0-2 to Bamber Bridge.
YOUTH GAME
George Heslop's table-topping Youth side travel to Walton-le-Dale today to take on a a side they beat 4-1 last October.
PITCHES
Viewers of Match of the Day will have seen some awful pitches recently, including Anfield and Walsall's Bescot Stadium. Inn our own league, Stalybridge's Bower Fold was described in today's Pink as more like Southport beach than a footballing surface. All this underlines what a magnificent job has been done by Peter Barry in transforming our own unsatisfactory pitch of two years ago.
---
6 January 2001
ALTRINCHAM 2 BURSCOUGH 2
A full match report is here.
After playing some excellent football, scoring after 5 minutes and dominating the first 17 minutes, Altrincham allowed Burscough to equalise when Mark Ward handled a cross by Robbie Talbot to allow Lawless to score a penalty. Alty's opener came through Finney who hooked home from close range after a Craney shot had been blocked. The game threatened to get out of control as three Alty players were booked in as many minutes and the half ended with Ellison and Burscough's Farrell also going into the book. Burscough took the lead through Robbie Talbot after Ellison had lost possession in his own half (70 mins) and the visitors also hit the bar before Murphy salvaged a point, when Talbot flicked on a Hawes free-kick for him to finish at the far post (83 mins). Alty's line-up today is here and the statistics are here. Alty remain third; the new table is here.
Other results:

Bishop Auckland 2 Accrington Stanley 1
Frickley Ath. 1 Hyde Utd 1
Gainsborough Trinity 1 Colwyn Bay 0
Gateshead 0 Bamber Bridge 2
Lancaster City 3 Emley 3
Leek Town 0 Blyth Spartans 4
Marine 1 Droylsden 0
Runcorn 2 Spennymoor Utd 0
Stalybridge Celtic 1 Barrow 0
Whitby Town 1 Worksop Town 1
RESERVES WIN
Alty Reserves gained a much-needed win last night, defeating Burscough Reserves, away, 2-0. A strong Alty side was fielded, including Power, Porter, Glendenning and Seekie. After Paul Walsham opend the scoring, Alty added a second to bring the first win in five games.
---
5 January 2001
VIRUS SCARE
The Messenger website reports that Stuart Coburn, Jason Gallagher and Kevin Ellison are all struggling to shrug off a flu virus in time for tomorrow's match against Burscough.
POWER AND PORTER BACK AS LEROY PONDERS MOVE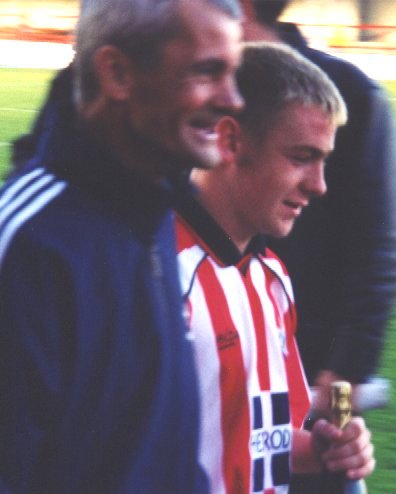 The Evening News reports that both Phil Power and Steve Porter (left) are fit to play in tonight's Reserves' match away at Burscough. Mark Ward and Barry Crowe are also rumoured to be playing in that match. Meanwhile, out-of-favour striker Leroy Chambers is thinking over a move to Frickley Athletic which would release funds to allow Mark Ward to move for a replacement for Alex Hay. Elsewhere, ex-Stockport and Birmingham striker Kevin Francis, who briefly looked as if he might come to Moss Lane early this season, has now established himself in the Hull City side.



CUTS AT BARROW
Despite enjoying the best crowds in the Division, Barrow have cut their players' pay by 10% and released their Coach and also Mickey Waller, their Player of the Year last season. The moves have been brought about by the Club's financial situation.
NEW HOME FOR THE VICS
Northwich Vics have confirmed that they intend to build their new ground at Wincham Park, an 8.5 acre located site one mile from the town centre. The move is planned to occur during the 2002-3 season.
UNIBOND CUP
Wednesday's scheduled Unibond Cup game in Alty's group, between Ashton and Ossett Town was postponed.
---
4 January 2001
MARK WARD STILL UPBEAT
On the Messenger website Mark Ward expresses his optimism that Altrincham are now well placed, with "a virtually fully-fit first team squad" to take advantage "when" the two leaders, Emley and Stalybridge slip up. As well as praising Kevin Ellison's performance last Saturday, Mark is also impressed by Steve Finney and is seeking either to extend his loan period or even sign him outright. For more, click the above link.
TERRY BOWKER'S RETURN
Eighteen year-old centre-back Terry Bowker, who was reported on this page 19th December as being in Mark Ward's squad for the match at Leek, was an Alty Reserves' player who has returned to Moss Lane after playing just one League game for Bamber Bridge, a 2-0 victory at home to Gainsborough in September. Other recent Unibond transfers are:
Rob Bowman (Bohemians [Ireland] to Gateshead)
Kimon Evangelatos (Guiseley to Ossett T)- Listen out for the strains of "There's only one Kimon Evangelatos" when we visit Ossett!
Thomas Geisler (TSV Bobingen [Germany] to Droylsden)
Paul Gilmore (Seaham Red Star to Blyth Spartans)
Tony Hall (Gateshead to Barrow)
Neil Lacey (Emley to Bradford PA)
Matthew Pitts (Workington to Whitby T)
Steve Shiel (Winsford Utd to Droylsden)
Luke Smith (Harrogate T to Frickley Ath)
Michael Ward (Guisborough T to Spennymoor Utd)
Robbie Williams (!!!) (Bangor C to Colwyn Bay)
---
3 January 2001
BURSCOUGH
Burscough, our next opponents in the League (Saturday, 6th January) lie tenth in the Unibond Premier, a division which they only joined this season. Although they are 14 points behind Altrincham they have 5 games in hand. After a run of 7 league matches without defeat, they have lost their last two games (Barrow [H], Runcorn [A]). Burscough have been managed for the last five years by ex-Moss Lane favourite, John Davison. Players to watch include 18 year-old strikers, John Lawless and Lee McEvilly, and ex-Marine front-man Robbie Talbot. Burscough are currently claiming compensation from Gateshead for the late cancellation of their recent match in the North-East so if the bad weather returns, Alty had better call off the match promptly!
---
2 January 2001
SHAVEN-HEADED SCOUSER
In tonight's Evening News Kevin Ellison is described as a "shaven-headed Scouser" in an otherwise complimentary piece about his role in yesterday's 3-0 win over Frickley. The goal restored Kevin to the undisputed head of the Altrincham scoring charts, with eight goals in thirteen league starts, one more than the recently departed Alex Hay.
G.C.S.E. IN ALTY STUDIES
It is every schoolboy (or girl) Alty fan's dream to sit down for an examination, turn over the exam paper and find that the questions are on his (or her) local football club. The 1999 GCSE Geography paper, now being used in some schools as a "mock" exam for the 2001 G.C.S.E. exams, answers that dream by including a quotation for discussion in the "Urban Issues" section which reads as follows: "Sale Rugby Club may move to a new site at the Trafford Centre. A stadium might be built that could be shared with other sporting organisations. Salford Rugby League Club have shown some interest, as have Altrincham Football Club". Answers on one side of A4 only, please!
---
1 January 2001
ALTRINCHAM 3 FRICKLEY ATHLETIC 1
A full match report is here.

For seventy minutes Altrincham made heavy weather of defeating a lowly, but spirited Frickley side, who took an early lead when Lewis and Duffty broke through for the latter to score from close range (5 mins). Kevin Ellison, playing his first game for 12 weeks struck a fine equaliser direct from a free-kick outside the penalty area (20 mins). It was also Ellison who, after going through a quiet spell, went past two Frickley defenders to provide a low cross which Murphy slid home with 20 minutes remaining. Another player returning from injury, Jason Gallagher, came on after 62 minutes and twenty minutes later he made sure that he rather than Danny Murphy got on the end of a forward move prompted by Mark Ward and netted from close range. Altrincham move up to third behind Emley, who won, and Stalybridge, whose match was postponed and several of whose players watched today's match at Moss Lane. The updated table is here; today's team line up is here and the statistics are here.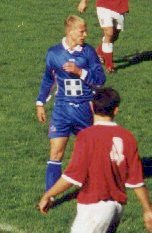 NEW YEAR'S DAY FIXTURES
Altrincham 3 Frickley Athletic 1
Barrow 2 Lancaster City 2
Emley 1 Gainsborough Trinity 0
Marine v Accrington Stanley POSTPONED
Stalybridge Celtic v Hyde United POSTPONED
ALEX HAY LEAVES
Alex Hay (seen, right) has returned to Tranmere after a successful loan period at Moss Lane. In 13 League games, he scored seven goals and also netted once in five cup starts.
ALTY'S FUTURE
For more on Altrincham's financial plight, ring Brian Flynn's "Round-up" on 09066-555-902.
COMPARISONS
Altrincham should have played 25 games by the end of 2000 according to the original fixture list but have only completed 23 to date. 22 players played in Conference games for Alty in 2000 and a further 7 were unused substitutes. So far, in Unibond league matches in 2000, 31 players have either started or been used as subs.
---
31 December 2000
NEW YEAR'S DAY MATCH: FRICKLEY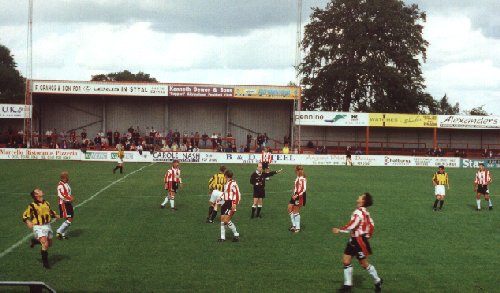 Altrincham are set to entertain Frickley Athletic on New Year's Day (k.o. 3pm). The last time that Frickley were our guests it was a dry August day when they were the visitors for our first Unibond Premier match of the 1998/99 season, as pictured above. Those visible in the photograph are (l. to r.) Phil Power, Mick Carmody, the then coaches, Nigel Gleghorn (no.11) and Brian Kilcline, the ill-starred Martin Faulkner (no.3) and, far right, Chris Timons. Behind the referee is Darren Lyons. The game ended 1-1, with Keith Russell the scorer for Altrincham. Frickley have won only one of their last 12 League games; a 6-2 win over Colwyn Bay.
CUP BACKLOG
Even the holders of the Unibond Challenge Cup, Lancaster City, are now calling for a knock-out round to be imposed in the Unibond Challenge Cup instead of the planned group-stage. According to the Non-League Paper twelve of the competing teams, (including Altrincham), have yet to play even their second game of the four-match group stage of the competition.
---
30 December 2000
HAY TO STAY?
According to the Messenger web-site, Alex Hay may be staying at Moss Lane till the end of the season. The Tranmere striker's loan period was due to end today. Mark Ward is also quoted as saying that "I still feel that there's no one as good as us in this division. No league is ever won at Christmas." For the full story, click here.
MACCA MANAGER SACKED
Macclesfield have sacked manager Peter Davenport, after bringing in a Director of Football with whom Davenport refused to work.
ALL UNIBOND PREMIER MATCHES OFF
Saturday's fixtures have all now been postponed because of snow/frozen pitches. Alty's next scheduled match is on 1st January at home to Frickley, followed by Burscough on 6th January.

Accrington Stanley v Gateshead POSTPONED
Bamber Bridge v Whitby TownPOSTPONED
Barrow v Frickley Ath. POSTPONED
Blyth Spartans v Marine POSTPONED
Burscough v Hucknall Town POSTPONED
Colwyn Bay v Altrincham POSTPONED
Droylsden v Stalybridge CelticPOSTPONED
Gainsborough Trinity v Leek Town POSTPONED
Hyde Utd v Runcorn POSTPONED
Spennymoor Utd v Lancaster City POSTPONED
Worksop Town v Bishop Auckland POSTPONED
MILLENNIUM RECORD
The year 2000 started in the best possible way with a 2-0 league win over Northwich which formed part of a 10-match unbeaten league run straddling 1999 and 2000. All looked well even as late as 4 March, 2000 when Alty lay tenth in the Conference. However, just nine weeks later they were relegated. In 45 league games in 2000, Alty won 16, drew 15 and lost 14, scored 72 and conceded 60. Below, is their League record in both the Conference and Unibond over the year 2000:

| | | | | | | | | | | | | | |
| --- | --- | --- | --- | --- | --- | --- | --- | --- | --- | --- | --- | --- | --- |
| - | P | W | D | L | F | A | W | D | L | F | A | GD | PTS |
| CONF | 22 | 3 | 4 | 4 | 16 | 15 | 1 | 6 | 4 | 10 | 18 | -7 | 22 |
| UNIB | 23 | 7 | 2 | 2 | 24 | 11 | 5 | 3 | 4 | 22 | 16 | 19 | 41 |
| TOTAL | 45 | 10 | 6 | 6 | 40 | 26 | 6 | 9 | 8 | 32 | 34 | 12 | 63 |
Longest League Runs in 2000
Without defeat: 7 - i.e 3W + 4D in the Conference, 19/2-25/3/00
Without a win: 11 - i.e. the last eleven games in the Conference, 5D + 6L from 11/3/00.
Highest League Scorer in 2000

Dickie Landon - 13 (8 Conf., 5 Unibond), followed by Kevin Ellison with 10 (3 Conf., 7 Unibond).
Highest and lowest home League gates

1,761 for the visit of Kidderminster, 6 May.
501 for the visit of Colwyn Bay, 12 September.
---
29 December 2000
EMLEY GET A LATE CHRISTMAS PRESENT
It has been confirmed that Emley will be promoted to the Conference, should they win the Unibond Premier League provided that they meet the necessary stadium requirements by 1 April, 2001. The Unibond rules state that "Clubs wishing to make application to the Football Conference will notify the Northern Premier (Unibond) League Secretary not later than 29th August each year and if the Club is considered eligible by the League Management Committee the application will be then submitted to the Football Conference no later than 31st August". It is now 29th December but Emley were apparently "in contact" with the Conference by deadline time and have now been approved for promotion if their new ground at Wakefield rugby league club meets the required standards. Of course, this means that Altrincham or Stalybridge cannot now just aim to be second to Emley if they want promotion.
YOUTH AND RESERVES OFF
Both the Youth and Reserves' games scheduled for 27 December fell victim to the bad weather.
---
28 December 2000
SATURDAY'S OPPONENTS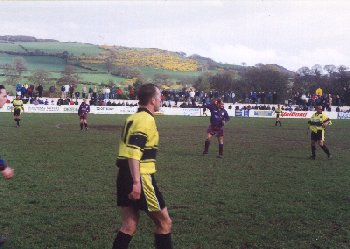 Colwyn Bay, whom we meet (weather permitting) on 30 December had a bad day last Saturday with both defender Colin Caton and their manager being sent off against Hucknall Town. After a good start to the season, they have now gone thirteen games (including friendlies and Cup matches) without a win, seven of these being League games. Their lowest point was a 6-2 thrashing by lowly Frickley. Rumours persist that ex-Manchester United starlet Deiniol Graham will return once more to Colwyn Bay, in the New Year, after leaving recently for a loan spell at Bangor City. The Bay's home crowds have been averaging under 300 and, like Altrincham, they have serious financial concerns. The Club has an excellent web-site. A new, unofficial site has also just been started here. Alty last visited the rural surroundings of Llanelian Road in Spring, 1999 when the accompanying picture was taken, with Ricky Harris (now at Leigh RMI) and Phil Power seen in action for The Robins in a 1-1 draw.
COMEBACKS
Kevin Ellison and Jason Gallagher were both expected to make their returns from injury in last night's Reserves' game against Gusieley. Mark Ward was also expected to play in this game.
---
27 December 2000
TODAY'S GAMES
Alty Reserves play Guiseley Reserves at Moss Lane, today, (27 December), whilst also today at 2pm, the Youth Team host Bury Youth at Wythenshawe Town's ground, Timpson Road, Baguley (behind Tesco's). For the Reserves' kick-off time, please check with the Club (928-1045). The first team's next match is on Saturday at Colwyn Bay (3pm), followed by Frickley at home (New Year's Day, 3pm).
---
26 December 2000
ALTY NOW 13 POINTS BEHIND
Emley's win puts them 13 ahead of Altrincham; Stalybridge also won tonight. The updated table is here.
Accrington Stanley 1 Bamber Bridge 3
Colwyn Bay 2 Marine 3 CORRECTED- CEEFAX GAVE THIS AS 1-0!!
Frickley Athletic 1 Emley 3
Gainsborough 1 Worksop Town 1
Gateshead 2 Blyth Spartans 5
Hucknall Town v Leek Town POSTPONED
Hyde United 1 Stalybridge Celtic 2 (k.o. 7-30pm)
Lancaster City 1 Barrow 1
Runcorn 2 Burscough 0
Spennymoor United v Bishop Auckland POSTPONED
Whitby Town 0 Droylsden 1
BOMBER GROUNDED: NORTHWICH VICS 1 LEIGH RMI 1
Of the four ex-Alty men in Leigh RMI's team today only Robert Trees and Mick Morrell started the game, but Ged Kielty did get on for the last seven minutes of a game watched by 1208 people. Lance Key, unrecognisable now with his blond locks savagely shorn, kept goal for the Vics. "Bomber" Harris was an unused sub. Leigh were the better side after going behind in only the second minute to a 20-yard shot from Devlin but Steve Jones rounded Key for a deserved equaliser (35 mins), after Devlin and two of his colleagues had all run into each other 20 yards from their own goal. Shortly afterwards Man of the Match Jones had a shot well saved by Key and Leigh's Monk hit the post in the second half, with Morrell's follow-up being cleared off the line. Morrell huffed and puffed to no great effect until he was replaced after 79 minutes whilst Trees was undemonstrably efficient in midfield. Leigh are now 10th and the Vics 16th in the table.
---
25 December 2000
CHRISTMAS PRESENTS AND SEASONS PAST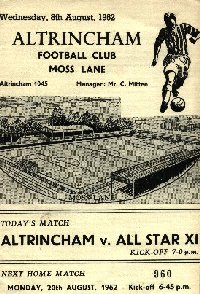 A Happy Christmas to all readers of this page and a sincere thank you for your patronage during the past year. Although it is now too late to buy Christmas presents, a thoroughly recommended New Year read is Stuart Hall's Heaven and Hall (BBC Publications, £14-99). This is a compilation of his inimitable football summaries for BBC Radio's Five Live and of his life story which features characters such as his Uncle George, a tripe-dresser from Bacup! In one report, our own Mark Ward is described by Hall as "the Dandini of Upton Park", whilst Paulo Wanchope is depicted as having "the gait...of a broken-kneed cab-horse over the Aintree jumps". Hall also includes an amusing Hyde United match report. Joining this in your correspondent's Christmas sack was a friend's gift of a 1962 Altrincham programme for a game against an All Star XI in 1962, which is reproduced, right. The All Stars featured Alty's new manager, Charlie Mitten at outside-left with Don Revie at centre-forward in a side which also included Jimmy Scoular and Jimmy Hagan. The Alty side was Allen; Perry, Banks (capt.); Ireland, Greenall, Phoenix; Morris, Dickenson, Grey, Robinson and Wilson. The fixture list on the back page for 1962-63 featured forthcoming games against foes such as Sankeys, Oswestry Town, Congleton Town, Ellesmere Port Town and Rhyl.

This page will continue to be updated over the Christmas period but, for now, I must get back to my "Dice Soccer Game" and my "Armchair Football Supporters' Kit", completed with red and yellow cards, whistle and magic sponge!
---