Altrincham Football Club News Archive
17 to 25 July 2002.
---
25 July, 2002
FLIXTON 0 ALTRINCHAM 4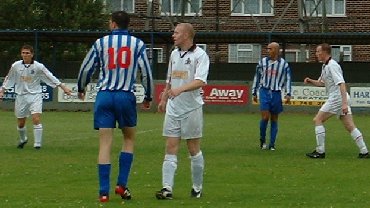 Altrincham used 20 players in this match which they won with two goals apiece from Rod Thornley and trialist Mike Turner. Rod's first was a penalty which he himself won after 16 minutes. He added a second after 23 minutes when he headed past the keeper after chasing a 50-50 ball. Turner converted a volleyed cross from Thornley after 25 minutes. Turner added the fourth after 57 minutes following a corner. The Alty team included Peter Band, the Hyde United captain last season, and striker Mike Turner. Band is seen above on the right of the picture, with Mark Maddox and Gary Scott; the Flixton no.10 is Nathan Comley-Excell. The team was: Williams, Scott, Locke, McDonald, Maddox, Band, Murphy, Craney, Turner, Thornley, Hevicon. The subs (all used) were Stephens, Ryan, Woodford, Ward, Rose, Mellor, Young, Smith and an unidentified player. Match report here.
MALAWI WIN
Malawi beat a Stockport County side including Kevin Ellison 3-1 today in the Umbro Tournament at Wythenshawe.
The Malawi squad for the game against Alty on Saturday is:
Goalkeepers: Navigator Dzinicambani, Harold Mlembo.
Defenders: Lackson Mtambo, Clement Kafwafwa, Joseph Gatros, Maupo Msowoya, Itaye Nundwe, Shaba Phiri, Matembo Msowoya.
Midfielders: John Maduka, Fisher Kondowe, Peter Magangra, James Chilapondwa, Sherry Meuku, Macdonald Yobe, Frank Phiri, Stephen Bakali.
Forwards: Jones Nkhwazi, Heston Munthali, Victor Phiri, Grant Lungu.

Malawi's visit to England was organised through the UEFA-CAF Meridian Project whose purpose is to assist African football. The visit to England is the first for virtually all of the squad and it is intended to broaden the horizons of the national team both on the playing and coaching front. Malawi will visit the Manchester United and Liverpool academies during their stay in England as well as the FA's Lilleshall centre, where they will have fitness and endurance tests and learn new training methods. In addition to their games against Altrincham and Stockport County this week, they will also have a game against Walsall before they return home. Their coach is Kim Splidsboel, who is a Dane. He and his team are sure to get a warm welcome from supporters at Moss Lane on Saturday. It is hoped that some of the Malawi Commonwealth Games team may also attend the game. Thanks to Grahame Rowley for relaying the above information from the FA and also for the History of Malawi.
YOUTH NEWS
There is information on the Youth Team's first friendly of the season and on forthcoming fixtures here.
REMINDERS
Please do not forget to:
There is also still time to enter the 20/20 Prediction Competition here, from which profits go to S.A.F.E. and the Club.
The Yankee is the most consistent fundraiser for the Club and there are details of how to join here.
GLAZING
Work is reported to have started on re-glazing the Golf Road end of the Main Stand at Moss Lane. The original glass was blown out during gales last Spring.
UNIBOND NEWS
Hyde have signed Paul Challinor who played four games last season for Ilkeston Town. The Tigers have also switched their UniBond League match at home to Blyth to 18th April (Good Friday) instead of the scheduled date of Easter Saturday. Runcorn played coach Neil Whalley's 14 year old son Shaun for the last few minutes of their 5-2 friendly win over Warrington Town 5-2 recently. Also playing for Runcorn were trialists Mike Edwards from Widnes, Steve Torpey formerly at Liverpool, ex-Droylsden striker Wes Kinney and returning striker Richard Irving. Stalybridge Celtic have signed left-winger Jerome Fitzgerald from Rossendale United "despite interest from several Conference clubs". Lebanese striker Wael Nazha, formerly at Emley, has been on trial at Stalybridge. Four Burscough players (Nolan, Mason, Leahey and Alty) have followed John Davison to St Helens Town and another player, Ray Birch, has retired. Another departing player is centre-back Andy McMullen, who has joined Vauxhall Motors. Like Altrincham, Ashton United have disbanded their reserve team. Instead several young players have gone to Chadderton where their development will be watched by Ashton. Ashton's striker Chris Cornelly has been having trials with Oldham Athletic and played in a pre-season game against Burnley last week.
BOOKS
Two new books of interest to Non-League fans are:
Non-League Football Tables 1889-2002, edited by Michael Robinson. (Cleethorpes: Soccer Books Ltd, 2002). 124pp. ISBN 1-86223-060-9, price £9.95. This gives the annual league tables for the Northern Premier League since its foundation in 1968 and of the Conference and its forerunners since 1979. There are also full historic league records for the Midland, Football Alliance, Isthmian, Northern, Southern and Athenian Leagues.
Get Those Sheep off the Pitch, by Phil Staley. (Available from Prestige Design on 0161-476-6886), £9.50. The author is a former Stockport County reserve goalkeeper who also managed at Macclesfield, Ashton United, Chorley and Accrington Stanley. Whilst manager at Droylsden, the F.A. banned him and Staley writes that he then had to watch games "from an old lady's bedroom overlooking the ground. I communicated with the bench by walkie-talkie!"
---
24 July, 2002
MALAWI GAME
The Malawi national team, who play at Moss Lane this Saturday, are using their tour of Britain as preparation for a Cosafa Cup semi-final against Zambia in the country's capital Blantyre in a fortnight. They arrived in London on Monday and will play a Stockport County reserve side in the Umbro Tournament at Wythenshawe tomorrow at 2pm.
ANDY McDONALD
As reported below, Andy McDonald has signed for Altrincham from Witton Albion. Andy is a midfielder who was previously at Ashton United. He played against us for Ashton in a Unibond Challenge Cup Match on 9 January, 2001, in a side which also included Jeremy Illingworth who also later joined Altrincham. Andy scored Alty's goal on Saturday at Abbey Hey and he becomes the Robins' first signing of the close season.
ALTY PRESS RELEASE
The following Press Release has been issued by Altrincham FC today.
Out of Africa
Altrincham FC break new ground on Saturday July 26 when they entertain the National Side of the African country, Malawi.The Africans are on a 12 day tour of the country and it is hoped as many spectators as possible will turn up at Moss Lane. It should be an interesting encounter particularly given the strides taken by African football in recent years. It remains to be seen how Malawi compare with the likes of Cameroon, Senegal and Nigeria.
The club have announced that the transfer of Andy McDonald (pictured right) from Witton Albion for a "small fee" has been funded by a benefactor who may also consider funding a second incoming transfer.
The club are looking for someone to act as the P.A. announcer on match days. Interested parties should ring 0161-928-1045.
Friday, August 23 has been fixed for the home FA Youth Cup 1st Qualifying Round match against Frickley Athletic, kick off is at 7.45pm. The winners will meet Burscough (away).
FIVE EX-ROBINS AT TRAFFORD
Despite apparent confirmation on the St Helens website that Alty striker Mario Daniel had joined the club, he actually turned out for Trafford on Monday night in a goalless friendly against Squires Gate. Keeping goal was Ryan McMahon, Alty's keeper in the FA Cup tie against Mossley two season's ago and also in the squad were the Alty Reserves' goalkeeper from last season, Dale Newbrook, Alty Youth/Reserves' midfielder Richard Smith and last season's Alty Reserves' captain Keith Mairs (seen, right). A sixth player, Youth captain Paul Tilley, joined Trafford late last season.
UNIBOND NEWS
After the recent stormy friendly between Stenhousemuir and Barrow which was abandoned after 19 minutes when two of the Scottish side's players suffered bad leg injuries, Stenhousemuir are to lodge complaints with both the Scottish and English F.As. The Scottish Sun reported that defender Des McKeown may sue "Barrow boot boy Lee Warren", whilst the paper reports that striker Brian Crawford "was hacked down by another hatchet man from the Unibond League side". Elsewhere, Gateshead supporters are trying to compensate the club for the loss of its main sponsor during last season by running a sponsored visit to all of the other 44 clubs in the UniBond Premier and First Divisions within 24 hours on 6th August. The participants will start at Blyth and end at Workington. Marine have changed some of their fixtures already with the visit of Runcorn switched to Boxing Day and the return fixture being on Easter Monday. This was due to Runcorn's Widnes ground being unavailable on Boxing Day. Marine are also changing the date of their home match with Harrogate on 9th September as they are holding a Kenny Dalglish Golf Day on that date. Former Alty captain Steve Hawes turned out again for Worksop Town in their drawn game with Stocksbridge on Monday. Alan Keeling has been named as the new assistant-manager to replace Martn Filson at Hyde United. He was formerly deputy to Jim Harvey at Morecambe. Hyde's captain Peter Band "has told Hyde that he does not want to play for the Tigers next season, despite having a further year to run on his UniBond League contract" according to the NLP.
---
23 July, 2002
MOSS LANE TO MOSSLEY
As well as signing Kevin Hulme from Altrincham in the close season, NW Counties League side Mossley also have several other ex-Robins on their books for the coming season. These include Ricky "Bomber" Harris, who scored for Mossley against Ashton United in a Charity Cup game on 20 July. Also in the side that day were Robert Trees who briefly figured for Altrincham a couple of seasons ago and a Paul Taylor, (our Paul Taylor of last season?). John Foster, who had trials with Alty a few years ago was also in the Mossley team. Mossley manager Ally Pickering, himself another ex-Robin, has also signed David Wills, the former Halifax Town and Trafford man, who was with Alty last season. As well as "The Bomber", another ex-Alty veteran on target this week was Dickie Landon, who scored for Radcliffe Borough in their 1-1 draw with a Bolton Wanderers XI.
---
22 July, 2002
NEXT GAME
Altrincham's next game is their third pre-season friendly, an away match at Flixton's Valley Road ground on Thursday (25th) at 7.30pm. Flixton are in the NW Counties First Division, the same level as Abbey Hey whom we played last Saturday. They had a poor start to last season in that division but were transformed by the appointment of Dalton Steele as their new manager. However, a series of draws at the end of the season meant that Flixton still occupied a relegation place when the season ended. Fortunately, however, the transfer of Gretna from the UniBond to the Scottish League had the knock-on effect of reprieving Flixton from the drop. Amongst various ex-Alty players to turn out for Flixton last season was striker Nathan Comley-Excell, who joined the Valley Road team after a spell in Welsh football. Then, on Saturday (27th) Altrincham entertain the Malawi National XI at Moss Lane (k.o. 3pm, entry is free to season ticket holders, £5 to others [£2.50 for children/OAPs]). For a list of all the pre-season games, click here.
---
21 July, 2002
POLAND SCORES
John Davison's St Helens Town's website has confirmed that both Mario Daniel and Lee Thompson have joined the NW Counties League club, as was reported here last week. The third Alty player to move to St Helens in the close season, striker Lee Poland, scored one of the two goals in the club's 2-1 win at Oswestry this weekend.
UNIBOND NEWS
Barrow's friendly this weekend with Stenhousemuir came to an abrupt end after just 19 minutes when the Scottish side's manager abandoned the game after two of his players suffered broken legs following tackles by Barrow players. Accrington Stanley have unveiled their new kit for next season. Stanley will have three strips; one in red, another in blue and a third in yellow and blue. Whilst Alty have had numerous changes of managerial staff and of the Board in recent years, Marine remain a model of consistency. Not only has Roly Howard been a fixture as manager, but Tom Culshaw has been re-appointed chairman of Marine for the 26th successive season. Gateshead's South American trialist José Escobar has now reportedly signed for Crook Town. However, Gateshead still have another exotic trialist in Jon Paul Najebayi who is a Cameroon goalkeeper with experience in Dutch football. The Heed also have Phil Pringle as a trialist goalkeeper but after playing in a friendly, the keeper has gone to Spain for a trial there. Bradford P.A.'s team against Hull City this weekend included Rory Prendergast the former Northwich and Emley player, Robbie Painter formerly at Gateshead and Neil Grayson, formerly at Southport. Ex-Alty players Stuart Scheuber (with two goals) and Marc Limbert, scored for Colwyn Bay but they lost 5-3 to Airbus UK in a friendly this weekend. Also on the mark, with a penalty, was Matt McNeil as Runcorn FC Halton drew 1-1 with Prescot Cables in a game curiously played behind closed doors. Harrogate Town, our first league opponents this season, drew 1-1 with a Manchester United U-19 side but used more than 20 players in the process. Southport, whom we meet in a friendly on 10 August beat a Stockport County side 5-0 in their latest friendly, having previously won 1-0 at Bamber Bridge.
---
20 July, 2002
ABBEY HEY 1 ALTRINCHAM 1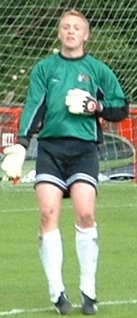 Altrincham played some neat football, especially in the first half, but both sides lacked attacking incision in this 1-1 draw at NW Counties Abbey Hey. Trialist Andy McDonald from Witton scored a good goal, after a one-two with Danny Murphy, after 68 minutes before Jackson equalised for Abbey Hey with eight minutes remaining. Alty fielded much the same side as last Wednesday with one or two more new trialists involved including Nick Stephens (pictured right), a young goalkeeper formerly at Torquay United who played for the second half, Simon Woodford a right-sided midfielder and Carlos Meakin, a striker with NW Counties experience at Woodley Sports. Match report here. Alan Johnson's website has action shots from the game.
ALLEGED SIGNINGS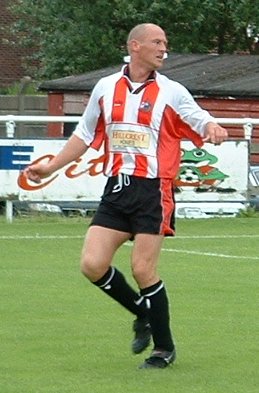 After the departure of five first team regulars in the close season (Coburn, Hawes, Hulme, Sertori and Poland), the NLP reports that Alty have signed Stuart Locke and Gary Talbot. Both are players who have previously been at Moss Lane and have played in the trial games in this pre-season. However, contrary to the NLP report, the Club has indicated that as yet nobody has been signed this close season.

Defender Locke made his Alty debut on 15 September 2001 at Burscough after signing on non-contract terms following his release by Stalybridge. He began his career as an apprentice with Manchester City before moving to Northwich Victoria. Stuart then joined Stalybridge in 1990 before transferring to Macclesfield Town in 1992. In 2000-01 he played for Leigh RMI in the Conference before re-joining Stalybridge at the beginning of 2001-02 season. He has also had spells at Leek and Flixton on loan. Stuart has won the UniBond Premier championship with both Stalybridge and Leigh. Injury forced his release by Alty in November 2001.

31 year-old centre-back Gary Talbot (seen right) was Alty's captain till sold for a small fee to Northwich Victoria in January 2001, where he also became captain. He had originally signed for Altrincham towards the end of the 1998/99 season from Winsford. Gary's former clubs include Rhyl, Barnton, Wilmslow Albion and Witton Albion. In 92 appearances for Alty, Gary scored twelve goals.
ABBEY HEY
Alty play their now annual friendly at Abbey Hey, today at 3pm - for a map of the ground area, click here. Last season Alty won 6-1 after falling behind. The Alty goals came from Lee Poland (2), Wayne McKenzie, Frenchman Gerard Léonard, Colin Hunter and Simon McMain. The Alty team was 1. Dale NEWBROOK, 2. Dave SWANNICK, 3.Kenny BRADY (went to Hyde), 4. Phil BURTON, 5. Terry BOWKER (capt. - now at Stalybridge via Bamber Bridge), 6. Tony HARGREAVES (went to Bamber Bridge), 7. Keith MAIRS, 8. Tomoaki SHIMIZU, 9. Wayne McKENZIE, 10. Lee POLAND, 11. Colin HUNTER. The subs were Derek TURAY, Rico RICHARDS, Simon McMAIN, Pat CLAFFEY, Gerard LÉONARD, Ryan GILLIGAN, Levi KENNEDY and Eric SEEKIE.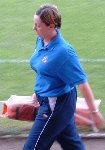 NEW PHYSIO
Stalybridge chairman Peter Dennerly has placed a statement concerning Alty's new physio, Ann-Marie Jones (right), on the Celtic forum. He writes: "I would like to take this opportunity to wish Ann-Marie, our former physiotherapist, all the very best in her new position at Altrincham. Ann-Marie is an excellent physiotherapist who was extremely popular with the team and the club and always showed dedication and consideration in her work... We are fortunate to be able to welcome back Dave Pover, who like Ann-Marie, is also an excellent physiotherapist".
UNIBOND NEWS
Worksop beat Barnsley 5-4 in a friendly this week in which ex-Alty captain Steve Hawes played for The Tigers. Stars of the game were Darren Roberts (ex-Tamworth) who hit a hat-trick and Matty Caudwell, whom Alty fans may remember as a thorn in Danny Adams's side when the Robins gained their celebrated 1-0 win at Doncaster Rovers in 1999. Spennymoor United manager Tony Lee, an interviewee for the Alty managership last season, has brought yet another Bishop Auckland player from his former club in the shape of Andy "Snapper" Shaw, who scored against us last season. Lee has also signed the former Whitby Town, Blyth Spartans and Gateshead midfielder Richie Alderson, as well as Gateshead keeper Adrian Swan. However, the Moors are still in dipute with the local council over their Brewery Field ground. Friendlies last night included- Burscough 3 Stenhousemuir 3, Whitby 0 Hull C. 3, and Leek Town, whom we play later in the pre-season, lost 1-2 at home to Northwich Vics. Leek included former Middlesbrough striker Chris Freestone in their side.
AMAZING BOSTON DECISION
Confguide reports that Boston United, "found guilty of financial irregularities during their Conference Championship winning season, have been deducted four points and fined £100,000 by the F.A. but, the points deduction is for NEXT season, so they remain champions, and will take their place in the Football League in August". Confguide's reporter goes on to say "By making a fine, and deducting points, the F.A. are saying that Boston broke the rules in the season in which they won the title on goal difference over Dagenham and Redbridge. Now that Boston have been found guilty, promoting Dagenham in their place must be the just decision. Boston have won the Conference by breaking the rules".
---
19 July, 2002
ALTY AND TRAFFORD COUNCIL
This week's SAM has a survey of local sport which includes a section on Altrincham FC in which "a club spokesman confirmed that despite more than one winding-up order being threatened in the past two years, no financial help has been offered by the council. The club also admitted they are currently considering their options regarding a new ground, and the council, which owns the lease to the land, will form an integral part of any decision to move from Moss Lane. The spokesman added that a move out of Trafford has never been on the agenda... Councillor Acton, [leader of Trafford Council] said, 'We have had discussions with representatives of the club. We want to see Altrincham FC thrive in the borough, but we do not have the resources to help financially. Also, it has been the case in other situations that one-off grants from local authorities don't make for sustainable growth'...Opposition leader Cllr Frank Eadie says 'I would disagree that Trafford is doing everything it can to encourage sport- there's certainly a great deal more it could be doing'." The newspaper also has a picture of new Alty goalkeeper Chris Williams, with two suspicious-looking Moss Lane regulars helping him to tidy up the ground during last weekend's spruce-up.
FRIENDLY BARGAINS
The admission price for all of Altrincham's home friendlies will be £5 for adults and £2.50 for juniors and OAPs. Season ticket holders gain free entry to these games.
UNIBOND AND EX-ALTY PLAYER NEWS
Vauxhall Motors manager Alvin McDonald has re-signed striker Nick Welton, who had previously left Vauxhall for League of Wales sides TNS and Rhyl. He also hopes to sign defender Andy McMullen from Burscough, if the player can overcome an injury, and teenage defender Craig Robertson from Morecambe. Also new at Rivacre Park is 6ft 4ins goalkeeper Glen Robinson, formerly at Hastings Town. Vauxhall's two other keepers have had recent operations which rule them both out for the start of the season. (Alty play Vauxhall on the first Tuesday of the campaign). Yet another newcomer is Matt Johnson, a youngster from the Shrewsbury area.

Colwyn Bay lost 0-4 to Wrexham on Tuesday and "Carl Furlong again impressed up front". In goal for the Bay was Matthew Parry, recently released by Liverpool. Frickley lost their first friendly 1-5 at home to Farsley Celtic. (Leroy Chambers was not in the Frickley team). Gateshead's trialists this year included two Colombians and an Ecuadorian, José Escobar. Also on trial there are young ex-Newcastle goalkeeper Phil Pringle and 22 year-old midfielder Andy McAvoy formerly of Hartlepool Utd and Macclesfield Town. Lancaster City have confirmed that Brian Welch and Brian Butler will remain at the Giant Axe. They have also recruited 33 year-old former Norwich City defender Andy Fensome from Morecambe. Marine report a "substantial sponsorship deal with bus company Arriva and will carry the Arriva logo on home and away shirts for the coming season".

Our first league opponents, Harrogate Town, beat Goole Town 2-1 this week with two goals from new signing Scott Jackson from Ossett Town. Three ex-York players also played for Town (Turley, Fielding and Richardson) as did ex-Barnsley striker Clint Marcelle. Ex-Alty keeper Stuart Coburn played for Leigh in a 1-1 draw at Kidsgrove Athletic. Another familiar name, Steve Tobin, also hit the bar for Kidsgrove. Outside the UniBond another ex-Alty keeper, Dean Greygoose, is having trials at Ryman League Canvey Island.
---
18 July, 2002
ALTRINCHAM 1 TRANMERE ROVERS 1
After last night's very creditable draw with Tranmere, Alty face Abbey Hey away on Saturday. The Alty starters last night included six of last year's regulars (Scott, Maddox, Ryan, Craney, Murphy, Thornley), two returnees to Moss Lane (Gary Talbot and Stuart Locke), three trialists (right-back Derek Ward from Stalybridge, midfielder Andy McDonald from Witton and left-sided player Ryan Hevicon from Blackburn Rovers) and guest goalkeeper Eric Nixon of Tranmere, who has apparently been doing some goalkeeping coaching with Altrincham. Other trialists used as subs included Chris Williams, a goalkeeper from Bolton Wanderers, Peter Mellor, a regular at Trafford and Kevin Duncalf, a striker who played some games for Alty Reserves last season. The game was also new coach Andy May's first match for the Robins and he will have been pleased with his side's performance.
For more on last night's game, see yesterday's news, below. A match report is here. For the Tranmere view, click here. Our next opponents, Abbey Hey, lost 3-1 at home to Macclesfield Town last night. Former Robin, Kevin Ellison, scored for Stockport County in their win over Gresley Rovers. UniBond sides Bradford P.A. and Hucknall had friendlies at home last night. Bradford beat Hull 3-2 but Hucknall lost 1-2 to Notts County.
---
17 July, 2002
ALTRINCHAM DRTAW WITH TRANMERE ROVERS
An Alty side fielding many trialists made a very promising start tonight to the 2002-03 pre-season with a good display in a 1-1 draw against a strong Tranmere side. On the hour mark trialist keeper Chris Williams made a fine penalty save from a Tranmere spot-kick. Tranmere's goal came shortly afterwards through a fine individual effort by Jason Koumas (63 mins). A minute or so later a blond-tinted Rod Thornley (seen right) scored an equally fine goal lobbing the Rovers' keeper from outside the box. Alty's starting line-up was Eric Nixon, Derek Ward, Gary Scott, Andy McDonald, Mark Maddox, Gary Talbot, Neil Ryan, Ian Craney, Danny Murphy, Rod Thornley, Ryan Hevicon. Match report tomorrow.
ALTY BORROW KEEPER
According to the Tranmere site, the Alty goalkeeper tonight will be Tranmere's Eric Nixon, now aged 39 as "the home side are currently without a senior keeper". Alex Hay will play against Alty, for whom he played on loan two seasons ago. Making his Rovers debut will be new signing Kevin Gray but this week's signing from Sheffield United, Shane Nicholson will not participate. Also in the Tranmere side will be Stuart Barlow, Alex Hay, Mickey Mellon and Jason Koumas who is apparently on the verge of a move to Everton.
OPPONENTS WIN
Tranmere, our opponents tonight, beat Morecambe 3-0 at Christie Park last night in a friendly. Other local friendly results were:
Burscough 3 Barnsley 0
Colwyn Bay 0 Wrexham 4
Kidsgrove A. 1 Leigh RMI 1
Radcliffe B. 0 Bolton 0
Witton 0 Port Vale 1
UNIBOND TRANSFER
Runcorn FC Halton have signed 32 year-old defender Chris Lightfoot from Morecambe. He was formerly at Crewe Alexandra, Wigan Athletic and Chester City.
---
FOR EARLIER NEWS, CLICK HERE
---