Altrincham Football Club News Archive
17 to 28 August 2002
---
28 August, 2002
TIMMO LISTED
Chris Timons, who moved to Stalybridge Celtic and became club captain at the start of this season, has been transfer listed after just four league games. No fee is required for Chris, who was Alty's captain during their UniBond championship season of 1998-99.
NEXT OPPONENTS
Our next opponents,
Blyth Spartans
have recently received cheques for £15,000 from their main sponsors The Federation Brewery and £4,000 from the Blyth Spartans Supporters' Club. Blyth have made a good start to the season, losing only one of their three games this season; that was to a last minute winner at Barrow on Monday.
GATESHEAD VIEW
Gateshead's
Evening Chronicle
reports manager Gary Gill as saying his team at Moss Lane gave "an absolutely terrible performance...My biggest concern was the attitude of the players. We did not deserve anything and that hurts. I want to carry on as manager of Gateshead but if the players don't want to perform for me things may change...I feel very emotional about that performance - we were we were absolutely terrible. My biggest concern was the attitude of the players. We did not deserve anything and that hurts".
KEEPING IN TOUCH
As Altrincham have not got a Reserves side this season, the nearest thing to it is to watch our neighbours Trafford. Whilst last season's Alty players Lee Thompson, Keith Mairs, Ian Horton and Paul Tilley have played in Trafford's first team in the UniBond First Division this season, many more of the Alty Reserves/Youth sides of 2001-02 are regularly appearing in Trafford's Reserves. Last night at Shawe View Trafford Reserves won 2-0 over Cheadle Heath Nomads Reserves, possibly going top of the Mid-Cheshire League Division Two depending on results elsewhere. The Alty link starts at the top with first-team manager Joey Dunn, who was Mark Ward's Reserves' manager at Altrincham as well as a former Robins player. Trafford Reserves' manager is another ex-Alty man, Andy Nelson, who was on the Robins' books in the early 1980s. In Andy's Trafford Reserves starting line-up last night were ex-Alty Reserves players Dale Newbrook (in goal) and Paul Johnson (centre-back), whilst Mel Pampila (right midfield) was a used substitute. Playing up front was Mario Daniel, who scored the opening goal, whilst his strike partner in the second half was last year's Alty Youth striker Lee Shillito. Current Alty Youth left sided midfielder, Ian Taylor, was also in the Trafford starting line-up. Another former Robins' Reserve and Youth player, Pat Claffey, was delayed at work so had to watch rather than play as had been planned, whilst his former Alty colleague Mark Drew was also a spectator, after being injured recently for Trafford. Richard Smith, of last year's Alty Youth and Reserves teams, was yet another Trafford player who was watching the game. Goalie Ryan McMahon and striker Dave Collins are also ex-Alty players who have played in the Trafford first team this season. However, Trafford's first team has made a poor start to the season, with just one point from four games.
---
27 August, 2002
ALTRINCHAM 4 GATESHEAD 0

Above: Gary Talbot leads Andy McDonald, Simon Woodford, Neil Murphy and Peter Band off the pitch at the end of the game.
Match report and more pictures here.
---
26 August, 2002
ALTRINCHAM 4 GATESHEAD 0
Match report and more pictures here.
Click as follows for today's line-up and statistics. After tonight's games Alty lie 19th in the table.
Burscough, Harrogate and Whitby have no games this week; today's other matches were:
Accrington S. 2 Frickley A. 1
Barrow 2 Blyth S. 1
Bradford PA 2 Marine 1
Droylsden 1 Vauxhall M. 1
Gainsborough T. 1 Ashton U. 2
Lancaster C. 1 Runcorn FC Halton 1
Stalybridge C. 3 Colwyn Bay 1
Wakefield & Emley 1 Hucknall T. 1
Worksop T. 2 Hyde U. 1
UNIBOND MOVES
Our opponents today, Gateshead, have two "ins" and one "out" in this list:
Graeme Atkinson (Rochdale to Lancaster C.)
Kevin Bromley (Gateshead to Spennymoor Utd)
Phil Brown (Gainsborough T. to Matlock T.)
Danny Collins (Chester C. to Vauxhall Motors)
David Colvin (Sheffield Utd to Gateshead)
Martin Gray (Darlington to Whitby T.)
Dale Hawtin (Hyde Utd to Kidsgrove A.)
Chris Holmes (Vauxhall Motors to Kidsgrove A.) Chris kept goal against Alty last Tuesday!
Gareth Holmes (Derby to Bradford PA)
Amjad Iqbal (Chesterfield to Harrogate T.)
Nicky Mohan (Hull to Gateshead)
Alex Nesovic (Dundalk to Barrow)
Andy Ralph (Kidsgrove A. to Vauxhall M.)
Rodney Rowe (Hull C to Wakefield & Emley)
Nicky Spooner (Leigh RMI to Radcliffe B.)
Jeff Underwood (Southport to Burscough)
Ross Turner (Worksop to Bradford PA on loan)
ALTY IN TRAFFORD
Our neighbours Trafford fielded last season's Alty players Lee Thompson and, as a first-half sub. Paul Tilley in their UniBond First Division defeat, 0-4, at home to our Trophy conquerors of last season, North Ferriby United. In Trafford Reserves' squad for their last two games were Dale Newbrook, Richard Smith, Mario Daniel, Lee Shillito, Ian Horton, Mark Drew, Pat Claffey, Melvyn Pampila from last year's Alty Youth and Reserves' sides.
---
25 August, 2002
CHRIS ADAMS RELEASED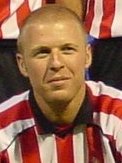 Following hot on the heels of the release of former Blackburn Rovers' Academy player, Ryan Hevicon (right), Altrincham have now released another left-sided player, left-back Chris Adams (left). Chris was signed from Ashton United in late May 2001, after being at Alty briefly in 1997, though he made only one substitute appearance then. Before coming to Moss Lane in 1997 he had played at Congleton with his namesake Danny Adams. Chris moved from Moss Lane in 1997 via Nantwich Town to Trafford. He has also played at Droylsden, Northwich Victoria and Oldham Athletic. He was an ever-present in the first team last season till sidelined by a hernia injury in December 2001. He returned to action on 3 August 2002 against Blackburn and played in the 2002-03 league game against Harrogate. His total career appearances for Alty were 28(+1) with no goals scored.

Ryan Hevicon was a 19 year-old winger, who joined Alty for the pre-season and played in the league matches against Harrogate and Vauxhall Motors.
YOUTH TEAM HIT FOUR
After hitting five on Friday in the Youth Cup, Altrincham F.C. Youth were in the goals again today as they played a thrilling 4-4 draw away to a strong Morecambe side in the N.W. Youth Alliance League. For a match report see the Youth Page.

Alty's FA Youth Cup 2nd Qualifying Round match at Burscough will be on Wednesday 18th September at 7.45. See the Youth page for the team's early season fixtures.
HUCKNALL TOWN 4 ALTRINCHAM 1 - PHOTOS ADDED

Match report and match photos here
Seen above is Hucknall's opening goal as Nangle slots the ball home from a right-wing corner. As Alan Johnson of the Alty photo website was unable to attend this match we arranged that I would take some more pictures than usual and these have now been added to the match report. These will only be on the site for a limited period of time, for space reasons, but will be passed to Alan for archiving should he so wish.
BERNARD'S VIEW
Interviewed by the Pink before yesterday's defeat, manager Bernard Taylor said "I will bring in new faces and turn things round here, if I'm given time to do it. By that I don't mean I think anyone will try to get rid of me tomorrow. But I'm not ruling out that possibility either...We've just witnessed two of the poorest Altrincham performances seen in a long time and, as manager, the buck stops with me. I always knew we were faced with a tough start but never for one minute did I think we'd be so poor. Maybe this league's a bit too strong for some of the youngsters".
OLD BOYS
Danny Adams was Man of the Match for Macclesfield yesterday and Mark Quayle hit a hat-trick for his new club, Nuneaton. Nathan Comley-Excell netted Flixton's goal in a 1-1 FA Cup qualifyer against Goole and Lee Poland also scored for St Helens Town against Abbey Hey. In the UniBond, Steve Hawes (Worksop), Carl Furlong (Colwyn Bay), Adam Farley (Droylsden) all played for their sides yesterday. Former Alty reserve Lee Evans scored for Hyde United. Chris Timons played for Stalybridge but Terry Bowker was on the bench. Andy Lovelock is still playing at Solihull Borough. The NLP has an article on Niell Hardy's "return to his roots" at Radcliffe Borough in which he complains that he did not get a fair crack of the whip whilst at Stockport County.
BARROW BUY GROUND
Barrow have now exchanged contracts on the purchase of their Holker Street ground from the liquidator. The Club is appealing to supporters to help to meet the costs of the purchase through debentures and Altrincham fans will wish them good luck in doing this. Thanks to Richard Ingram for this information.
---
24 August, 2002
HUCKNALL TOWN 4 ALTRINCHAM 1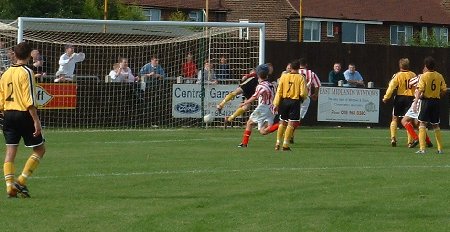 Gary Talbot (far right) scores for Alty in today's game.
Match report here and more pictures to follow.
Updated league table here.
Other results:
Ashton United 1 Stalybridge Celtic 1
Blyth Spartans 2 Gainsborough Trinity 1
Burscough 1 Wakefield & Emley 0
Colwyn Bay 3 Barrow 4
Frickley Athletic 0 Lancaster City 1
Harrogate Town 0 Droylsden 0
Hyde United 3 Whitby Town 3
Marine 0 Accrington Stanley 3
Runcorn FC Halton 2 Bradford Park Avenue 0
Vauxhall Motors 0 Worksop Town 1
NEXT GAME
Monday 26 August, HOME to Gateshead (3pm).
ALTY YOUTH 5 FRICKLEY YOUTH 0
Match report now on the Youth Page.
Alan Johnson's photos of the game are here.
MARK HARRIS TO WINCHAM PARK
Witton Albion report that "joining the club as a co-opted member [of the Board] is Mark Harris, who is the ex-Chairman of Altrincham F.C., and with 28 years service at Altrincham I am sure he has a wealth of valuable experience that he can bring to Witton".
UNIBOND NEWS
Frickley have signed centre-half Paul Marquis. A former Bradford Park Avenue, Gateshead, Doncaster Rovers and West Ham United player, Paul is expected to make his debut on Saturday. Our opponents on Monday, Gateshead, have brought in former Sheffield Wednesday goalkeeper Richard Siddall, as cover for David Campbell who has cracked ribs. Campbell was signed recently from Bishop Auckland. Hyde have signed Richard Eyre, a midfield player, previously with Macclesfield Town. They are also appealing against a seven week suspension of Danny Webster, a period in which he could miss fourteen games. Webster, signed from Vauxhall Motors, was dismissed in a Sunday league match.
---
23 August, 2002
ALTY YOUTH WIN 5-0
Before a respectable three-figure crowd, Altrincham Youth won their FA Youth Cup match tonight 5-0, with a fine performance against Frickley Athletic Youth at Moss Lane. The goals came from Greg Burn, Michael Bailey and Luke Killeen in a very impressive first-half team performance. Frickley had their best spell after the interval but Alty finished strongly with goals from Evans and Killeen, again, in the final 15 minutes. Alty now meet Burscough away in the 2nd Qualifying Round on a date to be arranged in September. Alty Youth are sponsored by Bob Peters's 20/20 Research. Match report now available via the Youth Page.

Pictured left is Alty captain, Paul Glynn, leading out his side tonight.



GOOD NEWS
Danny Murphy's injury, sustained on the opening day of the season, is not the broken ankle that it was reported to be. It was ligament damage which is expected to heal in time for Danny to be back in action in a fortnight.
SPORTSMAN'S DINNER
Altrincham FC are running a Sportsman's Dinner on October 3rd at the Cresta Court Hotel, Altrincham at 7.30pm (for 8pm). The tickets cost £25 or £250 for a table of ten people. The former Nottingham Forest star John McGovern will be the main speaker with support from Al Conway, a magician and comic. Please ring the club on 928-1045 to purchase tickets.
ALTY AT HUCKNALL
A new section of open terracing wil be open at Watnall Road for the first time tomorrow when Altrincham visit Hucknall Town. Admission prices for the ground are £6 for adults and £4 for concessions but children under sixteen cost just £1 with a paying adult. Click the Away Travel link above for supporters' coach details and the Through the Years button for previous Alty games on 24 August.
AUDIT FOR UNIBOND CLUBS
Blyth Spartans report that they have changed their accountants after receiving advice that the club were exempt from VAT for one season. As a result no VAT returns were made but Customs, neverthless, have now issued a demand for payment. "In the meantime we have dispensed with the services of the acountants", says the excellent Blyth website. Of interest to other clubs is the news that Blyth were audited by the F.A. in October 2001 and "all other clubs from the Premiership down will be audited in due course. Clubs will then have to conform to the rules laid down by the F.A.".

Ground improvements at Croft Park must start before 20th September to comply with the grant received by Blyth. Alty visit Blyth on Saturday week (31st August). "This work will involve flattening the mounds on the Coronation Street side of the ground, behind the goals eleven steps of terracing will be constructed including crush barriers, the pitch will be moved 1.2 metres towards the Kingsway end and new drainage will be laid, a concrete panelled fence will be constructed around the interior of the ground and a new toilet block will be constructed at the Broadway side of the ground", says the club's website.
---
22 August, 2002
YOUTH REPORT
George Heslop's match report of the Youth team's friendly against Trafford Reserves can be read via the Youth Page. In their first competitve match of the season, the Youth team host Frickley at Moss Lane on Friday (23rd) at 7.45pm in the FA Youth Cup. Entry is just £2 (£1 for concessionaries).
NEXT OPPONENTS
Our next opponents, Hucknall Town, drew 0-0 at home to Gainsborough Trinity on Tuesday night. Supporters' coach and route details for the trip to Hucknall are on the Away Travel page.
CAPTAIN CARL & OTHER STRIKERS
Three former Alty front men were on target on Tuesday night. Carl Furlong, who was Colwyn Bay's captain on Tuesday night, scored the game's opening goal as the Bay lost 1-2. Matt McNeil scored for Runcorn in their 1-1 draw at home to Barrow and Leroy Chambers got Belper's winner against Lincoln United which maintained his club's 100% record in the UniBond 1st Division.
GARY's VIEWS
As part of its campaign to help Altrincham FC boost its attendances, the SAM website carries an interview with Gary Warrington, who runs the Altrincham Fans' Forum website. In the interview Gary explains how he came to be an Alty fan and another supporter, Mark Murray, also conveys his enthusiasm for the Robins' cause.
---
21 August, 2002
VAUXHALL MOTORS 4 ALTRINCHAM 0
Match report here.
Line up here, statistics here.
WEDNESDAY'S RESULT
Gateshead 0 Wakefield & Emley 1
---
---
20 August, 2002
VAUXHALL v ALTRINCHAM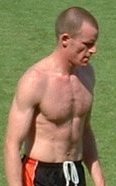 Altrincham will again have Peter Band (right) out through suspension for tonight's game at Vauxhall but Neil Murphy is now available after his suspension. Alty's first away game of this season is a repeat of the last game of last season when, despite a Mario Daniel goal, Alty went down 1-2 at Rivacre Park. Vauxhall drew their opening game this season, 2-2 at Stalybridge. The Through the Years page (see link above) has been updated to show Alty's results on the above calendar date in previous years.

Tonight's other results were:

Ashton U. 1 Whitby T. 1
Burscough 0 Lancaster C. 0
Colwyn Bay 1 Accrington S. 2
Frickley A. 1 Worksop T. 3
Harrogate T. 1 Stalybridge C. 0
Hucknall T. 0 Gainsborough T. 0
Runcorn FC Halton 1 Barrow 1

Alty's next games after tonight are away at Hucknall Town on Saturday (24th) and at home to Gateshead on Bank Holiday Monday (26th); both games are at 3pm. Before then, the Altrincham Youth side entertain Frickley in the FA Youth Cup on Friday (23rd) at 7.45pm at Moss Lane.
CONFERENCE GOAL
Twelve UniBond sides have applied to join the Conference should they win the UniBond Premier League this season. They are: Accrington Stanley, Altrincham, Barrow, Gainsborough Trinity, Harrogate Town, Hyde United, Lancaster City, Runcorn FC Halton, Stalybridge Celtic, Vauxhall Motors, Wakefield & Emley and Worksop Town.
OLD BOYS
No fewer than ten recent Altrincham youth and reserve players turned out for Trafford F.C.'s first team and reserves at the weekend. In the first team, which lost 1-4 at Witton, were goalkeeper Ryan McMahon, who kept goal for Alty in the FA Cup tie against Mossley in 2000-01, last season's Alty Youth and Reserves' captains, Paul Tilley and Keith Mairs. A used substitute was Ian Horton, a member of last season's Alty Youth team. Trafford Reserves beat Middlewich 4-1, with Dale Newbrook, our former Youth and Reserves goalkeeper in nets. Also playing were former Youth, Reserves and first-team player Mario Daniel, who hit a hat-trick. Mario scored Alty's last league goal to date- at the end of last season at Vauxhall Motors, whom coincidentally we meet tonight. Also in the Trafford Reserves' side were last season's Alty Youth players Lee Shillito and Richard Smith as well as last season's Reserves players Pat Claffey and Melvyn Pampila. Pampila got the fourth goal for Trafford Reserves.

Two ex-Robins at Mossley, Ricky Harris and Sammy Harris, missed their club's first game of the season due to injury and Kevin Hulme was also apparently absent from their teamsheet. Matty Taylor, Hyde United's full-back has signed for Mossley but, according to the Mossley site, "Hyde have retained his UniBond registration due to interest from Altrincham".

St. Helens Town, managed by ex-Alty man John Davison, lost 0-5 at home to Salford City on Saturday. The Saints' former Robin, Lee Poland had a goal "harshly ruled out for a foul on the 'keeper" but had "Town's front men of Wilde, Poland and Lee Cooper been in better form the scoreline would have been slightly less damning" said their website. Clive Freeman, famous for winning the BBC Goal of the Season whilst playing for Altrincham in 1992, has become the Assistant Manager at Guiseley in the UniBond First Division. Though now aged 40, Freeman will also continue to play.
UNIBOND NEWS
There will be two new UniBond monthly awards this season. Endsleigh Sports Insurance will sponsor a goalscoring award, which can only be won once by any one club during the season. The prize is two bottles of wine. Likewise, the best defensive record will win the Sportsnet award, which comprises a goalkeeper's jersey, shorts and socks and, also, can only be won only once by any one club. Barrow's players have taken a 25% pay cut but will be paid a larger bonus for winning games. Just days into the new season, Gateshead, our opponents next Monday, have already released Cameroonian goalkeeper Jean Paul Najabayi as well as Jon Rattle and former Carlisle player, Paul Anthony. The club has, however, signed a new 'keeper, Dave Campbell, as well as midfielders Neil Radigan and Mark Swales and a young forward Dave Colvin from Sheffield United.
---
19 August, 2002
PACE'S CLAIM BEFORE DROYLSDEN GO TOP
In tonight's MEN Droylsden boss, Dave Pace, says "There's no doubt in my mind we're going to be Tameside's top team - and we'll outdo Alty while we're at it". The same article says that Saturday's injuries to Craney and Murphy leave Bernard Taylor "already facing a potential crisis as he prepares for tomorrow's trip to Vauxhall". Later this evening, Droylsden went top of the league after tonight's matches:

Hyde U. 3 Bradford PA 1
Marine 2 Droylsden 2
League table here.
ALTRINCHAM 0 HARROGATE TOWN 4
Match report here.
For pictures and more on the game, see yesterday's news, below.
YOUTH TEAM
Altrincham Youth's first competitive game of the season is the FA Youth Cup 1st Qualifying Round, at home to Frickley Athletic. The game is at Moss Lane, k.o. 7.45pm. Entry is just £2 for adults and £1 for juniors and concessionaries. Last season Alty reached the 1st Round Proper before losing to Wrexham at the Racecourse Ground. The Youth team's August and September fixtures can now be found via the Youth Page
SIGNING ON
All of the Altrincham players who took part in Saturday's game have now signed for the club, for the most part on a non-contract basis. Another new signing, not on view yesterday, is goalkeeper Andrew Moore. The Playing Squad page has been updated, with help from Terry Rowley of the Robins' Review.
---
18 August, 2002
FUNDRAISING AUCTION
Altrincham FC Director, Grahame Rowley, has launched a fundraising auction of sporting memorabilia. Grahame writes:

Our good friends from Vauxhall Motors gave me an idea for fund raising when I noticed at their ground last season a "Fund Raising Auction" sheet in their clubhouse. During the close season I have written to numerous sports clubs and individuals, asking them to donate an item for auction. To date, I have received 16 items and what I propose to do is to list these items in every matchday programme and on the website, inviting bids from interested parties. The auction will last for approximately two months, at which time the highest bidder will win the item. Bids can be lodged by e-mail to me here, or at the club shop, the club office (during the week) or by phone to me on 01925-630328, during the day. The bids will be updated in each programme and will be listed also on this website.

The full details of what is being auctioned and how you can take part are here.
ALTRINCHAM 0 HARROGATE TOWN 4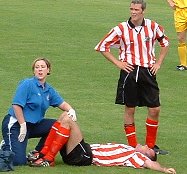 Match report here.
Physio Anne-Marie Jones is seen right calling for a stretcher as Rod Thornley stands over Danny Murphy, who sadly injured his ankle in yesterday's game.
This was Altrincham's heaviest home defeat in the league since they lost 0-4 to Macclesfield Town on 18 November 1995. There were only three other four-goal home league defeats in the period from the start of 1979-80 season. Alty lost 0-4 to Wycombe Wanderers and 3-7 to Slough Town, both in 1991-92 and lost 1-5 to Stafford Rangers in 1992-93.
Yesterday's attendance of 552 was down on the opening fixture last year, when we met Whitby in front of 646 people. However, yesterday only Accrington (602) and Barrow 1,302) had bigger gates in our Division.
ANDY TUNNICLIFFE
The NLP has an article on Mnchester City's 19 year-old, Andy Tunnicliffe, who is regaining fitness at Moss Lane after breaking his leg playing on loan for Altrincham last season. Bernard Taylor is quoted a saying "I want to keep him. In a few weeks time I'll probably sit down with him and discuss his future. Andrew knows he has a home here at Moss Lane if he wants to stay".
OLD BOYS
The start of a new season saw the following recent ex-Alty players or trialists in action yesterday:-
League: Danny Adams scored a rare goal for Macclesfield and The Pink dubbed him "The Macclesfield Rottweiler"! Kevin Ellison (a used sub. for Stockport County), Andy Dibble [played] & Paul Edwards [used sub.] (Wrexham).
Conference: Stuart Coburn (Leigh), Mark Quayle (Nuneaton), Marc Lloyd Williams (Southport)
Other Non-League: Mark Sertori & Barry Shuttleworth (Accrington), Dean Greygoose (Canvey Island), Adam Farley, Steve Porter & Stuart Locke [sub.] (all for Droylsden), Dave Swanick & Anthony Hargreaves (for Hyde), Chris Timons (Stalybridge), Steve Hawes (Worksop), Derek Ward (Vauxhall), Carl Furlong [played] & Marc Limbert & Stuart Scheuber [subs] (all for Colwyn Bay), Niell Hardy (Radcliffe Borough), Leroy Chambers (Belper Town), Paul Robertson & Martin McDonald (Kidsgrove Ath.), Lee Ellington (Gainsborough Trinity).
---
17 August, 2002
ALTRINCHAM 0 HARROGATE TOWN 4
Match report here.
Also updated are the Statistics, Line-Ups and League Table pages.
Today's other UniBond Premier results were:
Accrington S. 2 Runcorn FC Halton 1
Barrow 1 Hucknall Town 1
Bradford Park Avenue 2 Gateshead 0
Droylsden 3 Frickley Ath. 1
Gainsborough T. 4 Hyde U. 2
Lancaster C. 1 Blyth S. 4
Stalybridge C. 2 Vauxhall Motors 2
Wakefield & Emley 1 Marine 1
Whitby T. 1 Colwyn Bay 0
Worksop T. 0 Burscough 2
NEXT GAMES
Alty travel to Vauxhall Motors next Tuesday - see the Travel Page for supporters' coach details of this and now also the trip to Hucknall next Saturday. The next match at Moss Lane after today will be the FA Youth Cup match between Altrincham and Frickley Athletic at 7.45pm next Friday. Entry will be just £2 (£1 for concessionaries).
UNIBOND NEWS
After signing six new players last week, Frickley have signed another four this week. They are Remo Nesa, (midfielder from Preston North End), Paul Peel (from Rossington Main), Ryan Williams (a left back from our opponents today, Harrogate Town) and Paul Burke (a forward, who played against us for Hucknall Town last season). Burscough's new sponsors, Nationwide Produce plc, have placed a bet which would net the club £20,000 if they were to win the Premier League. Burscough have re-signed Gary Martindale, who left for Bolton Wanderers in 1994. He had recently been at Telford United. The Lancashire club is also employing a 20-year-old local girl, Ruby Kakati, who was runner-up in the Miss India UK event, to promote Nationwide's sponsorship.
---