Altrincham Football Club News Archive
9 to 21 September 2002
---
21 September, 2002
ALTY DROP TO 18TH
Alty had no game today - they dropped to 18th in the
table
. The UniBond Premier results were:
Accrington S. 1 Wakefield & Emley 1
Blyth S. 3 Runcorn FC Halton 1
Colwyn Bay 2 Gateshead 3
Droylsden 0 Ashton U. 1
Frickley A. 0 Burscough 0
Harrogate T. 2 Hyde U. 1
Lancaster C. 2 Bradford PA 3
Marine 0 Gainsborough T. 0
Stalybridge C. 2 Whitby T. 0
Vauxhall M. 5 Hucknall T. 1
Worksop T. 0 Barrow 2
MARIO SEALS IT
With no Altrincham game today, a number of the Moss Lane regulars went to Shawe View to see Trafford gain their first win of the season, 3-1, over Leek Town. Deservedly leading at the interval through an early goal gifted to ex-Alty Youth player Dave Collins by the Leek keeper, Trafford almost paid for a lack of second-half ambition when Leek equalised after 83 minutes. After 88 minutes Leek's Bevan was sent off for a foul on Daniel. However, after an incredible 7 minutes of added time, Trafford's Morris drove home a free-kick to make it 2-1, and in the 11th minute of added time Mario Daniel broke away to make it 3-1. The former Alty striker had come on for his league debut just before Leek's goal but was lucky not even to be booked for a skirmish with Leek's McPherson, shortly before he scored. The Leek management protested angrily to the ref at the end, showing him their stopwatch which showed that more than 56 minutes had been played in the second half!
YANKEE WIN
The Altrincham FC Saturday Yankee jackpot of £6,000 was won last week by one lucky member of this fundraising scheme for the Football Club. To find out how you can take part and help the Club, click here.
UNIBOND NEWS
Leigh RMI have signed former Birmingham City and Lancaster City striker Chris Ward (21) from Barrow. A "small fee" will come to Barrow who only joined the Bluebirds recently. Ward had a spell at Birmingham City who signed him from Lancaster City but he was released from St Andrews. Ashton United report that in the period to 31 May they had "an excellent year and made a healthy profit. AUFC is in a very solid financial state, which is basically bucking the doom and gloom trend being reflected at many other clubs operating at both the pro and semi-pro game. The Board have ambitious plans in hand to totally redevelop the stadium". Frickley report the signing of ex-Barnsley goalkeeper Richard Siddall, who played against us earlier this season for Gateshead. Another man who played against us earlier this campaign, Lee Madin of Hyde United, has left the club and gone to Burscough. According to the Hyde site, he was unhappy at being substituted recently. The Tigers have re-signed 27 year-old Julian Dowe,who was at Ewen Fields before having a spell at Rochdale. Our opponents next Tuesday, Marine, hope that Stuart Gelling and Anton Lally will be fit for tomorrow's game against Gainsborough but Alan Bailey, Richie Townsend and Steve Rimmer are all likely to be absent. Also doubtful through injury are Droylsden's ex-Alty defenders, Steve Porter and Adam Farley, according to the Tameside Advertiser. Stalybridge hope to sign Leigh RMI's Tony Black in time for next week's FA Cup tie.

The Non-League Paper reports the following transfers:
Matthew Albery (Harrogate T. to Ossett T.)
Curtis Bernard (Goole AFC to Harrogate T.)
Michael Boddy (Shildon to Blyth S.)
Neil Creasey (Blackburn to Barrow)
Gareth Hamlet (Ashton Utd to Stocksbridge P.S.)
Michael Keegan (Swansea to Marine)
Scott Kerr (Hull to Frickley A.)
---
20 September, 2002
TIMONS MOVES
Stalybridge report that Chris Timons, their captain this season (and formerly Alty's captain), has left the Bower Fold and joined Gainsborough Trinity. Alty signed Chris from Gainsborough in 1998. Chris was transfer listed recently by Celtic who have now acquired former Northwich Vic defender, John Robertson, on loan for a month from Southport.
FIXTURES
Altrincham have no match this Saturday (21st). A local alternative game is Trafford v Leek Town (3pm) at Shawe View. Alty's next game is on Tuesday (24th) at home to Marine, followed by the FA Cup 2nd QR on Saturday (28th) at home to Kendal Town. On Thursday (26th) Manchester United Reserves are scheduled to play Bradford City Reserves at Moss Lane (7pm - prices yet to be confirmed). United Reserves drew 1-1 away to Liverpool this week in front of 4,500 fans at Chester. Gary Neville and Diego Forlán were in the United side.
UNIBOND NEWS
Accrington's unblemished start to the season- 9 wins out of 9 - has brought them media attention. The Stanley web site reports that Sky Sports are running a short item on the club on Friday morning. Stanley's runaway start to the season has also prompted an article on them in this week's Sunday People and GMR is believed also to be doing a feature on them tonight. The Runcorn site reports that during their win at Colwyn Bay this week, former Alty striker Matt McNeil went into the crowd to remonstrate with fans shouting racist abuse at him. At the end of the game a Bay player allegedly also went into the crowd and clashed with Runcorn fans. Meanwhile Runccorn have signed 18 year-old Lee Parle from local football. As previously reported Carl Furlong, the Bay captain, was sent off in the same game.
---
19 September, 2002
BURSCOUGH YOUTH 2 ALTRINCHAM YOUTH 1 (aet)
Match report now on Youth Page.
CREWE ALEXANDRA 3 ALTRINCHAM 2 a.e.t.
Match report here here.
---
18 September, 2002
CHESHIRE SENIOR CUP
Tuesday results
Woodley Sp. 5 Alsager T. 5 (aet)
Northwich Vics 2 Stalybridge C. 1
Vauxhall M. v Witton A. postponed due to Witton's FA Cup replay.
UNIBOND RESULTS
Blyth S. 1 Bradford PA 2
Gateshead 2 Hyde U. 1
League Table
UNIBOND NEWS
Gainsborough Trinity player-manager Phil Stant scored all four goals for his side in their 4-1 win over Wakefield on Tuesday. One of Runcorn's goals that night at Colwyn Bay was scored by ex-Robin, Matty McNeil. Ashton United's scorers at Barrow were Gareth Morris, the man sent off on Saturday against Alty, and Chris Cornelly, the left winger, who got two. Oldham Athletic and Coventry City are reported by the Lancashire Evening Telegraph to be "casting a watchful eye over the impressive Stanley side", with defender Jonathan Smith, centre back Steve Halford and captain Peter Cavanagh amongst the targets of the scouts.
SUPPORTERS' TRUST
As Alty fans seek to set up a Supporters' Trust, they may be interested to read how Dulwich Hamlet FC have just launched their Trust. At the launch local MP Tessa Jowell, Secretary of State for Culture, Media and Sport made a speech in which she stated that she had shown her support in the past by "wearing the kit at the Labour Party Conference". For much more on this, see the NLP site for 18 September.
FIRST TEAM & YOUTH PLAY TONIGHT
Alty's first team play at Crewe Alexandra tonight in the Cheshire Senior Cup (CSC), whilst the Youth team are away at Burscough in the FA Youth Cup. Both are 7.45 kick-offs. On Monday, Nantwich Town held Stockport County to a 1-1 draw in the CSC. The game went to extra time but no penalty shoot-out was used and so there is to be a replay.
OLD BOYS
Carl Furlong missed a penalty and was sent off last night for Colwyn Bay, who lost to Runcorn. Mark Quayle scored again for Nuneaton and Kevin Ellison started for Stockport County at Chesterfield but was subbed at half-time and was also booked, as County lost. At the weekend Mario Daniel scored for Trafford Reserves against Lostock Gralam and current Alty Youth player Ian Taylor was described as Trafford's Man of the Match by their website.
---
17 September, 2002
UNIBOND MATCHES
In last night's only UniBond game, Droylsden drew 0-0 at home to Hucknall Town. The rest of the week's games are:

Tuesday
Barrow 0 Ashton U. 3
Burscough 2 Marine 1
Colwyn Bay 1 Runcorn FC Halton 3
Gainsborough T. 4 Wakefield & Emley 1
Harrogate T. 1 Frickley A. 2
Worksop T. 0 Whitby T.0
VITAL MEETING- YOUR SUPPORT IS NEEDED!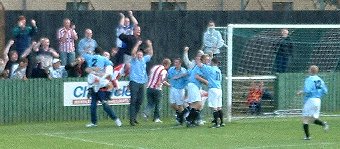 There will be a public meeting open to all who support Altrincham FC on Sunday, 29 September at the Cresta Court Hotel at 2pm (for 2.30pm). The aim of the meeting is to establish a Supporters' Trust at Altrincham, which will hopefully bring everyone together to promote the continuing existence and development of the club. The meeting will be addressed by Brian Lomax of Supporters' Direct, the government funded body which helps clubs set up Trusts. Full details of the meeting are here. Please do come along and lend your support- it is needed!.
CREWE
Crewe Alexandra have cut their gate prices for Wednesday's Cheshire Senior Cup match (7.45pm) against Altrincham to £5 for adults and £1 for concessionaries. Thanks to Mark Eckersall for this information.
FAIR PLAY
In the UniBond Fair Play table, compiled after five games of the season but only issued this week, Altrincham lay 22nd out of 23 teams in the Premier League. Top of the fair players at that stage were Vauxhall Motors and Ashton United, whilst bottom were Blyth Spartans.
MORE ON OUR CUP OPPONENTS
Kendal Town, whom we play in the FA Cup on 28 September, used to play Altrincham regularly in the Northern Premier League (NPL) when they were known as Netherfield FC. Founder members of the NPL (1968), Netherfield were relegated to the NW Counties in 1983 but in 1987 they joined the newly constituted NPL Division One. Twice, other clubs' actions have allowed the Cumbrians to escape relegation. In 1983-84, it was a deduction of four points applied against Ashton United which saved them and last season it was Gretna's move to Scotland which spared them the drop. This season, however, they have been much improved, having already gained more points than they had by Christmas of last season. In the FA Cup, they reached at least the 1st Round six times between 1945 and 1955 and got to Round 2 in both 1949-50 and 1963-64. They changed their name to Netherfield Kendal for two seasons before becoming Kendal Town in 2000-01. Last season they went out 3-0 at Barrow in the 2nd Qualifying Round. However, their most memorable cup exploit was in the Trophy in 1980-81 when it took them seven games (i.e. six replays!) to get past Bridlington Trinity. The winners on 28 September will gain £7,500 in prize money.
UNIBOND NEWS
Vauxhall Motors have listed their highly rated striker Matt Haddrell, who scored twice against us earlier this season. French authorities have blocked Burscough's proposed signing from France of goalkeeper Jean-Paul Guidoni. Peter Mellor, who had pre-season trials at Altrincham has now joined Flixton, from Maine Road FC. Recent UniBond moves:
Michael Keegan (Swansea T. to Marine)
Neil Creasey (Blackburn R to Barrow)
Chris Conneally (Erith T. to Marine)
Curtis Bernard (Harrogate T. to Frickley A.)
---
16 September, 2002
FA CUP DRAW
Altrincham have drawn against Kendal Town (UniBond Div.One) at home in the 2nd Qualifying Round of the FA Cup on 28 September. Altrincham's previous seven FA Cup ties have also been home matches (excluding replays), their last away draw being in the 2nd Qualifying Round in 1998 when they lost at Ashton United 1-0 - just as they did last Saturday in the league! The 1998 match was Alty's first exit as early as the 2nd Qualifier since 1954. Last season, Alty got as far as the 2nd Round Proper, where they lost 1-2 to Darlington. Kendal (formerly Netherfield Kendal) lie second in the UniBond 1st Division so could be a difficult proposition. They should have been relegated last season but escaped because of Gretna's transfer to the Scottish League. However, this season, they have enjoyed their best start to a season for 15 years. Kendal beat North Ferriby United, our conquerors in last year's Trophy, 2-1 in the 1st Qualifying Round round. For Alty's full FA Cup record, click here.
ASHTON UTD 1 ALTRINCHAM 1
Match report here.
CREWE MATCH
On Wednesday, Alty meet Crewe Alexandra for the second successive year in the Cheshire Senior Cup, having lost to them in the final last season, 0-3 after extra time at the Drill Field, Northwich. Perhaps Alty's finest hour against the Alex was the November 1979 encounter in the FA Cup 1st Round when it was Altrincham who won 3-0, at Moss Lane. The side named in the programme that day was a litany of Alty 'Legends': 1. Alex Stepney, 2. Graham Barrow, 3. John Davison, 4. Malcolm Bailey, 5. John Owens, 6. John King, 7. Graham, Heathcote, 8. Barry Whitbread, 9. Jeff Johnson, 10. John Rogers, 11. Barry Howard and 12. Phil Wilson. At the time Alty were six points clear in the Alliance (the forerunner of the Conference), which was in its inaugural season and, in the programme, manager Tony Sanders wrote that "we are getting very near to the magic 2,000 figure" as regards attendances at Moss Lane. Alty were to go on to win the championship, but not election to the League. Crewe were then managed by Tony Waddington, the former Stoke boss, having been managed the previous season by Harry Gregg, the former Manchester United keeper.
YOUTH DRAW
Alty Youth drew their first home league match of the season yesterday at Wythenshawe Town FC against Lancaster City. For a match report, team picture and further Youth fixture details, visit the Youth Page
---
15 September, 2002
TURNER AND OTHER EX-ROBINS
Mike Turner, who scored twice for Alty in the pre-season win at Flixton, has now joined the Valley Road club. He scored twice as a sub for them yesterday in their 3-2 win over Alsager. In the Conference, Mark Quayle scored for Nuneaton, whilst Stuart Coburn and Ged Kielty were in Leigh's winning team. In the FA Cup Andy Lovelock was a scorer as Solihull Borough put 9 past Glossop N.E. and Leroy May was sent off as Evesham won at Falmouth. Ricky Harris played as Mossley lost, also in the Cup. Stuart Terry is still playing for Connah's Quay. In our division those ex-Robins in action yesterday included Sertori and Shuttleworth (sub) for Accrington and Farley, Porter and Locke (sub) for their opponents Droylsden. Limbert and Furlong played for Colwyn Bay, Swanick and Hargreaves for Hyde, Derek Ward for Vauxhall, Matt McNeil for Runcorn, Bowker and Timons for Stalybridge and Hawes for Worksop. In the League, Kevin Ellison played the last nine minutes for STockport and Danny Adams was also on the losing side for Macclesfield.
ASHTON UTD 1 ALTRINCHAM 0
Alty drop to 16th in the table. Updated are the statistics and the line-up pages.
---
14 September, 2002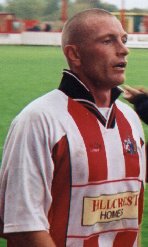 HULME TO LEIGH?
Leigh RMI have offered a contract to Kevin Hulme, (right), who spent last season with Altrincham. Hulme is officially "unattached" though he was taken on by Mossley in the close season. He has, however, yet to turn out for Mossley in any league match. Leigh have also put in a 7-day notice of approach to Barrow for their ex-Lancaster and Birmingham City striker Chris Ward. Barrow have also lost Grant Holt, who has reportedly just signed for Carlisle United.
HARGREAVES ENDS RUN
Former Alty striker Anthony Hargreaves today became the first man to score against Burscough this season when he got the only goal of the game for Hyde United against the Linnets in their eighth game of the campaign.
WHITEMAN MOVES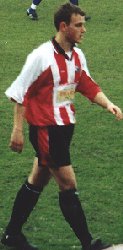 Striker Marc Whiteman (right), the former Manchester United apprentice, who played 3(+3) games for Alty last season whilst on loan from Bury, has now signed for Weymouth. Recent moves involving UniBond clubs include:
Paul Campbell (Darlington to Whitby T on loan)
Karl Clark (Burscough to Kidsgrove A.)
Lee Coathup (Rhyl to Colwyn Bay)
Shaun Hope (Coventry to Whitby T.)
SATURDAY RESULTS
Accrington S. 2 Droylsden 1
Ashton U, 1 ALTRINCHAM 0
Bradford PA 2 Barrow 2
Hucknall T. 2 Colwyn Bay 1
Hyde U 1 Burscough 0
Lancaster C. 1 Worksop T. 4
Marine 2 Blyth S. 1
Runcorn FC Halton 1 Gateshead 1
Vauxhall M. 1 Harrogate T. 1
Wakefield & Emley 0 Stalybridge C. 0
Whitby T. 3 Gainsborough T. 0
OWENS RESIGNS
Former Alty star of the late 70s and 80s, John Owens, has relinquished his post as manager of the England semi-professional team, now called the "National Game XI". In his five years in charge Owens's side lost just once (against Ireland last May). He has resigned because of his involvement with Liverpool's under-19 team, who play on Saturdays, preventing him from being able to watch many matches.
UNIBOND NEWS
Harrogate Town had hoped to sign Halifax Town striker Steve Kerrigan after agreeing terms with the Conference side. However, the player has refused to drop into the UniBond. More successful are their Yorkshire neighbours Wakefield & Emley who have signed 21 year-old ex-Huddersfield Town midfielder Michael Senior. Barry Shuttleworth, who was at Moss Lane last season, remains injured so misses Accrington's match against Droylsden today. Vauxhall Motors have won the UniBond Premier Division Fair Play Award (a 1.5 litre bottle of Famous Grouse whisky) for August, having had only one caution.
NON-LEAGUE BIBLE
It is believed that the annual Non-League Club Directory will be published this year in October, at a cost of £19.50.
---
13 September, 2002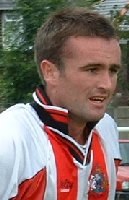 DANNY'S RETURN?
According to the Pink "Bernard Taylor is poised to welcome back winger Danny Murphy" (right) who has been out with an ankle injury since the opening day of the season for tomorrow's game at Ashton. Darren Royle, who had a spell at Altrincham and is the son of Joe Royle, is expected to return to the Ashton defence tomorrow. He is expected to replace new signing, centre-back Lee Connor, after recovering from a knee injury. Also likely to miss the game is Ashton's Phil Denney, who has cracked ribs.
CREWE TIMES
Altrincham travel to Crewe's Gresty Road stadium next Wednesday for their Cheshire Senior Cup tie. The times and fares for the SAFE supporters' coach are here.
AUCTION RAISES £1,000
The auction of sporting memorabilia organised by Grahame Rowley to raise club funds has now reached over £1,000 in bids. Please click on the Fundraising Auction link above to see the updated list of offers - and keep the bids coming!
SATURDAY'S GAMES
Alty travel to Ashton on Saturday. They last met Ashton United on 9 January 2001 in a UniBond Cup match at Moss Lane, which ended 1-1. In the Ashton side that night were two former Robins' captains, Paul France and Mick Carmody, as well as Chris Adams and Jeremy Illingworth, who were later to join Altrincham. Another familiar face in that game was Mr Gary Foulkes, who refereed the match and also officiated at last Saturday's Alty home fixture against Hyde United. The Alty side that night was Coburn, Gallagher, Porter, Bowker, Talbot, Mairs, Morgan, Scheuber, Lillis, Glendenning, Ellison with Daniel, Walsham and Craney as the subs.
ANOTHER "LEGEND"
Terry Rowley and Bill Coop's "Alty Legend" profile of John Rogers has now been added to this site.
---
12 September, 2002
ASHTON UTD
Ashton United, whom we play on Saturday, are unbeaten away but have yet to win at home this season. However, the Ashton website says "Roll on Saturday and Altrincham and hopefully our first home win of the season". Ashton won away at Gateshead last weekend but the hosts' new chairman Mike Coulson, "watched almost in disbelief as the Tynesiders dominated Saturday's match against Ashton United before losing 1-0. He said: 'I spoke to some Ashton directors and they said they could not believe they were going home with three points'". Ashton have re-signed Mike Wolstenholme from Mossley and striker Chris Cornelly has returned after recent trials at Oldham Athletic and Leigh RMI. Wolstenholme previously played against us, for Droylsden, in October 2000. In fact, there are several new players at Ashton this season including goalkeeper Danny Trueman and defenders Lee Connor (signed for a 4-figure fee from Farsley Celtic), Phil Bayliss (from Trafford) and Craig Fleury (ex-Curzon Ashton).

Click on "Through the Years" above for Alty's previous results on 14 September. The next Alty game after Ashton is away at Crewe Alexandra in the Cheshire Senior Cup on Wednesday 18 September.
OLD BOYS

Mossleyweb reports that ex-Alty player Ally Pickering, who now manages Mossley, has signed Ryan Hevicon (right), who was recently released by Altrincham. So far this season, Hevicon has played in Nationwide Division 3 (for Carlisle's first team), the UniBond Premier (for Alty in two spells this season) and now the NW Counties - and the campaign is only a month old! On his Mossley debut Hevicon's side lost at home to Alsager Town (and Ricky Harris was at no.11 for Mossley). There is no mention of Kevin Hulme on the Mossley site, after he joined them this season, so his current whereabouts are unclear. Paul Ellender scored for Boston United last night but they lost 1-5 to Cardiff in the Worthington Cup. Hyde United dropped ex-Alty player Anthony Hargreaves "after Saturday's debacle [at Altrincham]", as well as reshuffling their defence. However, Lee Evans, an Alty reserve last season, scored Hyde's goal in their defeat by Droylsden on Monday night. Both goals for Trafford Reserves in their 2-0 win on Tuesday were scored by ex-Alty youth players- Lee Shillito and Mario Daniel. The Man of the Match was another ex-Robin, goalkeeper Dale Newbrook. In the previous game, Trafford Reserves had another ex-Alty Youth player, Mark Drew, sent off and the side included Pat Claffey and Paul Tilley as well as those other ex-Robins mentioned above. Former Moss Laner Martin McDonald scored one of Kidsgrove's two goals which sank Trafford's first team last night.
---
11 September, 2002
ALTY DROP TO 13th
Tonight's results saw Accrington's eighth straight win and Bradford move above Altrincham.
Accrington S. 2 Barrow 1
Bradford PA 1 Gainsborough T. 0
Updated table.
WAKEFIELD & EMLEY 2 ALTRINCHAM 1
Match report here.
The other UniBond Premier Tuesday results were:
Ashton U. 1 Worksop T. 4
Frickley A. 1 Gateshead 0
Hucknall T. 2 Stalybridge C. 2
Marine 2 Harrogate T. 2
Runcorn FC Halton 0 Burscough 2
Vauxhall M. 2 Colwyn Bay 3
Whitby T. 4 Blyth S. 4

The Lincolnshire Echo reports that Gainsborough Trinity have acquired three new players. Player-manager Phil Stant has returned to his former club, Lincoln City, to sign Colin Alcide, who made 200 League appearances at clubs including Hull, York and Cambridge United - as well as briefly playing for Altrincham. He has also signed from Tamworth a former Swindon midfielder, Fraser McHugh. A further signing is Paul Eshelby from Worksop Town but moving out of the Northolme is recent signing Andy Brownrigg.
---
10 September, 2002
GATES
Courtesy of Terry Rowley, joint editor of the Robins' Review, this season's UniBond League attendance chart is now available, here. Compared with last season, Alty's away trips this season have seen increases in the gate at all three grounds visited to date but, currently, the home gates are down on last year's average.
SEARCHING
The search engine for this website has been re-indexed. The search box is near the bottom of this page, along with a link to the search engine of the Archive section of this site.
BLOODS GO SECOND
Last night Hyde United lost 1-3 at home to Droylsden to send Dave Pace's men into second spot in the league table.
DEAN MOVES AGAIN
King's Lynn of the Dr Martens (East) League have signed former Alty keeper Dean Greygoose. Dean joined Canvey Island in the close season but was released before the campaign started. He played 18 times for Stevenage Borough in the Conference last season.
---
9 September, 2002
ALTRINCHAM 4 HYDE UTD 1
Match report here.

GOLF DAY
There is to be a Golf Day to raise funds for the Football Club on Friday 11 October at Lower Peover, Cheshire. There will be soup and sandwiches before the tee-off to 18 holes of golf. Afterwards there is a three-course evening meal and a prize presentation ceremony. To enter, please contact Altrincham FC at the address at the top of the page. The entry fee is £250 for a team of four.
HISTORY REPEATS ITSELF
It will be exactly a year on Tuesday, 10 September, since we last played Emley at Wakefield and we travel there again this year on the same date as can be seen from Howard Watts's Through the Years files. We lost 2-1 last season, with each side scoring a penalty and Chris Adams being sent off.
---