Altrincham Football Club News Archive
22 to 30 September, 2002
---
30 September, 2002
MONDAY'S GAME
Droylsden 3 Gainsborough T. 0
Updated table
FA CUP DRAW
Alty are away at either Guisborough Town or Guiseley in the FA Cup 3rd Qualifying Round on 12 October. The winners will earn £10,000 in prize money. Guisborough is near Redcar in Cleveland and they wear the same kit as Alty! They play in the Northern League. Alty have been drawn against Guisborough before. In the 2nd Qualifying Round in 2000, Guisborough were one of five teams in an either/or Cup draw against Altrincham - in the end Mossley emerged as our opponents. Guiseley, of the UniBond First, is not far from Leeds and their ground was the scene of our last game in the UniBond before promotion to the Conference in 1999 - we lost 2-0! Alty's only previous senior Cup meeting with Guiseley was in the FA Trophy when the Robins lost, 4-0, away, in 1995/96 season. Clive Freeman, famous for winning the BBC Goal of the Season whilst playing for Altrincham in 1992, is the Guiseley assistant player-manager. Guiseley entertain Guisborough in the replay tonight after a 3-3 draw on Saturday.

The ties involving teams in our Division are as follows:
ACCRINGTON S. v HARROGATE T.
ASHTON U. v RUNCORN FC HALTON
BARROW v HYDE U.
Durham C.v BLYTH S.
BRADFORD PA v Bridlington T
COLWYN BAY v Radcliffe B
DROYLSDEN v Spennymoor Utd
Hednesford T. or HUCKNALL T. v v Worcester C/Stamford
Dunston FB v MARINE or Eccleshill U.
Chester-le-Street/Harrogate Railway v STALYBRIDGE C. or Workington
VAUXHALL M. v GAINSBOROUGH T.
Grantham v WORKSOP T.
YOUTHS DEFEATED
Altrincham Youth lost 4-1 in Liverpool yesterday to Kingsley United "A", who are a new team in the NW Youth Alliance League. A match report is on the Youth Page.
---
29 September, 2002
TRUST PLANS MOVE FORWARD
About one hundred Altrincham supporters met at the Cresta Court Hotel today to hear Brian Lomax, the managing-director of Supporters Direct, a government sponsored organisation which helps to establish Supporters' Trusts at football clubs. Mr Lomax, by coincidence, is a lifelong Altrincham supporter, though now based in Northampton, where he established the first Supporters' Trust in early 1992. The meeting was very professionally compered by Brian Flynn and the audience included manager Bernard Taylor and club director Grahame Rowley.

Clubs which already have Trusts are varied and include Premiership sides such as Aston Villa as well as non-league clubs like Bishop Auckland. Trusts differ from supporters' associations, such as the existing SAFE organisation at Altrincham, in being legal entities which can own shares and have formal representation on football club Boards.

The other guest speaker at the meeting was Norman Beverley, who is a member of Stockport County's Supporters' Trust and the chairman of their independent supporters' association. Both speakers provided plenty of information as well as practical advice. Forming a Trust at other clubs has generally helped to enhance the credibility of supporters and the club with entities such as local councils and businesses. A Trust can either run alongside an existing supporters' association or replace it. It was stressed that a Trust is not intended as a threat to the existing Board of the football club but as a means of uniting supporters, raising the club's community profile and having a voice in the club commensurate with the income raised by the supporters for the club.

On a show of hands there was virtually unanimous support to take forward the proposal to set up a Supporters' Trust at Altrincham. Those in attendance were invited to leave contact details with a view to a working party being set up shortly to advance the project. If you were unable to attend the meeting but are interested in taking part in establishing a Trust, please send an e-mail to this site (address above) and I will gladly pass on your details to the organisers. For pictures, see Alan Johnson's site.
ALTRINCHAM 1 KENDAL TOWN 0
Match report here.
A crowd of 513 watched the match which netted Altrincham £7,500 prize money. Alty's line up is here. As Lancaster lost (see below), Tuesday's Alty game at the Giant Axe goes ahead.
BERNARD SPEAKS

In today's Pink, manager Bernard Taylor repeats that his side have "got to start shooting more. We're taking far too many touches when we get the ball into the penalty area". He is also concerned that Alty have a "worrying pattern of not scoring when Rod Thornley doesn't play". To remedy this Bernard wants to bring in another striker but his budget limits his options. However, he insists that "Altrincham will not be relegated...while I'm in charge. If that means I have to pay out of my own pocket to supplement my budget, I'll do it". He added, "I know the pkayers I want. I'm sure they'd want to come too, if only I could offer them that little bit more". Bernard was disappointed at our exit from the Cheshire Senior Cup, saying "it's a smashing trophy and one we enjoyed winning not so long ago. I would have loved us to have another crack at it".
OLD BOYS
In the FA Cup, Niell Hardy hit two as Radcliffe hit seven at Rossington Main and Hyde's Lee Evans (an Alty Reserve last season) got two as they beat Tow Law Town 7-3 yesterday before he was carried off injured. Colwyn Bay's four goals yesterday came from a Deiniol Graham hatrick and one from Marc Limbert. Also in the Cup, Matt McNeil scored for Runcorn as they beat Wakefield and Emley. In the UniBond First Division, Leroy Chambers scored as Belper Town beat Bamber Bridge. Keeper Dale Newbrook made his UniBond First Division debut for Trafford yesterday at North Ferriby in a side which also included other ex-Robins players Paul Johnson, Mario Daniel and Dave Collins. In the Conference, Stuart Coburn saved two penalties for Leigh yesterday but in both cases the rebounds were knocked in as RMI lost 2-4 to Yeovil. In the same game, Ged Kielty scored for Leigh. Mark Quayle scored for Nuneaton. In the League, Kevin Ellison played the last 21 minutes for Stockport County and Danny Adams turned out for Macclesfield, whilst Paul Edwards played the first half for Wrexham. Nathan Comley-Excell got the only goal of the game to secure a win for Flixton, whilst Ryan Hevicon played for Mossley in the NW Counties League. Elsewhere, Andy Lovelock netted for Solihull Borough and Stuart Terry played for Connah's Quay Nomads.
MASCOTS
Rocky Robin's reappearance at Moss Lane yesterday may be connected with the annual Football Mascots' race at Huntingdon, which takes place today.
TRANSFERS
Paul Atkinson (Ossett T. to Whitby T.)
Andy Brownrigg (Gainsborough T. to Wakefield & Emley)
Brian Dacey (Formby to Runcorn FC Halton)
Martin Diggle (Worksop T. to Radcliffe B.)
Chris Howe (Frickley A. to Belper T.)
Dylan Kerr (Gateshead to Harrogate T.)
---
28 September, 2002
FA CUP RESULTS
The other ties involving UniBond Premier sides were:
ACCRINGTON S. 2 Billingham T 0
ALTRINCHAM 1 Kendal T. 0
Stocksbridge PS 0 ASHTON U. 2
Dunston CB 2 BURSCOUGH 0
COLWYN BAY 4 W. Auckland 0
DROYLSDEN 4 Farsley C. 3
GAINSBOROUGH T. 3 FRICKLEY A. 2
GATESHEAD 3 BARROW 4
HARROGATE T. 2 Gt Harwood T. 0
Hednesford T. 0 HUCKNALL T. 0
HYDE U. 7 Tow Law Town 3
LANCASTER C. 2 BLYTH S. 4
MARINE 2 Eccleshill U. 2
RUNCORN 2 WAKEFIELD & EMLEY 0
STALYBRIDGE C. 2 Workington 2
Bedlington T. 1 VAUXHALL M. 2
WHITBY T.0 BRADFORD PA 4
Horden CW 0 WORKSOP T. 4
ALTY MIDFIELD
See the 2002 Alty midfield players here. For player profiles, visit the Playing Squad page.
UNIBOND NEWS
Accrington Stanley have now signed former Wigan striker Tony Black signed from Leigh RMI. 33 year-old Black was previously at the club four seasons ago. Blyth Spartans report that they have agreed a contract to start upgrading their stand, work which should be completed by early December. It includes removal of the central staircase and the creation of two new staircases at each end of the stand. Hyde United with Asda and Cool Promotions have set up an Asda Kids' Klub. Members (under-15s) will get free admission to all Hyde United league games and all Manchester City Reserves' home league games except when City play United, which is all-ticket on police advice. Bishop Auckland have appointed Brian Honour as the club's new manager; he left the manager's post at Durham City last week. Honour was for many years a player at Hartlepool.
---
27 September, 2002
SHOOT ON SIGHT
Bernard Taylor is quoted in tonight's MEN as saying that he has told his team "to shoot on sight" in tomorrow's FA Cup tie against Kendal Town. The same article reports that "Rod Thornley appears to be shaking off a knee injury which forced him to miss Tuesday's 1-0 defeat by Marine".

The Westmorland Gazette reports that Kendal striker Ian Simpson, injured at Bishop Auckland in midweek, "has only a 50-50 chance of being fit for tomorrow's big FA Cup match with Altrincham". Manager Peter Smith said: "I hope he will feel up for it, although he took an elbow just at the point where he heads the ball. But if he doesn't feel right David Foster will fill his boots and the whole side is brimming with confidence after Tuesday's win over Bishop Auckland. Altrincham will put out a good side, but they have not been doing particularly well in the league and we think we can get a result. I have told the lads that we have to play with confidence and take the match to them. It was good to see the team back on song on Tuesday after the dismal display at Bamber Bridge on Saturday. The best thing I can say about that game was that Altrincham's manager was watching and will have gone away thinking we are a pushover. But that's not the case and in most other matches this season we have been scoring goals from all angles. Richard Close, Phil Hodgson and Lee Pennington have been rock solid at the back and when we have lost, it has only been by one goal". Smith said that influential midfielder Stuart Cliff is now approaching match fitness after a month out through a leg injury. If the game ends as a draw, the replay will be at Kendal's Parkside ground at 7.45pm next Tuesday instead of our match against Lancaster.
YOUTH UPDATES
Please see the Youth Page for the full NW Youth Alliance League results from last Sunday, plus the revised league table and the amended fixture list. The next game is away at Kingsley United (Liverpool) on Sunday 29 September.
S.A.F.E.
S.A.F.E., the supporters' association, now has 266 members but there are still many outstanding renewals to be made from last season. So, if you are one of them, print off the membership form or call in at the SAFE Cabin on any matchday.
UNIBOND NEWS
Gateshead's Alex Lawson has left, after making 16 appearances, to join Bedlington Terriers. There is now a new Gainsborough trinity website.
---
26 September, 2002
UNITED RESERVES WIN
Manchester United Reserves beat Bradford City Reserves 2-0 at Moss Lane tonight, with goals from Stewart (just before the interval) and Humphreys (76 mins). United dominated the game, especially in the second half. A crowd of at least good UniBond League proportions saw United's new keeper Ricardo in action. The United side was: Ricardo, Lynch, Tierney, Roche, May (capt.), Taylor, Chadwick, Stewart, Nardiello, Williams and Pugh with the subs being Mooniaruck, Williams, Collett and Humphreys. Next Thursday at Moss Lane United play Manchester City Reserves in the Manchester Senior Cup (7pm). Entry is just £2 (£1 for juniors, concessionaries).
AUCTION UPDATE
The Auction of Sporting Memorabilia organised by Alty director Grahame Rowley to raise funds for the Club has so far received over £1,400 in bids. For the latest bid values and for details of how to enter your bid, please click here.
MARINE GAME
The match report is here.
GATES
The updated Attendance Grid (to 22 September) is now here.
GOOD OMEN?
On 28 September Alty play Kendal Town in the FA Cup. Howard Watts's Through the Years statistics show that there has only been one previous FA Cup tie played by Alty on that day of the year. That was when they beat Hurst FC 2-0 in the 1st Qualifying Round in 1912! Hurst FC later became Ashton United.
N-L DIRECTORY
The Non-League Club Directory 2003 is due out on 1 October at a price of £19.95.
UNIBOND NEWS
Hyde's site reports that spectators "for the FA cup game this Saturday, can get into the game, have a seat in the stand, have a match day programme, tea, coffee before the game, buffet in the sponsors' lounge at half time and bar facilities throughout for only £15". A new Wakefield Emley web site called Emley FC Unofficial Peewits has been set up. For links to all the UniBond sites and many more, click here.
---
25 September, 2002
WEDNESDAY FIXTURES
Bradford PA 0 Worksop T. 1
Gateshead 0 Droylsden 2
League table.
ELLISON WINNER
A former Robin, Kevin Ellison, fired the winner as Stockport County beat Nantwich Town in a Cheshire Senior Cup replay last night. Another ex-Alty striker, Leroy Chambers netted the winner for Belper Town against our neighbours Trafford last night. Also in the UniBond First, Kendal Town, our opponents on Saturday in the FA Cup, beat Bishop Auckland 3-0.
ALTRINCHAM 0 MARINE 1
Match report here.
---
24 September, 2002
TUESDAY RESULTS
ALTRINCHAM 0 Marine 1
Ashton U. 2 Accrington S. 2
Barrow 1 Stalybridge C. 0
Burscough 3 Colwyn Bay 0
Hucknall T. 1 Harrogate T. 1
Wakefield & Emley 1 Blyth S. 1
Whitby T. 3 Frickley A. 1
LANCASTER IN REVERSE
Click the Away Travel link above for the supporters' coach times to the Giant Axe, Lancaster on Tuesday, 1 October. Please note that the coach is picking up in the reverse order from usual.
UPS AND DOWNS
Altrincham feature in the latest UniBond Press Release in several of its statistical categories. Alty have conceded 4 goals more times than any other club this season (3 times) but they have also scored 4 goals in a match twice and only Blyth have scored 4 more often. The Robins are joint holders of both the heaviest home win record (4-0 v Gateshead) and the heaviest home defeat (0-4 v Harrogate) as well as of the joint heaviest away defeat (at Vauxhall 4-0). Altrincham are only outdone by Gateshead in terms of failure to score- we have drawn a blank on four occasions. Our Cup opponents Kendal Town have a similar up and down record; they are the UniBond First Division holders of the record for scoring 4 in a game, having done so on three occasions - but they have also failed to score three times.
UNIBOND NEWS
The NW Mail quotes Barrow manager Kenny Lowe defending his side's fitness. "I hear it said that our players aren't fit enough, but that is something I don't agree with. Contrary to popular belief, we do all train together at least once a week and we play once a week. Sometimes we get together as 90 per cent of the squad and if not we all break off into our own little areas and train. Some lads even train three or four times a week. We try to get together every Thursday in Barnsley - all the north east lads and the Yorkshire lads. The only ones that miss out are those from Carlisle - Tony Hopper and Graham Anthony. Our physio, Stu Reynolds, monitors everyone's weight and before each home game every player is weighed. So we can see who's been training and who hasn't". Meanwhile there is a new book on Barrow called 100 Post-War Holker Street Geats by Darren Gardner and Phil Yelland. It is available from Darren at 91 Queen Street, Barrow (price not stated).

Runcorn report that Chris Darlington is writing a play about the 3rd round FA Cup game between Runcorn and Preston North End held on 7th January 1939 at Canal Street. On that day Runcorn lost 2-4 to the then Cup holders. Perhaps he could be persuaded to stage Birmingham City v Altrincham as a follow-up, starring David Seaman?
YANKEE WINNER
For a picture and more on the big winner in Altrincham's Saturday Yankee, see Alan Johnson's photo site.
LOCAL VASE TEAMS
The FA Vase 1st Round (on 19 October) includes the following local teams:
Abbey Hey v Liversedge
Esh Winning v Mossley
Salford City v Winsford United or Thackley
West Allotment Celtic v Flixton or Warrington Town
Woodley Sports or Horden CW v Ashington
Nantwich Town v Fleetwood Town
---
23 September, 2002
MONDAY'S RESULT
Hyde Utd 2 Lancaster C. 3
Updated table
TUESDAY'S OPPONENTS
Alttrincham play Marine at Moss Lane on Tuesday (7.45pm). Marine lie one place above Alty in 17th place but have played two games more. We both have ten points. Marine's site reports that "Marine go to Altrincham on Tuesday looking for some precious points to edge up the table. Their hosts oddly for them are in the same situation so a close game seems on the cards. Striker Ged Courtney, who came back [from Stalybridge] for the Gainsborough game, is likely to continue, though he will not be able to play in the FA Cup tie on Saturday. Richie Townsend and John Morgan are still on the injured list and Steve Rimmer, though making good progress, is still some way away from match fitness".
ALLY'S NEW SIGNINGS
The Mossley site reports that Former Alty midfielder Ally Pickering, now the boss at the NW Counties side, "has signed former Droylsden midfield hard-man Leon Mills, and placed seven days notice of approach for current Droylsden striker Nigel Evans. Meanwhile, Paul Barrow has been released at his own request while Robert Trees [briefly at Alty in 1999-2000] is taking a couple of months break from football for personal reasons". Ally recently signed Ryan Hevicon from Altrincham.
---
22 September, 2002
ALTY YOUTH WIN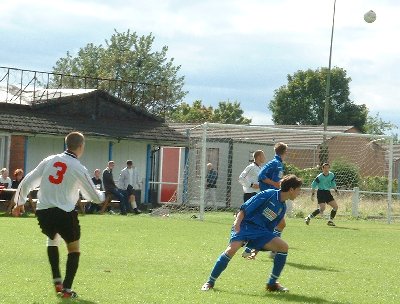 No.3 Mark Griffiths's shot is about to curl into the top corner of the net in today's Youth game. Unfortunately it was ruled out for offside.
Altrincham Youth beat Leigh RMI Academy today 1-0. The goal came from Luke Killeeen. Match report on Youth Page.
NEXT MATCHES
Kendal, our FA Cup opponents next week, lost 1-0 at Bamber Bridge yesterday in the UniBond 1st Division. After a spell in the Conference with Stalybridge, striker Ged Courtney has returned to play for Marine, who visit Moss Lane this Tuesday. The following Tuesday we play Lancaster City who had two players sent off yesterday but they will not be banned till after our game at the Giant Axe.
OLD BOYS
Barry Shuttleworth was sent off as he conceded the penalty which cost Accrington their first points of the season yesterday. Mark Sertori also played for Stanley in this game against Emley. Mark Ward was on the bench for Leigh RMI, whilst Stuart Coburn and Ged Kielty started for Leigh RMI yesterday. Carl Furlong converted a penalty but his Colwyn Bay side remain bottom of the UniBond Premier. Stuart Locke, Steve Porter and Adam Farley all played in Droylsden's home defeat to Ashton. Matt McNiel (Runcorn), Dave Swanick and Anthony Hargreaves (Hyde) and Steve Hawes (Worksop) all played for their sides yesterday. Leroy Chambers had a good game for Belper Town whilst Ryan Hevicon scored for Mossley. Mike Turner, Nathan Comley-Excell and Chuku Otutu (of last season's Alty Reserves) all played as Flixton won, away, at Washington Town in the Vase. Andy Lovelock played for Solihull Borough. In the League Danny Adams played in Macca's loss and Kevin Ellison played the last seven minutes for Stockport County yesterday. Paul Edwards played the first 47 minutes for Wrexham, for whom Andy Dibble kept goal.
---