Altrincham Football Club News Archive
1 to 11 December, 2002
---
12 December 2002
DUNCAN GOES
UniBond Chairman Duncan Bayley has resigned. Hale-based Duncan "blamed his decision on failure to gain greater management committee support for reforms", the MEN reports. He remains as Secretary of the League.
ASHTON MAN TO LEAGUE
Chris Cornelly, Ashton United's pacey winger, has joined Lincoln City, where he will team up with Simon Yeo, the ex-Hyde striker.
WARD JOINS MEDIA
Mark Ward, assistant manager of Leigh RMI and former Altrincham manager (2000-01), has surprisingly resigned at Hilton Park and taken an unspecified job in the media.
GET YOUR CHRISTMAS GIFTS

The Robins' Shop at Moss Lane has plenty of stock to answer your Christmas gift problems. The new replica kits are now available and there is a full, updated price list of all the Club merchandise
here
, courtesy of manager, Jenny Heslop. There is no Alty home game till Boxing Day so if you cannot get to Moss Lane on 19 December, (when Man. Utd Reserves play at Moss Lane, 7pm), you can ring the club (928-1045) to place your order.
YOUTH TEAM
SAM
has a long article on George Heslop and the Alty Youth team, five of whom have broken through to the current first-team squad - Steve Lunt, Jon McEvoy, Francis Evans, Luke Killeen and Vernum Rowland. George told SAM, "It is very helpful when you have a first team manager who recognises the importance of the youth team. Both chairman Geoff Goodwin and manager Graham Heathcote have stimulated interest in the youth team by declaring that in a way, youth football is the way forward". He added, "There has been a youth team at Altrincham on and off over the 50 years I have been there, but this one - which has been in existence for six years - is by far the most established one, and the longer it goes on, the better it is for the club". Of his two coaches, Neil Thomason and Mal Bailey, George says, "Neil has been a great assistance as my number two while Mal has also been a great help, not only with defensive coaching, but fund-raising as well". The Youth side are away at Marine this Sunday (15th, 2pm) and at home to St Helens College at Wythenshawe Town the following Sunday (22nd, 2pm) - entry is free. For more on the Youth team, click
here
.
CAROL SERVICE
There will not be a Christmas Carol service at Moss Lane this year but Club Chaplain, Rev. Jeremy Tear cordially invites everyone to the Carol Service at Christ Church, Thorley Lane, Timperley on Sunday, 22nd December at 6.30 p.m. The service will be led by Jeremy and members of the clergy from Timperley Parish.
SATURDAY
Altrincham travel to in-form Stalybridge Celtic on Saturday. Alty's record on 14 December through the years is
here
.
UNITED AT MOSS LANE
Manchester United will play their next FA Youth Cup match at Moss Lane on 21 January 2003, (not 9 Jan. as previously announced). The opponents are Sheffield Wednesday. United Reserves play at Moss Lane on 19 December (7pm) against Newcastle United.
---
11 December 2002
COLWYN BAY 2 ALTRINCHAM 1
Match report here.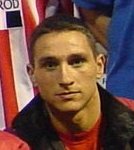 ALTY RE-SIGN HARGREAVES
Striker Anthony Hargreaves (right) has become the seventh player to re-join Altrincham this season after a spell away from Moss Lane. For Alty, he scored twice in 1 start and 8 sub appearances. Anthony left Hyde recently, after spending the latter part of last season at Bamber Bridge. Other moves:
Stuart Thom (Scunthorpe U. to Barrow)
Richard Logan (Lincoln C. to Gainsboro' T., loan extended)
CELTIC TIMES
The supporters' coach times for Saturday's game at Stalybridge Celtic are here.
TUESDAY GAMES
President's Cup 1
Ashton U. v Accrington S. POSTPONED -floodlight failure
Colwyn Bay 2 ALTRINCHAM 1
N. Ferriby U. 2 Matlock T. 1
Runcorn FC Halton 2 Leek T. 1
Spennymoor U. 5 Bishop A. 0
Stalybridge C. 4 Workington 1
Stocksbridge PS 0 Kidsgrove A. 3
ULC Cup Rd.3
Alfreton T v Eastwood T POSTPONED
Radcliffe B. 2 Barrow 1
Rossendale U. 4 Lancaster C. 1
Vauxhall M. 2 Chorley 1
Chairman's Cup 1
Bamber B. 4 Burscough 2
Frickley A. 2 Whitby T. 1
Witton A. 4 Trafford 2
---
10 December 2002
HYDE GO OUT
Monday ULCC
Marine 1 Hyde United 0
UNIBOND NEWS
Transfers
Junior Bent (ex Bristol City, Blackpool to Lancaster C.)
Paul Challinor (Caernarfon T. to Droylsden)
Dean Walling (Gainsboro' T. to Nuneaton B.)

Bradford PA have appointed Phil Lawler as their new managing director. His main task is that of "reviewing ground options for the club to be able to progress to the Nationwide Conference in due course".
---
9 December 2002
YOUTHS WIN
Goals from Steve Lunt and Joel Ekolengeni saw Alty Youth win on Sunday; report here.
UNIBOND NEWS
Burscough recently put 9 first-teamers up for transfer but The Ormskirk Advertiser quotes Burscough Treasurer Stan Petherbridge as saying "I would like to dispel the illusion that Burscough FC are near to bankruptcy. The fact is we have a ground currently valued £250,000 as a football stadium, the deeds for which are in our possession... The problems are purely a matter of cash flow, we have one of the strongest balance sheets in the Unibond Premier League... I can assure all shareholders and supporters that our assets are well in excess of our liabilities".

Transfers:
James Holmshaw (Stocksbridge PS and formerly Worksop, to Bradford PA)
Alex Kevan (Lancaster C. to Droylsden)
Kieran O'Brien (Ossett T. to Frickley A.)
COLWYN BAY
Following his recent suspension, Alty can expect to encounter Carl Furlong when they play Colwyn Bay on Tuesday. Another ex-Robin still at the Bay is Marc Limbert but Stuart Scheuber has now moved on to Flexsys Cefn Druids in the League of Wales.
---
8 December 2002
GRAHAM's PRIDE
In the Pink, manager Graham Heathcote states, "I said when I got the job that I wanted to put the pride back into the club and the effort the lads put into winning at Bradford and Marine has done exactly that. Our travelling fans showed their appreciation by giving the players a standing ovation on each occasion". He also clarified that Peter Band is available to play until after the referee's report is received for his sending off and, even then, he has 14 days to appeal so could possibly play on until after Christmas. The article also says that striker James Robinson, on loan from Crewe, was back training at Gresty Road the day after losing a tooth in his Alty debut at Marine on Monday. Graham will use Tuesday's game at Colwyn Bay in the Prsident's Cup "to look at the club's exciting crop of up-and-coming youngsters, led by Stephen Lunt and Jonathan McEvoy".

In the NLP Graham says of James Robinson, "You always get good players from Crewe. This lad's finishing ability should help us". Accrington boss John Coleman is quoted on Barry Shuttleworth's release as saying, "First it was his calf, then his hamstring, then his foot. He just couldn't put a run of appearances together".
OLD BOYS
The NLP has an article on Shaun Constable, who hopes to be fit for Harrogate Railway today in the FA Cup; the article relives his disallowed goal against Tottenham whilst playing for Altrincham. The paper also has an article on Mark Quayle. Dave Swanick is the subject of an article in the Pink. He has been stripped of the captaincy by Hyde manager Gordon Hill after a red card in midweek and ten bookings this season. Hill said "one of the reasons I'd made him captain was to attempt to curb his volatile nature by giving him more responsibility". Neill Hardy, a sub for Radcliffe, was sent off in a fiery 7-4 win in which Spennymoor ended the game with only eight players, having had three sent off including two goalkeepers! Kevin Ellison is expected back for Stockport in a fortnight from his broken toe. Ex-Alty youth player Rico Richards scored two for Flixton as they lost in the FA Vase. Former Robins Mike Turner and Chuku Otutu also played for Flixton. Dean Greygoose played for King's Lynn, who lost but Ken McKenna's TNS are now 6 points clear in the League of Wales.
UNIBOND NEWS
A number of drunken Stalybridge fans were ejected from the game yesterday according to the Whitby website; also turnstile takings were stolen during the game.
---
7 December 2002
SATURDAY 7th
Altrincham had no game this weekend.

FA Cup Round 2
Macclesfield T. 2 Vauxhall M. 0
Shrewsbury T. 3. Barrow 1

League Altrincham remain 15th in the table.
Ashton U. 0 Droylsden 2 ABANDONED after 70 mins - power failure
Bradford P.A. 0 Lancaster C. 1
Burscough 1 Frickley A. 0
Gainsborough T. 0 Marine 0
Gateshead 2 Colwyn Bay 2
Hyde U. 1 Harrogate T. 5
Runcorn FC Halton 2 Blyth S. 2
Wakefield & Emley 0 Accrington S. 0
Whitby T. 1 Stalybridge C. 2
KIT ARRIVES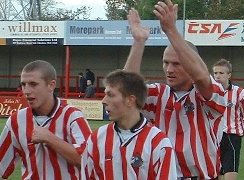 The Altrincham FC 2002-03 replica shirts have now arrived at Moss Lane and are available from the Robins' Shop priced from £25 to £31 depending on size. They are available in the red and white striped version, as worn (right) by Ian Craney, Andy Tunnicliffe, Gary Talbot and Stephen Rose, and in the pale blue away version. The Robins do not have a league game till Boxing Day so, in the interim, the shirts can be bought at the Club office at Moss Lane. However, on 19 December the Robins' Shop itself will be open for the Manchester United Reserves' game (k.o. 7pm). Once a club sponsor has been arranged, the shirts can be returned for the logo to be added. If you have any queries, please ring the club on 928-1045 and ask for the shop manager, Jenny Heslop.
YOUTH GAMES
Click on the Youth Page link, above, for the revised fixtures, courtesy of George Heslop.
UNIBOND NEWS
The Bradford Telegraph & Argus reports that "Avenue held an emergency team meeting this week to discuss the dismal events of Tuesday night. But despite the club falling to a record- equalling 7-1 defeat at the hands of Worksop Town, boss Trevor Storton insists there is no crisis... Keeper Lutz Pfannenstiel, whose flu remedy overdose on Tuesday played a big part in the side's hammering, is likely to be able to return tomorrow". Gateshead's keeper, Marc Riches, is leaving after a very brief spell at the club, so Graeme Waind is likely to resume in goal. Gateshead hope to have make three new signings next week, whilst Carlisle striker Michael Dickinson is to stay on loan with Gateshead for another month after scoring 5 goals in 7 matches.
OLD BOYS
Ex-Alty striker Mark Quayle has asked for a transfer from Nuneaton Borough after cost cutting at the Conference club. He has hit 16 goals in 23 games for Borough. Quayle said "During the last couple of months it became clear to me the club overall doesn't follow the ambitions of the manager and myself...I need to be at the right end of the table with the right environment and facilities but ours are deteriorating and we don't have any proper training facilities".
TROPHY OPPONENTS
Kettering Town, whom we play in the Trophy on 11 January, like us, have financial problems since getting back into the Conference this season. A spokesman on their website says that "our players are suffering through their pay packets. Our league position gives us all great concern and... the loss of Richard Butcher is something we could have done without... What we want to do now is ensure we do not lose further players because of our inability to pay full wages. It is for this reason we are launching the Poppies' Players Appeal... The target is £60,000... I admit we have been living beyond our means for the past nine years".
---
6 December 2002

STEPHENS TO HYDE
Hyde United report that they have signed Nick Stephens (right), who kept goal for Alty in their first three league matches this season. Nick is a former Torquay United reserve keeper and has been signed as cover for Hyde's Peter Crookes. They have also signed two midfielders; Jason Tee, formerly with Sheffield United and Hucknall and Andrew Shelton formerly with Chester, Ossett Albion and Caernarfon.
FUNDRAISING & A CLARIFICATION
Everyone can help the club and win a £100 prize by taking part in the Goal Rush competition. Please click on the above link for full details.

Whilst on the topic of fundraising, I should like to clarify a misconception expressed in some quarters that the Club had not expressed its thanks for the recent gift of £3,500 from the supporters' association, SAFE, on the official website. In fact, as long ago as 30 November, this site reported that "SAFE, the Altrincham supporters' association, yesterday donated £3,500 to the Club, taking the total donated since 1995 to almost £60,000. With no home game until Boxing Day, the Club is particularly pleased to receive this income at the present time. Thanks are due to everyone who worked or contributed towards this total".

To underline this, Director Grahame Rowley, on behalf of the Board of Altrincham FC, states that the club is "very grateful for the donation from SAFE at a time when there are no home games to bring in an income to the club. The Board have always been thankful for the tireless work which SAFE have done in order to aid the club in its time of financial need. We would like to thank everyone who has contributed to SAFE events. Keep up the good work!"
UNIBOND NEWS
Hyde's website report on their defeat at Lancaster says that ex-Robins, "Ryan Hevicon and Leon Smith failed to show" for the game, along with striker Troy Hayder. Gainsborough have released Chris Shaw, whom they signed from Grantham recently but centre-back Richard Logan has had his loan period from Lincoln City extended for a further month. Meanwhile Lincoln striker Simon Yeo, linked with Alty last season, "has failed to hit the net in his last 11 league games and concedes he is in the midst of the worst spell in his career". This is Runcorn reports on how the Club has gone out of three competitions in little more than a week: the FA Cup, the FA Trophy and the UniBond Challenge Cup. "Despite a brave performance against Bristol Rovers in the FA Cup last week, Liam Watson's side were met with boos and calls to 'sack the board' from the dramatically reduced crowds during Saturday's 3-0 Trophy defeat to Rugby United". Also Runcorn director John Sanders resigned "during the Linnets' disastrous FA Trophy exit".
PAST ENCOUNTERS
On Tuesday (10th) Alty travel to Colwyn Bay in the President's Cup. Howard Watts's data on previous Alty games on that date can be found in Through the Years.
---
5 December 2002
ALTY MISS OUT
Altrincham just failed to win the best defence of the month award for November, conceding 8 in 8 games compared with the winners. Wakefield & Emley, who let in 7 in 8 matches. The UniBond League site states: "The Robins have become much less charitable in giving goals to opponents since Graham Heathcote returned to coaching duties at Moss Lane". The top goalscorers in December were Worksop Town.

Graham Heathcote has told SAM, "I think the attitude and the effort coming from the players right now is first class, and I don't think anyone can deny that. In the last 72 hours, they have won two games - both in really bad conditions and the performances are testament to the effort they have put in". But he added, "We need to work on converting chances. The 1-0 scorelines don't flatter us at all - we created enough chances to win by higher margins".
UNIBOND MOVES & NEWS
Accrington have re-signed midfielder David Robinson from Witton Albion, where he had been on loan from Stanley. Hyde have signed central defender Martin Diggle from Radcliffe Borough to cover for the injured David Linighan; unfortunately he netted an own goal on his debut on Tuesday. Other moves:
Kevin Kershaw (Bristol Rovers to Runcorn FC Halton)
Rodney Rowe (Wakefield & Emley to Ashton Utd.)

Blyth Spartans' new Club President is John Coppinger, the chairman of the Federation Brewery; he succeeds Jack Charlton.
---
4 December 2002
TONIGHT'S RESULTS
Accrington S. 4 Ashton U. 1
Blyth S. 2 Wakefield & Emley 1
UNIBOND NEWS
Accrington report that they have signed Andy Gouck from Morecambe on a month's loan. Gouck (30) previously played for Blackpool and Rochdale, then Southport and Morecambe. UniBond club of the month is Vauxhall Motors, following their FA Cup success. They are also the form team in the league with seven wins and a draw in their last eight games. Runners up were Gainsborough Trinity. Vauxhall are also forming a supporters' club. Membership will be £5 for adults and £2 for juniors / OAP's. In the form table over the last eight games Alty are tenth with 3 wins, 2 draws and 3 losses, whilst our next league opponents Stalybridge are second. Hyde have signed Martin Diggle, a centre-back from Worksop and Phil Lockett, a midfielder from Chorley.
OLD BOYS
In Hyde's defeat at Lancaster last night, ex-Alty defender Dave Swanick picked up a yellow card and then a few minutes later a straight red for another foul on the same player. Ex-Robins' reserve Lee Evans Alty got Hyde's equalizer but they lost 4-1. Steve Hawes got one of Worksop's 7 goals last night against Bradford.
---
3 December 2002
GOALS GALORE TONIGHT
Lancaster C. 4 Hyde U. 1
Stalybridge C. 4 Barrow 3
Worksop T. 7 Bradford PA 1
ULC Cup: Runcorn FC Halton 1 Chorley 3
NEXT GAME
Alty's next game is on Tuesday 10 December at Colwyn Bay in the UniBond President's Cup. Travel details are here.
MARINE 0 ALTRINCHAM 1
Match report here.
---
2 December 2002
FA TROPHY DRAW
Alty have drawn Kettering Town, away, in Round 3 of the FA Trophy on 11 January 2003. Kettering lie bottom of the Conference but won 3-0 at home on Saturday against Nuneaton. The sides previously met in the Trophy in 1987-88 when Alty won a replay at Kettering 3-2 after a 1-1 draw at Moss Lane. Kettering went out of this year's FA Cup after a 0-5 home replay defeat to Hastings United. Adult prices at Rockingham Road are: stand £10.50 and terraces £8.50.

Trophy Northern section draw:
Farsley Celtic v Gainsborough Trinity
Kettering T v Altrincham
Chester C v Worksop T
Leek T v Southport
Alfreton T v Spennymoor Utd/Halesowen T
Leigh RMI v Vauxhall Motors
Rugby Utd v Telford Utd
Stalybridge Celtic v Scarborough
Northwich Victoria v Barrow
Wakefield & Emley v Burton Albion
Ilkeston T v Harrogate T/Burscough
Tamworth v Nuneaton Borough
Lancaster C v Morecambe
Colwyn Bay v Blyth Spartans
Halifax T v Doncaster Rovers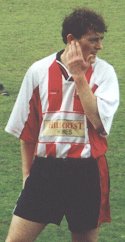 BARRY RETURNS
Altrincham have signed defender Barry Shuttleworth (right), recently released by Accrington. Barry, 25, was on loan at Moss Lane last season, from Macclesfield Town. He made 7 starts and scored once for Alty. He is the sixth player to make a return to Moss Lane this season, following Gary Talbot, Chris Adams, Vernum Rowland, Kurt Edginton and Kevin Hulme, though Hulme has since left again.
NO GAME NEXT SATURDAY
Despite rumours that Hucknall Town had applied to the UniBond League to play their away fixture at Altrincham next Saturday, 7 December, Graham Heathcote has confirmed that there will be no Altrincham first-team game on that date.
RESULTS
Monday
Droylsden v Gateshead POSTPONED
Marine 0 ALTRINCHAM 1
TROPHY
The FA site has a feature on the Trophy and Graham Heathcote. The draw for Round 3 is early Monday afternoon.
UPDATES
Click on the Attendances and Through the Years links above for updated pages.
BRADFORD P.A. 0 ALTRINCHAM 1

In Terry Rowley's picture, Alty celebrate at the end of Saturday's game. Back Row: Acton (with Woodford on his back), Rose and Maddox. Front: Tunnicliffe, Craney, Scott and Lunt.
MATCH REPORT HERE
Other updates:
Alty's FAT record.
---
---
1 December 2002
TRANSFERS
James Robinson (Crewe A. to Altrincham on loan)
Darren Connell (Scarborough to Barrow on loan)
Alan Bailey (Marine to Guiseley)
UNIBOND NEWS
UniBond, sponsors of the Northern Premier League, have given Barrow and Vauxhall Motors £250 each for reaching the FA Cup 2nd Round. Gateshead have sacked Ian Dixon for "playing for Whitley Bay without permission". On Monday night Alty will have to watch out for Will Dolan, Marine's new young striker who scored twice on Saturday at Ashton. Alty will be without goalkeeper Richard Acton who is suspended; Kurt Edginton was on the bench at Bradford, so he is the likely replacement.
WELL DONE!
The Bring-and-Buy sale at Moss Lane last night raised £620-17 for the Club. Many thanks are due to all those who organised the event, and particularly to Jackie Gallimore and her family and Derek and Anne Wilshaw. The event was well attended and all those who produced goods for sale and/or attended the sale are also gratefully thanked.
BRADFORD P.A. 0 ALTRINCHAM 1
MATCH REPORT HERE
GRAHAM
In the Pink, Graham Heathcote says the signing of Matty Taylor (ex-Hyde) is now "unlikely to happen, although I do have some imminent loan signings lined up". One of these is James Robinson (see news for 29 Nov.). Graham says "Our problems of late have been caused by our inability to turn scoring opportunities into goals. If it wasn't for Rod Thornley...we'd really be struggling". He added, "If we fail to deliver over the next couple of games we could find ourselves very much in the mixer down near the bottom". "The attitude in the dressing room is spot on which is always half the battle", he continued, and "If someone had told me when I took over seven weeks ago that we'd take 14 points from my first nine games, I'd have happily settled for that in view of some of the sides we've had to meet...Another encouraging aspect of the last few weeks has been the progress made by several of our youth players and, in particular, Stephen Lunt. He and two or three others are now knocking on the first team door and, when the time is right, they will get more opportunities to show what they can do at senior level...Age should be no barrier..We need to build up competition for places...because a complacent footballer is only half the player he can be".
OLD BOYS
A hat-trick by Tony Hemmings helped Tamworth beat Accrington 4-1 yesterday. Stanley's Mark Sertori conceded a penalty, whilst James Glendenning gave one away for Droylsden. Two other ex-Robins also had bad days for Droylsden; Steve Porter was sent off and Adam Farley was injured. Dickie Landon was on the mark again for Radcliffe. A fine game from Stuart Coburn could not prevent Leigh losing at home. Jeremy Illingworth netted for Stocksbridge PS. Adewale Ajetunmobi is featured in the NLP in an article on his curent club, Vauxhall Motors. Ajet was not in their FA Cup side at QPR and the article concentrates on the problems of pronouncing his name.
---
---
FOR EARLIER NEWS, CLICK HERE
---
---