Altrincham Football Club News Archive
13 to 26 December 2002
---
27 December 2002
HYDE APPOINT WAYWELL
Hyde United
report that they have sacked manager Gordon Hill whose only victory was in the UniBond Cup over Altrincham! Otherwise, Hill failed to plot a win in thirteen league games. Hyde United Secretary, Tony Beard said, "The Directors felt that there was just one last throw of the dice if we are to escape relegation". The new boss is Leigh RMI manager Steve Waywell, who has resigned from Hilton Park after eight years during which he took Leigh into the Conference. Waywell is a former Hyde United player and he becomes the Tigers' third boss this season after Hill and Dave Nolan.
SATURDAY GAME
Colwyn Bay, whom we meet tomorrow, conceded two added-time goals yesterday, the second being a penalty, so only drew 2-2 at Ashton. Howard Watts's
Through the Years
data for 28 December is
here
.
UNIBOND NEWS
As reported below, the Bradford game yesterday was abandoned due a serious chest injury to BPA keeper Lutz Pfannenstiel. He was resuscitated on the pitch and treated for more than half an hour after taking a kick in the chest. As he lay injured, Harrogate scored. Before being released from hospital he was diagnosed as having had a blow to the sternum which resulted in loss of oxygen in the lungs.
YOUTH
The Youth team league
table
has been updated. They play at home on Sunday 29th to Marine "A". Kick-off is at 1-30pm at Wythenshawe Town FC.
PRICES
Kettering Town have informed Altrincham that prices for the FA Trophy game to be played on Saturday 11 January will be:- £10.50 and £8 for the Main Stand and £8.50 and £7 for the terraces.
---
26 December 2002
BOARD STATEMENT
From today's Robins' Review:
The Board of Altrincham Football Club confirms that discussions in respect of the future of the club are still ongoing. Following the expiry of a previous land option arrangement in the summer negotiations with another party, incorporating shirt sponsorship, have been ongoing since the end of September.
These discussions have included Trafford Borough Council who are the freeholders of the Moss Lane ground. The Board stress that all three parties are making the best endeavours to resolve the situation, thus giving the club vital financial input to ease the very serious situation. Although the long term debtor position remains extremely precarious the Board can report that current season liabilities in respect of income tax and VAT are being paid month by month. The Board would hope to be in a position to report more positive news in the early new year.
ALTRINCHAM 3 DROYLSDEN 1
What were the Alty players up to, today, in the above picture? To see the other side of their number boards, see the match report here.
SERIOUS INJURY HALTS GAME
Today's match between Bradford PA and Harrogate was abandoned after 29 minutes when BPA's colourful German goalkeeper Lutz Pfannenstiel suffered a suspected punctured lung and had to be resuscitated. Results:
Ashton U. 2 Colwyn Bay 2
Barrow 2 Lancaster C. 2
Bradford P A 2 Harrogate T. 1- abandoned after player injured.
Burscough 0 Vauxhall M. 0
Gainsborough T. 4 Worksop T. 2
Gateshead 3 Blyth Spartans 0
Hyde U. 0 Stalybridge C. 1
Marine 0 Runcorn FC Halton 2
Wakefield & Emley 0 Frickley A. 0
Whitby T. v Accrington S. Postponed.
TROPHY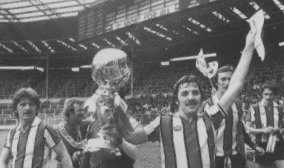 With a Trophy tie at Kettering approaching on 11 January, three new pages have been added to this site chronicling some of the finest days in the Club's history, namely the FA Trophy Final appearances in 1978, 1982 and 1986. The new pages record the route to Wembley, the Altrincham line-up for each Final and the contemporary pen pictures of the squad drawn from the Wembley matchday programme. The 1978 page, with links to 1982 and 1986, may be found here. Each page is also illustrated with contemporary photographs. The club's complete FA Trophy record is here. Pictured, left, is Graham Heathcote leading the celebrations after the 1978 Trophy Final.
DAVE GARDNER
Further investigation suggests that recent signing Dave Gardner, from Salford City, (see news for 24 Dec. below) was previously at Altrincham in 1999-2000 but appeared just once in the first team.
---
25 December 2002
SEASON'S GREETINGS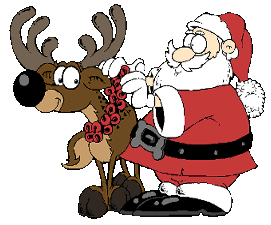 The Altrincham Official Web Site wishes all its users a very Happy Christmas and New Year.
GOAL RUSH
Don't forget to join the Goal Rush fundraising competition in which you can win £100 a month; details here. All proceeds benefit Altrincham FC.
CHAIRMAN'S APPEAL
Geoff Goodwin, chairman of Altrincham FC, is reported in SAM as saying, "It's ironic that Altrincham and Hale have more millionaires per square mile than any other part of the UK and we are struggling to get more people on the Board of Directors. We need more people on the Board to help us make sure that the club is run in a way where it does not lose any more money". But, he went on, "One thing I am happy about is the way the team are performing. The level of professionalism that Graham (Heathcote) has brought back to the squad is top notch". Geoff added, "I'm only here to help the club for now- I do not see myself as a long-term chairman. At the end of the day I don't have pots of money to put in and I have a business to run". He also paid tribute to the many "people here giving their time for nothing" but added, "It is a tricky time for the club- I cannot emphasize that enough. If the club survives to the end of the season that will be a milestone".
TRANSFERS
Jon Kennedy (Sunderland & ex-Worksop to Gateshead on loan)
Edward Tarsuslugil (Bury to Wakefield & Emley)

Former Alty player Marc Lloyd-Williams is to return to Bangor City from Southport, whom he only joined in summer 2002. In 2001-02 Marc hit 66 goals for Bangor to make him the leading scorer in Europe but he has been much less prolific for Southport.
---
24 December 2002
ALTY SIGNING
Altrincham have signed Dave Gardner from NW Counties side Salford City. In January 2001 he moved from Salford to Leigh RMI, where he started one game in the Conference, at no.11, and made three sub appearances before being released in July 2001 and returning to Salford. He has scored three league goals this season for Salford. Gardner's career began at Haslingden and he then moved for an initial spell at Leigh RMI before playing for Clitheroe and Curzon Ashton. He joined Salford at the start of the 2000/01 season.
YOUTH CHANGE
Alty Youth are now at HOME this Sunday (29th) to Marine A and not away as previously scheduled. NB k.o. is 1.30pm, at Wythenshawe Town FC.
BRIAN LEBOUTILLIER
Longstanding supporters of Altrincham FC will be interested to hear that the former Robins' forward Brian Leboutillier has been in touch with the website. Brian, who made a number of first-team appearances for Alty in the 1979-81 period, is now living in Salisbury, Wiltshire where he holds a senior position with O2(UK), the communications company. He came to Moss Lane via local football after playing for Heys Albion. Brian maintains his football links by managing Bemerton Heath Harlequins Reserves, who play in the Jewson Wessex League -they won 5-2 last weekend! He sends his best wishes for Christmas and New Year to all at Altrincham FC and hopes to make a visit to Moss Lane in January or February.
TRIALS AT MOSS LANE
Football CV, is a web-site "for soccer players to advertise their own experience and ability. Once registered the player details are placed onto the database for managers, coaches and scouts to view. where footballers successfully list themselves with a view to being picked up by a club". It is "pleased to confirm there will be a Trials Day at Altrincham F.C, in Cheshire, on Sunday, May 11th 2003. It is the first one in the North-West of England and will include trials in the following age groups: Over 18's, Under 18's, Under 16's and Under 14's. The cost to attend is £25 and can be booked by telephone on 0870 240 0523 or by following the instructions on their web-site.
SCORERS
Alty's Rod Thornley is joint eighth in the UniBond League scorers' chart:
20 Terry Fearns (Vauxhall Motors)
19 Andy Whittaker (Lancaster C.)
16 Phil Eastwood (Stalybridge C.)
15 Aaron Wilford (Whitby T.)
14 Lee Ellington (Gainsborough T.), Paul Mullin (Accrington S.), Lutel James (Accrington S.)
11 Rod Thornley (Altrincham), Steve Foster (Hyde U.), Robbie Whellans (Harrogate T.), Phil Stant (Gainsborough T.), Andy Hayward (Bradford PA)
UNIBOND NEWS
The UniBond League has now received formal notice from the Conference that it is to approach UniBond Premier Division clubs with a view to forming two extra Conference divisions, (see news for 23 December below). UniBond Chief Executive Duncan Bayley said, "I believe we could lose 14 or 15 clubs and our status because we would go down one level".

Bradford PA have signed former Frickley midfielder Simon Collins from Belper Town. He was Frickley's "Player of the Season" last year - and scored against us. Gateshead hope to sign goalkeeper John Harvey from Sunderland in time for Boxing Day's match match against Blyth Spartans.
---
---
23 December 2002
AWAY TRIPS
The SAFE supporters' coach details for the trips to Colwyn Bay (Dec. 28) and Droylsden (Jan. 1) are now here.
SHAKE-UP
The Football Conference, dissatisfied with the lack of restructuring by the FA, have come up with a plan to create up to two more divisions in the Conference, to feed into the existing Conference division. They have canvassed all the Premier division clubs in the UniBond, Ryman and Dr Martens leagues to gauge opinion. Depending on responses they hope to set up one or two 22-side feeder divisions to the Conference. If two divisions are created, clubs would be regionally assigned to a North or South division. The current chairman of the Conference is Bill King, formerly chairman of Altrincham F.C. One of the reasons cited for the changes is to help clubs who are relegated from the Conference to adjust to their fall in income; Leek Town, Kingstonian and Altrincham are cited by the Conference as examples of clubs with financial problems caused by relegation.
UNIBOND CUPS
Altrincham are out of the UniBond League Cups, but below are the quarter-final draws, to be played on Saturday 25th January, when we currently have no fixture arranged. Our conquerors, Colwyn Bay are away at Stalybridge.

Challenge Cup:
Gateshead/Harrogate Town v Alfreton T./Eastwood T.
Vauxhall M. v Rossendale U.
Radcliffe B. v Bradford PA/Ossett T.
Marine v Worksop T.

President's Cup:
Ashton U. v N. Ferriby U.
Wakefield & Emley/Farsley C. v Kidsgrove A.
Runcorn FC Halton v Spennymooor U.
Stalybridge C. v Colwyn Bay

Chairman's Cup:
Blyth S. v Frickley A.
Bamber B. v Kendal T.
Lincoln U. v Hucknall T.
Guiseley/ Droylsden v Witton A.
UNIBOND NEWS
Accrington's former Leigh striker Tony Black has been released. Gainsborough have signed striker Gary Jones (33), who scored 96 times in more than 300 appearances for Hartlepool, Doncaster, Halifax and Notts County.
---
22 December 2002
STAR NEWS
Alan Johnson's website has an extensive update on the formation of STAR, a supporters' trust at Altrincham. There will be an open meeting at 5.30pm on January 4th (after the Lancaster game) to take forward the formation of STAR. Bob Peters is the acting Chair of STAR, with Jacqui Forster as acting coordinator, Bob Allan as acting treasurer and Gary Warrington as acting membership secretary. Jon Stack is acting marketing consultant whilst Alan Johnson, Mark Murray, Phil Taylor and Andrew Nash are amongst the others involved in the preparatory work for STAR. All supporters owe a debt to these and the other volunteers for their hard work.
KEEPING FIT
As well as Simon Woodford, who (as reported below) played half a game for Flixton yesterday, Alty's Anthony Hargreaves also turned out for another club yesterday in a bid to keep fit. Anthony played in midfield for NW Counties side Abbey Hey.
YOUTH TEAM
Today's youth match is postponed. More Youth fixtures have now been announced; click here for details.
OLD BOYS
When Alty meet Droylsden on Boxing Day we can expect to be opposed by ex-Robins defenders Adam Farley, Steve Porter and James Glendenning, all of whom were in the Bloods' squad yesterday. Carl Furlong played for Colwyn Bay, whom we meet on December 28, and Matt McNeil got two goals for Runcorn. Chris Timons was in Gainsborough's side and Mark Sertori was in Accrington's losing eleven. In the League, the ex-Alty men in action included Paul Edwards (Wrexham), Danny Adams (Macc.) and Alex Hay (Tranmere). In the Conference Mark Quayle turned out for Nuneaton.
INJURIES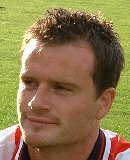 The Pink has a report on Alty's injury crisis. Rod Thornley is to have minor knee surgery tomorrow making both him and Gary Talbot doubtful for the Kettering clash in the Trophy. Gary has a torn calf muscle. James Robinson, the on-loan striker from Crewe, was seeing a specialist last Friday with a pelvic problem and Neil Ryan (right) is to have a further groin scan in a fortnight. Graham Heathcote said "A fortnight ago I was hoping to have everyone fit for Christmas and then I'm hit with this lot! But that's football. We'll just have to make the best of it...because there's nothing in the kitty for replacements". Graham was expected to watch Kettering at Morecambe yesterday; the Shrimps won 1-0.
UNIBOND NEWS
Vauxhall Motors keeper Andy Ralph broke his forearm yesterday. Frickley Athletic have transfer-listed leading goalscorer Andy Evans, who has scored six times in his three months at the club. Aged 27, he has previously been at Stalybridge and in the League with Cardiff City, Barnsley and Mansfield Town. Work starts in late January on Stalybridge Celtic's new stand which will hold 600 fans, to be erected opposite the main stand. However, Worksop's ground improvements have run into planning problems with the local council who are concerned at inadequate car parking for the intended capacity of 4,000.
---
21 December 2002
ALTY DROP TO 18th
Runcorn moved above Alty today:
Ashton U. 3 Frickley A. 2
Barrow 3 Gainsborough T. 2
Blyth S. v Worksop T. POSTPONED
Colwyn Bay 0 Harrogate T. 1
Droylsden 0 Gateshead 2
Hucknall T. 2 Accrington S. 1
Runcorn FC Halton 4 Wakefield & Emley 1
Vauxhall M. 3 Whitby Town 2
WOODFORD WITH FLIXTON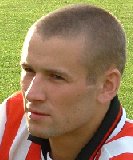 As Altrincham had no fixture this Saturday, a trip to the Nantwich v Flixton game led to the unexpected sighting of Alty midfielder Simon Woodford (right) playing for Flixton. Presumably he was gaining some match practice and was substituted at half-time. Two of Alty Youth's strikers of 2000-01 were also in action; Rico Richards hit a hat-trick for Flixton whilst Wes Wilkinson got two for Nantwich in an entertaining 3-3 draw. Also playing was Nantwich player-manager and ex-Alty player-coach Nigel Gleghorn and a used Flixton sub was Kenny Brady who played for Alty in the pre-season two years ago.
STANLEY SIGN ANOTHER
Accrington Stanley have paid Bradford PA £7,500 for their fiery ex-Frickley and Emley winger, Rory Prendergast. He joins Dean Calcutt whom Stanley also bought this season from BPA. Two Colwyn Bay players, Neil Rigby and Chris Edge, are reported to have left the Welsh club. Other transfers:
Carl Adams (Hednesford T. to Hucknall T.)
Gary Jones (Hucknall T. to Gainsborough T.)
TROPHY
Our Trophy opponents Kettering received a fillip yesterday when midfielder Scott Goodwin withdrew his notice of departure which he had given following a players' wage-cut. 20 December 2002
UNIBOND NEWS
The Accrington site quotes defender Steve Halford as saying that former Alty centre-back "Mark Sertori has been one of the keys to Accrington Stanley's 9-point gap at the top of the UniBond Premier table. Last season we had a very young backline at Accrington but with the addition of Carlo (Sertori) in the summer it has helped a lot," he said. The UniBond League Cup draws will be made today (Friday). Hucknall Today reports that Hucknall Town player-manager Phil Starbuck is out of action till the end of the season with a knee injury. "It is potentially career-threatening", said the newspaper.
---
19 December 2002
YOUTH ON SUNDAY
Alty Youth will now either be at home to St Helens or away at Leigh this Sunday, depending on the weather; see the Youth Page for full details and for the NWYA Open Cup draw.
SHOP OPEN
The Robins' Shop at Moss Lane will be open tonight (Thursday) from 7pm to 8.30pm even though the Man. Utd Res v Newcastle Utd Res. game has now been switched to Old Trafford.
UNIBOND NEWS
Accrington Stanley "are currently talking to two left sided players about moves to the Crown Ground". Chris Cornelly who recently moved from Ashton Utd to Lincoln City made his Nationwide debut last Saturday. Bradford PA full-back Martin James may have played his last game of football due to injury, according to the Bradford Telegraph & Argus.
---
18 December 2002
INJURIES MOUNT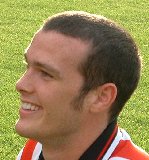 Altrincham go into Christmas with a mounting injury list:
Rod Thornley (right) is to have a knee operation over the weekend and will be out for 3-4 weeks.
Gary Talbot has a calf injury and will be out for 3-4 weeks.
Neil Ryan is due to have a scan at Manchester Royal Infirmary on his groin.
James Robinson is seeing a specialist this Friday.

In addition:
Mark Maddox is suspended for the game at Colwyn Bay on 28 December.
Peter Band has pleaded guilty to his charge after being dismissed against Hyde Utd recently and can expect a ban in the New Year.

With Steve Lunt also still injured, Graham Heathcote will have particular problems in devising his strike force over Christmas. The only good news is that both Danny Murphy and Vernum Rowland, who have been out injured, are nearing fitness.
UNITED GAME MOVED
Manchester United have switched tomorrow night's Reserves' game with Newcastle Utd to Old Trafford. United want to ensure that the game goes ahead to give Roy Keane match practice and, whereas Old Trafford has undersoil heating, Moss Lane obviously does not.
TROPHY OPPONENTS
Kettering Town, whom we meet in the Trophy on 11 January, have lost midfielder Scott Goodwin who "has exercised his right to leave under breach of contract", according to the NLP. Manager Carl Shutt confirmed that drastic wage cuts were behind Goodwin's decision to leave. His departure will leave just eleven senior players at the club.
DAVE ESDAILLE
Trafford beat Flixton 3-2 on Monday night in the testimonial for ex-Alty player Dave Esdaille.
MISTAKEN IDENTITY
According to the Tameside Advertiser's triumphal report on Alty's defeat at Stalybridge, "Colin Potts was in irrepressible form, so much so that Alty obligingly substituted full back Danny(!!!) Adams at half-time to save him further punishment only for Barry Shuttleworth to receive more torture in the second-half".
RESULTS & FIXTURES
Tuesday, 17th
League Challenge Cup Third Round:
Worksop T. 3 Gainsborough T. 1
President's Cup:
Ashton U. 4 Accrington S. 2
Wednesday, 18th
League Challenge Cup Third Round
Bradford PA v Ossett T
Gateshead v Harrogate T
President's Cup
Wakefield & Emley v Farsley C.
---
17 December 2002
CHRISTMAS GAMES
This site wishes all its users a happy Christmas and New Year!

Howard Watts's Through the Years data shows that Altrincham have generally played local opponents on Boxing Day but the match this year will be the first on that day against our neighbours from Droylsden. The match is at Moss Lane. On 28 December Alty travel to Colwyn Bay and on 1 December they are away at Droylsden. All three games are 3pm kick-offs.

Meanwhile, Alty Youth entertain St Helens College at Wythenshawe Town FC (Timpson Rd, behind Tesco at Baguley) this Sunday (22nd), k.o.2pm, entry is free.
TOP OF THE TABLE
In the UniBond Press Release Alty top the table for teams failing to score with 10 such matches to their name in their 24 league games. In fact, Alty have only scored five goals in their last seven UniBond games. However, we are a very respectable fourth in the table for keeping clean sheets, having had 7 - a record bettered only by Wakefield & Emley, Droylsden and Burscough.
BUMPER CROWD?
With Alex Ferguson suggesting that Roy Keane may well play for Man. United Reserves at Moss Lane on Thursday (19th, NB k.o. 7.00pm), a large crowd is expected so get there early! SAFE has been given permission by United to have a bucket collection for Altrincham FC at half-time. Any volunteers to help with the collection will be welcomed; please contact Gary Warrington via the Fans' Forum or at the SAFE hut on the night. Entry to the game is just £2.

Volunteer stewards are also needed; please contact Doug Ashton, chief steward, via the Club [928-1045] if you can help for this game or against Droylsden on Boxing Day.
UNIBOND NEWS
Bradford's Jason Maxwell suffered a triple fracture of the cheekbone at Accrington on Saturday; he will be out for 6 to 8 weeks. Gateshead's former player Nicky Mohan has moved to Spennymoor who now also have Adrian Swan, Richie Watson, Chris Lynch, David Goodchild, Neal Bishop, Stuart Brightwell, Jason Ainsley, Steve Preen and Ben Ryan as ex-Heed players. Ex-Alty keeper Andy Moore tore his ligaments playing for Trafford Reserves last weekend; in the same game another ex-Robin, Lee Thompson, scored for the second game running. Yet another ex-Alty Youth player, Ian Taylor was Man of the Match in the earlier game in which Newbrook, Horton, Smith and Tilley were other ex-Alty Youth players involved.
---
16 December 2002
YOUTH WIN
The Altrincham Youth team won 4-1 yesterday at Marine; a match report is on the Youth Page.
CAN YOU HELP?
Teletext quotes Sir Alex Ferguson as saying that Roy Keane "may play" at Altrincham on Thursday when United Reserves face Newcastle United. Chief steward Doug Ashton has appealed for volunteers to act as stewards at that game at Moss Lane as well as for Boxing Day when Alty host Droylsden (3pm). If you can help, on either or both occasions, please e-mail Doug or ring the club to offer your services on 928-1045.
UNIBOND NEWS
At least some of the following sounds familiar... The Gainsborough chairman has told supporters; "When I arrived I found many people working hard but the club was struggling financially with both the Banks and the Inland Revenue... This has now been addressed and the Club will be in the black at the end of the season. The income for the present season will be approximately £140,000. I believe to have any reasonable chance of promotion to the Conference we must increase that to approximately £170,000... Some of the present directors, for various reasons, felt they could not offer the level of commitment, in either time or finance I felt was necessary for the Club to move forward. As a consequence of this several of the Board felt it necessary to resign... There are shares in the Club which are available for purchase, a minimum purchase of £10 is required... It is imperative that the relationship with the Supporters' Club is strengthened, as there is little future for this Football Club without it, I thank them for the donation of £25,000 presented to me before the start of this meeting. I found that approximately 1 in 4 or 5 were gaining entry to the ground with complimentary tickets. This has now ceased and complimentary tickets for players etc will no longer be issued. I wish to announce the formation of an Executive Club at a cost of £100, to include admission to matches, for the rest of the season there will be a reduction to £50 for existing season ticket holders... On the field next season will see the formation of a Reserve team playing at a reasonable level. I do not believe the club can be successful without one... The future of this club must include close links to the community and developing local young talent... In the long term I look to have a settled squad, mainly of younger players. It is important we have continuity on the field and a sound financial basis off it".

Blyth's 4-0 win on Saturday was their first clean sheet of the season. Burscough report that on Saturday at Droylsden, "the notoriously heavy and uneven Butcher's Arms pitch once more made good football virtually impossible". Alty play there on New Year's Day.
TRANSFERS
Jonathon Wordsworth (Frickley A. to Stocksbridge PS), though other reports say he has gone on loan to Guiseley.
Nicky Mohan (Harrogate T. to Spennymoor U.)
FIXTURES
Monday, 16th
Chairman's Cup:
Guiseley v Droylsden POSTPONED
Tuesday, 17th
League Challenge Cup Third Round:
Worksop T. v Gainsborough T.
President's Cup:
Ashton U. v Accrington S.
Wednesday, 18th
League Challenge Cup Third Round
Bradford PA v Ossett T
Gateshead v Harrogate T
President's Cup
Wakefield & Emley v Farsley C.
---
15 December 2002
STALYBRIDGE CELTIC 2 ALTRINCHAM 0
Match report here.
Pictured above from Alan Johnson's photo website, Richard Acton catches as Celtic's Earl Davis challenges. The Alty line-up is here.
UNIBOND CHAIR
In the Pink an interview with Duncan Bayley, who has just resigned as chairman of the League, outlines the reasons for his resignation. The paper states that differences with his committee "over his enthusiasm to embrace the latest information technology and, in particular, the league's new website, appear to be at the heart of the row".
OLD BOYS
On Monday (16th, 7.30pm), there is a testimonial game for Dave Esdaille who suffered a bad leg fracture playing for Flixton earlier this season. The game will be between Flixton and Trafford; both clubs have some ex-Altrincham players on their books so, as well as helping Dave, you may see some familiar faces. One of these, Mike Turner, netted again for Flixton yesterday. Alex Hay, on loan at Alty two seasons ago, scored for Tranmere Rovers, whilst Paul Edwards (Wrexham), Nicky Daws and Mike Pollitt (Rotherham) also played in the Nationwide League yesterday. Ex-Youth player Wes Wilkinson scored again for Nantwich Town. The Pink reports that Kevin Ellison is the butt of his Chairman's jokes as the cause of his broken toe was dropping a wardrobe on it; "He was a silly ass for moving a cabinet on the Thursday before a game", said Brendan Elwood. Kevin keeps in touch with Alty and says, "They've made me a patron of the club so I try and help out when I can".
---
14 December 2002
RESULTS
Accrington S. 3 Bradford PA 1
Blyth S. 4 Ashton United 0
Colwyn Bay 3 Wakefield & Emley 2
Droylsden 1 Burscough 0
Frickley A. 0 Hyde U. 0
Harrogate T. 3 Runcorn FC Halton 1
Lancaster C. 0 Gainsborough T. 1
Marine 5 Whitby T. 5
Stalybridge C. 2 Altrincham 0
Vauxhall M. 3 Gateshead 0
TRANSFERS
Anton Lally (Marine to Colwyn Bay)
Adie Mike (Lincoln C. to Gainsboro' T.)
Dale Telfer (Prudhoe T. to Gateshead)
Craig Rand (Whitby T. to Stocksbridge PS)
Paul Gibson (Droylsden to Witton A.)
Rogério Carvalho (York City to Harrogate T. on loan). He is a 6ft 4ins Brazilian.
Lee Soar (Gedling T. to Hucknall T.)
UNIBOND NEWS
Following power blackouts at two successive Ashton United home games, the cause has now been located and should be repaired before Christmas. Whitby Town chairman Bill Fotherby has offered York City a groundshare at the Wetherby Road ground as there is a plan to build houses at York's Bootham Crescent stadium.
---
13 December 2002
FRIDAY GAME
Worksop T. 5 Hucknall T. 4
League table
KICK-OFF
Rumours that the New Year's Day match at Droylsden would be an evening kick-off have proved unfounded; the match will start at 3pm.
SCORES
Scorecheck, in association with the UniBond Northern Premier League, will be providing live scores on the Web for all the UniBond Premier Division games from 4 January, 2003. Click the above logo to visit the site.
Scorecheck also reports that UniBond SMS Alert packages go on sale as from today. Click here for more details.
NEXT GAME
The Tameside Advertiser reports that Dave Miller, the boss of Stalybridge, whom we play on Saturday, believes ex-Southport striker Phil Eastwood (24) is his side's key player. Eastwood has already scored 17 goals including 6 in the last 4 games. "Technically, he's the best player we've got at the moment, he's got a great right foot, a great left foot and he's on fire right now", said Miller who also told the Advertiser that "he toyed with the idea of making an audacious bid to sign former Lazio and England star Paul Gascoigne last week. While the publicity would have been nice and the crowds would have flocked through the gates, overall I felt the move would have been counter-productive", he concluded. Gascoigne now lives in south Manchester. Celtic's ex-Alty defender Terry Bowker is injured so unlikely to figure against the Robins.
---
FOR EARLIER NEWS, CLICK HERE
---