Altrincham Football Club News Archive: 2-9 February 2001
---
9 February 2001
UNIBOND CUP DRAW
Tonight's GMR hosted the draw for the Unibond Challenge and President's Cup. Ashton play Ossett next Monday but whatever the result, Altrincham are now, at best, consigned to the Chairman's Cup, which has not yet been subject to a quarter-final draw. Even if Ashton lose and Alty finish second in their group, they would be one of the two worst second-place sides and therefore not qualify for the President's Cup.
Challenge Cup
Marine/Burscough/Vauxhall v Gainsborough Trinity
Lancaster City v Bamber Bridge
Belper Town v Droylsden
Hyde Utd v Bishop Auckland/Blyth Spartans
President's Cup

Bishop Auckland/Blyth Spartans v Workington
Farsley Celtic v Accrington Stanley
Hucknall Town v Burscough/Marine/Vauxhall/Witton Albion
Ashton Utd/Harrogate Town v Stalybridge Celtic.
APOLOGIES
U-Net, the internet service providers for this site, have had some major problems with their server today, which has delayed uploading and may have caused access problems, for which I apologise.
ELLENDER SALE?
Bristol Rovers are rumoured to be signing Paul Ellender for £200,000 according to the MEN tonight. Although Alty had a sell-on clause in Ellender's contract, it is uncertain legally whether that is enforceable since the regime at Scarborough changed some months ago. It would be naive to expect the Seadogs to make good the money that they failed to pay Altrincham for Ellender who reportedly left Moss Lane for a £60,000 fee which could have risen to £80,000 based on appearances.
POWER GOES
The earlier news that Phil Power might join Radcliffe Borough has now been confirmed. Phil joins the currently injured ex-Robin Neill Hardy at the Boro. Power played 76 games (+20 as sub) and scored 18 goals for Altrincham. Things went downhill for him in early 2000 after he was appointed as coach following the resignation of Graham Heathcote and got himself sent off in the Cheshire Senior Cup final, which arguably cost us that trophy. Before that he had been a popular member of the team which won the Unibond Premier League in 1999. Another ex-Alty man, Robert Trees has now signed for Leigh after being on loan there recently.
SATURDAY FIXTURES
Bad weather is again promised for tomorrow so Alty's match must be at risk. If it proceeds, we go into the match at Lancaster on the back of five league and cup games without a win and five consecutive away games in the league without a victory. Lancaster, in contrast, have gone nine league games without defeat, since late October. If the match is postponed an alternative might be to watch Landon and Crowe for Droylsden v Hucknall.
---
8 February 2001
FROM DOLE QUEUE TO LEICESTER
Following his transfer to Leicester, Kevin Ellison is quoted on the Teamtalk website as saying that "I thought I had missed my chance to play at the top level, and I'm grateful to Leicester for giving me the opportunity. I want to make the most of it...This is a dream come true for me and I still can't believe it. I was on the dole and wondering if I would ever get my chance. I know I have to get fitter after being out for more than two months with a knee injury".
DON'T FORGET...
As reported earlier, Simon Matters of Hucknall is producing "Extra Time", a new UniBond League magazine which will be a monthly publication. The first issue is due out on 21st February. It can be obtained from Simon Matters 199, Nottingham Road, Hucknall, Nottingham NG15 7QB. It costs £1-20 per monthly issue or you can subscribe to 13 issues for £12, or six for £6.50, postage paid. A SAE of A5 size should accompany any orders. Simon is also keen to receive articles and other contributions.
UNIBOND FATE
Five Unibond Challenge Cup matches are scheduled for tonight but, apparently, not the Ashton-Ossett match which will determine Altrincham's fate.
SCHOOLS' INITIATIVE
Alty's Schools' Coordinator is Bob Allan and his letter to all local headmasters offering free tickets to Alty matches for schoolchildren is here.
---
7 February 2001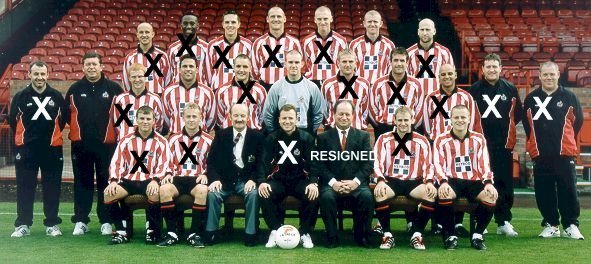 THEN THERE WERE SEVEN...
Only 7 of the above players remain at the Club since this picture was taken at the start of this season. They are the ones without a cross on them i.e. Scheuber, Maddox, Gallagher, Coburn, Porter, Ward and Hawes. For details of the departed players, click here and for those still at Moss Lane, click here.


LANCASTER AND MARK WARD
According to the Lancaster website "Alty boss Mark Ward was interviewed for the [Lancaster] City job when Tony Hesketh took over in March 1999, apparently it was felt that if he was appointed it would be something of a roller-coaster ride". Lancaster have gone nine league matches without defeat, their last defeat being on 21 October.
NEW DATES
Our home matches against Hucknall and Barrow are now on 20 February and 27 March respectively, instead of 3 April and 20 February. The changes are knock-on effects of Worksop's involvement in the Trophy. The fixture list is here.
GOOD NEWS FOR A CHANGE
As previously reported Alty Youth won again last Sunday and still have a 100% record this season; there is now a match report here on the game at Lancaster City. For more on the youth team and its revised fixtures click here. They are at home to Morecambe this Sunday (2pm) at Wythenshawe Town (behind Tesco, Baguley).
LAST NIGHT'S STOCKSBRIDGE GAME-DID IT REALLY HAPPEN OR WAS IT JUST A NIGHTMARE?
Did we lose 0-3 last night (as Ceefax said) or was it really 1-3, or was the match actually postponed (as was stated in several of this morning's newspapers)? Are we now likely to be in the President's or the Chairman's Cup? Was Premiership football referee, David Elleray really summoned to the Moss Lane referee's room during last night's match with Stocksbridge? If so, who was the guilty announcer? Following Kevin Ellison's departure to Leicester, which Alty player showed form last night that is now linking him to (the) W.B.A. - (the World Boxing Association not West Bromwich Albion)? For the answers to these and other fascinating questions, read the match report of Altrincham v Stocksbridge by clicking here.
"A NEW LOW"
"Altrincham's troubled season hit a new low last night" is how the Evening News describes last night's game.
NEW GROUNDS
Runcorn have agreed to sell their Canal Street ground for £1 million, subject to planning permission being granted to the purchaser, a local builder. As well as playing a match this season at Widnes (see earlier news item), Runcorn also hope to stage a game at Warrington in an attempt to gauge local interest in football. Last Saturday's match programme at Northwich gave details of their new ground. The 8.67 acre ground at Wincham Business Park will have no social club, but will have a match-day bar. The existing Dane Bank terrace will be dismantled and re-erected at the new site, whilst terracing and a new stand are also planned. The Vics also hope to make a Lottery bid to create an all-weather pitch which would be hired out for Club revenue.
NOT JUST US
It is not just Altrincham who have earned a sizeable transfer fee this week; Emley are set to receive £29,000 from a sell-on clause if Glynn Hurst completes a planned transfer to Stockport County from Ayr United for £175,000. Hurst was at Emley before moving to Scotland.
---
6 February 2001
POWER TO RADCLIFFE
Unconfirmed reports suggest that Phil Power has joined Radcliffe Borough rather than, as expected, Droylsden.
ALTY'S LATE BID FOR CHAIRMAN'S CUP GLORY
An uninspiring performance from a relatively strong Altrincham side saw Stocksbridge win 3-1 at Moss Lane tonight in the Unibond Challenge Cup. Ashton now need only to draw their last group match at home to Ossett to take second place in Group 4 and consign Alty to the Chairman's Cup (formerly the Unifilla Cup). Two down after eleven minutes, Alty barely troubled the Steels' keeper all evening, their only goal coming near the end from a penalty by Finney. Just 176 souls saw the visitors cruise to a 2-0 lead by the 11th minute, with a third,deflected goal from Biggins coming after 61 minutes. A six minute stoppage after the referee was carried off injured was a welcome diversion for the home fans from a grim experience which was all too reminiscent of the lacklustre display against Mossley in the FA Cup. Full match report is here. Updated now are the statistics and the team line-up pages.

EMLEY MARCH ON
Tuesday League Matches
Accrington Stanley 3 Gateshead 1
Droylsden 1 Frickley Athletic 1
Hucknall Town 0 Emley 2
The revised league table is here and the fixture grid is here. Alty are now 21 points adrift of Emley, both having played 28 games.
NO MONEY FOR NEW PLAYERS
Mark Ward confirms in tonight's Evening News that none of the fee received for Kevin Ellison (see below) will be available for buying new players.
£50,000 FEE FOR ELLISON

Contrary to earlier rumours the fee paid by Leicester City for Kevin Ellison, as reported by the official Leicester City website, is only £50,000 in the first instance, albeit with triggers which could double this sum based on Kevin's appearances. It is thought that extra £10,000 payments will come with every five first team appearances. This means that the transaction is on paper less valuable to Altrincham than that involving Paul Ellender's £60,000 move to Scarborough in 1999. However, the Yorkshire side defaulted on paying Altrincham the agreed sum so, assuming that Leicester pay the £50,000 in full, the Ellison sale will be the biggest transfer-earner for the Robins.

The Leicester website seems to think that Altrincham are still a Conference side and that Ellison achieved international non-league honours whilst with us, neither of which is true. Kevin has signed a contract for two and a half years. Leicester manager, Peter Taylor, reported that it was his assistant, Colin Murphy, who spotted Kevin at Altrincham. "Kevin has lots of pace and has done well while he has trained with us. He is one for the future and we all hope he is able to take his chance", said Taylor. (For more on this transfer, see News for 5th, 3rd and 2nd February on this page; for more on Kevin see the squad page, statistics pages and individual match report pages).

5 February 2001
ELLISON ALMOST GONE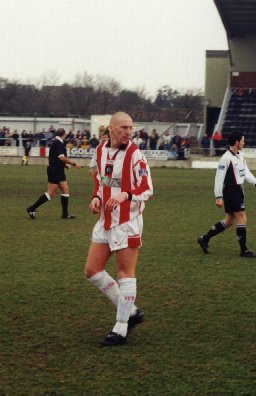 GM Radio and the Sale & Altrincham Messenger have both confirmed that Altrincham and Leicester have agreed the transfer of the Robins' Kevin Ellison to the Premiership side and that the player has agreed personal terms. However, Kevin still has to await results from his medical at Filbert Street before the deal can be finalised. The initial fee is believed to be around £70,000 plus potential appearance payments which could take the sum up to £100,000. SAM quotes Chairman, Mark Harris as saying, "We are very sorry to see Kevin go, but given the club's financial position and the fact that it's a great opportunity for the player himself, we weren't going to stand in his way". Mark Ward stated that he thought Kevin might even see first-team action this season at Leicester. "We are very sorry to see Kevin go, but given the club's financial position and the fact that it's a great opportunity for the player himself, we weren't going to stand in his way", said Mark. After an electric start to his first season in the Conference, Kevin then missed a number of games with injury but still turned out 48 times in all competitions, scoring 16 goals. This season,too, he has suffered injuries and has only started 17 of Altrincham's 28 league games this campaign, scoring nine league goals. He also scored once in three Cup appearances this season. Nevertheless Kevin has continued to impress, with his main attributes being his pace and a thunderous left-foot, which he uses to good effect both in dead-ball situations and from open play. During his Altrincham career he has netted 26 goals in 68 starts. See below (3rd Feb. and 2nd Feb. News) on this page for the background to this story and for details of Kevin's Alty career, see the Squad Page.
RUNCORN'S NEW VENUE
The UniBond League has authorised the switch of the Runcorn v Bishop Auckland game on 10 March to Widnes's rugby league ground, The Autoquest Stadium. The change is to allow Runcorn to assess the level of support should they relocate to the Stadium from the Canal Street slope.
TROPHY DRAW FAVOURS UNIBOND
The Unibond survivors in the FA Trophy have been kept apart in the 5th Round draw - a selection of ties is below:
Chester City v. Blyth Spartans
Evesham/ Morecambe v. Hereford Utd/ Leigh RMI
Tiverton v. Worksop Town
Weymouth v. Southport
ALTY'S CUP FUTURE
The Group 4 Unibond Cup match between Ashton and Ossett was postponed tonight (Monday), so if Altrincham do not win tomorrow against Stocksbridge, their fate will be unknown as regards entry into the President's or Chairman's Cup. The Unibond League have issued a directive that all Group Stage matches should be completed by the end of this week!
Monday League Match
Hyde United v Runcorn POSTPONED

---
4 February 2001
FREE TICKETS TO MOSS LANE!
As reported in the press and at the recent Supporters' Meeting Bob Allan has been appointed to liaise with schools in the Altrincham area and promote interest in Altrincham FC amongst local schoolchildren. To that end, free admission is to be given to large numbers of school pupils for the last eight home league games of this season, (the fixture list is here). If your school has not yet been contacted, you are invited to contact Bob by phone or fax on 0161 282 5459 or by e-mail. Bob is a longstanding supporter of the Club and his enthusiasm for Altrincham FC should ensure that this major initiative brings a lot of new, young faces to Moss Lane- hopefully with their parents, too.
KEVIN ELLISON
News of Kevin Ellison's impending move to Leicester (see yesterday's news, below, for details) was too late for the Sunday press but assuming that the player agrees personal terms tomorrow, the story should reach the national press early next week.
PACE'S VIEWS AND GARY TALBOT
In today's Pink, Dave Pace rounds on Stalybridge's Phil Wilson for criticising the Unibond Cup structure, accusing him of sour grapes. The Droylsden boss then says of Alty's finances, "they have no one to blame but themselves because some of the money they've shelled out to players these last few years has been little short of ridiculous". Pace's view would appear to be supported by news of Gary Talbot's pay-cut on joining Northwich (see below). Gary himself is pictured in action in today's NLP against Hednesford yesterday.
EX-ROBINS
Scarborough are reported in the NLP as valuing Paul Ellender at £200,000, with Bristol Rovers, Cardiff City and Wimbledon reported to have watched him recently. Wimbledon are also said to be interested in Gainsborough's Lee Ellington, whom Alty briefly had on their books last season. Meanwhile Steve Richards, Frickley's ex-Gainsborough boss, has four ex-Trinity players in his side including Mark Ogley. Ally Pickering has surfaced back at Abbey Hey after leaving Gainsborough - he scored an own goal yesterday in a 0-5 defeat. Carl Furlong, described as "on loan" from Altrincham, scored for TNS in the League of Wales yesterday. Dickie Landon and Leroy Chambers played for Droylsden and Frickley respectively, but failed to score, Danny Adams got an eight out of ten rating from the Pink for his role in Macc's 3-1 win over Plymouth. Leigh RMI hope to sign on-loan ex-Robin, Robert Trees, on a permanent basis. Barry Crowe was a substitute for Droylsden at Runcorn.
BISHOPS' FAN ON THIS YEAR'S ALTY GAME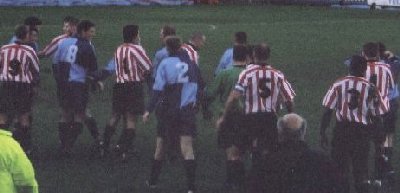 A long-time Bishop Auckland fan has written to the Non-League Paper distinguishing between the "real" supporters and the hooligans who attach themselves to his club. He refers to this season's Trophy match at Moss Lane when Steve Morgan was victim of racist abuse and "monkey noises" yet, allegedly, the local police took no action. Pictured left is the aftermath of the mass brawl during that match. The same source also carries a letter from an Alty fan on Cheshire's footballing pecking-order.
DANNY MURPHY
The Pink reports that Wythenshawe League champions, Cornishman/Temple are having to manage without their star, Danny Murphy, for their Sunday League games since Danny joined Altrincham. Danny is pictured, but in Mossley kit. Still in the Cornishman side is another name familiar to Robins' fans, Jason Donnelly.
EMLEY CONFIDENT
The Pink reports Emley's chairman as confident that by 1 April they will have met the criteria for promotion to the Conference. However, he makes no reference to the financial difficulties of their landlords, Wakefield Wildcats rugby league side.
TRANSFERS
Recent Unibond transfers include Lee Poland, loaned from Northwich Vics to Leek Town and Wayne Edgcumbe, who has returned to Gateshead from Tow Law Town. Wayne scored a hat-trick yesterday at the International Stadium. Jamie Marrow of Leek, who scored against Alty this season, has left for Finn Harps in Ireland.

---
3 February 2001
ELLISON MOVE CONFIRMED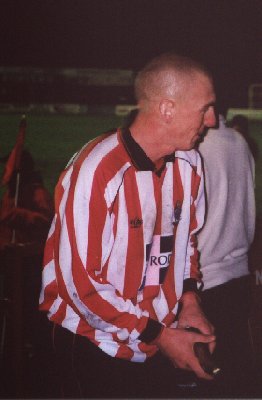 As reported below (see News for 2 February) the rumoured transfer of Kevin Ellison to Leicester City has now been finalised, subject to Kevin's agreeing personal terms on Monday, for a fee believed to be around £70,000 in the first instance, with a potential top-up to £100,000 should he make an unspecified number of first-team and/or international appearances. If confirmed, this is a club record transfer for Altrincham and unlike the previous highest transfer, that of Paul Ellender to Scarborough, we are likely to get all of the owed money this time. Kevin will have risen five divisions from Altrincham should he make the grade at Leicester. A sell-on clause is also believed to be part of the deal with The Foxes. He will be greatly missed at Moss Lane but fans will be delighted if he makes a successful career at such a well-esteemed Club as Leicester City where he will be under the guidance of manager, Peter Taylor. The incoming fee is, of course, particularly welcome to Altrincham at this time of financial difficulty but it remains to be seen whether any of the income will be used to bolster the team. See here for more on his Altrincham career. For Mark Ward's views on the transfer, ring the Club Call line on 09066-555902.
MAIRS SURVIVES ACCIDENT
Keith Mairs, who has recently broken into the Altrincham first eleven, escaped without injury from a major car accident on Cross Street, Sale, yesterday morning. His car was in collison with a car-transporter but Keith was fit enough to train this morning at Moss Lane.
TALBOT PAY CUT
According to today's Northwich match programme, Gary Talbot took a pay-cut when he left Alty last month to join Northwich Vics.
GAME OF TWO HALVES
The Stocksbridge bad-weather-hoodoo struck again as their Unibond First Division game at Trafford fell victim to the weather, just as their recent fixture at Moss Lane did. So, your correspondent made a rapid dash to the Drill Field, arriving at 3-12pm to find that Northwich Vics were, most uncharacteristically, already two goals up through Greg Blundell (making his home debut after signing from Vauxhall Motors) and Adie Mike's goals after 3 and 9 minutes respectively. Northwich dominated the first half-hour and should have been 5-0 up at that stage with Gary Talbot amongst those who almost scored (16 mins), whilst Lance Key was virtually a spectator. So bad were Hednesford that Neil Pointon, their manager, brought himself on as part of a double substitution as early as the 24th minute. Hednesford's first serious threat came when they hit the bar but Davis scored with a fine header seconds later (38 mins). The second half, played in heavy rain, saw Hednesford the better side and they deservedly equalised when the unmarked Haran headed home a corner (72 mins). Vics oddly had two players booked for time-wasting in separate incidents as early as the hour mark, one of the offenders being Lance Key. Gary Talbot made frequent excursions forward for the Vics but Keith Russell did not make it onto the pitch for Hednesford.
UNIBOND LEADING SCORERS
No Altrincham player figures on the Unibond leading scorers' list. The following totals are for goals in all competitions this season.
34 Kirk Jackson (Worksop)
24 Simon Yeo (Hyde Utd)
22 Simeon Bambrook (Emley), Chris Ward (Lancaster)
21 Robbie Talbot (Burscough)
19 Nicky Peverill (Barrow)
By way of comparison Alty's leading scorer is Kevin Ellison with 10. If Mark Ward is looking for a new striker he could do much worse than re-sign Trafford's Darren Emmett who has 17 goals this season. Although Alty were restricted to a practice game this morning at Moss Lane, nine Unibond Premier matches did take place. The results are below and the new table is here:
Bishop Auckland 1 Barrow 1
Burscough 2 Hucknall Town 1
Frickley Ath. 2 Spennymoor Utd 0
Gainsborough Trinity 1 Lancaster City 1
Gateshead 4 Colwyn Bay 2
Leek Town 1 Bamber Bridge 1
Runcorn 3 Droylsden 1
Stalybridge Celtic 4 Accrington Stanley 0
Whitby Town v Hyde Utd POSTPONED
In the Trophy are:

Blyth Sp. 2 Maidenhead 1
Emley 2 Yeovil 4
Marine 0 Rushden & Diamonds 6
Worksop Town 6 Congleton Town 2
UNIBOND LEADING SCORERS
No Altrincham player figures on the Unibond leading scorers' list. The following totals are for goals in all competitions this season.
34 Kirk Jackson (Worksop)
24 Simon Yeo (Hyde Utd)
22 Simeon Bambrook (Emley), Chris Ward (Lancaster)
21 Robbie Talbot (Burscough)
19 Nicky Peverill (Barrow)
By way of comparison Alty's leading scorer is Kevin Ellison with 10. If Mark Ward is looking for a new striker he could do much worse than re-sign Trafford's Darren Emmett who has 17 goals this season.
---
2 February 2001
KEVIN "ON VERGE" OF SIGNING FOR LEICESTER

Kevin Ellison is reported by SAM to be on the verge of signing for Premier League side Leicester City for a fee which is likely to establish a new transfer record for Altrincham. Ellison, 21, is believed to have cost just £2,000 when he signed from Conwy Town at the start of the 1999/2000 season. According to Mark Ward "For a player to go from the Unibond to the Premier League is something that has not been heard of in a long time. If the deal is right for the club, he will be going". Kevin came to Altrincham on the recommendation of Stan Allan, who was later to have a significant role in our fateful season in the Conference last year. Kevin had formerly been at Southport and Chorley, as well as having trials with Everton and Wigan Athletic. Whilst at Moss Lane he had trials with Manchester City, playing for their Reserve side last March, and more recently he has enjoyed a couple of brief trials at Leicester City.



UNIBOND CUPS
As Alty have not qualified for the Unibond Challenge Cup, their next stop could be the President's Cup, which is for the seven best runners-up at the group stage plus the worst of the nine group winners. Currently, the only teams already guaranteed second places at the group stage are Harrogate Town and Accrington Stanley. Alty must beat Stocksbridge to guarantee a runners-up spot. In Group 8, Gainsborough have been docked 3 points for fielding an ineligible player but have still won their group. The draw for the President's and Challenge Cup will take place on GMR (95.1FM) next Friday, 9 February on the 7pm sports programme.
PLAYER OF THE MONTH
Gary Warrington has added a Player of the Month feature to his Fans' Forum site. To go to his voting page, just click here.
POWER UNDECIDED
Contrary to the announcement at last week's Supporters' Meeting, Phil Power has not yet signed for Droylsden. He is still weighing up offers from Lancaster City, Salford City and Radcliffe Borough. However, the MEN reports that Droylsden or Lancaster are the front-runners as Phil does not wish to drop down a division.
WITTON OBJECT TO NORTHWICH'S NEW GROUND
The Vics have applied for permission to build their new 6,000-capacity ground just 300 yards from Witton Albion's "Bargain Booze Stadium" at Wincham Park. The Unibond First Division team have lodged a formal objection with Vale Royal Council, who will debate the matter in April, according to today's Daily Telegraph.
---