Altrincham Football Club News Archive
26 July to 9 August 2002.
---
9 August, 2002
SAMMY TO STOCKHOLM
Former Altrincham and Stalybridge striker Sammy Ayorinde has signed for Swedish Premiership team AIK Stockholm, according to the
Celtic
website.
UNIBOND NEWS
Chris Cornelly, Ashton's prolific goalscorer, is now having trials at Leigh RMI after recently interesting Oldham Athletic.
Frickley
have lost two more players, both to former manager Gary Marrow's Belper Town - who now also employ Leroy Chambers. The two Frickley men are midfielder Simon Collins, who scored twice against us in the match at Frickley last season, and Graham Lewis, who was bought from Northwich for £3,000 last season. Collins has gone for another four-figure fee. Also on trial at ambitious Belper is ex-Emley midfielder Mark Wilson. Droylsden have signed defender Gary Burke from Northwich Victoria.
Gateshead
will be without striker Paul Thompson till January, with a knee injury. However, they have signed 40-goal Billingham Synthonia striker Lee Flannigan as well as ex-Whitby and Spennymoor goalkeeper Dave Campbell. Chris Waddle is to play as a guest for Gateshead in a friendly against a Newcastle United XI on Friday, whilst Alan Shearer will play for the opposition. In their recent game against Stalybridge Celtic, Hyde United "looked solid in defence with [ex-Alty man] Swanick outstanding at right back" according to their
website
.
Blyth
expect to start work on new staircases for their mainstand sometime after 14 August.
---
8 August, 2002
VICS PURSUE EX-ROBINS
Two former Altrincham strikers are being sought by Northwich Vics. Vics have given a trial to Carl Furlong. They used him in a friendly at Wincham Park against Witton Albion recently. Carl, now at Colwyn Bay, also recently played and scored for Luton Town in a trial. However, he was back at the Bay yesterday, scoring twice in an 8-0 win over Bala, in which Stuart Scheuber also scored. Vics also hope to capture the signature of Niell Hardy from Radcliffe Borough, according to the NLP. Hardy was released by Stockport County at the end of last season.

HEVICON GOES
Carlisle United
report thatAlty trialist Ryan Hevicon (right) is now on trial with the Cumbrian club. Hevicon was a Carlisle target last season but the club put an embargo on signings. The Carlisle manager is quoted as saying, "Ryan hasn't had a pre-season at all so far so we'll have a look at him". In fact, Hevicon has played in six friendlies for Altrincham in the last three weeks, including games against the full Malawi national side and Manchester United Reserves.
SOUTHPORT
Southport, our visitors on Saturday, had their recent match at Hyde Uniteddelayed for 15 minutes so that the pitch grass could be cut at the EwenFields, as their manager Phil Wilson thought it was too long! The gameended 2-2 with both Port goals scored by ex-Robin, Marc Lloyd Williams.The
Hyde United
website goes on,"This was a full-blooded affair with four Southport players being sent tothe dug-out to cool down". The Hyde side included Dave Swanick and AnthonyHargreaves, both of whom were at Moss Lane last season. More "old boys"(Sammy Harris and Robert Trees) were on display for Mossley in theirrecent draw with a Burnley XI.
UNIBOND TREK
Gateshead's fans' attempt to visit all the other 44 UniBond grounds inside 24 hours failed when they took 30 hours 15 minutes to complete the task.Bad weather and poor directions to Stocksbridge's ground cost them the extra time.
---
7 August, 2002
LEEK TOWN 2 ALTRINCHAM 2
A game of four goals and four "dismissals" -match report here.
---
6 August, 2002
UNIBOND NEWS
The F.A. has approved Emley's new name; it will be Wakefield
and
Emley F.C. It has been confirmed that when former Robins' striker Leroy Chambers moved from Frickley to Belper Town recently, it was for a "four-figure fee". Barry Shuttleworth is now reported to have signed for Accrington Stanley, where he joins fellow ex-Moss Laner, Mark Sertori. When Vauxhall Motors defeated a Leigh RMI XI on Saturday, 2-1, ex-Alty keeper Stuart Coburn was missing from the RMI side with an ankle injury.
---
5 August, 2002
ALTY 2 BLACKBURN ROVERS XI 2
Match report here.
WADDLE MOVES
Northern Counties East League club
Glapwell have gained the services of Chris Waddle for next season, so he won't be turning out against Altrincham for Worksop in 2002-03.
---
4 August, 2002
S.A.F.E. A.G.M.
A report on yesterday's supporters' association A.G.M. will appear here as soon as possible. At the meeting it was reported that S.A.F.E. had donated £9,500 to the club last year.
RESPONSE TO WARD
Today's NLP has a letter from Alty fan Brian Wood responding to Mark Ward's criticism of the club in last week's paper. He concludes that "If he [Ward] learns to take some blame himself instead of shifting it onto everyone else, he could become a good manager".
PREDICTIONS
The results of S.A.F.E.'s Predictions Competition for last season were announced yesterday at the A.G.M.. The winner of the £50 prize was Alan Brotherton (67pts), the runner-up (£30) was Peter Read (62 pts), third (£15) was Paul Gee (59pts), whilst fourth (£5) was Phil Cassin with 56 pts. Your correspondent finished a lamentable 42nd but was relieved to see that one of only two worse scores than his was that of Altrincham's leading scorer, Rod Thornley, with zero points! The only other participating player was ex-captain Steve Hawes who finished 41st.

For this season, Bob Peters is running a Premiership prediction competition, with all profits going to S.A.F.E.. An entry form is here. The winner nets £150.
BARROW BENCHMARK & OTHER FRIENDLIES
Barrow's 0-4 loss to Manchester Utd Reserves means that they are the UniBond leaders when measured against that opposition as Alty lost 0-5 and Stalybridge went down 1-9 against the United Reserves in the previous week. Southport, whom we meet on 10 August, have won all six of their pre-season games to date, including a 3-2 win over Marine yesterday and ex-Robin, Marc Lloyd Wiliams, was again on the scoresheet for 'Port. Marine play at Leek next Saturday, after we have visited Harrison Park ourselves, this Tuesday. Other UniBond-related friendlies yesterday included Ossett A. 2 Wakefield Emley 0, Vauxhall 2 Leigh RMI 1.
UNIBOND NEWS
Ashton United's prolific goalscorer Chris Cornelly has returned to the club after a trial at Oldham Athletic. Transfers include:
Joel Armstrong (Chesterfield to Bradford PA)
David Fish (Stalybridge Celtic to Witton A.)
Danny Webster (Vauxhall Motors to Hyde Utd)
Steffan Zoll (Pickering T. to Whitby T.)

Another unconfirmed move is David Goodchild from Whitby to Gateshead. Worksop are spending £100,000 upgrading their ground but also are planning to move out of Sandy Lane to nearby Kirton in two years time, where they hope to have a £16 million sports facility.
FORMER PLAYERS
Mark Sertori made his Accrington Stanley debut yesterday in a 0-0 draw with a Rochdale XI yesterday. Mark Quayle scored for Nuneaton Borough but they lost 3-1 at Tamworth. Sam Baker (Alty Reserves last season) and Nathan Comley-Excell both played for Flixton as Ashton United won 2-0 at Valley Road yesterday.
---
3 August, 2002
ALTRINCHAM 2 BLACKBURN ROVERS XI 2
Neil Murphy (22), who made his debut at right-back today. He is a trialist released recently by Blackpool and played for their first team. Previously he was at Liverpool and was an England youth international.
Altrincham gained a creditable 2-2 draw against a Blackburn reserve side in which Egil Ostenstad was the best known name. Rovers had much of the possession and went ahead after 13 minutes through Richards, who converted a left-wing cross at the near post, despite the attentions of Band and Talbot. Alty equalised with a well taken Thornley goal from a fine pass by Craney (25 mins). Danny Murphy put Alty ahead after 64 minutes against the overall run of play before Rovers equalised through Bell. Alty had more of the game in the second half despite making eight substitutions. Match report here.
ANDY BACK AT ALTY
Andrew Tunnicliffe, the youngster loaned to Alty from Manchester City, last season is reported by the MEN to be back in training at Altrincham after being released by City. 19 year-old Andrew broke his leg early in our game with Hyde last March, after impressing as a late substitute in his debut game the previous Saturday at Hucknall Town. According to the paper, "with full medical support from the Blues, Tunnicliffe has made a full recovery and is now training with Alty with a view to joining them". Bernard Taylor is quoted as saying that "Andrew is looking sharp and it should not be too long before he is back playing again. Hopefully, we can help get his career back on track".
UNIBOND NEWS
The MEN reports that Hyde United have signed Rob Woodhead from Stalybridge and midfielder Sammy Harris (ex-Exeter). In addition Hyde manager Dave Nolan has signed his own brother Steve as well as former Marine midfielder Gerard Smith.
FRIENDLY OPPONENTS
Leek Town, whom we play on Tuesday, have lost their 21 year-old ex-Crewe goalkeeper Kevin Welsby to Southport- whom we play the following Saturday. Malawi, whom we played last Saturday, lost 2-0 to Walsall in a friendly played at Hednesford last night.
UNITED RESERVES
Alty's 5-0 defeat by Manchester United's reserves last week was put into context as the Young Reds thrashed Stalybridge Celtic 9-1 on Thursday night. Another comparison with UniBond opposition should come when United Reserves play Barrow in their next game.

United Reserves will be playing most of their FA Premier Reserve League home matches at Moss Lane this season. United's home fixtures are here.
---
2 August, 2002
VOLUNTEERS, PLEASE!
If you would like to volunteer to assist with the half-time bucket collections organised by the supporters' association, S.A.F.E., please contact Gary Warrington via e-mail or by calling at the S.A.F.E. cabin on match days. All the money raised goes towards helping the Club's finances.
LINKS
There is a new Harrogate Town unofficial website, which can be found here. The new Worksop site is also now operational, complete with a picture of our former captain, Steve Hawes in his new kit. Links to all the UniBond Premier and First Division clubs, as well as to many other non-league sites, can be found on the Links Page.
EX-PLAYERS AND OUR FRIENDLY OPPOSITION
Trafford drew 2-2 with Runcorn this week, with ex-Robin Matt McNeil scoring one of the Linnets' goals. Two former Alty players at Trafford, ex-Youth defender Mark Drew and ex-Reserve midfielder Melvyn Pampilla have already scored for their new club. Playing for the Reserves, Drew got two against Daten Sports and Pampila got one against Flixton in pre-season games. Chorley, now managed by Trafford's ex-boss Mark Molyneaux, report that they have signed "Gareth Thomas...a midfielder...from Premier Division side Altrincham". No player of that name appeared for Altrincham last season but there was a player called Thomas named on the bench for the recent Alty v Tranmere friendly. (Footnote: Tranmere, who drew 1-1 with Alty, have now sacked their manager Dave Watson after a 7-0 defeat by Birmingham on Wednesday). Leek Town, whom we play next Tuesday, included Steven Taaffe, an Alty trialist last season, in their side for a recent friendly against Buxton. Marine beat Morecambe 4-2 in a friendly this week and their next opponents are Southport, whom we meet on 10 August.
STURDY OPPOSITION
The Non-League Paper reports that Harrogate Town, our first league opponents of the coming season, are "absolutely delighted by the performance of centre back Simon Sturdy." Sturdy is a trialist from Pickering Town. However, Harrogate are uncertain as to whether another more famous trialist, 33-year-old former Barnsley, Hull and Darlington player Clint Marcelle, "will be able to adjust to non-League football".
WHITBY APPEAL SUCCESS
Whitby Town report that they have received donations from as far afield as Afghanistan towards their proposed new stand. "The appeal total now exceeds £5,000 with donations from Premier League ref Jeff Winter [of Middlesbrough] and a Mr Panezai of Afghanistan". The biggest single donor is from an "exile" called Dave Carrington who has donated £1,000. "Fundraising events are being organised such as a celebrity footy match between a Stars XI and a Heartbeat XI, a sponsored walk from Scarborough FC to a Whitby Town home game and a sponsored three-legged drinkathon"!
---
1 August, 2002
ALTY DRAW CREWE
Altrincham have drawn Crewe (away) in the Cheshire Senior Cup 1st Round. This is a repeat of last season's CSC Final. The tie is away, presumably at Gresty Road. The draw is-

First Round w/c 16/9/02
Crewe v ALTRINCHAM
Cheadle T. v Chester C.
Hyde U/Northwich V. v Stalybridge C.
Woodley S. v Alsager T.
Nantwich T. v Stockport County
Macclesfield T. v Tranmere R.
Winsford U. v Warrington T.
Vauxhall M. v Witton A./Congleton
ALTY'S OPPOSITION
Southport, whom we play on 10 August in a friendly, won 3-2 at Flixton last night. Leek, whom we meet next Tuesday, have had two of their pre-season games cancelled by the opposition (Gedling Town and Scarborough) so far so should be eager to take the field against Altrincham. Leek are scheduled to play away at Biddulph Victoria on Thursday. All of Alty's friendlies are listed here.
UNIBOND NEWS
Accrington Stanley beat Burnley 2-0 in a recent friendly with Barry Shuttleworth, who played on loan to us from Macclesfield last season, in the Stanley side. Ashton United have signed full-back Phil Bayliss from Trafford for a "four figure sum". Bradford P.A. have signed centre back Graham Mitchell who has played at Halifax Town, Cardiff City, Bradford City, and Huddersfield Town whilst Whitby Town have re-signed midfielder Neil Radigan from Blyth Spartans. Whitby's trialists include goalkeeper Adam Dowell, who was at both Sunderland and Rushden & Diamonds last season, former Middlesbrough midfielder Richard Skirving, Harrogate Town full-back Thomas Reid, Northallerton Town's defender Michael Laws and Middlesbrough left-back Liam Smith. Hucknall may re-sign 33 year-old striker Mark Nangle, the assistant/player-manager of Rolls Royce Leisure. Nagle previously played for Town in the 1980s.
---
31 July, 2002
ALTRINCHAM 0 MAN UTD XI 5
Match report here. The teamsheet provided last night was wrong. It was Matthew Williams not Mark Lynch who scored the hat-trick. Also, Jimmy Davis played though not named on the teamsheet. The report has now been corrected to reflect this. Alan Johnson's photos of the game are here.
VERNUM TRIAL
Alty's 17 year-old defender/midfielder Vernum Rowland has been invited for a trial at Premiership club Blackburn Rovers. Coincidentally, Rovers visit Moss Lane this Saturday for a friendly.
SUPPORTERS' AGM
It is the SAFE (Altrincham supporters' association) AGM on Saturday 3rd August at 12 noon in the Noel White Suite at Moss Lane. All members are urged to attend.
GROUND STAFF
Dave Walker was appointed on Monday as the new groundsman at Moss Lane, replacing Sid Burton. Sid had also helped out as kitman over the last season. The Club "would like to express its thanks to Sid for all the work he has undertaken over the last nine months and wish him well with his future".
---
30 July, 2002
ALTRINCHAM LOSE 0-5 TO UNITED
Altrincham carved out three half chances in the opening stages but once Matt Williams had put United ahead after 11 minutes and the skilful Danny Webber had added a second after 17 minutes, Altrincham were left chasing the game. Although the United first team were absent in Norway, the swift, one-touch football of their young reserve side was highly impressive. Their skill and pace brought two more first-half goals from Williams (23 mins) and Nardiello (25 mins). Matt Williams completed his hat-trick and the scoring after 56 minutes. Alty's substitute goalkeeper Nick Stephens made a number of good saves in the last half hour to prevent further damage in a game watched by 735 spectators including Gary Neville and Nicky Butt. Alty's team was: Williams, Ryan, Scott, Maddox, Talbot, Band, Murphy, Craney, Young, Thornley and Hevicon, with the used subs being Ward, Stephens, McDonald, Turner, Locke and Woodford. Match report here.
FURLONG SCORES FOR LUTON AND THE BAY
Carl Furlong, a second-half substitute, scored a close-range header and had another goal disallowed for Luton Town Reserves in a recent friendly at Harrow. The Colwyn Bay striker was released by Altrincham during last season after his third dismissal of the season in the Cheshire Senior Cup Final against Crewe. Carl is having trials at Luton but returned to score the winner last night as the Bay defeated Chester City 1-0 in a friendly. Thanks to Andy Owens and Ian Saunders for this information. ONT> Stalybridge Celtic lost 4-2 at Mossley on Saturday, with former Alty players, Kevin Hulme, Robert Trees, Ricky Harris, David Wills and a Paul Taylor, in the victorious side. Stalybridge Celtic midfielder/striker Ged Courtney has joined Leigh RMI. A less than full-strength Marine held Leigh RMI to a 0-0 draw last Saturday. Premiership referee Uriah Rennie will officiate in Marine's friendly at home to Morecambe on July 30th. Runcorn FC Halton's Alan Cowley has moved to Trafford FC.
---
29 July, 2002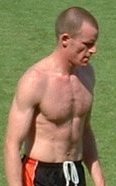 BAND CONFIRMED
Altrincham FC have now confirmed reports on the Hyde website that Peter Band (right) has signed for Altrincham for a "nominal fee". Peter has played at centre-back in two pre-season games for Alty but he joined Hyde United as a striker in 1998 from Mid-Cheshire League side Bollington Athletic. The only other pre-season signing confirmed as yet by Altrincham is that of Andy McDonald from Witton. As with McDonald, the Band transfer has been funded by a benefactor.
ALTRINCHAM 2 MALAWI NATIONAL XI 3
A match report is here. Alty's next match is at home to a Manchester United XI tomorrow (Tuesday, 7.30pm).
TRIALISTS
The new players who have been on trial at Moss Lane this pre-season include:
Ryan Hevicon: left-sided midfielder, formerly at Blackburn Rovers.
Stuart Locke: defender/midfielder returning to Moss Lane after a spell there last season.
Andy McDonald: midfielder from Witton Albion who has now been signed by Bernard Taylor.
Carlos Meakin: striker, formerly at Woodley Sports.
Peter Mellor: midfielder from Trafford.
Stephen Rose: defender from Chester City.
Sean Smith: defender.
Nick Stephens: goalkeeper, formerly at Torquay United.
Gary Talbot: centre-back, returning to Moss Lane, after a spell at Northwich Vics.
Mike Turner: a striker, formerly played for Witton, Hyde, Trafford, Mossley.
Chris Williams: goalkeeper, formerly with Bolton Wanderers
Simon Woodford: right-sided midfielder, formerly at Cheadle Town and Ramsbottom.
Chris Young: midfielder who had a brief spell at Altrincham before playing for Flixton, Droylsden and Hyde.
---
28 July, 2002
SWANICK, CHAMBERS AND HARGREAVES MOVE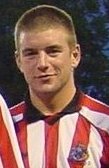 Defender Dave Swanick (right), who played 26(+21 sub) games for Altrincham last season, appeared for Hyde United in a recent friendly with Burton Albion. His former team-mate Anthony Hargreaves, who moved last season to Bamber Bridge, is also now playing at Hyde. Another former Alty player, Leroy Chambers, has become the latest Frickley player to follow ex-manager Gary Marrow to Belper Town "for a small fee", according to the Frickley site.
WARD SPEAKS OUT
In today's NLP Mark Ward reflects on his new job as Assistant Manager at Leigh RMI. Mark is quoted as saying to his former employers at Altrincham, "You were wrong. I did a good job for you...At Moss Lane it was all about dealing with bills and expenses. At least here at Leigh I will be able to concentrate on the football...[Altrincham] was a learning curve and the experience will help me in the future...I was working with a wage bill that was shrinking week by week and having to sell my best players, Danny Adams...Gary Talbot...Kevin Ellison...I am the only UniBond manager ever to have sold a player to a Premiership club". Ward says that after being sacked by the Robins, "It took me four months to get over it. I felt it was disgusting the way they treated me. I even had to use the PFA to get some of the money they owed me". Since then Ward has played Masters' football and was shortlisted for the manager's job at Aldershot. He remains convinced that he will become a manager once again.
FRIENDLY OPPONENTS
Southport, who come to Moss Lane on 10 August, have signed 25 year-old former Luton Town striker Peter Thomson on a two-year contract. He will partner ex-Alty man Marc Lloyd-Williams in attack. Marc has been on target already in pre-season for Southport. Thomson was at Lancaster City before joining NAC Breda of Holland, then Luton. Southport drew 2-2 with Tranmere last Tuesday, emulating our own 1-1 draw with the Rovers. Blackburn Rovers, who visit Alty next Saturday (3rd) drew 4-4 at Accrington this week. Midfielder Brett Baxter played for Stanley and may return to Stanley after being at Chester City last season.
UNIBOND NEWS
Stalybridge Celtic have signed four more players; midfielder Scott Westwood (ex-Sheffield Utd), left-back Danny Caldicott from Atherton LR, striker Phil Eastwood from Southport and Nathan Wharton who had a spell at the Bower Fold last season. Recently Celtic have drawn 2-2 with Woodley Sports and Bangor City and yesterday lost 4-2 to Mossley. The Stalybridge site reports that (ex-Alty defender) "Terry Bowker in particular had an uncomfortable first half. He's a powerful enough header of a ball, but he was caught flat footed on several occasions and gifted Bangor's 27th minute equaliser when he slipped on and over the ball allowing Paul Roberts an uninterrupted view of the goal...Bowker was replaced at half time, but substitute Steve Wyan fared little better leaving the Celtic boss with three weeks to find someone to work effectively alongside [another ex-Robin] Chris Timons". Frickley player, Jon Wordsworth, is having trials with Chesterfield whilst Hyde's Gavin Salmon has joined Droylsden.

In the Whitby side for their recent win over a Sunderland U-19 side were two foreign players. These were French striker Steffan Zoll, who was top scorer at Pickering Town last season, and South African Graham Robinson. Whitby's midfielder Craig Veart was injured in the same game, as was Worksop's new left winger Matty Caudwell, from Doncaster Rovers in their recent game against Glapwell. Caudwell could be out for two months. Steve Hawes again played for Worksop.
PREDICTION
There is also still time to enter the 20/20 Research Prediction Competition here, from which profits go to S.A.F.E. and the Club.
---
27 July, 2002
ALTRINCHAM 2 MALAWI NATIONAL XI 3
A last minute goal deprived Alty of a draw against the Malawi national side. The Malawi side had dominated the first half with an impressive display of passing after taking the lead in the third minute when a thunderous long-range shot came back off the bar and was headed home from close range. They doubled the lead after 63 minutes when a left-wing cross was converted at the near post. Alty made several substitutions in the second half and these improved the performance. Rod Thornley won and converted a penalty after 69 minutes before Simon Woodford scored a fine headed equaliser from a Hevicon cross nine minutes from the end. However, a crashing 20-yard volley in the last minute clinched the game for the African side who enjoyed some good vocal support in the second half. Match report here.
---
26 July, 2002
FLIXTON 0 ALTRINCHAM 4

Match report here.
NEW CHAIRMAN FOR ALTRINCHAM
The new Chairman of Altrincham Football Club is Geoff Goodwin, owner of the local company Goodwins Coaches. Geoff joined the Board this summer with Grahame Rowley and Andrew Shaw. He was appointed chairman at tonight's meeting of the Board. Everyone will wish Geoff well in his difficult task of steering the club through its current financial difficulties.
GLAZING FINISHED
The re-glazing of the stand at Moss Lane has now been completed following the gale-damage incurred in the spring. The Club would like to record its thanks to Manchester Glass and its owner Patrick Air for his generous support of the club.
NEXT MATCH
Altrincham v Malawi on Saturday 27th at 3pm at Moss Lane. See below for further details.
---